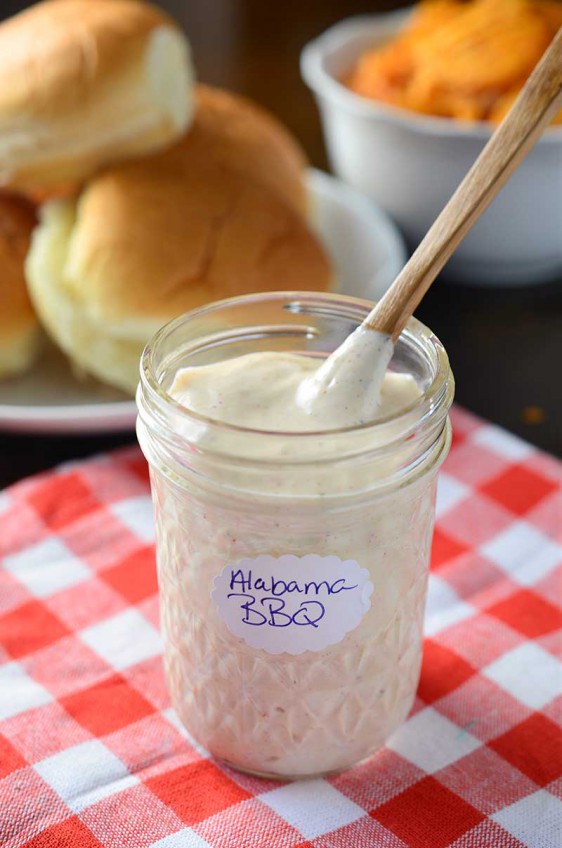 Alabama White BBQ Sauce
Alabama white BBQ sauce is a delicious twist on a traditional barbecue sauce recipe. This creamy BBQ sauce is tangy and slightly sweet; the perfect condiment for smoked chicken, pulled pork and fish. 
When most people think of BBQ sauce, they think of sweet tomato or ketchup based sauces. But, there is more to BBQ sauces than the traditional. Different regions of the southern US have their own take on BBQ sauce and this flavor packed version hails from Alabama.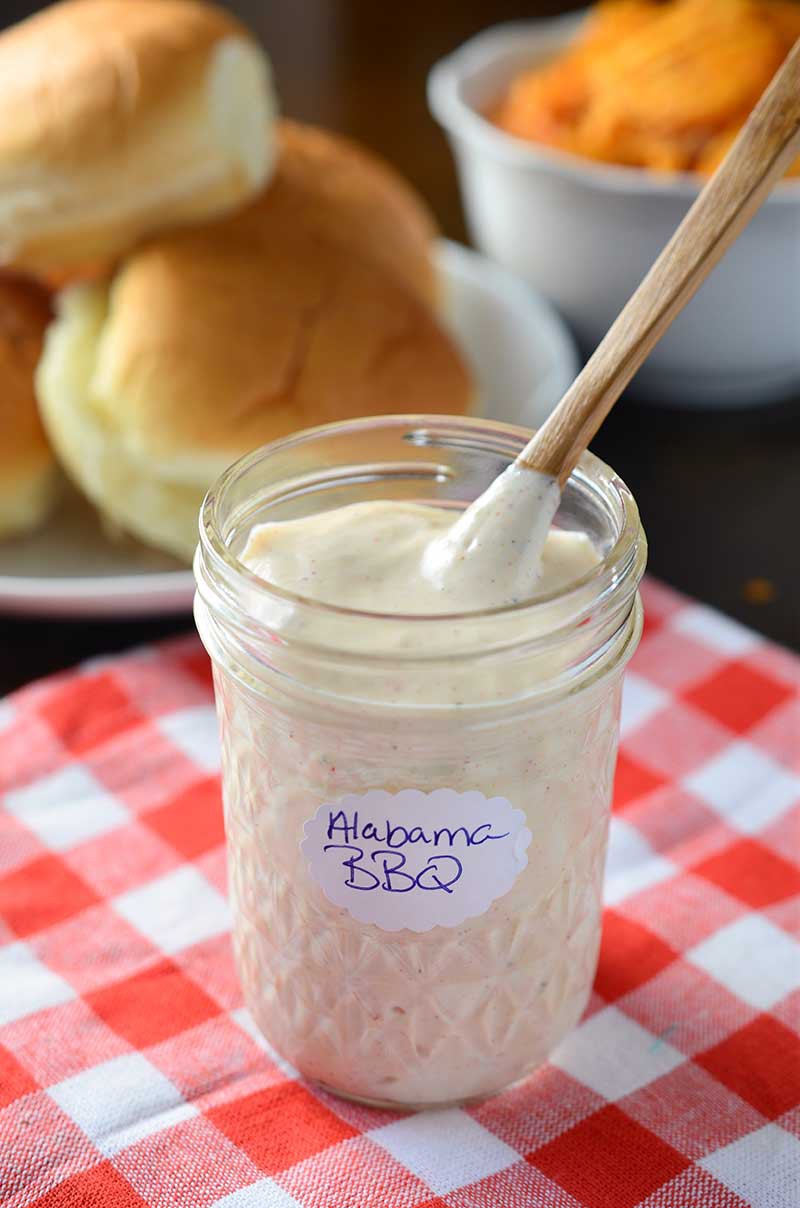 According to an article, from Southern Living, Alabama BBQ sauce was created by a man named Bob Gibson way back in 1925 at his restaurant, Big Bob Gibson's Bar-B-Q in Decatur, Alabama. Over the years, it a BBQ staple.
What is in Alabama White BBQ Sauce?
White BBQ sauce is mayo based, and usually has horseradish, vinegar, salt, pepper and a few other spices. After checking out several different recipes, I decided to take the basics, then add some different seasonings that I like to the mix to see what would happen.
Lordy.
I know when you think barbecue sauce you think a thick red, slightly sweet sauce. But guys, this stuff is good.
It is addicting actually. It's creamy, tangy, and slightly sweet and pairs with several different things. I used it on killer chicken sandwiches  and even as a dip for french fries and potato chips. It is also a must for backyard summer BBQs . Your guests will love have to the option of different BBQ sauces to enjoy!
Basically, Alabama White BBQ Sauce is an all purpose, flavorful sauce that you NEED to have in your sauce recipe repertoire.
Or at least in your fridge every once in a while so you can put it on all the things.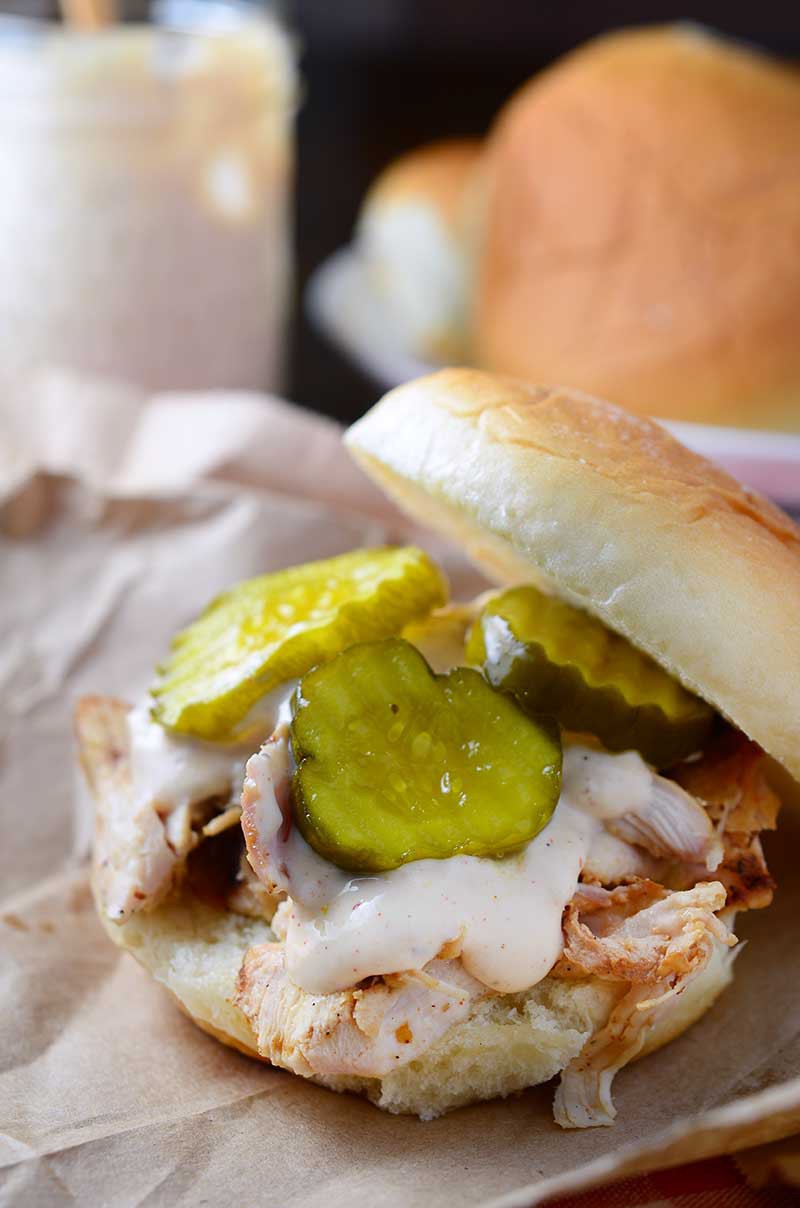 This Alabama White Sauce is great with all kinds of recipes including these:
Like making your own condiments and sauce recipes? I've got several recipes you have to try!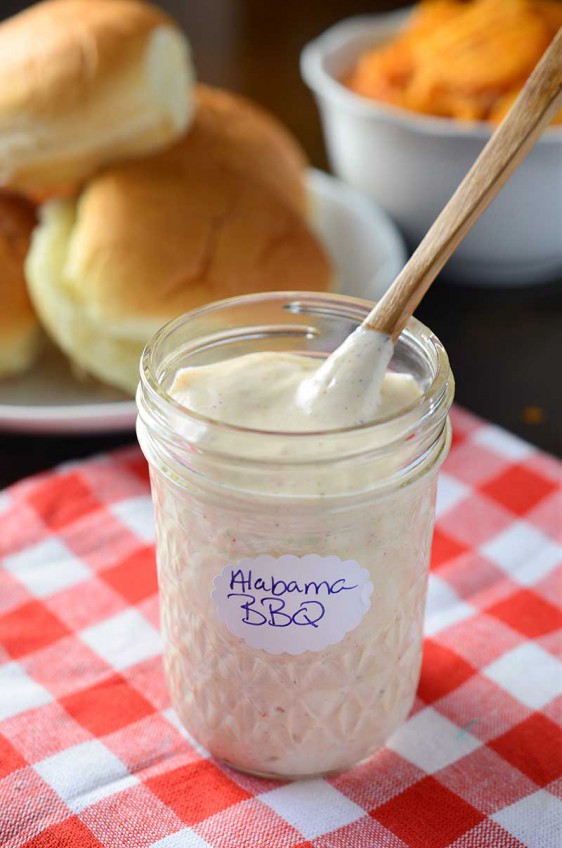 Alabama White BBQ Sauce
Alabama White BBQ Sauce is a creamy, tangy, mayo-based sauce. It is the must have versatile condiment for BBQs to dunk, dip or slather smoked meats!
Ingredients:
1

cup

mayonnaise

2

tablespoons

apple cider vinegar

1

tablespoon

prepared horseradish

1/2

teaspoon

salt

1/2

teaspoon

black pepper

1/4

teaspoon

garlic powder

1/4

teaspoon

paprika

1/4

teaspoon

sugar
Nutrition facts not guaranteed to be correct.
Calories:
157
kcal
Carbohydrates:
10.1
g
Protein:
0.4
g
Fat:
13.1
g
Saturated Fat:
1.9
g
Cholesterol:
10
mg
Sodium:
481
mg
Fiber:
0.2
g
Sugar:
2.9
g
Keywords:
Alabama, bbq sauce, Dip, sauce, Vegetarian