Alabama BBQ Chicken Sandwiches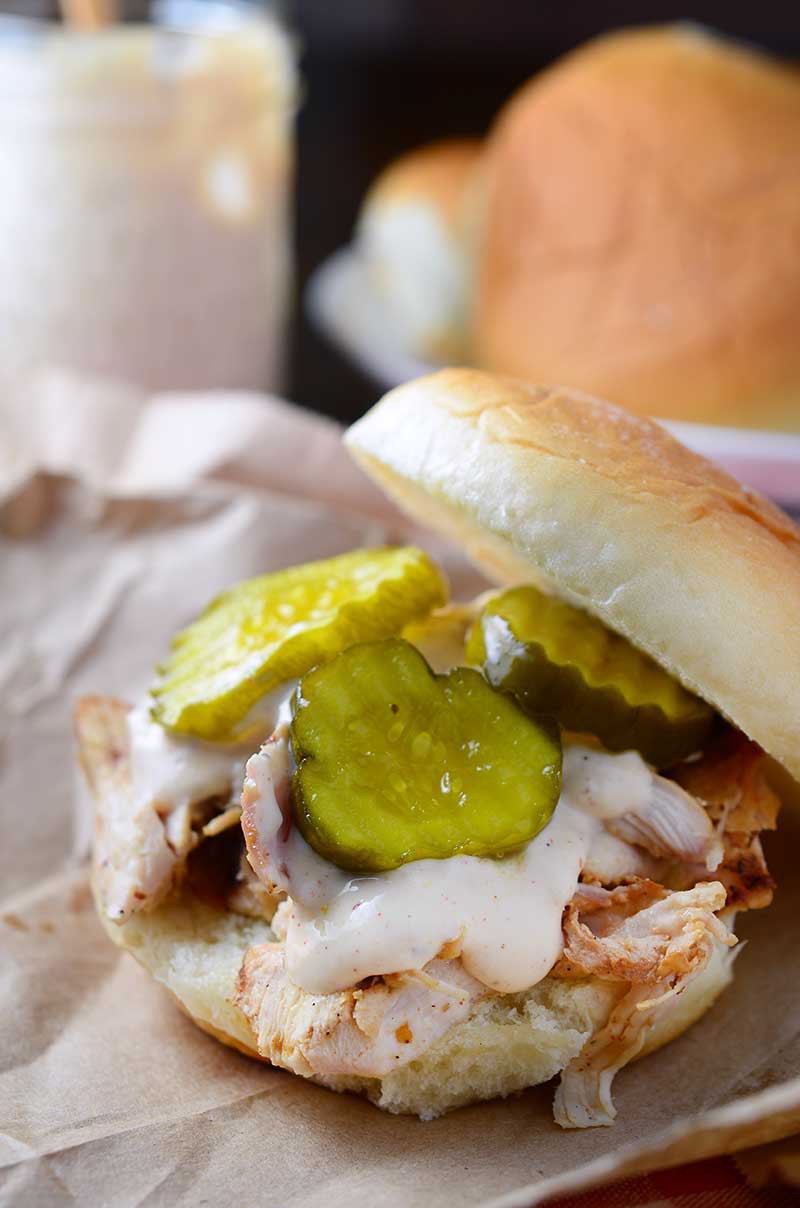 I may have jumped the gun a little here and headed right into summer with this recipe for Alabama BBQ Chicken Sandwiches but I just couldn't help myself. After making the Alabama BBQ Sauce, I just had to use it in a recipe with chicken, that is, after all, what I found to be the most common use for this North Alabama staple. These Alabama BBQ Chicken Sandwiches are the perfect way to use it. Not only is the chicken marinated in the sauce and basted in the sauce as it's grilled but even more sauce is drizzled over the top after the chicken is shredded. If you love you some Alabama BBQ Sauce then this sandwich is for you.
If you are not sure that you love Alabama BBQ Sauce, you need to try it pronto. It is so creamy and delicious. I love that it has a bit of a tang, a bit of a kick and a touch of sweetness.
Speaking of sweetness, for the hamburger buns in this recipe, I decided to use King's Hawaiian Hamburger Buns. This was a last minute decision as I had actually never even tried any of King's Hawaiian bread before. Ryan, on the other hand told how he just tried them at work and that they were really good. A little sweet, but good.
I decided to give it a go for these sandwiches the second time around. The first time I made these sandwiches, I used a kaiser roll. I thought it was OK but I actually thought it was a little dry so I was looking for something a little softer. I loved the softness and the sweetness that the King's Hawaiian added. With that said, I think a regular old hamburger bun would work just as well.
Whatever you do though, do not skip the bread and butter pickles. Between the soft bun, tender chicken, creamy sauce and sweet crunchy pickles this sandwich is one delicious bite.