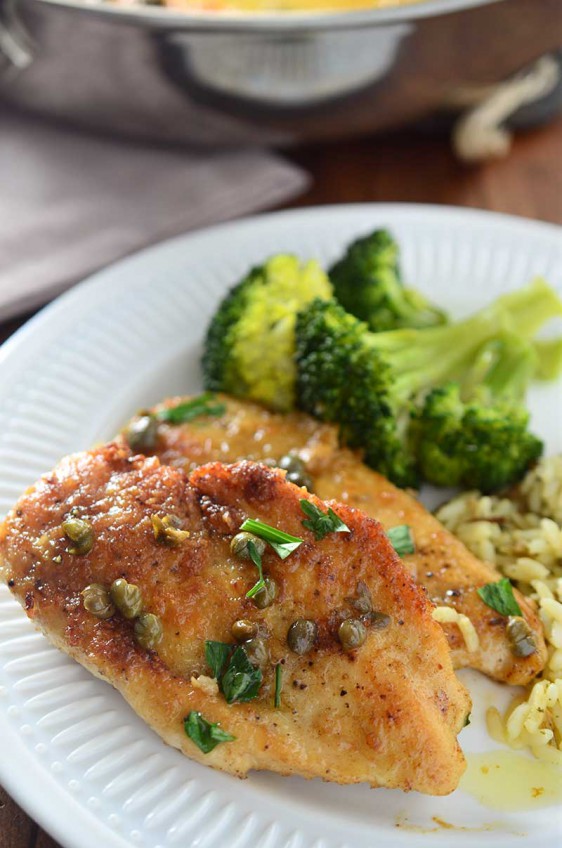 Chicken Piccata
Chicken piccata is one of my favorite busy weeknight meals! Pan fried chicken topped with a delectable butter caper sauce. It's an easy chicken recipe, perfect for a weeknight dinner.
Brace yourself, folks.  This chicken piccata is ah-mazing. Lick your plate and plead for more amazing. Allow me to elaborate.
First, a chicken breast is breaded and pan fried until golden. Then that perfectly cooked, perfectly golden chicken breast is topped with a lemony-buttery-capery (I may have made up words just now, but that is how good this chicken is) sauce.  It has capers, lemon juice, and of course, it has wine. And the best part: butter. Glorious, wonderful, melted butter.
Chicken piccata may just be my new favorite way to prepare the sometimes rather boring chicken breast.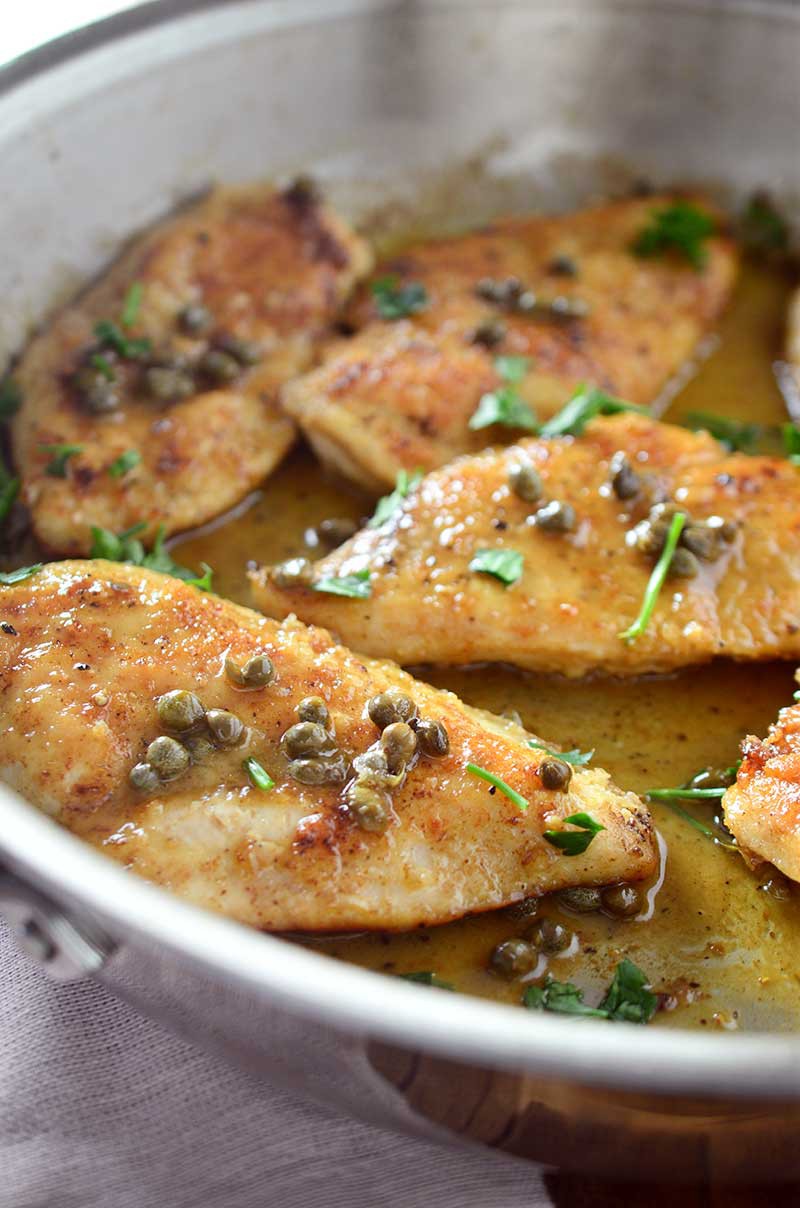 What is piccata sauce?
Piccata simply means a thin cut of meat served in a sauce with butter, lemon and spices. In Italy it is often called scaloppine and is made with veal. In the United States Chicken Picctata is the most popular version.
I was first introduced to chicken piccata at the restaurant that I use to work at, but at that time, I was not particularly interested in capers. The idea of eating a bud of a flower was a little too adventurous for my 16 year old palate. In the recent years however, I have become rather fond of the salty wonderfulness that is capers. I love putting them in bruschetta, tuna, and  I especially enjoy them when they are paired with lemon, butter and wine, like in this chicken piccata. It is a palate pleasing flavor that is down right irresistible.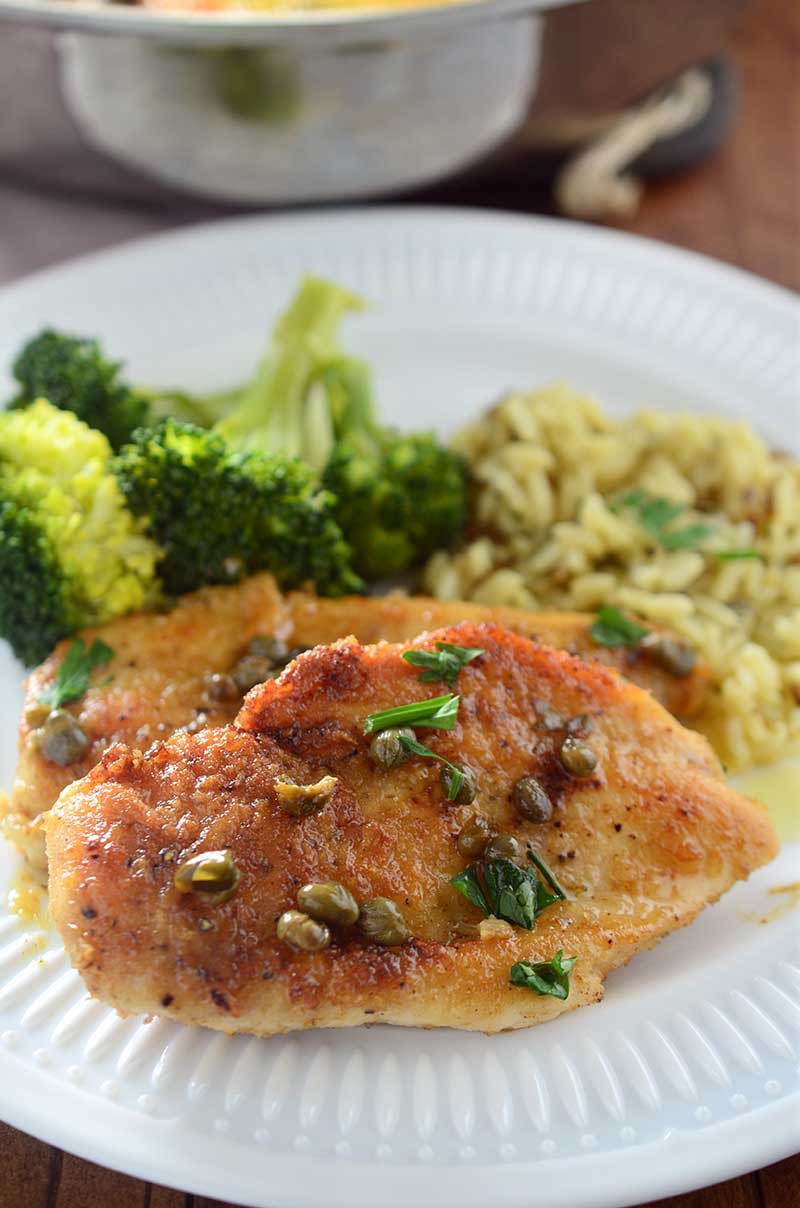 Chicken Piccata Recipe Update:
When I first posted this chicken piccata recipe, it was just Ryan and I. Now that we have our two dudes, I decided to update the recipe so that it can serve 4 instead of 2. In addition to adjusting the amount of ingredients and adding an extra tablespoon of capers (my boys eat them like they are candy), I also decided to use thin cut chicken breast cutlets. I love it because it makes this already quick dinner, even easier to prepare! And is great served along side Creamy Mashed Potatoes or rice.
Are there any foods, like capers, that you love now that you're older? Come on over to Facebook and tell me all about them! And if you are looking for more caper recipes, be sure to check out my recipe for Baked Salmon with Lemon Caper Butter.

Chicken Piccata Recipe
Ingredients:
4 - 5 thinly cut boneless, skinless chicken breasts
fresh cracked black pepper and kosher salt
1/2 cup all purpose flour
1/2 cup panko bread crumbs
1/2 teaspoon granulated garlic
2 tablespoons olive oil
6 tablespoons butter, divided
2 teaspoons lemon juice
1/2 cup white wine
1/2 cup chicken broth
4 tablespoons nonpareil capers, rinsed
2 tablespoons chopped fresh parsley
Instructions
1
Season both sides of the chicken with salt and pepper.

2
Mix together flour, panko bread crumbs and granulated garlic on a plate. Dredge chicken breasts in mixture. Allow to set for 10 minutes.

3
In a large pan heat olive oil and 1 tablespoon of butter over medium heat. Once butter melts cook chicken until browned and cooked through, about 3 minutes per side. Remove, transfer to a plate and cover to keep warm. Reserve pan drippings.

4
To the same pan that you cooked the chicken in combine lemon juice, white wine, chicken broth and capers with the pan drippings. Cook over medium heat until reduced by 1/3 about 5 minutes. Remove from heat and add in remaining 5 tablespoons of butter. Swirl sauce in pan until butter melts.

5
Uncover chicken, transfer to serving platter. Pour sauce over the top. Sprinkle with parsley. Serve.