Chicken piccata is one of my favorite busy weeknight meals. Topped with a delectable lemon caper sauce, this is a chicken recipe the whole family will love!
If you are looking for a way to jazz up a boring ol' chicken breast, you have got to try this easy chicken piccata recipe. Pan fried chicken is topped with a buttery lemon caper sauce.
And, not only is it delicious, it comes together with ease in about 30 minutes. That means that this dinner is perfect for busy weeknights.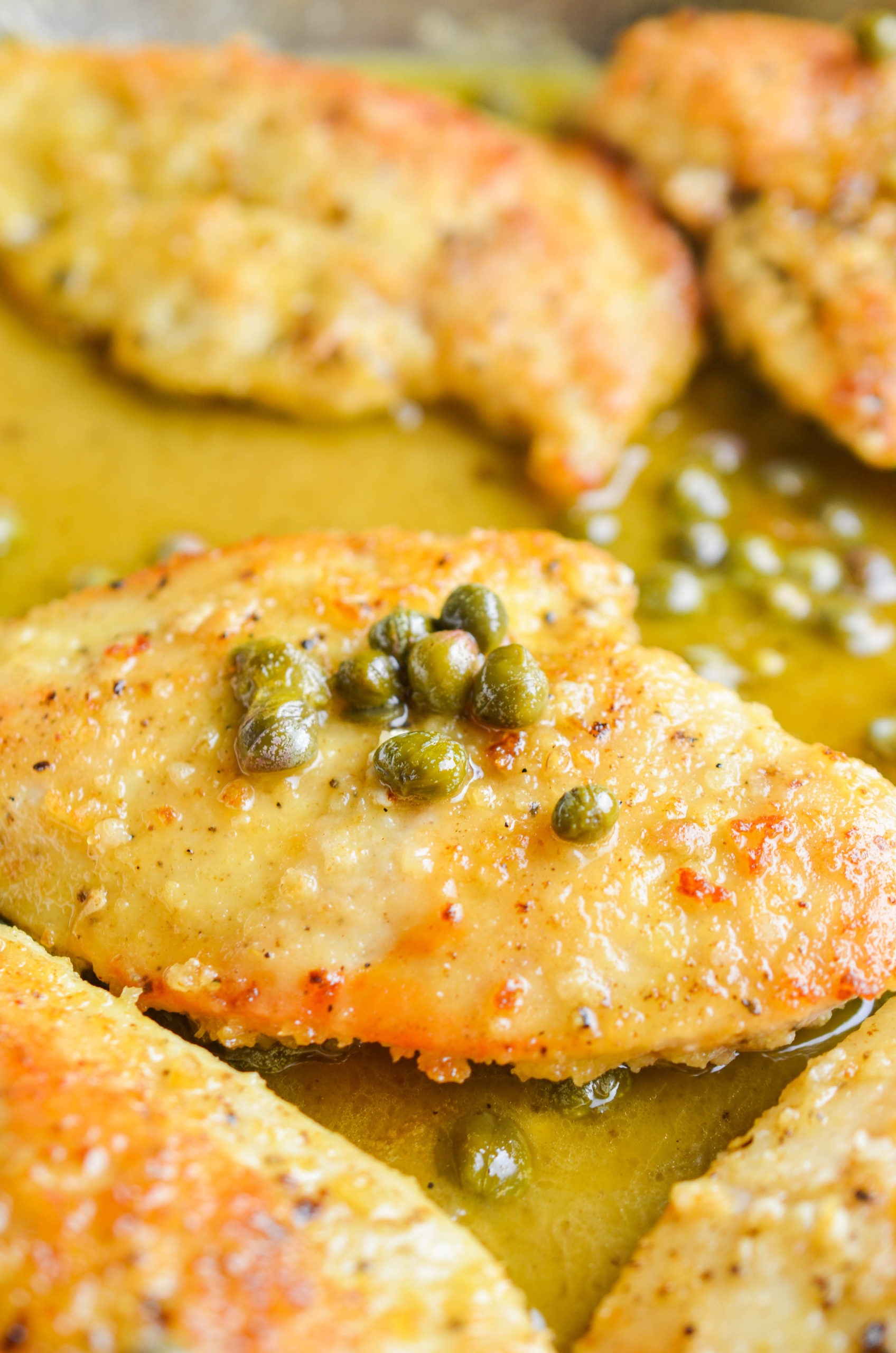 What is piccata sauce?
Piccata simply means a thin cut of meat served in a sauce with butter, lemon and capers. In Italy it is often called scaloppine and is made with veal. In the United States Chicken Piccata is the most popular version.
What ingredients do you need: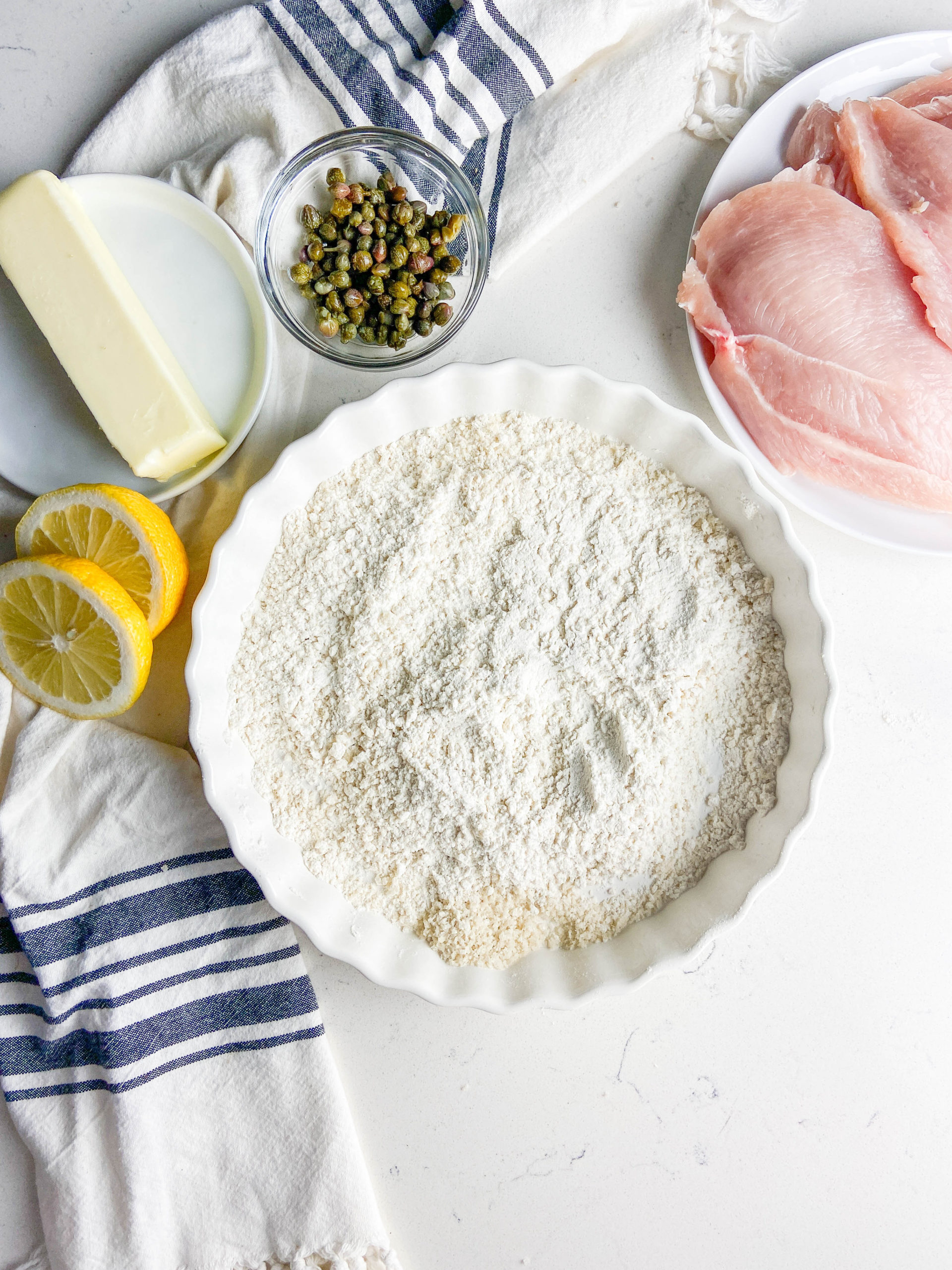 CHICKEN BREASTS: Boneless skinless. I like to halve them lengthwise so they cook a little faster. You can also buy thin cut chicken breasts.
FLOUR, PANKO BREADCRUMBS AND GRANULATED GARLIC: This mixture works as the coating for the chicken breasts. The panko adds just a bit of crunch so don't skip it!
BUTTER: This is the ingredient that makes the sauce so delectable.
OLIVE OIL: I like to add a bit to the butter before sautéing the chicken, to help keep the butter from burning.
WHITE WINE: Use whatever dry white wine you prefer. I like to use sauvignon blanc.
DES' TIP:Whenever you are cooking with wine, make sure that it is something that you enjoy the the taste of. When it cooks down, as it does in this sauce, it will concentrate the flavor of the wine.
CHICKEN BROTH: Use low sodium so you can control the salt content.
NON-PERIL CAPERS: Capers are the pickled buds of a flower. You can find them in the condiment and pickles section of the grocery store.
DES' TIP: Because they are pickled, capers can be rather briny and salty. I prefer to rinse them for this dish so they don't make it overly salty.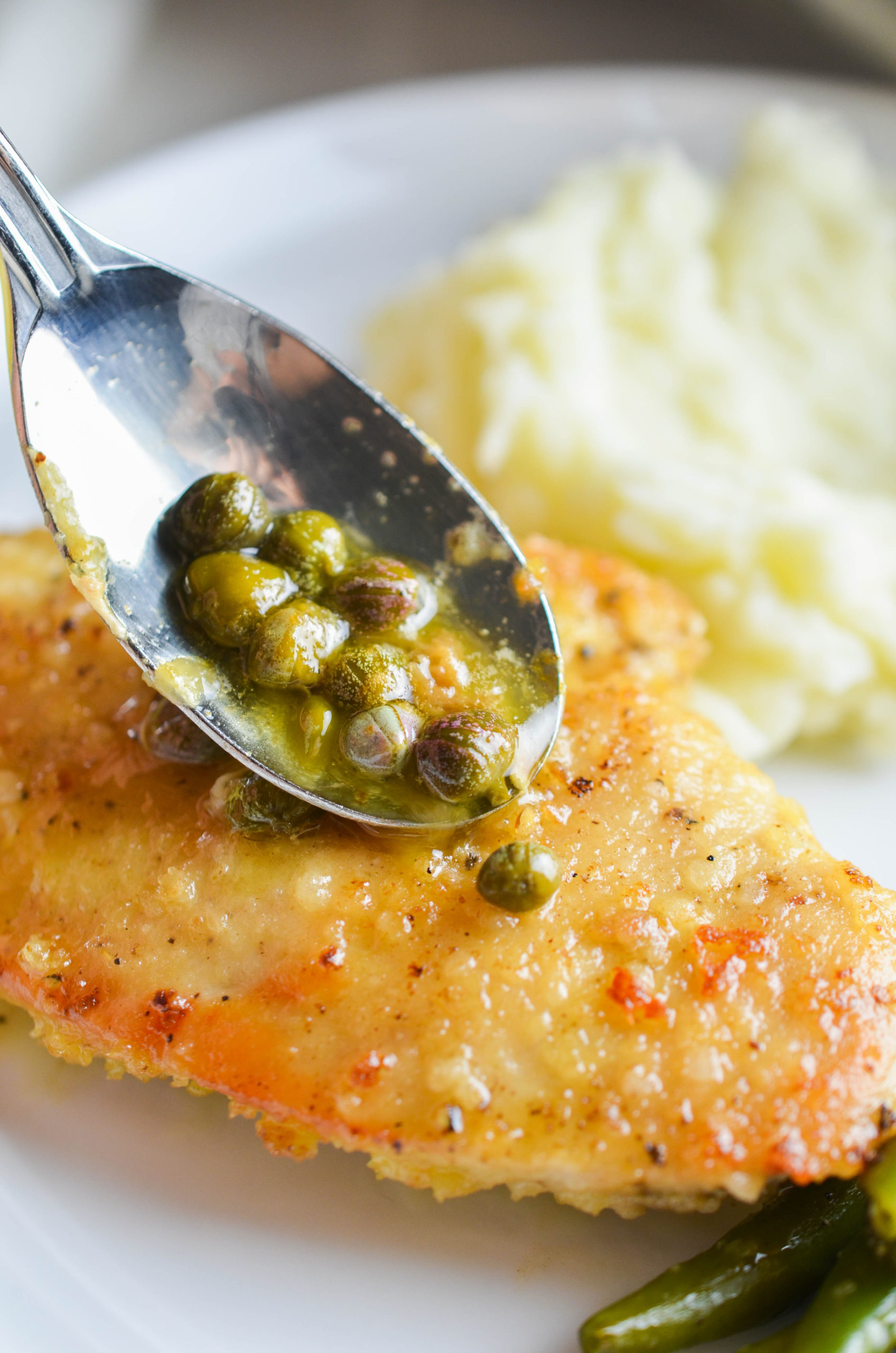 Step By Step Photos and Instructions: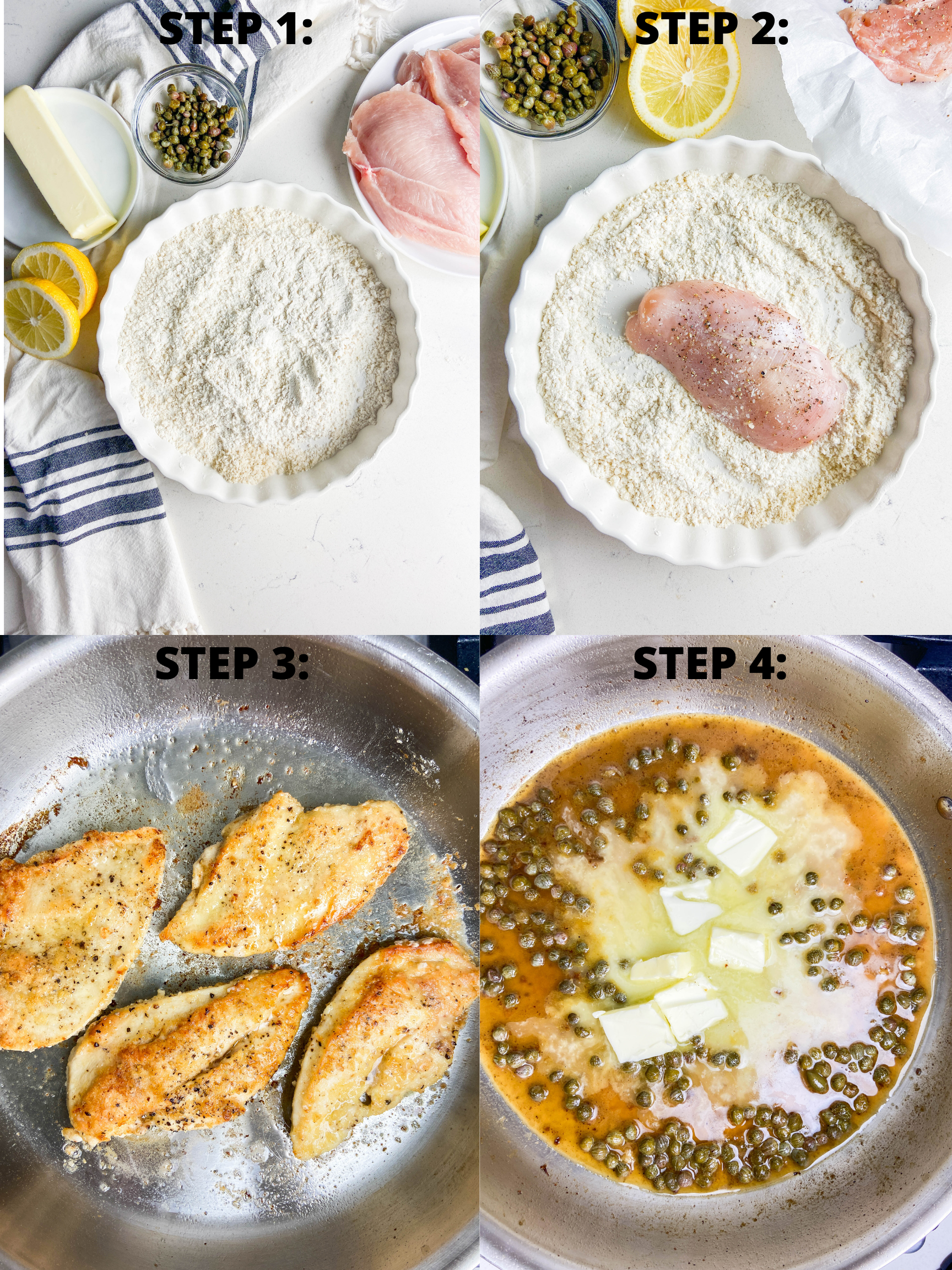 STEP #1: Combine flour, panko bread crumbs and granulated garlic in a shallow dish.
STEP #2: Sprinkle chicken breasts liberally with salt and pepper. Dredge in flour and panko mixture. Let set 10 minutes.
STEP #3: Heat 1 tablespoon of butter and 2 tablespoons of oil together in a large skillet just until the butter melts. Add the chicken and cook until browned and cooked through. About 3 minutes per side. Remove, cover and set aside to keep warm.
STEP #4: In the same pan that you cooked the chicken, whisk in the wine, chicken broth and capers.
DES' TIP: Be sure to scrape up any brown bits that have stuck to the bottom of the pan. They are loaded with flavor!
STEP #5: Add in remaining butter and swirl until it melts into the sauce. Serve sauce over chicken.
What do you serve with chicken piccata?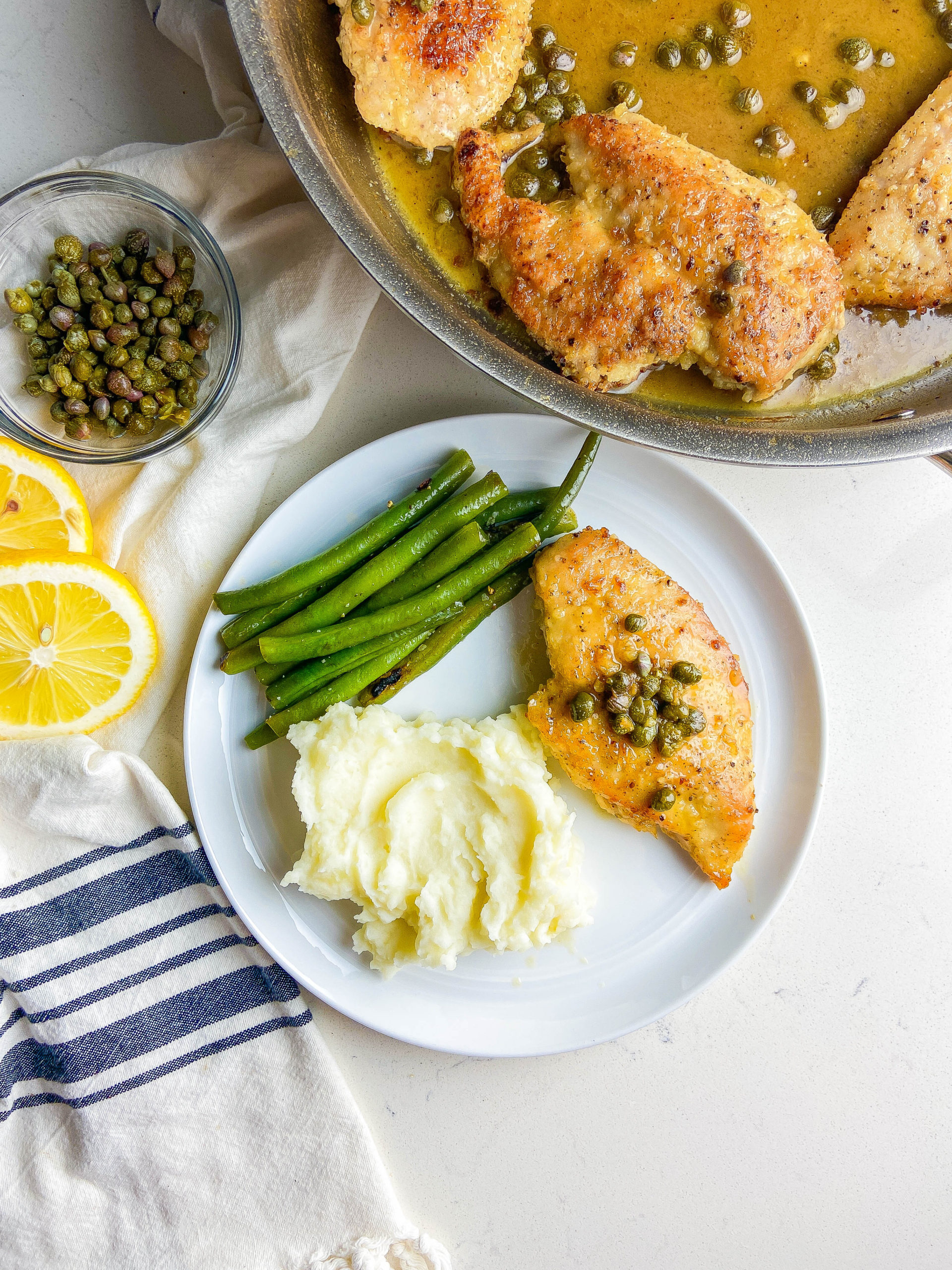 One of my favorite parts about this recipe is the buttery sauce so I like to serve it with creamy mashed potatoes. The sauce acts like a kind of gravy and is so scrumptious! To round out the meal serve it with a green salad, green beans or sautéed broccoli.
My entire family loves this chicken piccata. And I love how easy it is. Give it. a try and I'm sure it'll quickly become a meal rotation favorite for you too! And if you want even MORE piccata, you've got to check out my recipe for scallop piccata.
We love capers around here. Do you? If so you have got to check out some these recipes featuring these briny gems:
Salmon with Lemon Caper Butter
Looking for more easy chicken dinner recipes? Here are some of my favorites:
Note: This recipe was originally written and posted in 2009. It was updated with new pictures, step by step photos and nutrition information in 2020.