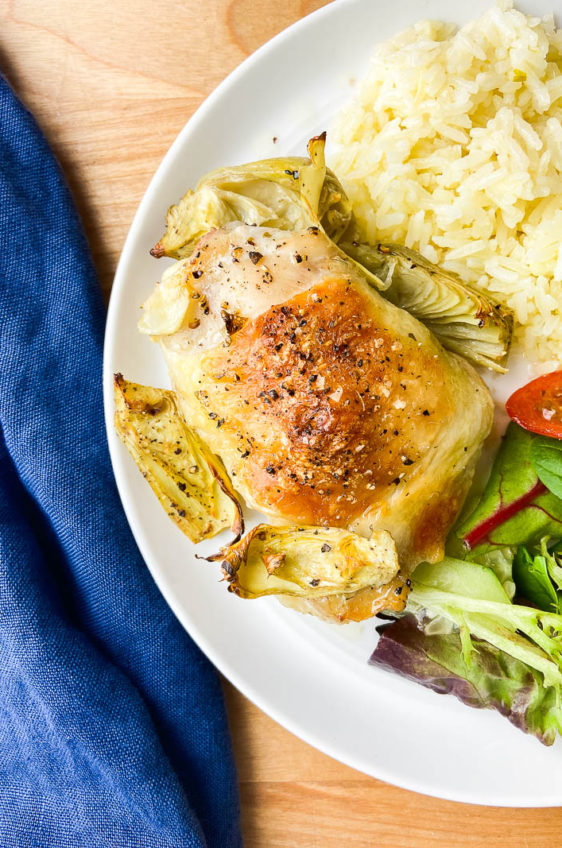 Artichoke Chicken
Artichoke Chicken is THE easy chicken dinner you are looking for. All you need is 4 ingredients to get this delicious, juicy chicken on the table.
Guys, you know me. I love to cook. After all, it is what I do for a living. That being said, there are some times when I just don't have the time to be in the kitchen. And if you're like me, whether you're in a rush with work, busy with the kids or just really don't have time an easy meal can be a life saver.
This Artichoke Chicken is just that.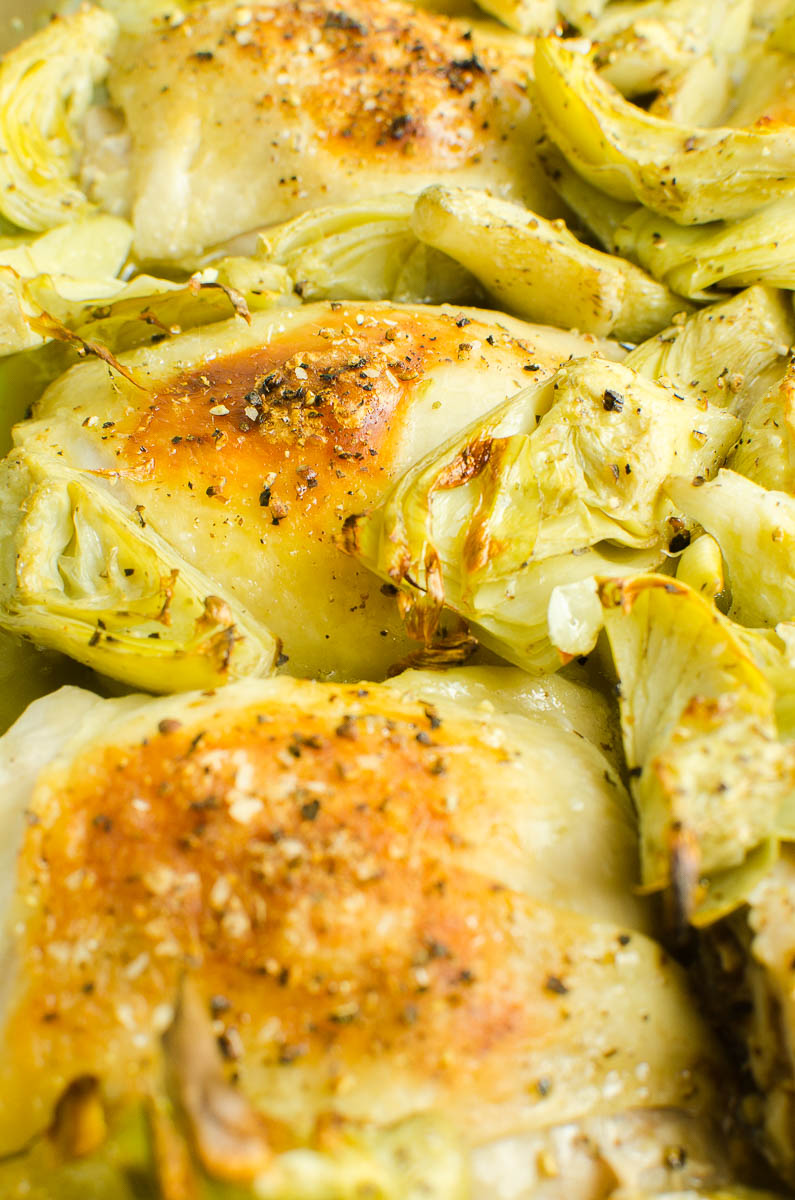 What ingredients do you need:
This is the best part. This recipe requires 4 ingredients: chicken thighs, marinated artichoke hearts, salt and pepper. THAT'S IT.
CHICKEN THIGHS: I picked chicken thighs for this dish because they are loaded with flavor and will be more tender than the leaner chicken breasts. Don't use boneless, skinless chicken in this recipe because the crispy skin is one of the best parts.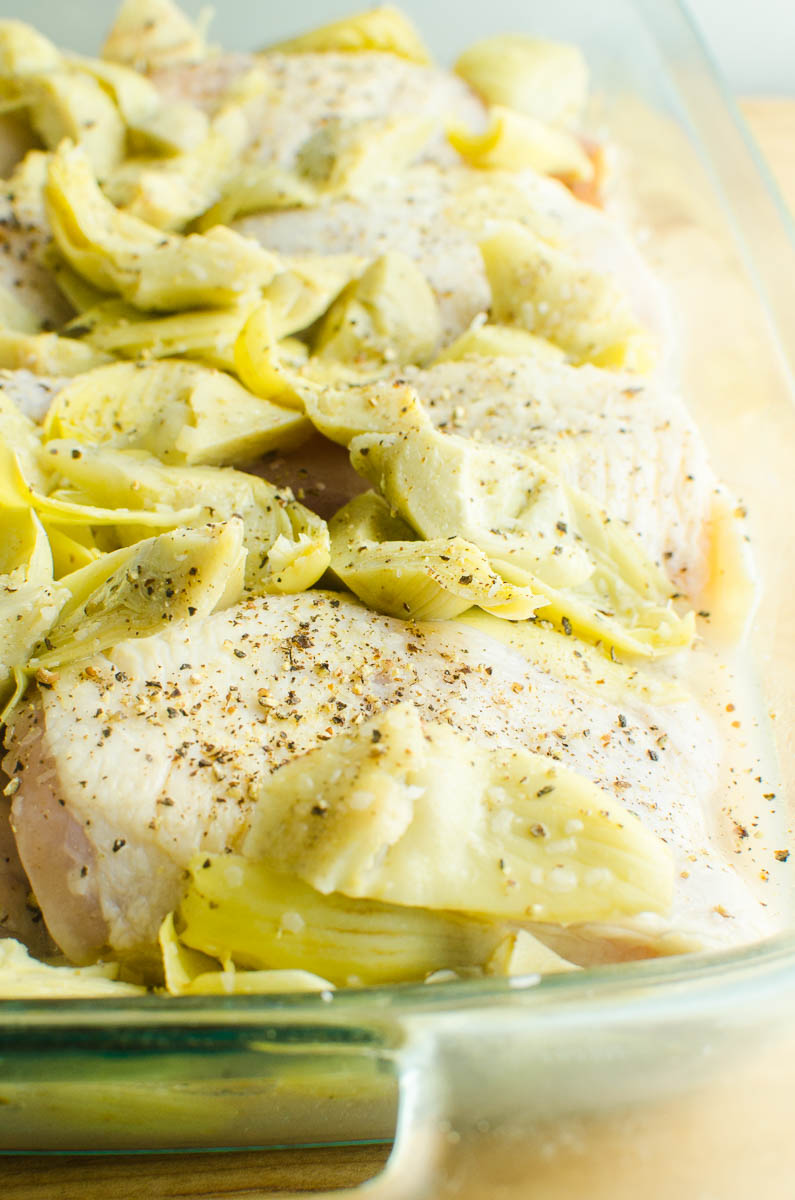 MARINATED ARTICHOKE HEARTS: You can find these in the canned veggie section of just about any grocery store. I have used Reese's, DeLallo and Napoleon brands and they have all been great! This artichoke chicken is packed with flavor because the marinated artichokes are packed with flavor so just pick your favorite.
Step by Step Instructions:
Not only does this recipe require very few ingredients, it also has very few steps.
STEP 1: Combine chicken, artichoke hearts and marinade together in a bowl. Cover and refrigerate for 1 – 2 hours. You can do longer than that if you needed.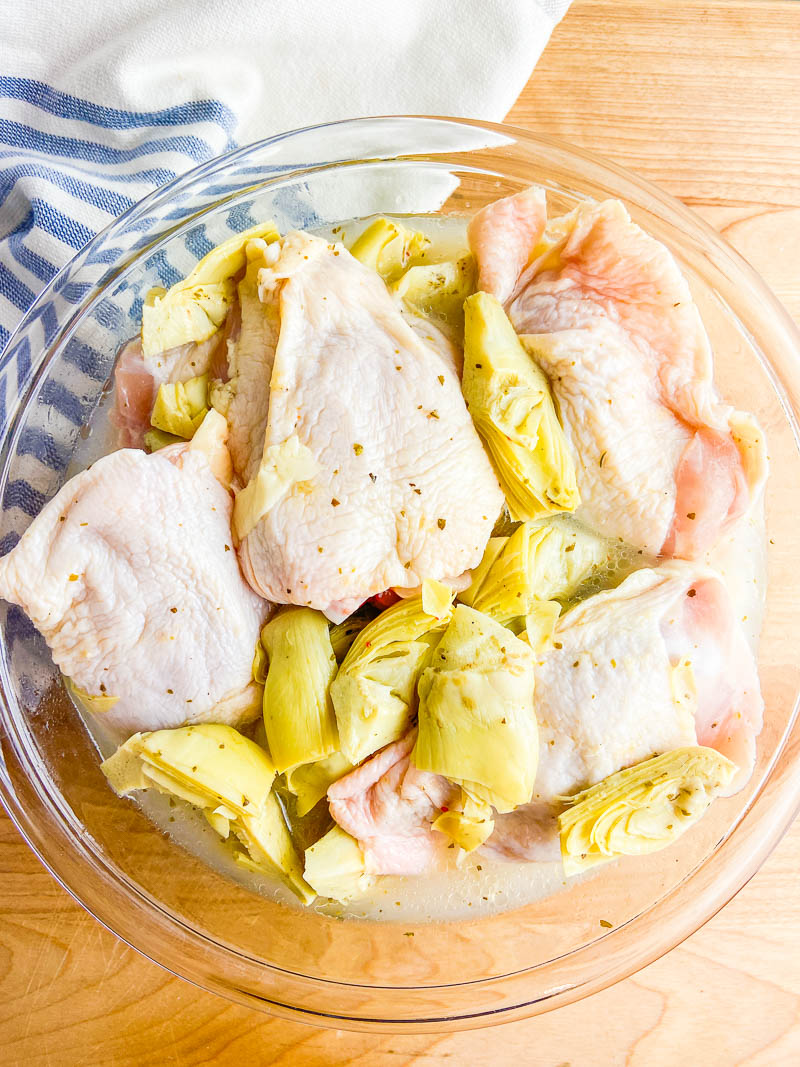 STEP 2: Place chicken, artichokes and 1/4 cup of the artichoke marinade in a large baking dish. I used a 9 x 13 inch baking pan.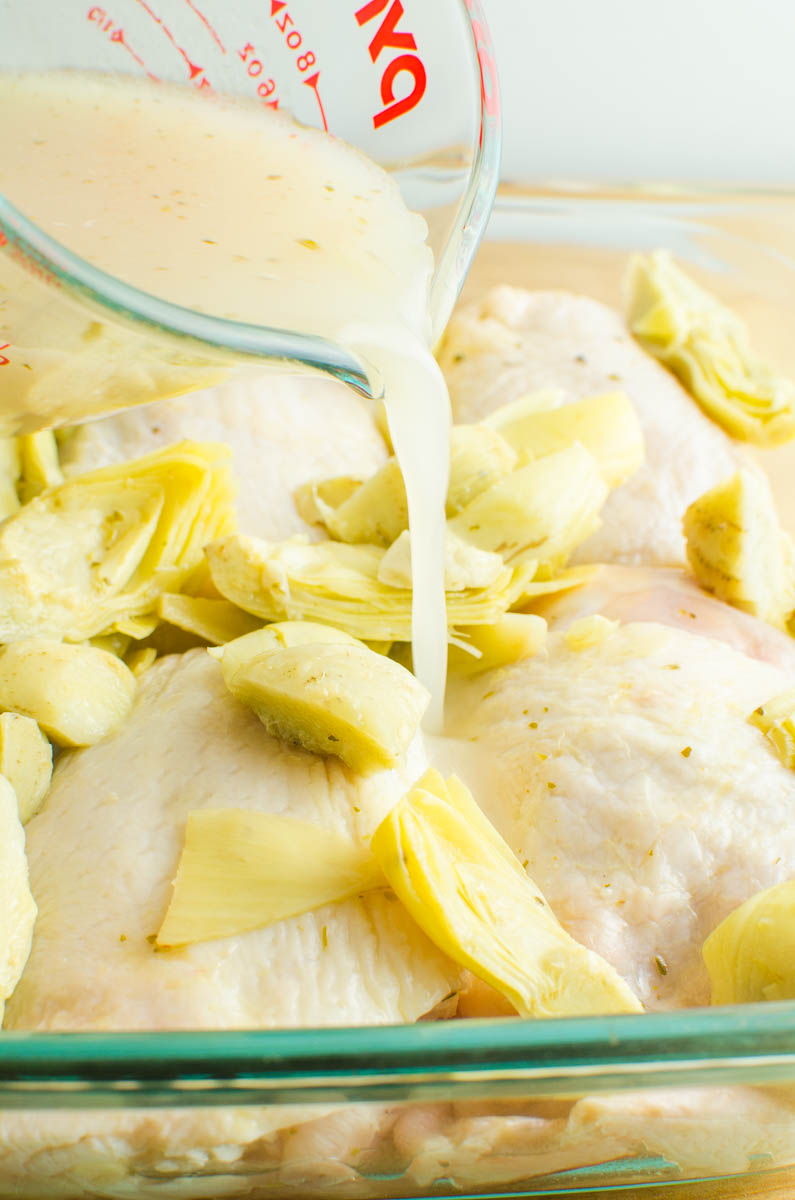 STEP 3: Bake at 325 degrees for 45 – 55 minutes or until chicken reaches 165 on a meat thermometer. Turn on the broiler for a couple of minutes to get a nice golden brown color.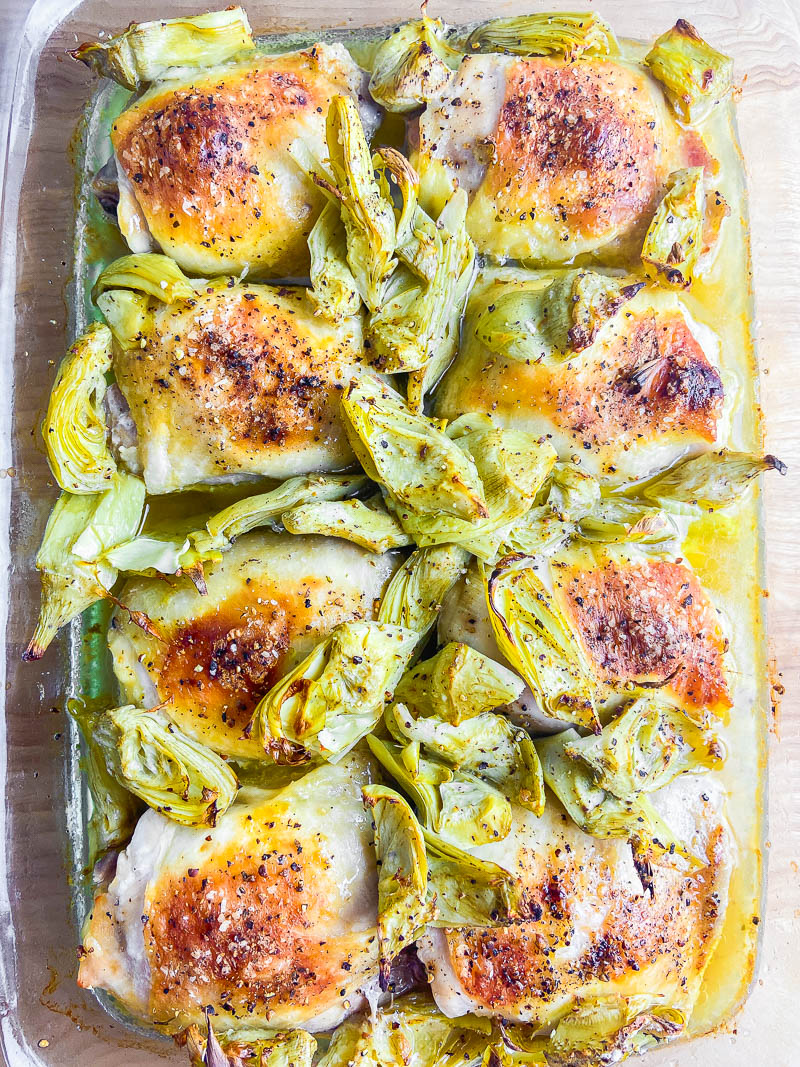 What do you serve with Artichoke Chicken?
While the chicken cooks it makes delicious pan juices that are perfect for spooning over my favorite garlic rice. It's also perfect to serve alongside sautéed broccoli or Garlic Green Beans . Or a salad with Garlic Vinaigrette.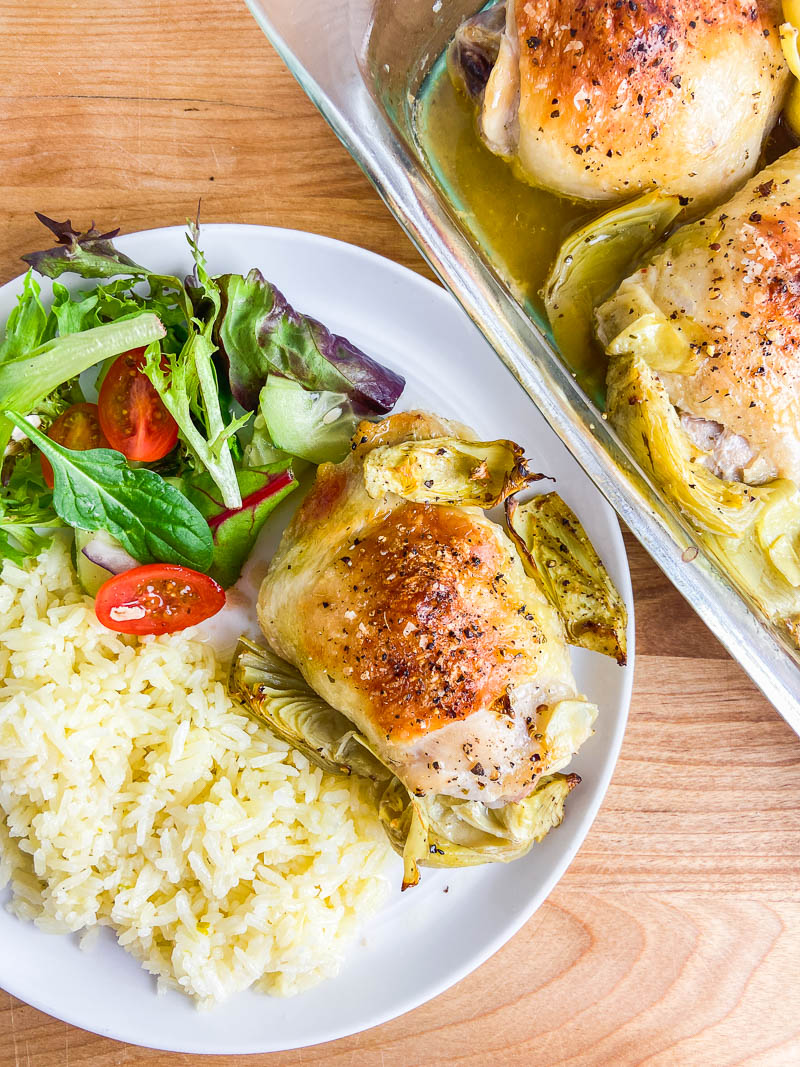 If you love this Artichoke Chicken, check out some of my other chicken recipes:
Note: This post was originally published in 2011. It was updated with new photos, instructions, nutrition facts and a video in 2020.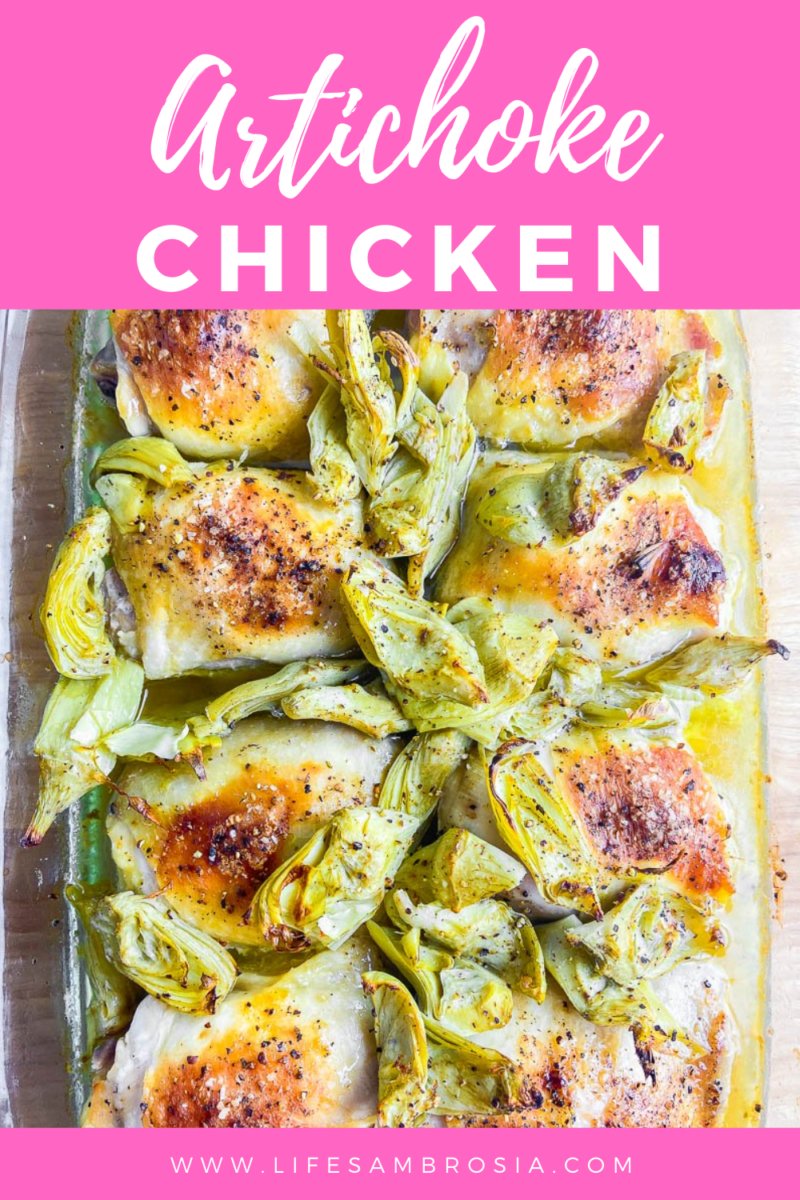 Artichoke Chicken Recipe
Ingredients:
8 chicken thighs
2 (12 ounce) jars marinated artichoke hearts with their liquid
1/2 teaspoon kosher salt
1/2 teaspoon fresh cracked black pepper
Instructions
1
Combine the chicken thighs and artichoke hearts and liquid in a bowl. Cover and refrigerate for 1 hour.

2
Preheat oven to 325 degrees.

3
Place chicken, artichokes and 1/4 cup of the liquid into a baking dish. Sprinkle with salt and pepper. Bake for 45 - 55 minutes or until chicken is cooked through. Turn on the broiler and broil for 2 - 4 minutes to brown the chicken. Serve.
Notes
Nutrition facts for estimation purposes only.
Nutrition information
Calories: 333 , Total Fat: 23.5 , Saturated Fat: 3.2g , Cholesterol: 69mg , Sodium: 1733mg , Carbohydrates: 12.2g , Fiber: 6.1g , Sugar: 0g , Protein: 24.6g