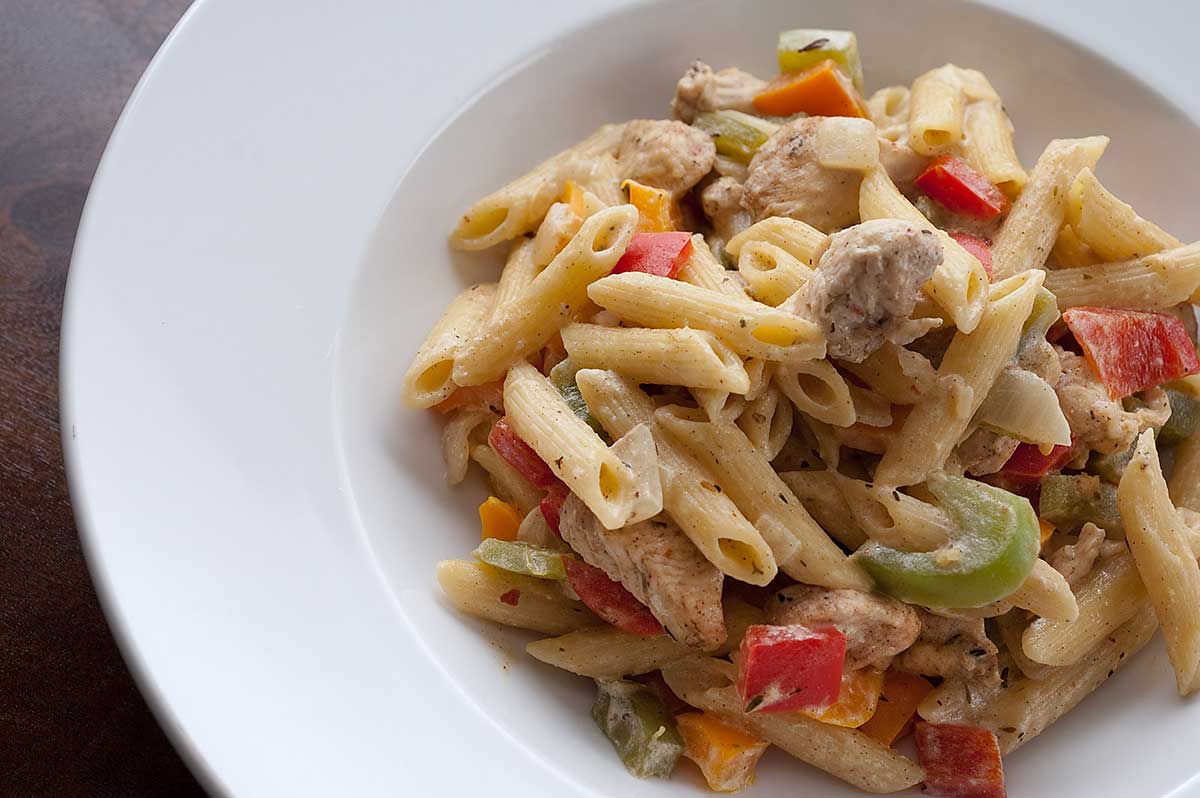 Caribbean Jerk Chicken Pasta
This has been a pretty busy couple of weeks for me. From a bridal photo shoot  to a Hanson concert (more about these later) to our wedding anniversary and visiting relatives we have been busy. It is because of this that I bring to you yet another quick and easy dinner recipe for those nights when you just don't have more than 30 minutes to make your dinner. With chicken, 3 different kinds of bell peppers, onions and jerk seasoning it's creamy, spicy, a little sweet and oh so scrumptious.
I am all for trying new things especially when it comes to seasoning blends. I love to see how different flavors work together. For this recipe I decided to jump into completely uncharted territory for me and grab a bottle of Caribbean jerk seasoning. Jerk seasoning is one of those seasonings that you don't see too much. I've seen it in a few places and on a few menus at restaurants but unless you're at a Caribbean restaurant chances are you aren't going to see it. That really is a shame because it really is a unique blend of flavors with cinnamon, allspice, garlic, salt and scotch bonnet peppers. At first taste its slightly sweet but then on the back of the tongue you get a little spice. It really is the best of both worlds.
Caribbean Jerk Chicken Pasta Recipe
Ingredients:
1.5 pounds chicken breasts, diced
1 tablespoon plus 1 1/2 teaspoons jerk seasoning
1 pound dried penne pasta
1 tablespoon olive oil
1 red bell pepper, diced
1 green bell pepper, diced
1 orange bell pepper, diced
1/2 medium onion diced
2 cloves garlic, minced
1 cup half and half
1/2 cup light sour cream
Instructions
1
Toss chicken with 1 1/2 teaspoons jerk seasoning.

2
Bring a large pot of water to a boil and cook pasta according to package directions. Drain.

3
Meanwhile, heat olive oil in a skillet over medium heat. Stir in diced peppers, onion and garlic. Cook 3 minutes. Stir in chicken. Continue cooking until chicken is cooked through about 10 minutes.

4
Reduce heat and stir in half and half, sour cream and remaining tablespoon of jerk seasoning. Continue cooking until the sauce thickens slightly, about 5 minutes. Stir in drained pasta. Toss to combine. Reduce heat and allow to simmer for 5 more minutes. Serve.