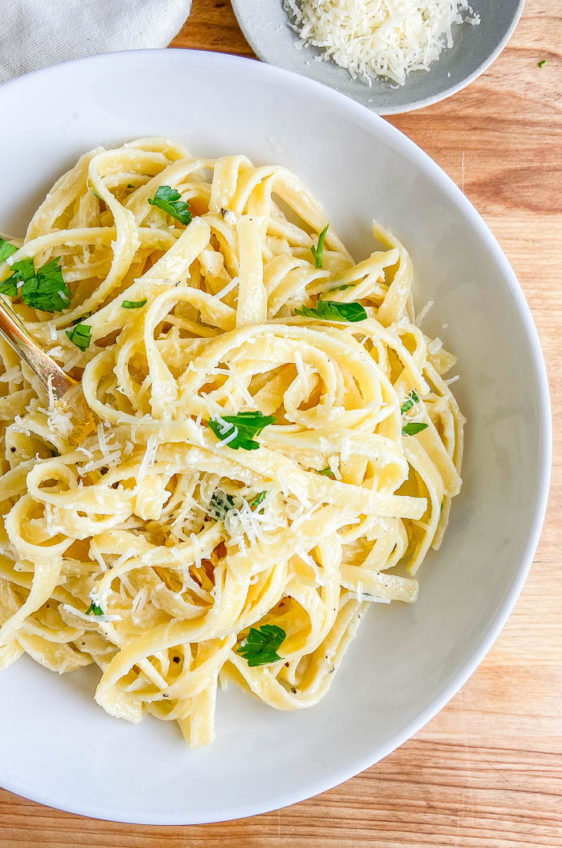 Easy Fettuccine Alfredo
You need this Classic Fettuccine Alfredo in your life. With only a handful of ingredients and 20 minutes, this easy decadent pasta can be on your table.
When it comes to decadent pasta meals, the first recipe that comes to mind is always Alfredo. The creamy, buttery, parmesan filled pasta dish is a family favorite for sure. My kiddos, my husband and I will gobble it up whenever I make it.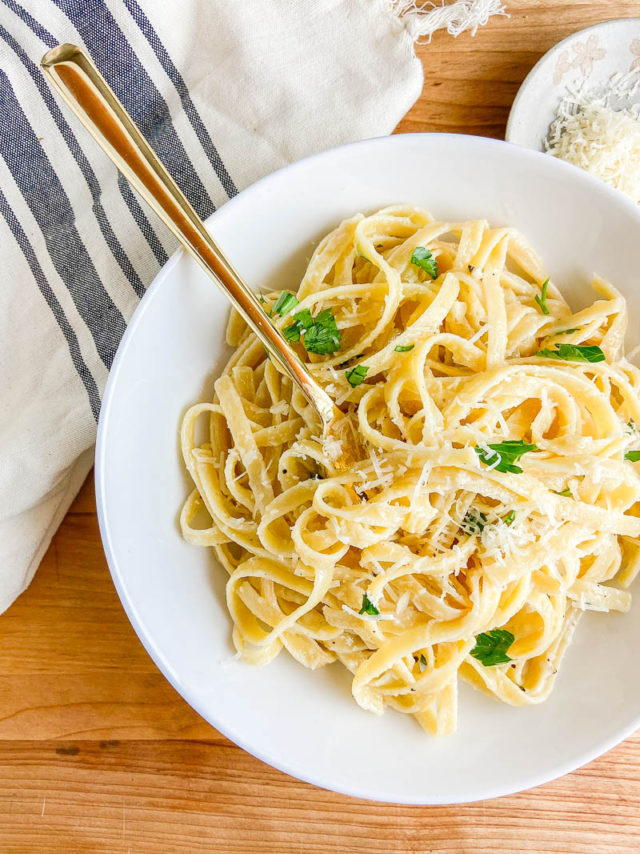 And the thing that makes this Easy Fettuccine Alfredo recipe the absolute best? It can be ready in under 20 minutes!
What ingredients do you need to make classic Alfredo sauce?
One of the best things about this pasta is that the ingredients are usually kitchen staples. To make this recipe you'll need:
Pasta: Classic is the flat fettuccine noodle, but you could also make this with other long noodles like linguine or short noodles like penne.
Cream: Traditionally, Alfredo does not have cream. However, I like the decadence it adds to this sauce so I use it in this recipe.
Butter: This is the base of every good Alfredo sauce so use the real stuff!
Garlic: Not all Alfredo recipes call for garlic, but garlic works so well in this creamy sauce. It's a small amount so it's not over-powering. Don't leave this out!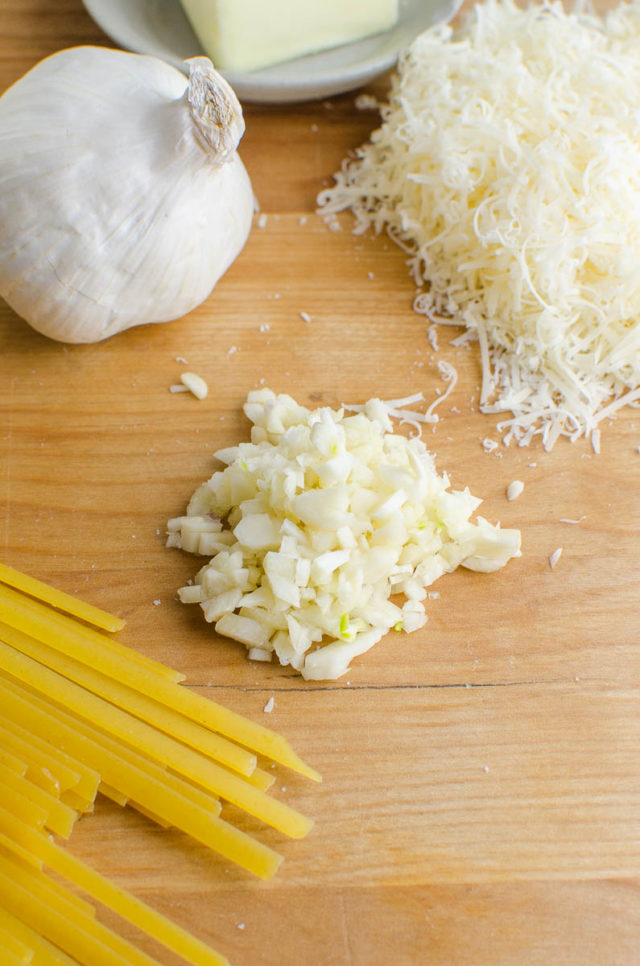 Cheese: This recipe calls for a mixture of Parmesan and Romano Cheeses. Romano is a bit sharper than Parmesan in taste. That is why I do a mixture of the two. I have made this Alfredo with only Parmesan before and it works out just fine!
DES' TIP: Buy a block of Parmesan and Romano cheese and grate them yourself. It will taste better and make your sauce creamier than the pre-grated stuff.

How do you make a creamy Alfredo Sauce from scratch?
This is called Easy Alfredo for a reason! Just follow these easy steps and you'll be on your way to eating this decadent pasta in no time!
Step 1: Melt butter in a large pan over medium heat. Make sure that the pan is large enough to hold the pasta. Add in garlic and cook 30 seconds, just until garlic is fragrant.
Step 2: While pasta is still hot (this is important!) add to the butter/garlic mixture. Top with cheese.
Step 3: Pour cream over the top.
Step 4: Quickly toss to coat. The cheese may start to clump initially but just keep tossing, it will melt into sauce. Add in parsley and let stand 5 minutes.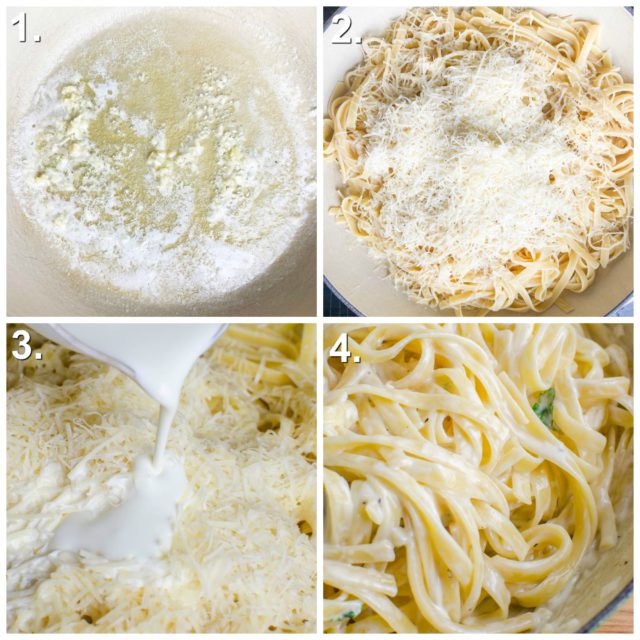 DES' TIP: I find that if the cream and cheese are at room temperature it helps the sauce come to better without clumping.
While I love leftovers as much as the next girl, this is one that I would say is best eaten the day it's made. Reheating the leftovers will often cause the sauce to break. It will still be buttery but not nearly as creamy.
Looking for more pasta recipes? Here are some of my favorites:
Easy Side Dishes to serve along side this Easy Alfredo Recipe: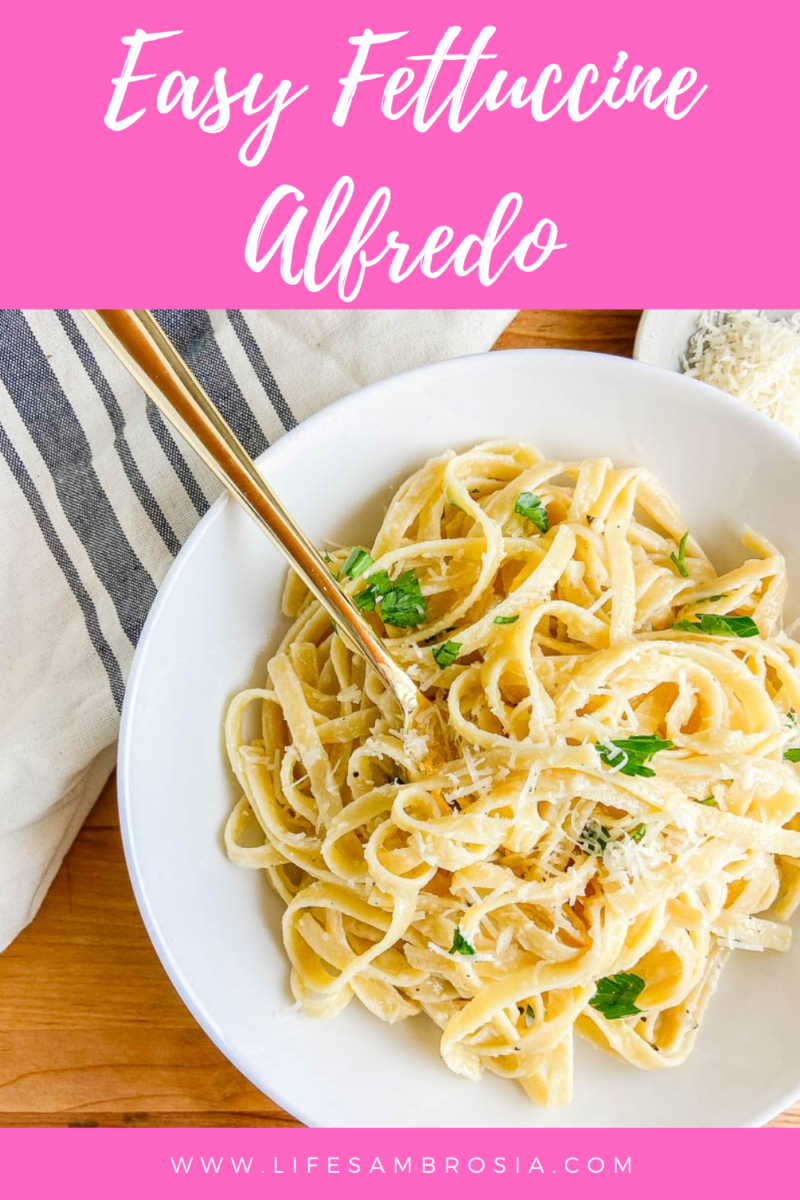 Note: This post was originally posted in 2009. It was updated with tips, new photos and nutrition facts in 2020.
Easy Fettuccine Alfredo
You need this Classic Fettuccine Alfredo in your life . With only a handful of ingredients and 20 minutes, this easy decadent pasta can be on your table.
Ingredients:
1

pound

fettuccine pasta

1/4

cup

butter

half a stick

4

cloves

garlic

minced

1

cup

heavy cream

1

cup

freshly grated Parmigiano-Reggiano cheese

1/2

cup

freshly grated Romano cheese

2

tablespoons

chopped parsley

salt and pepper to taste
Bring a pot of water to boil, liberally salt the water and add pasta. Cook according to package directions.

Meanwhile, melt butter over medium heat in a pan large enough to fit the pasta once cooked. Add the garlic and cook for about 3 minutes.

Add the pasta to the pan. Pour cream and cheese over the pasta. Toss to completely coat the pasta. Cook 2-3 minutes. Add the parsley. Reduce heat to low, let pasta stand 5 minutes until sauce thickens. Toss just before serving. Season to taste with salt and pepper. Serve immediately.
Calories:
551
kcal
Carbohydrates:
44.7
g
Protein:
27.2
g
Fat:
29.9
g
Saturated Fat:
18.3
g
Cholesterol:
149
mg
Sodium:
656
mg
Fiber:
0.1
g
Sugar:
0.2
g
Keywords:
fettucini, parlsey, parmesan cheese, pasta, romano cheese