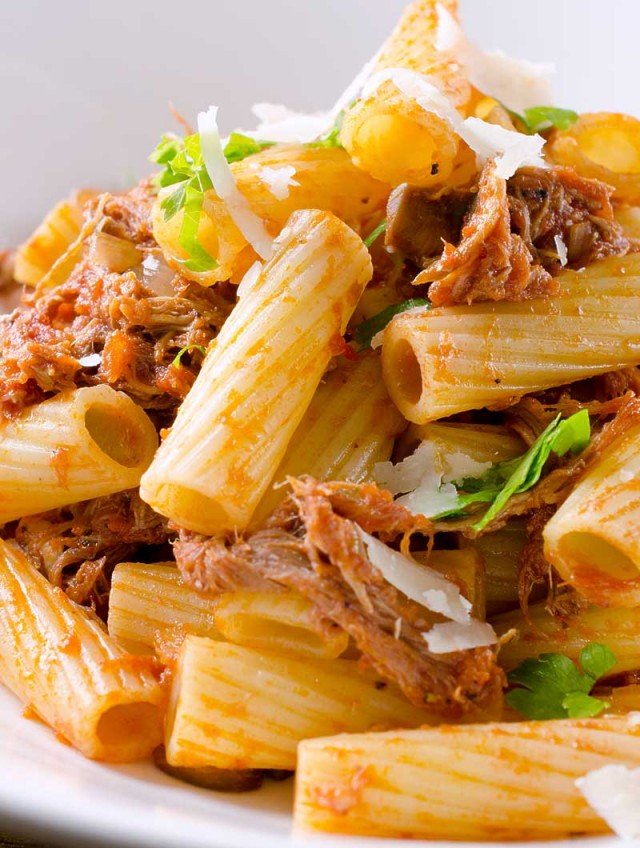 Pulled Pork Rigatoni
Pulled Pork Rigatoni is the best way to use leftover pulled pork. Pasta tossed with crushed tomatoes, pulled pork, onions, mushrooms and garlic. 
Pulled Pork Week continues today with this Pulled Pork Rigatoni. I should apologize because I've been holding on to this recipe for some time now. I'm not sure why I haven't shared it before because it is awesome. How could it not be?
First of all, there is rigatoni with those lovely holes that are perfect for hiding some sauce. Speaking of sauce the sauce is the BEST part. I'm telling you it is rustic comfort food to the max with crushed tomatoes, onions, garlic, mushrooms, and the star, pulled pork.
Take a minute and wipe the drool. I'll wait.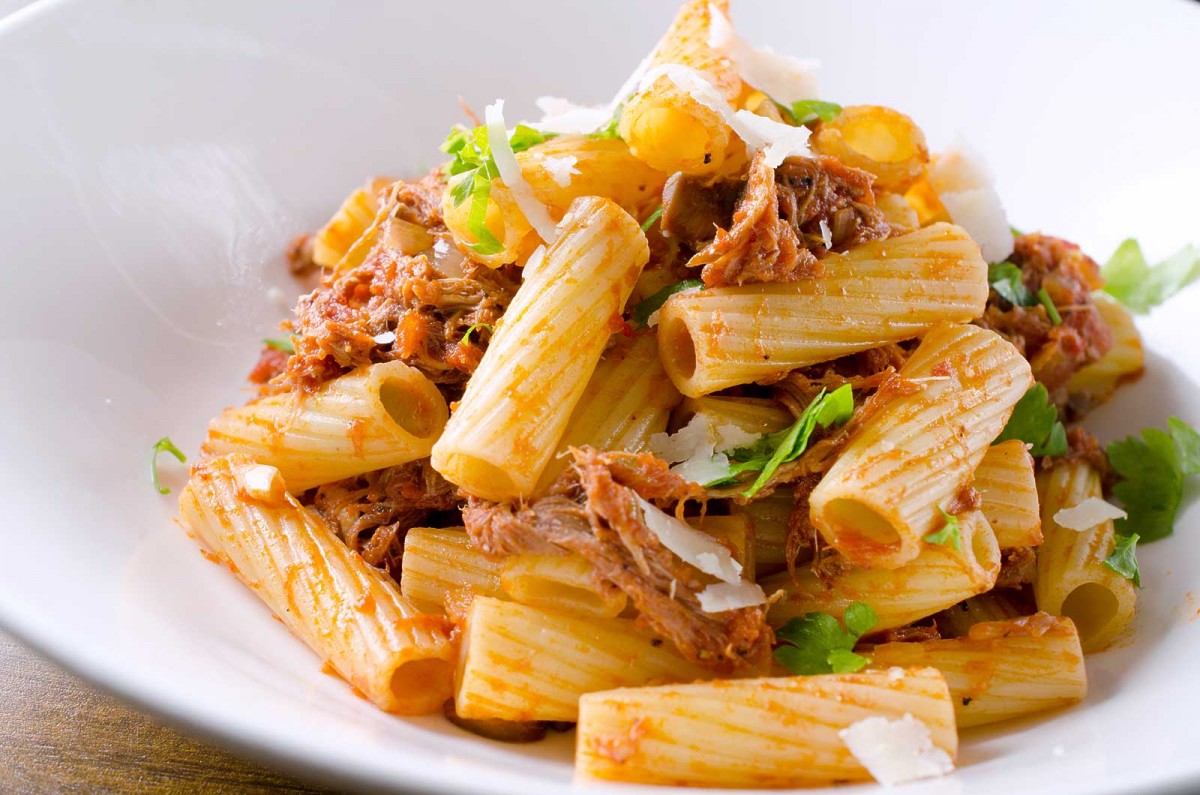 Ready? K good. Let's move on shall we?
What do you do with leftover pulled pork?
Whenever I make a batch of slow cooker pulled pork there is leftovers. I love it because there is SO many things you can do with it. For the longest time my leftovers would turn into tacos, sandwiches, taquitos, tostadas and tater tot casserole.
Never pasta.
It's weird really. Because I am always trying to think of a way to turn a non-pasta dish into a pasta dish.
Because carbs are awesome.
There I said it. And I'm not the least bit ashamed.
I heart pasta. A lot. I always have and I always will. Spending some time in Italy didn't help matters.
For this recipe, I use whole grain pasta. It's a little chewier and heartier than regular pasta. I think it makes pasta dishes more rustic. And it works especially well in dishes like this.
Pulled Pork Ragu.
That is basically what this sauce is and it is fantastic. I could probably eat the sauce all on it's own. The sauce is chunky with pulled pork, onions, garlic and mushrooms. It is rustic, simple and honestly one of the best things that you can do with your leftovers.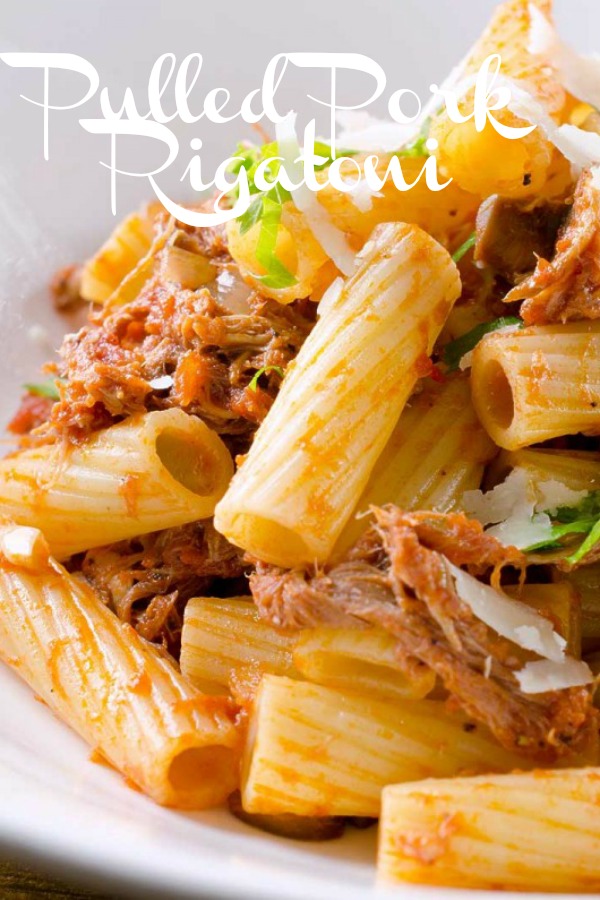 Looking for more pasta recipes? Check out some of my favorites!

Pulled Pork Rigatoni Recipe
Ingredients:
1 pound dried whole grain rigatoni
1 tablespoon olive oil
4 cloves garlic
2 cups sliced mushrooms
1/2 yellow onion, sliced
1/2 cup red wine
2 cups crushed tomatoes
1/4 teaspoon cumin
1/4 teaspoon black pepper
1/2 teaspoon kosher salt
chopped parsley
shredded parmesan cheese
Instructions
1
Bring a large pot of water to a boil and cook pasta according to package directions. Drain.

2
While pasta is cooking, heat olive oil in a large skillet over medium heat. Cook garlic, mushrooms and onions just until onions and mushrooms have softened and started to brown, about 5 minutes. Pour red wine over the top to deglaze the pan. Be sure to scrape up any of the brown bits that have stuck to the bottom of the pan.

3
Pour in crushed tomatoes. Mix in cumin, salt and pepper. Add in pulled pork. Mix well. Continue cooking for 5 - 10 more minutes or until sauce is warmed through. Stir in cooked rigatoni. Mix well. Transfer to a serving platter. Sprinkle with chopped parsley and parmesan cheese. Serve.