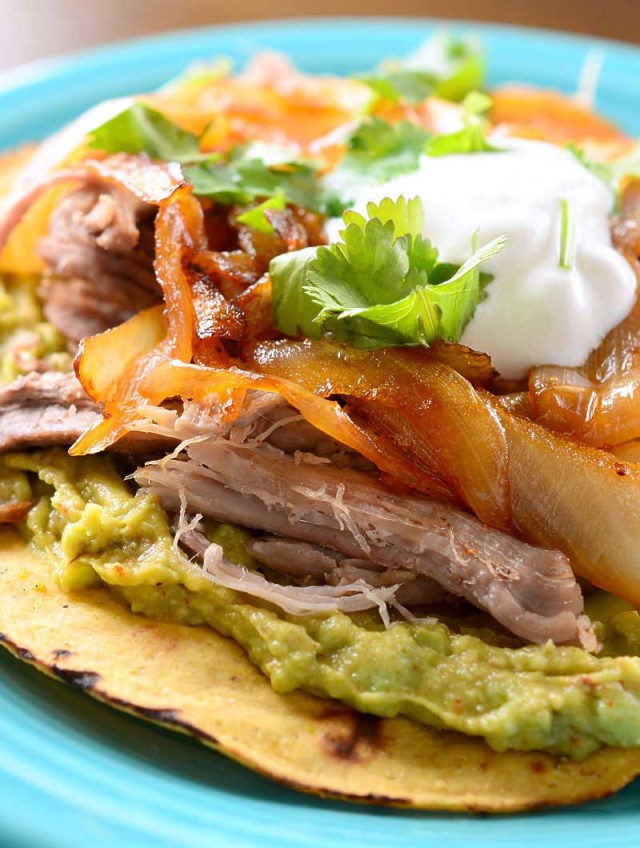 Pulled Pork Tostada with Chipotle Caramelized Onions
This recipe isn't very St. Patrick's Day-esque but after making them a couple of days ago, I couldn't resist sharing them with you today. They are super easy and include three of the most delicious things I can think of: pulled pork, caramelized onions and guacamole. And hey guacamole is green so it counts right? Let's just go with that.
I have been really good about taking Barre classes these past few weeks. I've actually been going 3 times a week. It's easiest for me to go at night so that Ryan and watch Kellan, this means that I need a dinner that is quick, easy but satisfying because I am really hungry after barre. This recipe totally fits the bill as long as I make sure to have this pulled pork on hand. Which I do. At least once a month.
You should too. It's delicious. And gives you the opportunity to make this dish.
Which you also want to do. Because, it too, is delicious.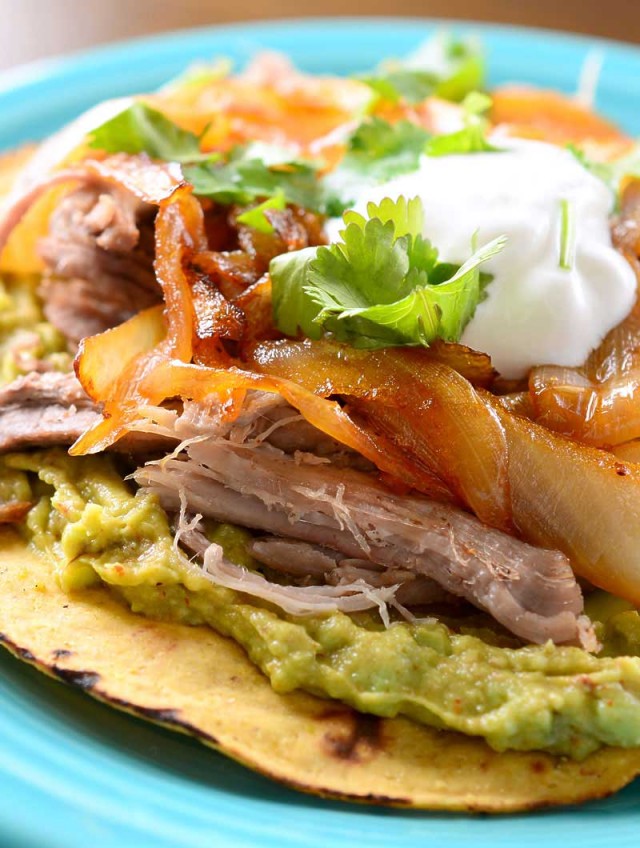 Pulled Pork Tostada with Chipotle Caramelized Onions
Succulent pulled pork tostadas topped with spicy yet sweet chipotle caramelized onions.
2

tablespoons

olive oil

1

medium yellow onion

sliced

1/4

teaspoon

garlic powder

1/4

teaspoon

chipotle powder

1/4

teaspoon

salt

2

cups

pulled pork

1

cup

guacamole

4 to

stada shells

sour cream

cilantro
Heat olive oil in a skillet over medium heat.

Toss onions with garlic, chipotle powder and salt. Cook in skillet over medium-low heat until brown and caramelized. About 20 minutes. Stirring frequently. Transfer to a plate and set aside.

In the same pan, cook pulled pork just until warmed through.

Heat tostada shells according to package directions.

To assemble one tostada spread guacamole on a tostada shell. Top with 1/4 of the pulled pork, 1/4 of the caramelized onions and a dollop of sour cream and a sprinkle of cilantro. Repeat with remaining ingredients.

Serve.
Keywords:
entree, Food, guacamole, mexican food, pulled pork, Recipe, tostada