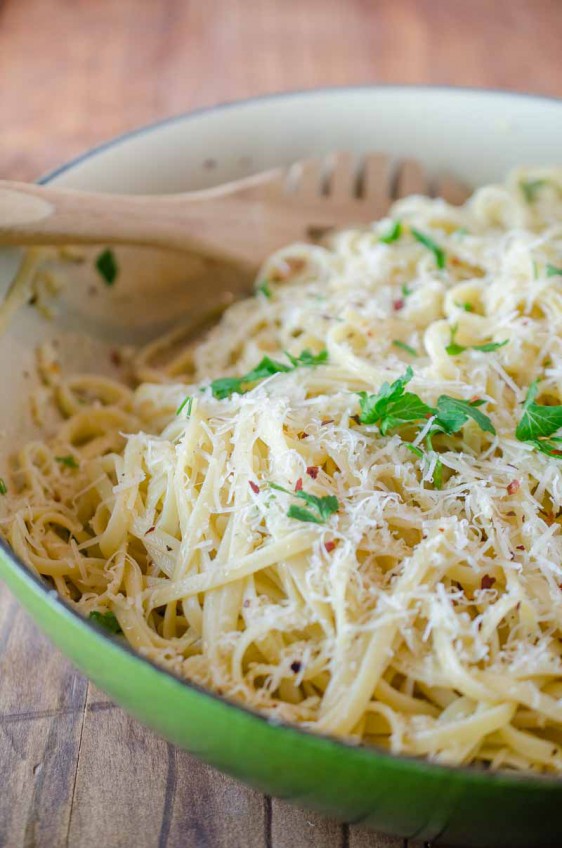 Linguine Aglio E Olio
Aglio e Olio pasta is an authentic Italian dish. It is simplistic with only a handful of ingredients and is ready in under 30 minutes. 
Aglio e Olio is sometimes called "the pantry pasta" and that is because it is so simple that you probably have all of the ingredients in your pantry right now.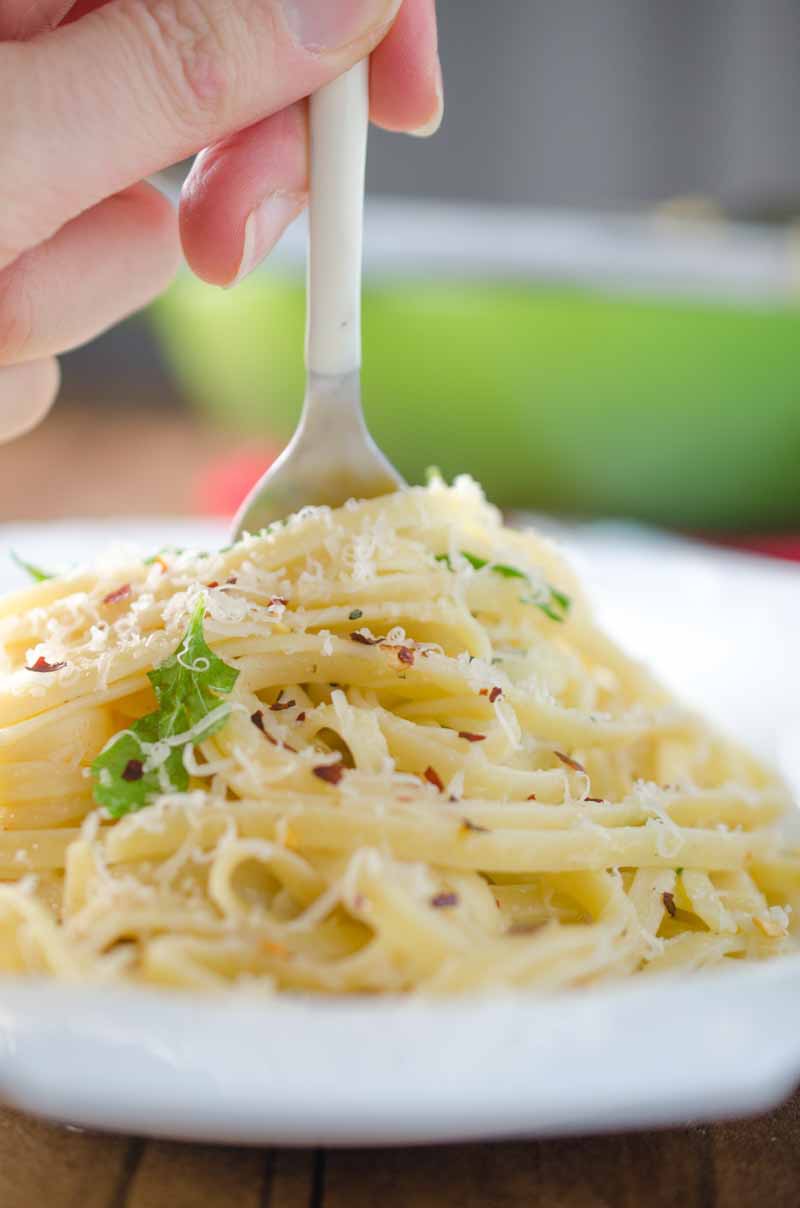 Don't mistake simple for boring though. This pasta is anything but. It's full of flavor and always a hit. Whether you need a quick and easy weeknight dinner or want to transport your sweetie to a Roman trattoria for date night at home, this pasta is exactly what you are looking for.
What is Aglio e Olio?
Aglio e Olio is a classic Italian dish that is believed to have originated in Naples. Aglio e Olio is translated to garlic and olive oil. Which are the two main stars in this dish. They are accompanied by pasta, crushed red pepper, parmesan and a sprinkle of parsley for color.
See. I told you it was easy.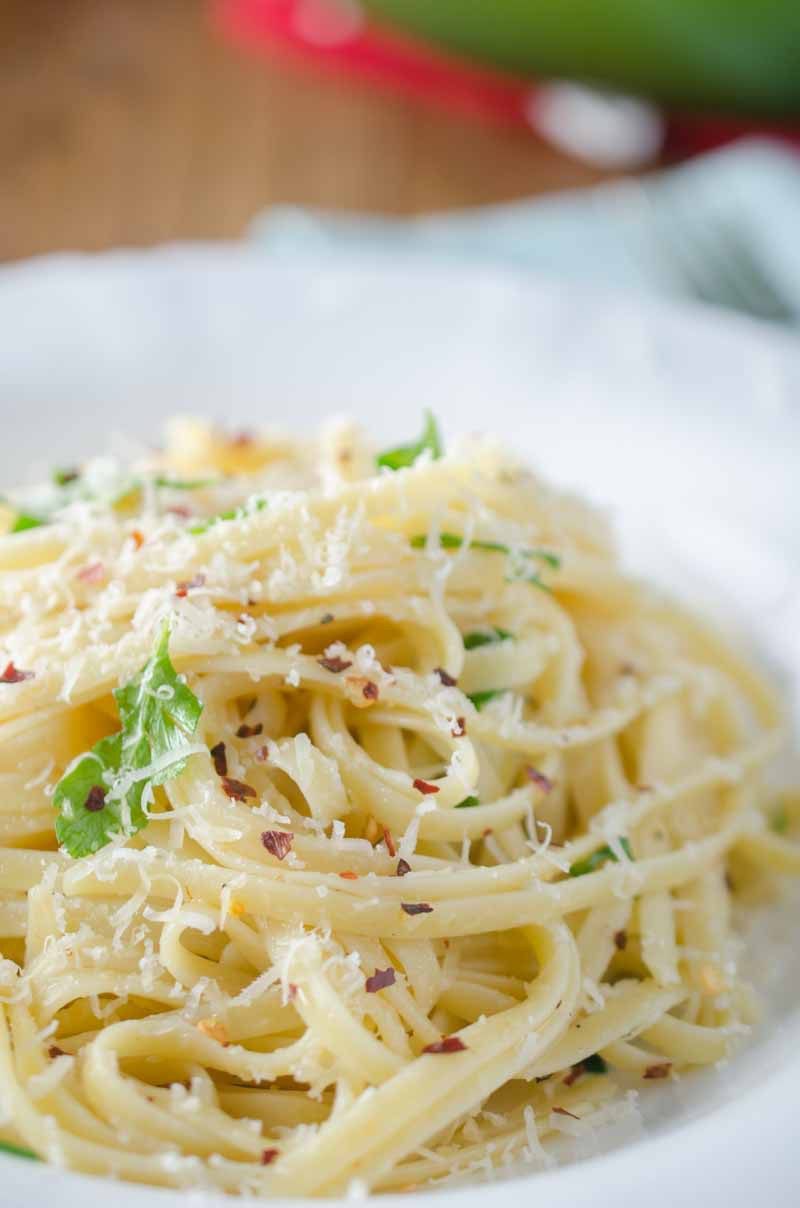 And it is pasta heaven.
How do you make olive oil and garlic pasta?
Linguine Aglio e Olio is one of the first meals that I started making at a young age. It is beyond easy to make. If you can boil water you can make this pasta.
STEP 1: Cook pasta according to package directions. I prefer to use linguine but any long pasta you have on hand will work. Spaghetti is the most traditional. If you use angle hair, I would cut down the amount to 3/4 pound instead of the full pound.
STEP 2: Heat olive oil in a large pan over medium-low heat. Add garlic, salt and crushed red pepper and cook 30 – 45 seconds.
One of the most common problems people have with this dish is overcooking the garlic. Over cooking the garlic will result in a burnt, bitter taste. To avoid this keep the heat low, stir frequently and keep an eye on it. It really only needs less than a minute.
STEP 3: After you've drained the pasta, add it to the pan, add parsley and toss to combine. Serve with fresh shredded parmesan cheese.
SEE! It could not be easier!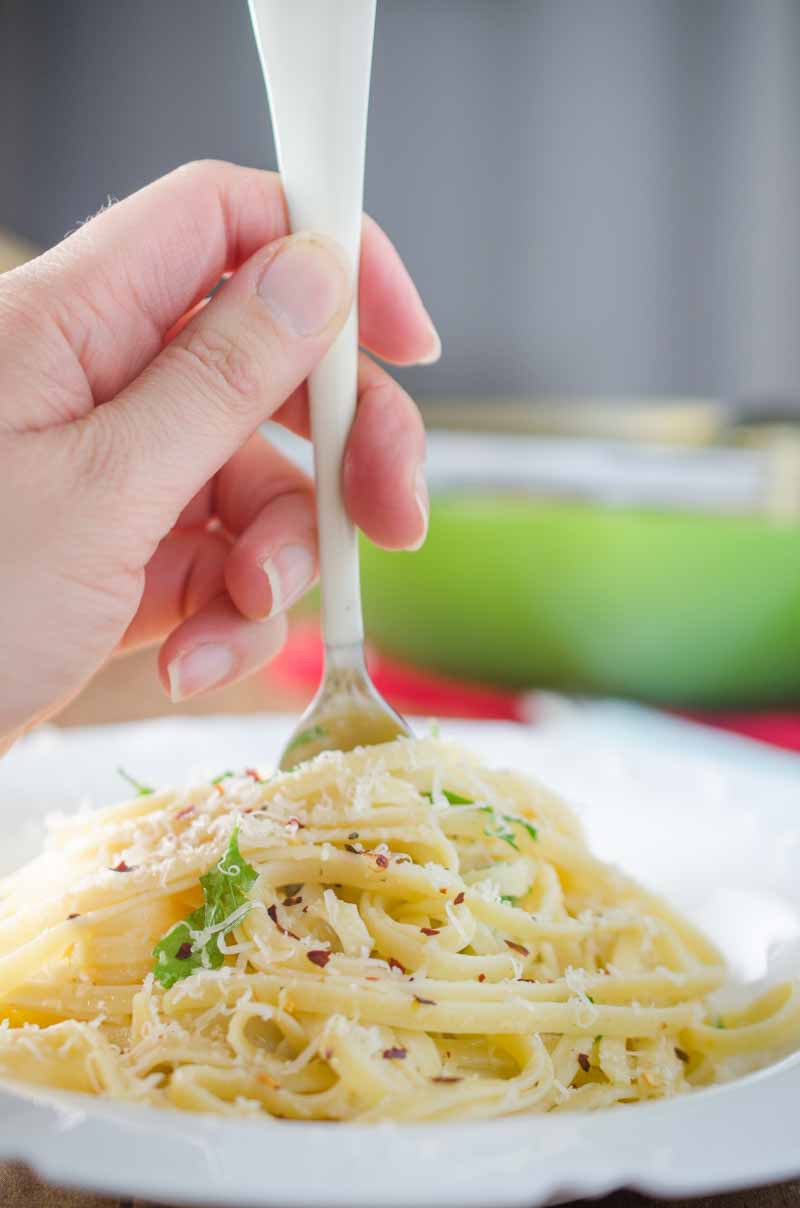 Don't wait any longer to add this Aglio e Olio to your monthly dinner rotation. Your whole family is sure to love it's simplistic, garlicky flavor and you are going to love how incredibly easy it is to make.  Complete this easy dinner with a handful of salad greens and this Garlic Vinaigrette .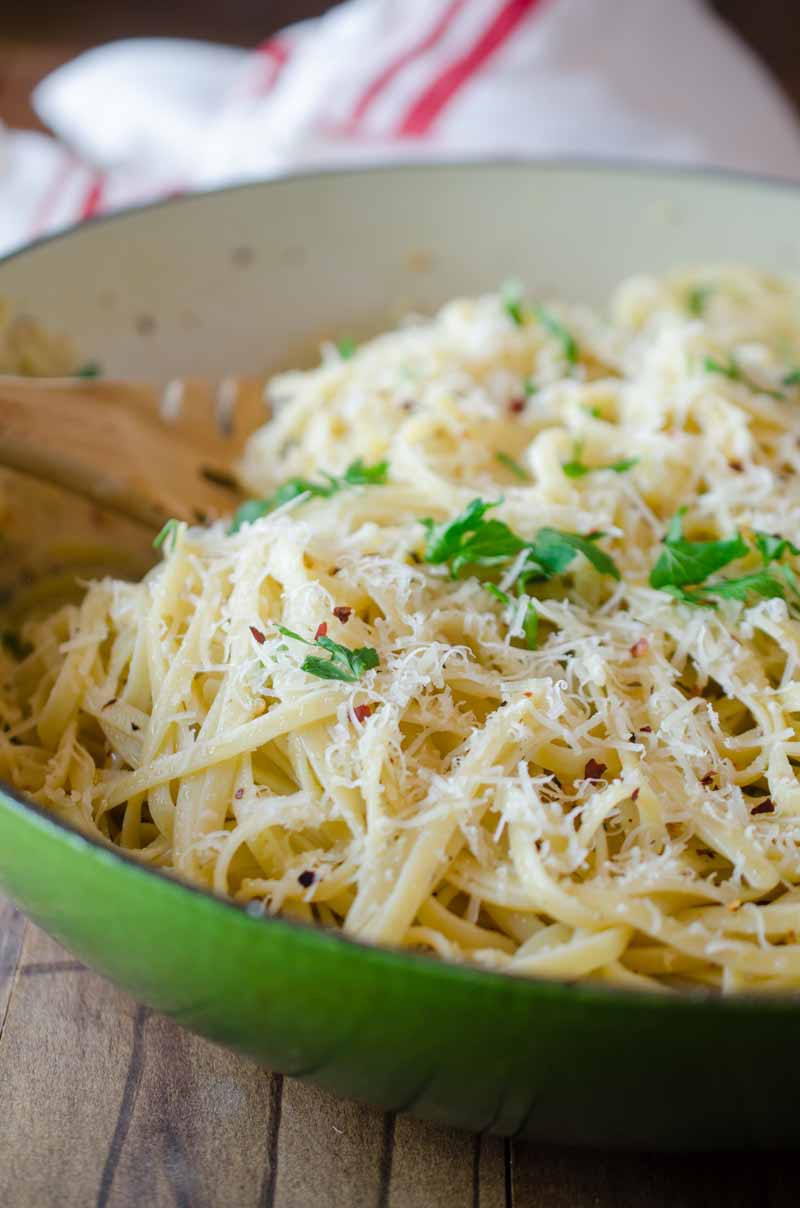 And of course you've always got to have Garlic Bread or if you're really looking to make this a comfort food meal for the ages, serve it with this Cheese Bread 
Looking for more pasta recipes? Check out some of my favorites!

Note:  I originally posted this post in 2008. Updated with photos, tips and nutrition facts in 2019.
Linguine Aglio E Olio Recipe
Ingredients:
1 pound dry linguine
8 cloves garlic, minced
1 teaspoon crushed red pepper (feel free to cut back here a little if you want to lower the spice)
Kosher salt to taste
3 tablespoons olive oil
1 tablespoon chopped Italian parsley
Grated Parmesan for garnish
Instructions
1
Boil 5 quartz of water to a boil and add 1 tablespoon of salt.

2
Cook according to package directions.

3
Strain the pasta and rinse with cold water, you will want to stop the cooking process of the pasta.

4
In a large skillet heat olive oil over med heat.

5
Add garlic, salt and crushed red pepper to the pan and cook for 30 seconds to 1 minute being careful not to burn the garlic.

6
Add the linguine to the skillet, add parsley and toss to combine.

7
Continue cooking for 2-3 minutes.

8
Transfer to pasta bowl and top with grated Parmesan cheese
Notes
Nutrition facts are for estimation purposes only.
Nutrition information
Calories: 345 , Total Fat: 12.8g , Saturated Fat: 3.9g , Cholesterol: 69mg , Sodium: 582mg , Carbohydrates: 43.6g , Fiber: 0.2g , Sugar: 0.1g , Protein: 14.9g