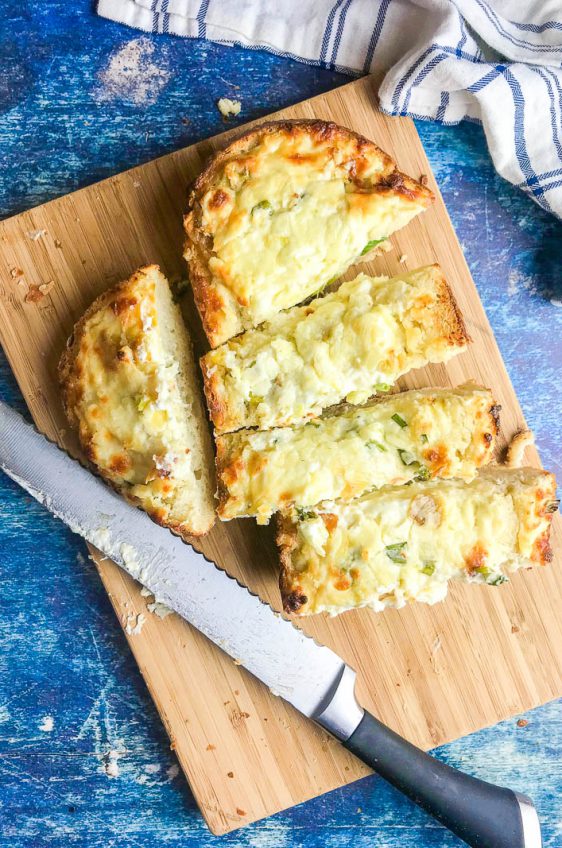 Garlic Cheese Bread
Garlic Cheese Bread with 3 cheeses and sweet roasted garlic.  An easy, cheesy bread that is a perfect side dish or a meal in itself!
Who doesn't love a good cheese bread? I've already shared my love with Mushroom Cheese Bread and Jalapeno Popper Cheese Bread. Today, I've got this Garlic Cheese Bread for you.
And. it. is. perfection.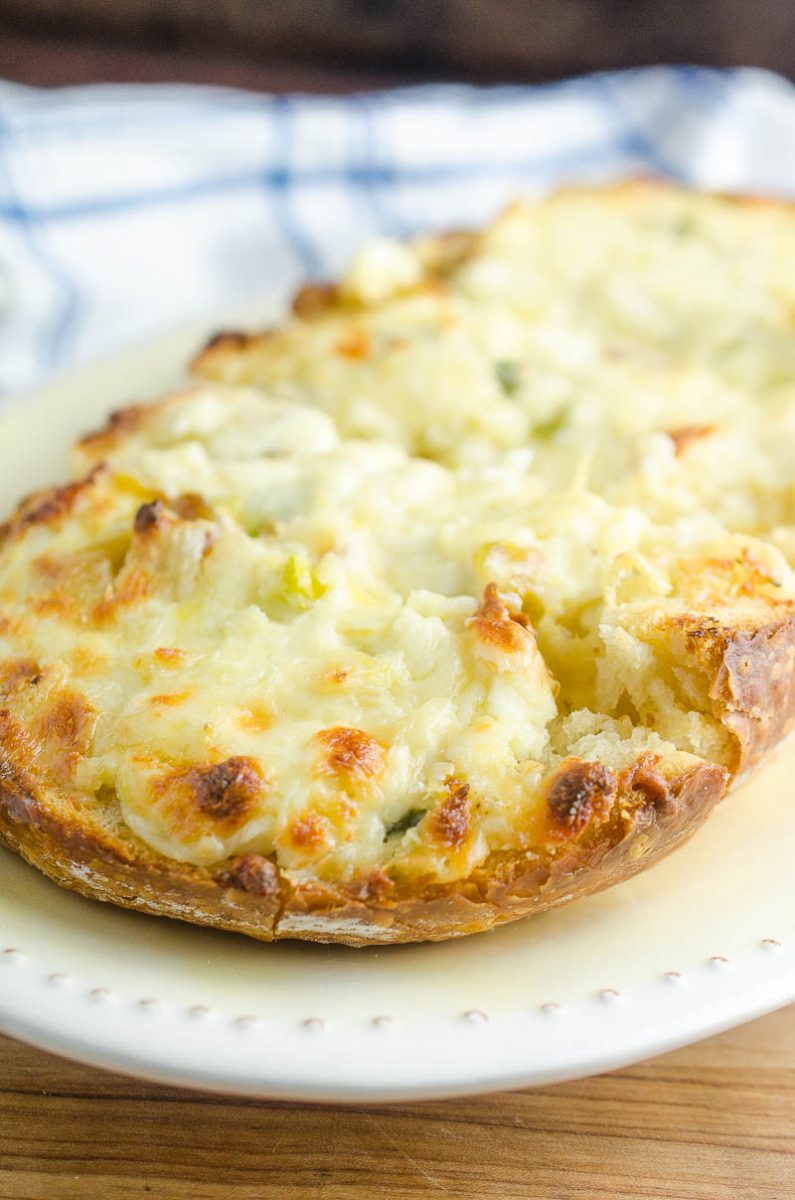 What ingredients do you need to make cheese bread?
This Cheese bread is a cross between pizza and garlic bread. It has all the cheesy goodness of your favorite slice of pizza with the sweet taste of roasted garlic.
While some cheese bread recipes will have you making your own loaf of bread, this recipe uses a short cut: french bread!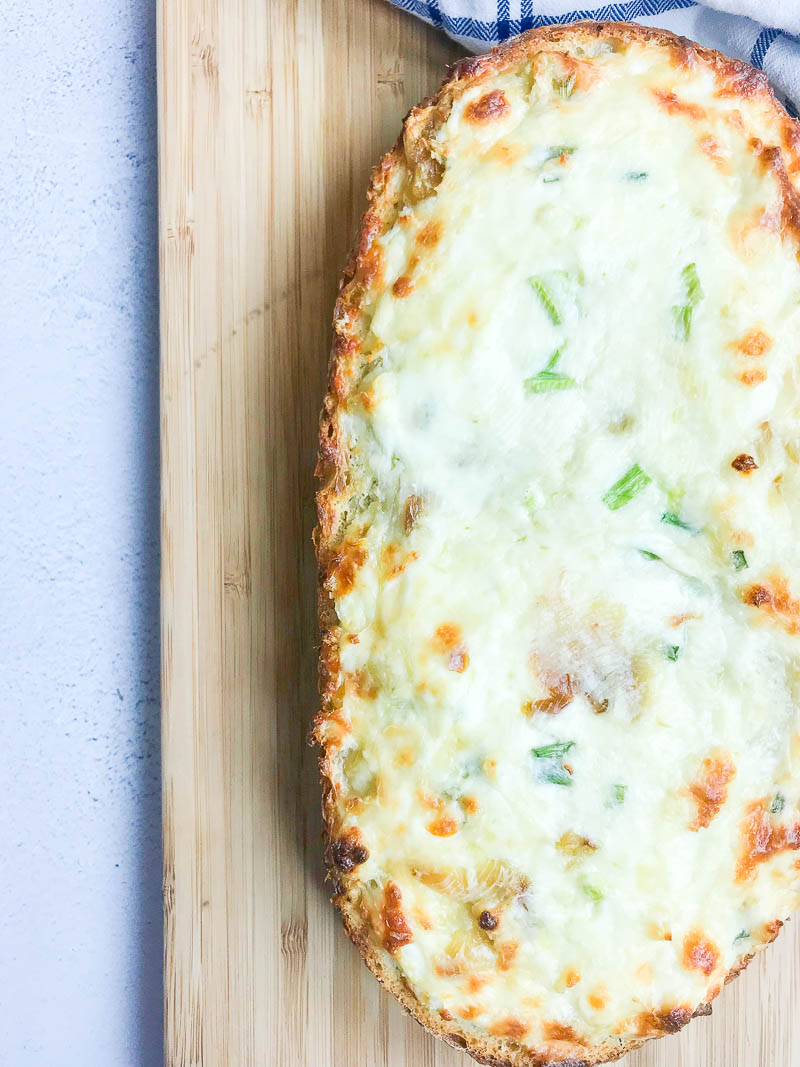 You'll simply cut the loaf in half lengthwise and top it with a mixture of mozzarella, grated asiago (or parmesan) cheese, cream cheese, roasted garlic, green onions and a little mayo. Each bite has just the right amount of crunch and cheesy, garlicky flavor.
DES' PRO TIP: Use freshly shredded cheese instead of pre-shredded cheese. It takes a bit more time but I find that it melts much better and melty cheese is key in this recipe. 
How do you make garlic cheese bread?
It's easy!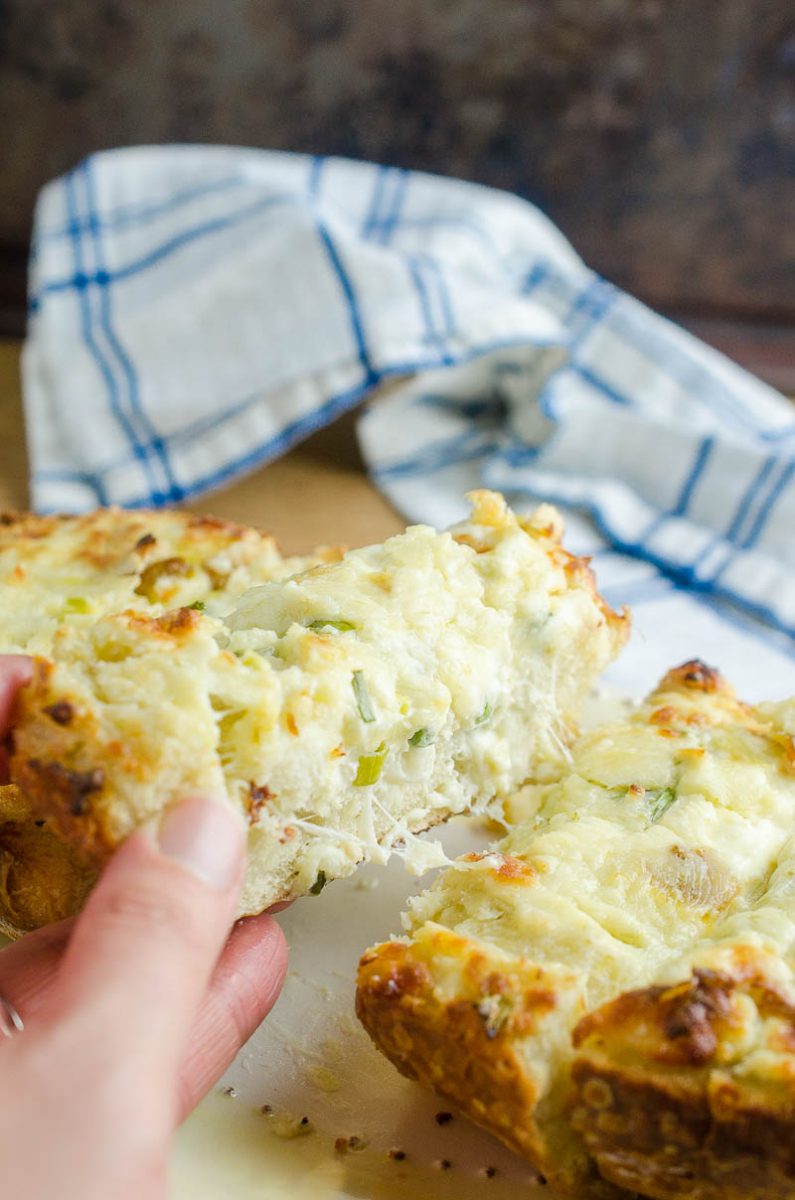 Step one: Roast the garlic. For this garlic cheese bread, instead of using chopped fresh garlic, I use sweet roasted garlic. So you'll need to roast it first. Simply cut off the top 1/4 inch of the garlic head, drizzle some olive oil, sprinkle with salt and roast for 40 minutes. Once it cools, you can remove the cloves with a fork.
Step two: Cut a loaf of french bread in half lengthwise. You will only need half for the recipe, save the other half for something else, like homemade croutons.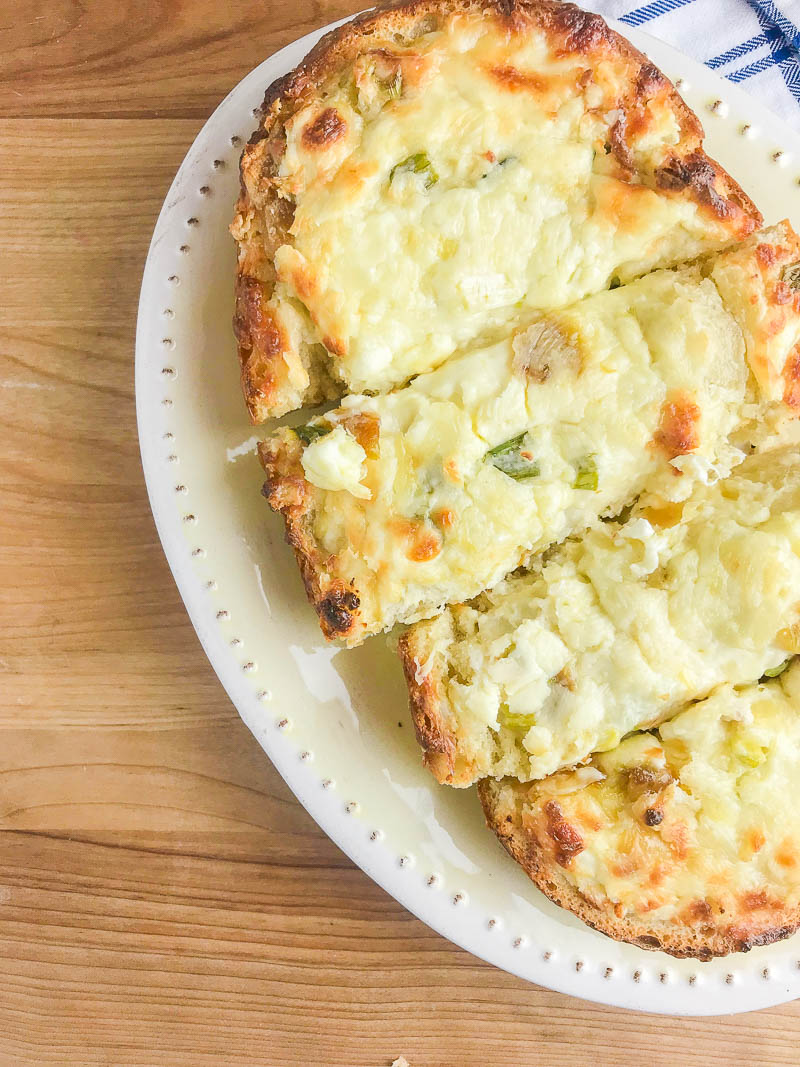 Step three: Mix together the spread ingredients. You could really use any kind of cheese that you want. For this recipe I chose cream cheese, asiago and mozzarella for the stretch factor. I also added some mayo to the mix for the creaminess. For those of you that are worried, there wont be any mayo flavor.
Step four: Spread the mixture on the bread and bake until golden brown and bubbly. Allow it the bread to cool and slice.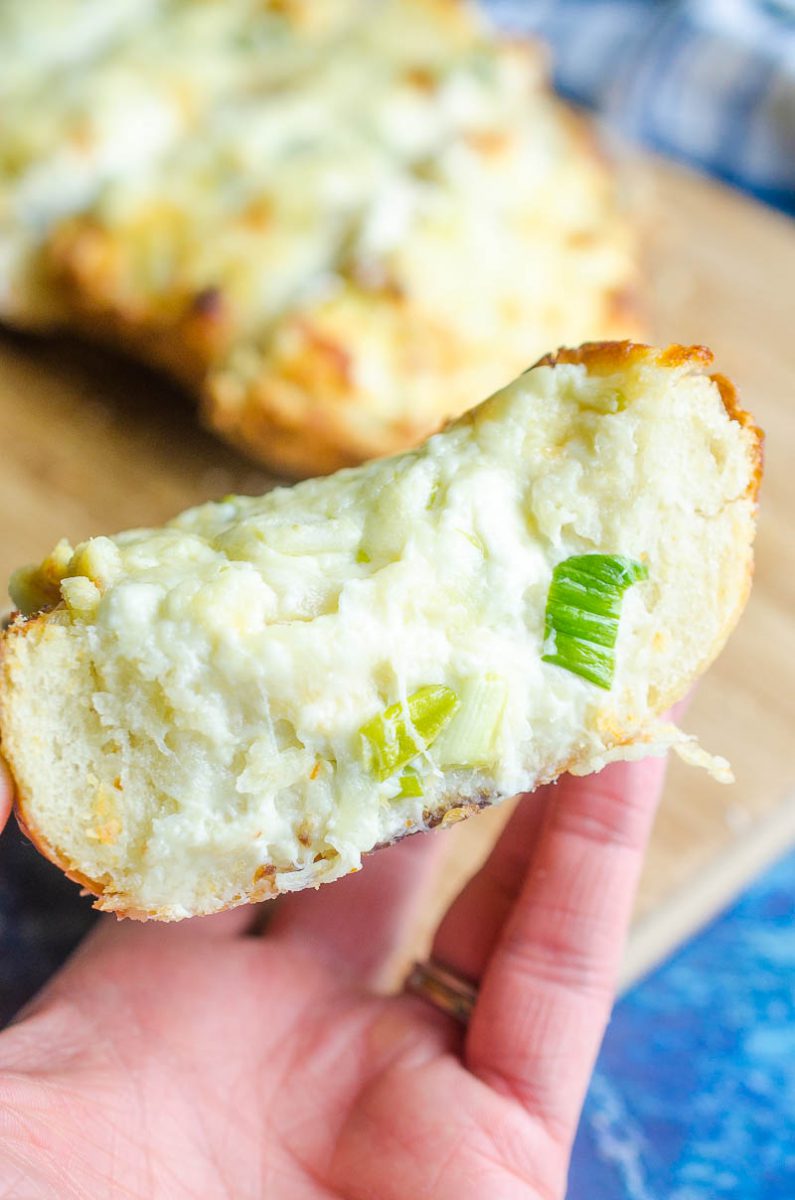 See! Easy, peasy!
Can you make this homemade garlic cheese bread in advance?
Yes! Simply make the spread, spread it on the bread. Wrap it up and put it in the fridge until ready to cook. Take it out about 30 minutes before you want to cook it so that it can come to room temperature.
What do you serve with garlic cheese bread?
Honestly friends, this could be a meal in itself. It's hearty and cheesy and full of flavor. To make it even heartier, you could add some shredded chicken.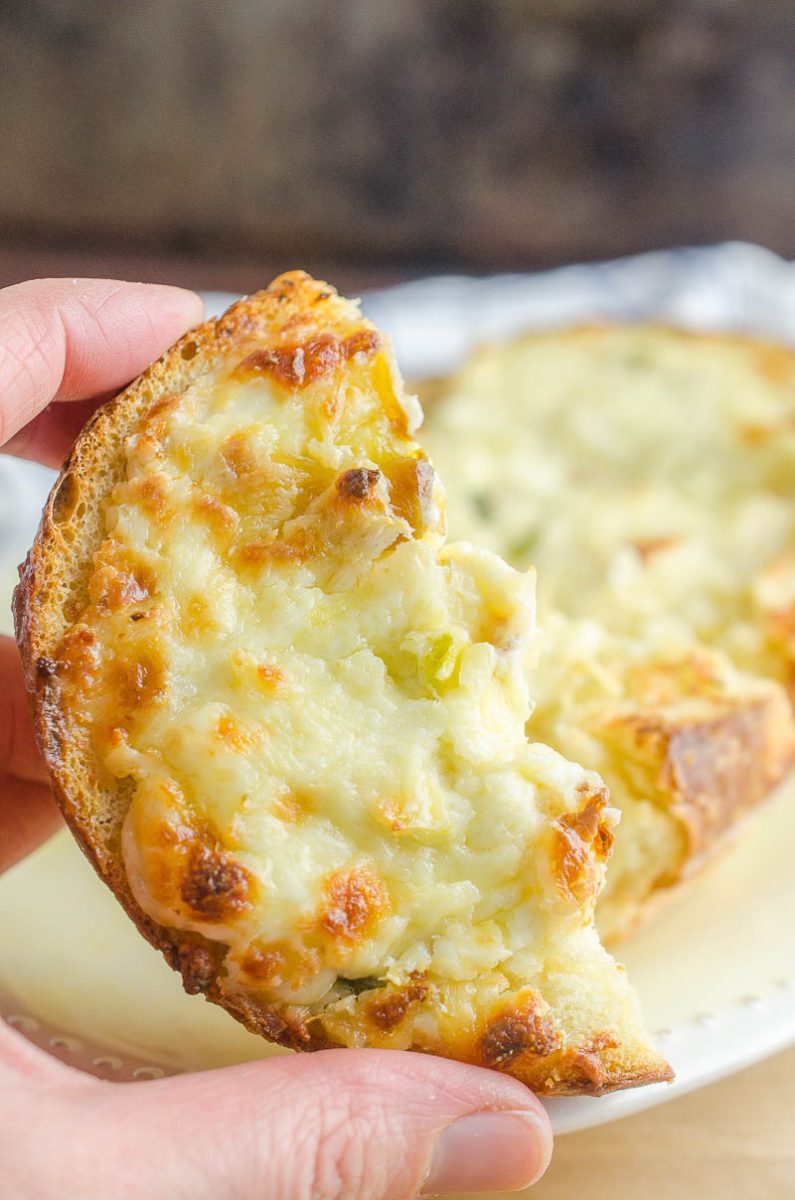 But if you're looking for something to serve along side, chicken noodle soup  and this Beef chili recipe are always favorites.
Cheese lovers rejoice! I've got loads more cheese recipes for you:
Looking for even more garlic goodness? Check out these garlic recipes: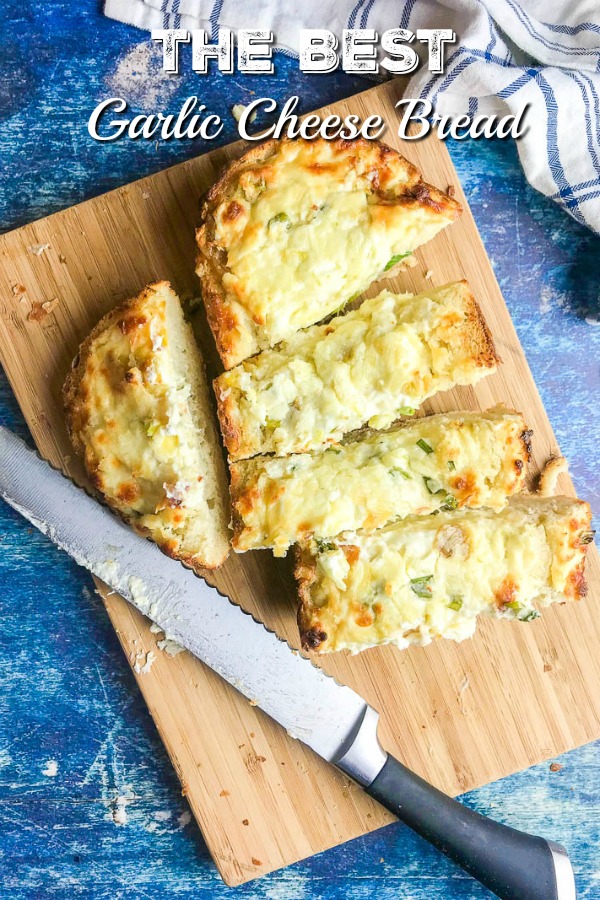 Note: This recipe was originally posted in 2009. Updated with new tips, photos, a video and nutrition facts in 2019.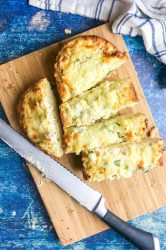 Garlic Cheese Bread
Garlic Cheese Bread with 3 cheeses and sweet roasted garlic. A easy, cheesy bread that is a perfect side dish or a meal in itself!
Preheat oven to 400 degrees.

Cut the top 1/4 inch off of garlic head. Drizzle with olive oil and sprinkle with salt. Wrap in aluminum foil and roast for 40 minutes or until the cloves are browned and tender. Once cool enough to handle, remove the cloves with a fork and mash.

Combine garlic and remaining ingredients except bread, in a bowl to make the spread. Note: You can make this a couple of hours in advance. Just place it in the refrigerator and remove about 5 minutes before you want to use it.

Reduce oven heat to 350 degrees.

Place french bread on prepared baking sheet.

Spread cheese mixture on top. Return to oven, cook 15 minutes or until cheese melts.

Allow to cool a couple of minutes before slicing. Serve immediately.
Calories:
529
kcal
Carbohydrates:
75
g
Protein:
24
g
Fat:
15.4
g
Saturated Fat:
8.2
g
Cholesterol:
37
mg
Sodium:
1135
mg
Fiber:
3.2
g
Sugar:
3.6
g
Keywords:
cheese, garlic bread, Recipe, snack, sour dough bread