Panko crusted fried cheese curds are a delicious deep fried appetizer or snack food. Fresh cheese curds are battered with seasoned panko bread crumbs, then deep fried until the cheese melts. An easy, cheesy, crowd pleasing recipe!
Today I thought I'd share with you this quick and easy appetizer recipe for panko crusted fried cheese curds, because…fried cheese.
I've been wanting to make fried cheese curds at home for some time now, but I've never gotten around to trying it. Then on my birthday, my boys and I spent the morning at Pike Place Market. We got some hot chocolate, watched the fish being thrown, sat on Rachel the Pig and watched some cheese get made. While we were watching the cheese being made, I decided that since it was my birthday, I was going to buy myself some Beecher's Handmade Cheese Curds as a birthday present.
Best. Decision. Ever.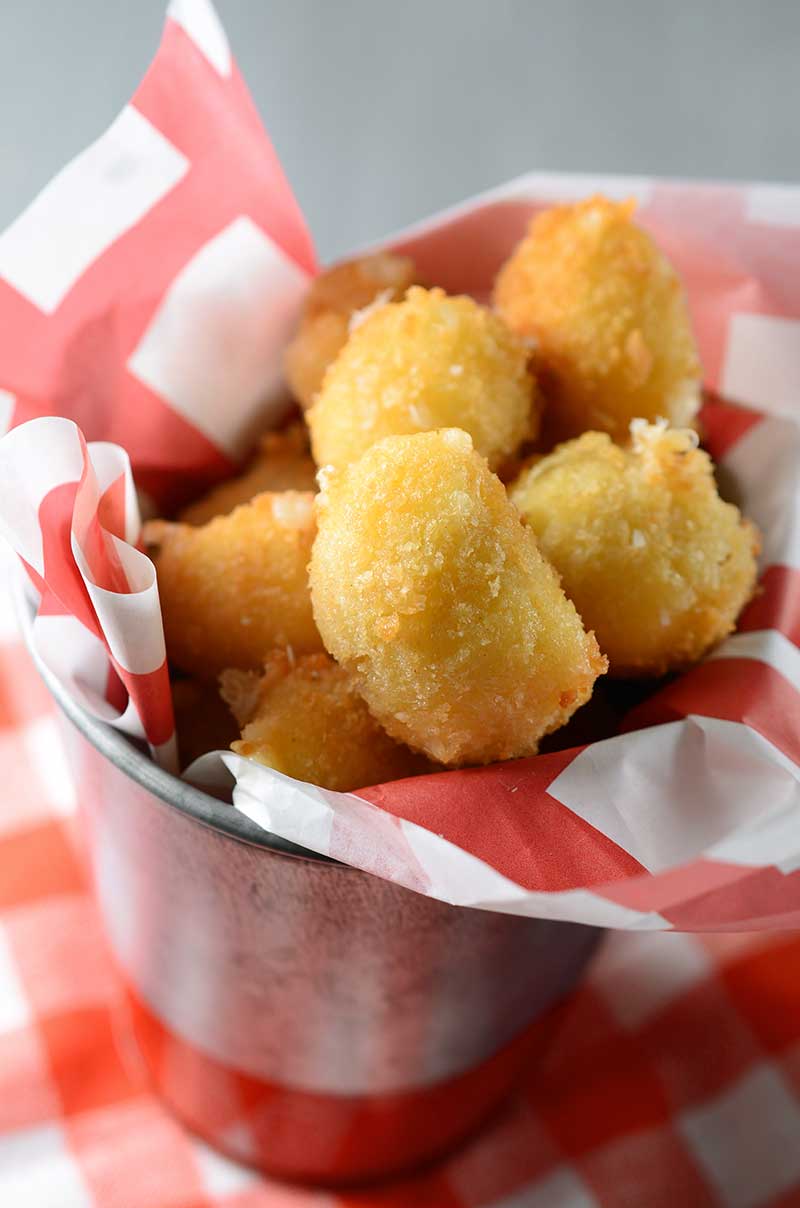 We stop at Beecher's every time we go to the market because Kellan likes to watch them make the cheese. I, like to snack on the cheese. It's a win, win for both of us. And while the cheese is fantabulous, the cheese curds are where it's at. Super flavorful and just the right amount of squeek that you'd expect from cheese curds. I could snack on them all day.
I kinda did on my birthday. But hey…it was my birthday.
I did have to stop myself before I ate the entire container though, because I wanted to make sure that I had enough to try my hand at deep frying them. Boy, am I glad I did. Fried cheese curds are pretty freaking amazing. I know that panko isn't traditional but I kinda love the stuff and try to use it whenever I fry. It gives dishes such a nice crunch.
Panko works wonderfully for deep fried panko crusted zucchini. so why not panko crusted fried cheese curds?
They are crispy brown on the outside and perfectly melty on the inside. Everything a good fried cheese curd should be.
These homemade fried cheese curds are so good, in fact, that I'm going to say they don't even need a dip. Although, as with all my favorite fried things, ranch would be divine.
Ingredients:
1/4 cup whole milk
1 egg
1/2 cup all purpose flour
1/2 - 3/4 cup panko bread crumbs
1 cup cheese curds
oil for frying
salt
Instructions
1
Set up an assembly line to coat the cheese curds. In one bowl, whisk together milk and egg. Place flour in another bowl. Place bread crumbs in a resealable plastic bag.

2
Dip the cheese curds in the milk and egg, then dredge in the flour, then back into the egg and place them in the bag with the bread crumbs and shake to coat. Repeat until all cheese curds are coated.

3
Heat 1/2 inch of oil in a skillet over medium-high heat. Drop a piece of panko into the oil and if it sizzles it's hot enough. Fry the cheese curds, stirring often and in batches if necessary, just until golden brown. It's ok if a little of the cheese starts to melt out. Use a slotted spoon to transfer to a paper towel lined plate. Sprinkle lightly with salt, serve hot.