Garlic Vinaigrette
It is so easy to make your own vinaigrette! With just 6 simple ingredients and a whisk, this Garlic Vinaigrette will be on your new go-to recipe! 
I recently had my video for Garlic Cheese Bread go viral on Facebook and a few people left comments like "TOO MUCH GARLIC".
My first thought: Is that a thing?
Not in my world.
When it comes to garlic, I add it whenever and wherever I can. I love Roasted Garlic Alfredo, Garlic Fried Chicken, Garlic Rice and of course, garlic bread.
So it would make sense that I also like my dressings garlicky too, right? Right. And this Garlic Vinaigrette is simple vinaigrette perfection.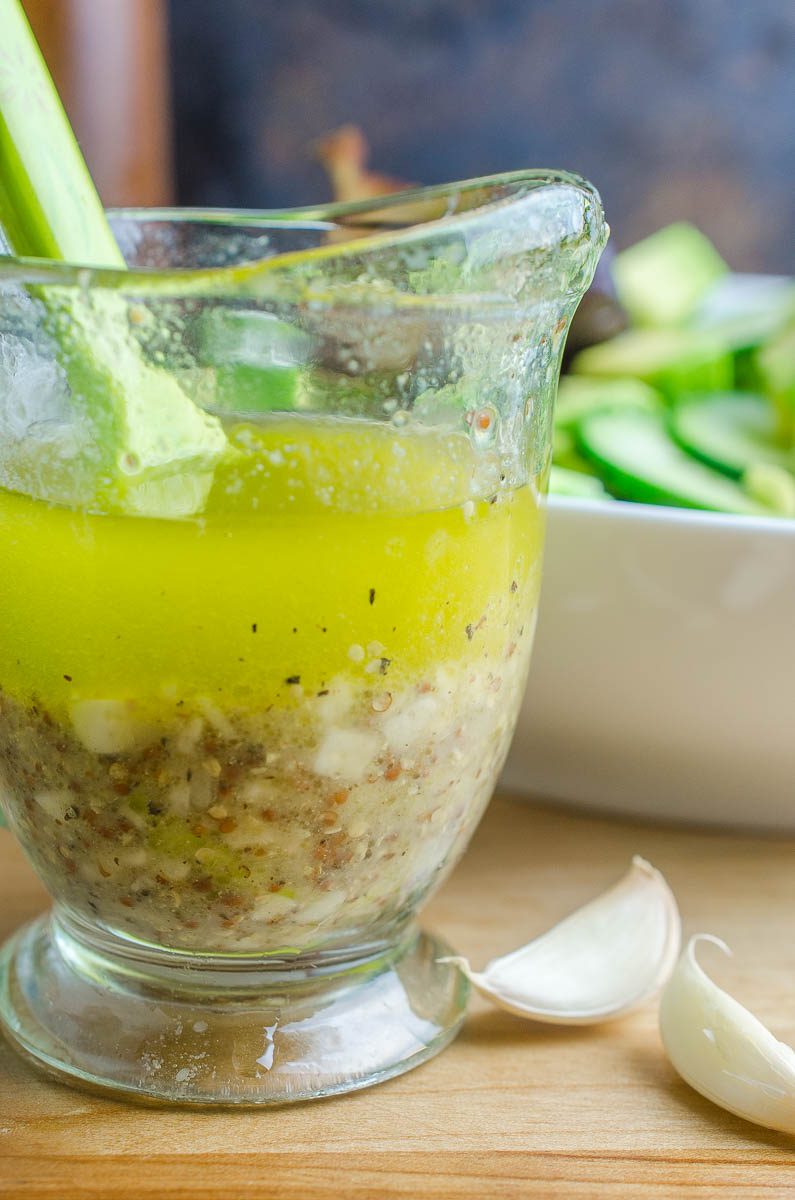 What ingredients do you need for vinaigrette dressing?
To make a traditional vinaigrette dressing you don't need a lot of ingredients.  The basic vinaigrette ratio is 1 part vinegar to 3 parts oil. After that your seasonings are all up to you.
For this recipe you'll need: olive oil, vinegar, garlic, stone ground mustard, salt and pepper. I use a garlic stone ground mustard for extra garlic flavor (see above about garlic obsession) but any stone ground mustard will do.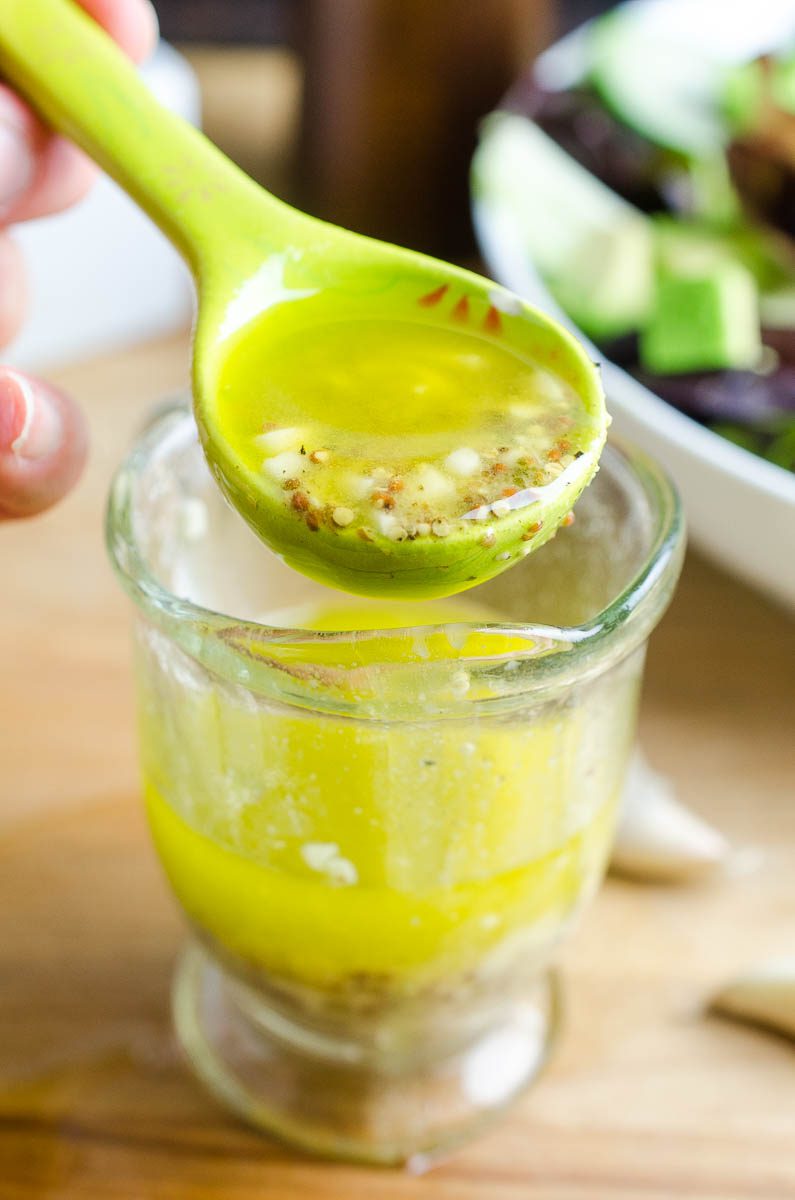 Because there are so few ingredients, it is essential that you use the best quality ingredients that you can find, especially the oil.
For this garlic vinaigrette recipe that means using quality olive oil. A few months ago, I found kalamata olive oil and it is my new favorite. It is smooth and less bitter than other olive oils that I tried. That being said, any extra virgin olive oil that you love will work in this recipe.
How do you make garlic vinaigrette?
You guys, it could not be easier to make vinaigrette! All you have to do is whisk together all the ingredients until they are emulsified. I like to let mine set for about 20 minutes before using and then whisk once more.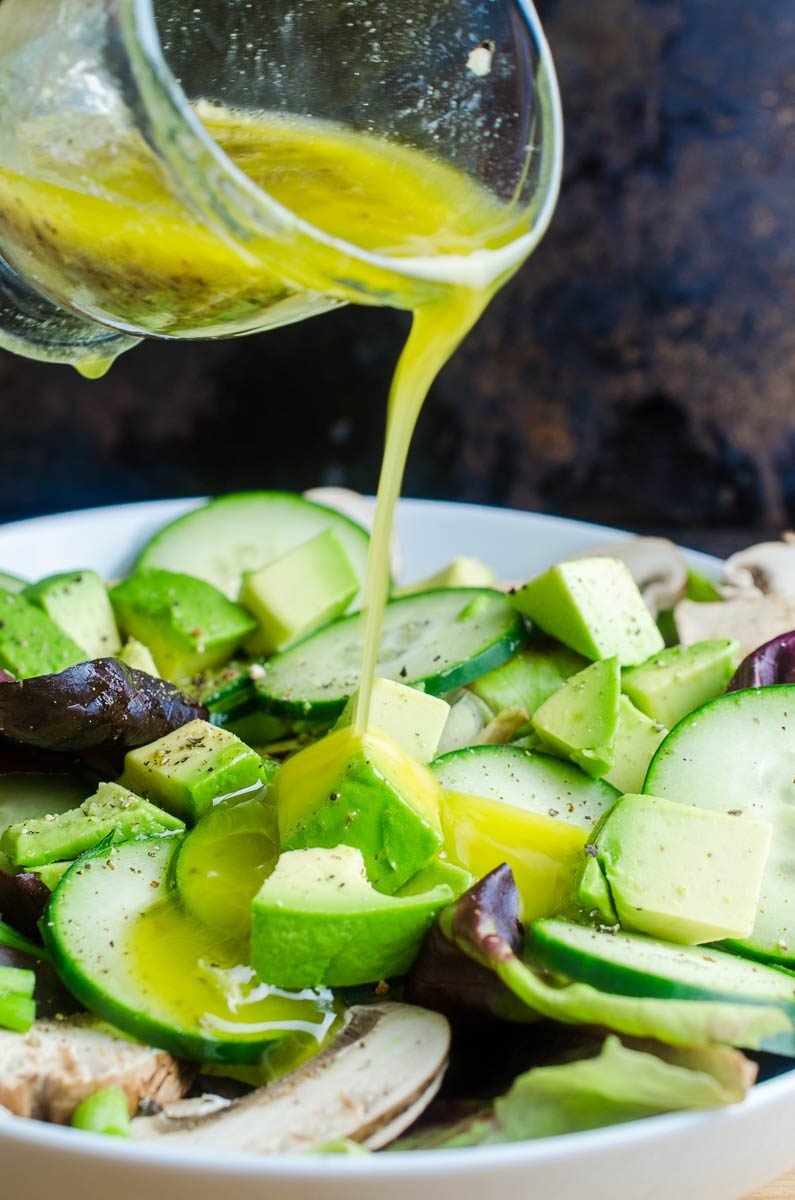 What is vinaigrette used for?
Obviously, vinaigrette is used most often on salads. But you can also use this garlic vinaigrette on grilled or roasted vegetables, as a marinade for chicken or to drizzle over grilled fish.
How long does homemade vinaigrette salad dressing last?
This garlic vinaigrette salad dressing should keep in your refrigerator for about a week.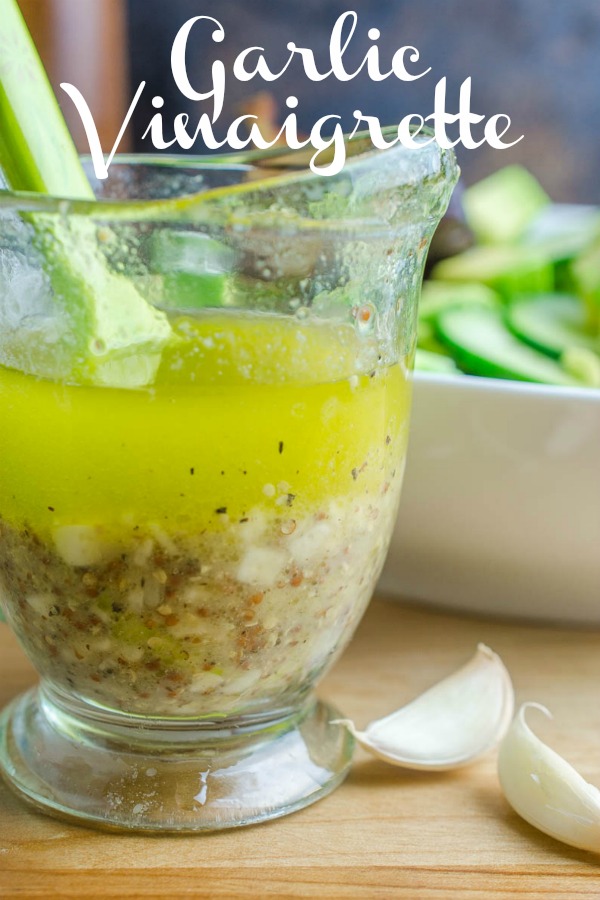 Garlic Vinaigrette Recipe
Ingredients:
1/4 cup extra virgin olive oil
1 tablespoon white wine vinegar
1 garlic clove, minced
1 teaspoon stone ground mustard
salt and pepper to taste
Instructions
1
Combine all ingredients together and whisk until emulsified.
Notes
Nutrition facts not guaranteed.
Nutrition information
Calories: 111 , Total Fat: 12.6g , Saturated Fat: 1.8g , Cholesterol: 0mg , Sodium: 6mg , Carbohydrates: 0.4g , Protein: 0.1g