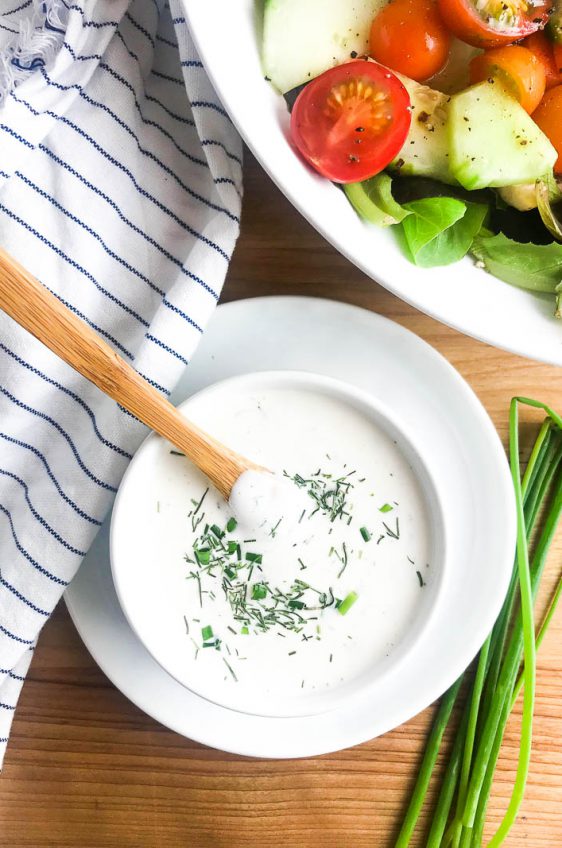 Buttermilk Ranch Dressing
Buttermilk Ranch Dressing is classic for a reason! It is great on salads or as a dip for veggies. With just a few kitchen staples you can make your own! 
Making my own dressing and other condiments is one of my favorite things to do. Sure you can buy pretty much condiment you want in the grocery store.
I've even seen Sriracha Mayo. Which guys, why do you need to buy it? It's simply mixing sriracha in mayonnaise! You don't need to buy a whole bottle!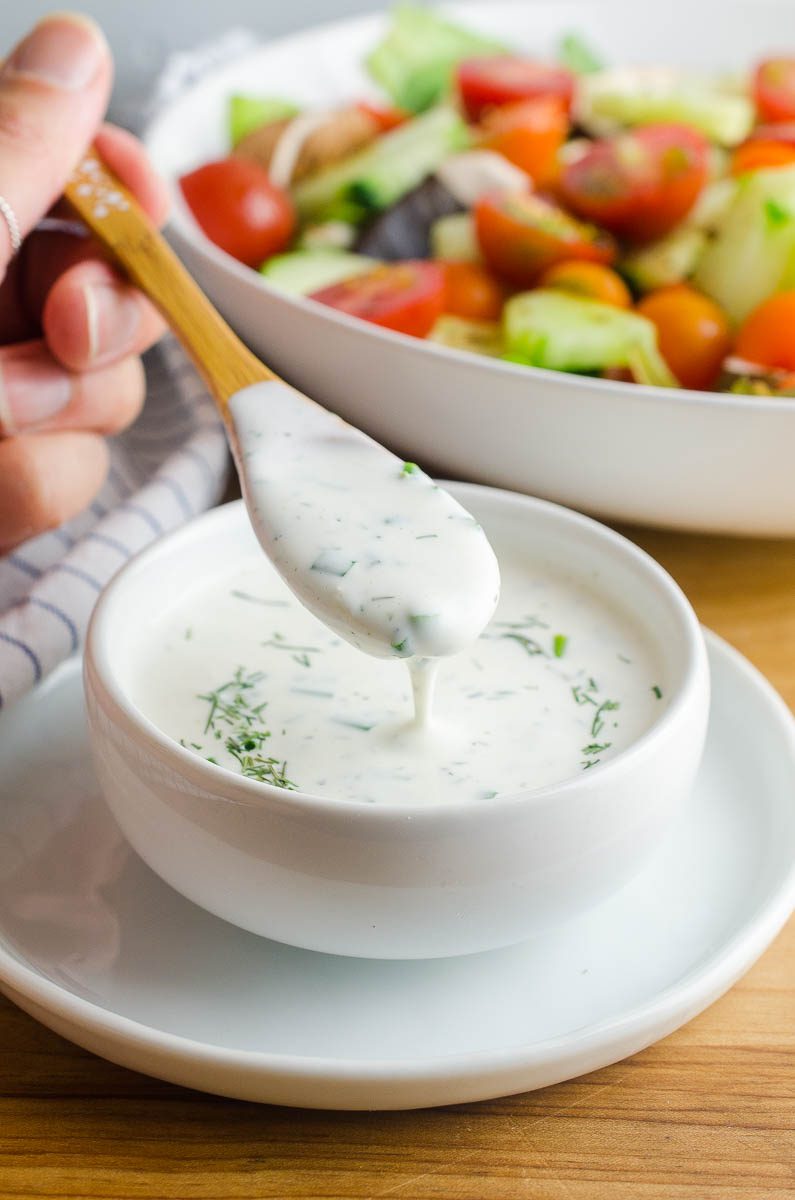 But it's not just things like sriracha mayonnaise that you can make on your own. You might be surprised to know that there are quite a few condiments and dressings that you can make on your own with a few simple ingredients.
Homemade ranch dressing is one of them. Homemade Buttermilk Ranch Dressing to be more precise!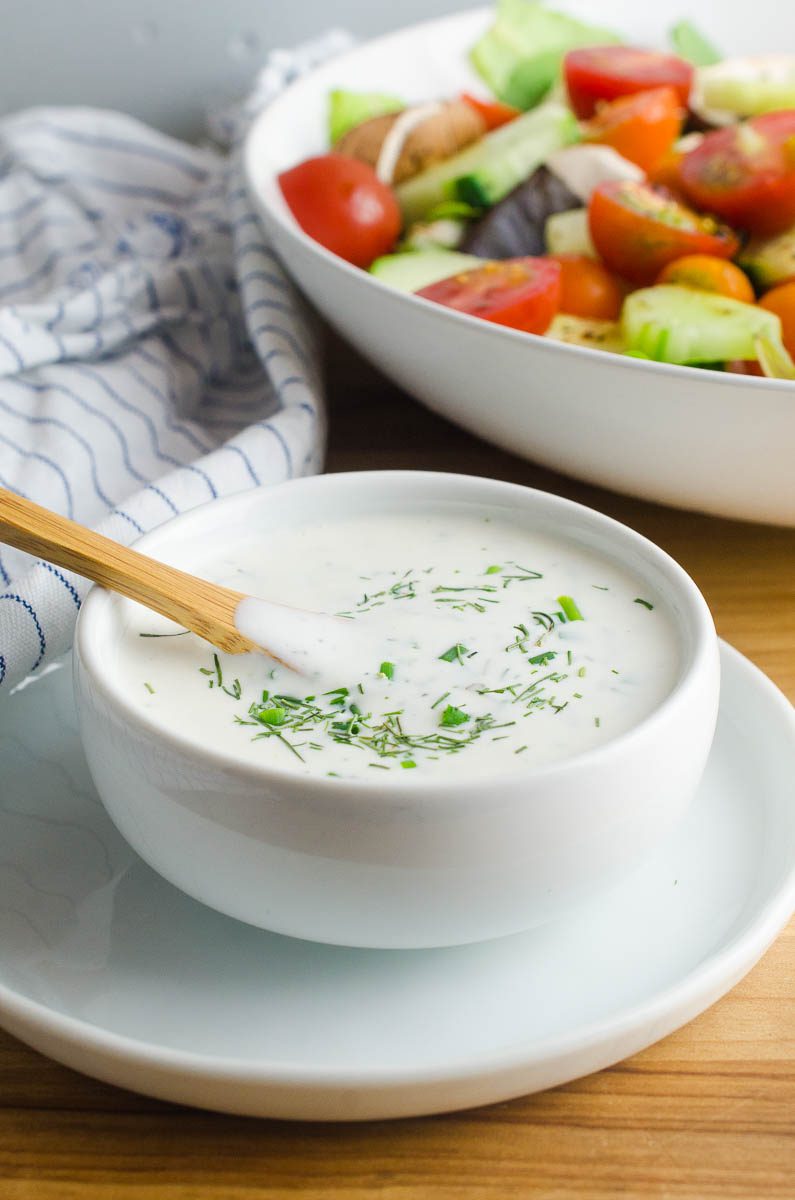 What ingredients do you need to make Buttermilk Ranch Dressing?
First off, let me tell you what you don't need. You don't need a buttermilk dressing mix or packet. No no, you probably have all of the ingredients in your pantry or fridge right now.
To make the best homemade buttermilk ranch dressing you need: mayonnaise, sour cream, dried dill (or fresh!), fresh chives, buttermilk, garlic, salt and pepper.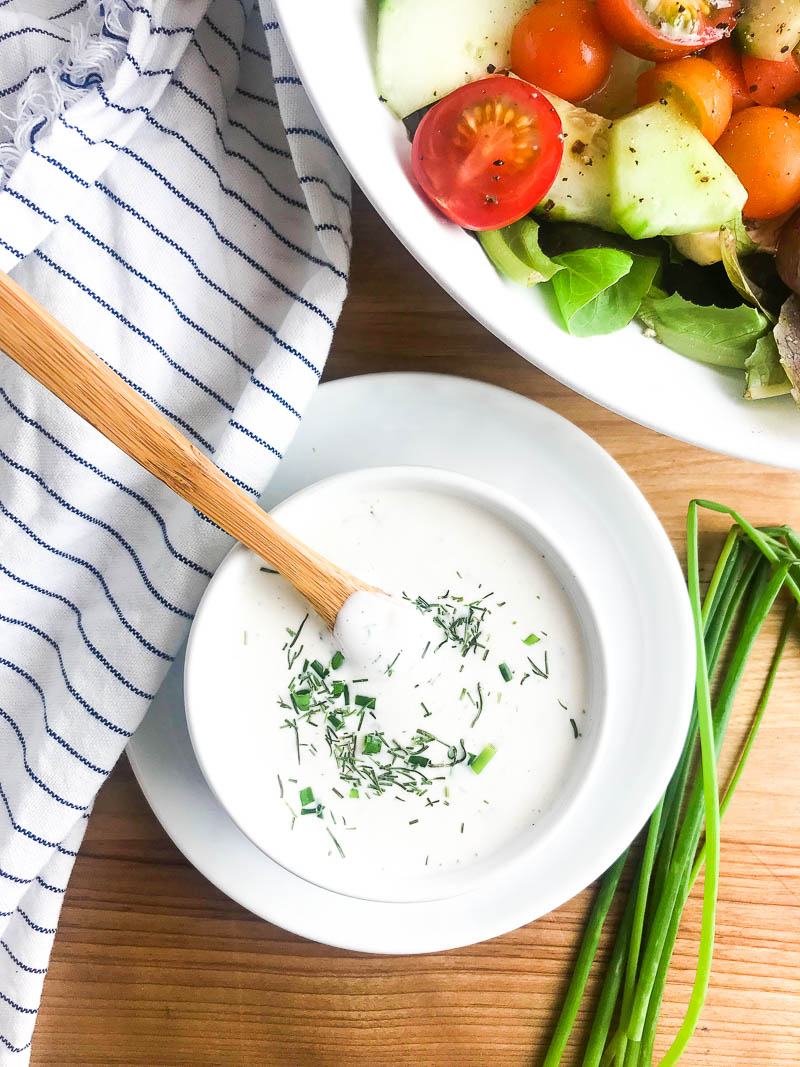 A Substitute for Buttermilk:
If you don't have any buttermilk on hand, don't worry! You can actually make this homemade too. All you need is milk and vinegar. Simply combine just under 1 cup of milk with 1 tablespoon vinegar and allow to set for 5 minutes. This will curdle the milk somewhat and voila! Buttermilk.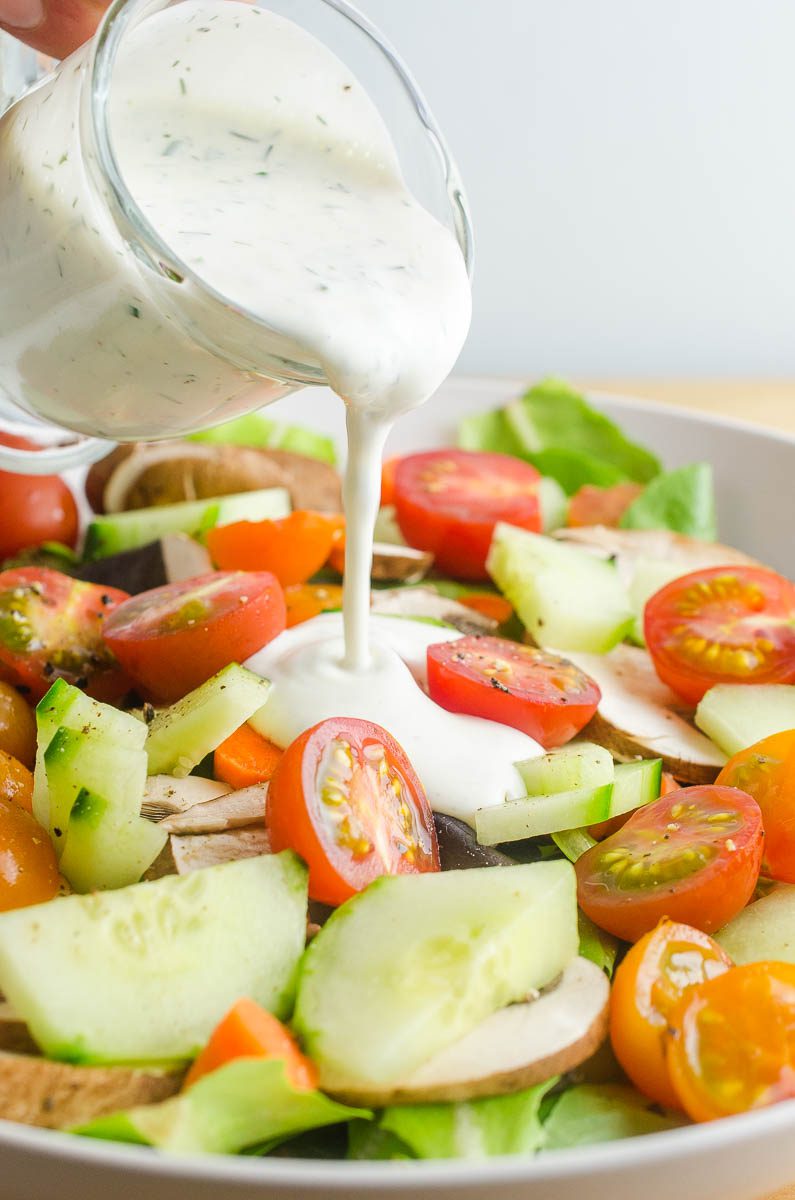 What do you serve with Buttermilk Ranch Dressing?
Obviously, you could serve this dressing on salads. Use it as a dip for chicken tenders or nuggets. You could add it to your favorite veggie tray for parties. Basically the possibilities for homemade ranch dressing are endless.
Love ranch? Check out these other Ranch Flavored Foods:
Cheesy Bacon Ranch French Bread Pizza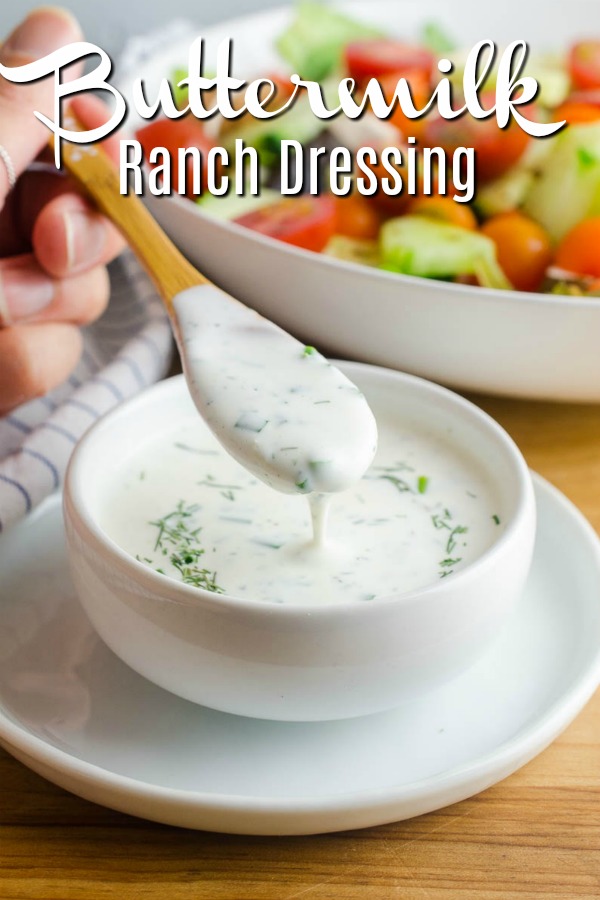 More Homemade Sauces, Dips and Dressings:
Buttermilk Ranch Dressing Recipe
Ingredients:
1/2 - 3/4 cup buttermilk
1/3 cup sour cream
1/3 cup mayonnaise
1 clove garlic, minced
1 tablespoon chopped fresh chives
1 teaspoon dried dill weed
3/4 teaspoon salt
1/2 teaspoon black pepper
Instructions
1
Whisk 1/2 cup butter milk and remaining ingredients together in a bowl. If the dressing is too thick, add more buttermilk.

2
Refrigerate for at least 30 minutes.

3
Serve with salads, veggies or fries.
Notes
Nutrition facts not guaranteed.
Nutrition information
Amount per serving: 2 tablespoons
Calories: 138 , Total Fat: 11g , Saturated Fat: 3.7g , Cholesterol: 15mg , Sodium: 636mg , Carbohydrates: 8.3g , Fiber: 0.1g , Sugar: 3.5g , Protein: 2.5g