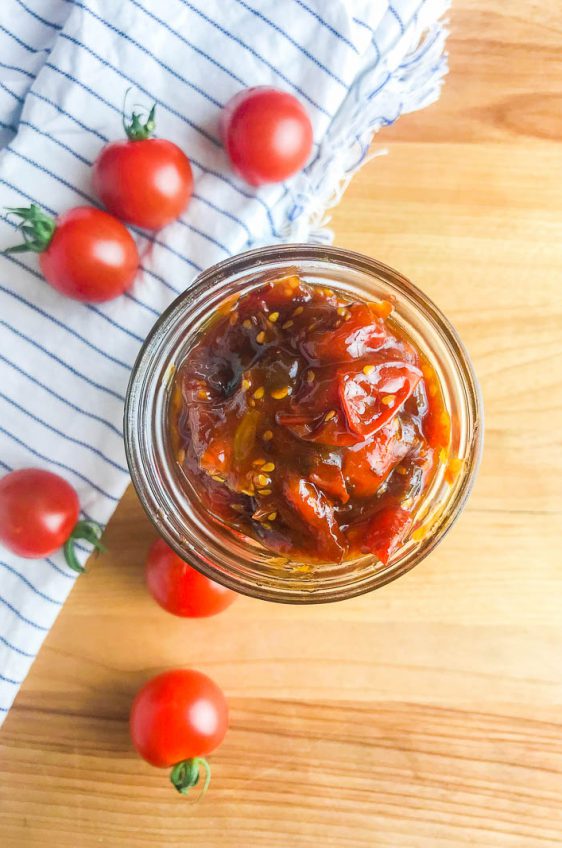 Tomato Jam
Wondering what to do with all your summer tomatoes? This Tomato Jam is perfect! Sweet and savory it's great on bread, with cheeses, burgers and sandwiches.
I LOVE tomatoes. Seriously. Love them. I could eat them every single day. I love tomato salads, I love tomato sauce, salsa and I even love mayo and tomato sandwiches. Basically tomatoes are my favorite.
It's because of this love of tomatoes, that I decided to plant FIVE tomato plants this year. FIVE. To say that I went a little overboard is an understatement. Now I have got more tomatoes than I know what to do with.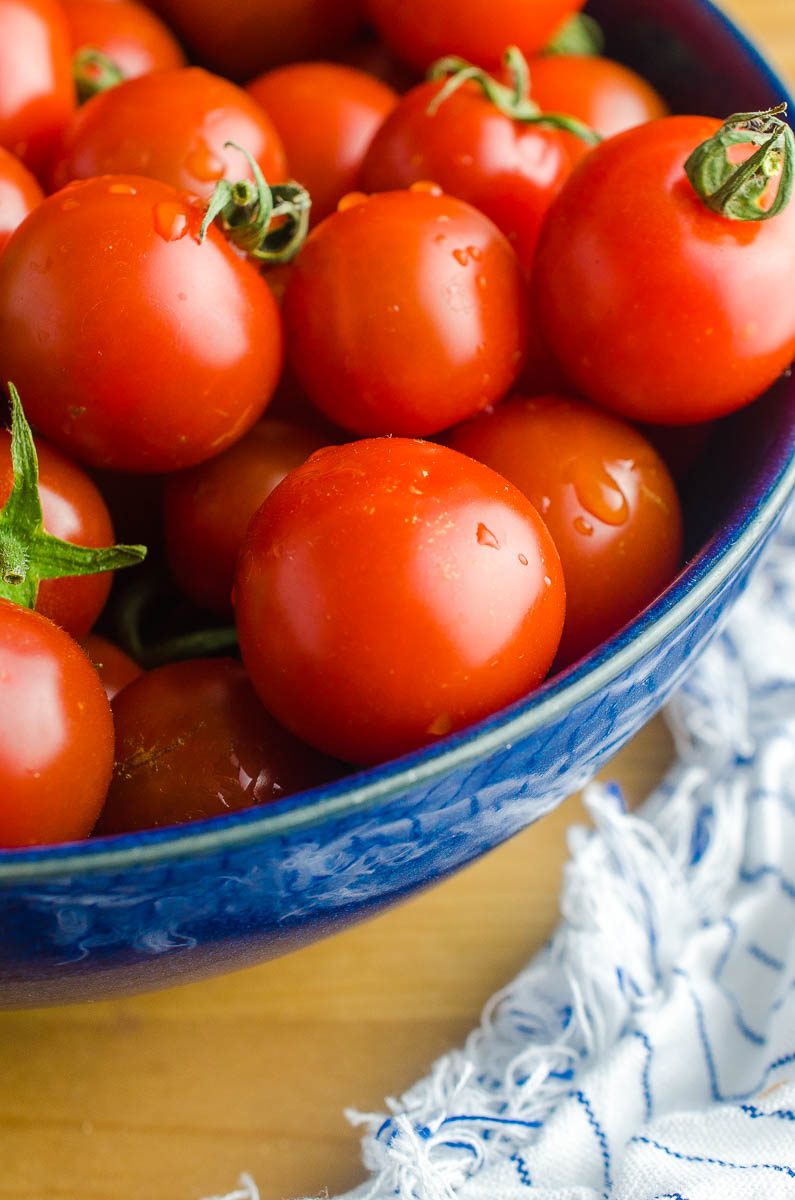 It's not a bad problem to have though.
Mostly I've just been salting them and eating them like candy. But after staring at an overwhelmingly full bowl of perfectly ripe summer tomatoes, I figured it was time to try a new recipe. Something that would use up a bunch of my tomatoes. And while tomato sauce is always an option, I wanted something a little different.
So I set my sights on this sweet and savory Tomato Jam Recipe.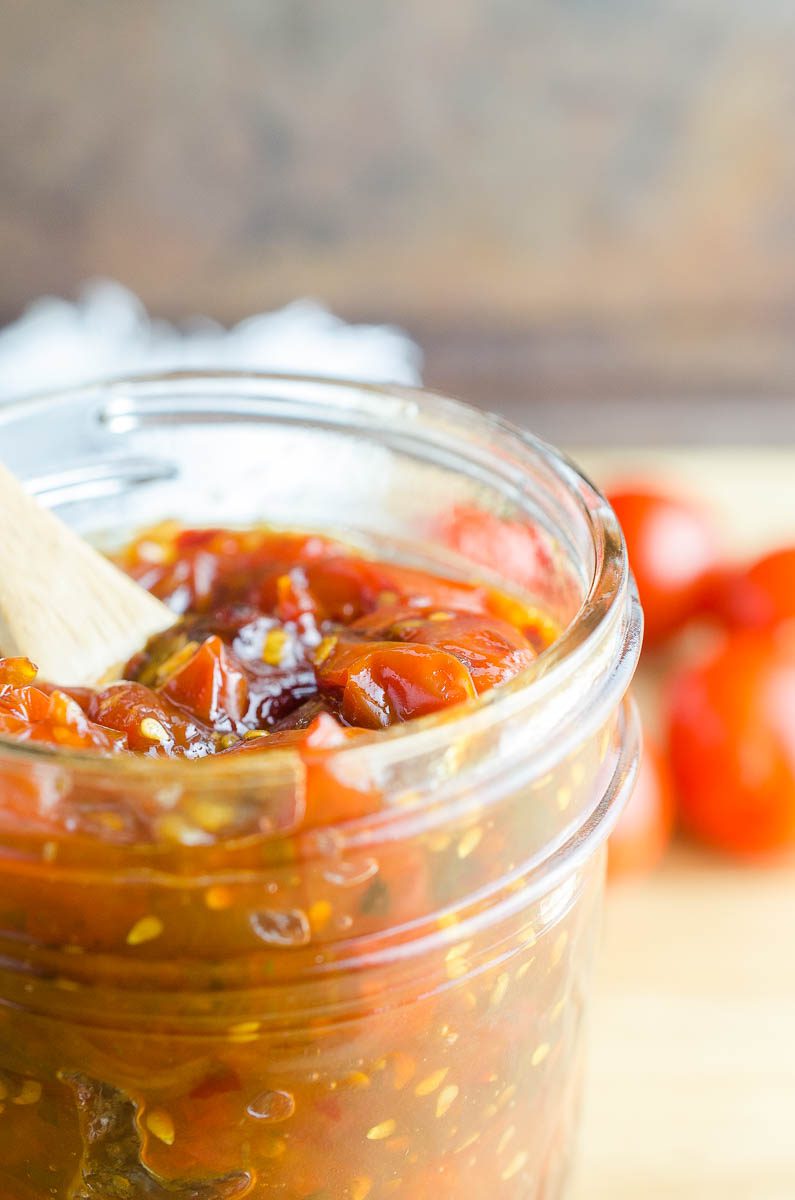 What do you need to make Tomato Jam?
You will only need a handful of ingredients to make this recipe. Tomatoes, brown sugar, apple cider vinegar, garlic, salt, basil and crushed red pepper.
For this recipe, and because of my abundance of cherry tomatoes, I decided to use cherry tomatoes. They are naturally sweet and work perfectly in this recipe. You could also use whatever tomatoes that you have on hand. If you choose larger tomatoes, simply dice them first, it will help them cook down.
How do you make Tomato Jam?
Tomato Jam is easy to make. You simply combine all of the ingredients together in a heavy bottom pot and cook it down until it reaches a jam consistency. See! Easy peasy!
Since you will be cooking the tomato jam for a long period of time, about 2 hours and there is a lot of sugar, you'll want to make sure that the jam doesn't burn. To ensure that your tomato jam doesn't burn use a dutch oven and stir the jam often.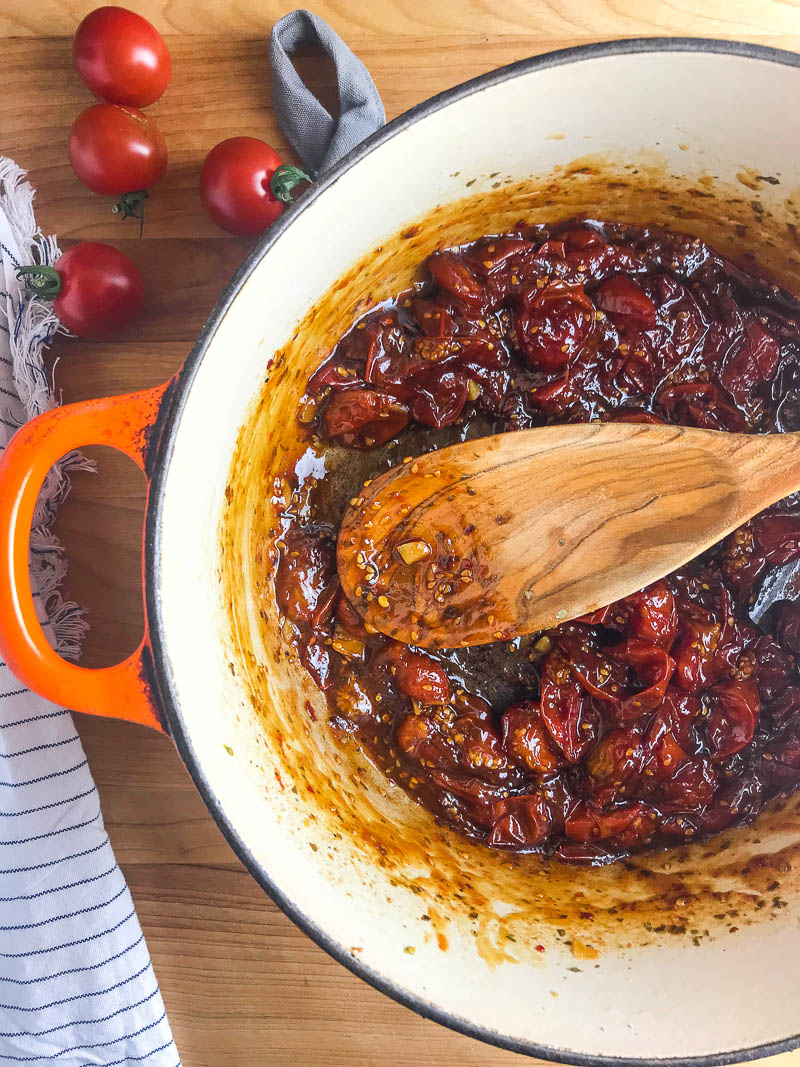 You will know that the jam has finished cooking when you can run your spoon through it and it doesn't run.
How long does Tomato Jam last?
Because this is a refrigerator jam and not canned, it needs to be stored in the refrigerator and eaten within 10 days.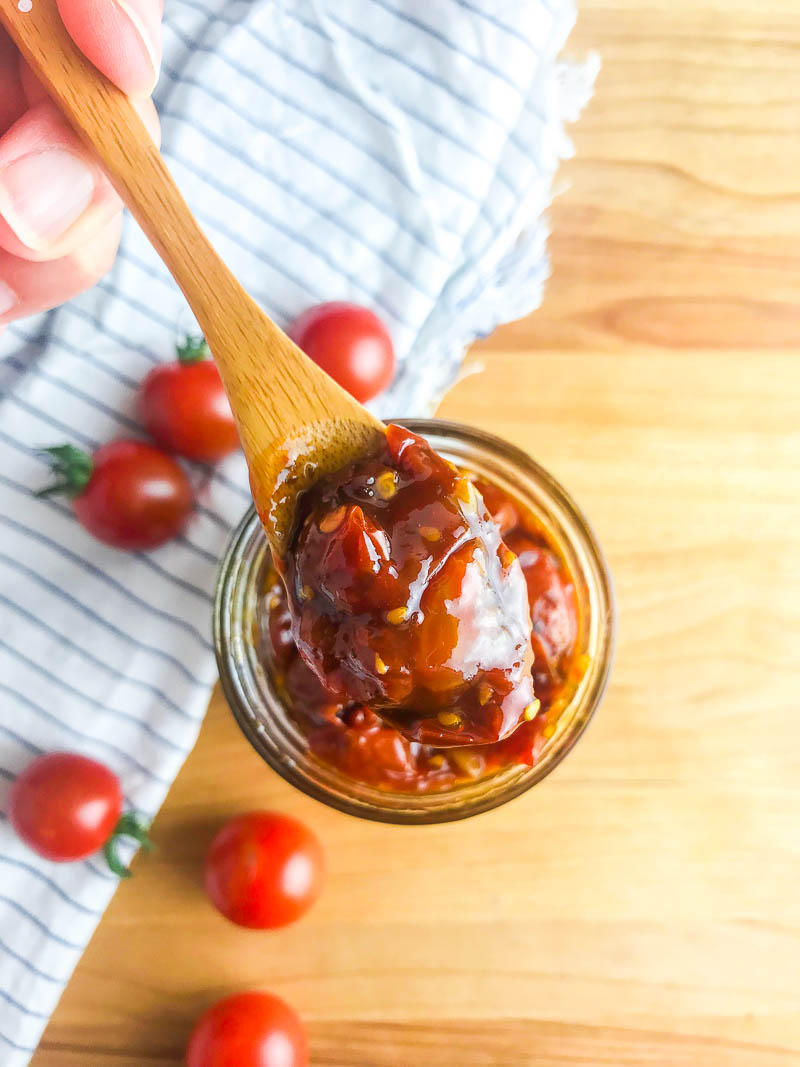 So if you find yourself with more tomatoes than you know what to do with, or if you just really love tomatoes like me, make yourself this Tomato Jam.
You'll find that it is great on so many things. You can use it as a spread on sandwiches or burgers. Spoon it over fresh mozzarella and top with chopped basil for a twist on caprese salad, or simply eat it on a cracker.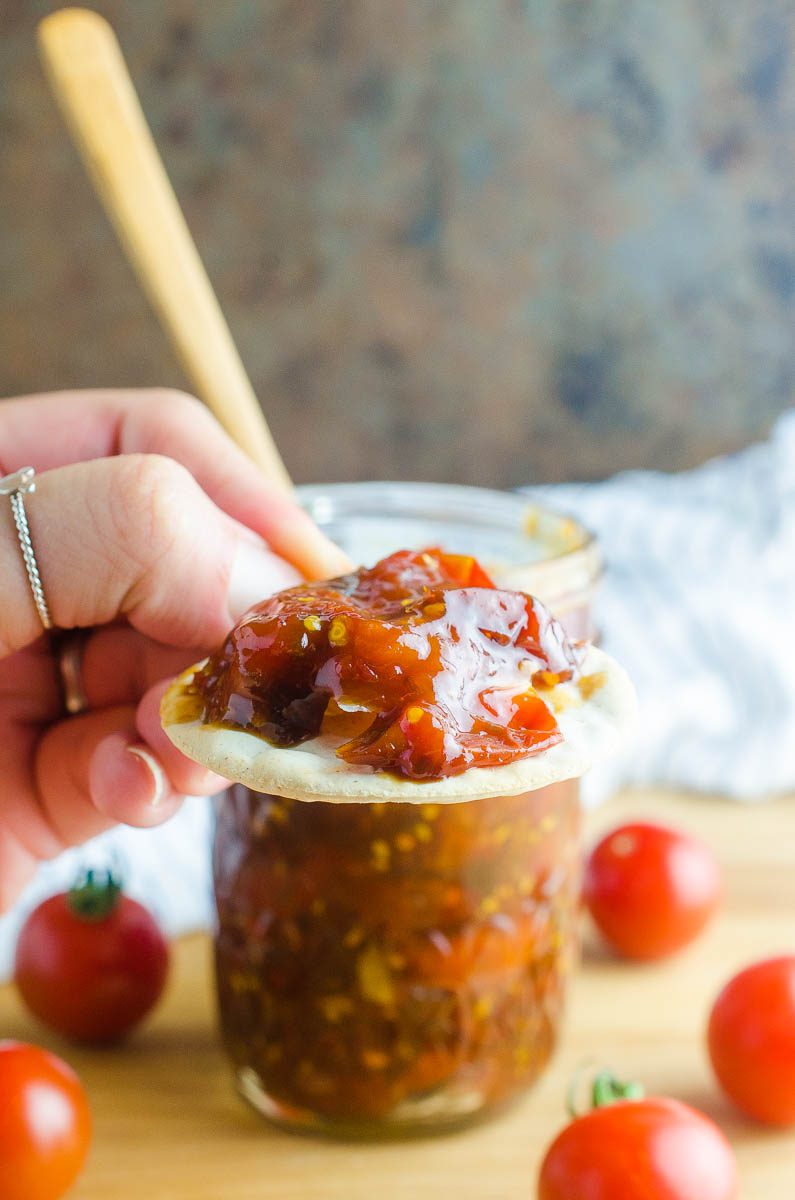 You really can't go wrong. It's sweet n' tangy summer bliss.
Love tomatoes? Here are more recipes where they are the star:
Ribeye Steaks with Fresh Tomato Tapenade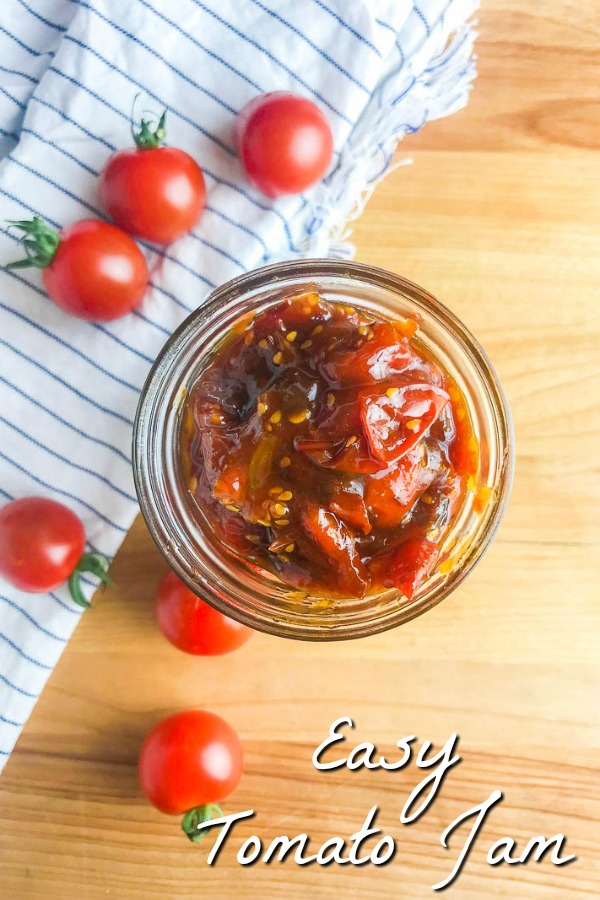 More Condiment Recipes:
Tomato Jam Recipe
Ingredients:
2 pounds cherry tomatoes (about 3 cups halved), halved
1/2 cup brown sugar
2 tablespoons apple cider vinegar
1 clove garlic, minced
1 teaspoon dried basil
1 teaspoon salt
Instructions
1
Combine all ingredients together in a small saucepan. Simmer over medium heat, stirring occasionally, for 1 1/2 to 2 hours or until you can run a spoon through it and no liquid fills the space.

2
Chill and place into a glass jar. Refrigerate and use within 10 days.
Notes
Nutrition facts not guaranteed.
Nutrition information
Calories: 112 , Total Fat: 0.5g , Saturated Fat: 0.1g , Cholesterol: 0mg , Sodium: 598mg , Carbohydrates: 26.9g , Fiber: 2.7g , Sugar: 23.6g , Protein: 2.1g