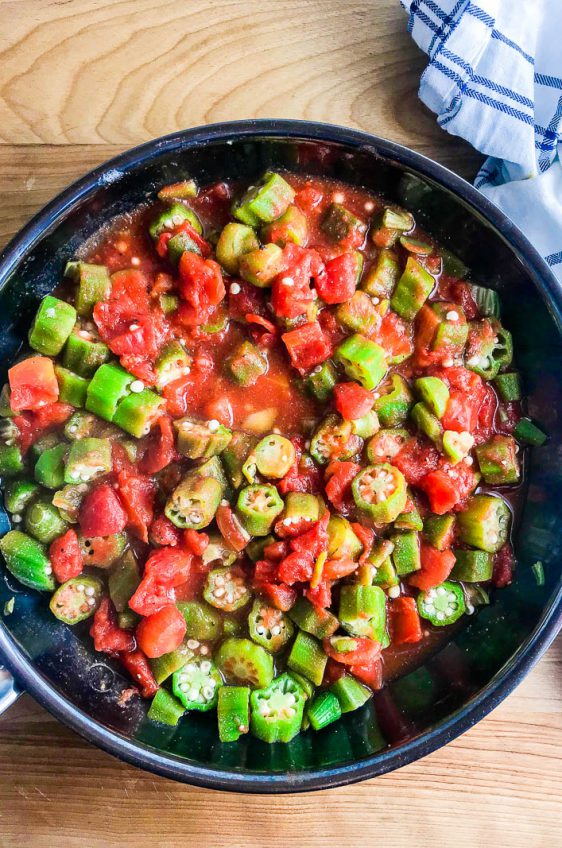 Okra and Tomatoes
A classic for a reason! Okra and Tomatoes is a quick and easy vegetable side dish perfect for weeknights. 
One of the things that we like to do as parents is get our kids to try a variety of foods. Sometimes it works. Sometimes it doesn't.
Surprisingly though, with okra: IT WORKED. First we tried fried okra which is obviously a winner. Because fried. But for my kiddos, their absolute favorite way to eat okra is Okra and Tomatoes.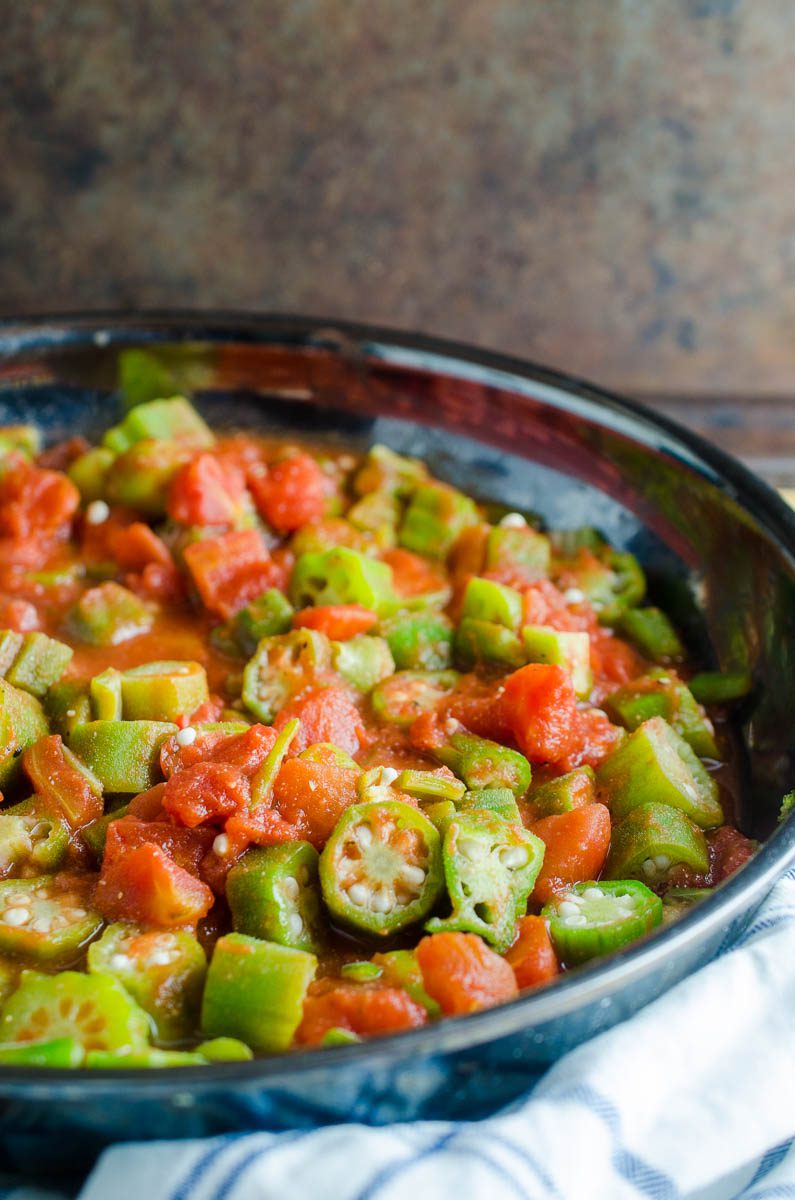 I can't blame them though. This is a classic for a reason.
Using Fresh vs. Frozen Okra:
Summer is okra season. Yet, we never get any real quality fresh okra at my grocery store, in season or not. For this reason, I use frozen okra in this recipe. If you have access to fresh, use that too. Simply cut off the root and slice the okra into bitesized pieces.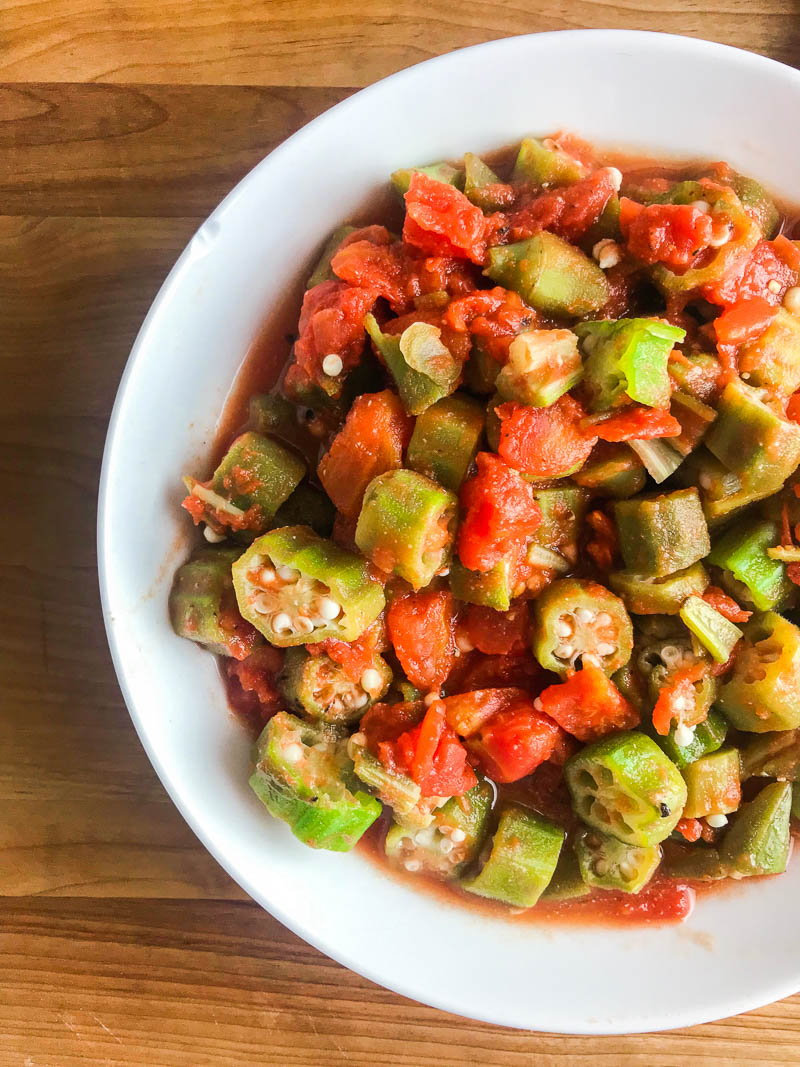 If you are using frozen okra, no need to defrost before using. Simply add it to the pan frozen.
Okra also gets a bad rap because it can be slimy. I find that this happens most often if the okra gets overcooked. So the best way to avoid it is to not overcook it. Simply cook it until it's warmed through.
How to make okra and tomatoes:
This okra and tomatoes recipe is super easy, making it great for weeknight side dishes. All that you need to do is combine all the ingredients in a skillet and cook until the okra and tomatoes are warmed through. It takes about 10 – 15 minutes. That's all!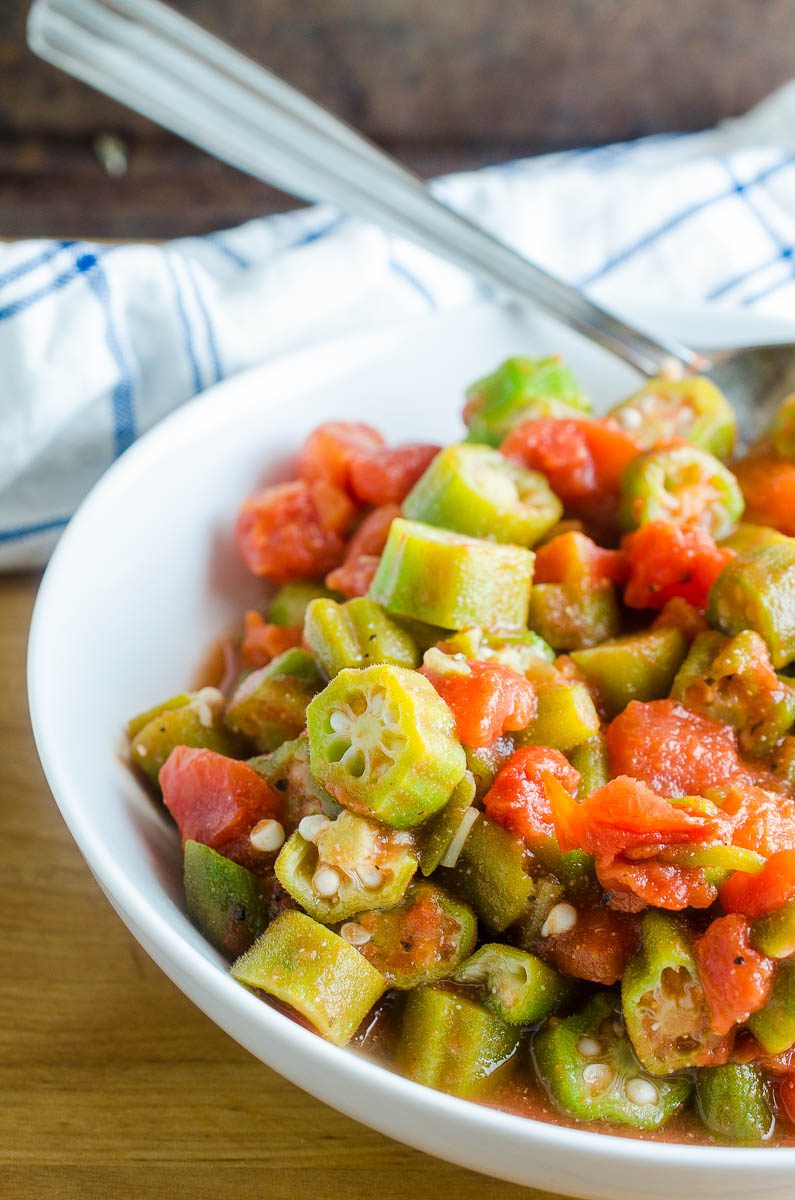 Told you it was easy!
Okra and Tomatoes Variations:
This recipe for Okra and Tomatoes is very basic. You only need okra, diced tomatoes, granulated garlic, salt and pepper. It is delicious, kid friendly, vegetarian and gluten free.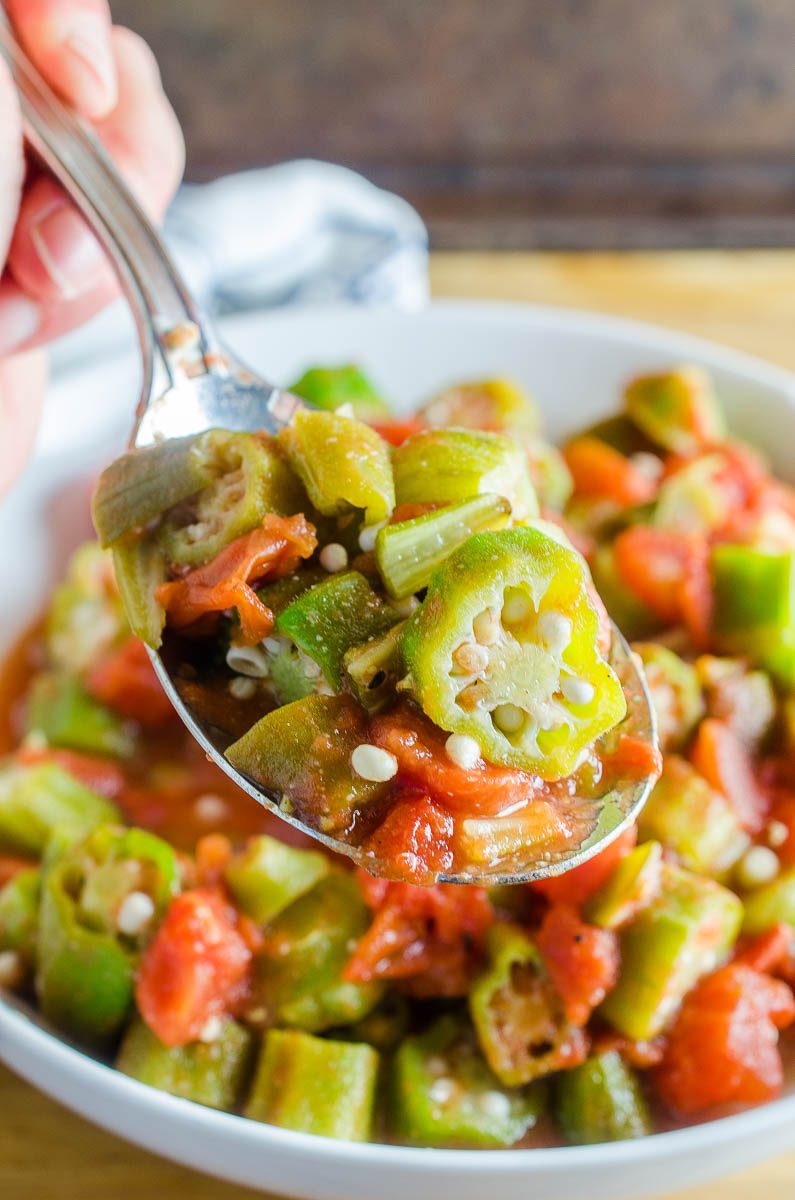 If you are looking for some variations though here are some ideas:
Cajun Okra and Tomatoes. Add some spicy cajun seasoning and a couple drops of hot sauce to the mix for an extra kick.
Okra and Tomatoes with Bacon: Cook a few strips of thick cut bacon until browned. Reserve a tablespoon of pan drippings add some diced onion, okra and tomatoes and cook just until warmed through.
To make it more of a meal, add in some chopped andouille sausage.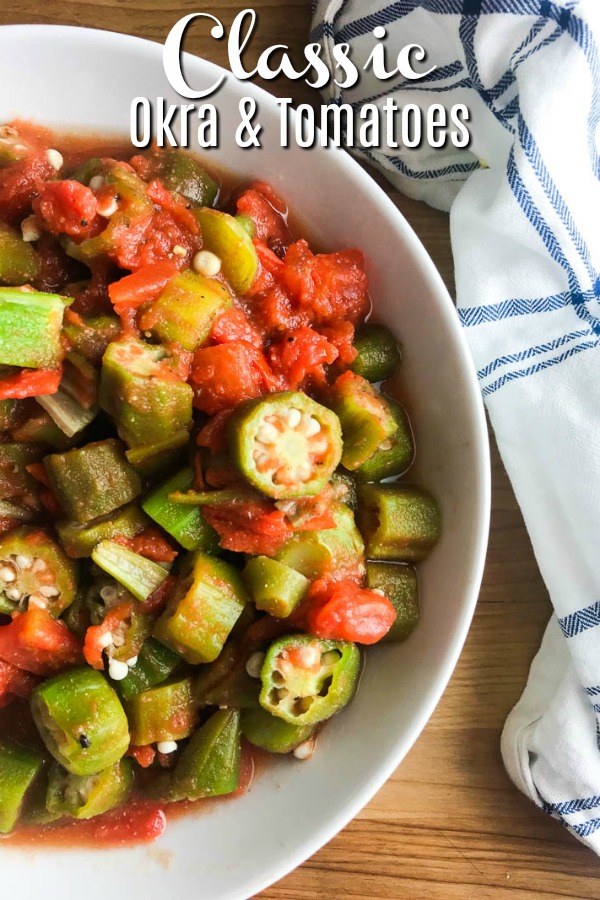 If you've always been on the fence about okra, give this a shot. I think you'll become a fan!
Okra and Tomatoes Recipe
Ingredients:
12 ounces frozen okra
1 (14.5 ounce can) diced tomatoes
1 teaspoon salt
1/2 teaspoon black pepper
1/2 teaspoon granulated garlic
Instructions
1
Combine all ingredients together in a saucepan. Cook over medium heat until warmed through. Adjust seasoning with salt and pepper as needed.
Notes
Nutrition facts not guaranteed.
Nutrition information
Calories: 56 , Total Fat: 0g , Saturated Fat: 0g , Cholesterol: 0mg , Sodium: 767 mg , Carbohydrates: 10.8g , Fiber: 3.6g , Sugar: 3.8g , Protein: 1.7g