Fried okra is a classic southern dish. It is a crispy and addicting easy snack or appetizer recipe. A cajun dipping sauce gives it the perfect amount of kick!
I think Okra kind of gets a bad rap. Sometimes when I ask if people like it, I get funny faces and then responses like "But it's slimy". And slimy is not really something that you want associated with food. And while Okra can be kind of slimy if it's not cooked right, fried okra, in all of it's crispy fried goodness, is down right addicting.
We're talking "popping it in your mouth like it's popcorn" addicting. It's right up there in the "can't stop eating this" category with my crunchy jalapeno bites.
For this fried okra recipe, I used frozen okra. Frozen okra seems to be a little bit easier to find in my neck of the woods. My grocery store carries the fresh stuff every once in a blue moon, but for the most part, frozen is where I have to turn. If you have to use frozen okra too, just make sure that you thaw it first.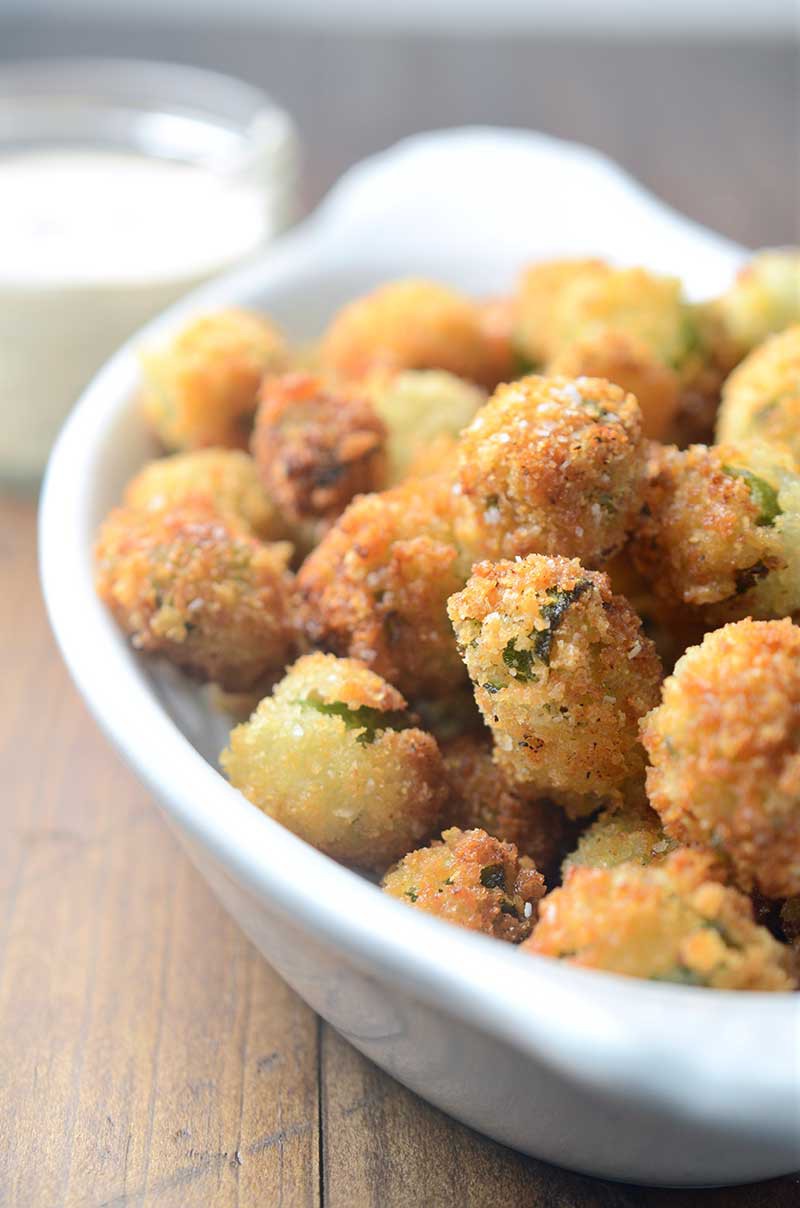 Next comes the breading. I first had fried okra at a southern restaurant in Portland. It had a traditional cornmeal breading. And while it was good, when it comes to frying things, I am always a huge fan of panko bread crumbs. They give everything that gets coated in them just the right amount of crunch.
Finally the dipping sauce. Fried Okra is pretty great on it's own but for this recipe, I made a creamy cajun dipping sauce to serve along side.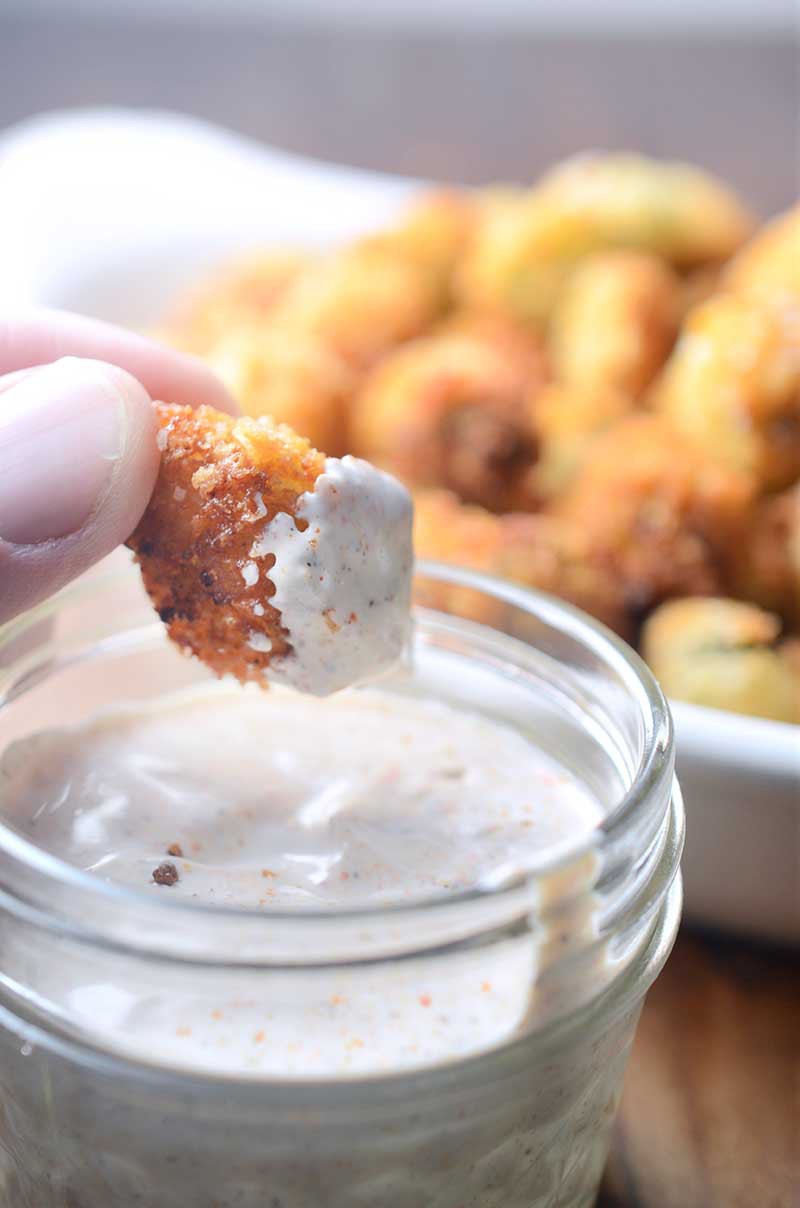 Talk about addicting. It's creamy, spicy and perfect for the fried okra. You can use any cajun seasoning that you like. Just keep in mind that some of them have salt and some don't. I am currently in love with this cajun blend. It has salt but it's the last ingredient so I found that I needed to add just a touch more to this recipe.
Also, I've made this dip a few times now and while this recipe calls for sour cream, I have actually also made it with a greek yogurt base. If you are looking for a little bit of a lighter dip then I suggest using that. It is a great substitute!

Fried Okra:
3 cups sliced okra, thawed if frozen
1 cup all purpose flour
1 cup buttermilk
2 cups panko bread crumbs
1 teaspoon granulated garlic
1/2 teaspoon salt
1/2 teaspoon cajun seasoning
oil for frying
Cajun Dipping Sauce:
1/4 cup sour cream

1 tablespoon mayonnaise

2 teaspoons Cajun seasoning

salt to taste

Instructions
1
Set up an assembly line: Place flour on a plate. Pour buttermilk in a bowl. Combine panko bread crumbs, garlic, salt and cajun seasoning together on another plate.

2
Dredge the okra in the flour. Dip the the buttermilk, let excess drip off. Dredge okra in panko bread crumb mixture. Repeat until all okra is coated.

3
In a skillet over medium-high heat, heat 1/2 inch oil to 350 degrees. Once oil reaches temperature, fry orka, in batches if necessary until golden brown. About 2 minutes. Use a slotted spoon to transfer okra to a paper towel lined plate. Sprinkle with salt.

4
To make dipping sauce whisk together sour cream, mayonnaise and cajun seasoning. Season to taste with salt.

5
Serve okra with dipping sauce.