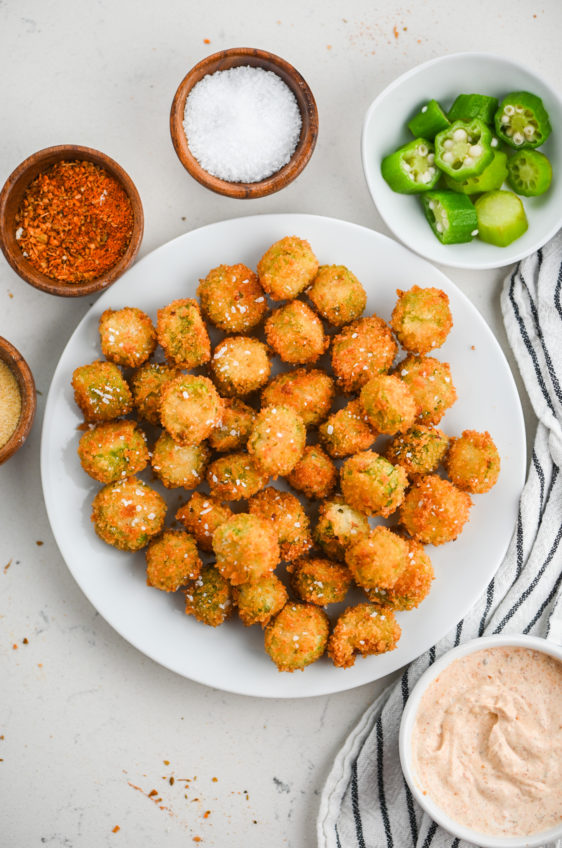 Fried Okra
Fried okra is a classic southern dish. It is a crispy and addicting easy snack or appetizer recipe. A cajun dipping sauce gives it the perfect amount of kick!
I think Okra kind of gets a bad rap. Sometimes when I ask if people like it, I get funny faces and then responses like "But it's slimy". And slimy is not really something that you want associated with food. And while Okra can be kind of slimy if it's not cooked right, fried okra, in all of it's crispy fried goodness, is down right addicting.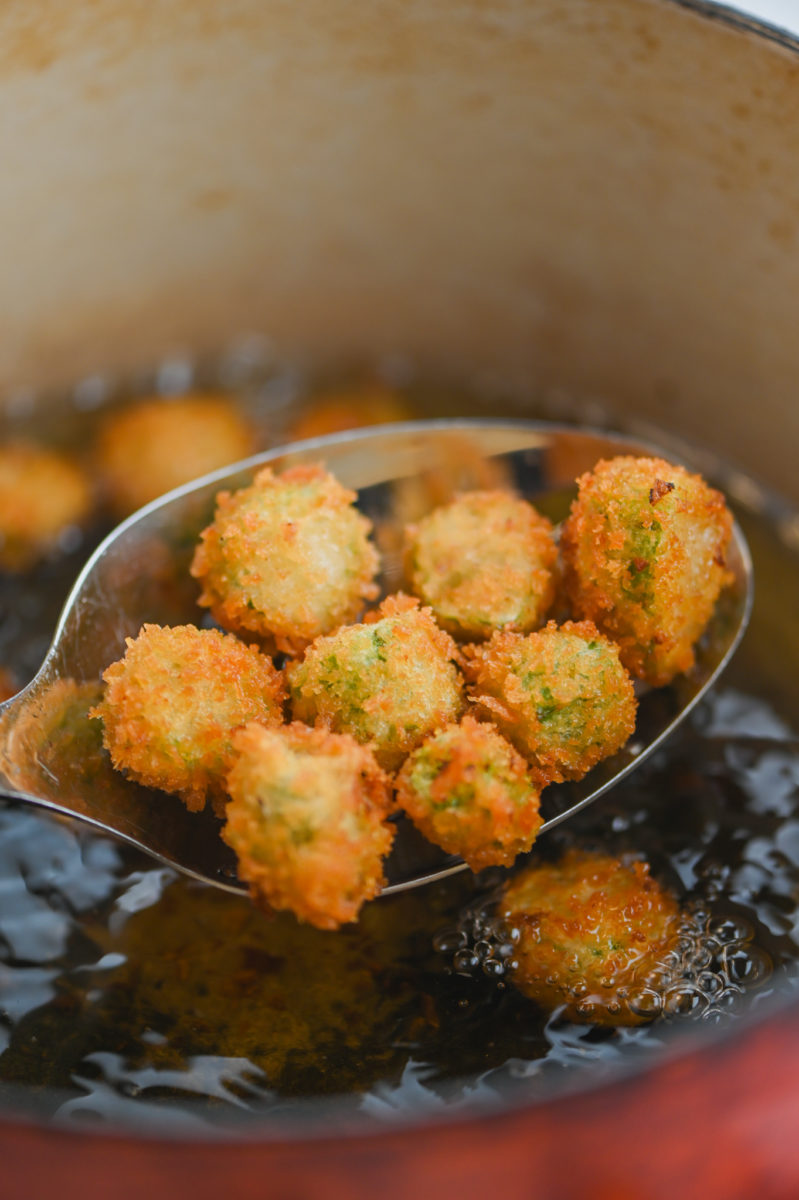 We're talking "popping it in your mouth like it's popcorn" addicting. It's right up there in the "can't stop eating this" category with my crunchy jalapeno bites.
Ingredients you'll need: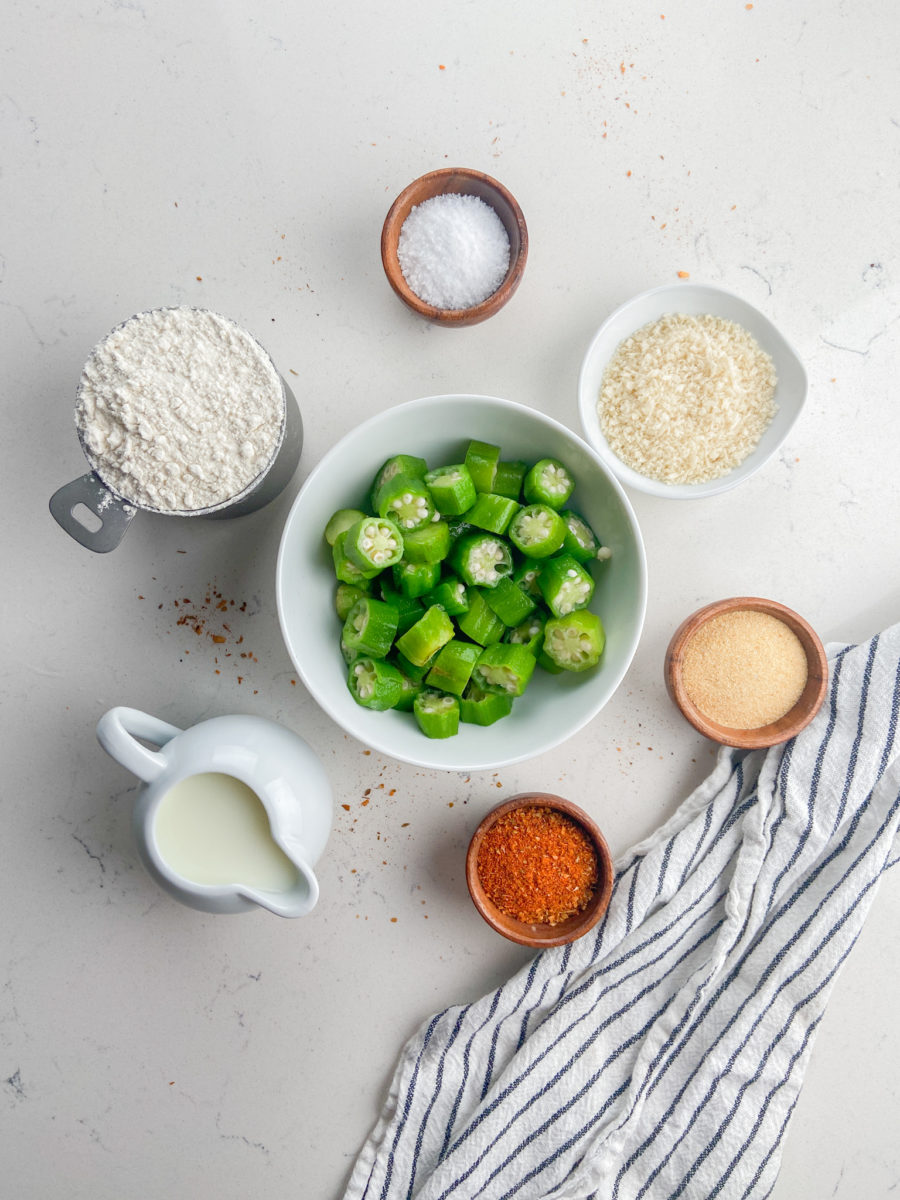 OKRA: For this fried okra recipe, I used frozen okra. Frozen okra seems to be a little bit easier to find in my neck of the woods. My grocery store carries the fresh stuff every once in a blue moon, but for the most part, frozen is where I have to turn. If you have to use frozen okra too, just make sure that you thaw it first
FLOUR: This is going to give the buttermilk something to stick to.
BUTTERMILK: This is going to stick to the flour which will make the perfect piece for the panko to stick to.
PANKO BREAD CRUMBS: Traditionally, fried okra is made with cornmeal. I prefer to use panko bread crumbs as they give the perfect amount of crunch to any fried food. (It's my secret to the best ever fried cod!)
SALT/CAJUN SEASONING/GRANULATED GARLIC: this is what I use to season the panko. The cajun seasoning can add a bit of a kick so you can leave it out if you prefer. You can make your own with my Cajun seasoning recipe.
OIL: For frying. I prefer to use a neutral, less expensive oil when I'm deep frying. You're using so much and you don't really need to taste it so save your expensive oils for other things. I use canola, vegetable or peanut.
You may be wondering what to dip okra in, and while it's great on it's own, I made a dip to serve along side. Here's what you'll need: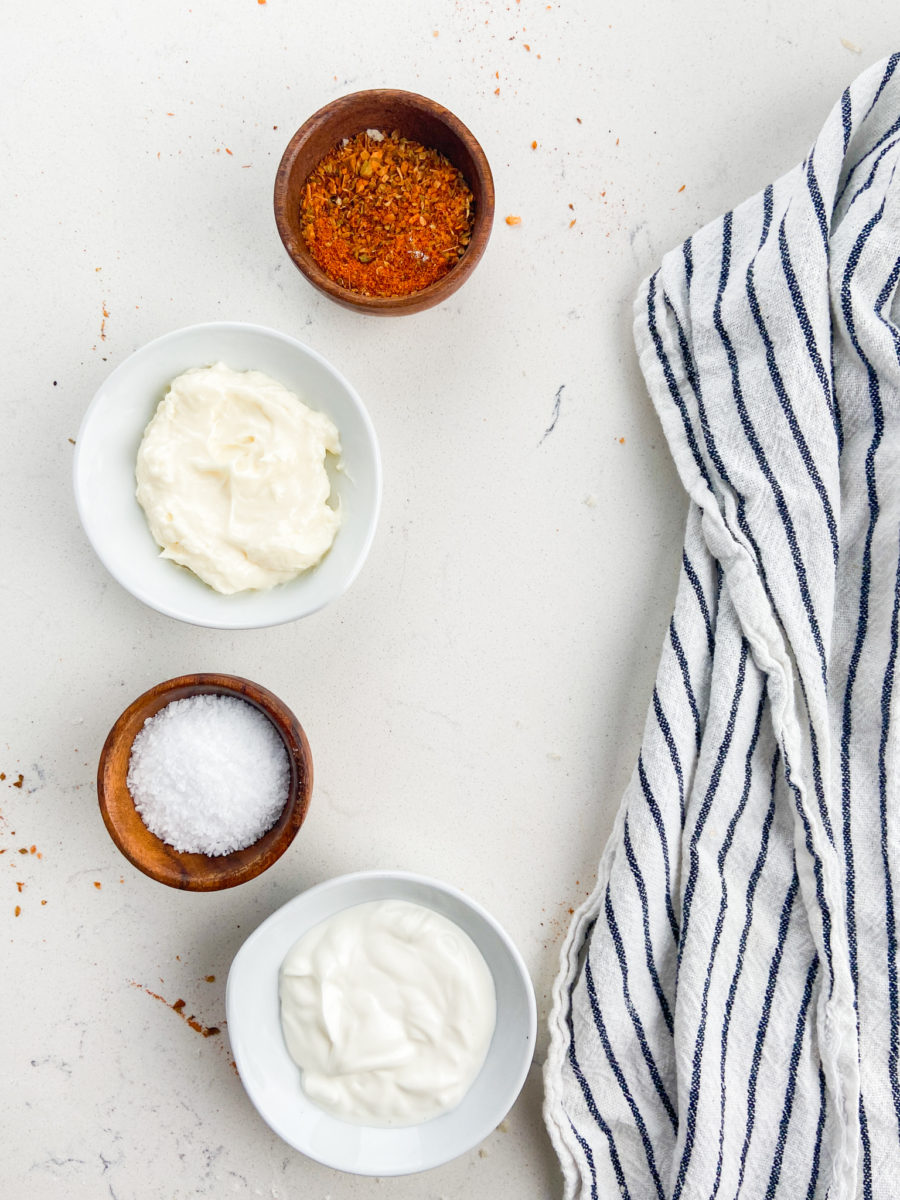 MAYONNAISE: It adds a bit of oil to the sauce which helps smooth it out.
SOUR CREAM: Where most of the creaminess comes from.
CAJUN SEASONING: Again, this will add a bit of heat. You can use blackening seasoning as well which will still have a lot of Cajun flavor but less heat.
SALT: Just to taste. Some Cajun seasoning blends have salt while others do not.
Step by Step Photos and Instructions:
Fried Okra follows the basic assembly line set up as all of my favorite fried food recipes. You'll need a plate with the flour, a bowl with the buttermilk and a plate with the seasoned panko. It's super easy once you get the hang of it but follow along with these step by step photos to see my process.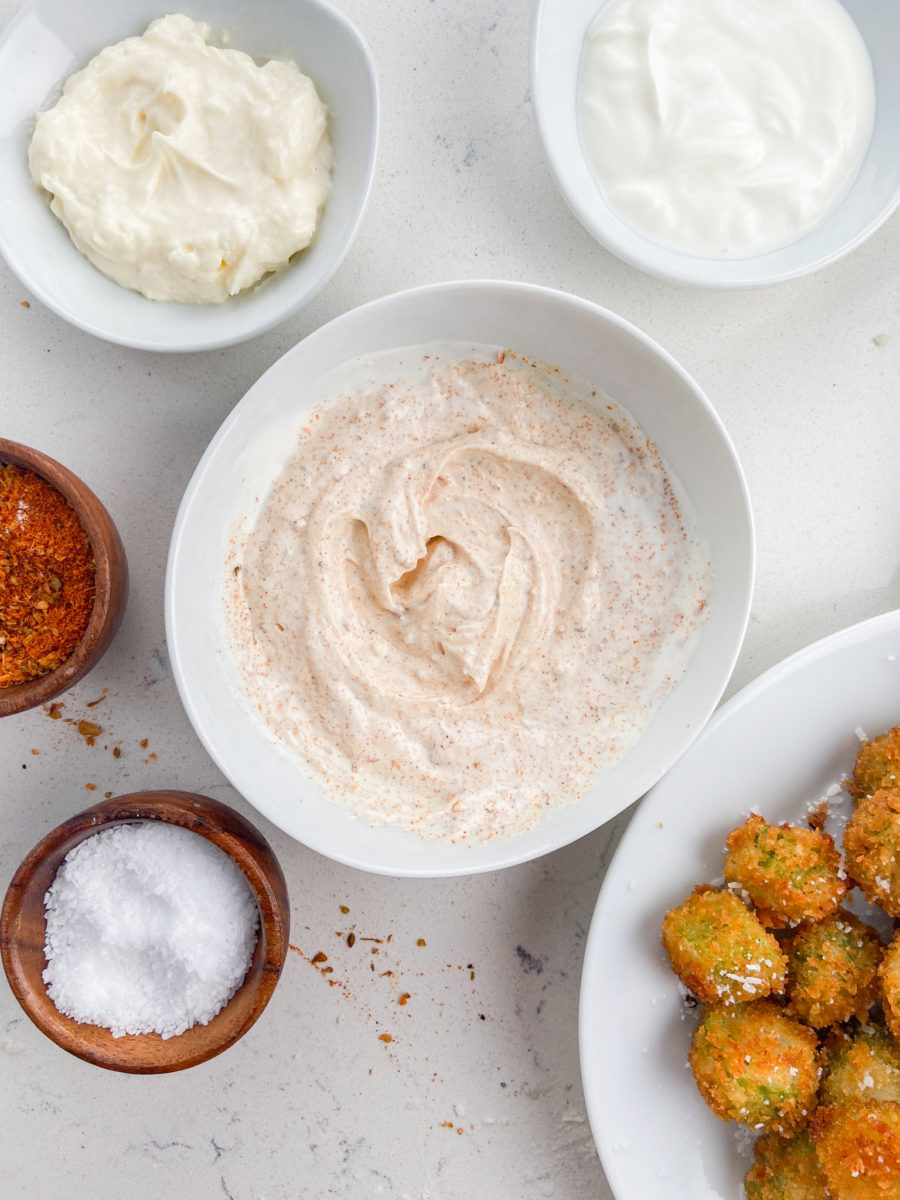 STEP #1: If you're making the dip, I like to make it first so that the flavors have a chance to meld.
STEP #2: Dredge the okra pieces in flour. Shake off any excess.
STEP #3: Dip the flour coated okra pieces into the buttermilk. Use a fork to help drain off the excess.
STEP #4: Dredge the okra pieces into the seasoned panko.
STEP #5: Fry the oil at 350 degrees. Depending on the size of your pot you may need to do this part in batches. You don't want to over crowd the pan. Season to taste with salt and serve with dipping sauce.
Storage and Leftovers:
Since this is fried, you'll want to serve this right away as leftovers don't really hold up that well.
Recipe FAQ:
Why do you need to "Fry in batches"?:
You'll often see the term "Fry in batches" when you're looking at recipes. This is done to help prevent over-crowding the pan which will lower the heat of the oil. When you over-crowd the pan, fried food will stem rather than fry and will be less crispy.
What are panko bread crumbs?
Panko bread crumbs are a Japanese style of bread crumbs. They are crispier than traditional bread crumbs.
What does okra taste like?
Okra has a sweet, grassy flavor. It can be used as a thickener in some recipes or served fried like in this one.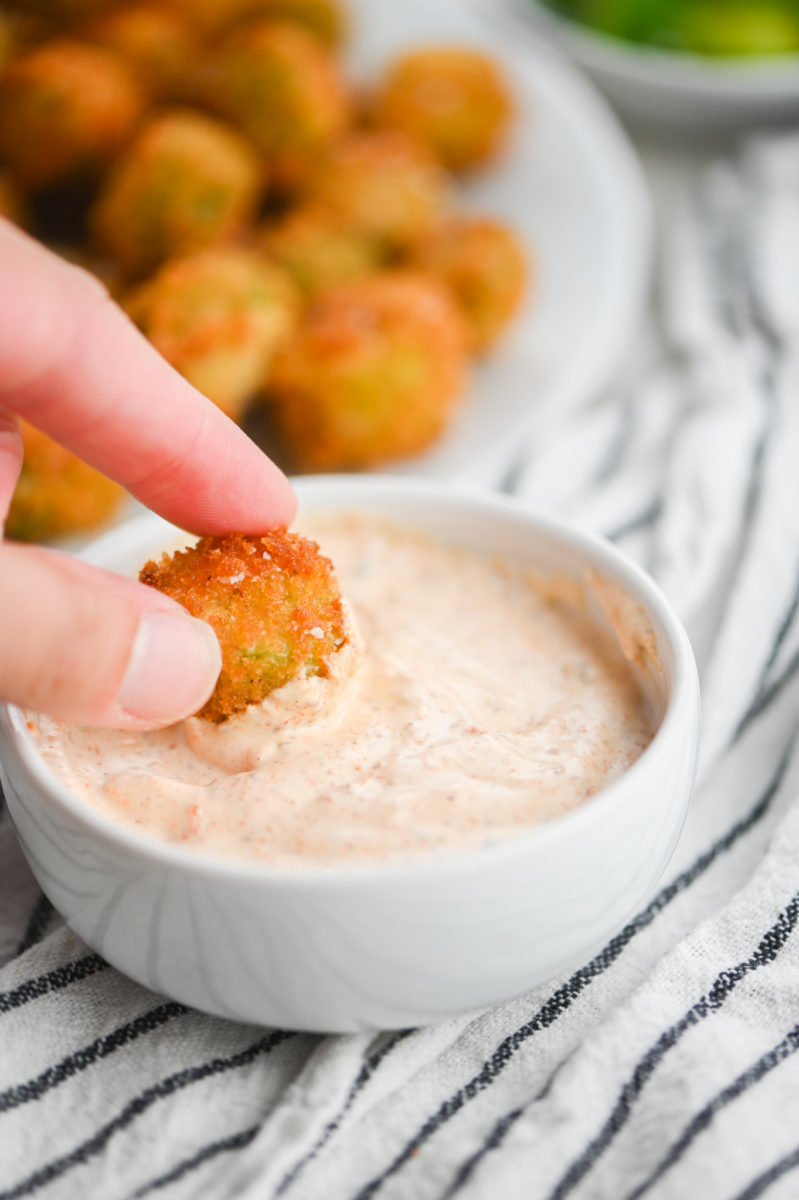 So if you've got people in your life that are unsure about okra, make them this fried okra recipe, you're sure to change some minds!
More southern food favorites:
Southern Style Green Beans Recipe
Note: this post was originally written in 2016. It was updated in 2022 with new photos, step by step photos and nutrition information.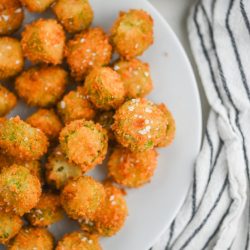 Fried Okra
A classic southern dish, Cajun fried okra is crispy and addicting. The dipping sauce gives this easy appetizer recipe the perfect amount of kick!
Fried Okra:
3

cups

sliced okra

thawed if frozen

1

cup

all purpose flour

1

cup

buttermilk

2

cups

panko bread crumbs

1

teaspoon

granulated garlic

1

teaspoon

salt

1

teaspoon

cajun seasoning

optional

oil for frying
Cajun Dipping Sauce:
1/4

cup

sour cream

1

tablespoon

mayonnaise

2

teaspoons

Cajun seasoning

salt to taste
Set up an assembly line: Place flour on a plate. Pour buttermilk in a bowl. Combine panko bread crumbs, garlic, salt and cajun seasoning together on another plate.

Dredge the okra in the flour. Dip the the buttermilk, let excess drip off. Dredge okra in panko bread crumb mixture. Repeat until all okra is coated.

In a skillet over medium-high heat, heat 1/2 inch oil to 350 degrees. Once oil reaches temperature, fry orka, in batches if necessary until golden brown. About 2 minutes. Use a slotted spoon to transfer okra to a paper towel lined plate. Sprinkle with salt.

To make dipping sauce whisk together sour cream, mayonnaise and cajun seasoning. Season to taste with salt.

Serve okra with dipping sauce.
Frozen okra must be thawed first. 
Be sure to fry in batches to avoid over-crowding the pan. 
Nutrition information for estimation purposes only. 
Calories:
386
kcal
Carbohydrates:
71.8
g
Protein:
14.1
g
Fat:
3.9
g
Saturated Fat:
1.1
g
Cholesterol:
2
mg
Sodium:
763
mg
Fiber:
5.7
g
Sugar:
7.6
g
Keywords:
Dip, fried okra, okra, snack