Cajun popcorn shrimp is quick, easy and oh so crispy! Sweet shrimp, marinated in Cajun seasoning, then coated in breadcrumbs and fried until golden.
We've all got those recipes that bring back good memories from our childhood right? Something that you ate at a birthday party, on sunday dinners or at your grandma's house. This Cajun Popcorn shrimp is one of those for me.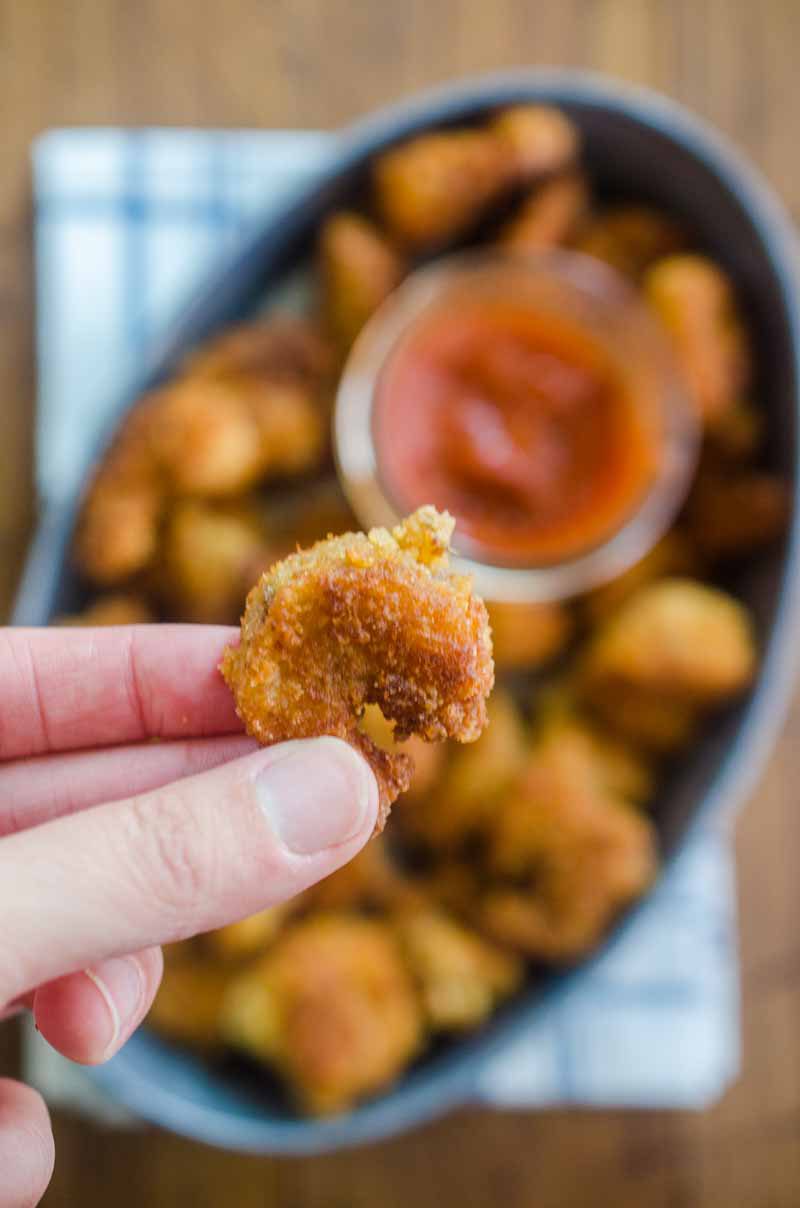 Growing up whenever my grandparents on my mom's side would come to visit my grandma and I would head to the grocery store to get some snacks. We'd grab the essentials like potato chips, dip, pop, bread. and butter pretzels (they were the best!) But one of our other essentials wasn't that common, we'd always have to get a box of frozen popcorn shrimp. Once home, we'd pop them in the oven and enjoy the tiny crunchy shrimp with loads of cocktail sauce.
Now that I am grown up and have a little bit more kitchen experience, when I get the craving for popcorn shrimp I head into the kitchen to make my own.  For this deep fried shrimp recipe, I decided to kick things up a little bit and season the shrimp with Cajun seasoning before breading them. Then I deep fried them until they were golden brown and crunchy.
My grandma passed away a few years ago, and whenever I miss her (which is quite a bit), I'll just make myself a batch of popcorn shrimp. And if I close my eyes, I'm that little 10 year old girl again, snacking on crispy fried popcorn shrimp and cocktail sauce with her grandma.
Watch the video below to see how this Cajun Popcorn Shrimp gets so perfectly golden and crispy!
And if seafood isn't your thing, be sure to check out this recipe for popcorn chicken.
Ingredients:
1 pound (45-50 count) peeled and deveined prawns, thawed if frozen
1 tablespoon Cajun seasoning
2 teaspoons olive oil
1/2- 3/4 cup flour
2 eggs
2/3 cup plain dry bread crumbs
2/3 cup panko bread crumbs
oil for frying
kosher salt
Instructions
1
In a bowl combine shrimp, cajun seasoning and olive oil. Stir to coat. Cover and refrigerate for at least 1 hour.

2
When you are ready to start cooking, heat 1/2 inch of oil in a saucepan over medium heat.

3
Place the flour in one bowl. Place the egg in a second bowl. In the third bowl combine the plain and panko bread crumbs.

4
First dredge the shrimp in the flour, shake off any excess. Dip the floured shrimp into the egg and then dredge in the bread crumb mixture. Repeat until all shrimp are coated.

5
Drop a few bread crumbs in the oil to see if its hot enough, if it sizzles, it is. Fry the shrimp in batches for 4-6 minutes or until golden brown. Be careful not to over crowd the pan. Transfer finished shrimp to paper towel lined plate. Sprinkle with kosher salt. Serve hot.