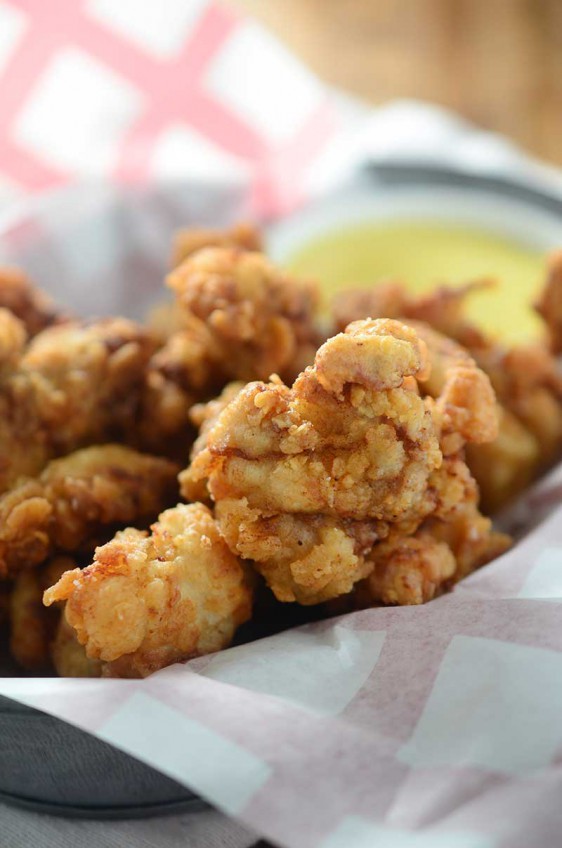 Dill Pickle Popcorn Chicken
Popcorn chicken makes for an easy kid-friendly dinner. Bite sized fried chicken pieces, ready for dipping into your favorite dipping sauce! This bite-sized popcorn chicken recipe will be a hit with the whole family!
I was walking through the grocery store last weekend and they had this huge freezer with a special on popcorn chicken. I was a little intrigued. It would be a very quick and easy dinner for during the week.
And I almost picked up a bag. The key word there is almost. I ended up deciding against it because I thought, "you know what? I bet I can make that at home really easily."
And, as you'll see, it is easy to make!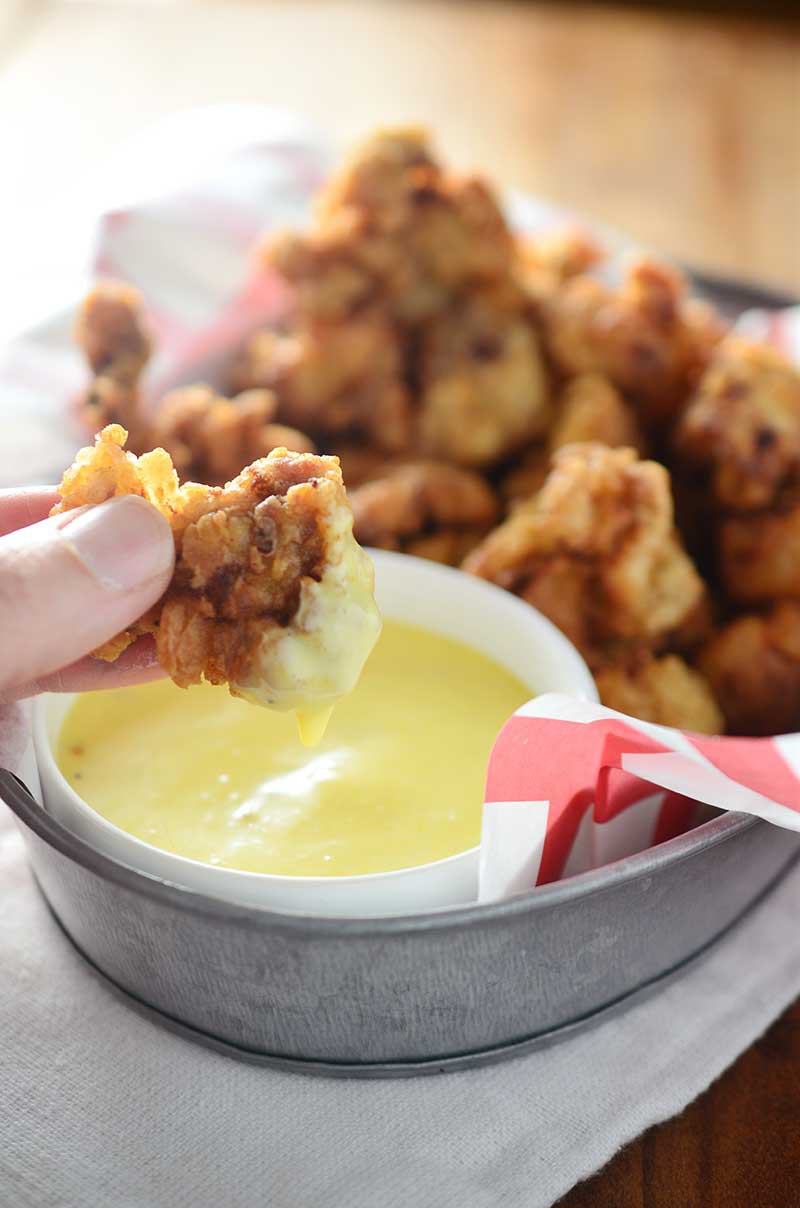 What is popcorn chicken?
That is the first question that my husband asked when I told him that I was making popcorn chicken for dinner. Contrary to its name, popcorn chicken is not made with popcorn. "Popcorn" refers to it's snack-ability because it is so small.
Popcorn chicken is just a bit smaller than your average chicken nugget.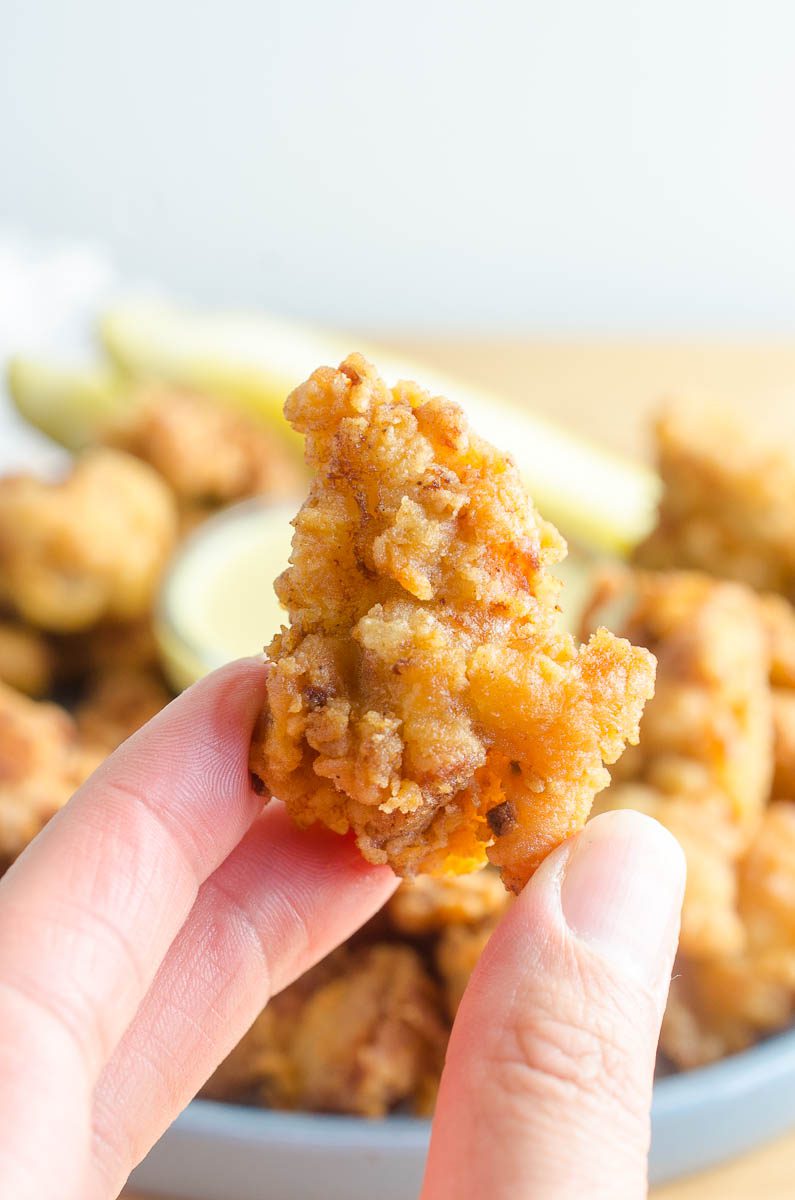 I use boneless skinless chicken thighs in this dish because they are pretty inexpensive and I like the flavor more than boneless breasts. If you're a white meat fan you can use boneless skinless chicken breasts to make popcorn chicken.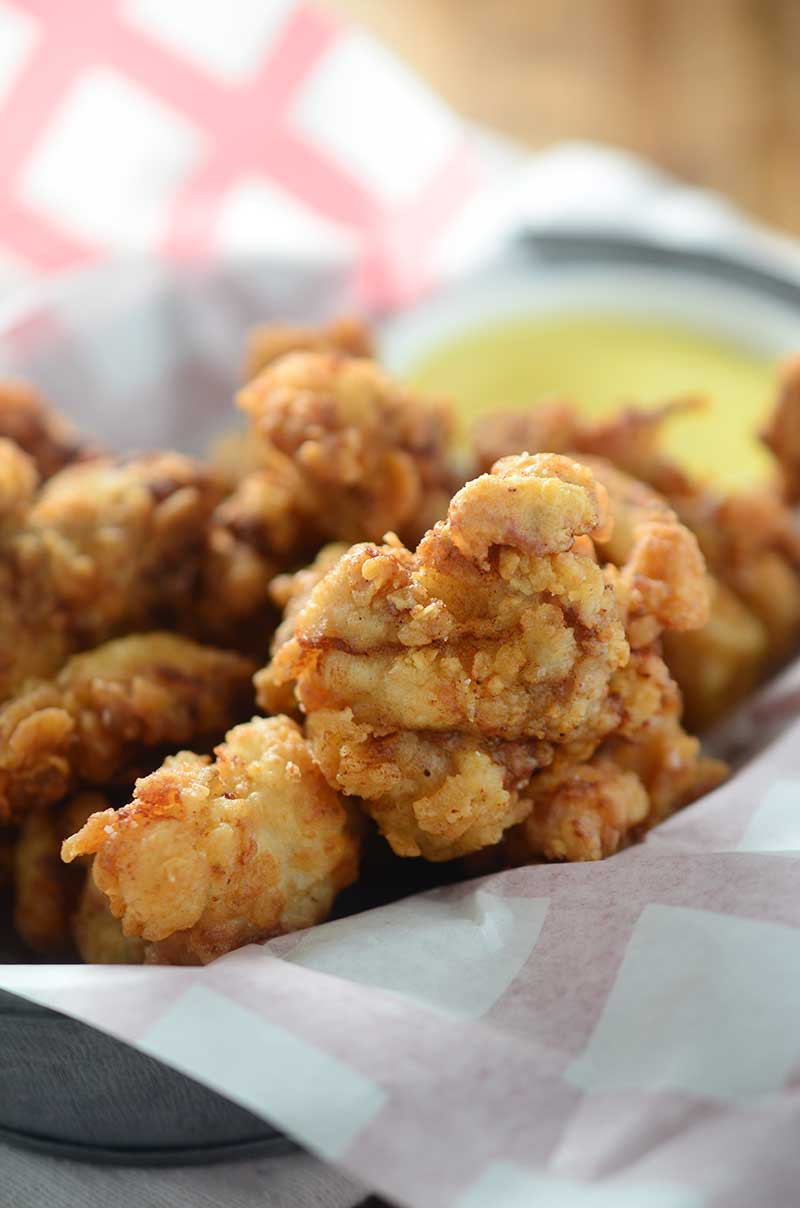 Should you brine chicken?
100% yes. When I originally posted this recipe back in 2010, I had not yet been introduced to the wonderful world that is brining chicken.
Now, whenever I make chicken, I brine it first. Brining chicken makes the chicken juicier because the chicken will absorb the liquid.
I have brined all sorts of chicken during the last few years like Summer Savory Fried Chicken and Grilled Rosemary Fried Chicken are a couple of our favorites.
A basic chicken brine is made with water, salt and sugar. You can also add different seasonings to it. However, when I read that Chick-Fil-A brines their chicken in pickle juice, and the wild success I had with Dill Pickle Chicken Wings, I knew it would be perfect for popcorn chicken too.
How do you make dill pickle popcorn chicken?
Step 1: Brine the chicken in pickle brine. I usually save extra pickle brine after I am done with a jar of pickles. Claussen pickles are a favorite around here.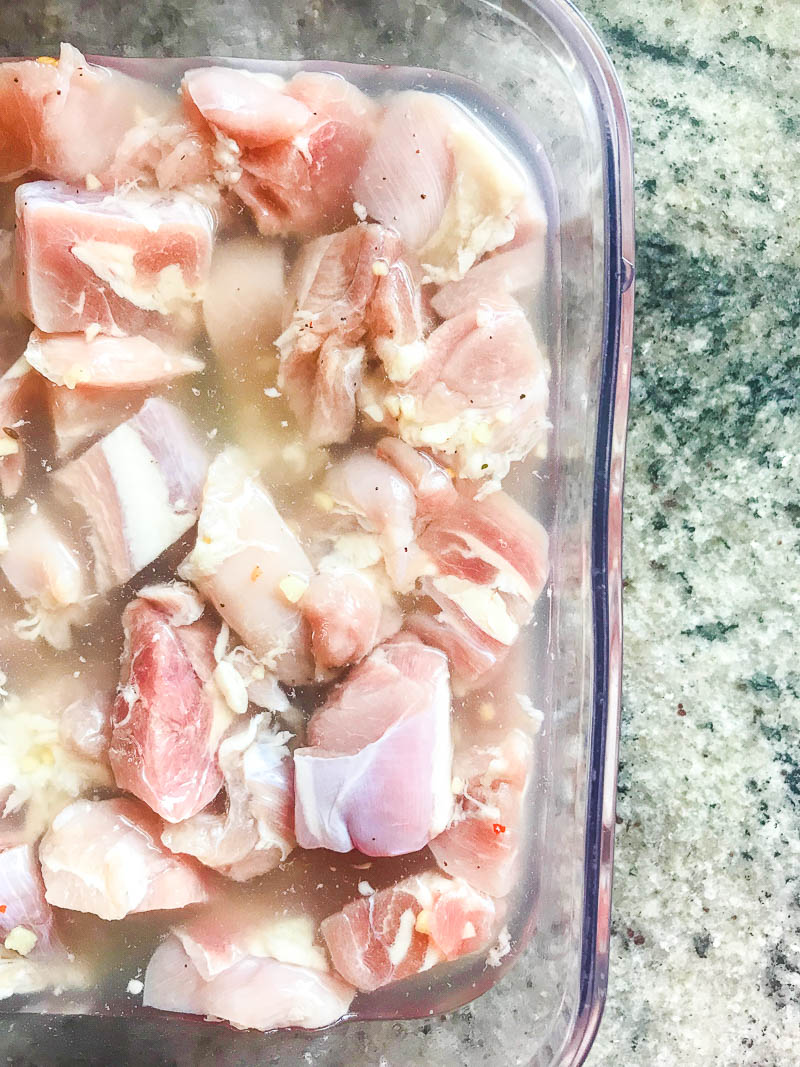 Step 2: Dip the chicken pieces in an egg/milk bath.
Step: 3: Dredge the chicken in seasoned flour. I like season my flour with seasoned salt such as Johnny's.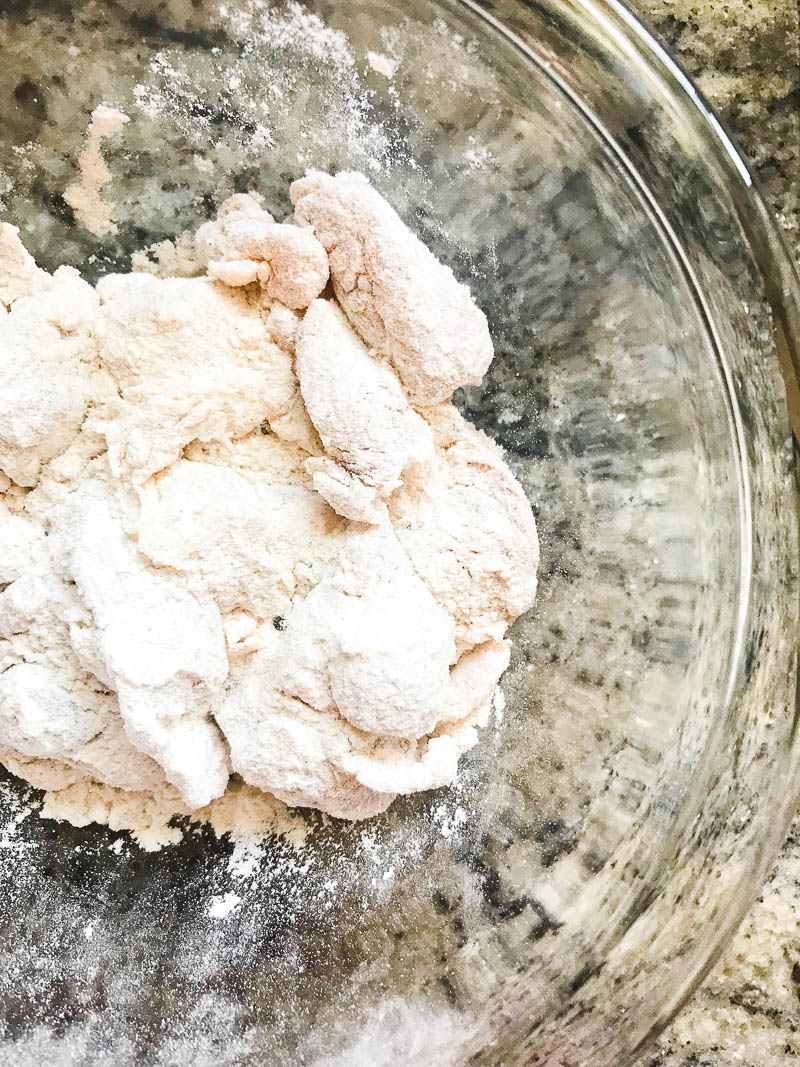 Step 4: Fry until golden brown.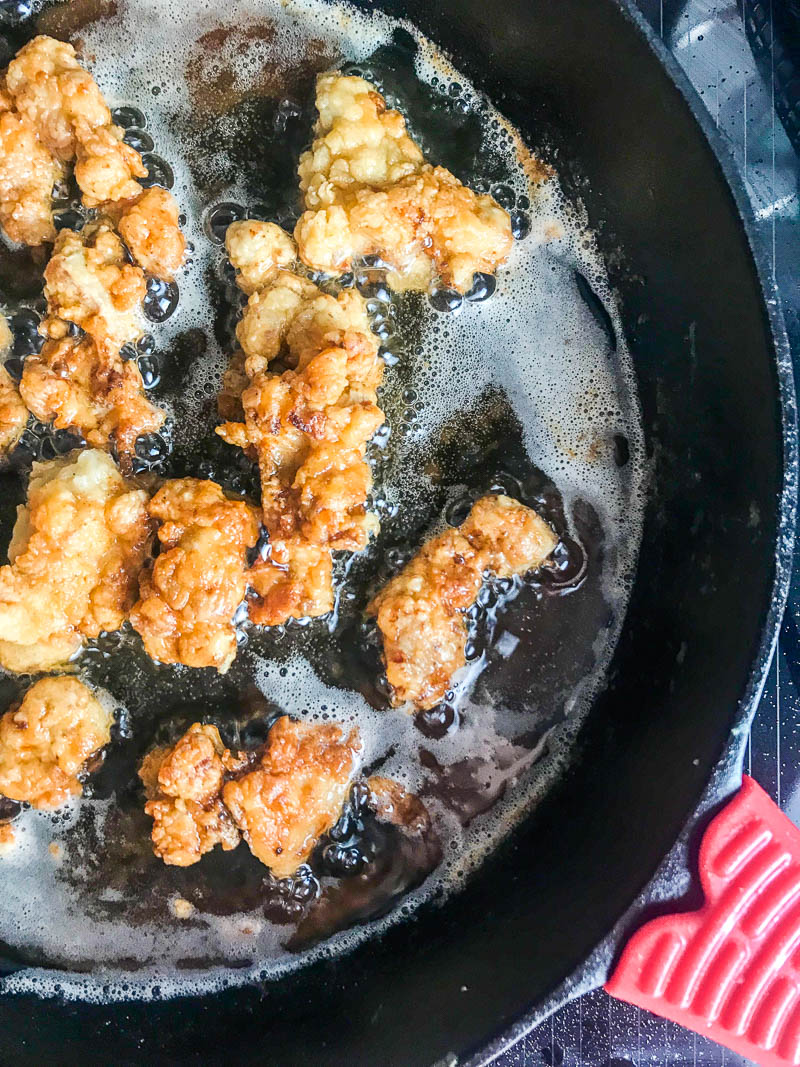 Easy peasy done!
So guys, you need to get on this ASAP. Because they are amazeballs.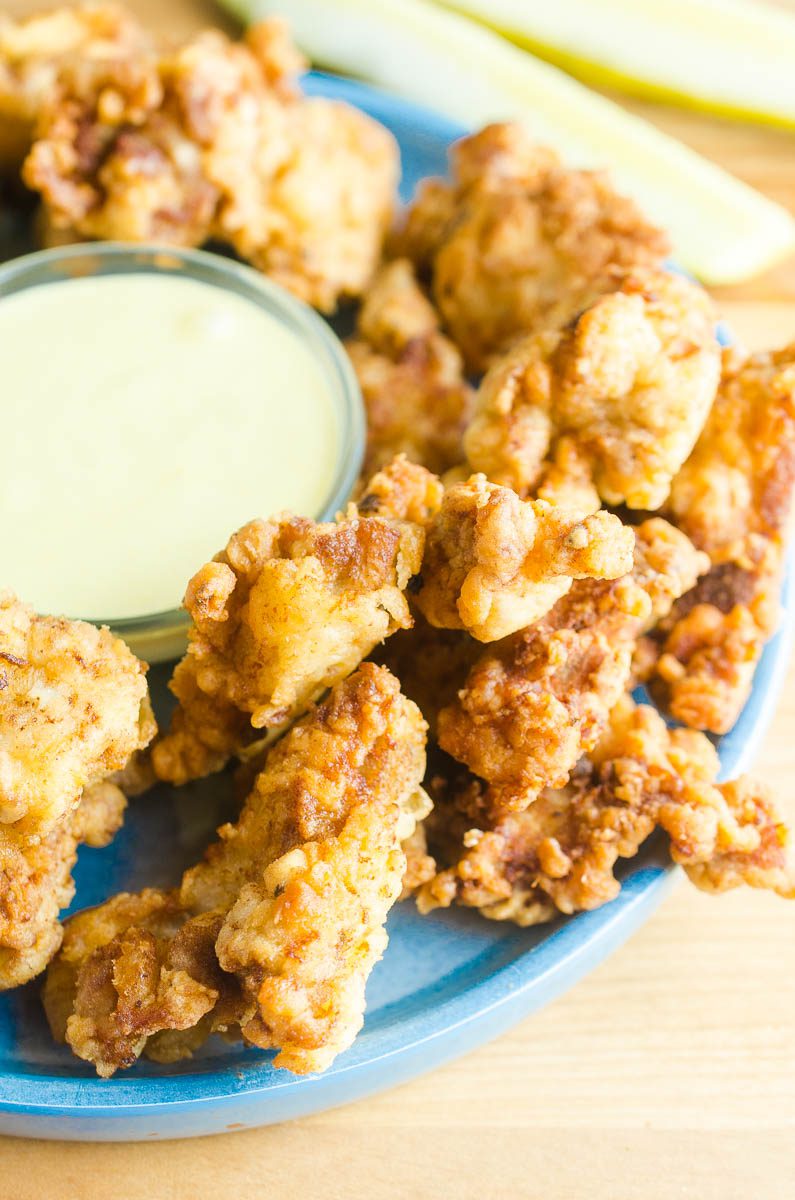 Take it from my husband, who is not huge fan of fried chicken who said, as he scarfed down about 20 pieces, that they were really good, light and not too heavy like other fried chicken. Give 'em a shot. Let me know what you think.
Holy moly, guys, it is SO good. And I love that you don't have to make the brine yourself, which makes this even easier to make.
So the next time you get a craving for popcorn chicken, know that you don't need to head to KFC or Popeye's to get it. You can make it at home in a snap! And don't forget the dip!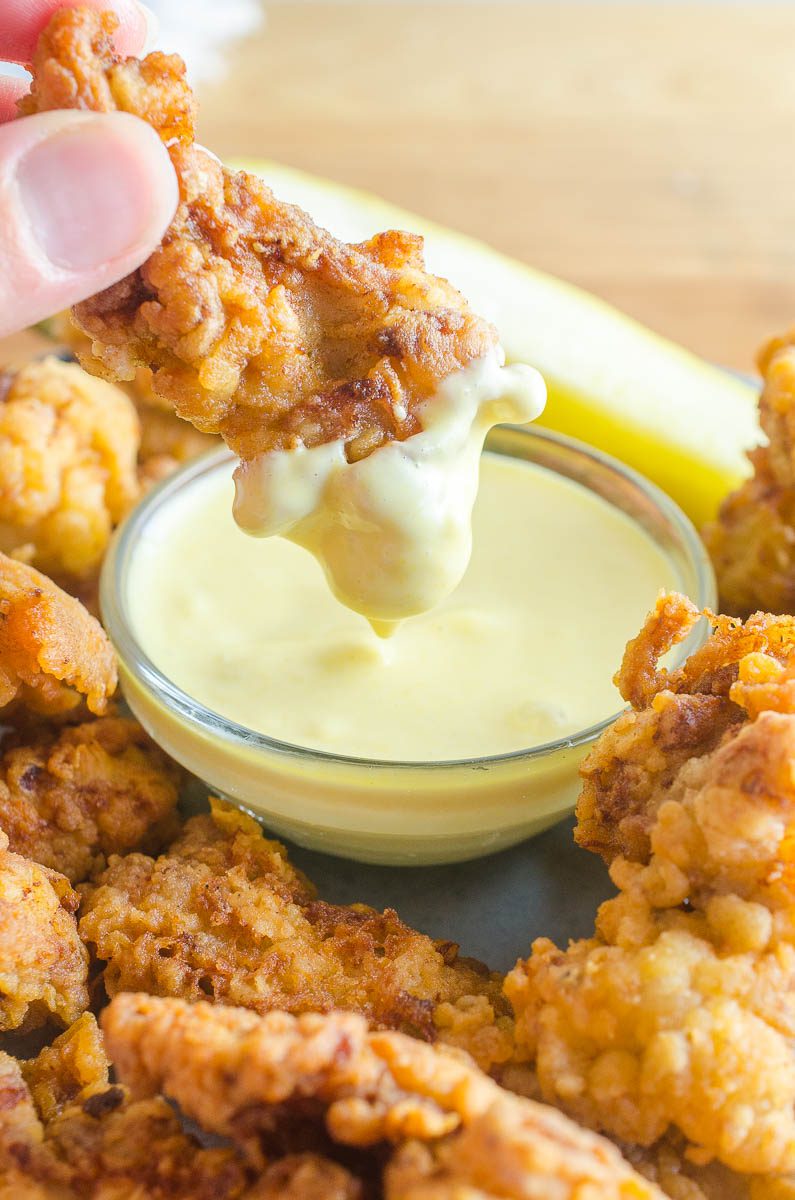 Check out these other Family Friendly Chicken Recipes: 
baked honey mustard chicken tender recipe 
BBQ Chip Crusted Chicken Tenders 
Alabama BBQ Chicken Sandwiches
Dips for Popcorn Chicken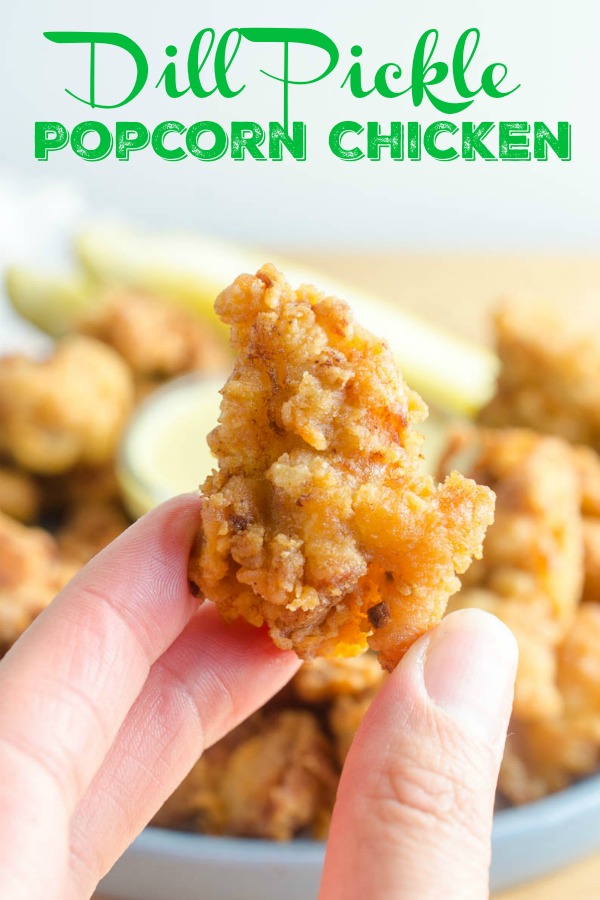 Note: this recipe was originally posted in 2010. It was updated with photos, additional tips and nutrition facts in 2019.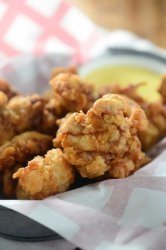 Dill Pickle Popcorn Chicken
Crispy bite-size popcorn chicken will be a hit with the whole family! An easy kid-friendly fried chicken recipe. The chicken is marinated for extra flavor!
Ingredients:
1 1/4 - 1 1/2

pound

boneless skinless chicken thighs

diced into bite sized pieces

1

cup

pickle brine

1

egg

1/2

cup

milk

1

cup

flour

1

teaspoon

baking powder

2

teaspoons

seasoning salt

I like Johnny's

1

cup

canola oil
Place the chicken pieces and pickle juice in a resealable plastic bag (or other non-reactive) container and refrigerate for 2 hours.

In a bowl beat egg and milk together.

In a large plastic bag combine flour, baking power and salt. Dip the chicken pieces in the egg and milk. Then place in the seasoned flour and shake until nicely coated. Let set in the flour for about 10 minutes while you heat the oil.

In a large pot heat about 1/2 inch of oil to 350 degrees. Once hot, shake the excess flour off of the chicken pieces and fry until golden brown, about 3 minutes. You may need to do this in batches to avoid crowding the pan.

Once chicken is cooked use a slotted spoon to transfer the pieces to a paper towel lined plate. Sprinkle with a little more seasoning salt if desired. Serve hot with your favorite dipping sauce.
Nutrition facts not guaranteed to be accurate.
Calories:
637
kcal
Carbohydrates:
17.9
g
Protein:
36.6
g
Fat:
46.1
g
Saturated Fat:
5.5
g
Cholesterol:
130
mg
Sodium:
1206
mg
Fiber:
0.9
g
Sugar:
1.3
g
Keywords:
chick fil a, chicken, chicken bites, chicken breast, dinner, entree, Food, fried chicken, popcorn chicken, Recipe