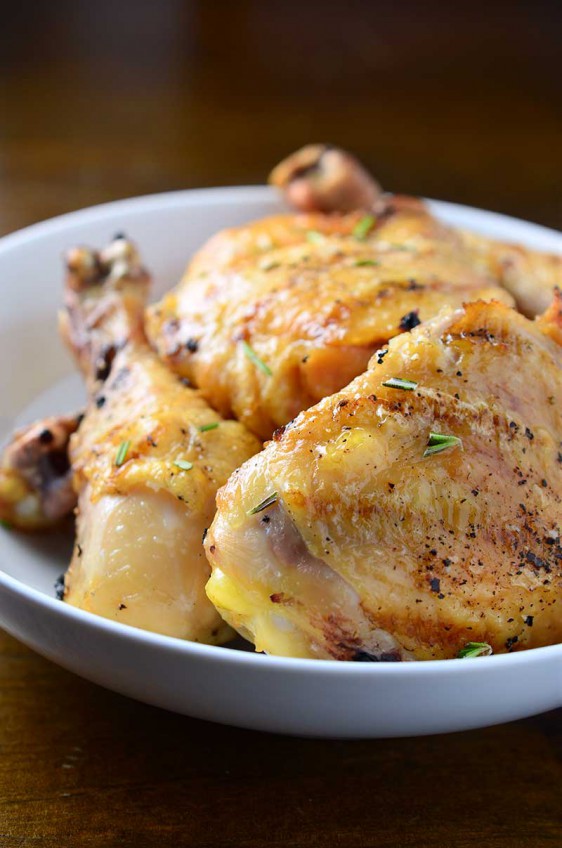 Grilled Rosemary Brined Chicken
This recipe for Grilled Rosemary Brined Chicken leaves you with succulent perfect chicken with a hint of earthy rosemary.
Have you brined chicken? You need to brine chicken. I have become such a fan of brining chicken that when I don't brine it, I am just not a fan. It brings such amazing flavor. Such tender, juicy meat. Really, you need to be brining you chicken and this Grilled Rosemary Brined Chicken is a great introduction.
What is a chicken brine?
There are two different kinds of brines: wet brine and dry brine. A dry chicken brine is also known as "pre-salting" you simply rub a seasoning mixture into the meat and let it sit in the refrigerator for a while before cooking. It is how I prepare my Garlic Fried Chicken and it works wonderfully.
The other kind of brine is a wet brine. Think of it as a salt water bath for chicken (it works for turkey too!). When chicken is brining, it absorbs some of the water through osmosis. This makes the final product more moist. This is important for chicken because chicken tends to get dry when cooking. Especially white meat.
Can you brine chicken for too long?
The short answer is yes. If you let a chicken or chicken pieces set in the brine for too long, I find the meat to get a little mushy. For chicken pieces, four hours is good.
I have been brining chicken for a few years now. I've made Summer Savory Brined Fried Chicken which is my all time favorite fried chicken. Spicy Sriracha Brined Fried Chicken for those of you that love a little kick. And I have also made an Oven Fried Rosemary Brined Chicken that is a huge hit every time I make it. It is the dish that inspired this recipe. You see, as much as I love fried chicken, it has been just too hot to make it this summer. So, like the Grilled Brussels Sprouts & Kielbasa Kebabs that I shared the other day, I've taken a cool weather favorite and put it on the grill.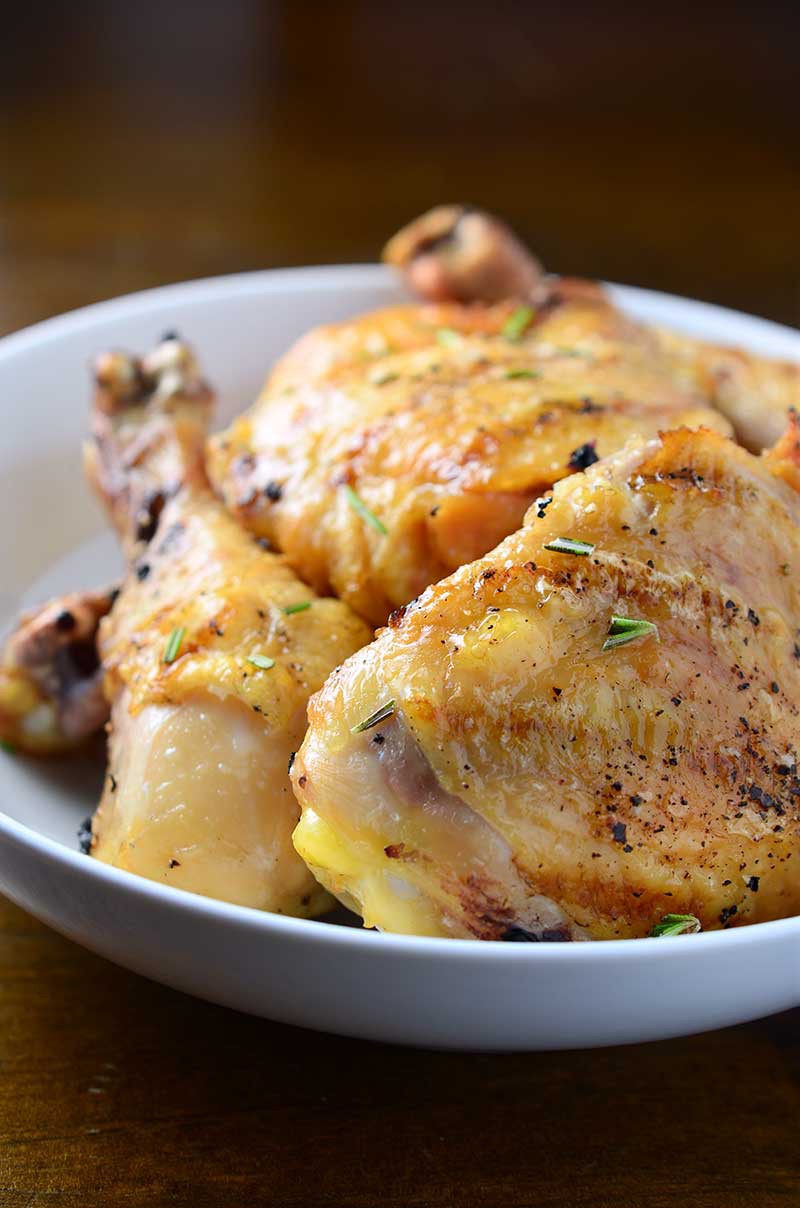 Grilling chicken can be a bit of a challenge, making sure the skin stays crispy and golden while the inside is fully cooked. The best way I've found to handle that is to use indirect heat. That is, cooking with 1/2 of the grill on but placing the chicken on the other half. This way it's a little more like an oven, but you still get the char from the grill AND it doesn't heat up your house.
Score.
For this Rosemary Brined Chicken, like in most of my chicken recipes, I used drumsticks and thighs. I do this for one reason: the dark meat is tastier. I can't deny it. It just is. In my opinion it just has so much more flavor. That being said, if you happen to prefer white meat you could easily do this with bone-in skin on (no boneless, skinless chicken here) chicken breasts. Because the breasts tend to be bigger you'll need to adjust the cooking time.
Either way you go, you're going to have tender juicy chicken with a delectably crispy grilled skin.
And really, tender chicken is good and all but perfectly crispy chicken skin? That is what it's all about.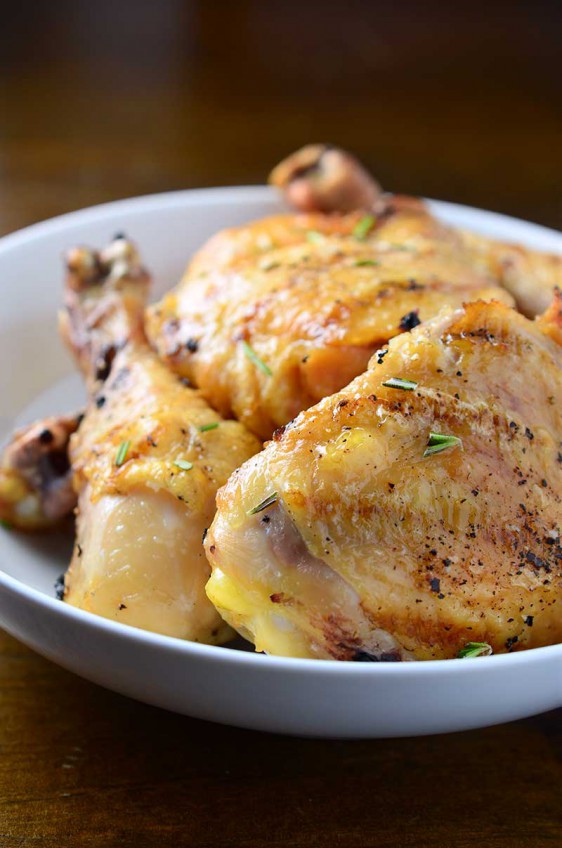 Grilled Rosemary Brined Chicken
This recipe for Grilled Rosemary Brined Chicken leaves you with succulent perfect chicken with a hint of earthy rosemary.
Whisk together water, salt, sugar, garlic and rosemary until salt and sugar dissolves.

Place chicken in a one gallon resealable plastic bag. Place bag inside a large bowl.

Pour brine over the top of chicken, seal and refrigerate for at least 2 hours but not more than 4.

Prepare grill for indirect heat and heat to 425 degrees.

Rinse and pat dry the chicken. Season both sides liberally with salt and pepper.

Cook chicken skin side down, for 5 minutes. Reduce heat down to 350. Continue cooking chicken for 10 minutes or until it easily releases from the grill. Flip and continue cooking for another 10 - 15 minutes or until a meat thermometer inserted reads 165 degrees and the juices run clear.

Transfer to a plate, sprinkle with fresh rosemary, if desired, serve.
Keywords:
brined chicken, chicken, grill, rosemary