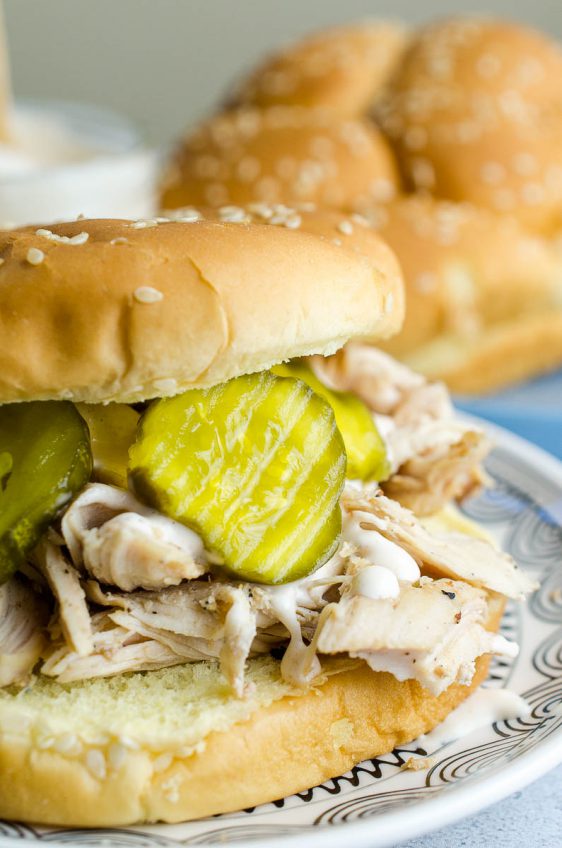 Pulled Chicken Sandwich with Alabama BBQ Sauce
This easy pulled chicken sandwich is made with chicken marinated in Alabama BBQ sauce, grilled, shredded and topped with more Alabama BBQ and bread and butter pickles. The perfect summer sandwich!
With all of the summer BBQs headed our way, it seems only logical that we have the perfect summer sandwich to serve! These Pulled Chicken Sandwiches are easy and perfect for a crowd.
What is Alabama BBQ Sauce?
I did a little more research around the interwebs and found that white BBQ sauce is mayo based, and usually has vinegar, salt, pepper and a few other spices. After checking out several different recipes, I decided to take the basics, then add some different seasonings that I like to the mix to see what would happen.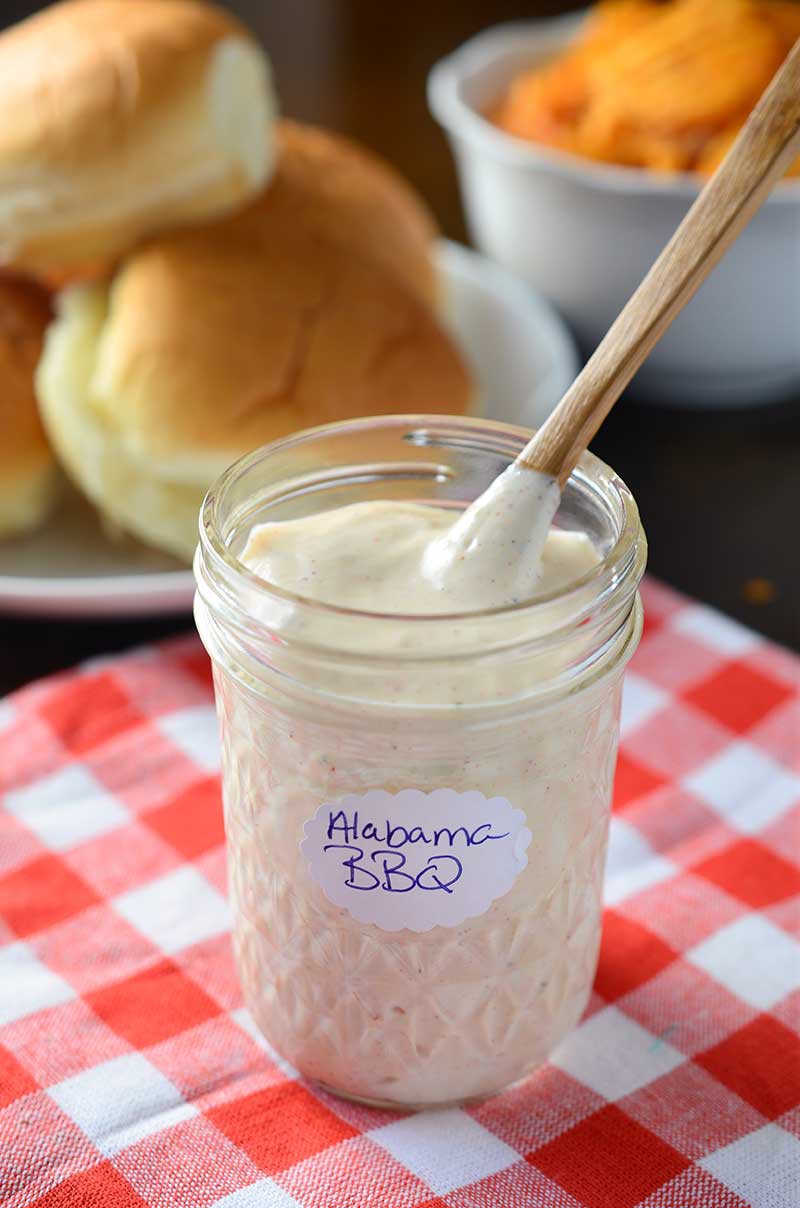 But what do you use it for??
These Pulled Chicken Sandwiches are the perfect way to use it. Not only is the chicken marinated in the sauce but even more sauce is drizzled over the top after the chicken is shredded. If you love you some Alabama BBQ Sauce then this sandwich is for you.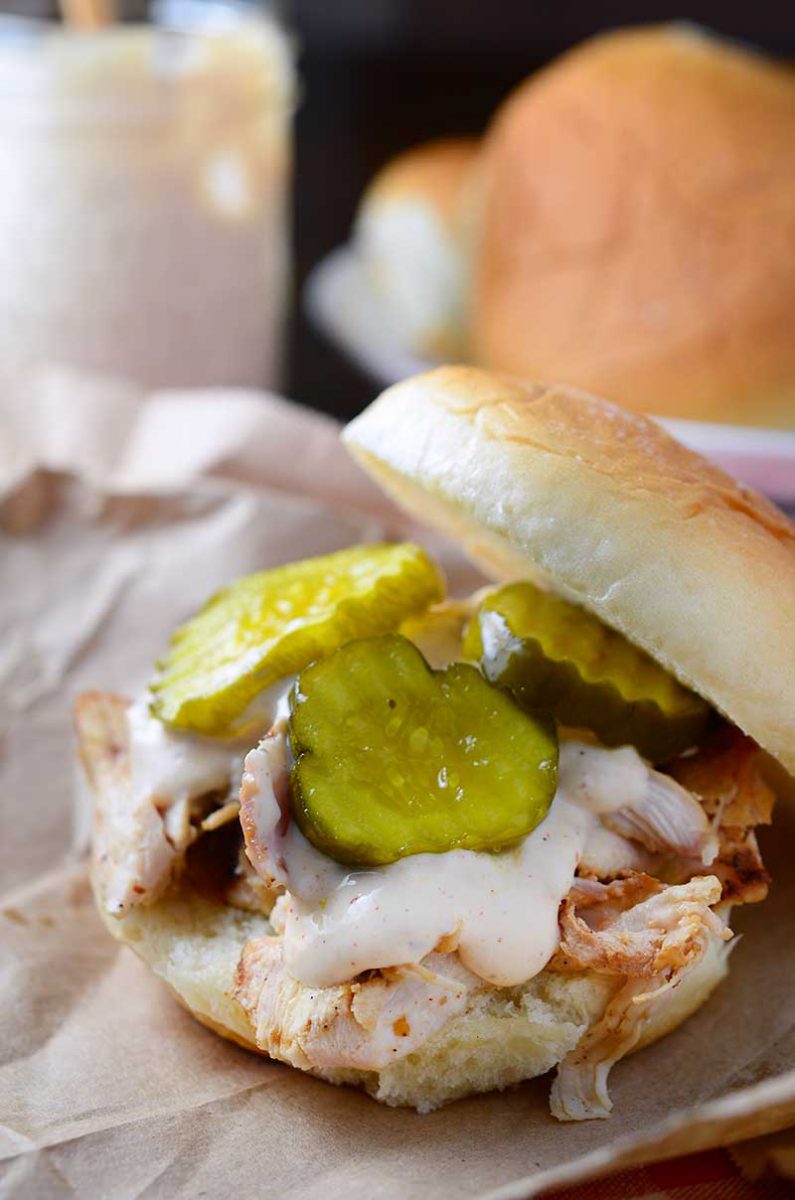 If you are not sure that you love Alabama BBQ Sauce, you need to try it pronto. It is so creamy and delicious. I love that it has a bit of a tang, a bit of a kick and a touch of sweetness.
How do you make a pulled chicken sandwich?
This recipe does take a bit of preparation because you need to marinate the chicken in the White BBQ Sauce for at least 6 – 8 hours. It's even better if you have a chance to let it marinate over night.
After the chicken has marinated, grill it over medium heat until it reaches an internal temperature of 170 degrees. Remove the chicken from the grill and allow to rest 5 minutes.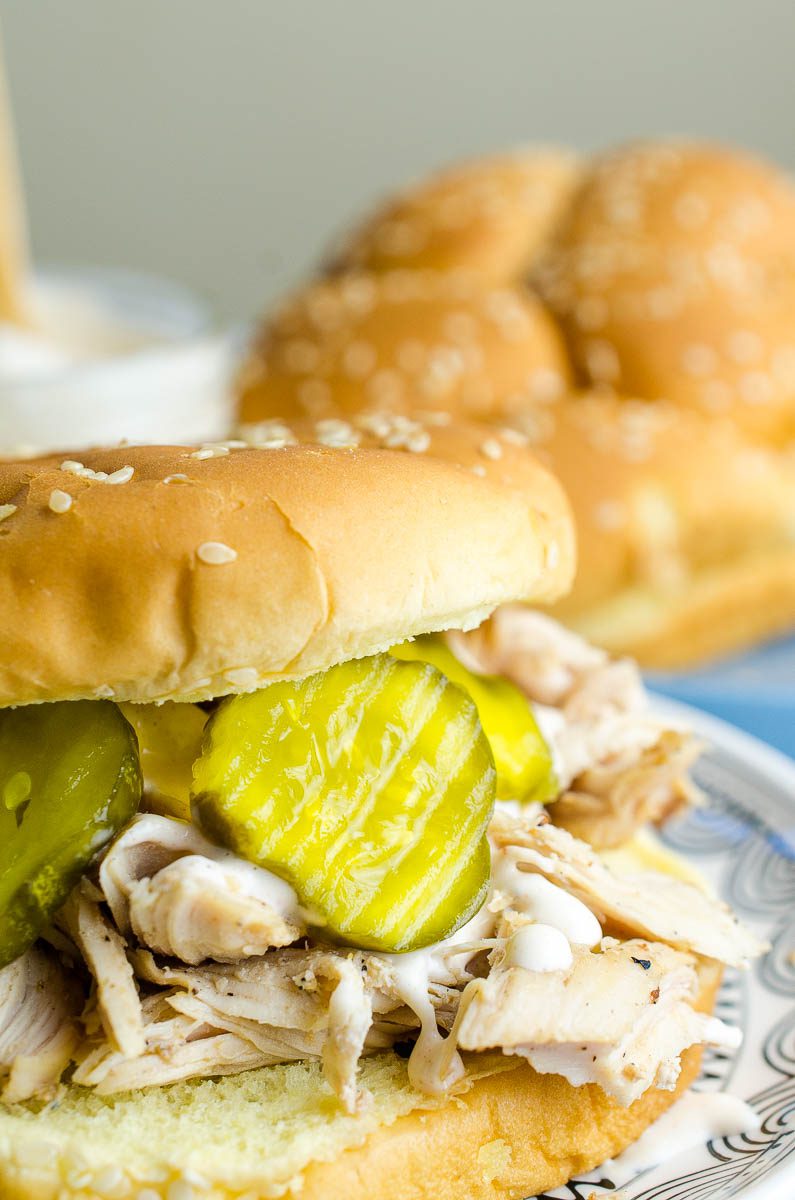 Once the chicken has rested, use two forks to shred it.
Finally, place the shredded chicken on the bottom half of a bun, drizzle with more white BBQ sauce and bread and butter pickles.
Which chicken cut do you use for pulled chicken?
I have tried this recipe with both chicken breasts and chicken thighs. Because of the oil in the mayo, I found using chicken thighs made the sandwich a bit greasy. For that reason, I recommend only using boneless skinless chicken breasts for this pulled chicken sandwich.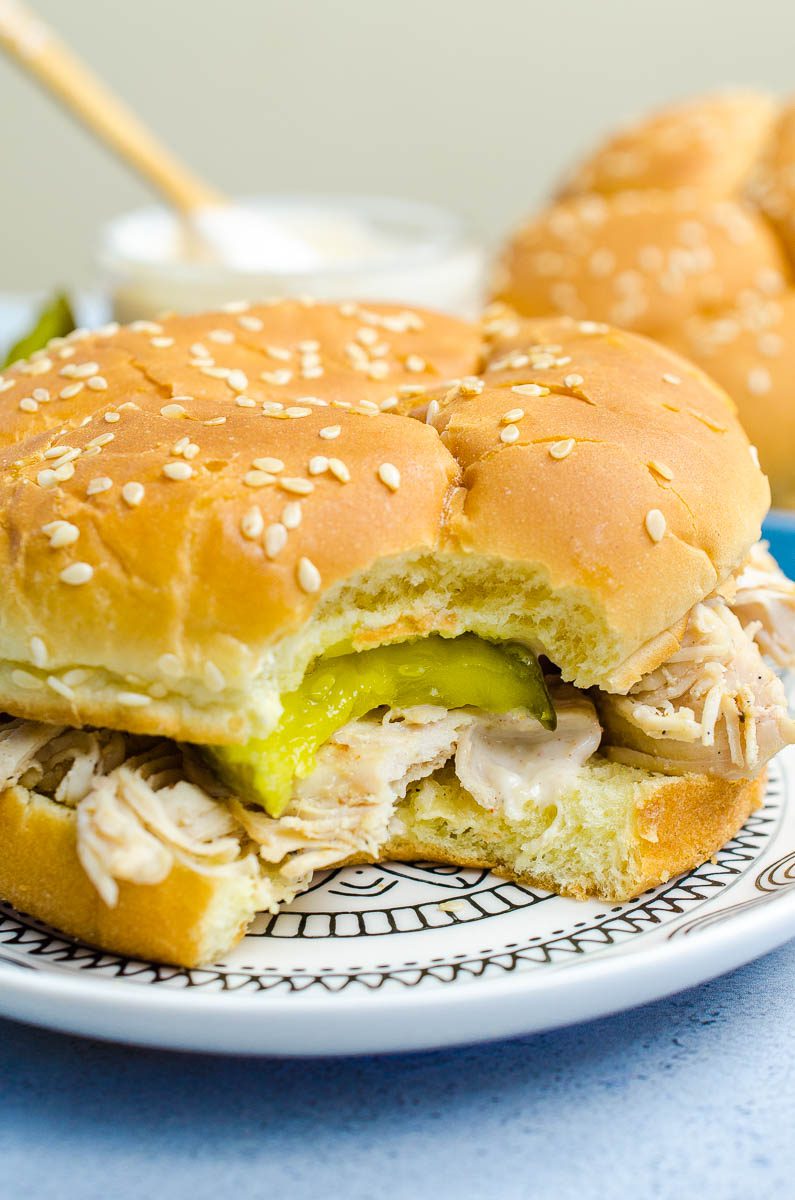 Check out these other Easy Chicken Recipes:
More BBQ Sauce Variations:
Note: This post was originally written and published in 2015. Updated with new tips, photos and a video in 2019.

Pulled Chicken Sandwich with Alabama BBQ Sauce Recipe
Ingredients:
1 1/2 pound (2 - 3 ) boneless skinless chicken breasts
4 Burger buns
bread and butter pickle slices
White BBQ Sauce
1 cup mayonnaise

2 tablespoons apple cider vinegar

1 tablespoon prepared horseradish

1/2 teaspoon salt

1/2 teaspoon black pepper

1/4 teaspoon garlic powder

1/4 teaspoon paprika

1/4 teaspoon cayenne (optional)

1/4 teaspoon sugar
Instructions
1
Place chicken in a resealable plastic bag, pour 1/4 cup of Alabama White BBQ Sauce over the top. Shake to coat. Seal and refrigerate for 6 - 8 hours or overnight.

2
Heat grill for indirect heat. Place 1/4 cup of BBQ sauce in a bowl next to the grill. Cook chicken for 7 minutes.Turn chicken and cook for 5 - 7 more minutes or until chicken is cooked through. Transfer to a plate and let rest for 5 minutes.

4
To assemble the sandwiches place chicken on bottom buns, drizzle with remaining BBQ sauce and top with 3 - 4 bread and butter pickles. Serve.