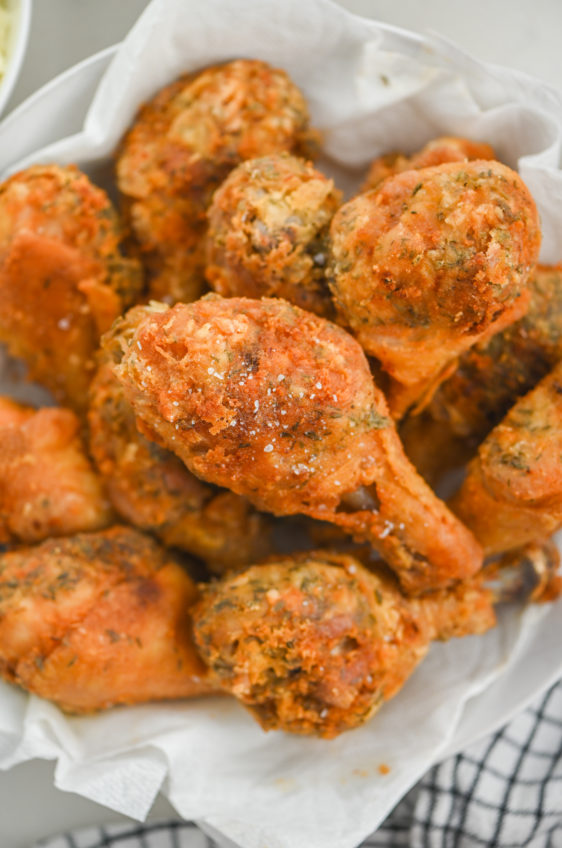 Brined Fried Chicken
Once you've brined fried chicken, you'll never cook it any other way. Brining is an easy way to ensure your chicken is juicy and has tons of flavor.
I'm just going to come out and say it: I am OBSESSED with this brined fried chicken. I've made plenty of fried chicken in my life. I've marinated it in buttermilk. I have brined and oven fried it. I've made it spicy. I have slathered it with garlic. I've even marinated it in curry yogurt. But this friends, this fried chicken right here, is my favorite by far. It is succulent, crispy fried chicken perfection.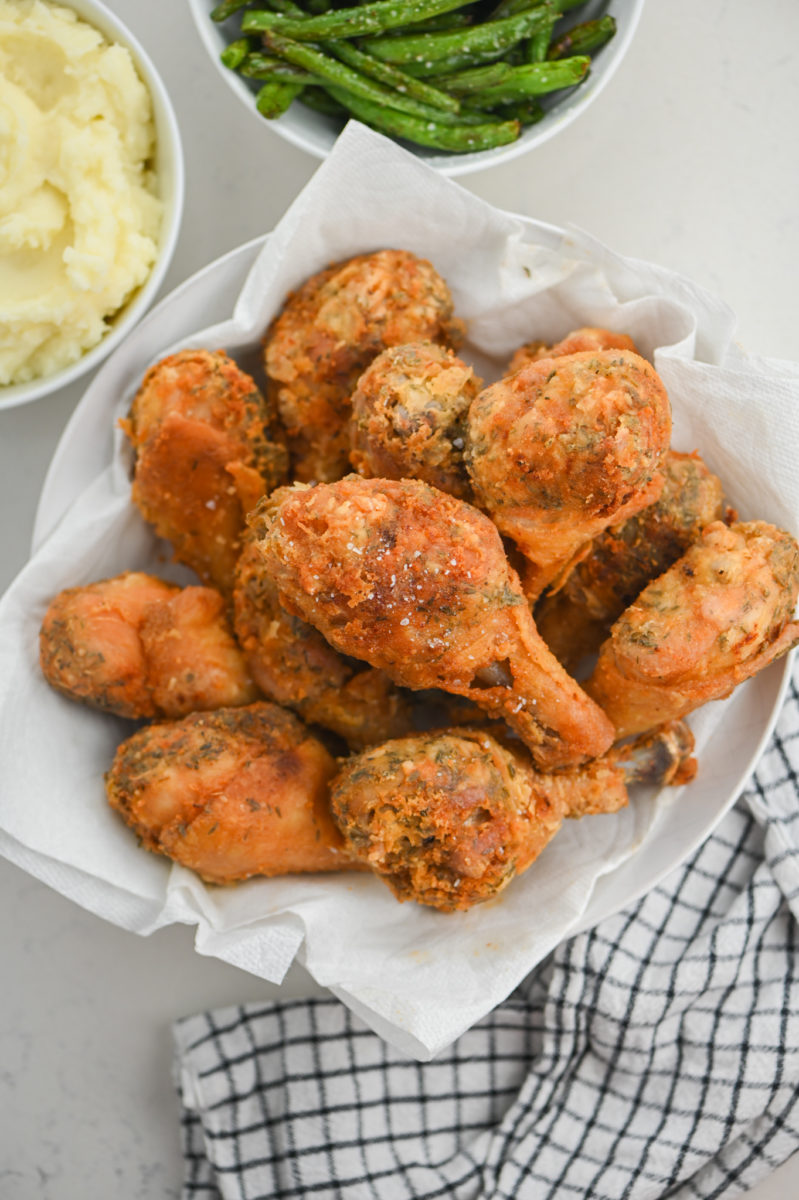 Ryan even loved it. He said "This fried chicken is really good" and proceeded to eat a couple helpings. That may not sound like much but trust me it is because Ryan is not a fried chicken fan. Like at all. Crazy man.
I also made this for some friends who were visiting last week and they couldn't stop talking about how good it was while they were eating it. That's always a good sign.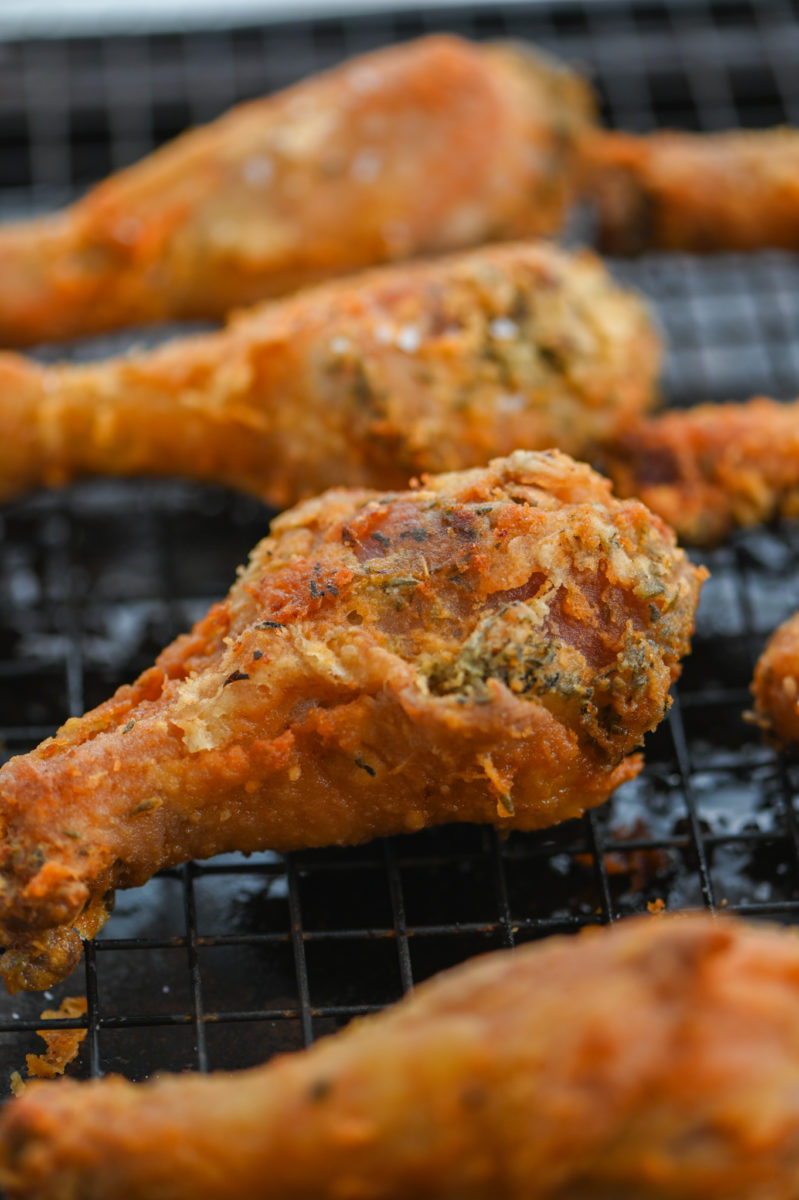 I've made it twice in two weeks. And I'll probably make it again this week because I can't stop thinking about it.
That is also a good sign.
What is brining?
The definition of brining is to "Soak in or saturate with salty water". Basically, it's osmosis. While the meat marinates in the brine, it retains some of the water and salt. The salt helps soften the proteins in the meat. Food52 has a great article on How to Brine Meat and Why You Should Bother, if you want to learn a bit more about the technique.
How to brine chicken:
Yes, it takes time to brine chicken. Four hours to be exact. But it is beyond worth it. The meat is simply succulent. And my favorite new frying technique that I tried with this Garlic Fried Chicken, helps the meat cook perfectly while allowing the skin to stay perfectly golden brown.
STEP #1: First you start by making a brine. The brine in this recipe is composed of water, salt, brown sugar, summer savory (which is my favorite herb, but thyme can be substituted in a pinch) and granulated garlic. To make it, simply combine half of the water, the salt, sugar and seasonings and cook just until sugar and salt dissolve. Then add the remaining cold water to the brine and allow it to come to room temperature.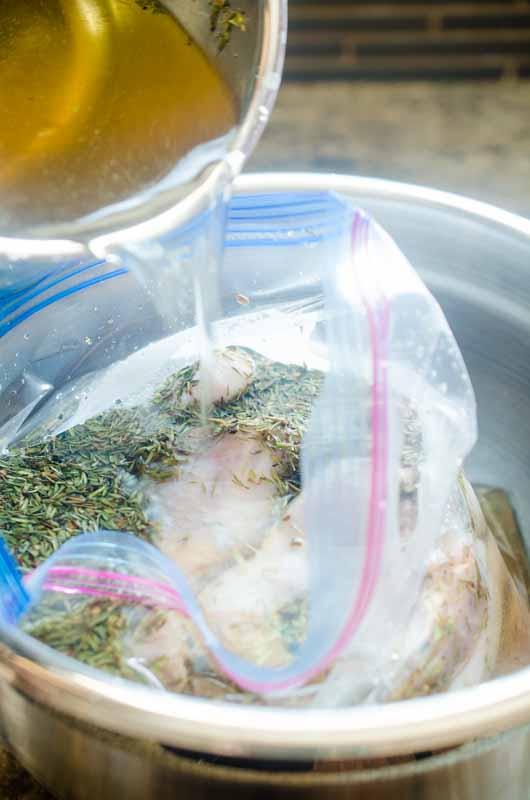 STEP 2: Once it comes to room temperature, place the chicken in a resealable plastic bag, pour the brine over the top, seal and refrigerate for at least 2 hours but not more than four.
DES' TIP: Using a non-reactive container is essential when brining. Reactive metal containers will react with the brine and leave a metallic taste on your food. Non-reactive containers include: resealable plastic bags, plastic containers, ceramic, glass and stainless steel.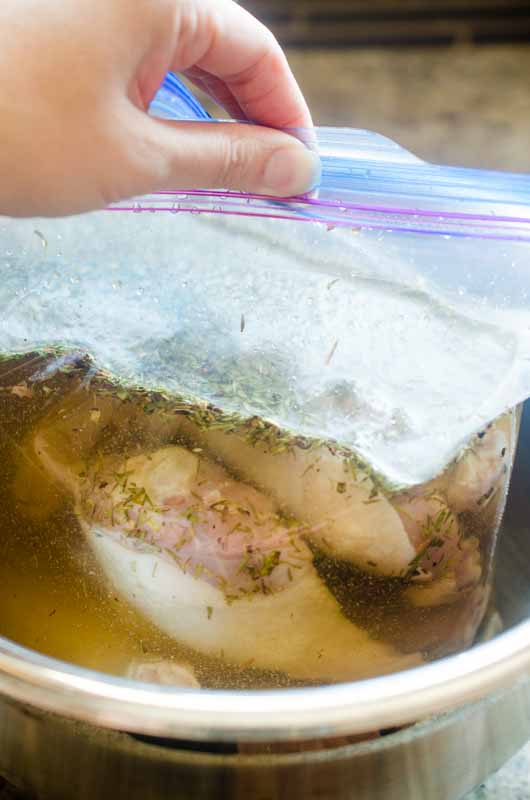 STEP 3: After the chicken has brined, you want to rinse it to get all the extra salt off. Then pat the chicken dry with paper towels.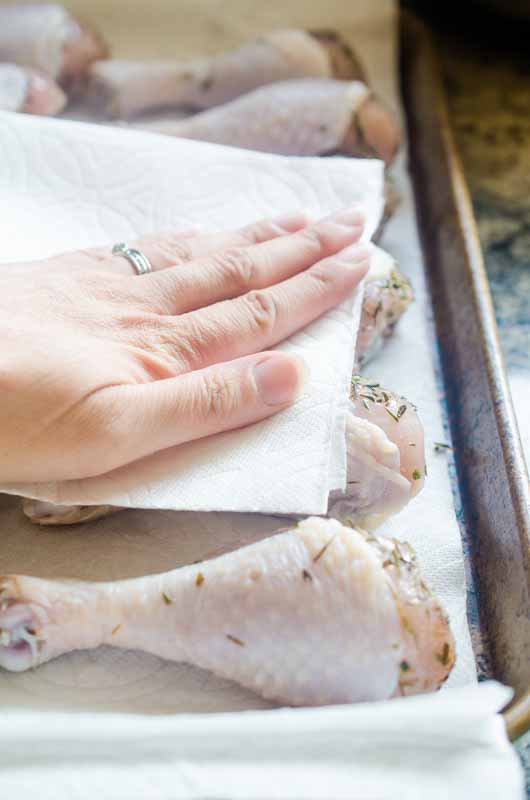 The secret to frying the perfect fried chicken:
My personal secret, in addition to brining, is the technique in which I cook the fried chicken. And I figured I'd share it with you because, everyone needs the perfect fried chicken in their life right??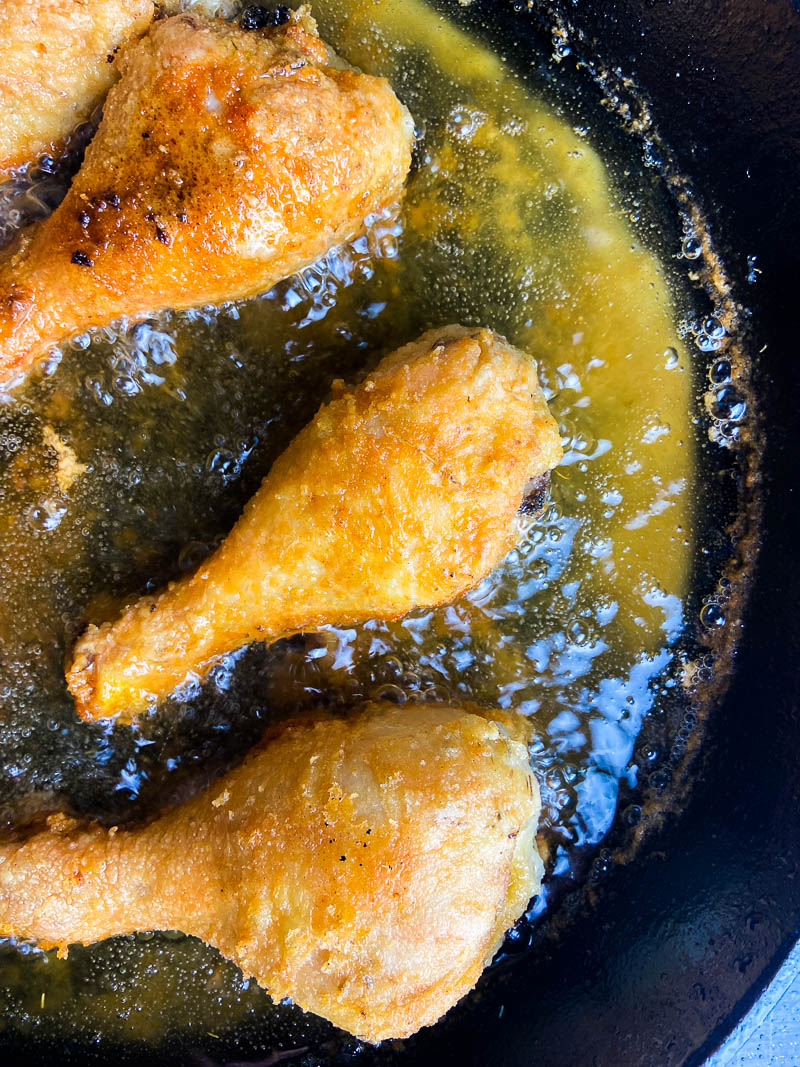 For the longest time whenever I'd make fried chicken, I'd have the issue that it'd be practically burnt on the outside before it was cooked through on the inside. Not anymore.
The technique I use for making the perfect fried chicken is to cook it in a cast iron skillet covered for 7 minutes. Turn it and then cook covered for another 7 minutes. Then maybe 3 or 4 more minutes uncovered just to get the color that I want. By covering the chicken while it cooks, it ensures that both the inside and outside will be done at the same time. It's that easy!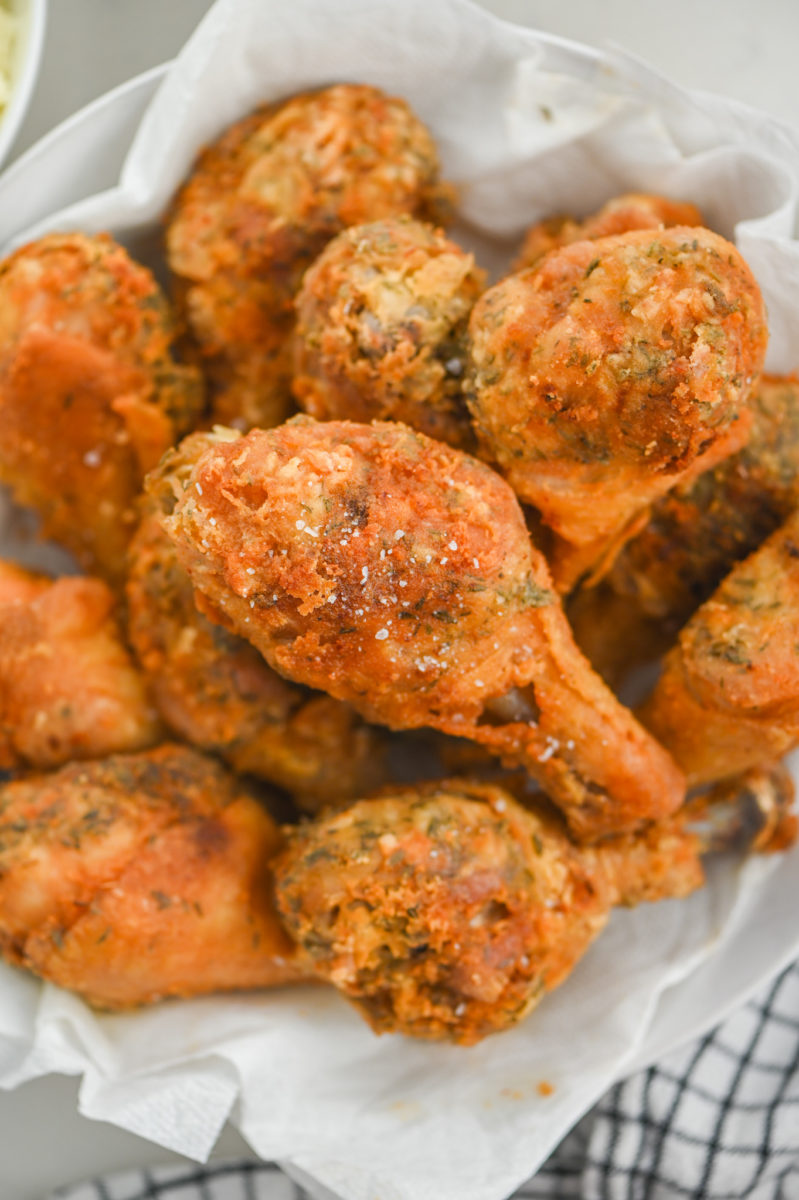 I've said perfect a lot in this post. I can't help it. This Brined Fried Chicken. Is. Perfect.
It's perfect for Sunday supper alongside some homemade mashed potatoes and roasted green beans.
It's perfect for picnics and midnight snacks too. And don't forget to spoon some Alabama White Sauce over the top for a twist!
Just make it, you'll see.
Note: Post originally published in 2014. Updated with new photos, tips and a video in 2020.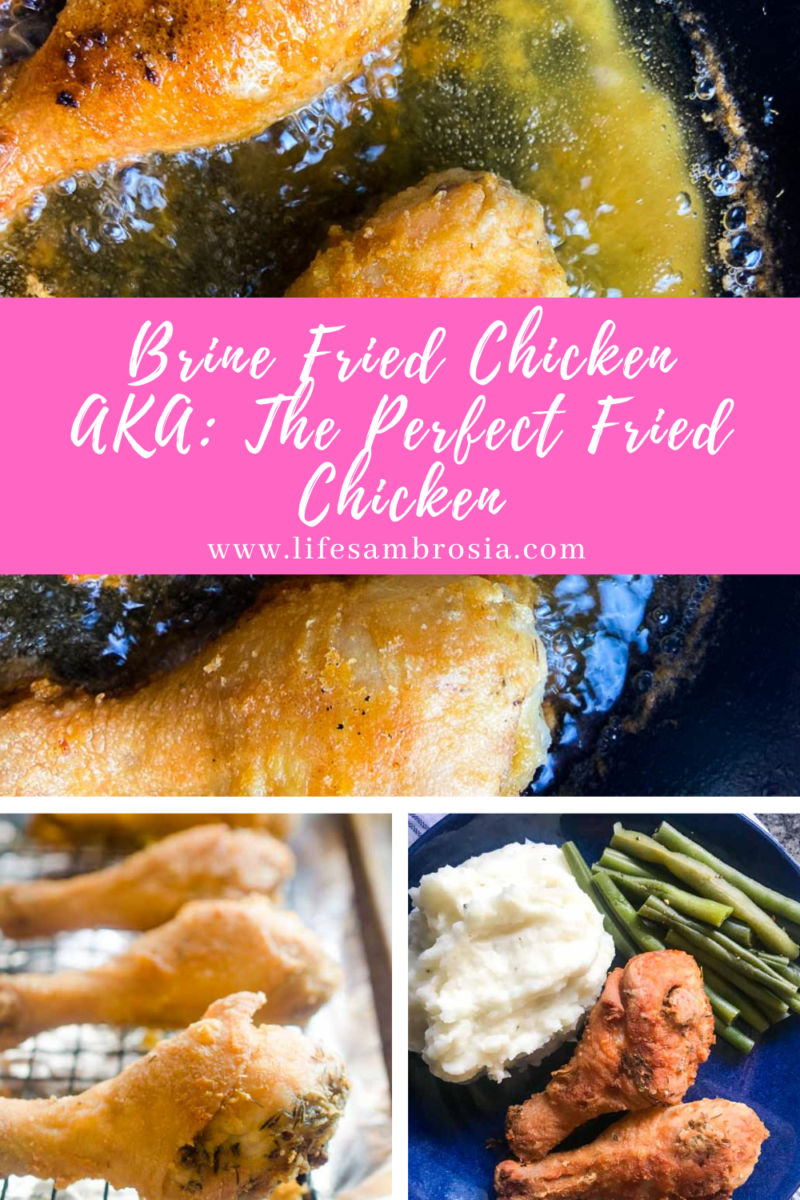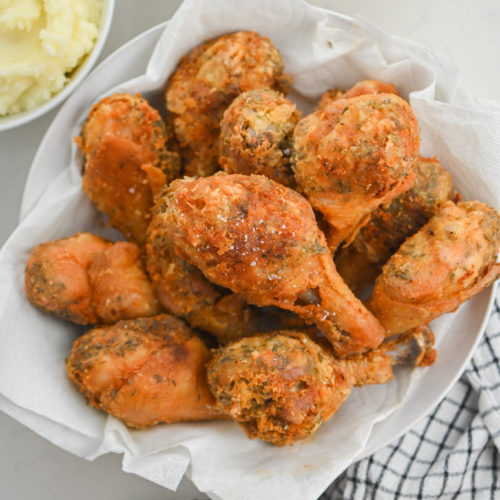 Brined Fried Chicken
Once you've brined fried chicken, you'll never cook it any other way. I've got step by step instructions on this kitchen technique.
Ingredients:
2

quarts

cool water

1/2

cup

plus 1/2 teaspoon kosher salt

1/4

cup

brown sugar

3

tablespoons

plus 2 teaspoons dried summer savory

1

teaspoon

garlic powder

2

cups

all purpose flour

8

chicken drumsticks
Combine 1 quart water, 1/2 cup of kosher salt, brown sugar, 3 tablespoons summer savory and garlic powder together in a large pot. Heat over medium heat until salt and sugar dissolve.

Pour in remaining quart of cool water. Allow brine to come to room temperature.

Place chicken pieces in a gallon size bag. Pour brine over the chicken. Seal and refrigerate for at least 2 hours but not more than 4. You can also complete this step in a non-reactive bowl with a lid.

Rinse and pat dry the chicken.

Combine flour remaining summer savory and salt together in a bag. Place chicken in bag and toss to coat. Allow to set for 15 minutes.

Turn oven to warm setting. Cover a baking sheet with aluminum foil and place a cooling rack over the top.

Heat 1 - 1 1/2 inches of oil in a 12 inch skillet over medium heat. Once the oil is hot lay 4 pieces of chicken in the oil, skin side down, and cover for 6 - 7 minutes or until browned. Turn the chicken and cook another 6 - 7 minutes. Remove the lid and cook an additional 2 minutes or until it is golden brown. Use tongs or a slotted spoon to transfer the chicken to the prepared cooling rack. Place in the warmed oven to keep warm while you cook the remaining chicken.

Once finished with the second batch, transfer all chicken to a serving platter, sprinkle lightly with salt and serve.
Nutrition facts not guaranteed.
Calories:
696
kcal
Carbohydrates:
29.7
g
Protein:
16.1
g
Fat:
57.5
g
Saturated Fat:
4.8
g
Cholesterol:
40
mg
Sodium:
7120
mg
Fiber:
1.6
g
Sugar:
4.6
g
Keywords:
brine, chicken, fried chicken, summer savory