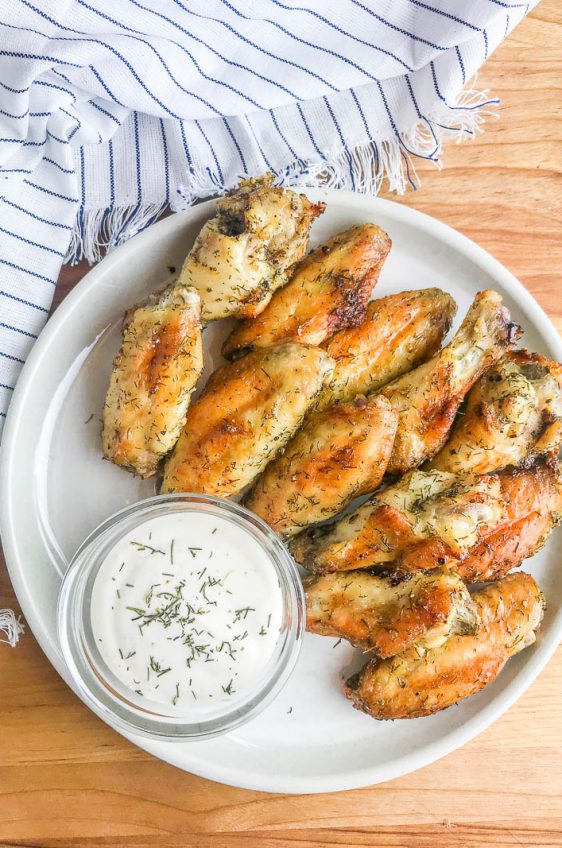 Dill Pickle Chicken Wings
Dill Pickle Chicken Wings will be your new favorite wing! Baked Chicken Wings get a dill pickle twist with pickle brine. The whole family will love these easy baked chicken wings. 
Is it just me or are Dill Pickles all the rage these days? I mean there are dill pickle flavored potato chips, pickle soup and even pickle back jello shots.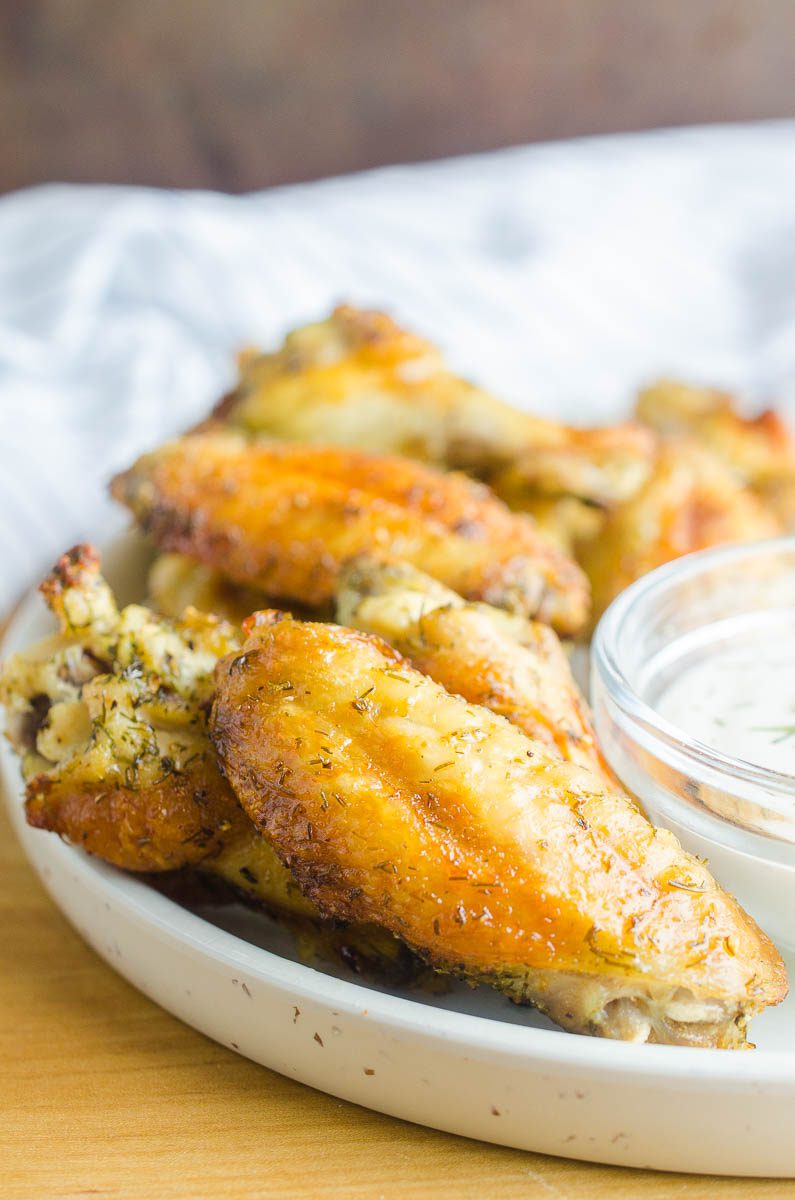 Pickle flavored things are every where. And now I'm sharing with you this recipe for Dill Pickle Chicken Wings. And you're going to be obsessed.
How do you make dill pickle chicken wings?
You have GOT to brine.
I mentioned on my Brined Fried Chicken post, how much brining chicken really helps with the flavor and keeping it tender. And as it turns out, pickle juice is one of the best brines for chicken. I even use it on my recipe for popcorn chicken.
After you brine the chicken wings, its important to rinse them and pat them dry. This helps keep them from being too salty.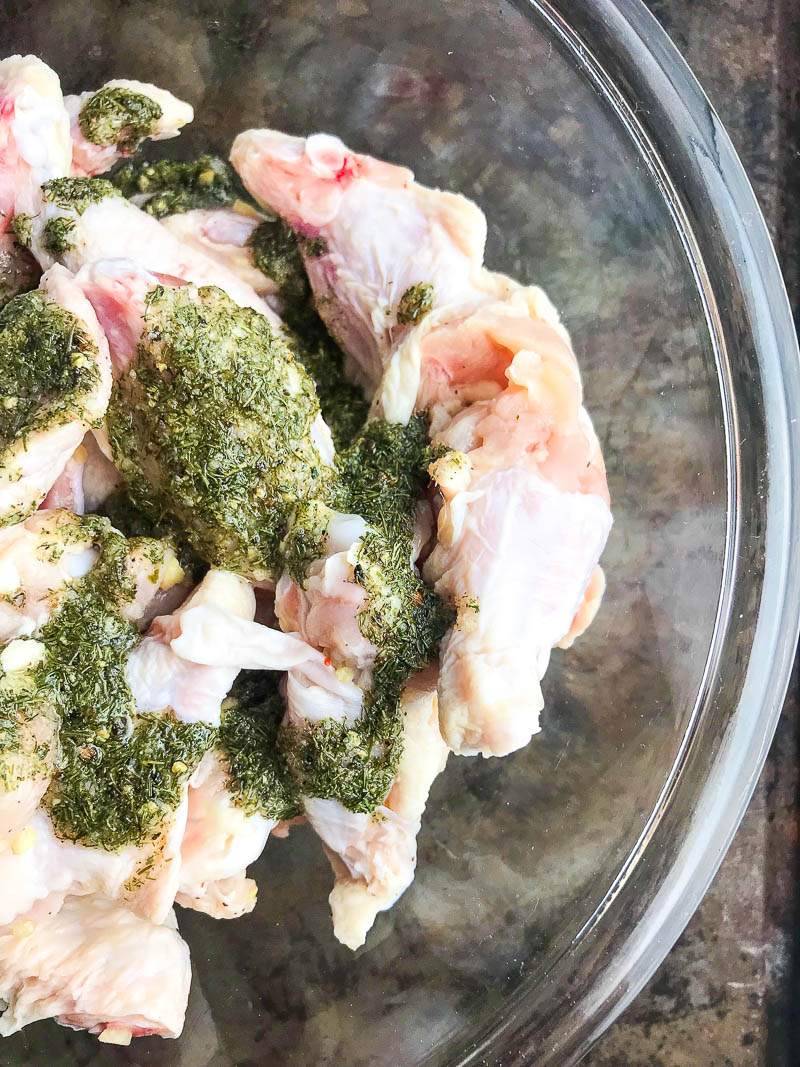 Next, toss the chicken wings with a mixture of dill, salt, pepper and granulated garlic.
Finally, bake them until they're golden brown and crispy.
How long do you bake chicken wings?
When you go out for chicken wings, most of the time the wings are fried. When I make them at home, I prefer baking them. You can still get them nice and crispy.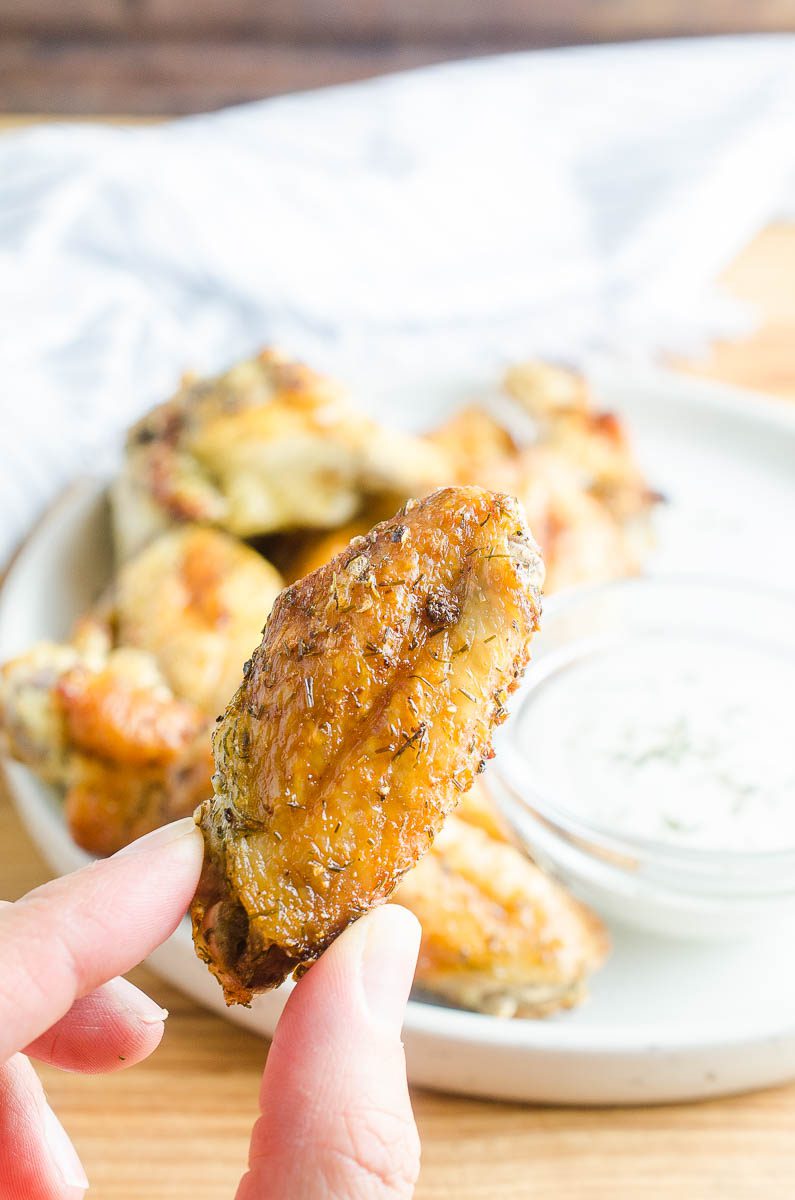 One of my favorite tips for crispy baked chicken wings is to cook the wings on top of a cooling rack on top of a baking sheet. This ensures that air circulates around the chicken as it bakes which yields much crispier skin.
Bake the chicken wings at 425 degrees for 25 minutes. Turn the chicken and bake for an additional 10 – 15 minutes or until the skin is golden brown and crispy.
What do you serve with baked chicken wings?
I love to serve potato wedges with my baked chicken wings.
And of course, every good chicken wing also needs a dip. Dipping these Dill Pickle Chicken Wings in Creamy Ranch Dip  is a match made in heaven!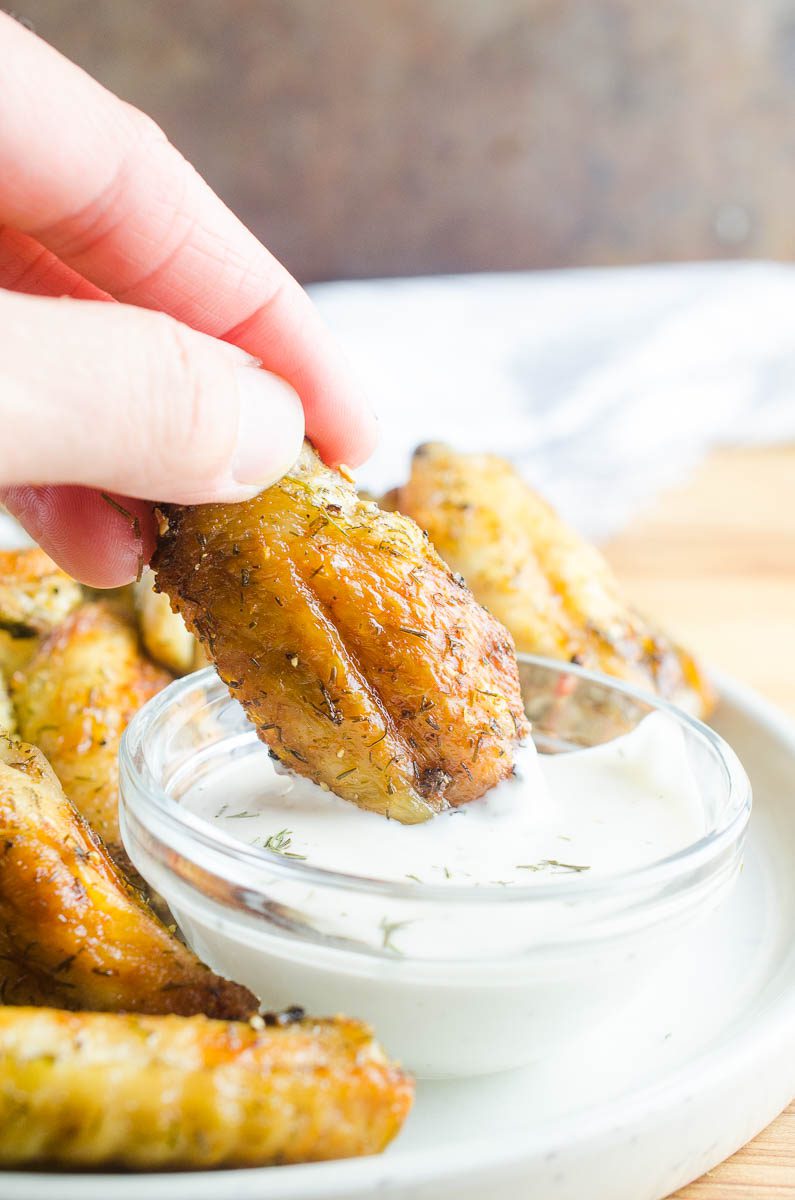 If you need MORE Dill Pickle Goodness check out these recipes:
2.Dill Pickle Bacon Cheese Ball 
If you love this chicken wing recipe, check out more of my favorite chicken recipes: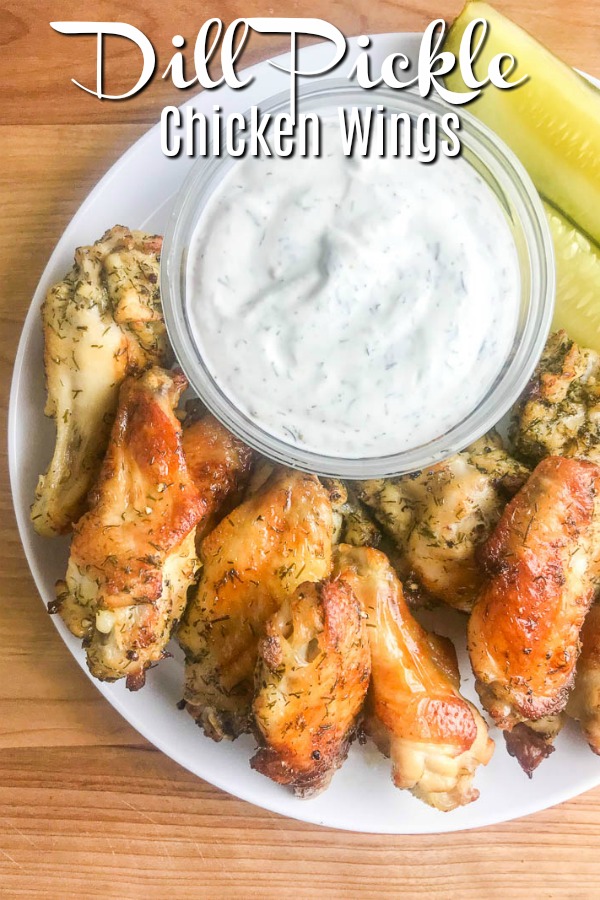 Dill Pickle Chicken Wings Recipe
Ingredients:
3 pounds chicken party wings
2 cups dill pickle juice/brine
2 tablespoons oil with a high smoke point, like avocado
2 teaspoons dried dill
1 teaspoon granulated garlic
1 teaspoon fresh cracked black pepper
1/2 teaspoon salt
Instructions
1
Place chicken in a shallow dish or resealable plastic bag. Pour pickle juice over the top and try to ensure all chicken is submerged. Cover and refrigerate for 2 - 4 hours.

2
Remove from fridge, rinse and pat dry.

3
Preheat oven to 425 degrees. Place a cooling rack on top of a baking sheet and set aside.

4
In a small bowl whisk together oil, dill, granulated garlic, salt and pepper.

5
Pour mixture over wings and toss to coat.

6
Place wings on prepared baking sheet and bake 25 minutes. Turn and bake an additional 10 - 15 minutes or until golden brown and cooked through.