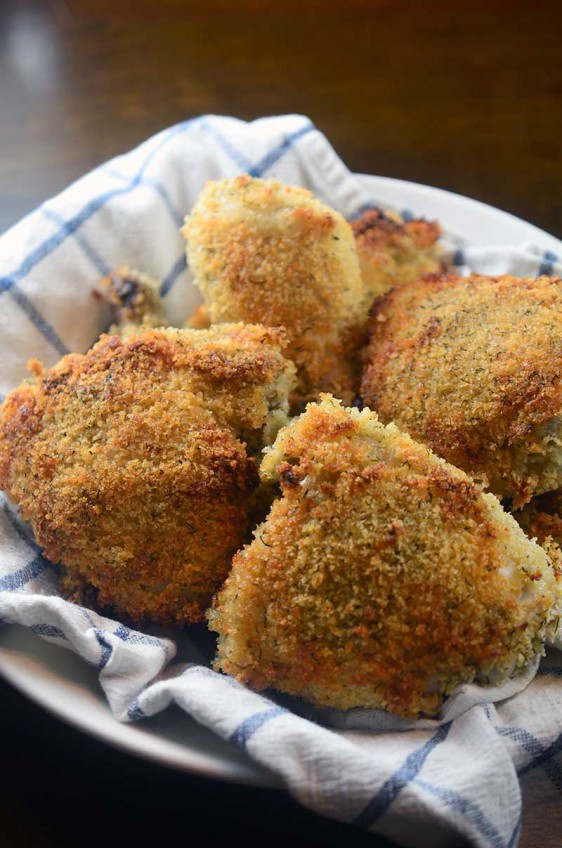 Dill Brined Oven Fried Chicken
Yay! It's Friday! And I know the last thing anyone wants to think about is Sunday because that means the weekend is over. But honestly, Sunday dinner is something I look forward to all week. Mostly because it's the day that I make comfort food. Comfort food like this Dill Brined Oven Fried Chicken.
If you've been following the blog for a while then you know that I am a huge fan of fried chicken and I am an even bigger fan of brining chicken. If you're not brining you chicken, you need to be. It's the best way to guarantee a succulent bite.
My first experience with brined chicken was actually a dill fried chicken that I tried at a local restaurant. I loved how you could taste the dill in every bite. I love how every bite was juicy. It changed the whole way that I viewed cooking chicken. I have brined my chicken ever since.
I chose to make a dill brine for this oven fried chicken as a homage to that original brined chicken. I decided to make it oven fried chicken instead of pan fried chicken because, honestly, I didn't really feel like frying the night I made this. Instead, I set up an assembly line of flour, egg/milk wash and panko bread crumbs seasoned with a little dill. Then I dredged the brined chicken into the flour, dipped it in the egg then coated it in the dill bread crumbs before baking until golden and crispy.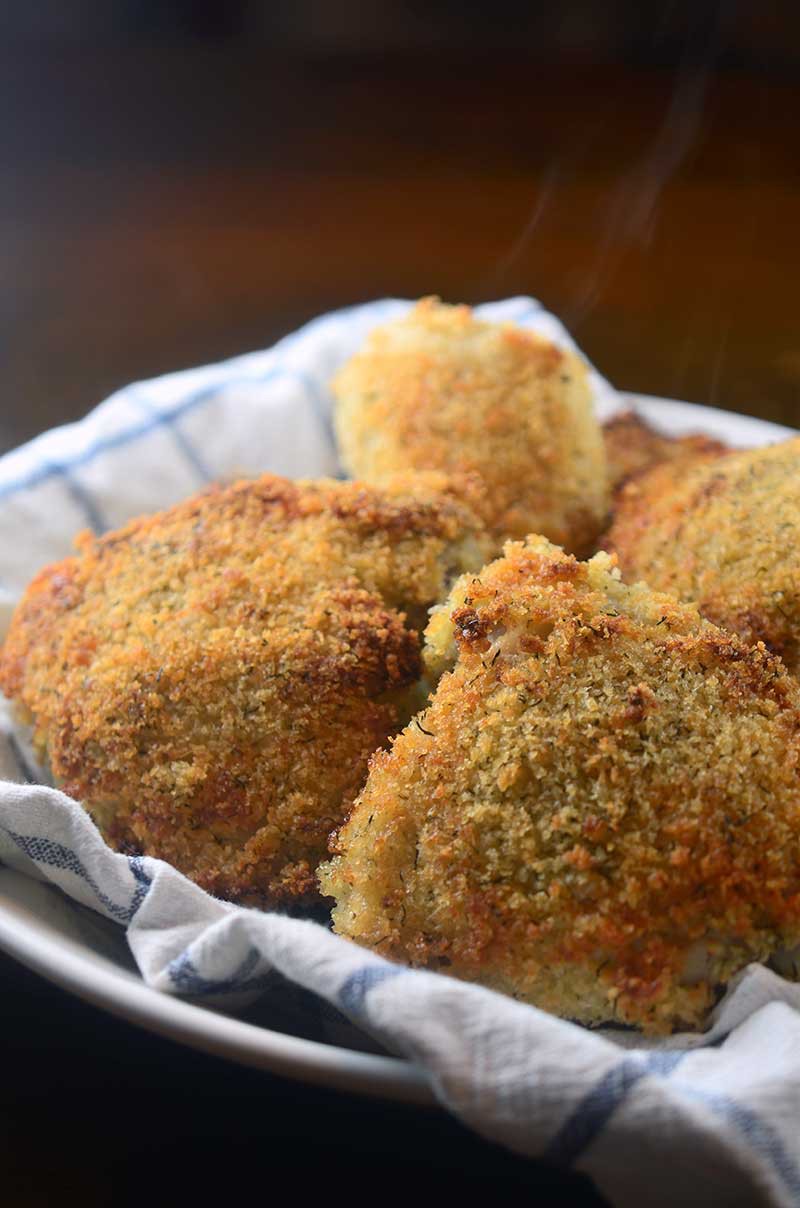 It was the perfect star of our comfort food sunday dinner. Speaking of comfort food, serve this Dill Brined Oven Fried Chicken along side these Summer Savory and Garlic Green Beans as well as this Roasted Garlic and Thyme Macaroni and Cheese and you'll be in comfort food heaven.
Dill Brined Oven Fried Chicken Recipe
Ingredients:
2 quarts cool water
1/2 cup kosher salt
1/4 cup packed brown sugar
3 tablespoons plus 1 teaspoon dried dill weed
4 chicken drumsticks
4 chicken thighs
1/2 cup avocado oil
1/2 cup all purpose flour
1 egg
1/4 cup milk
2 cups panko bread crumbs
1/2 teaspoon salt
Instructions
1
Make brine by heating 1 quart of water, 1/2 cup kosher salt, brown sugar and 3 tablespoons dill together in a pan over medium heat. Heat just until salt and sugar dissolve. Remove from heat, pour in remaining quart of cool water. Allow to come to room temperature.

2
Put chicken drumsticks and thighs in a gallon size resealable plastic bag. Place bag into a large bowl. Pour cooled brine over the chicken. Seal bag and refrigerate for no less than two hours but more than four hours. You can also do this step in a non-reactive bowl.

3
When ready to make the chicken, preheat the oven to 375 degrees. Pour avocado oil into a 1 inch rimmed baking sheet. Cook in the oven for 10 minutes. Remove.

4
While waiting for pan to heat, place flour in a resealable plastic bag. Whisk together eggs and milk in a bowl. Combine panko, remaining teaspoon dill and salt together on a plate.

5
Rinse chicken and pat dry. Place chicken into the flour. Shake to coat. Dip each piece into the egg mixture. Dredge into the bread crumbs and coat completely. Place coated chicken onto the heated baking sheet. Cook in preheated oven for 20 minutes. Turn and cook for another 15 - 20 minutes or until golden brown and cooked through. A meat thermometer inserted should register 165 degrees. Transfer to a serving platter and serve hot.