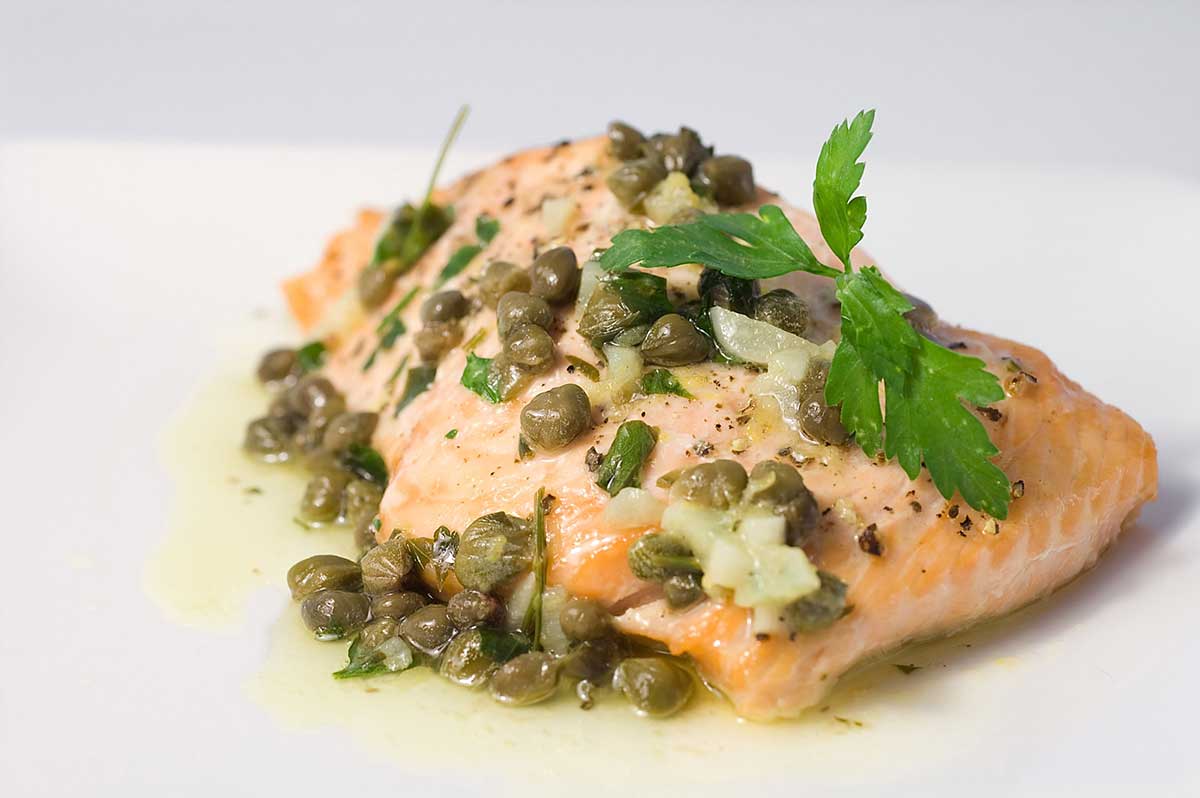 Baked Salmon with Lemon Caper Butter
Baked Salmon with Lemon Caper Butter is an easy family dinner! Salmon baked to perfection and topped with decadent lemon caper butter.
May in the Northwest means the start of salmon season and as a result wild salmon is available pretty much everywhere. So when my friend mentioned to me that I didn't have enough fish recipes on my blog, I figured now was the perfect time to do some experimenting. And this Baked Salmon with Lemon Caper Butter was born.
To make Baked Salmon with Lemon Caper Butter, I simply seasoned salmon fillets with salt and pepper and placed lemon slices on top before baking them in the oven. Finally, a drizzle of lemon caper butter at the end makes this baked salmon, seafood dinner perfection.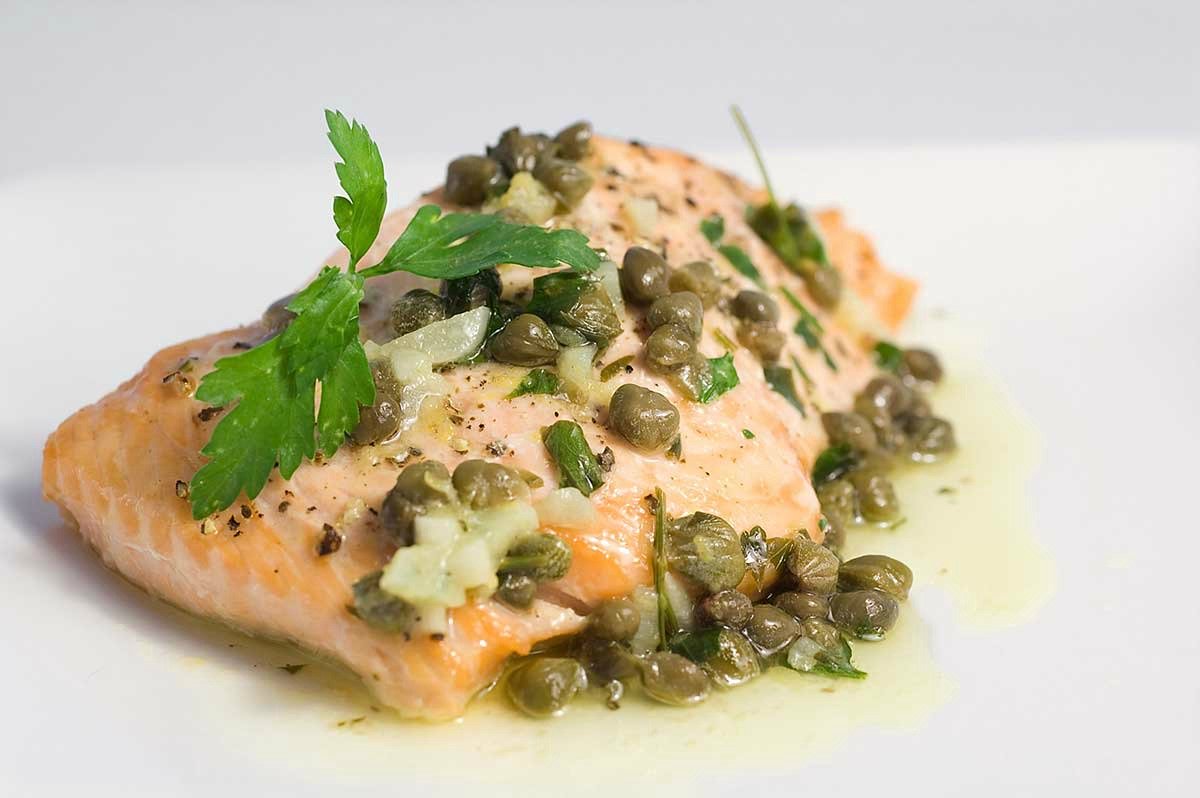 Salmon can be tricky in our home. Ryan and I usually prefer white fish, especially cod. That being said, we do  live in the pacific northwest so I am always trying to find ways to get more salmon into our diet. Plus it has all of those good Omega 3's in it, which is a plus.
When it comes to cooking salmon, grilling it, smoking it, baking it and pan frying are all great ways to get some added salmon to your diet.
What temperature do you use to bake salmon?
For this baked salmon recipe, I bake the salmon at 450 degrees for 10 minutes. And then tent the salmon for another 10 minutes. Tenting the salmon after cooking it allows it to continue cooking without becoming over cooked. it's a great way to get the perfect doneness for your baked salmon.
And just like the cooking techniques there are lots of ways to use salmon. I like eating it in salads in summer. It is also great in pastas. And of course, baked and slathered with lemon caper butter.
I have always been a huge fan of salmon with capers. So it was a no brainer to make this Baked Salmon with a quick caper butter to drizzle over the top. The caper butter is everything. It's buttery, lemony and has just the right amount of brininess from the capers. You'll probably want to put it on all the things.
Living in the Northwest gives me lots of access to fresh salmon. This time of year we can get Copper River Salmon or Wild Alaskan King. For this recipe I decided on Wild Alaskan King Salmon. It was a little less expensive than the coveted copper river salmon but still has a wonderful, buttery flavor.
Ryan took one bite of this salmon and said "This is really good! I didn't know I liked salmon so much!" He then quickly devoured the rest of his portion and a little of mine. I hope you all enjoy it just as much!
Side Dishes to serve with Baked Salmon with Capers:
Looking for more seafood recipes?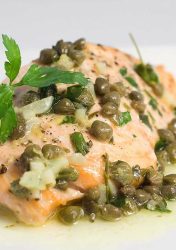 Baked Salmon with Lemon Caper Butter
Baked Salmon with Lemon Caper Butter is an easy family dinner! Salmon baked to perfection and topped with decadent lemon caper butter.
Ingredients:
2

5 ounce salmon fillets

kosher salt and pepper

4

lemon slices

non-stick spray
Lemon Caper Butter
3

tablespoons

unsalted butter

2

cloves

garlic

minced

2

tablespoons

capers drained and rinsed

1/2

teaspoon

lemon zest

juice of 1/2 of a lemon

kosher salt and fresh cracked pepper
Preheat oven to 450 degrees.

Line a baking sheet with aluminum foil and spray with non-stick spray.

Place salmon fillets on the prepared baking sheet. (Note: I don't like the bones so I remove them. Some use needle-nose pliers, I used my finger nails but it did take me a little while). Sprinkle fillets with kosher salt and fresh cracked pepper. Place 2 lemon slices on top of each fillet. Bake for 10 minutes. Remove and tent with aluminum foil for 10 more minutes. Fish will continue to cook during this time. It will flake easily when done.

While salmon is cooking, in a small sauce pan, melt butter over medium heat. Once butter has melted add garlic, capers, lemon zest and lemon juice. Cook for 2 minutes. Season to taste with salt and pepper.

Remove lemon slices and discard. Gently slide a turner or serving spatula between the skin and the flesh of the fillet to remove the skin, it should separate very easily. Transfer fillet to a serving platter and spoon lemon caper butter over the top. Serve.
Calories:
323
kcal
Carbohydrates:
2.9
g
Protein:
28.3
g
Fat:
26.2
g
Saturated Fat:
12.3
g
Cholesterol:
108
mg
Sodium:
442
mg
Fiber:
0.8
g
Sugar:
0.6
g
Keywords:
caper butter, dinner, Food, lemon, Recipe, salmon