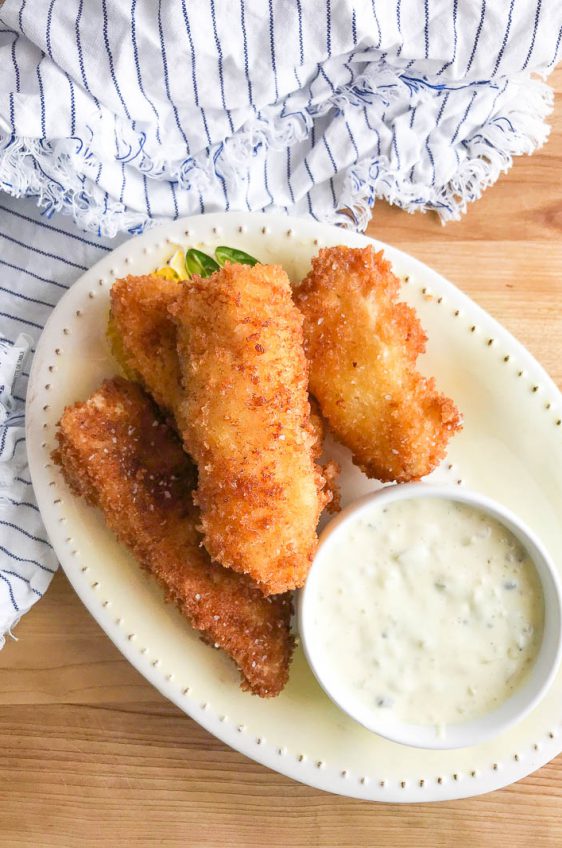 Perfect Fried Cod Recipe
Fried Cod is our favorite fried fish. It's crispy on the outside and flaky on the inside. And it is perfect for dunking in homemade tartar sauce. 
When it comes to fish, my family is all about the white fish. Cod specifically. We like it because it's a mild white fish with a firm texture. This means that it's not super fishy tasting, which means it's great for the kiddos.
Now, my family will eat any of the cod recipes I make, but if we're being totally honest, fried is the best. I mean crispy fried fish, with a squirt of lemon dunked in tartar sauce? It doesn't get much better. AM I RIGHT?
And now I'm going to show you just how easy it is to make one of the best cod recipes!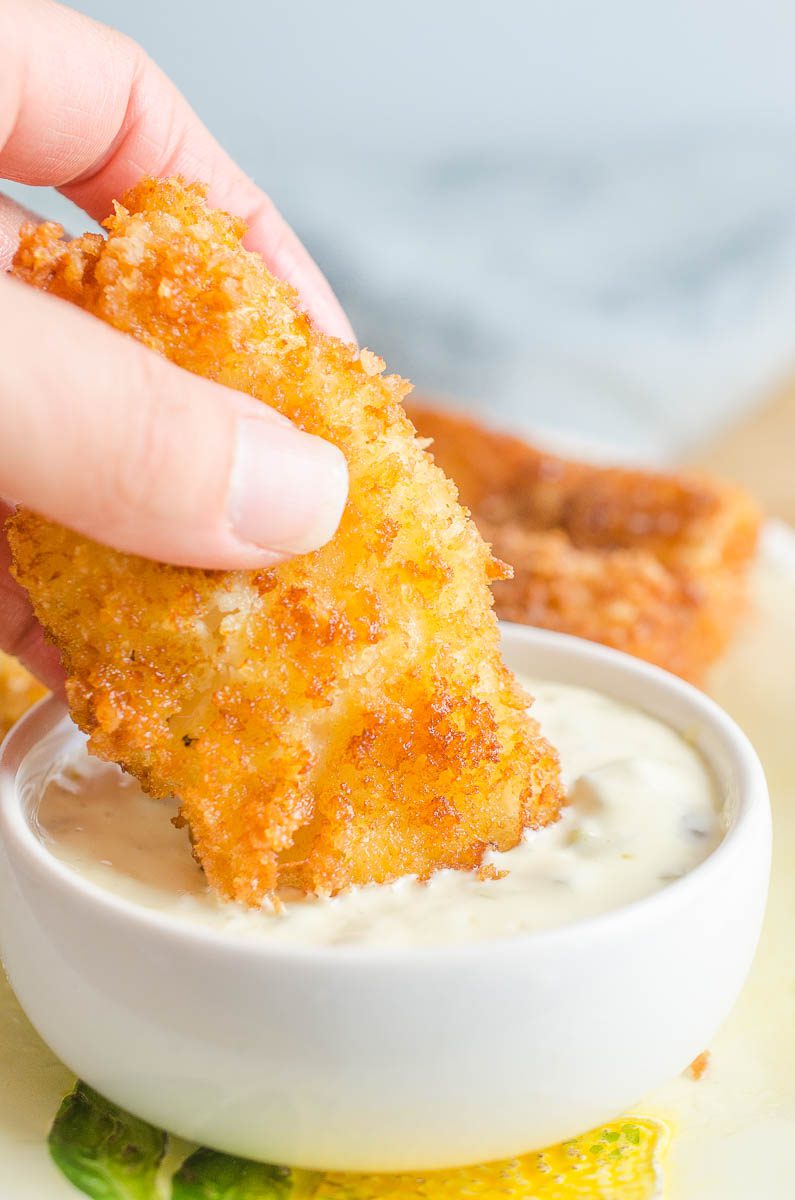 What batter is best for fried fish?
When I go out to eat, I am always hesitant to order Fish and Chips. Not because I don't love it, but because, I don't love battered fish and chips.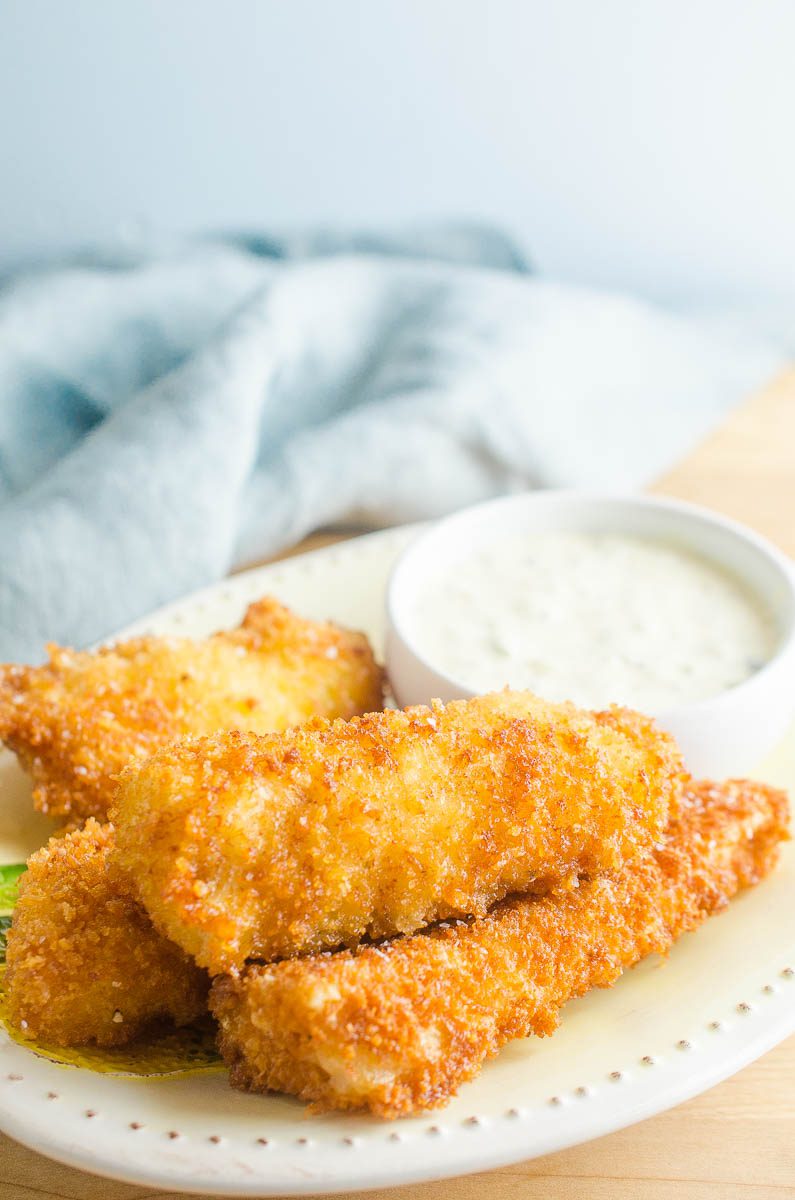 Battered fish is typically dunked in a wet batter and then fried. For me, even fried, wet batters have a tendency to get a bit soggy. They seem to soak up more of the oil. That is why, when I make fried cod, I choose to do a panko crust. It results in crispy, flaky fish each and every time.
How to make fried cod:
The first step to making fried cod is to make sure that you season the fish liberally with salt and pepper. You'll season the crust too, but seasoning the fish helps create layers of flavor.
Next, you'll want to set up an assembly line of sorts to coat the fish. On one plate you'll have the flour. Another bowl with whisked eggs and finally a plate with seasoned panko bread crumbs.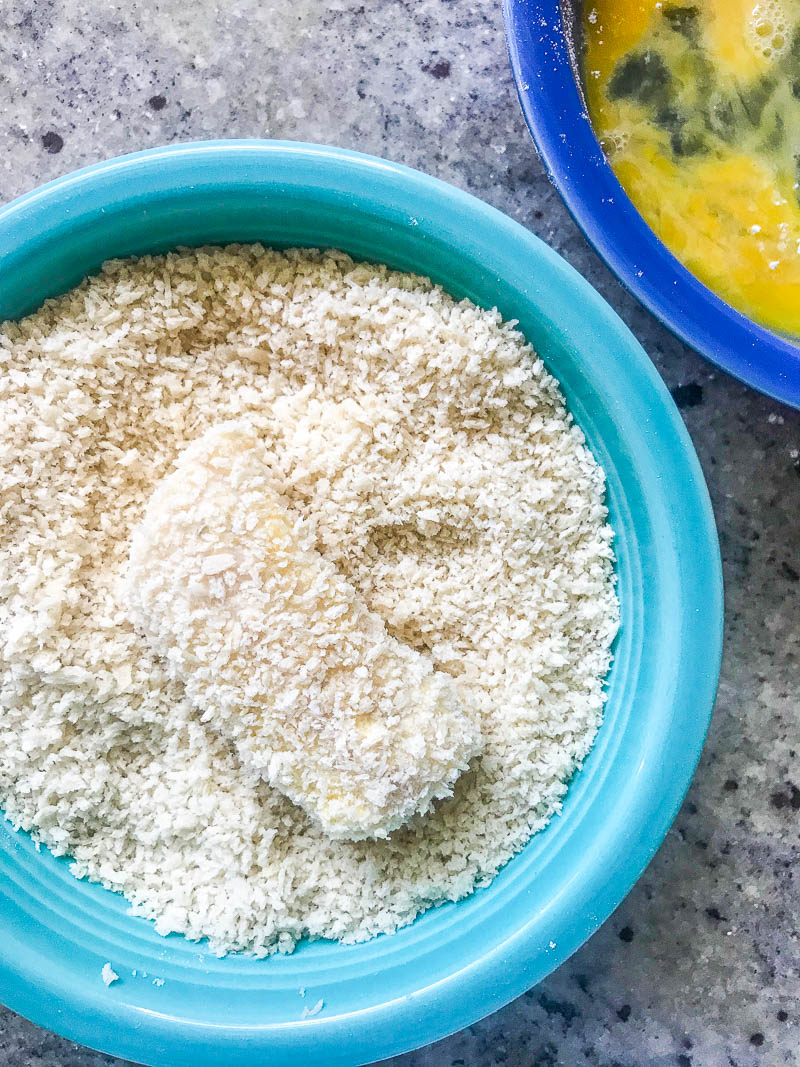 First, you will dredge each piece of cod in the flour, then dunk it in the egg and finally press into the panko. And repeat until all the fish is coated.
Next, fry the fish. I use a heavy bottomed pan and heat an inch of oil to 350 degrees. It's important to fry the fish in batches so that you don't over crowd the pan. If you over crowd the pan, the fish will steam more than fry so they won't be as crispy.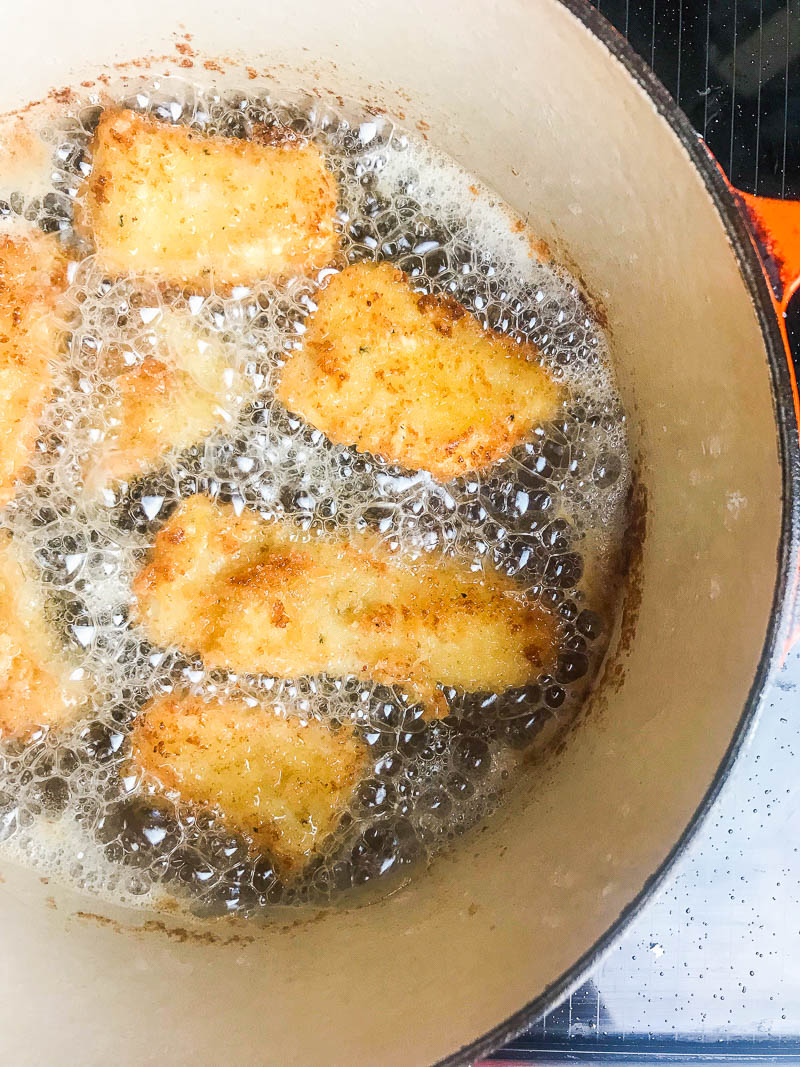 While I'm cooking the different batches, I like to keep the cooked fish on top of a cooling rack thats set on a baking sheet. This helps keep the bottom of the fish from getting soggy as it sits.
To keep it warm, I set my oven temperature to warm (170 degrees). Don't cover it with aluminum foil because the steam will be trapped making the fish soggy.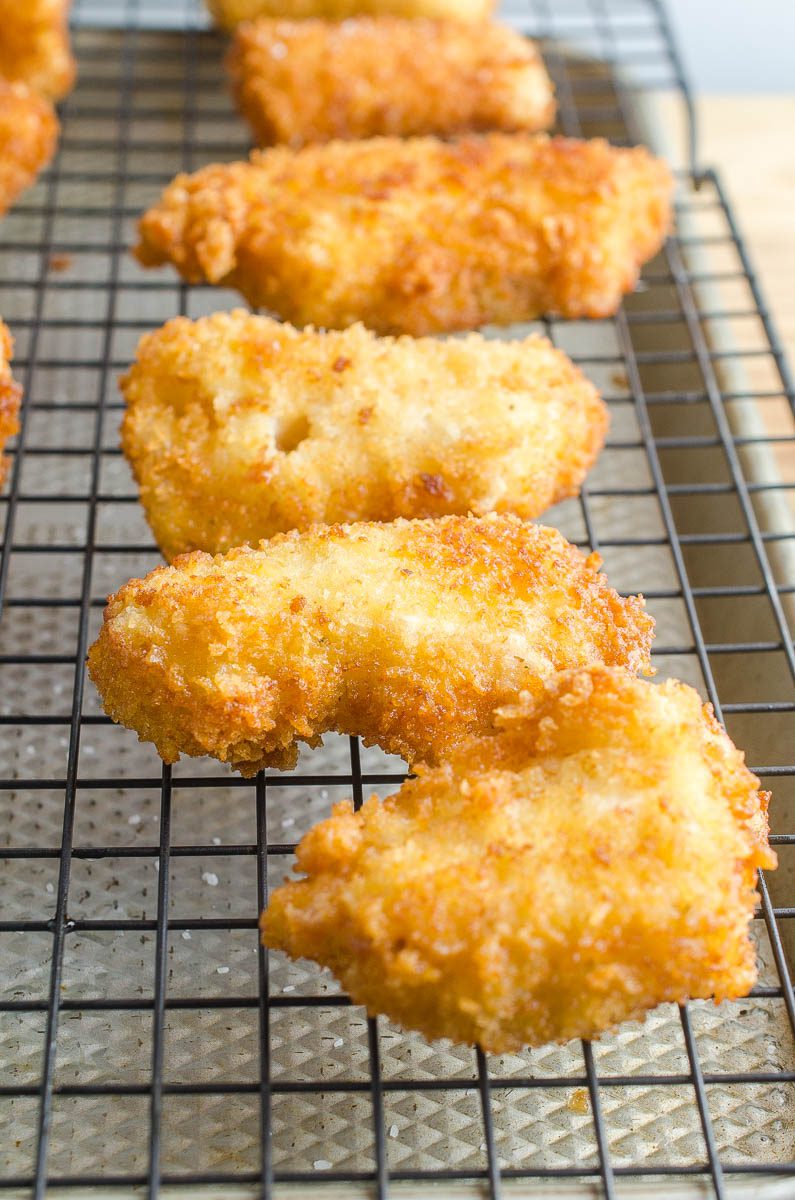 Basically, steam is the mortal enemy to crispy fried cod.
How do you know when fried cod is cooked?
Fish is cooked when it reaches an internal temperature of 145 degrees. You can also use the flaking method. Simply poke the fish with a fork and twist gently. If the fish flakes, it's done.
What do you serve with fried cod?
Obviously, if you're going for a fish and chips vibe, I'd say fries. More specifically potato wedges. Fried cod is also good with garlic rice, sautéed broccoli or roasted red potatoes.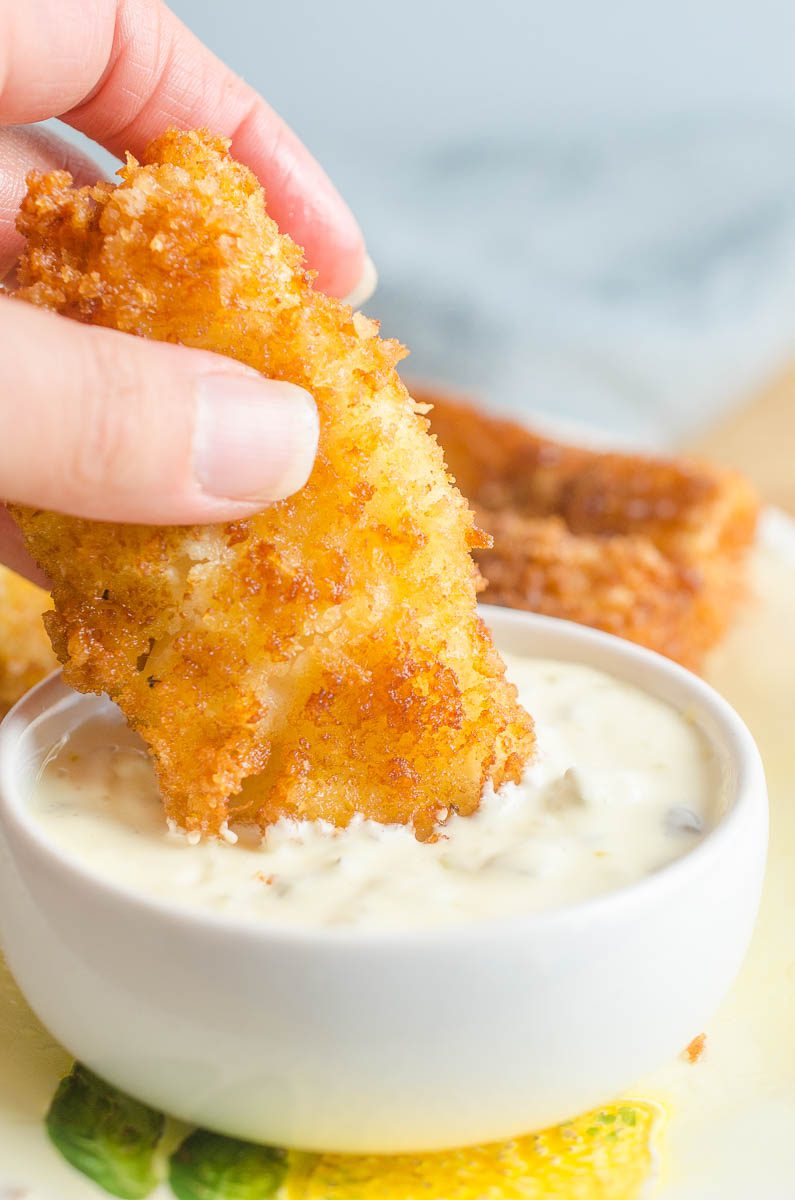 And of course, you've got to serve it with tartar sauce. And serving it with your own homemade tartar sauce is even better. Seriously.
Baked Salmon with Lemon Caper Butter
Round out the meal with these easy side dish recipes: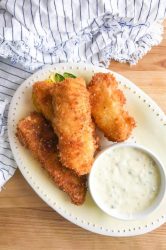 Perfect Fried Cod Recipe
Perfectly fried cod that is crispy on the outside and flaky on the inside. Ditch all the other recipes, this is the only cod recipe you'll need!
Turn oven to warm setting (170 degrees or lowest it will go). Place a cooling rack on top of a baking sheet and set aside.

Set up an assembly line: place flour on one plate, eggs in a bowl and combine panko, salt and garlic together on another plate.

Dredge fish in flour, dip in egg and then press into panko to coat. Repeat until all fish is coated.

In a large pot, heat 1 - 2 inches of oil to 350 degrees. Fry fish in batches, being careful not to crowd the pan. Place cooked fish on the cooling rack in the oven to keep warm until all fish is cooked. Serve immediately.
Nutrition facts not guaranteed.
Calories:
533
kcal
Carbohydrates:
21.1
g
Protein:
24.7
g
Fat:
39.1
g
Saturated Fat:
5.2
g
Cholesterol:
83
mg
Sodium:
504
mg
Fiber:
1.1
g
Sugar:
1.3
g
Keywords:
cod, fried fish, seafood