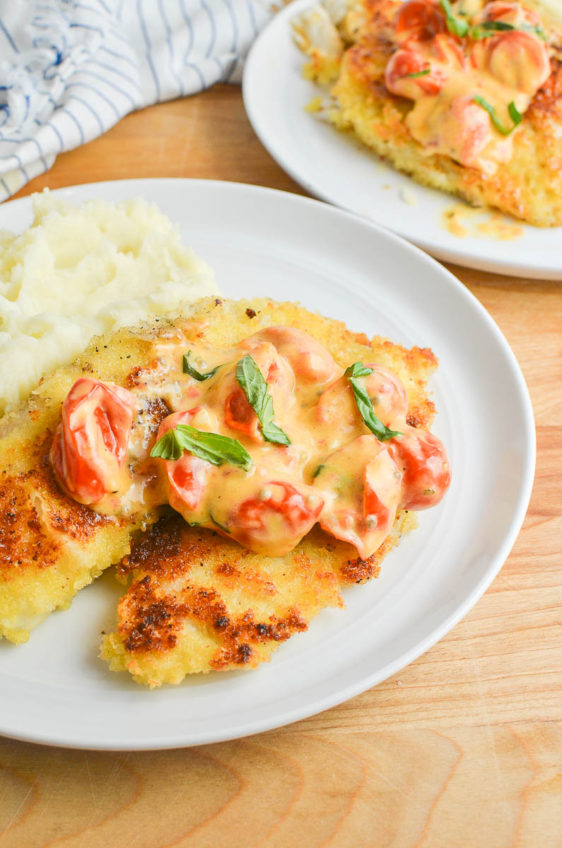 Parmesan Crusted Tilapia with Tomato-Basil Cream Sauce
Parmesan crusted tilapia with tomato-basil cream sauce is a quick and easy dinner recipe that the whole family will love. Pan fried tilapia with Parmesan and panko breading with a delectable creamy tomato-basil sauce.
During high school and collage, I worked at a seafood restaurant. Working in a seafood restaurant introduced me to a lot of different kinds of fish. One being tilapia.
Tilapia has since become one of may favorite pieces of fish to cook. Not only is it mild but it is also very inexpensive and easy make at home.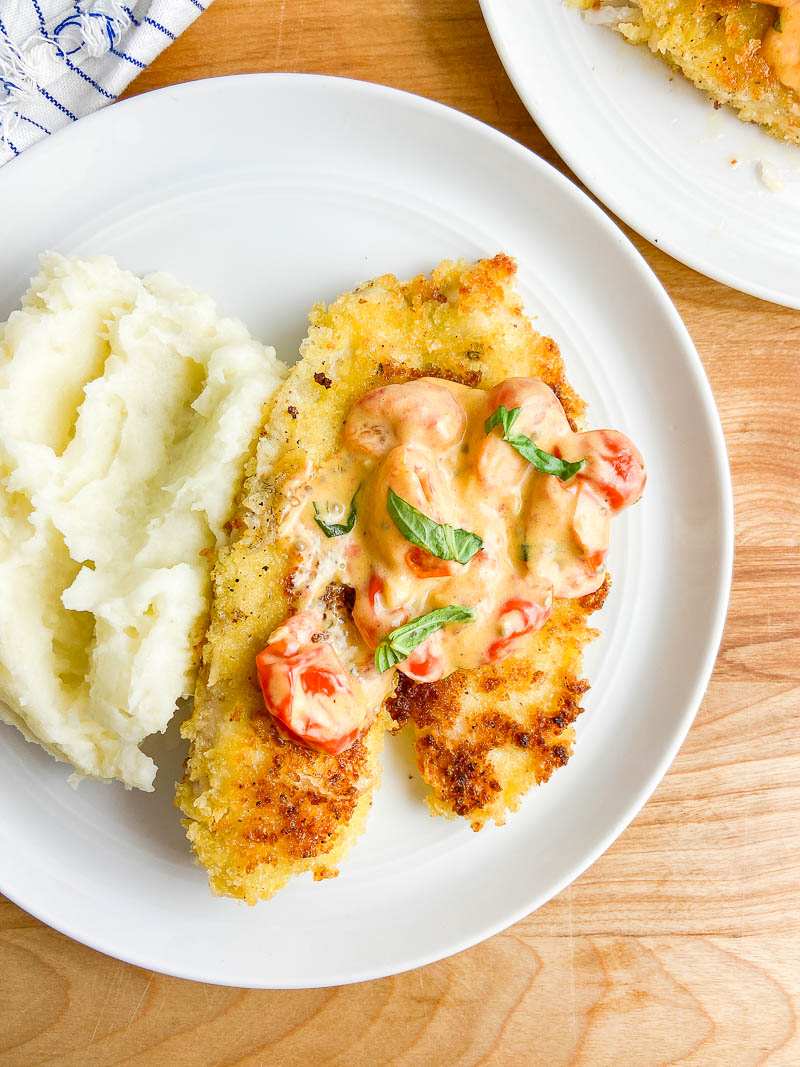 To make this easy fish recipe, simply coat tilapia in parmesan and panko, pan fry to golden brown and topped with creamy tomato sauce. It is fast, delicious and the perfect summer meal.
How do you make Parmesan Crusted Tilapia?
It took me a few tries to get the coating just right for this Parmesan Crusted Tilapia. The first time I tried there was virtually no Parmesan breading left on the fish. Not one to give up, I did a little more testing.
What I found with further testing, was that it was best to lightly dust the fish in seasoned flour first, then dip it in egg before finally dredging it in the Parmesan panko mixture and frying it. This method, coats the fish perfectly.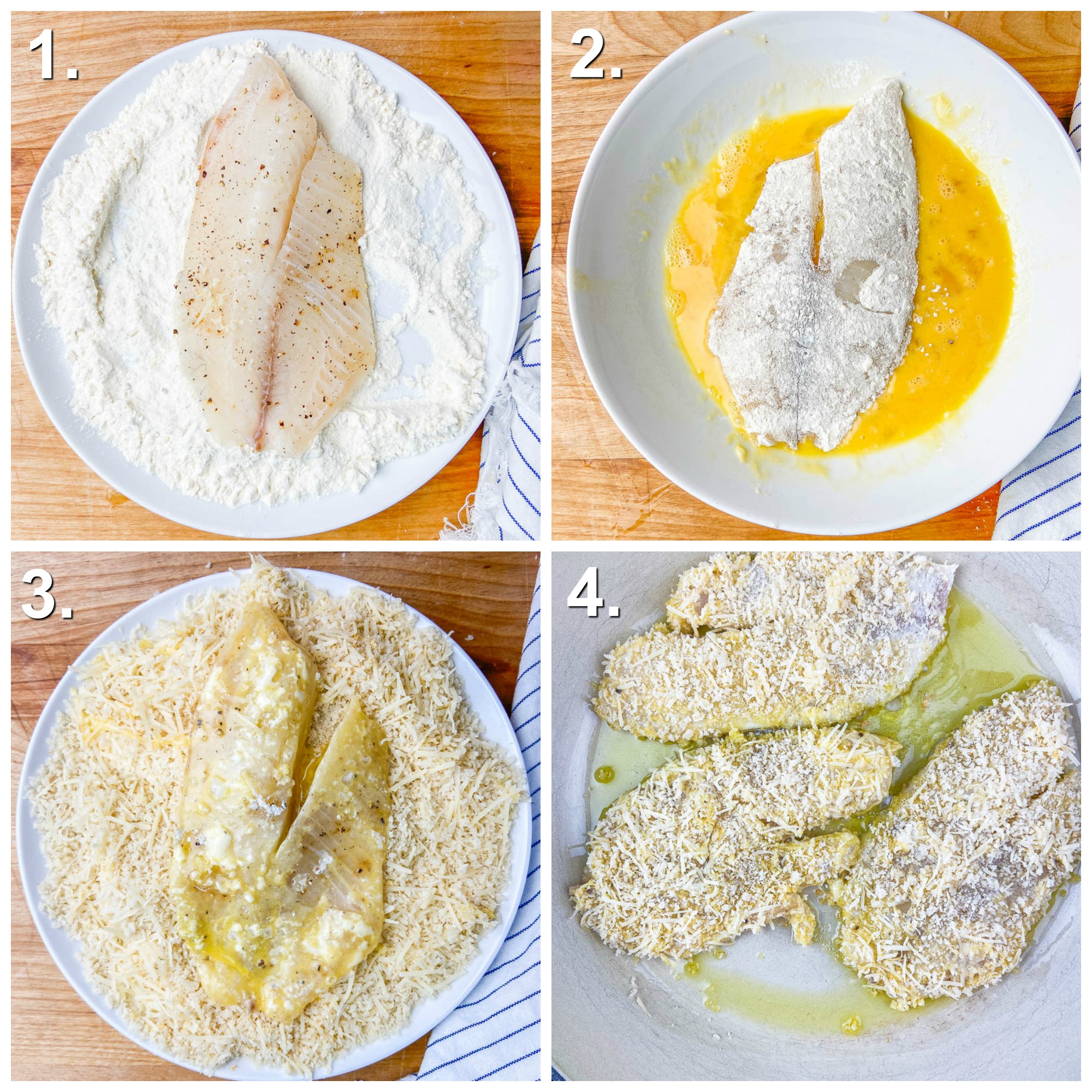 Why panko bread crumbs instead of traditional bread crumbs? Panko bread crumbs are my go-to bread crumbs in the kitchen. I prefer to use panko bread crumbs because they give an extra crisp to everything.
DES' TIP: You don't need a lot of oil to cook this Parmesan Crusted Tilapia. Just enough oil to coat the bottom of the pan, about 3 tablespoons, is fine.
Now let's talk about that sauce!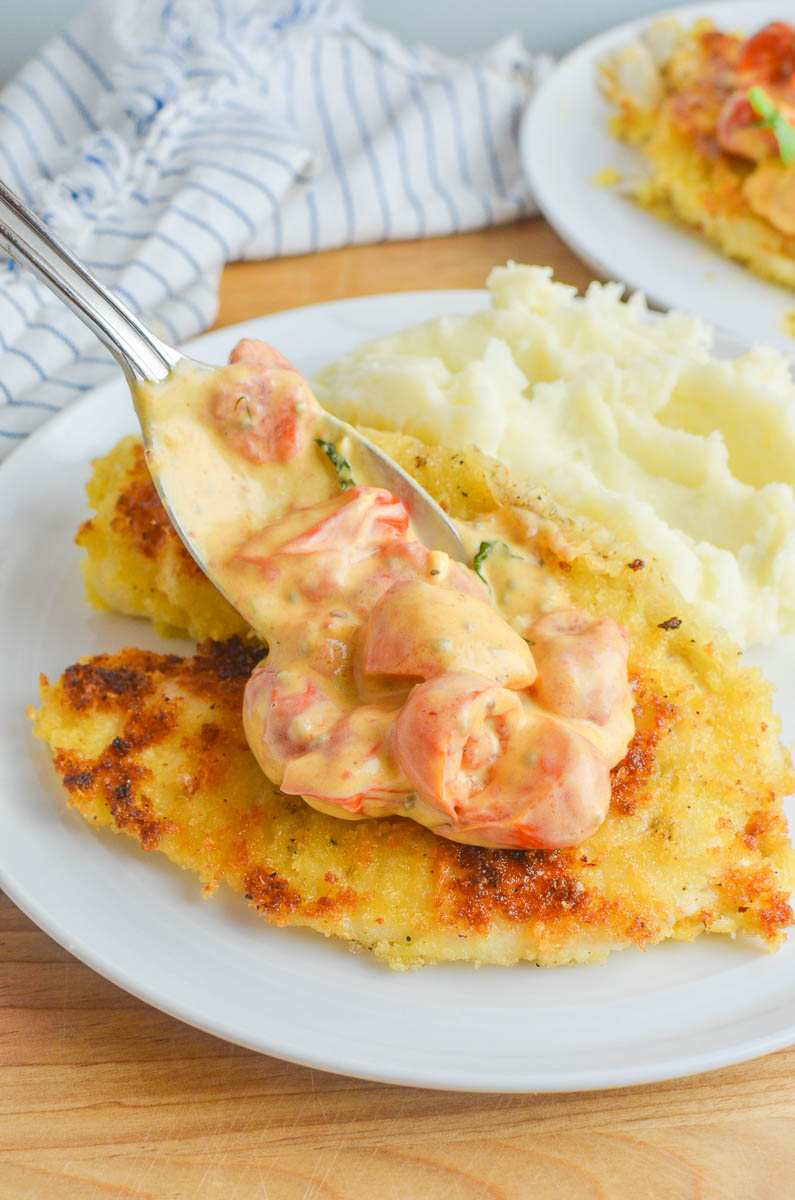 Friends, the tomato basil cream sauce really sends this dish over the top. It's not too heavy. It's is just creamy enough and the tomatoes and basil add a slightly sweet flavor that contrasts nicely with the salty parmesan.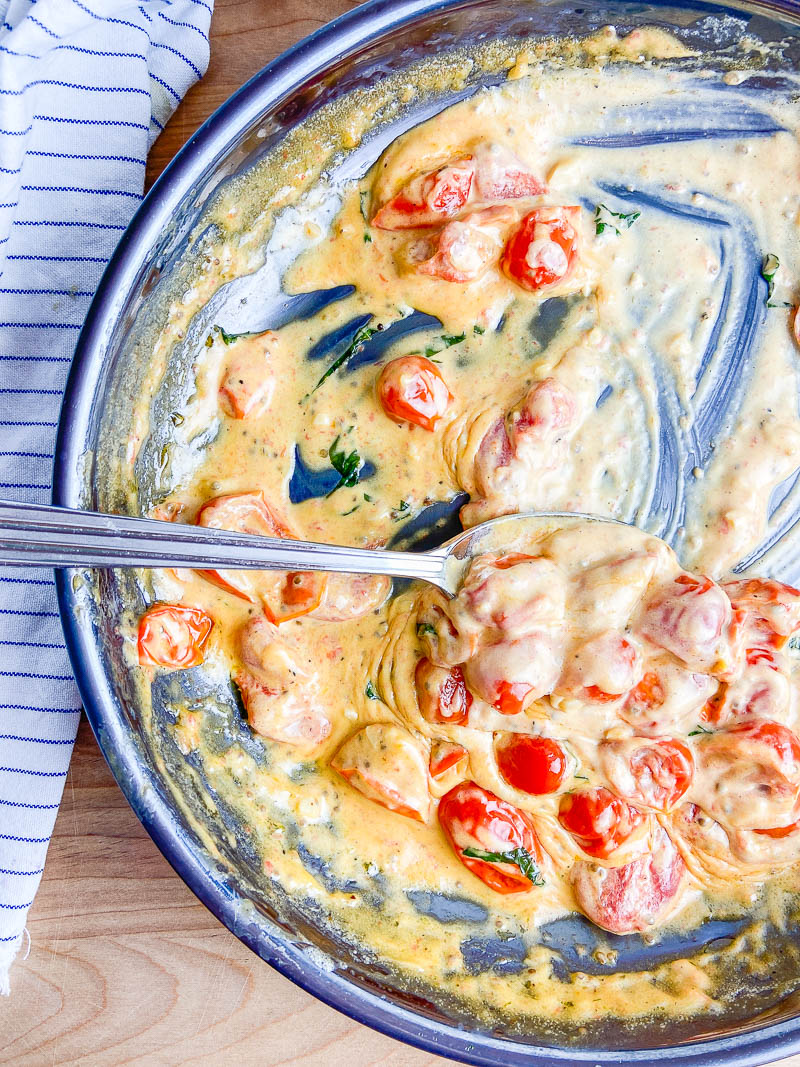 It might be hard to resist licking the plate but if you've got company try soaking up any leftover sauce with some crusty herb garlic bread. You could also serve this alongside some roasted red potatoes and salad with Pesto Vinaigrette.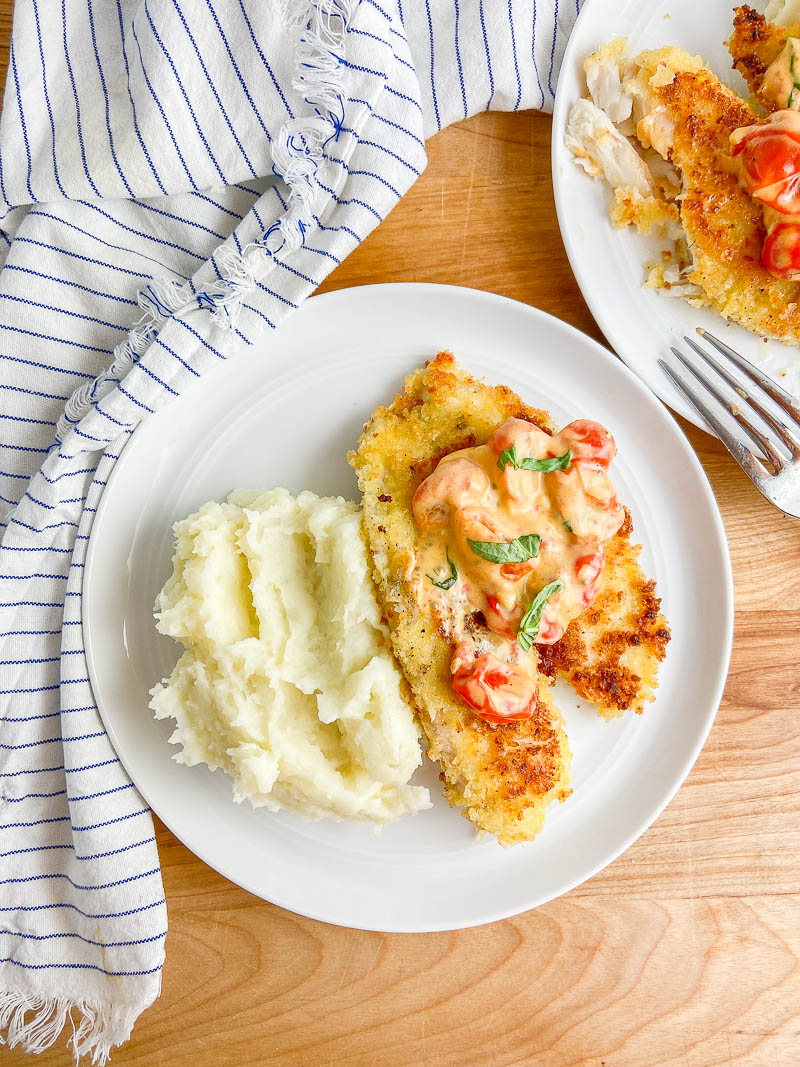 Should I use frozen or fresh fish?
There is always much debate about this. Some will say "ONLY USE FRESH!" But in our house we use both. I use fresh when I can get it but frozen works well too. Either would work for this recipe. If you're interested in learning a bit more about the pros and cons of frozen versus fresh here is a good article from Epicurious.
DES' TIP: If you use frozen fish make sure to rinse and pat dry the fish before seasoning with salt and pepper.
Can you substitute another kind of fish for tilapia?
You betcha! If you don't have any tilapia on hand, or can't find it at your grocery store, this recipe would work for any kind of white fish. Two of our favorites are cod and sole. Both are mild white fish that are relatively easy to find in the grocery store.
Note: This recipe for Parmesan Crusted Tilapia was originally published in 2009 and republished with update photos, nutrition facts and a video in 2020.

Love seafood? Check out some of my favorite seafood recipes!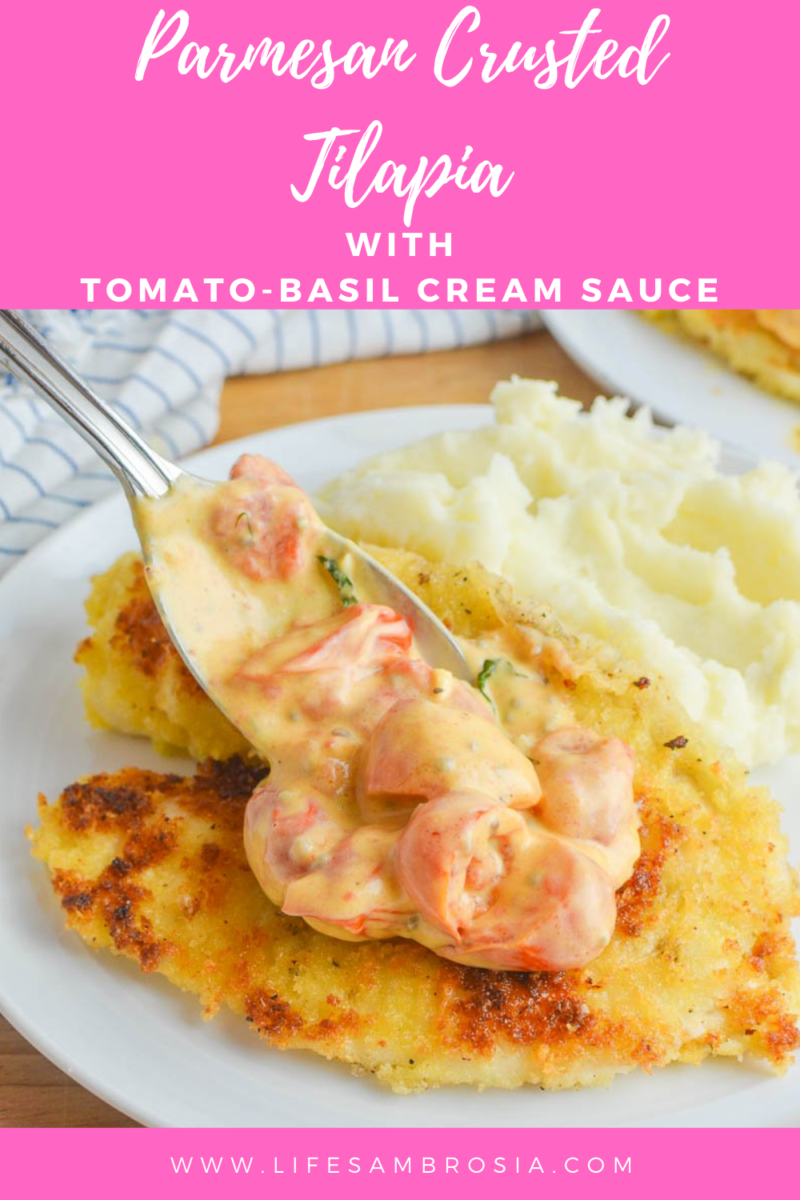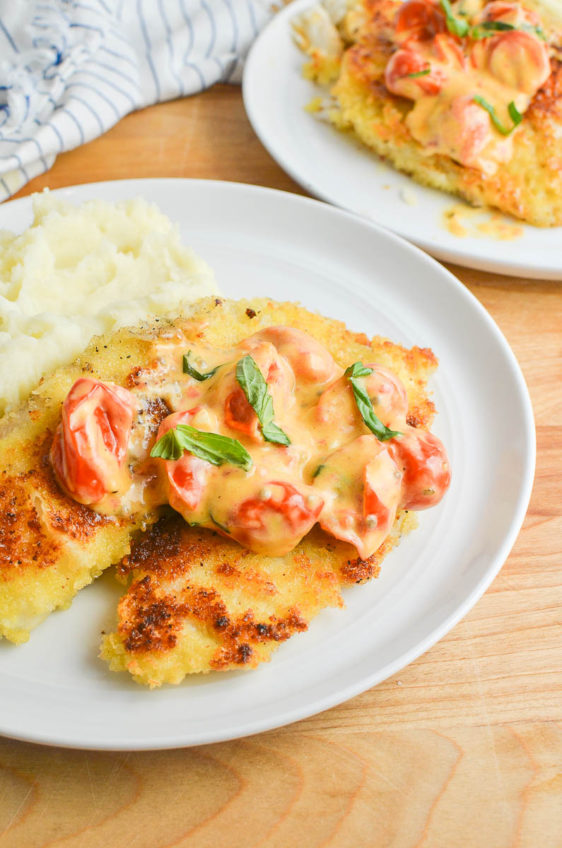 Parmesan Crusted Tilapia with Tomato-Basil Cream Sauce
This parmesan crusted tilapia is coated in Parmesan and panko then pan fried until golden brown. Topped with tomato-basil cream sauce. Get the recipe here!
Tomato Basil Cream Sauce Ingredients:
Parmesan Crusted Tilapia Ingredients:
Heat olive oil in a small skillet over medium heat. Add garlic and cook 1-2 minutes. Add cherry tomatoes and cook for 2 minutes. Reduce heat to medium low and add cream. Let simmer for 15 minutes. Sauce will turn slightly pink and coat the back of the spoon. (Note: It is okay if the sauce boils slightly.) Season to taste with salt and pepper.

Meanwhile, pour enough oil just to coat the bottom of a skillet and heat over medium heat.

Rinse and pat dry the tilapia fillets. Season both sides with kosher salt and fresh cracked pepper.

Combine Parmesan, panko and granulated garlic.

Dredge the seasoned tilapia fillets in the flour. Shake off excess. Dip in egg. Press into Parmesan/panko mixture.

Place fish in heated skillet, in batches if necessary and cook 3-4 minutes per side. Fish will be golden brown and will flake easily when done.

When you remove the fish, chiffonnade the basil (Note: To do this, simply roll up a few basil leaves and gently chop). Stir the basil into the sauce. Season with salt and pepper if needed.

Lay fish on a serving platter and spoon sauce over the top. Serve.
Note: Nutrition facts not guaranteed to be correct.
Calories:
946
kcal
Carbohydrates:
25.6
g
Protein:
109
g
Fat:
47
g
Saturated Fat:
19.8
g
Cholesterol:
383
mg
Sodium:
752
mg
Fiber:
1.9
g
Sugar:
2.4
g
Keywords:
food recipe, panko, parmesan, seafood, tilapia, tomato cream sauce, tomato sauce, white fish