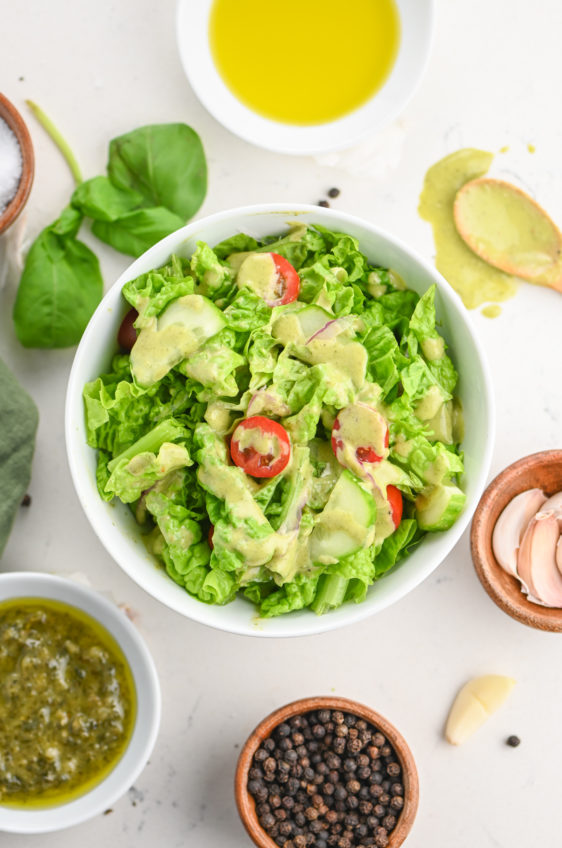 Pesto Vinaigrette
This Pesto Vinaigrette is bursting with summer basil flavor. Easy to make with the use of store-bought pesto, this dressing will be your go not just in summer but any time you're craving that sweet summer basil.
If you're looking for the perfect quick and easy dressing that is packed with summer flavor, then this Pesto Vinaigrette is exactly what you need.
This recipe is crazy easy to make thanks to store bought pesto. During the summer it's pretty easy and cost effective to make your own pesto. During the winter months when you want just a little bit summer to spruce up those dark winter days, store bought pesto can be your best friend. I use it for pastas, for sandwiches, pizzas and now this pesto vinaigrette. I've been buying mine at Costco and it's becoming one of my favorite products. I even make special trips to Costco for it when I run out. It's pretty good, guys.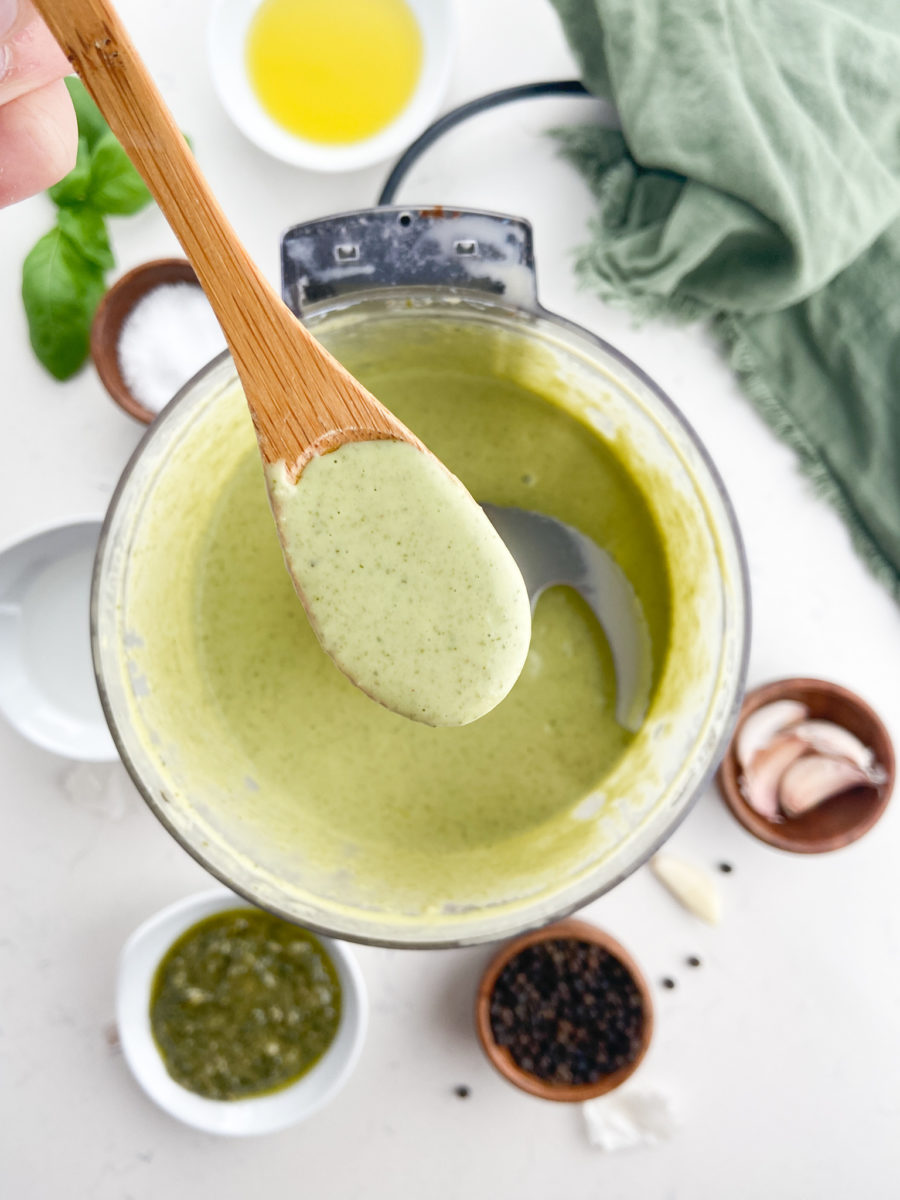 My favorite part of this vinaigrette is just how lusciously smooth it is. Almost creamy but without a hint of cream. Let's discuss what you'll need to make it.
What ingredients do you need to make Pesto Vinaigrette?
Because you'll be using store bought pesto for this recipe, you'll only need a few ingredients: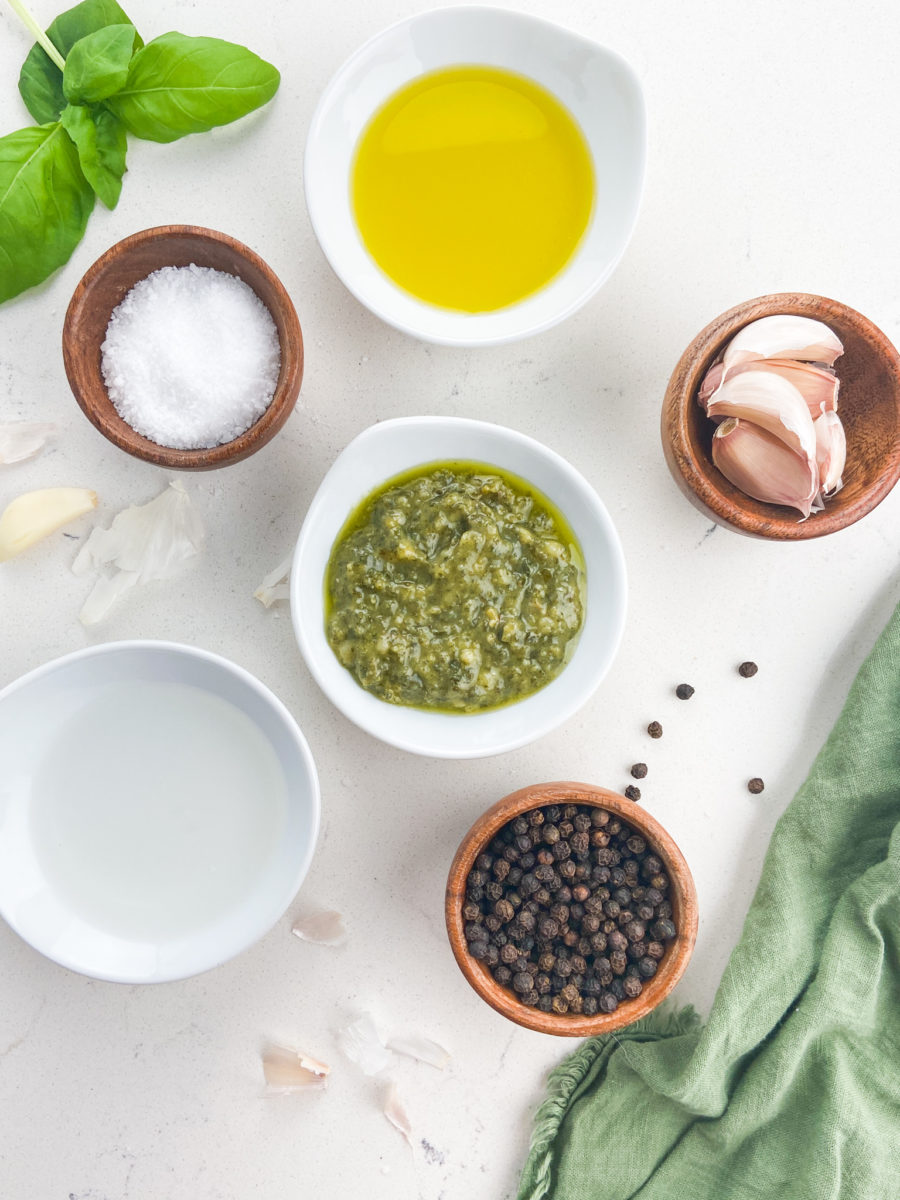 PRE-MADE PESTO You can certainly make your own or you can buy your favorite brand.
VINEGAR: Every vinaigrette dressing calls for, you guessed it, vinegar. This recipe calls for white wine vinegar which I think adds the perfect bright flavor. A reader below suggested that she preferred Red Wine Vinegar in this recipe which is a great substitute! Don't use distilled or apple cider as both of those will be to harsh. And balsamic will alter the color.
GARLIC: Yes, your store bought pesto is probably going to already have garlic in it but I like adding a touch more to give it a bit more garlickly flavor.
EXTRA VIRGIN OLIVE OIL: Always use the best quality extra virgin olive oil that you have on hand when making vinaigrettes. The pesto itself has olive oil but the addition of more olive oil helps emulsify this dressing giving it a creamy consistency.
SALT AND PEPPER
How to make Pesto Vinaigrette with Premade Pesto:
You'll need a food processor to make this. I use this mini food processor from KitchenAid and it's one of my favorite kitchen tools!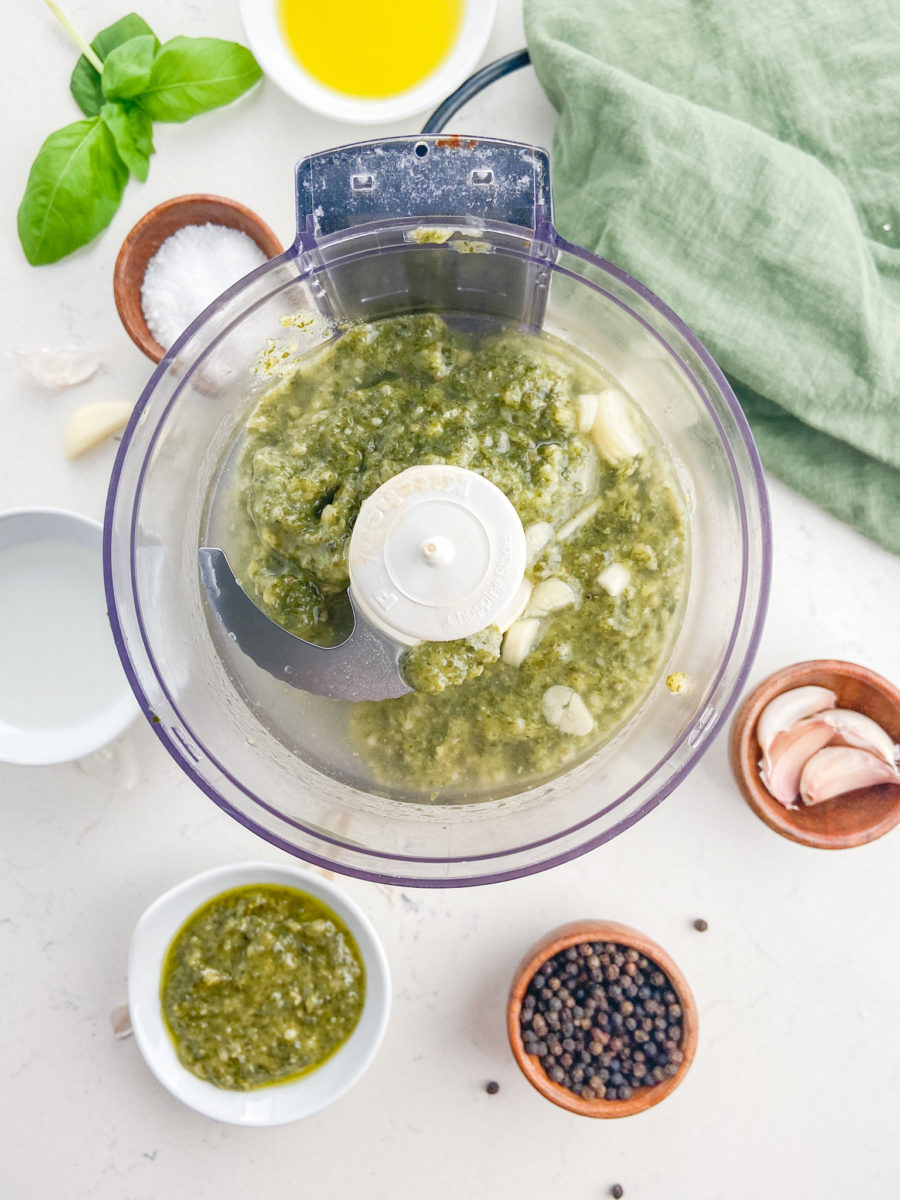 STEP #1: Combine pesto, garlic, and vinegar together in the food processor and process until smooth.
STEP #2: With the food processor running, slowly drizzle the oil in through the small opening in the top of the lid. Continue processing until the vinaigrette is emulsified.
STEP #3: Season to taste with salt and pepper.
Ways to use Pesto Vinaigrette:
I have made this pesto vinaigrette a few times now and it is always a huge hit. It is of course great on green salads, but if you have a friend who is not a huge fan of beets, drizzle this over some roasted beets to change their mind. And if you want to make a festive spring crostini, spread some goat cheese on toast and drizzle with vinaigrette. Whatever you do, make this pesto vinaigrette today.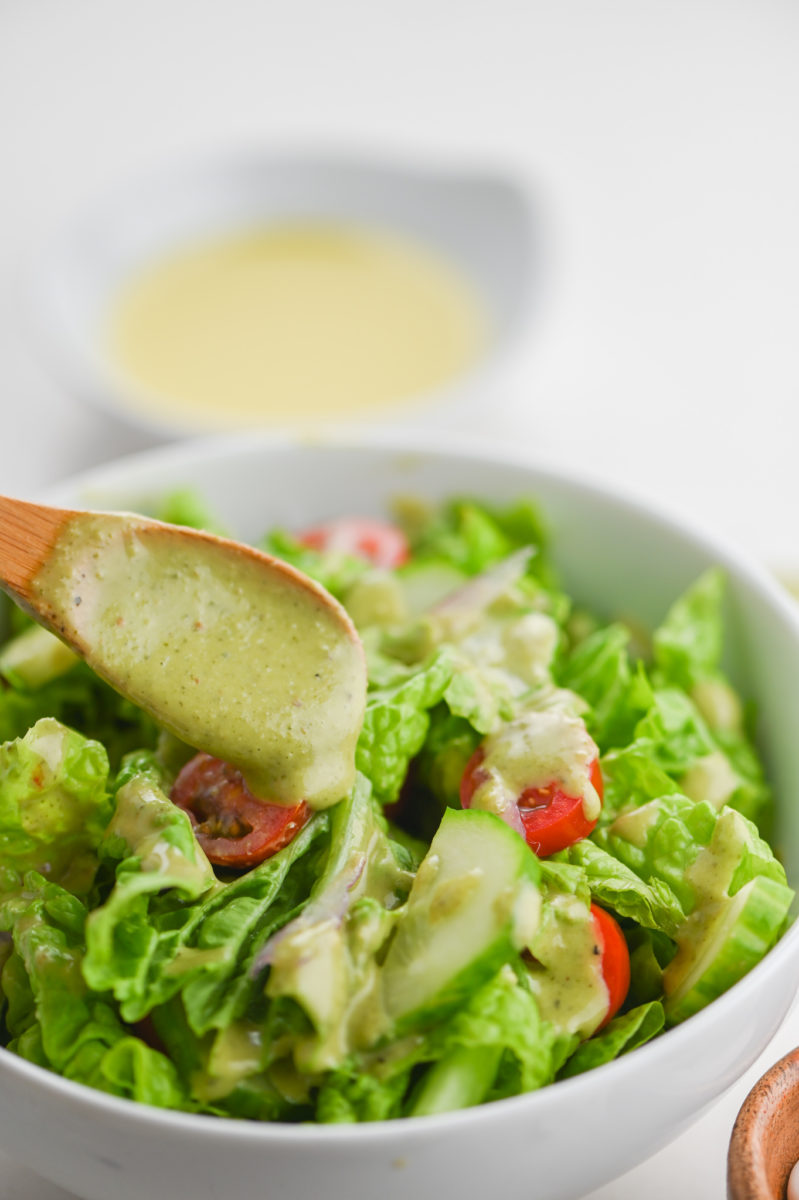 Storage and Leftovers:
I store this in the refrigerator in a mason jar. It usually lasts several days. Keep in mind that the olive oil will solidify in the cool temperatures so you'll want to bring it up to room temperature before serving.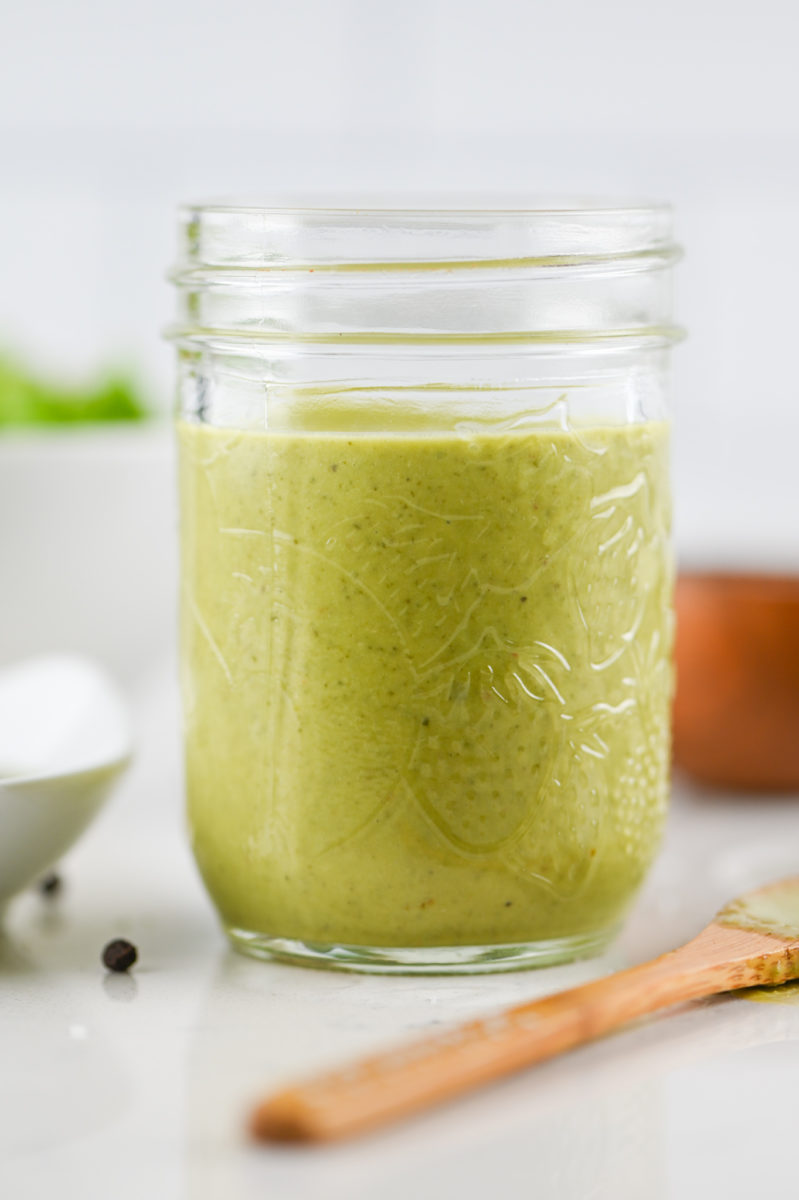 Like making your own dressings? ME TOO! Here are some of my favorite dressings to make at home:
Note: This recipe was originally published in 2016. It was updated in 2022 with new photos, nutrition information and tips.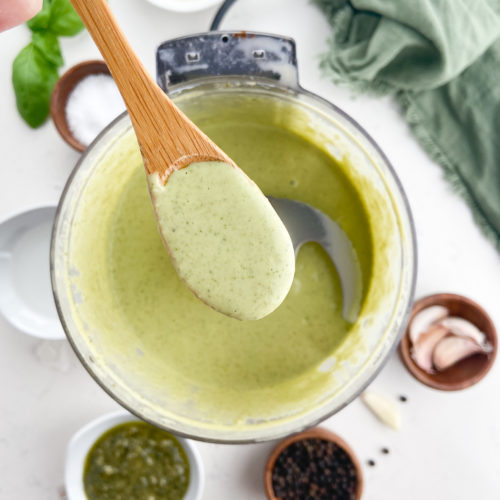 Pesto Vinaigrette
Prepared pesto makes this pesto vinaigrette come together in a flash. It's the perfect way to add a little sunshine to your salads!
Ingredients:
1/2

cup

prepared pesto

1

clove

garlic

optional

1/4

cup

distilled white vinegar

1/4

cup

extra virgin olive oil

salt and pepper
Combine pesto, garlic (If using) and vinegar in a food processor. Pulse just until combined.

With the food processor running, slowly drizzle in olive oil and continue processing until emulsified. Season to taste with salt and pepper.

Store in the refrigerator. Will keep for a few days.
You can substitute red wine vinegar for the white wine vinegar in a 1 to 1 ratio. Balsamic will alter the color. Avoid distilled or apple cider vinegar as the flavors would be too harsh. 
Store in the refrigerator but because the olive oil will solidify in the cool temperatures, I recommend allowing the dressing to come to room temperature before serving. Giving it a little whisk will help too. 
Nutrition information for estimation purposes only. 
Serving:
2
tablespoons
Calories:
243
kcal
Carbohydrates:
3
g
Protein:
2
g
Fat:
25
g
Saturated Fat:
4
g
Polyunsaturated Fat:
1
g
Monounsaturated Fat:
10
g
Cholesterol:
2
mg
Sodium:
291
mg
Potassium:
3
mg
Fiber:
1
g
Sugar:
1
g
Vitamin A:
625
IU
Vitamin C:
1
mg
Calcium:
52
mg
Iron:
1
mg
Keywords:
dressing, pesto