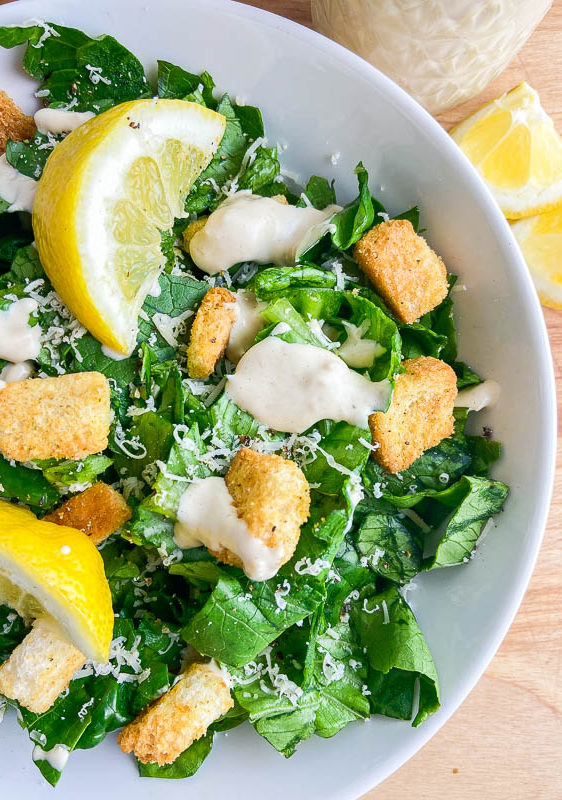 Homemade Caesar Dressing
With just a handful of ingredients you can make this quick and easy Homemade Creamy Caesar Dressing. It's so good you'll never buy another bottle again!
Peruse any restaurant salad menu and you're bound to find a caesar salad. It is, after all, a classic. And for good reason. There is just something about the creamy, garlicky dressing drizzled over crisp romaine and buttery croutons.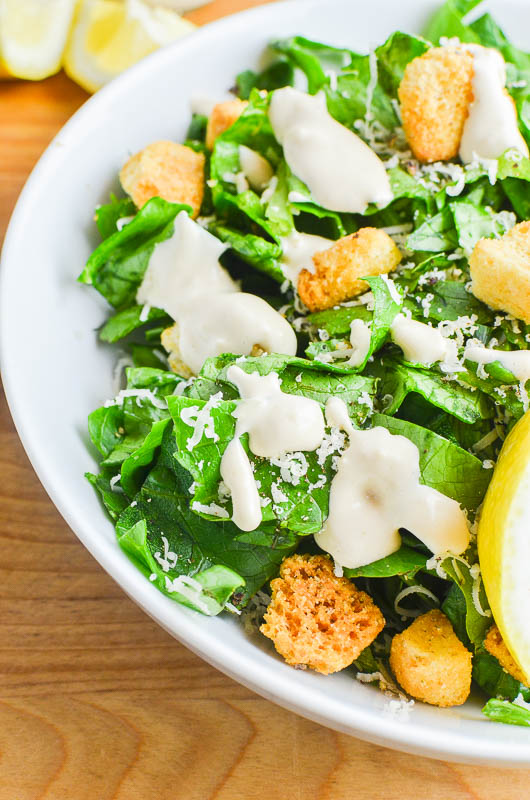 And when you want that salad perfection at home, it usually means buying a bottle of dressing. But GUESS WHAT. No more. You can now ditch the bottle because I'm going to show you how to make the best creamy caesar dressing with ingredients you probably already have on hand.
What ingredients do you need:

MAYONNAISE: Traditional, from scratch, Caesar dressing usually requires whisking in raw egg. This recipe uses mayo. The result is a super creamy dressing without the about using raw egg.
WORCESTERSHIRE SAUCE: This gives a briny, rich flavor to the dressing.
ANCHOVY PASTE: As tempting as it may be, you cannot skip this. Anchovies give caesar dressing a deeper flavor. Don't worry, the amount used in this recipe isn't enough to make the dressing fishy tasting at all but you will miss it if you leave them out.
PARMESAN: Don't skimp on this. Use high quality, fresh Parmesan. It will blend better into the dressing, not to mention it tastes better too.
LEMON: The citrusy flavor brightens the dressing.
GARLIC: Make sure that you mince it very fine (or use a garlic press) so that you aren't biting into large pieces of garlic.
DIJON MUSTARD: Don't substitute yellow mustard, you want the bolder flavor but muted color of Dijon.
How to Make Caesar Dressing:
Guys, it could not be easier. Seriously, combine all the ingredients in a bowl and whisk.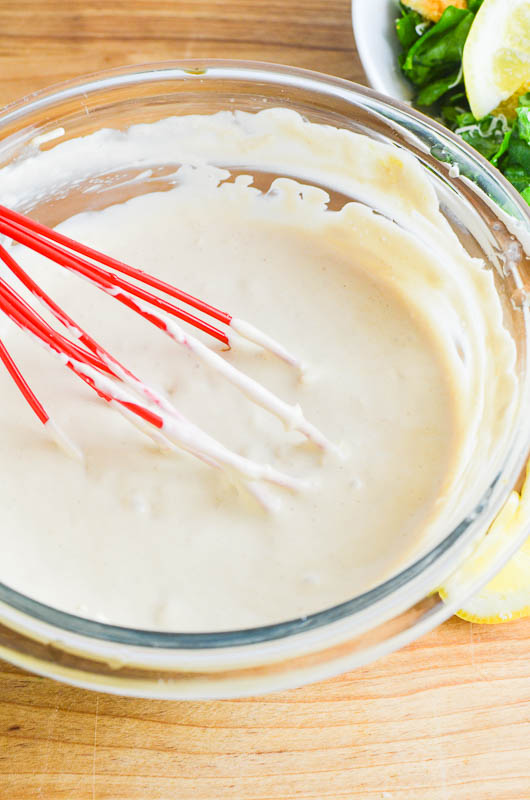 Like I said, Easy Peasy.
DES' TIP: While great right when you make it, this dressing tastes even better if you let it refrigerate for about 30 minutes. This gives the flavors a chance to meld and develop.
Not only is this dressing great for salads, it makes for an excellent marinade for chicken!
Whether you're serving your favorite fried cod, pasta recipe or are looking for something to serve alongside baked chicken legs, a classic caesar salad is always a great side dish and now you can make the dressing yourself! And since we're making our own things, how about some homemade croutons too?
Like making your own dressings, dips and other sauces? Check out some of my favorite recipes!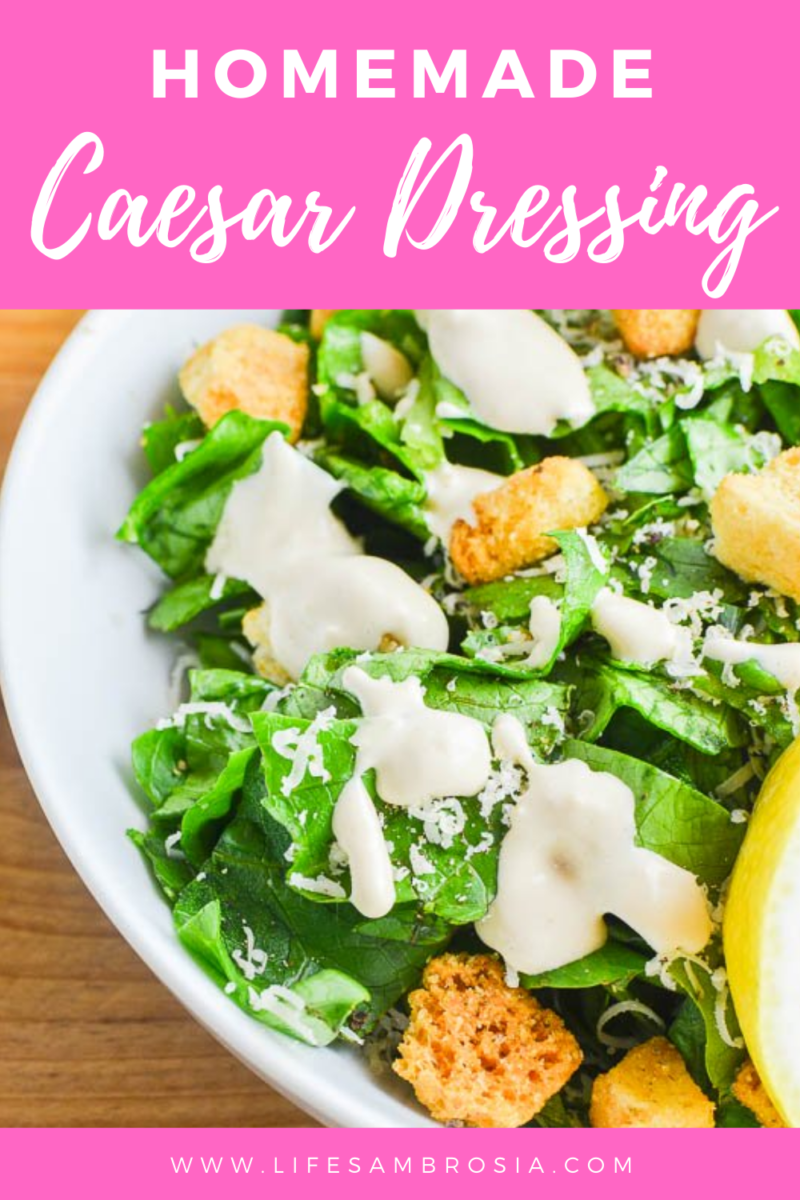 Homemade Caesar Dressing Recipe
Ingredients:
3/4 cup mayonnaise
2 tablespoons lemon juice
2 cloves garlic, minced fine or pressed
1 tablespoon Worcestershire sauce
1/2 teaspoon anchovy paste
1 teaspoon dijon
1/3 cup shredded parmesan cheese
salt and pepper
Instructions
1
Combine all ingredients together in a bowl and whisk until combined. Season to taste with salt and pepper.
Notes
Nutrition facts for estimation purposes only.
Nutrition information
Calories: 181 , Total Fat: 14.4g , Saturated Fat: 4.2g , Cholesterol: 22mg , Sodium: 457mg , Carbohydrates: 8.5g , Fiber: 0g , Sugar: 2.5g , Protein: 6.4g