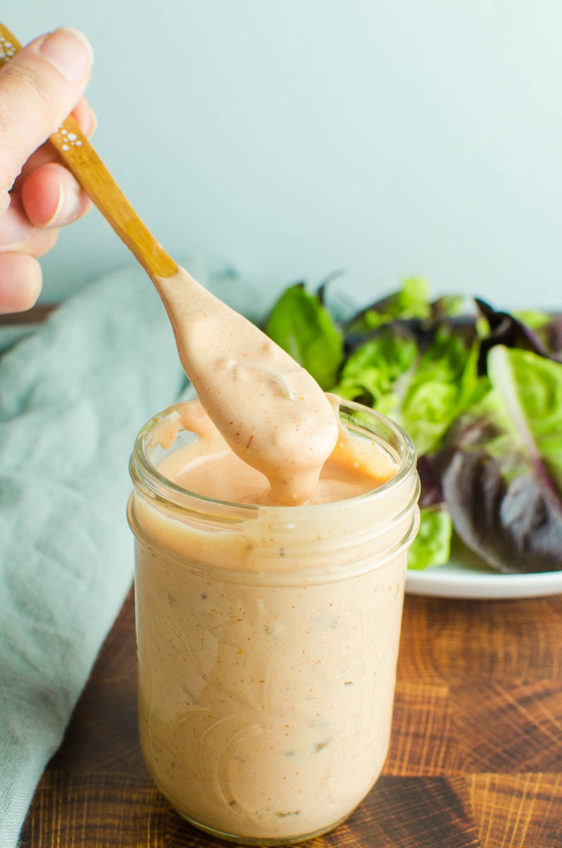 Homemade Thousand Island Dressing
Creamy, tangy and a little sweet, Homemade Thousand Island Dressing is way better than store bought. It's great on salads, burgers and as a french fry dip!
Have you ever made a salad for dinner and gone to the fridge only to realize that you're out of dressing? This has happened to me on more than one occasion and that is why I figured out how to make my own.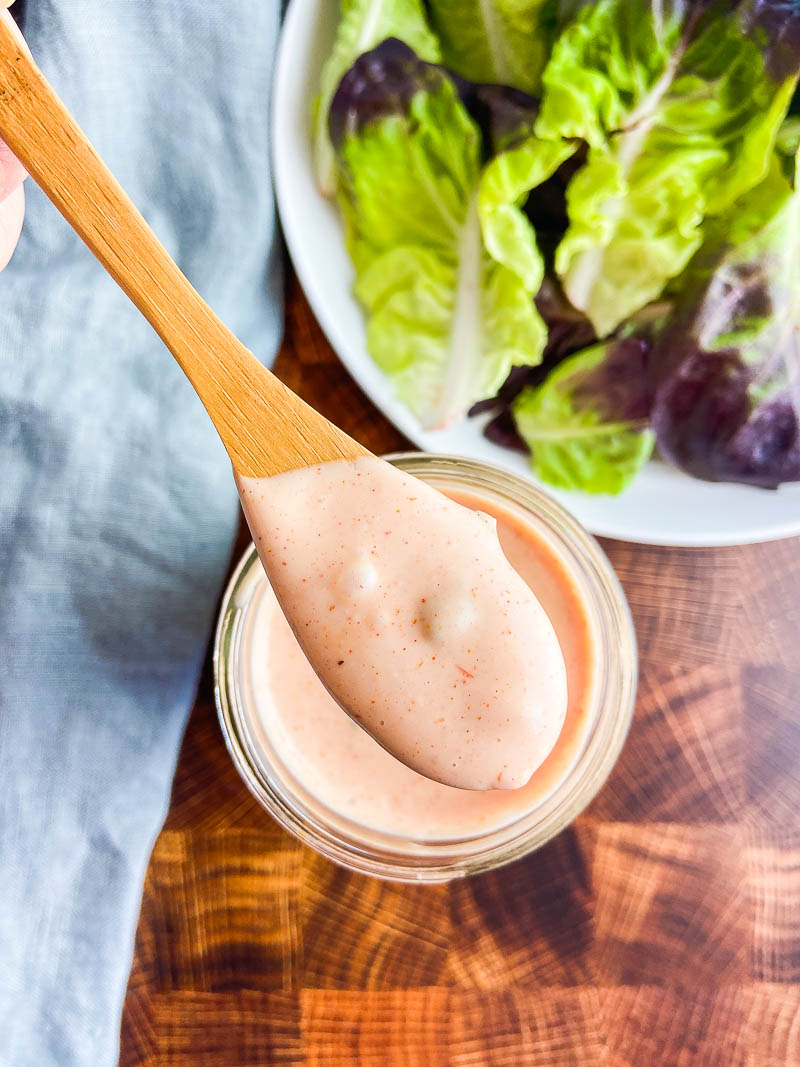 Whether it is a garlic vinaigrette, buttermilk ranch or honey mustard, you can always make your own dressing with just a few pantry ingredients. The same goes for Homemade Thousand Island Dressing. You only need a handful of ingredients that you probably already have on hand.
What is Thousand Island Dressing made of?
The main ingredients in Thousand Island Dressing are mayonnaise and ketchup. These give you the creamy, sweet flavor that you think of when you think of 1000 island.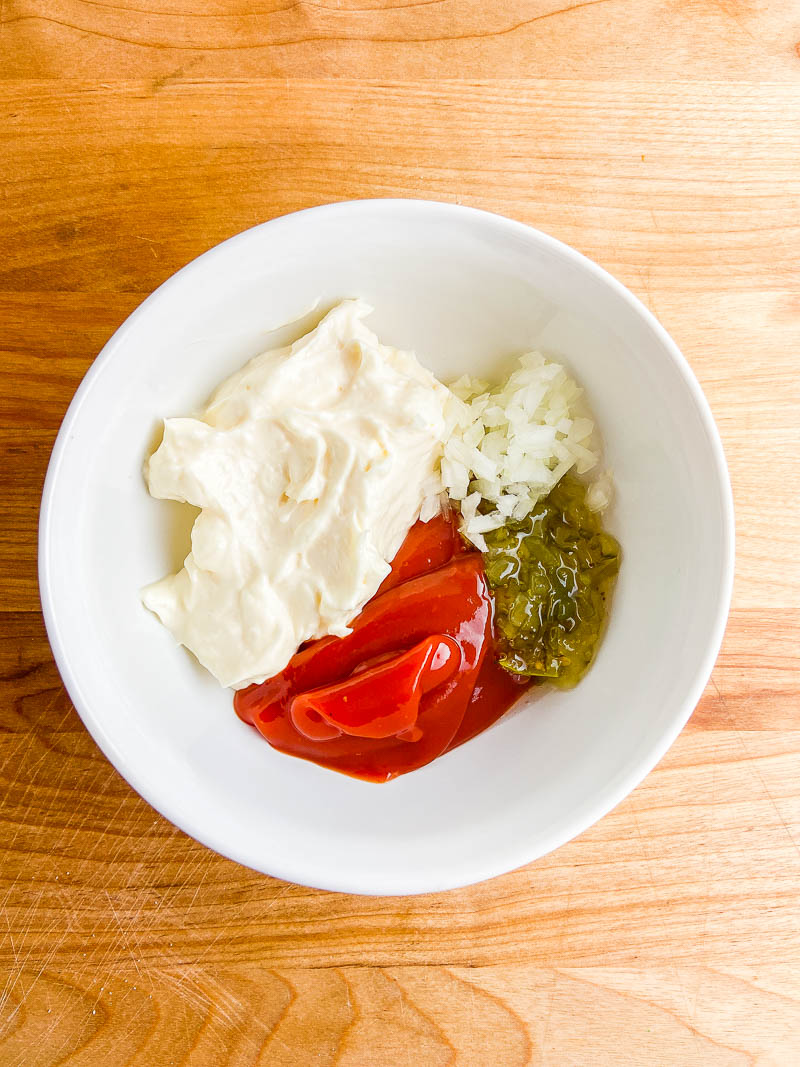 It also has vinegar, sweet pickle relish, paprika, onions and salt.
Some recipes call for hardboiled eggs but I prefer it without. Plus, I don't always have hard boiled eggs handy and it'll last a bit longer in the fridge without them.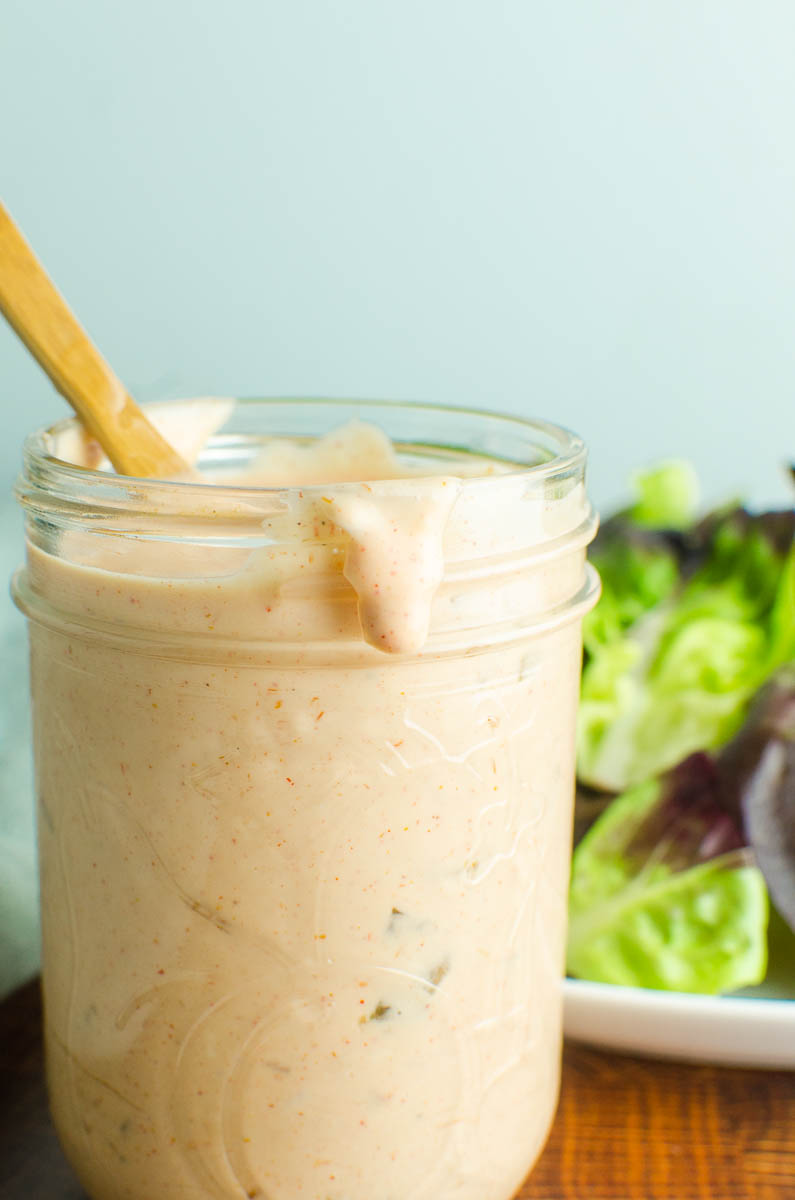 How do you make homemade dressing?
Guys, it could not be easier. Seriously. All you need to do is put all of the ingredients into the bowl and mix it together. That's it!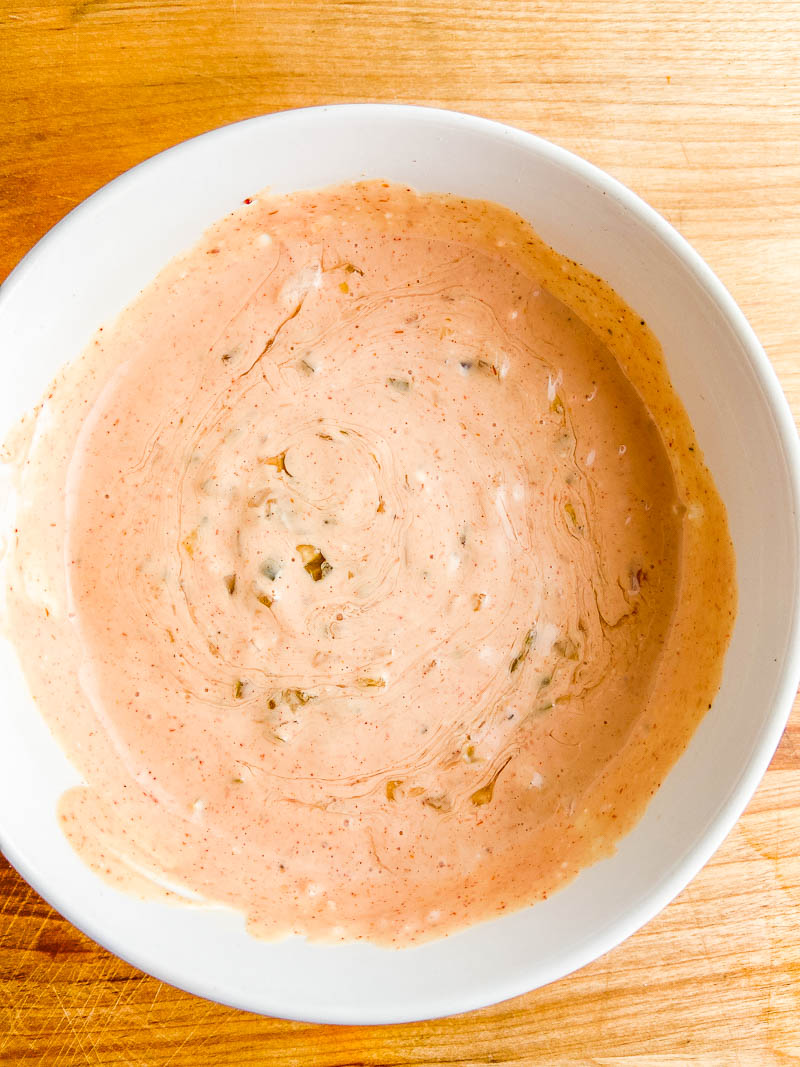 I like to make it a few hours in advance because I think it tastes a bit better the longer that it has to sit.
What do you use 1000 Island Dressing for?
Well obviously, salad is always an option. But did you know that the "secret sauce" on many of your favorite restaurant burgers is, in fact, thousand island dressing? Yep! Big Mac's, your favorite Tavern Style Burgers and those with "Pub sauce". It's all thousand island.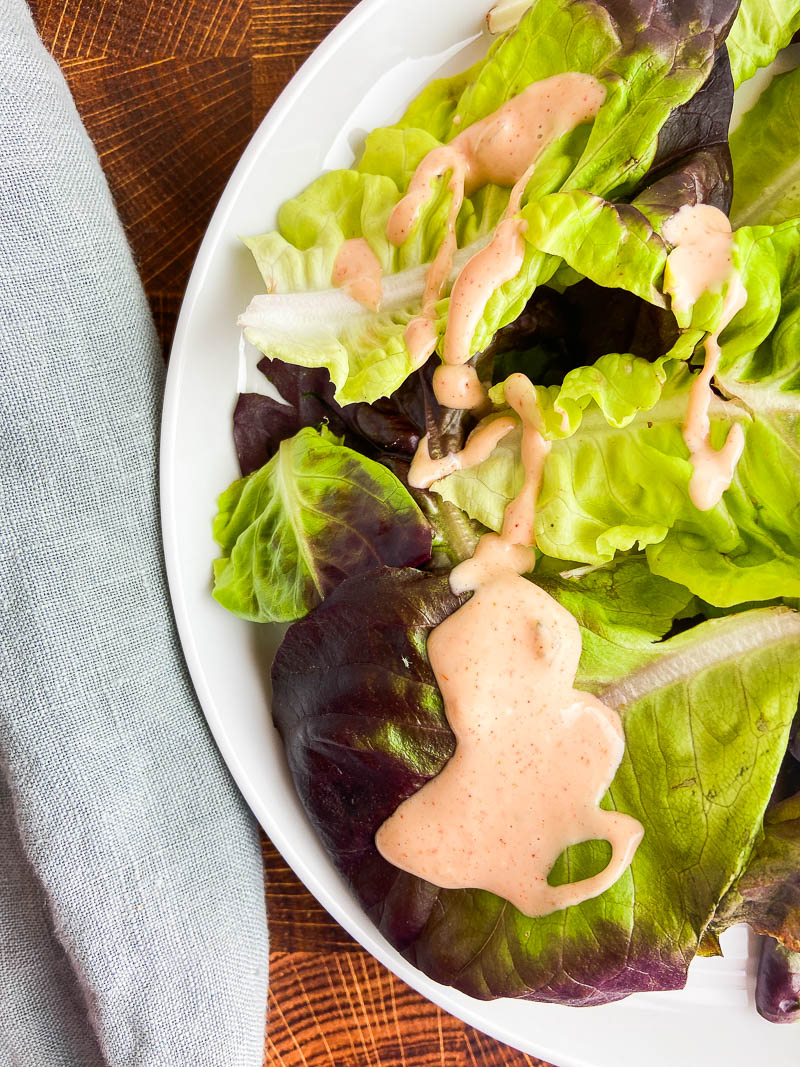 If you love making your own dressing, you might like making other condiments too. Here are some of my favorites!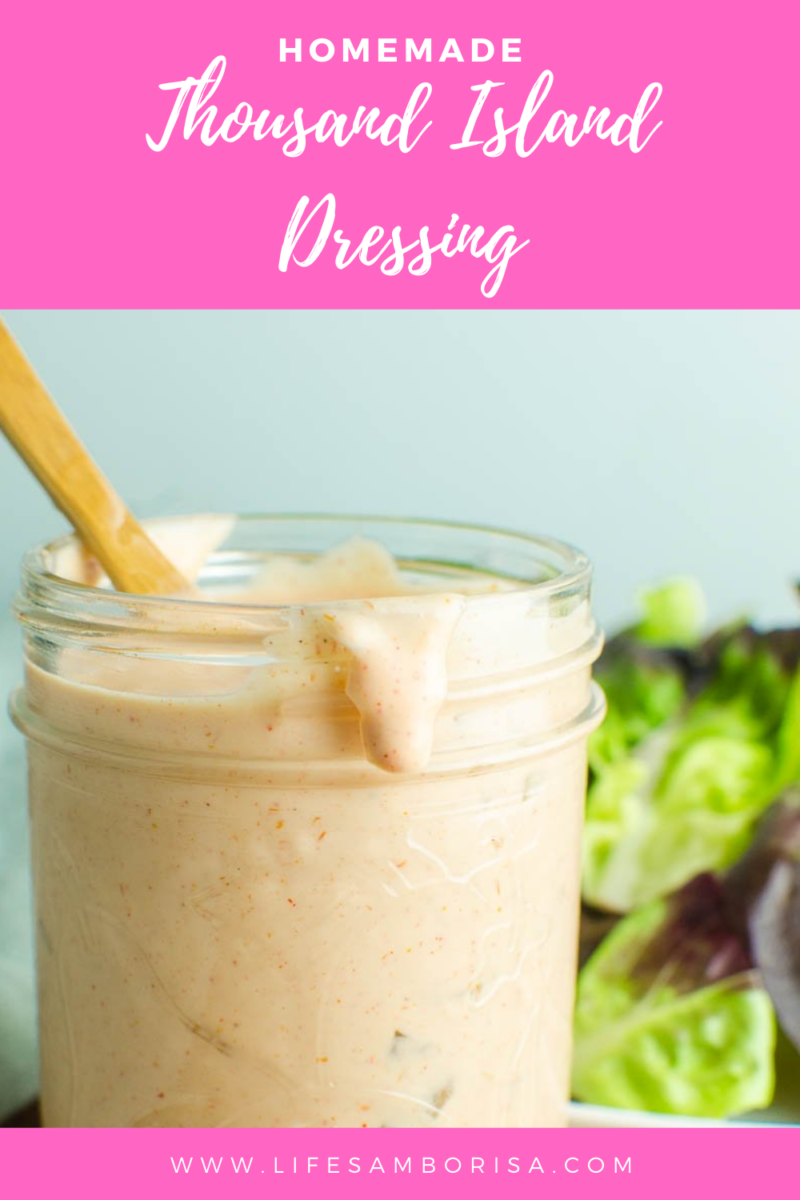 Homemade Thousand Island Dressing Recipe
Ingredients:
1/2 cup mayonnaise
1/4 cup ketchup
2 tablespoons sweet relish
3 teaspoons minced onion
1/4 teaspoon paprika
1/4 teaspoon salt
1 tablespoon vinegar
Instructions
1
Whisk all ingredients together in a bowl until mixed well.

2
Cover and refrigerate for at least 30 minutes.

3
Store leftovers, covered in refrigerator for up to 5 days.
Notes
Nutrition facts are for nutrition purposes only.
Nutrition information
Calories: 141 , Total Fat: 9.9g , Saturated Fat: 1.5g , Cholesterol: 8mg , Sodium: 584mg , Carbohydrates: 13.8g , Fiber: 0.2g , Sugar: 7.6g , Protein: 0.6g