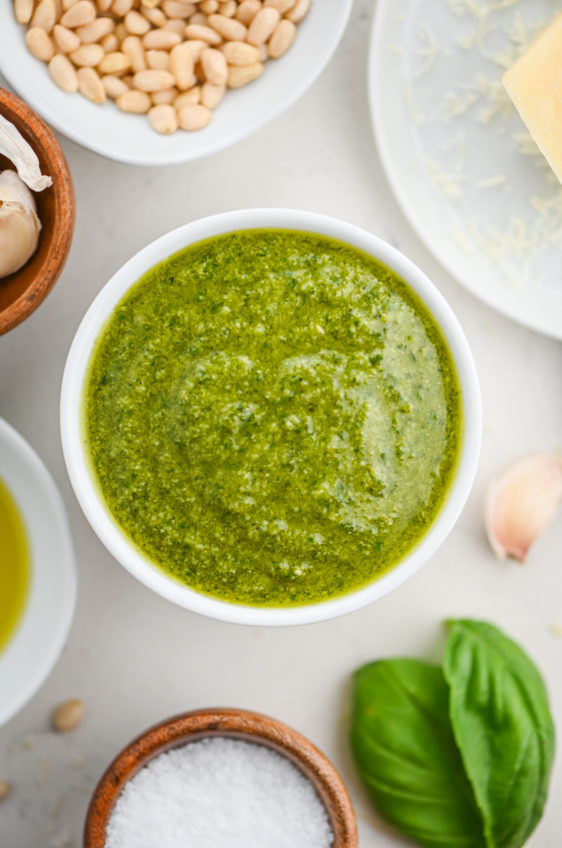 Basil Pesto
Jump to Recipe
Learn how to make a Classic Basil Pesto Recipe with fresh basil, pine nuts, Parmesan cheese and extra virgin olive oil.
When it comes to the quintessential summer flavor, for me, it has to be pesto. Nothing beats homemade basil pesto with basil fresh from the garden, pine nuts, parmesan cheese and extra virgin olive oil. It is a classic recipe for a reason.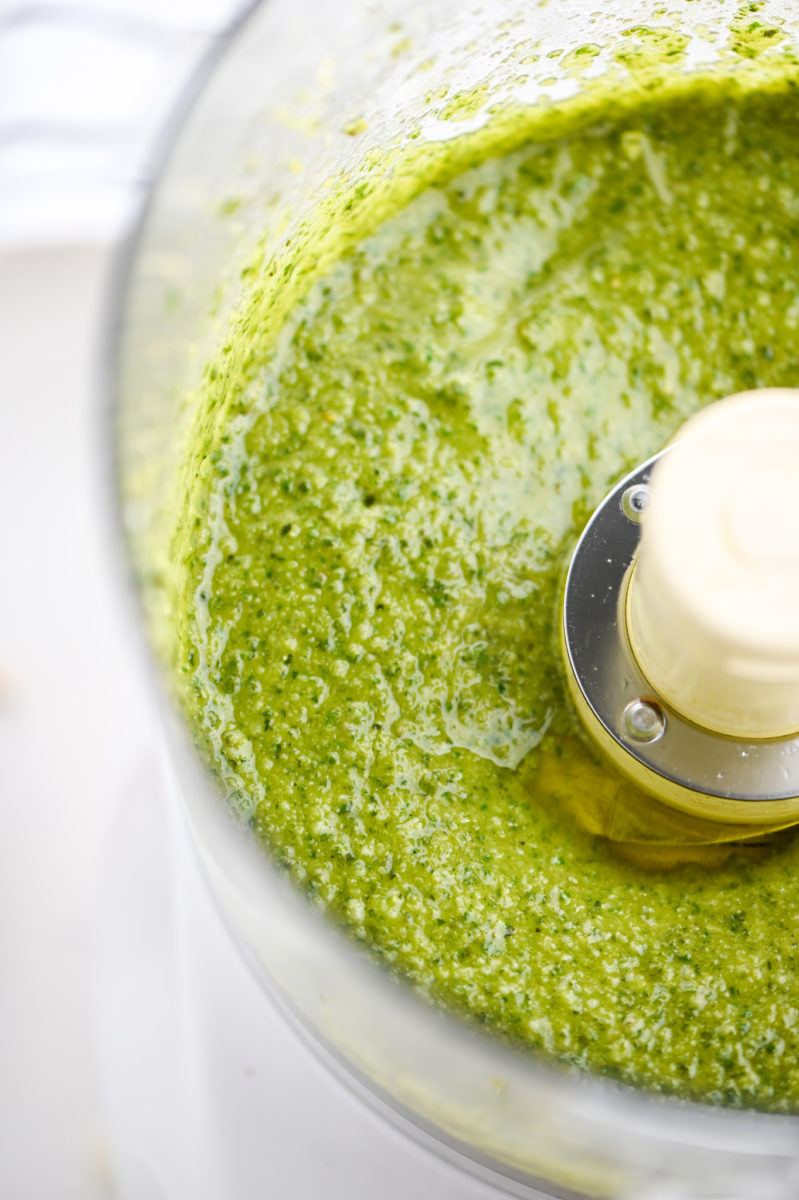 Pesto is great on it's own. It makes epic grilled cheese sandwiches. Toss it with pasta for a quick dinner and it even works as a pizza sauce. Now, you can buy this incredibly versatile sauce in the deli section of your grocery store but it is also incredibly easy to make at home. And if you've got fresh basil growing in your garden, you're going to want to keep this recipe handy!
Let's talk about what ingredients you'll need:
Ingredients for Homemade Basil Pesto:
With a recipe like basil pesto, where there are very few ingredients, it is essential to make sure they are the highest quality you can find.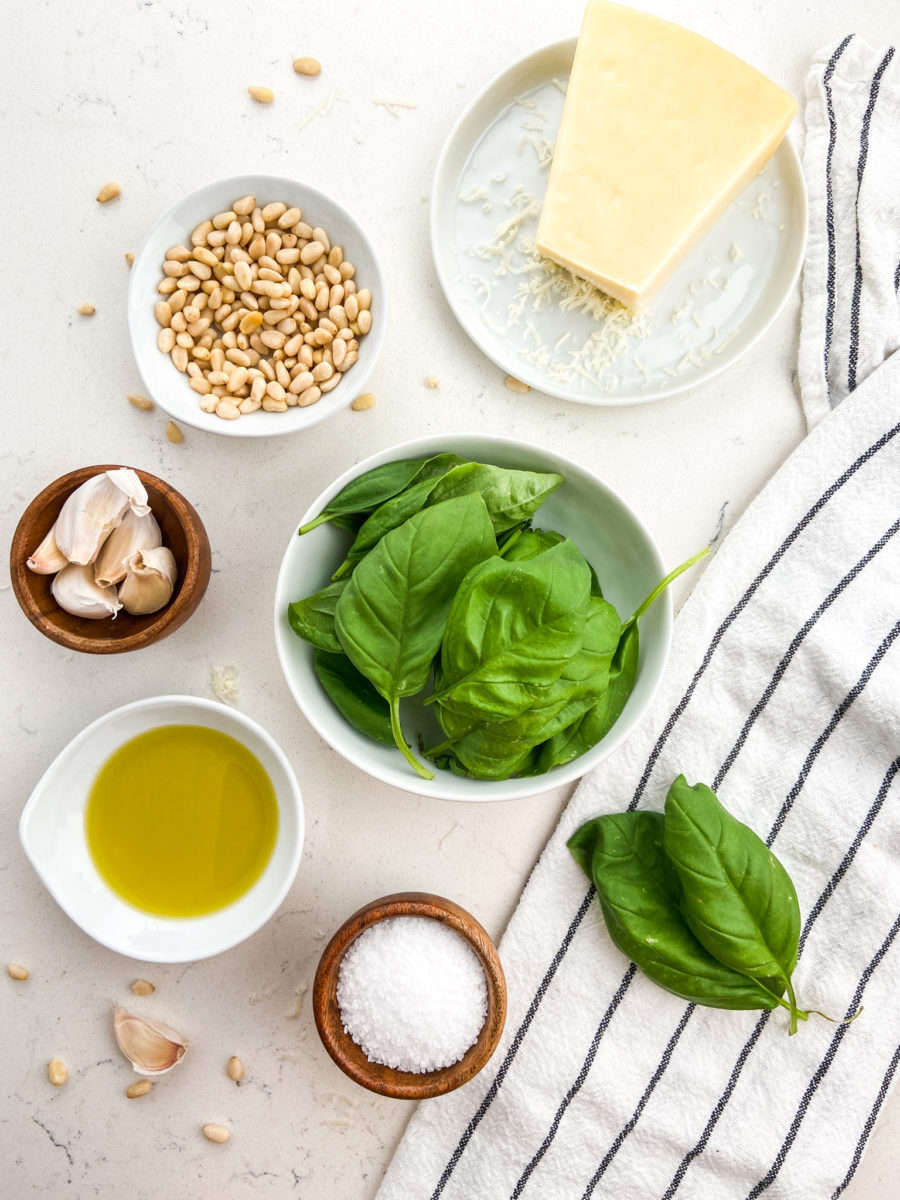 FRESH BASIL: The star of the show! You have got to use fresh basil leaves when making pesto. It will not work with dried basil. You'll need 2 cups of loosely packed basil leaves for this recipe.
GARLIC: The garlic in pesto is raw so you're not going to use a bunch but 2 cloves should be fine.
PINE NUTS: Pine nuts add flavor and a bit of creaminess to the pesto.
PARMESAN CHEESE: Use freshly grated Parmesan cheese in this recipe. It will taste better, trust me.
EXTRA VIRGIN OLIVE OIL: Some extra virgin olive oils can be bitter. I prefer to use a kalamata olive oil because it's smoother tasting you can find it at Trader Joes. The Kirkland Extra Virgin Olive Oil from Costco is also great for this. Use which ever extra virgin olive oil you prefer.
SALT: The parmesan cheese does have a lot of salt in it so you may or may not need any.
How to make Basil Pesto:
Traditionally pesto is made using a mortar and pestle. It can be a little time consuming and not everyone has one. I find that you can make pesto pretty easily with a food processor with just a few key tips.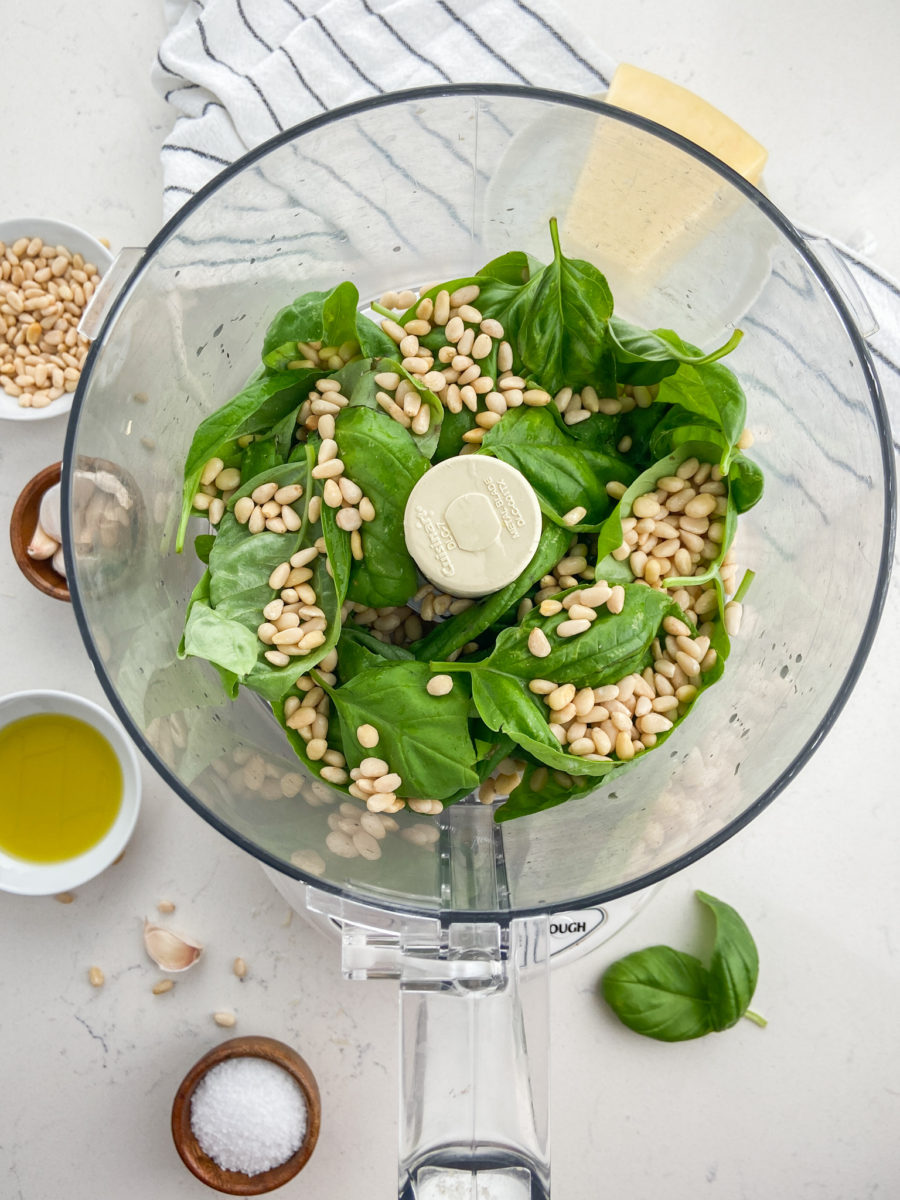 STEP #1: Gently rinse and pat dry the basil leaves then place them in the food processor with the pine nuts. Pulse just until they start to come together and pine nuts are minced.
STEP #2: Add in the parmesan cheese and minced garlic. Pulse 2 – 3 times.
STEP #3: With the food processor running, slowly drizzle in the olive oil to emulsify the pesto.
STEP #4: Season to taste with salt. Serve. Refrigerate any leftovers.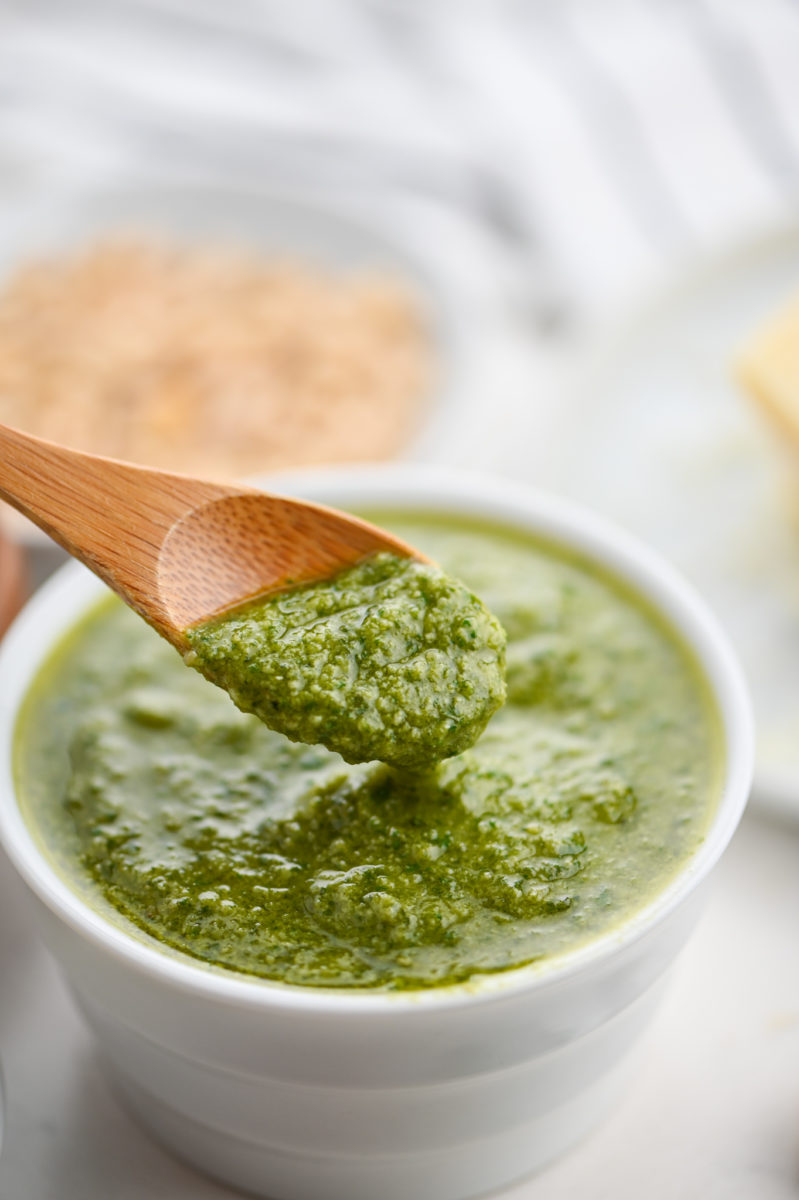 Storage and Leftovers:
Store basil pesto covered in the refrigerator. It should last 4 – 5 days.
How to use Pesto:
Pesto is great spread on bread. But you can also use it to make these recipes:
Turn it into a party with this Pesto White Bean Dip.
Dress up your salad with this Pesto Vinaigrette.
Grilled Burrata Pesto Bread is the stuff dreams are made of!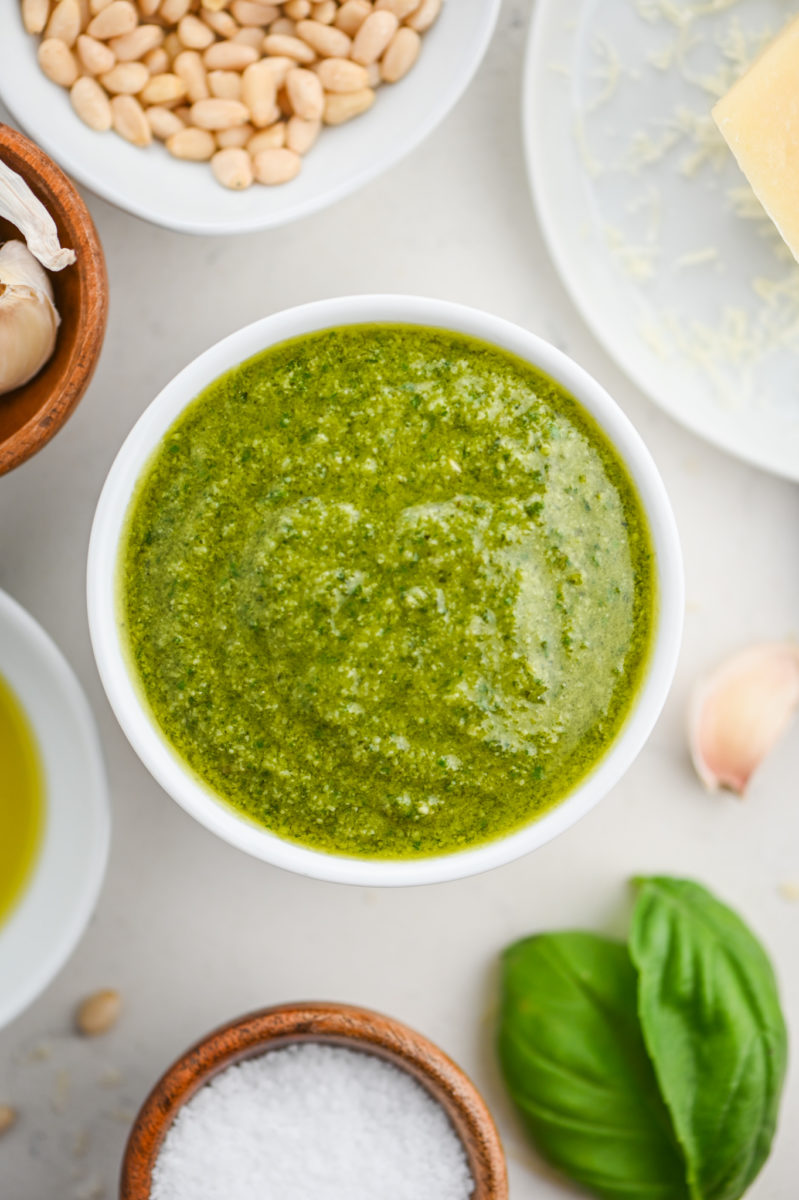 Recipe FAQ:
Why is my pesto bitter?
There are a couple of reasons why pesto may be bitter. One is the olive oil you use. Some olive oil tends to be more on the bitter side so your pesto will be bitter. Another is that the basil was processed too much. That is why I suggest quick pulses in the food processor.
Do you wash basil before making pesto?
Yes! Rinse the leaves and then gently dry them with a paper towel.
Can I freeze pesto?
You can freeze pesto in ice cube trays or other freezer safe containers. Pesto will keep for 6 months in the freezer.
Basil Pesto isn't the only Pesto! Check out these other Pesto Variations:
Try to make a pesto using Kale and make this Kale Pesto Bacon Pasta.
This Garlic Scape Pesto is perfect for garlic lovers and a great way to use an ingredient you might not be familiar with.
Arugula Walnut Pesto is another great twist on this classic!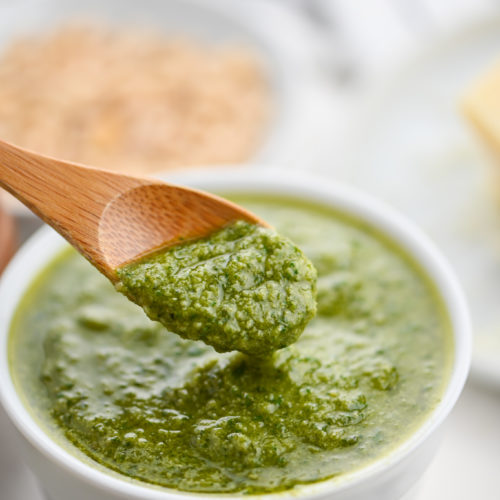 Basil Pesto Recipe
Learn how to make Classic Basil Pesto with this easy to follow recipe.
2

cups

basil

packed

1/3

cup

pine nuts

1/2

cup

grated parmesan cheese

2

cloves

garlic

1/2

cup

extra virgin olive oil

salt
Pulse basil and pine nuts in food processor a few times until the basil and pine nuts are minced.

Add in shredded parmesan cheese and minced garlic. Pluse 2 – 3 times just to loosely combined.

With the food processor running, slowly drizzle in the olive oil until the pesto is emulsified. Season to taste with salt.
Be sure to gently wash your basil before using. 
Be sure to make sure the garlic is minced fine before adding it to the food processor. This helps avoid large pieces of garlic in the pesto. 
It is essential to use freshly grated Parmesan cheese for this recipe. It will taste better and blend better into the pesto. 
To help avoid any bitterness, pulse the basil as few times as possible before adding the olive oil. 
Nutrition information for estimation purposes only. 
Serving:
2
tablespoons
Calories:
186
kcal
Carbohydrates:
2
g
Protein:
3
g
Fat:
19
g
Saturated Fat:
3
g
Polyunsaturated Fat:
3
g
Monounsaturated Fat:
11
g
Cholesterol:
5
mg
Sodium:
110
mg
Potassium:
66
mg
Fiber:
1
g
Sugar:
1
g
Vitamin A:
372
IU
Vitamin C:
1
mg
Calcium:
68
mg
Iron:
1
mg
Keywords:
basic pesto, basil, sauce