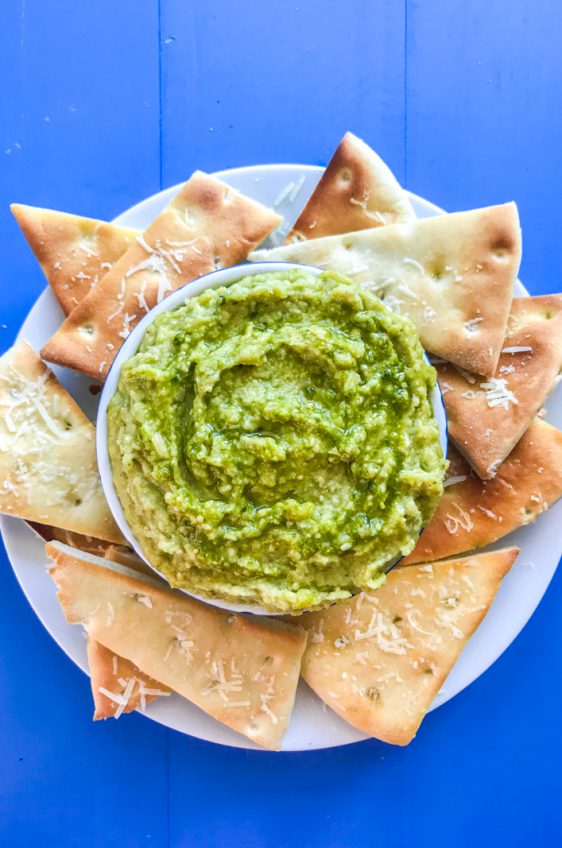 Pesto White Bean Dip
Pesto White Bean Dip gives a burst of summer to this classic Italian dip. It will be the perfect addition to summer parties and picnics. 
You guys, today I have got the perfect summer party dip for you: Pesto White Bean Dip.
When it comes to summer parties, we all need something that comes together quickly, with few ingredients and doesn't involve cooking. I mean who wants to turn on the oven or stove when its 90+ degrees outside? Not me!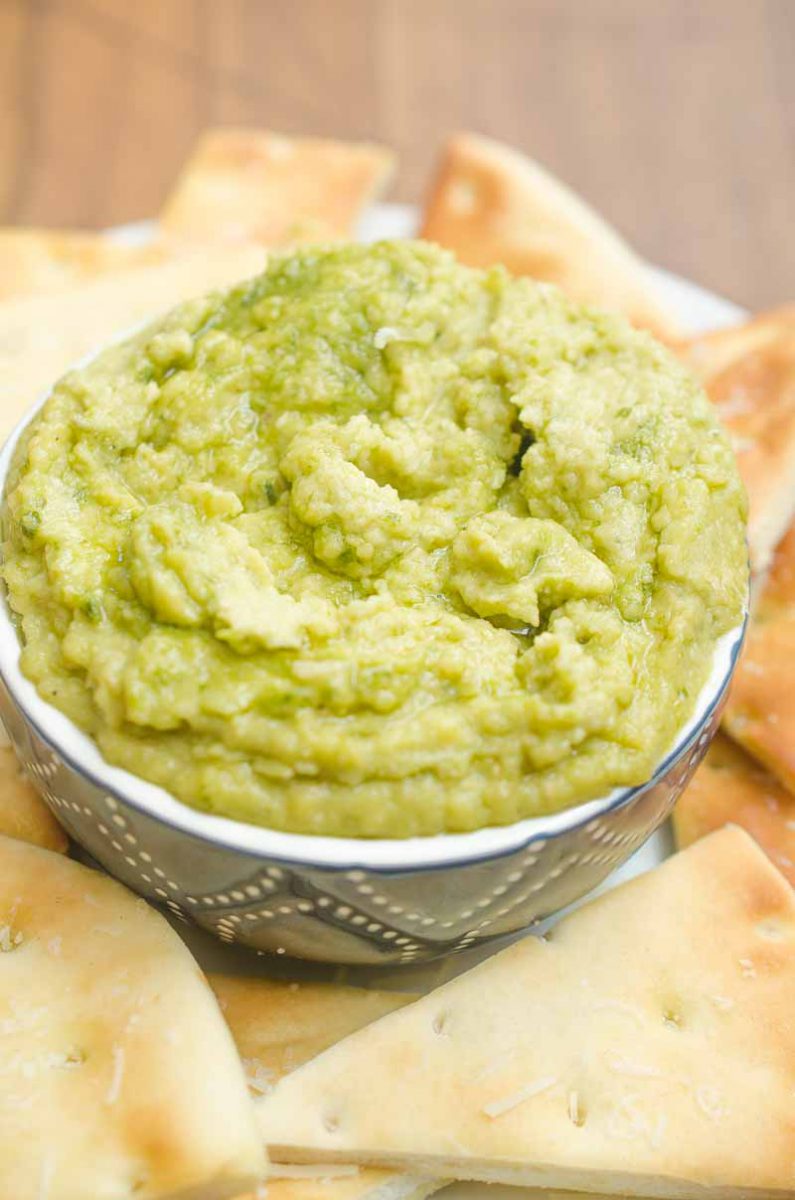 That is when dips like this Pesto White Bean Dip come in handy. This dip requires four ingredients and absolutely no cooking or even chilling time. That means more time for you to enjoy your backyard BBQ, summer picnic or afternoon wine and snack session.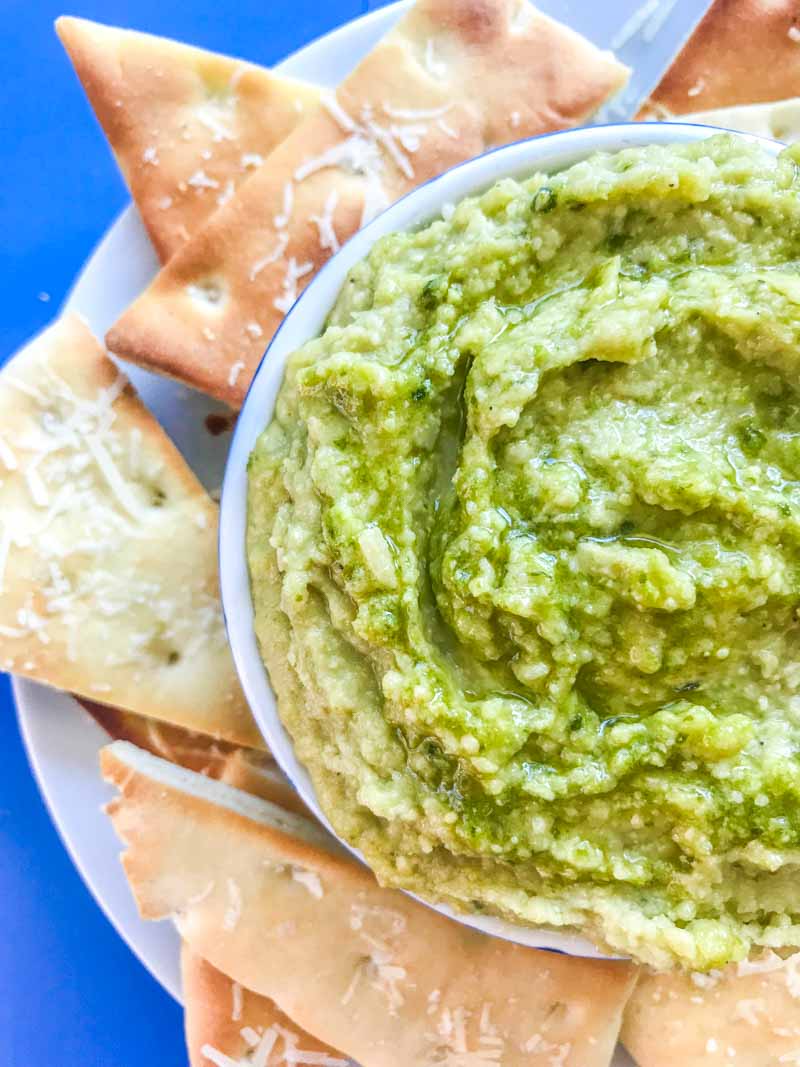 White bean Dip or Tuscan White Bean dip is a popular Italian appetizer. I love it because it is rustically simple. We enjoyed many a Tuscan Bean Dips with crostini when in Italy. And I've been obsessed ever since.
Are there different types of white beans?
Am I the only one who walks into the bean aisle and thinks, goodness there are a lot of different types of beans. The four main types of white beans are: Cannellni, Navy, Great Northern and Navy Lima (butter beans). They all have subtly different textures and flavors. This article explains all of them well.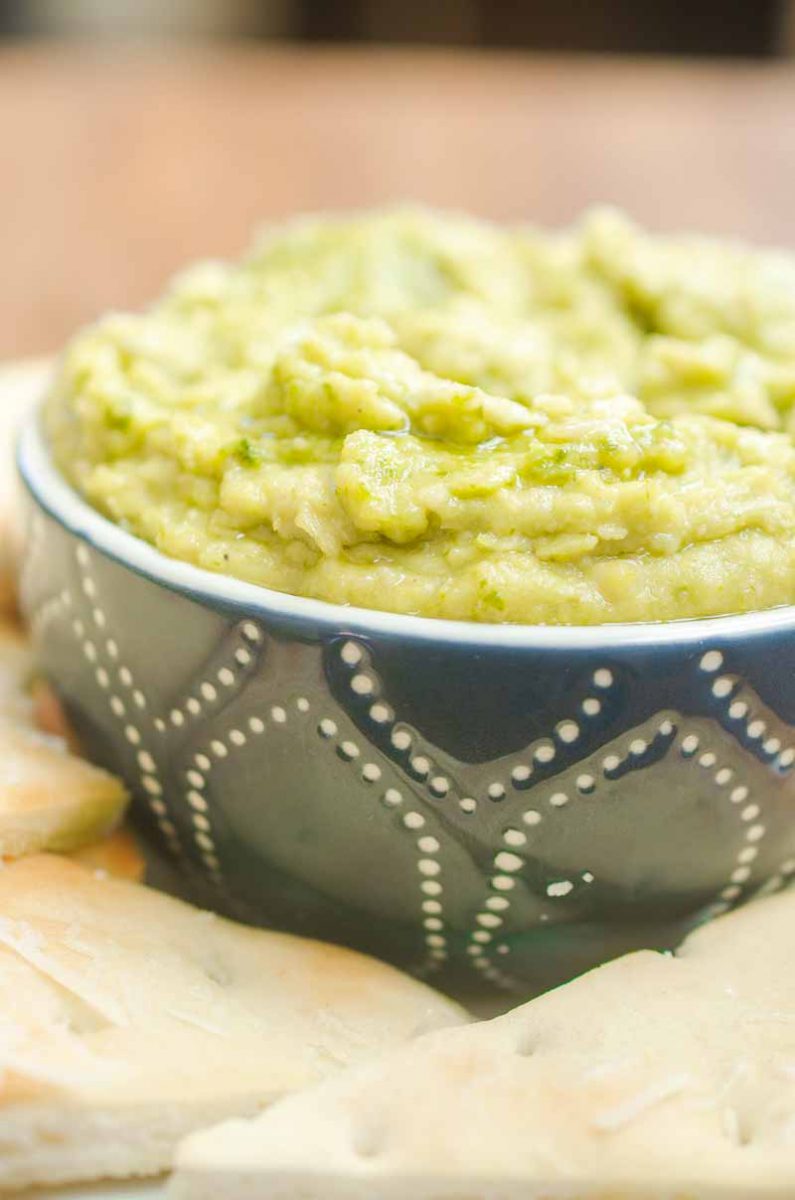 For this recipe, I use cannellini beans because I love their nutty flavor and they are super creamy in this dip. You should be able to find them easily in your grocery store. If you can't find them you can substitute any of the other white bean varieties.
The other star of this recipe, in addition to the white beans, is the Pesto. Since I made this recipe before basil plants started taking over, I used store-bought pesto. That being said, summer is coming which means it will be basil season. And basil season means it's the perfect time to make your own pesto.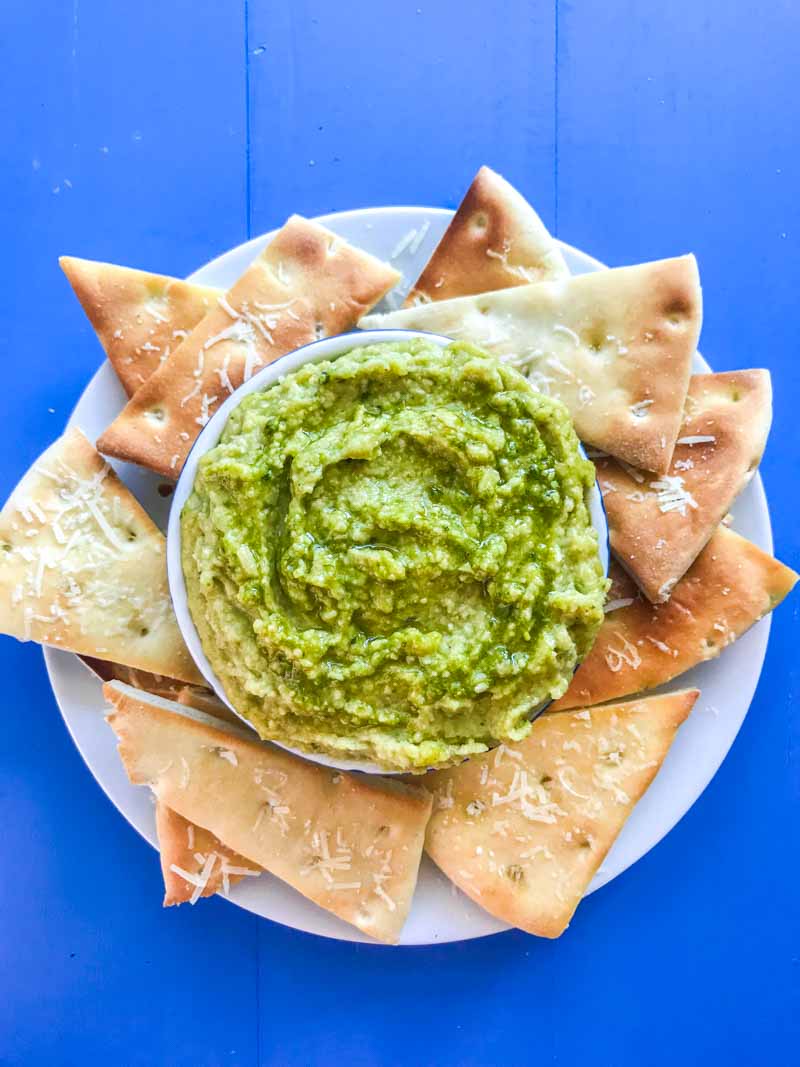 When it comes to what to dip into this Pesto White Bean Dip, you can use vegetables, crostini or, my personal favorite: Parmesan Pita Chips. I've include a bonus recipe for those too in case you want to try them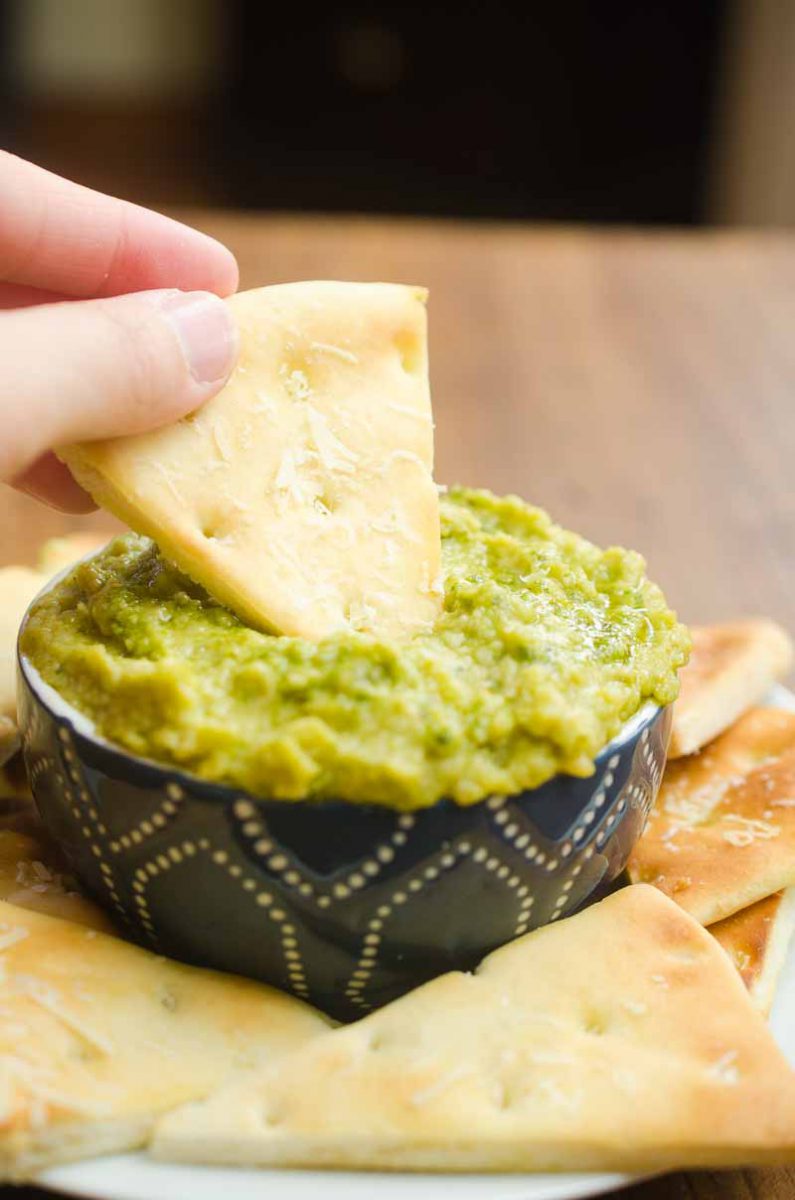 TIP: You totally do.
And if you're packing up this dip to take along on a summer picnic, don't forget this Italian Pressed Sandwich. It's the ultimate picnic sandwich!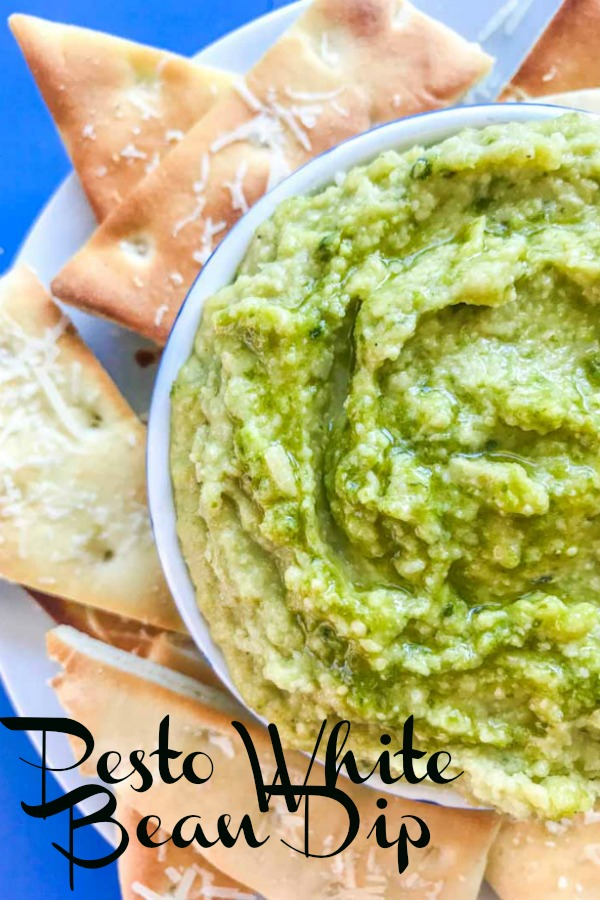 Pesto White Bean Dip Recipe
Ingredients:
1 (15 ounce) can cannellini beans, drained and rinsed
1/4 cup prepared pesto
1/4 cup extra virgin olive oil
3 cloves garlic peeled
salt and pepper
Parmesan Pita Chips
4 pita bread, cut into wedges

1 tablespoon olive oil

1 garlic clove

1/4 cup shredded parmesan cheese

kosher salt
Instructions
1
Combine cannellini beans, pesto, olive oil and garlic in a food processor. Process until smooth. Season to taste with salt and pepper.

2
To make pita chips: Turn on oven broiler. Brush pita wedges with olive oil and broil for 1 - 2 minutes or until slightly browned. Remove from oven rub with garlic clove. Sprinkle with Parmesan cheese and salt. Broil for 1 more minute or until golden brown.
Nutrition information
Amount per serving: 6 servings
Calories: 329 , Total Fat: 10.4g , Saturated Fat: 1.5g , Sodium: 27mg , Carbohydrates: 44.2g , Fiber: 17.8g , Sugar: 1.7g , Protein: 17.3g