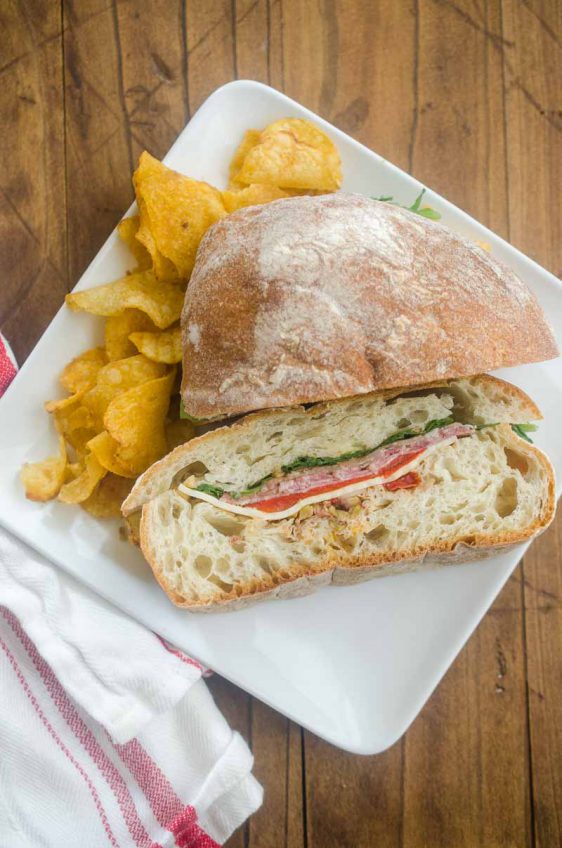 Italian Pressed Sandwiches
Italian pressed sandwiches are hearty sandwiches loaded with great Italian ingredients and seasonings. Perfect for picnics, game day parties, or any day ending with "y".
You'd think that now that it is fall, picnic days would be over. In my mind though, there are still plenty of days left for picnics because fall picnics are the best. The cooler weather. The changing leaves against the bright blue skies. I think it makes for perfect picnic weather. What else makes the perfect picnic? The perfect picnic sandwich. And by perfect picnic sandwich, I mean Italian Pressed Sandwiches.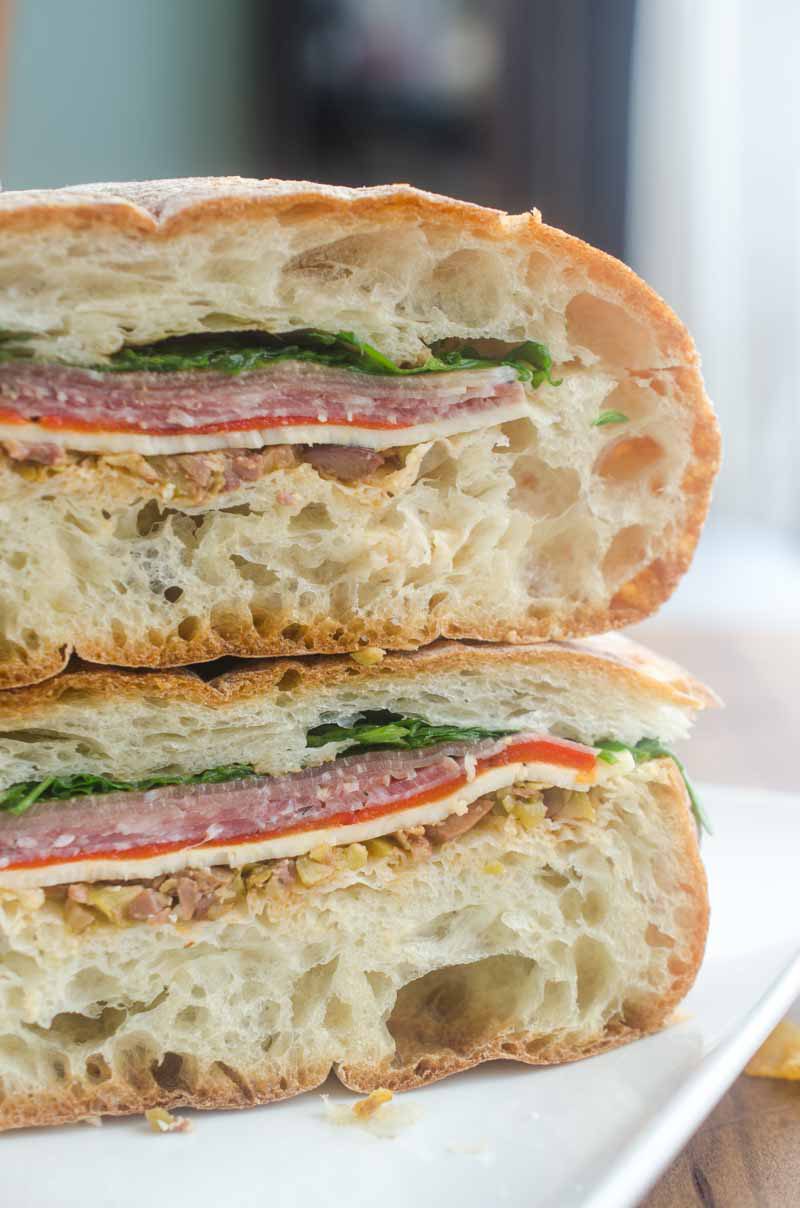 I must admit that I am not a huge sub sandwich fan. Those sandwich places that you see commercials for all over the TV? Yeah, they are the last place I want to go when we are looking for somewhere to eat. I don't know what it is, I've just never really been a fan.
Italian sandwiches, on the other hand, I am all about those.
It starts with the bread. It HAS to be crusty. Think cibatta or pugliese. The second most important thing is the meats. An Italian sandwich is all about the meats. This sandwich has capicola, calabrese and proscuitto. You can easily substitute hard salami, ham, sopressata or even pepperoni. Whatever suits your fancy. Whatever you do, do a combo, 3 is usually a good number.
Next up is the cheese. I love provolone on an Italian sandwich but you also can't go wrong with mozzarella. Like ever.
Finally you get all the finishing toppings like the herbs, dressing and my favorite part, the olive tapenade.
Mmmm…olive tapenade. Briney, salty goodness right there. You can usually find it in the deli section of your grocery store. Some store-bought versions can be a little on the bitter side so you might have to shop around until you find one that you love.
Everything, I've mentioned above makes a delicious Italian sandwich, but Italian pressed sandwiches are even better.
What are Italian pressed sandwiches you ask? First, you take all of that goodness, the bread, the meats, the cheese, the veggies, the herbs and tapenade and wrap it tightly in plastic wrap. Then you place it in the fridge with a heavy pan, think cast iron skillet, on top. This makes all of those delicious flavors come together and make even more scrumptious flavor babies, resulting in one of the best picnic sandwiches ever to grace a picnic table.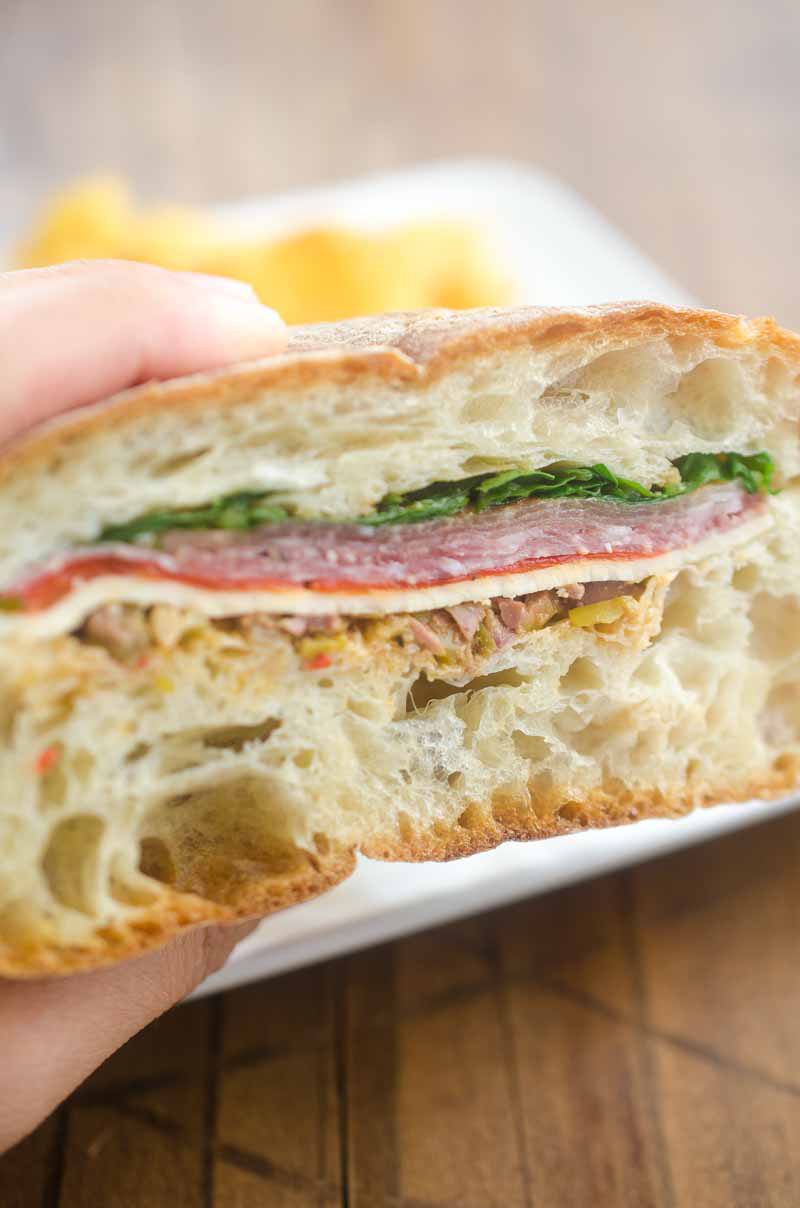 Or a game day table. Which is where these Italian pressed sandwiches have been for the last two Sundays in a row. Now, it's time for them to be on yours.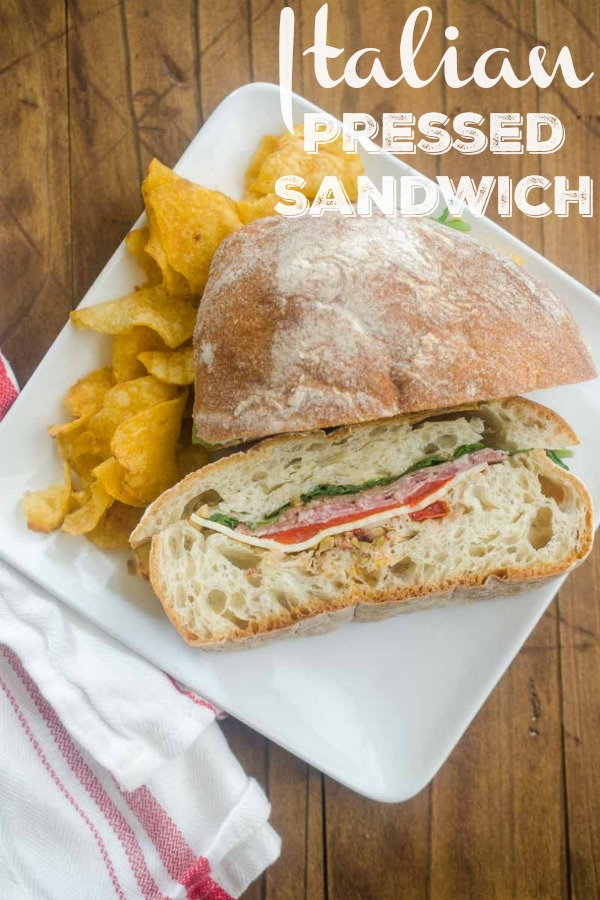 Italian Pressed Sandwiches Recipe
Ingredients:
1 red bell pepper, halved, seeds and veins removed
2 tablespoons olive oil
1 tablespoon balsamic vinegar
1 clove garlic, minced
1 teaspoon dijon mustard
1 loaf crusty Italian bread (ie cibatta) cut in half lengthwise
1/2 cup olive tapenade
4 - 5 slices provolone cheese
8 slices capicola or hard salami
8 slices calabrese or sopressata
4 slices proscuitto
1/2 cup chopped fresh parsley
1 cup baby arugula
Instructions
1
Roast the red pepper. Turn on oven broiler and broil red pepper until the skin starts to blacken. About 5 minutes. Remove from oven, allow to cool and slice.

2
In a bowl, mix together olive oil, balsamic vinegar, garlic and dijon mustard. Set aside while you prepare the sandwich.

3
Spread the olive tapenade on the bottom half bread. Place the rest of the toppings, in the following order, on top: provolone cheese, roasted red pepper, capicola, calabrese, proscuitto, parsley and arugula. Drizzle the olive oil/balsamic dressing over the top. Place the top half of the loaf on top. Wrap entire sandwich tightly in plastic wrap. Place in the refrigerator and place a heavy bottom skillet, such as cast iron, on top of the sandwich. Allow to set for at least 1 hour.

4
Slice sandwich into 8 - 10 pieces and serve.