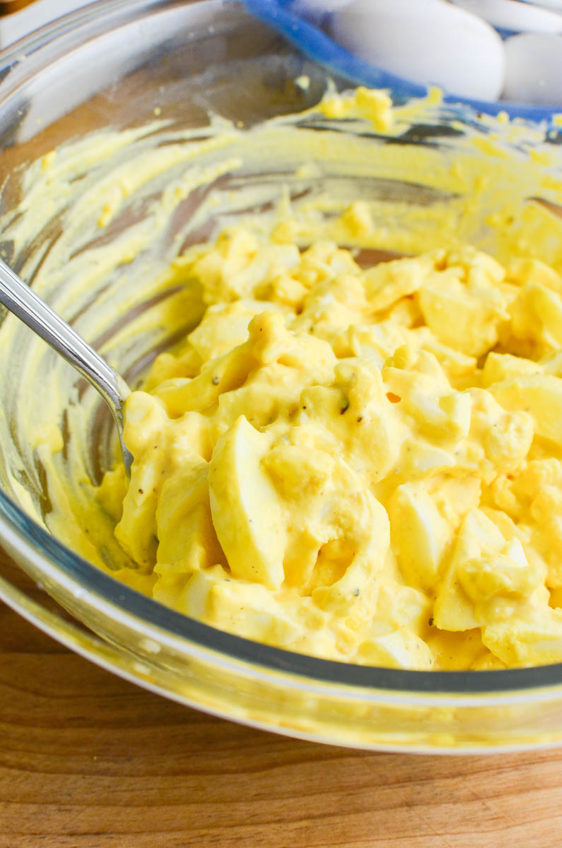 Classic Egg Salad
Classic egg salad, made with fresh eggs, mayonnaise, mustard, salt, pepper and a hint of garlic. This simple classic is great on sandwiches, toast or lettuce.
There are certain recipes that are classics. Recipes that everyone has made one time or another. Recipes that, simply put, don't need anything fancy to make them good. Classic Egg salad is one of those.
Don't overcomplicate it! This recipe needs just a few basic ingredients and you're good to go.
What ingredients do you need?
HARDBOILED EGGS: Obviously. I like to work with the eggs cool so if you're hard boiling them right before making, give them a chance to cool off before you start chopping them.
MAYONNAISE: Guys. I only use Best Foods mayo. For you East Coasters it's Hellman's. Don't use Miracle Whip here. It's too sweet for this!
YELLOW MUSTARD: Stick to the basic here too. Specialty mustards have their place but it's not in a classic egg salad sandwich. Yellow mustard gives you just the right amount of tang and color that you're looking for.
SALT, PEPPER AND GARLIC: These are all the seasonings that you need. Again, we're keeping it simple here.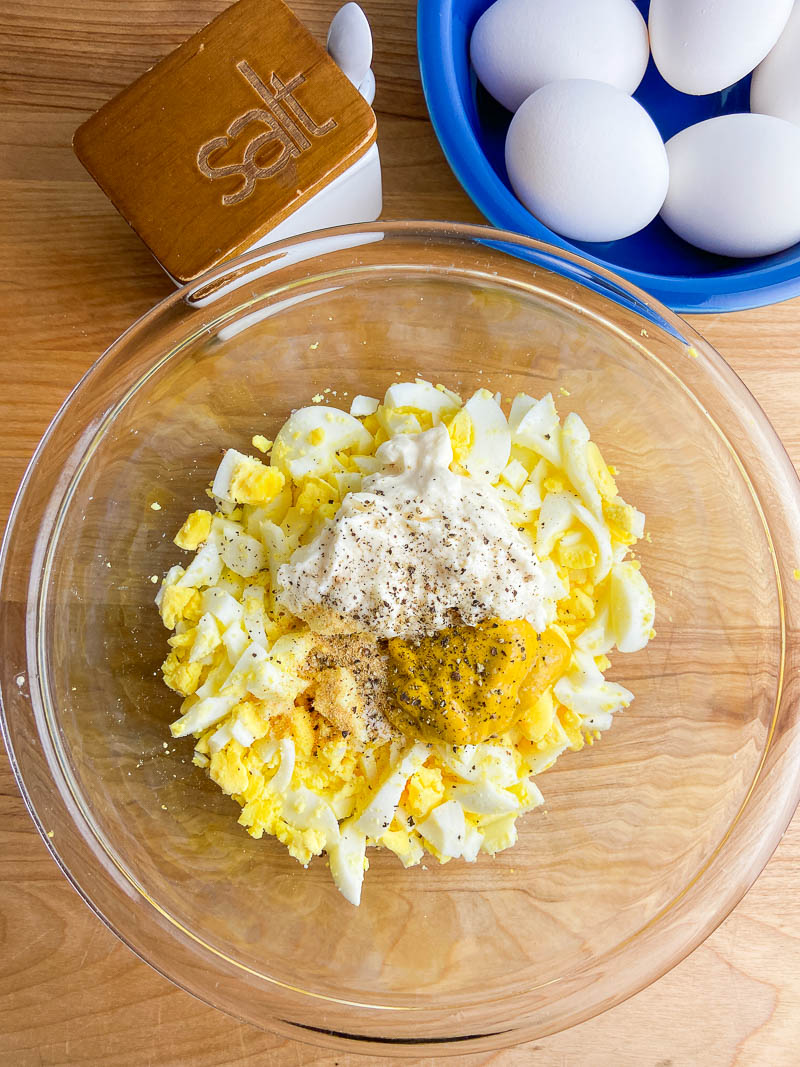 STEPS FOR MAKING EGG SALAD: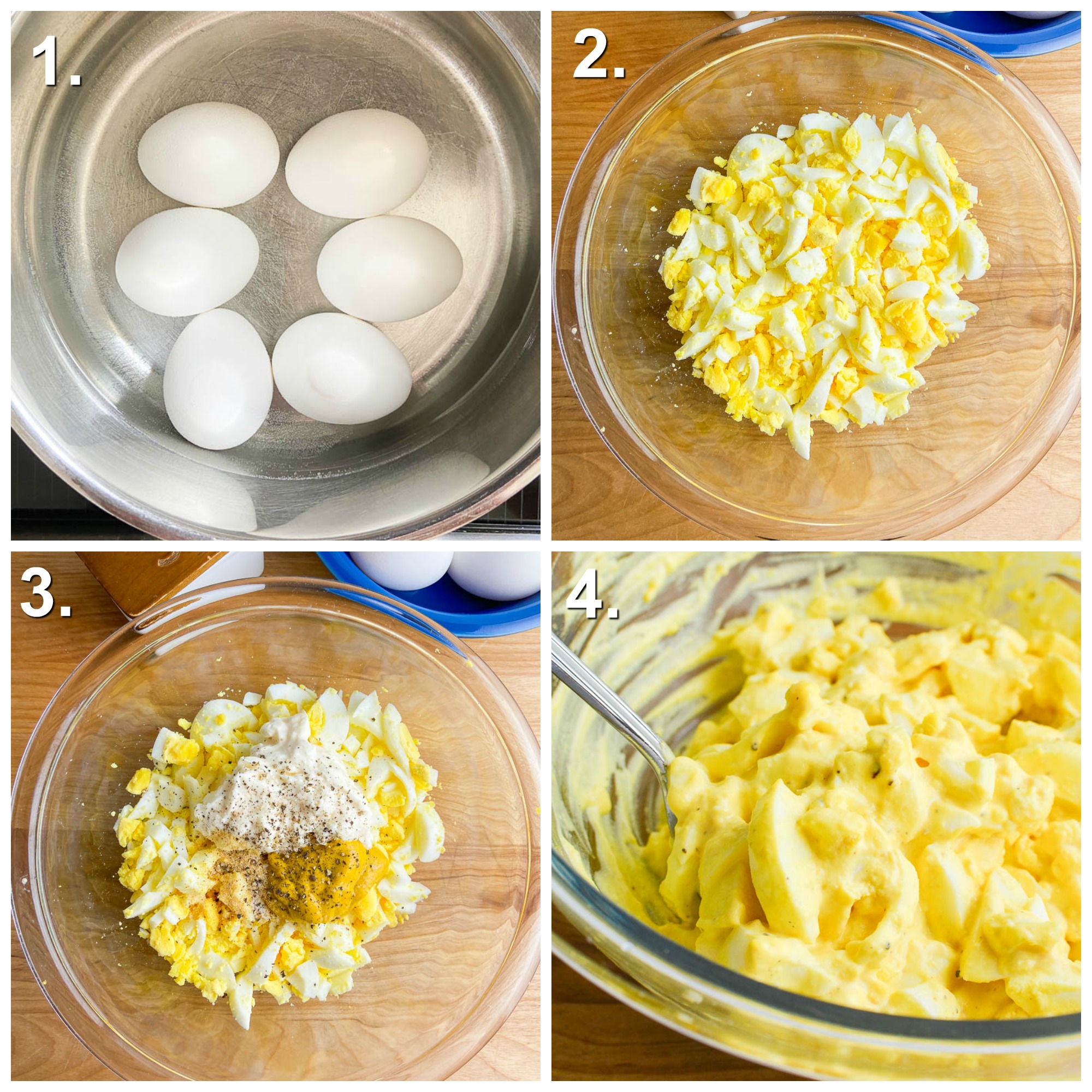 STEP #1: Hard boil the eggs. You can do this ahead of time if you like. If you make them right before cooking just make sure to chill them first. Egg salad is best served cold.
STEP #2: Chop the eggs. I chop them all together, yolk and all. You can smash them too if you want things a bit chunkier.
STEP #3: Add in mayonnaise, mustard, salt, pepper and garlic powder and mix well.
STEP #4: Allow to chill about 30 minutes so that the flavors have a chance to meld.
My absolute favorite way to serve egg salad is on soft white bread. It is one of my all time favorite sandwiches and my family's too. You can also serve egg salad on top of lettuce, in a wrap or on toast for breakfast!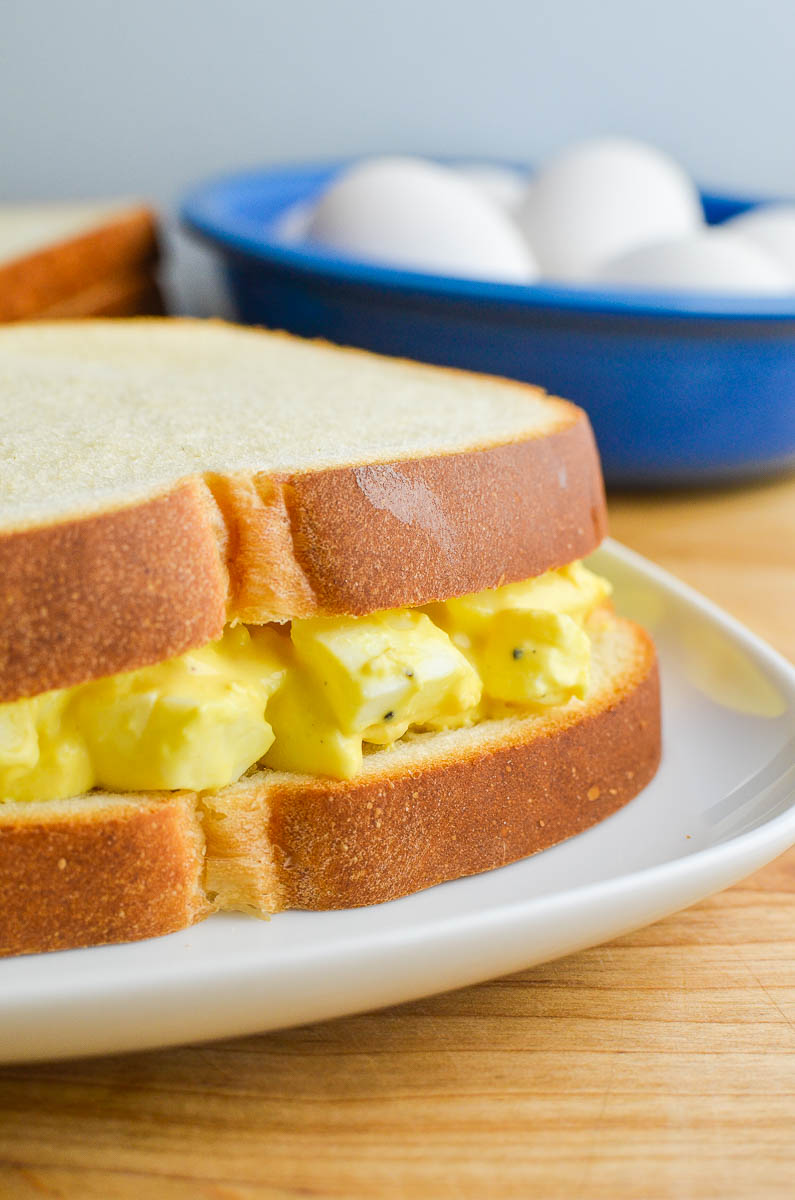 We like our sandwiches pretty full so this recipe will make enough for about two. It can easily be doubled though!
Can you make this ahead of time?
Absolutely! I find it even better the next day. It will stay fresh in your refrigerator for a few days.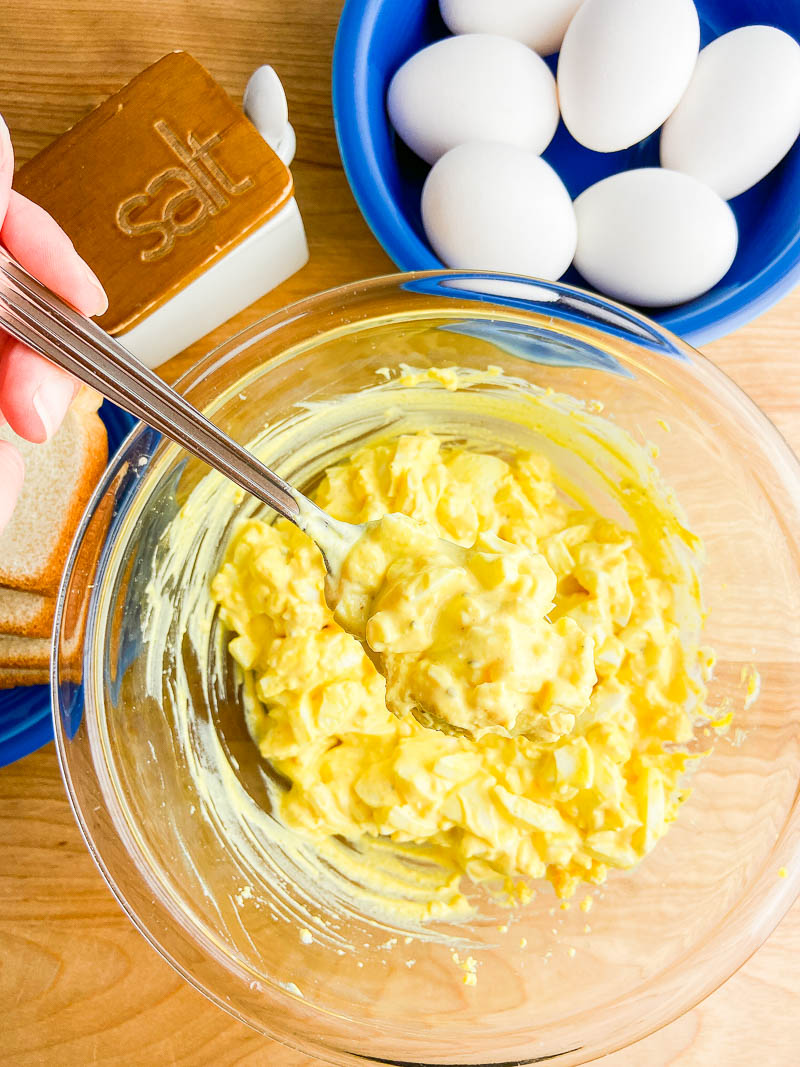 Have some hard boiled eggs that you need to use? Check out these recipes:
Spinach Salad with Bacon Dressing
Crispy Chickpea and Arugula Salad
Chef Salad from Lemon Tree Dwelling
Looking for more sandwich recipes? Here are some of my favorite sandwich recipes!
Note: this recipe was originally posted in 2009. It was updated with new photos and tips in 2020.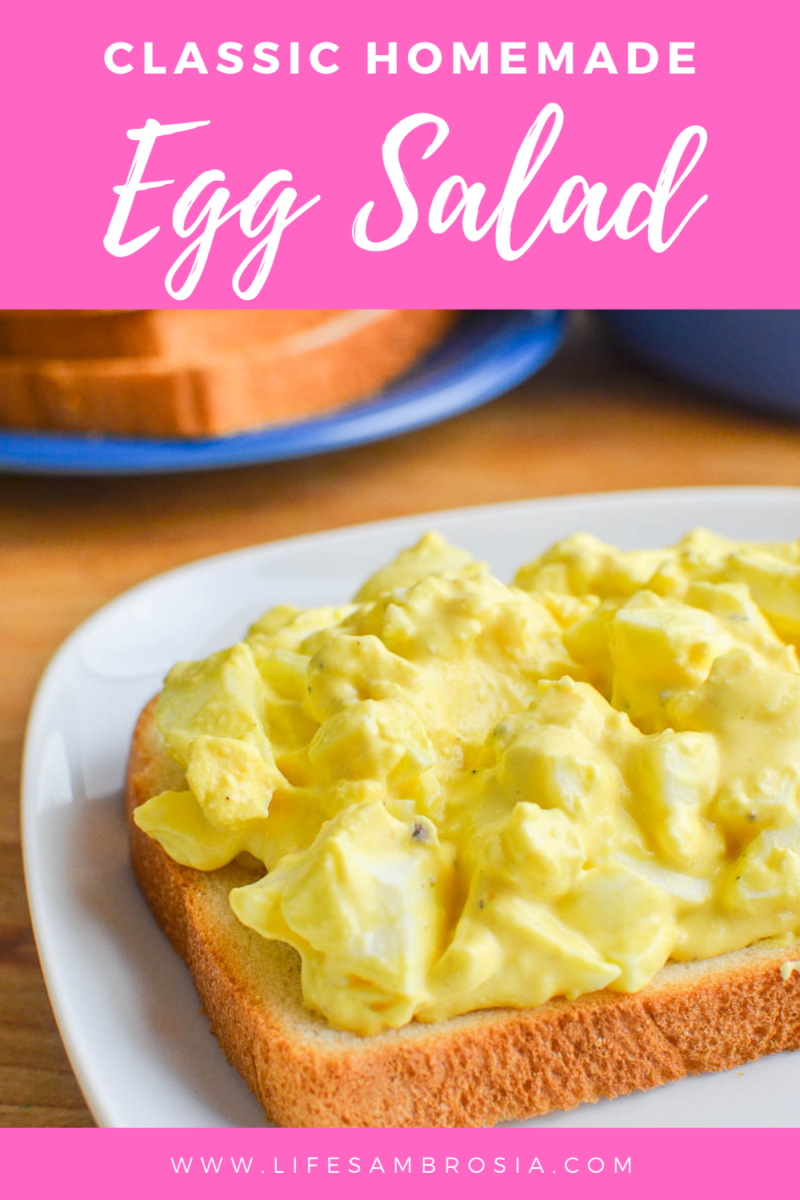 Classic Egg Salad
An egg salad sandwich, made with fresh eggs and real mayonnaise, is the perfect picnic sandwich or back to school lunch box meal. Get the easy recipe here!
Chop whole eggs (white and yolk). Mix together with mustard, mayonnaise and garlic powder. Season to taste with salt and pepper. Chill for about 20 minutes.

Spoon onto a slice of bread, top with red onion and lettuce if desired. Top with another slice of bread. Serve.
Nutrition facts for estimation purposes only.
Calories:
282
kcal
Carbohydrates:
7.2
g
Protein:
17.3
g
Fat:
20.8
g
Saturated Fat:
5.2
g
Cholesterol:
497
mg
Sodium:
430
mg
Fiber:
0.3
g
Sugar:
2.7
g
Keywords:
ciabatta bread, egg, egg salad, Food, garlic powder, hardboiled eggs, lunch, mayonnaise, mustard, pepper, Recipe, salt, sandwich, school lunch