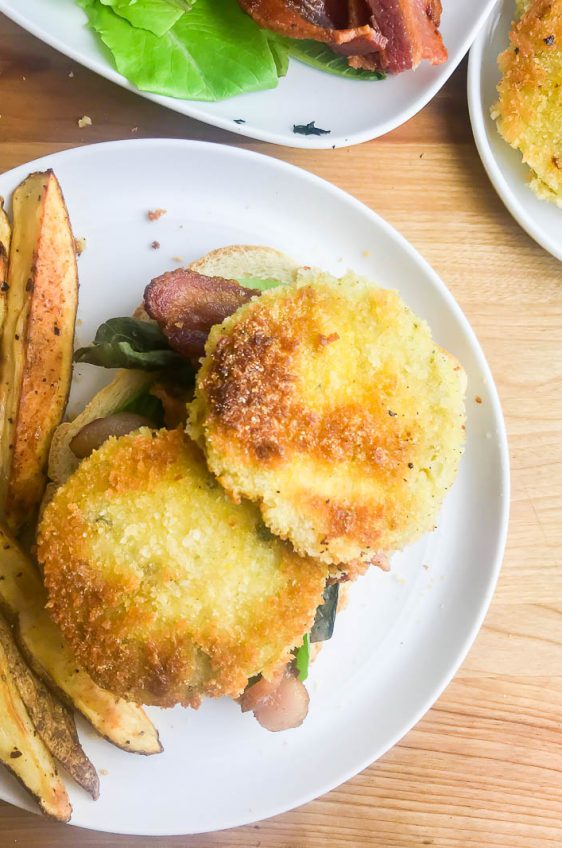 Fried Green Tomato BLT Sandwich
A fried green tomato BLT combines two classic foods into one comfort food sandwich. Fried green tomatoes and a bacon, lettuce and tomato sandwich become an epic Fried Green Tomato BLT. Topped with Cajun mayo spread, this will become your new favorite sandwich recipe!
When I first moved to Seattle, someone told me that I would never be able to grow tomatoes. I remember one year I couldn't. It was pretty bad actually. I maybe had about 10 tomatoes between 4 plants. Sad, right?
Well this year, the tomato force is strong. I am picking at least 30 tomatoes a day. We've got sun golds, sweet 100s and beef steak. They are not showing any sign of slowing down, either. I have no idea what I am going to do with all of them.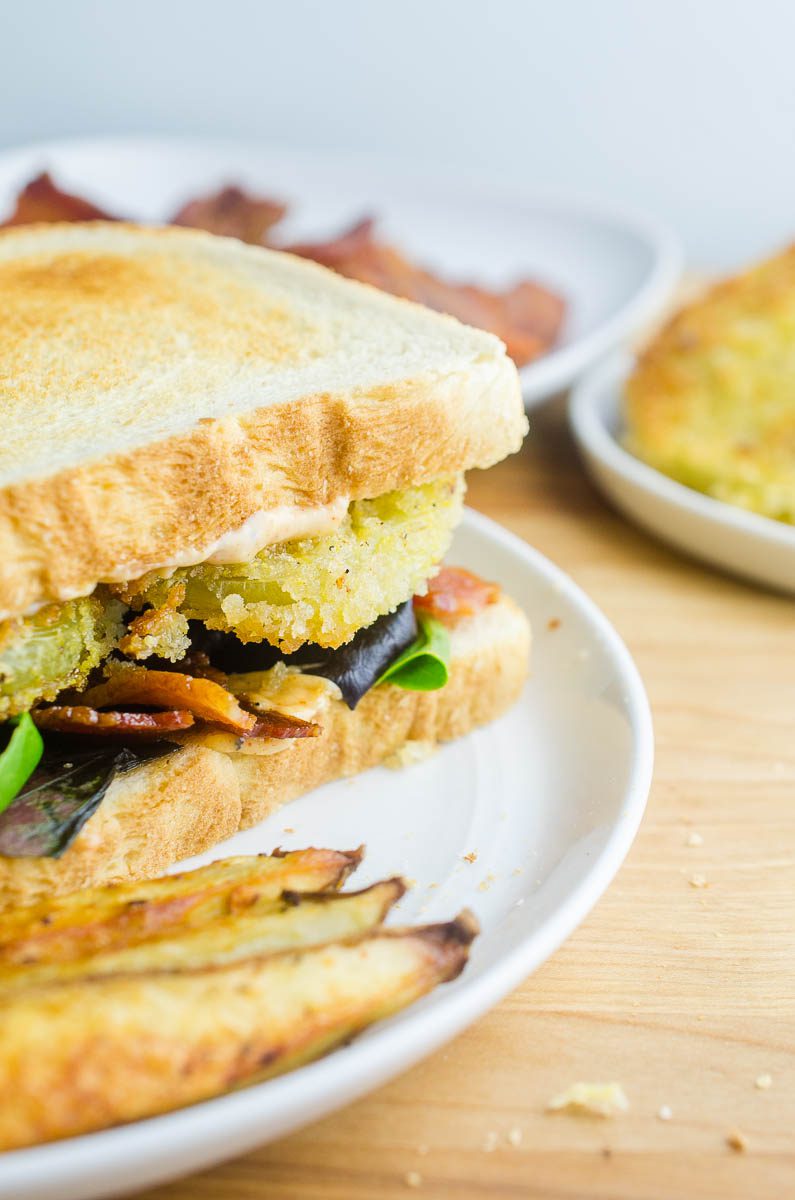 And obviously, I've been picking some green ones so that I can make my summer time favorite: fried green tomatoes.
Nothing beats a perfectly, golden fried green tomato. Except that is, this Fried Green Tomato BLT sandwich.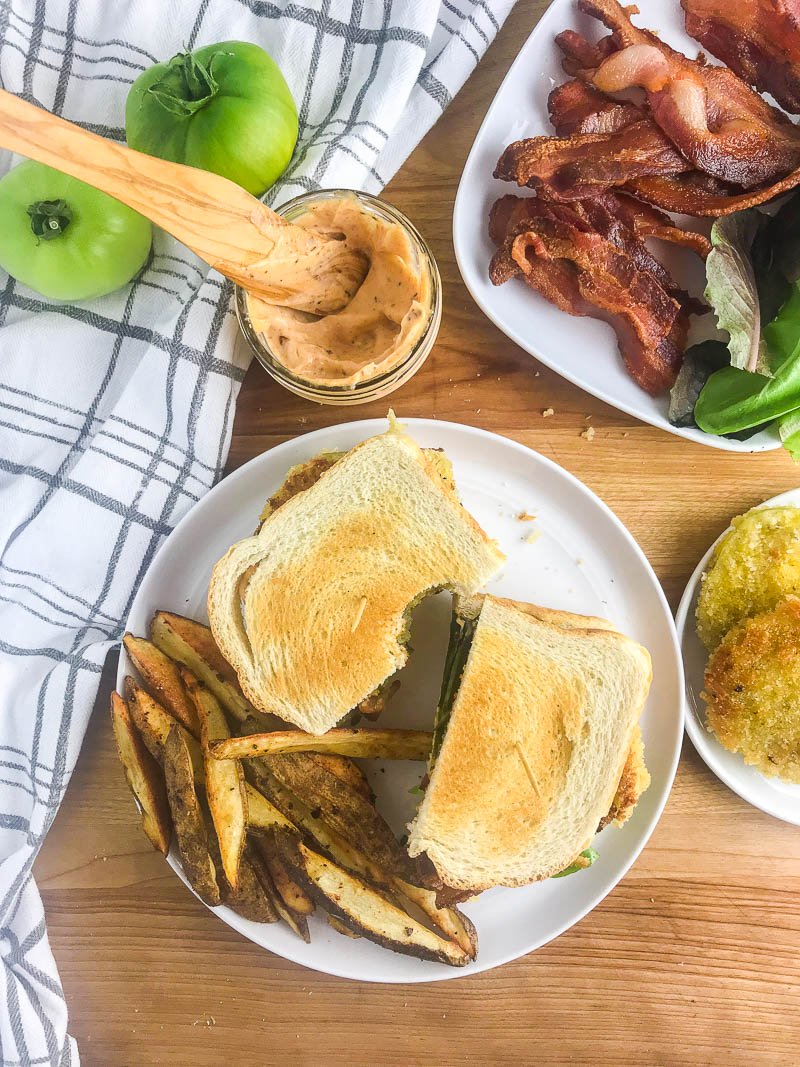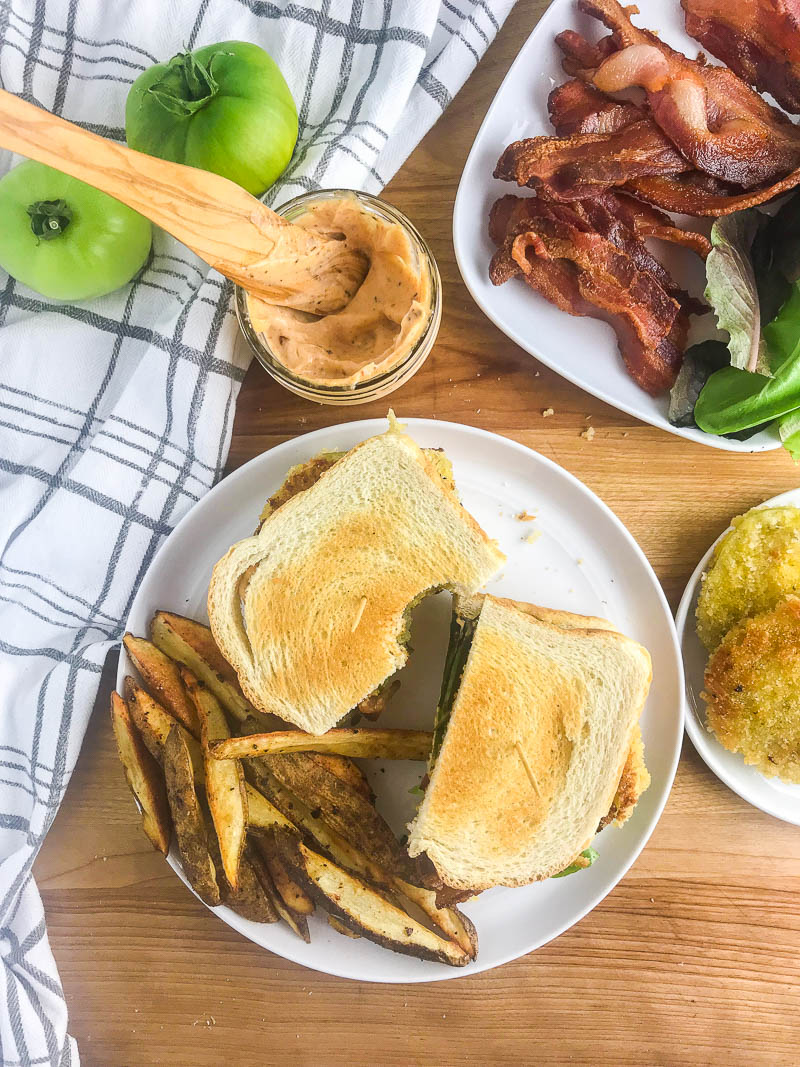 I'm not quite sure why I never thought to make this before. BLTs have always been one of my favorite sandwiches. And fried green tomatoes have always been a favorite too. I mean, one of the reasons I grow tomatoes is so that I can make fried green tomatoes.
This Fried Green Tomato BLT combines the two. And it is glorious.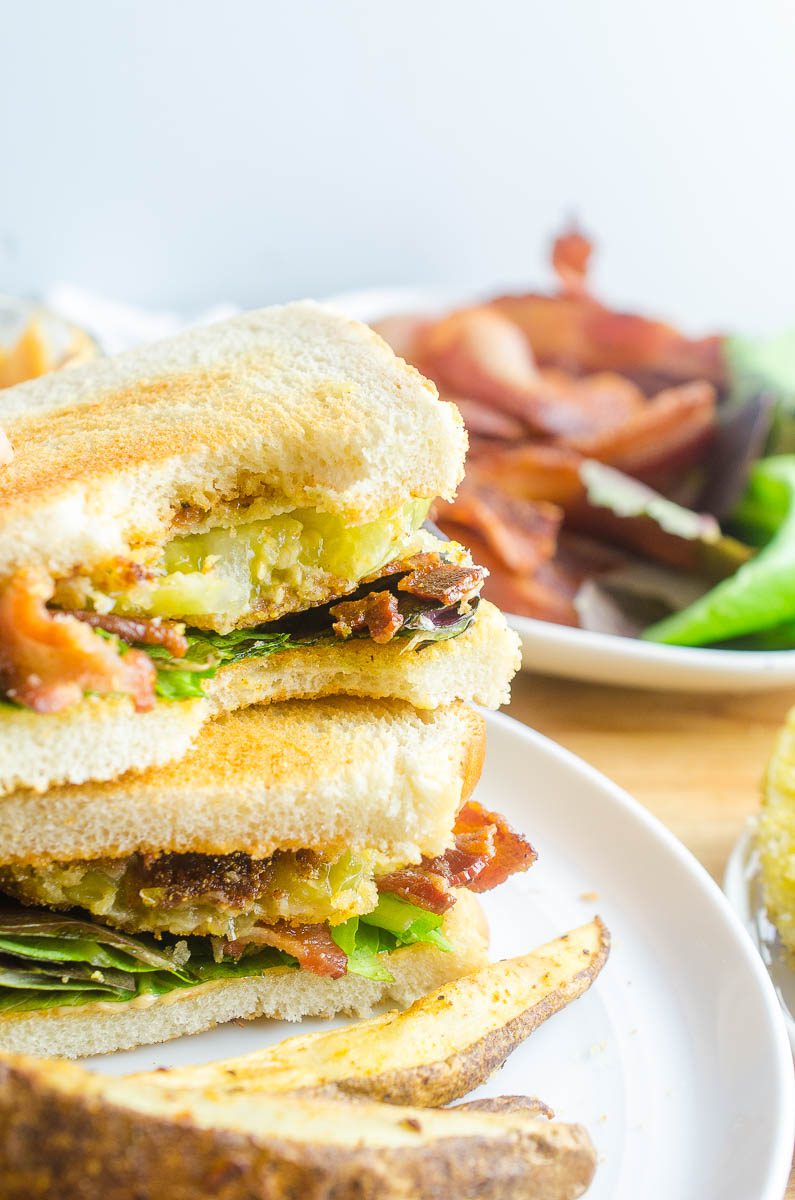 What type of bread should you use to make BLTs?
While making this Fried Green Tomato BLT, I knew I would have the bacon, lettuce and fried green tomatoes. But what about the bread? Well, in my opinion, the best bread to serve with any BLTs, fried green tomato or otherwise, is sour dough. It's big enough to make a hearty sandwich and is perfect toasted.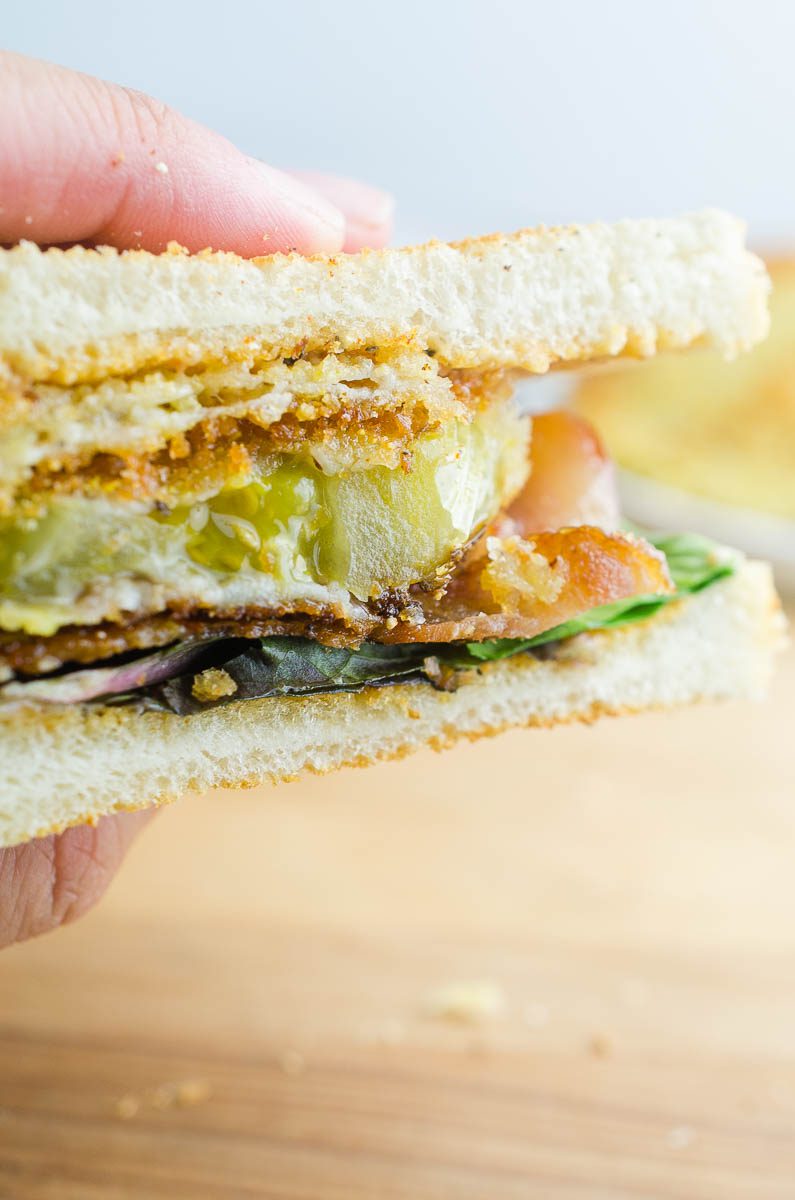 What is the best spread for Fried Green Tomato BLTs?
BLTs must always have mayonnaise in my opinion. That doesn't change with this Fried Green Tomato BLT sandwich. There is still mayonnaise, but instead of the traditional mayonnaise, I decided to give it a little kick with some cajun seasoning.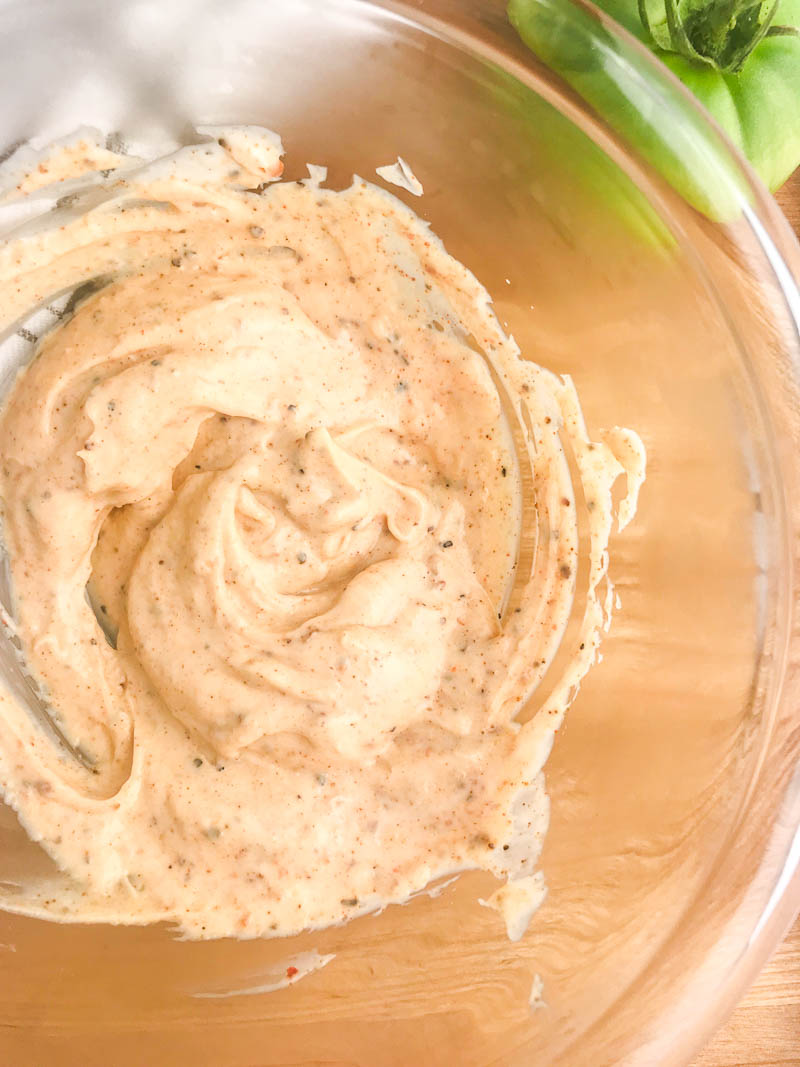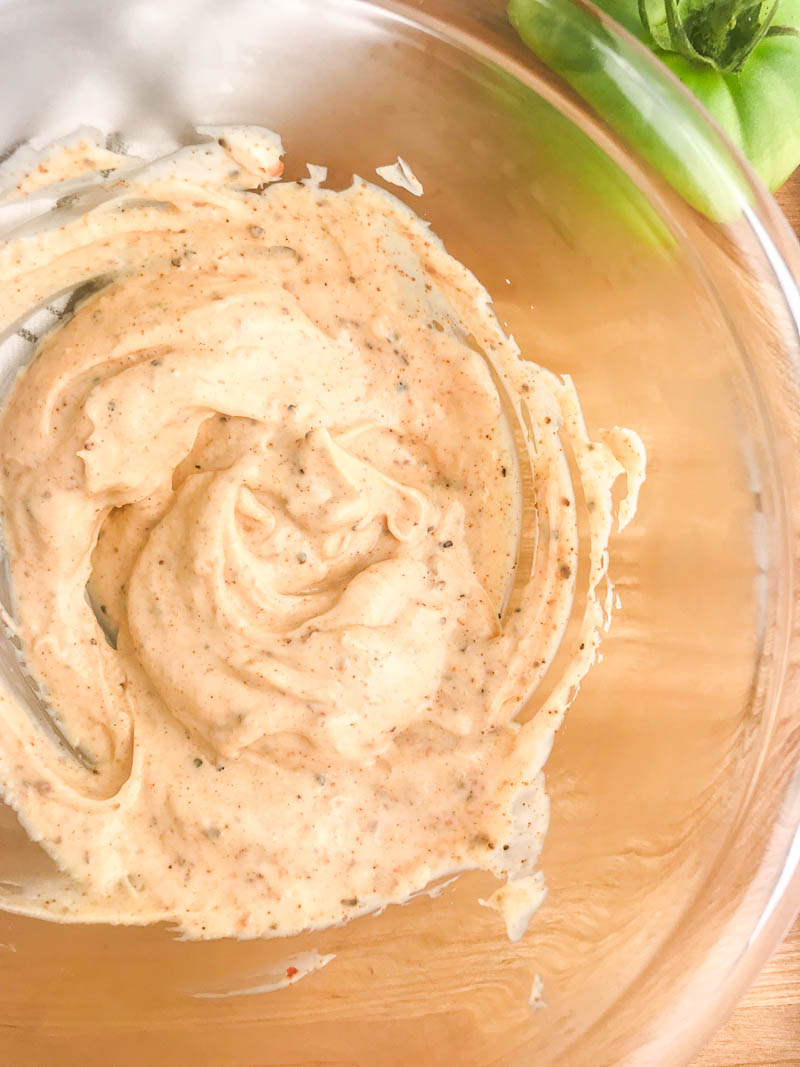 To make cajun mayonnaise, simply combine your favorite mayo (HELLO BEST FOOD'S) and your favorite Cajun Seasoning. And voila! Cajun mayo. It's great on these sandwiches as well as with fries.
This sandwich is so good, friends. SO. GOOD. So don't fret if you've got a ton of green tomatoes on your plants as summer draws to a close. You can make this sandwich over and over and over again.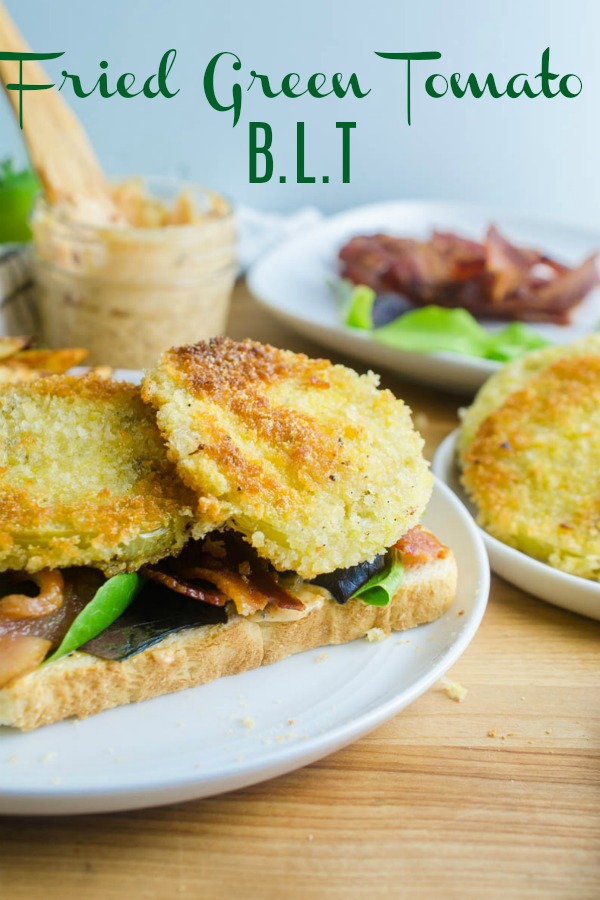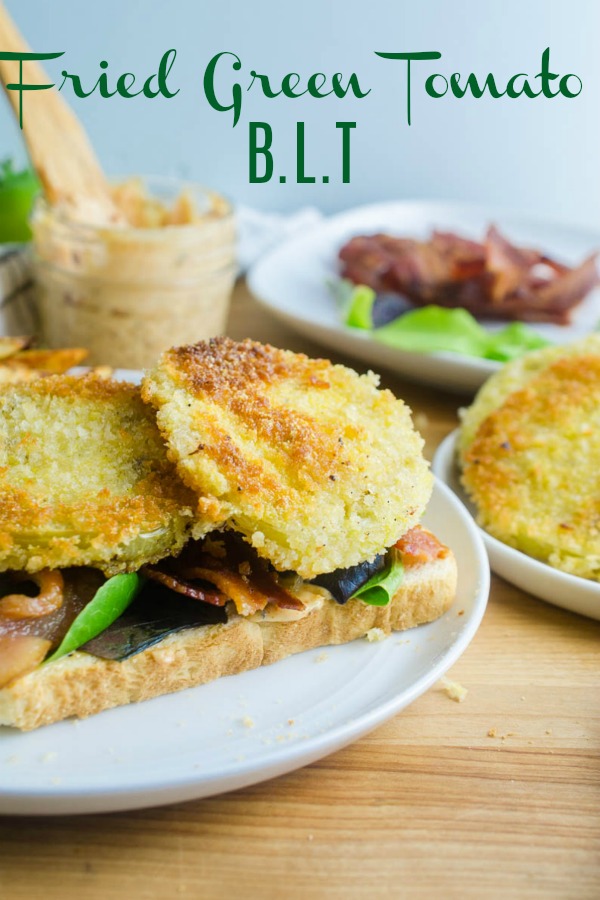 And you're totally going to want to.
Have lots of summer tomatoes to use? Try these other tomato recipes:
Fried Green Tomatoes are a classic southern recipe. Looking for more southern recipes? Try these!
Note: This recipe was originally posted 2016. It was updated in 2019 new tips, photos, nutrition facts and a video.
Fried Green Tomato BLT Sandwich Recipe
Ingredients:
8 slices bacon, reserve pan drippings
2 medium (or 4 small green tomatoes) sliced 1/4 inch thick
1/2 cup all purpose flour
2 eggs, beaten
1/2 cup yellow corn meal
1/2 cup panko bread crumbs
1 teaspoon kosher salt
2 tablespoons canola oil
lettuce
8 slices sourdough bread
Cajun Mayonnaise
1/2 cup mayonnaise

2 teaspoons Cajun seasoning
Instructions
1
Cook bacon until browned and cooked through. Reserve 1 tablespoon pan drippings.

2
While bacon is cooking set up an assembly line to prepare the tomatoes. Place flour on one plate. Whisk egg in a bowl. Combine panko bread crumbs and cornmeal on another plate.

3
Dredge the tomatoes in the flour, dip in the egg and then dredge in the panko bread crumbs/cornmeal. Continue until all tomatoes are coated.

4
Transfer bacon to a paper towel lined plate and loosely cover to keep warm.

5
Heat reserved pan drippings with canola oil over medium heat. Fry tomatoes, in batches if necessary, until golden brown about 2 minutes per side. Transfer to a paper towel lined plate and sprinkle lightly with salt. Repeat until all tomatoes are fried.

7
Make the Cajun mayonnaise by whisking together Cajun seasoning and mayonnaise.

8
To assemble the sandwiches: Spread cajun seasoning on the toasted bread, lay 2 - 3 fried green tomatoes on the bottom slice, top with bacon and lettuce. Repeat until 4 sandwiches are made. Serve immediately.
Nutrition information
Calories: 785 , Total Fat: 37.6g , Saturated Fat: 8.4g , Cholesterol: 131 mg , Sodium: 2248mg , Carbohydrates: 82.6g , Fiber: 4.9g , Sugar: 7.2g , Protein: 30.4g