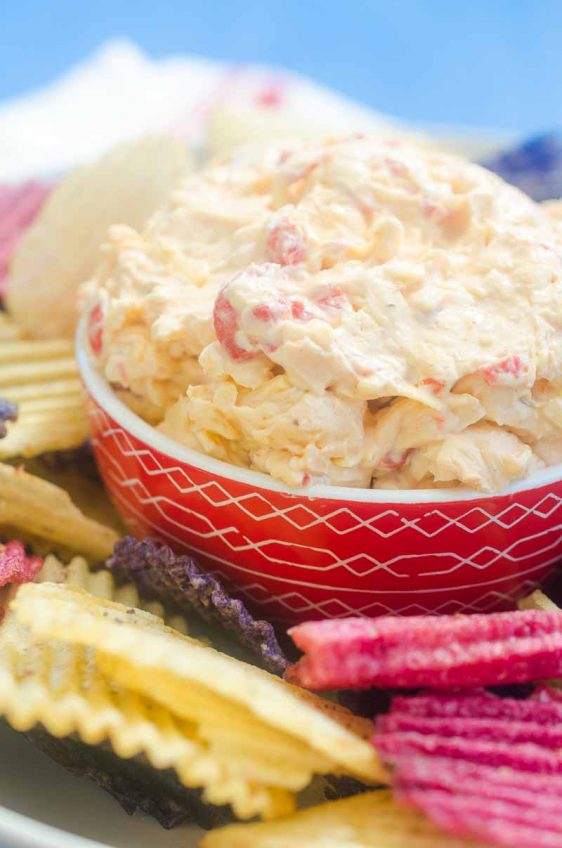 Pimento Cheese
Classic Pimento Cheese gets dressed up with shredded gouda cheese. Spread it on crackers, make a grilled cheese or use it as a dip for chips. 
Do you guys listen to country music? Right now Preston's favorite song is "Dirt on my Boots". And his favorite line is "I can get cleaned up if you ask me, but I can only get so fancy!" That line of the song keeps running through my mind while I think of this pimento cheese recipe.
The recipe gets a little fancy with the use of gouda, but at it's heart, it's still pimento cheese in all it's cream cheese, mayo and pimento glory.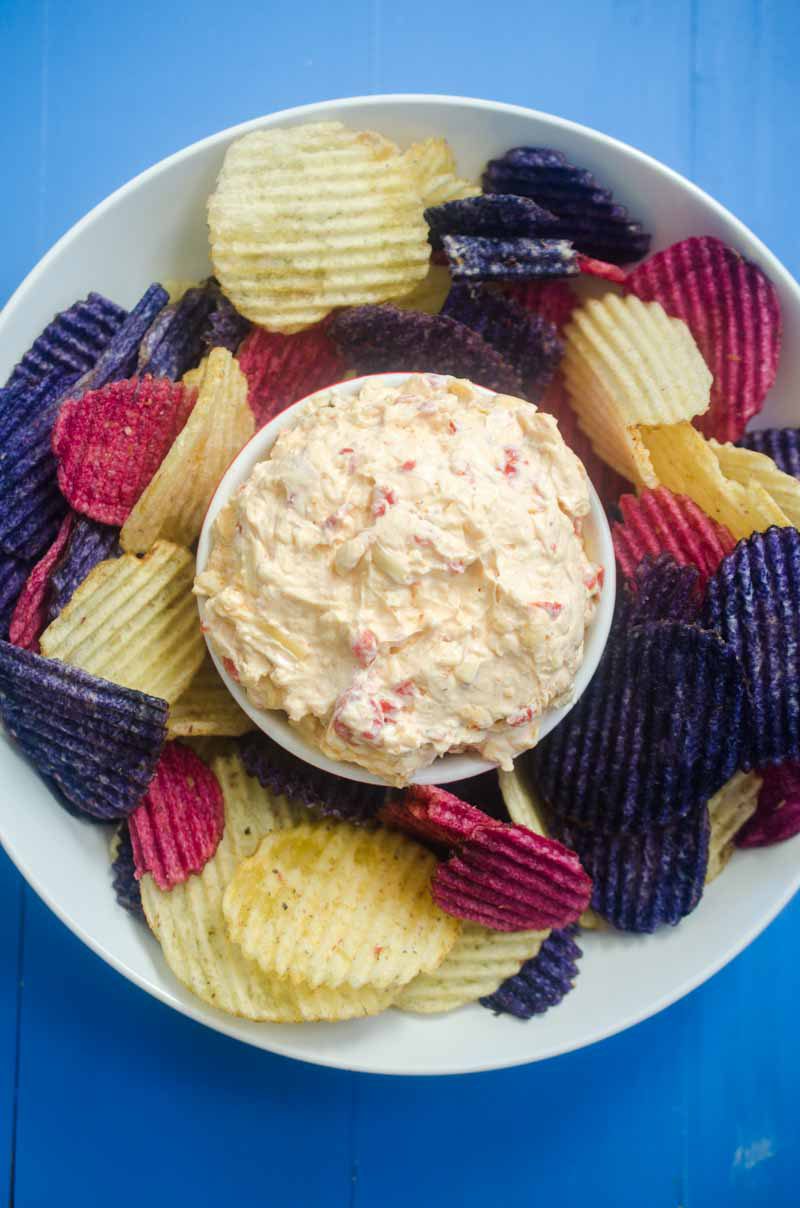 And friends, it is thebomb.com.
Pimento Cheese is a classic. I should say, it's a southern classic. It was never on the table at my PNW BBQs growing up. In fact, I didn't even try it until I was in my 20s. Sad huh?
I had heard of this classic before but honestly each time it came up I would ask myself "What IS pimento cheese?" Basically it is a cheese spread. Many of the recipes out there for pimento cheese involve cheddar, cream cheese, mayonnaise and pimentos. This recipe for pimento cheese is a bit different. The base of it is still the same but instead of medium cheddar, I use sharp cheddar. I also add some gouda cheese.
Because gouda.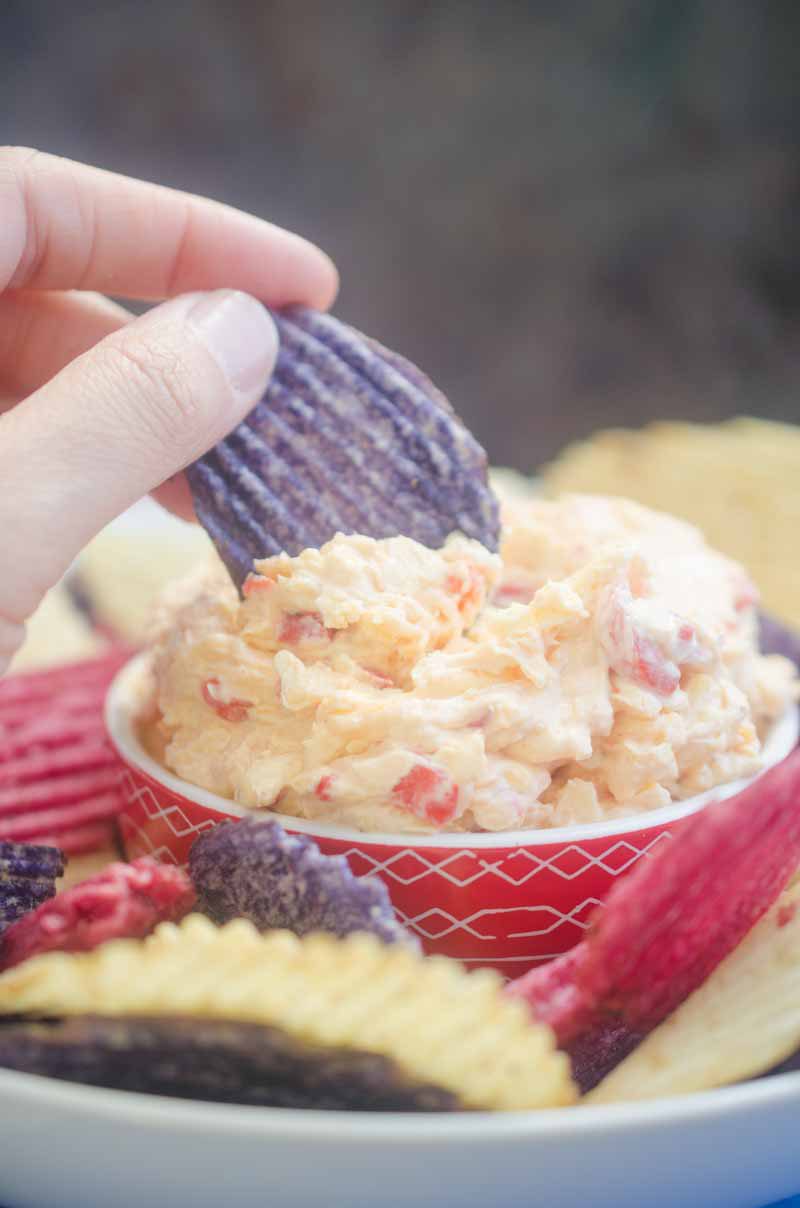 So how do you make pimento cheese? It is so easy. All you need to do is combine all of the cheeses, the mayonnaise and the pimentos together in a bowl and mix well. Then let it chill so all of the flavors have a chance to mingle.
If you're planning on making pimento cheese for a BBQ this summer to go along with your hot dogs and burgers, keep in mind it needs some time for all of the flavors to marry. Make it at least half an hour in advance. Or better yet, give it a day or so in the fridge before serving. It'll be worth the wait.
So what do you serve this cheesy deliciousness with? You can spread it on crackers. You can use it to make an epic grilled cheese. I like to let it sit out for about 20 minutes or so, so that it softens a bit. That way it makes the perfect creamy dip to scoop up with potato chips. Whichever way you choose to eat it, trust me, you're going be a Pimento Cheese fan for life.

Pimento Cheese Recipe
Ingredients:
8 ounces softened cream cheese
1 cup freshly shredded sharp cheddar cheese
1 cup freshly shredded gouda cheese
1/4 cup mayonnaise
1 (4oz) jar pimentos, drained and chopped
3/4 teaspoon granulated garlic
1/2 teaspoon cayenne
pepper to taste
Instructions
1
Combine all ingredients together in a bowl. Mix well. Cover and refrigerate for at least 30 minutes.

2
Serve with crackers or bread. If desired, let warm for 20 minutes before serving to make it easier to dip and scoop.
Nutrition information
Amount per serving: 6 servings
Calories: 390 , Total Fat: 32g , Saturated Fat: 18.6g , Cholesterol: 102mg , Sodium: 571mg , Carbohydrates: 10.7g , Fiber: 1.1g , Sugar: 5.7g , Protein: 16.7g