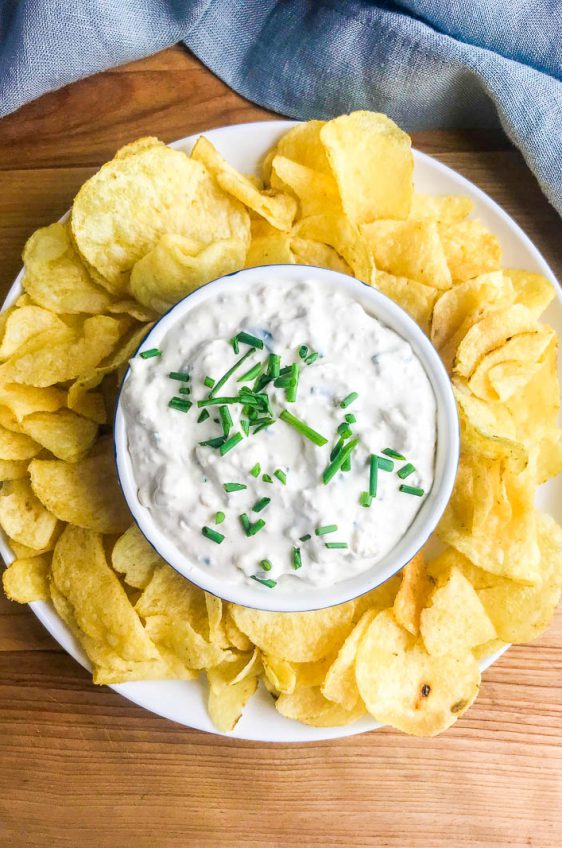 Clam Dip
This classic creamy clam dip is perfect for potlucks, holiday parties and back yard BBQs. It's even better after it sets so it's perfect for making ahead! 
I know it's only April, but it was sunny today and it kind of got me excited. I mean, is anyone else getting antsy for summer BBQs? I cannot wait. I am ready for all of the cookouts.
The BBQ chicken. The pasta salads. And the grilled veggies.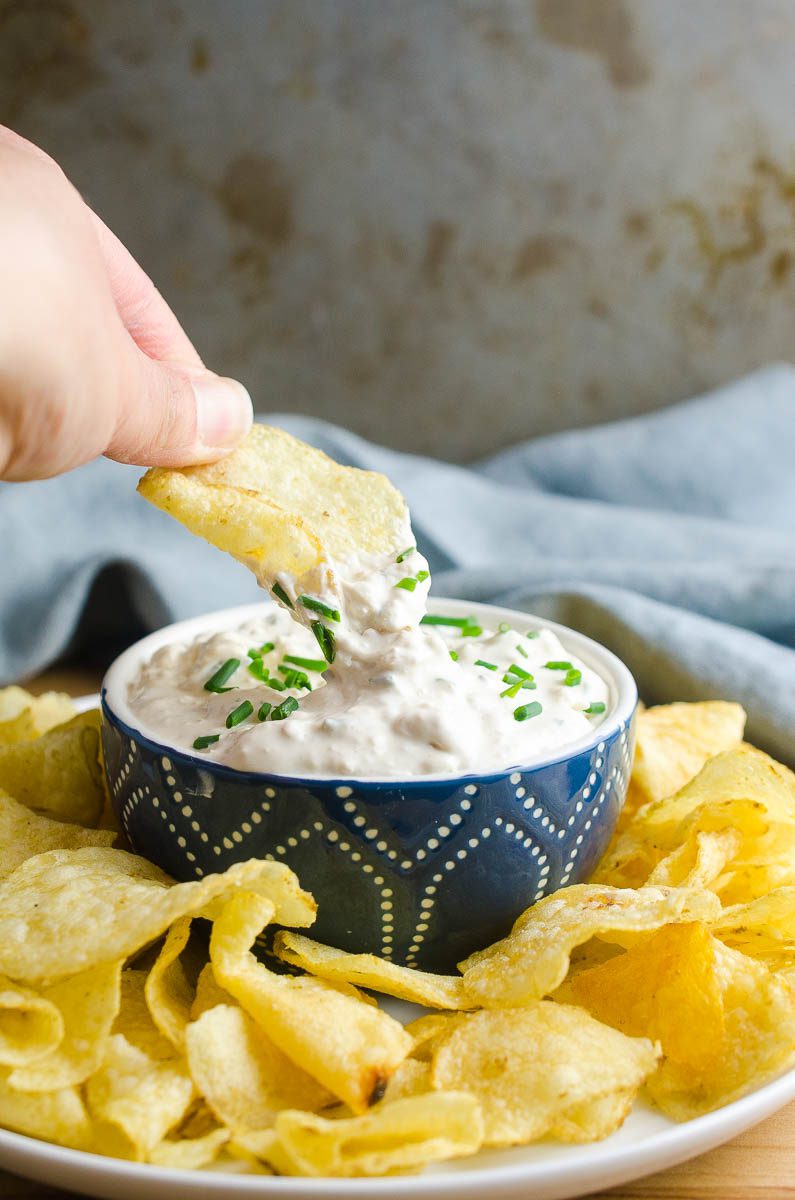 And of course, I am ready for the appetizers. Especially the dips.
When I say dips, I'm not talking about cheesy hot dips. Although Hot Nacho Dip is great when you're having a super bowl party it's not so great for serving during a BBQ because it's best when hot.
In the summer, I look forward to the cold dips. They are usually creamy, or loaded with fresh veggies and go fabulous with potato chips. And if I'm being honest, I spend much of my time hovering over them at BBQs.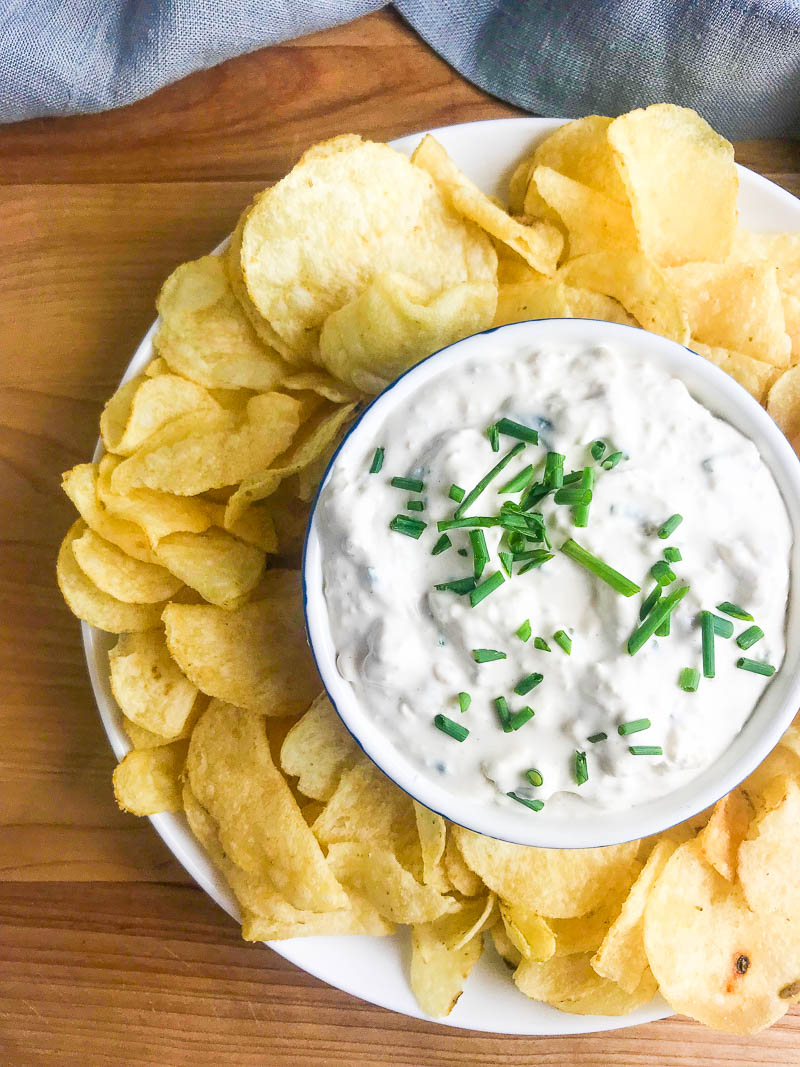 What ingredients do you need for clam dip?
So I got the idea to make this recipe while looking through one of my grandma's old cookbooks.
You know, one of those ones from the 1950s that have some great recipes and some recipes that make you go "holy heck what were they thinking!" I love going through old cookbooks though, its one of my favorite things to do.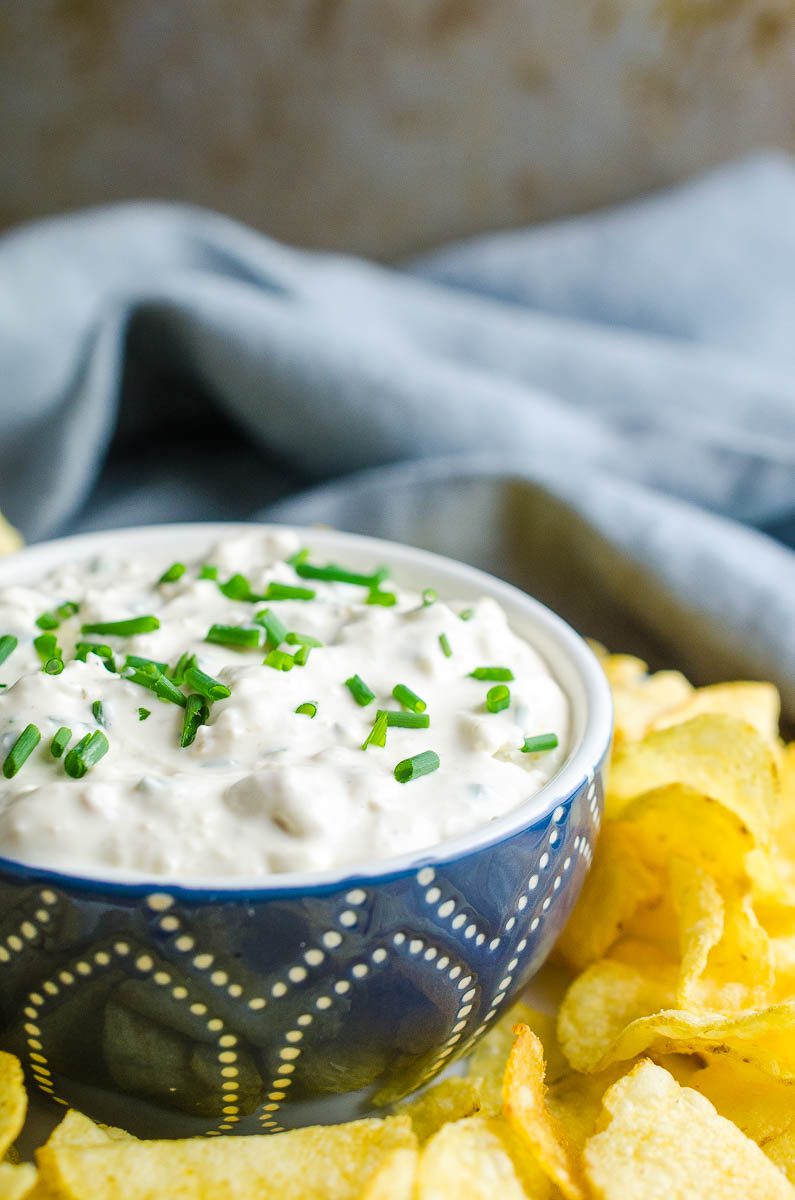 While going through it, I came across a recipe for old fashioned clam dip. I've been wanting to make a clam dip for a long time but just hadn't gotten around to it. The recipe in my grandma's cookbook called for…wait for it…cottage cheese.
Now I do eat cottage cheese from time to time, but I didn't think clam dip was the right time. The other ingredients however: Worcestershire, garlic, hot sauce, salt, pepper and minced or chopped canned clams sounded pretty darn good.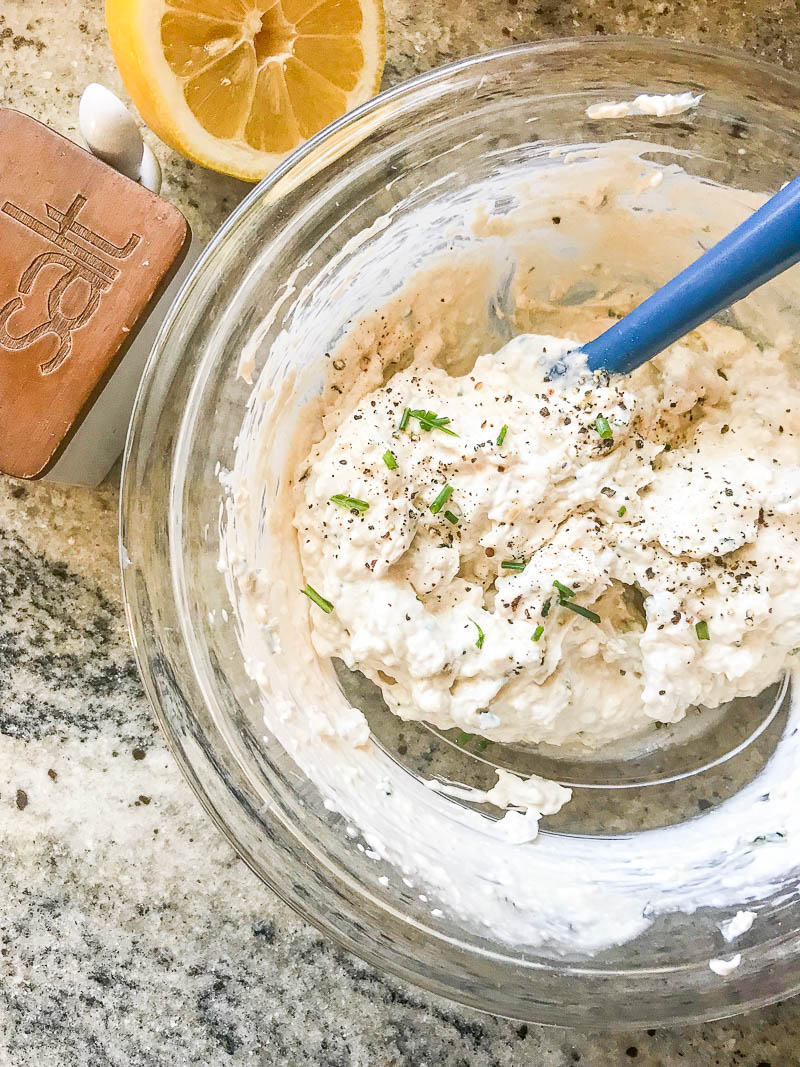 Taking my own liberties the ingredients you need for this clam dip are: cream cheese, sour cream, Worcestershire, garlic, hot sauce, minced clams, chives and lemon. It results in a perfectly creamy and flavorful dip that is PERFECT for BBQs or any party really!
How do you make clam dip?
It seriously could not be easier. Simply whisk all of the ingredients together and let it chill so the flavors have a chance to develop.
I suggest letting it refrigerate for at least 2 hours, however, its even better if you make it a day in advance.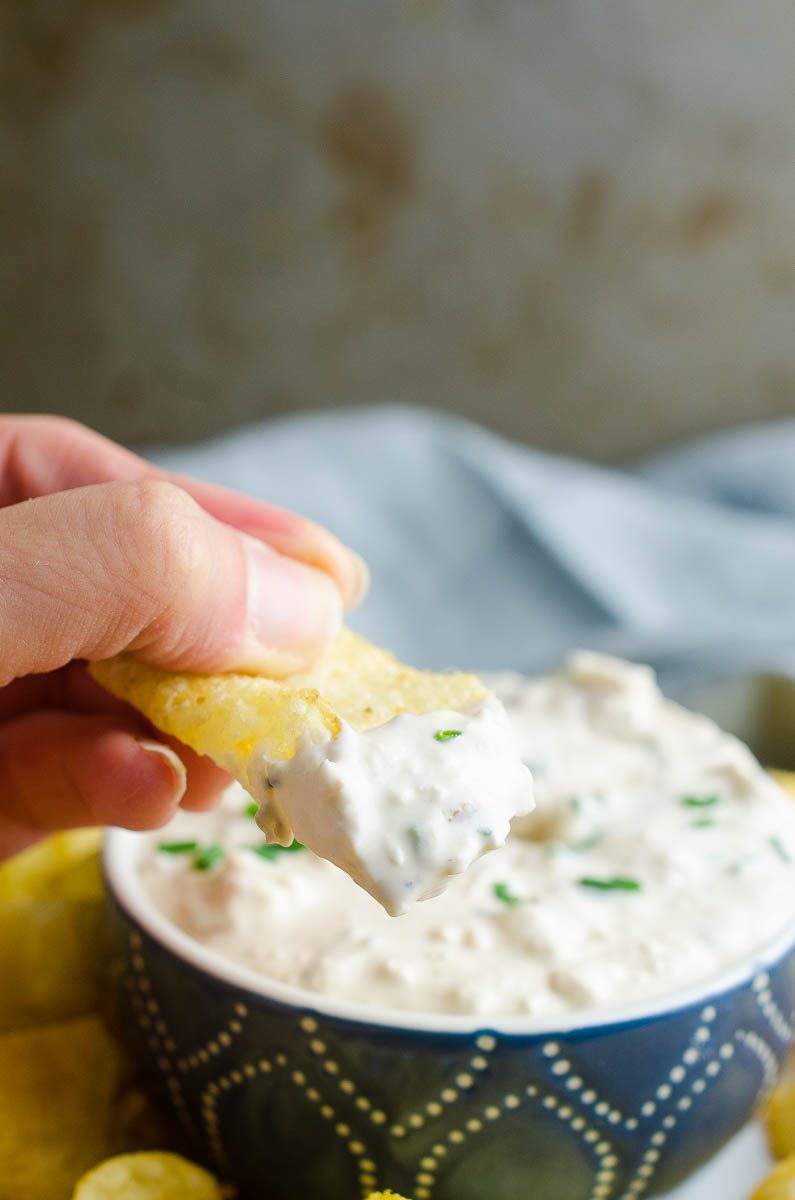 What do you serve with clam dip?
I prefer potato chips! The saltiness of the chips is perfect with the creaminess of the dip. You could also serve it with veggies.
If you're looking for other cold dips to serve at potlucks, BBQs and holiday parties here are some great recipes: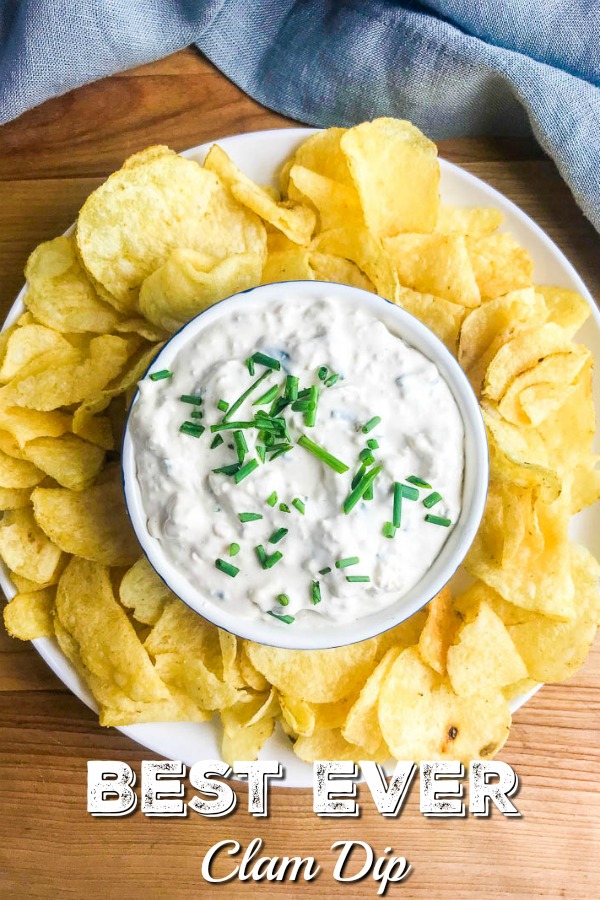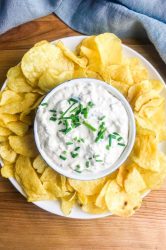 Clam Dip
This classic creamy clam dip is perfect for summer potlucks. It's even better after it sets so it's perfect for making ahead! 
Whisk together all ingredients, except salt and pepper, until mixed well. Season to taste with salt and pepper.

Cover and chill for 2 hours. Season again with salt and pepper if needed.
Nutrition facts not guaranteed.
Calories:
142
kcal
Carbohydrates:
4.1
g
Protein:
2.8
g
Fat:
13
g
Saturated Fat:
8.1
g
Cholesterol:
38
mg
Sodium:
187
mg
Fiber:
0.1
g
Sugar:
1
g
Keywords:
bbq, Dip, potluck, seafood