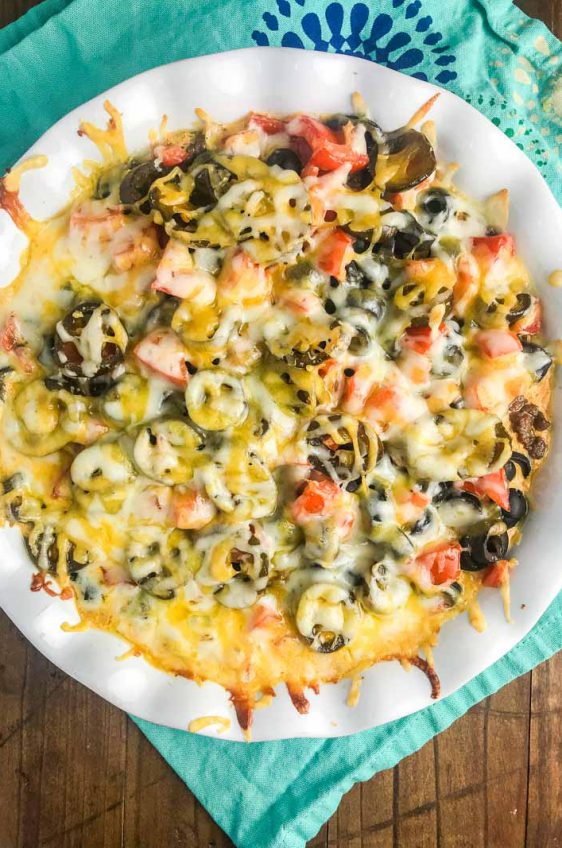 Hot Nacho Dip
Tired of soggy chips?! Ditch traditional nachos and make this Hot Nacho Dip. Layers of refried beans, queso dip, seasoned beef, tomatoes, olives, jalapeños and two kinds of cheese.

Who doesn't love nachos? I mean seriously, what is not to love about a big plate of chips covered with cheese, meat, beans, tomatoes, olives and jalapeños?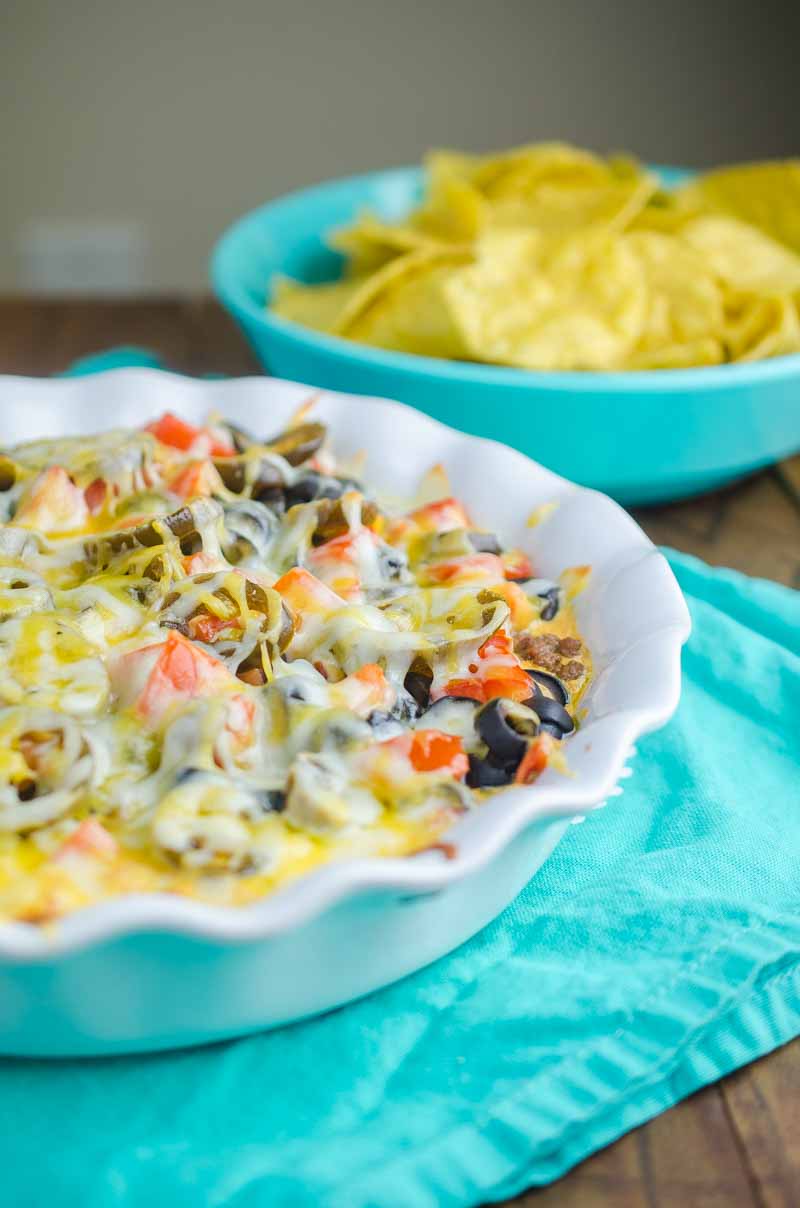 Now, imagine with me for a moment that you remove the chips from the equation and take all of those wonderful goodies that you usually pile on top of the chips, layer everything in a casserole dish and bake until hot and bubbly.
That my friends is what I like to call Hot Nacho Dip.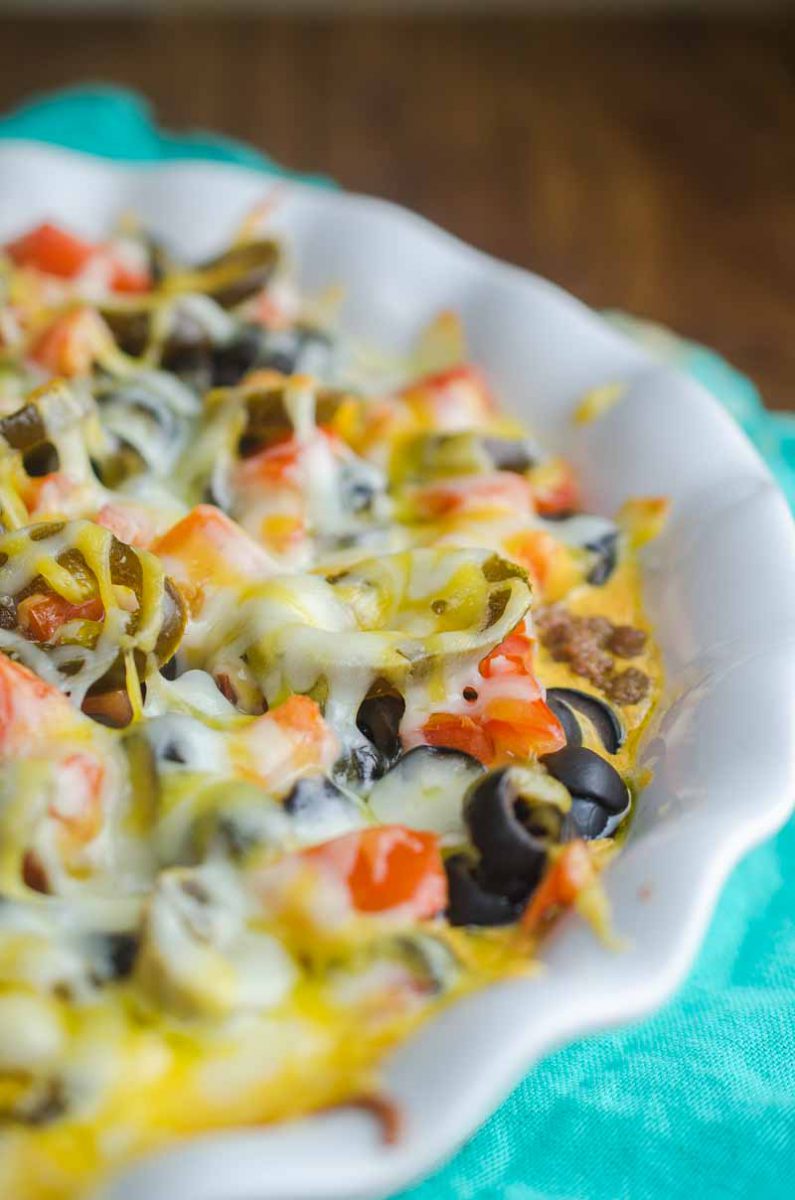 I got the idea for this dip after trying to dig out a soggy chip from a pile of nachos for the 21907493014th time. I love nachos but soggy chips are not my fave. Hot Nacho Dip solves that dilemma because there is all the goodness of nachos in a hot melty dip that you dip the chips into.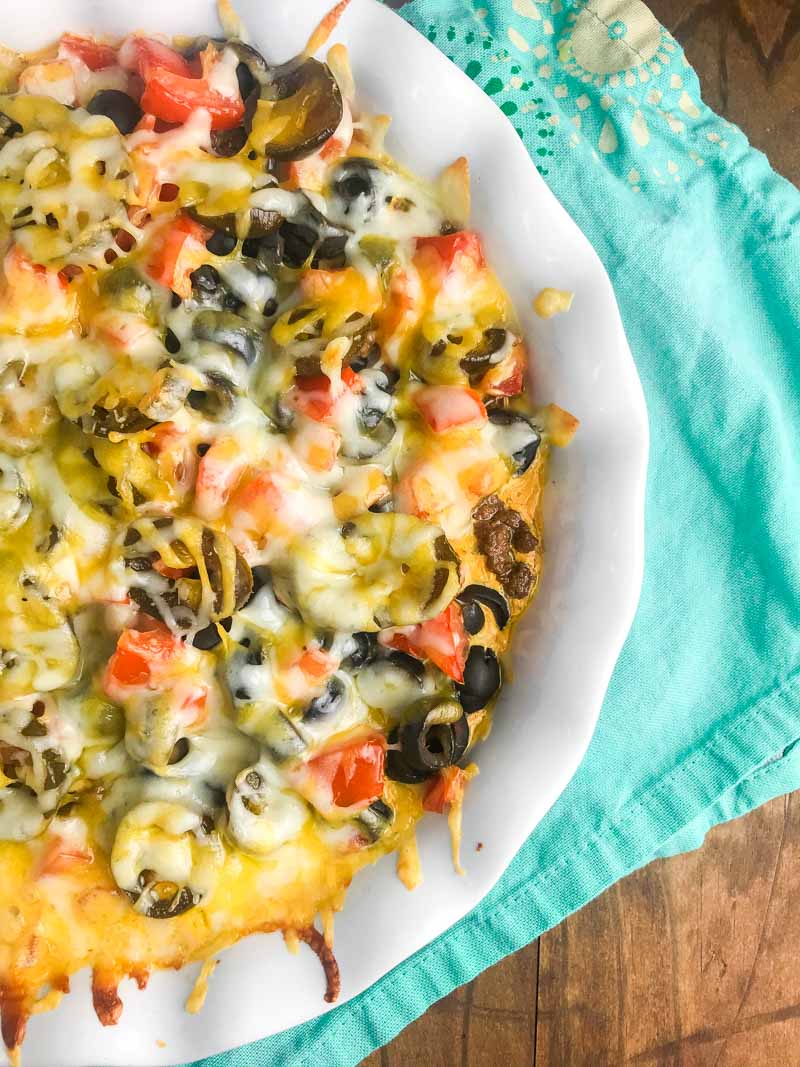 What ingredients do you need?
To make this Hot Nacho Dip, think of all the ingredients that you like to pile on top of nachos. That is exactly what you'll find here:
Ground beef: You could also use shredded chicken, slow cooker pulled pork or even chorizo in this recipe. If you use chorizo, be sure to drain the grease just like you would do with ground beef.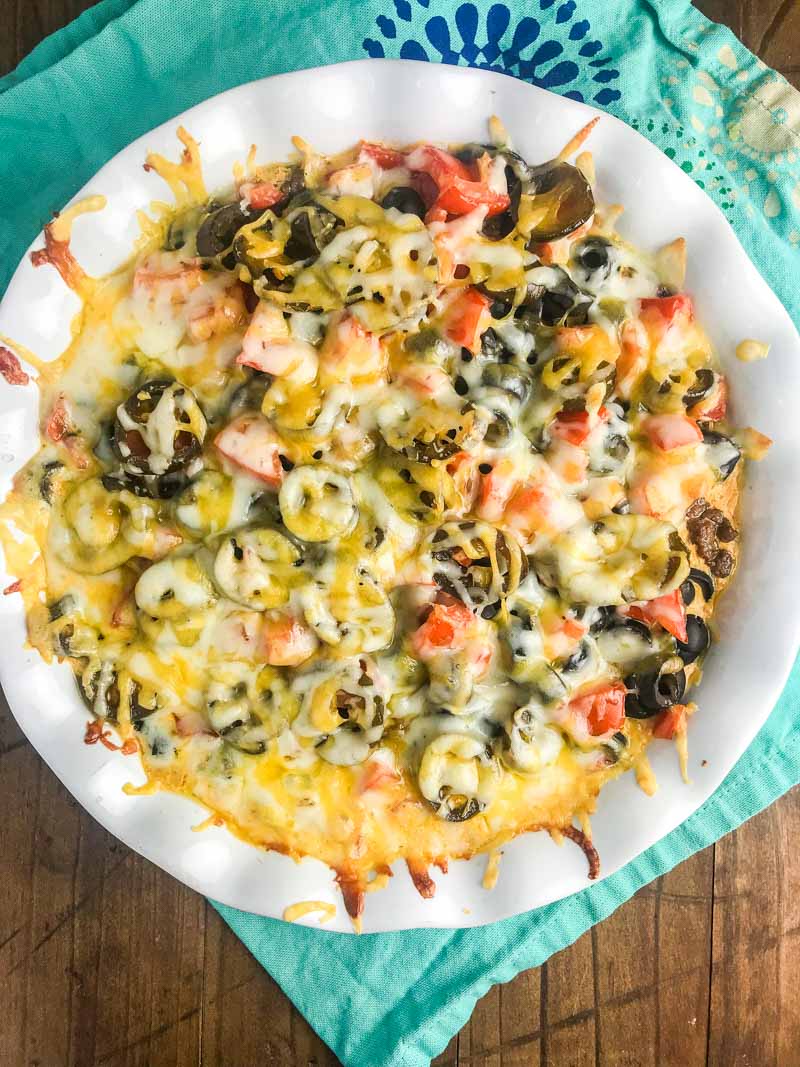 Spicy Refried Beans: Beans are always a great addition to nachos as they make them super hearty. You can use regular refried beans in this recipe too if you want to cut down on spice.
Salsa Con Queso, Cheddar and Jack Cheese: That's right THREE different kinds of cheese. Cheddar and jack cheese melt to give you that stringy cheese pull that we love about nachos. The queso adds another layer of melty cheese goodness!
Onions: add a bit of crunch to the dip
Roma Tomatoes: Be sure to remove the seeds inside. It'll help prevent the dip from getting watery.
Black Olives: Totally optional but I love them on my nachos
Jalapeños: Also optional but I've gotta have some crunchy heat on my nachos!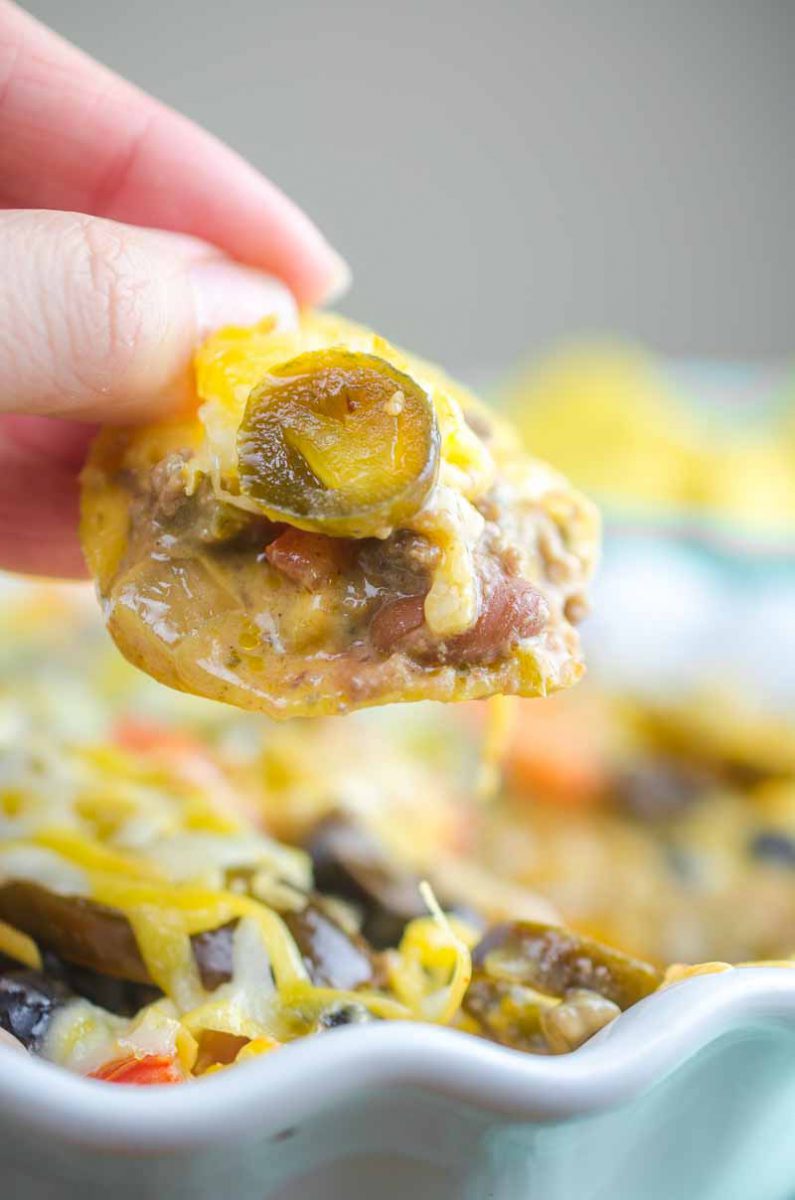 How do you make this dip?
Guys it could not be easier! The most difficult part is simply browning the meat with the seasonings and onion. Once you get that done, all you do is layer everything in a baking dish and then bake until bubbly.
All deliciousness and no soggy chips.
DES TIP: There is a lot going on with this dip so make sure that you pick a thick hearty chip that can handle the dip without breaking.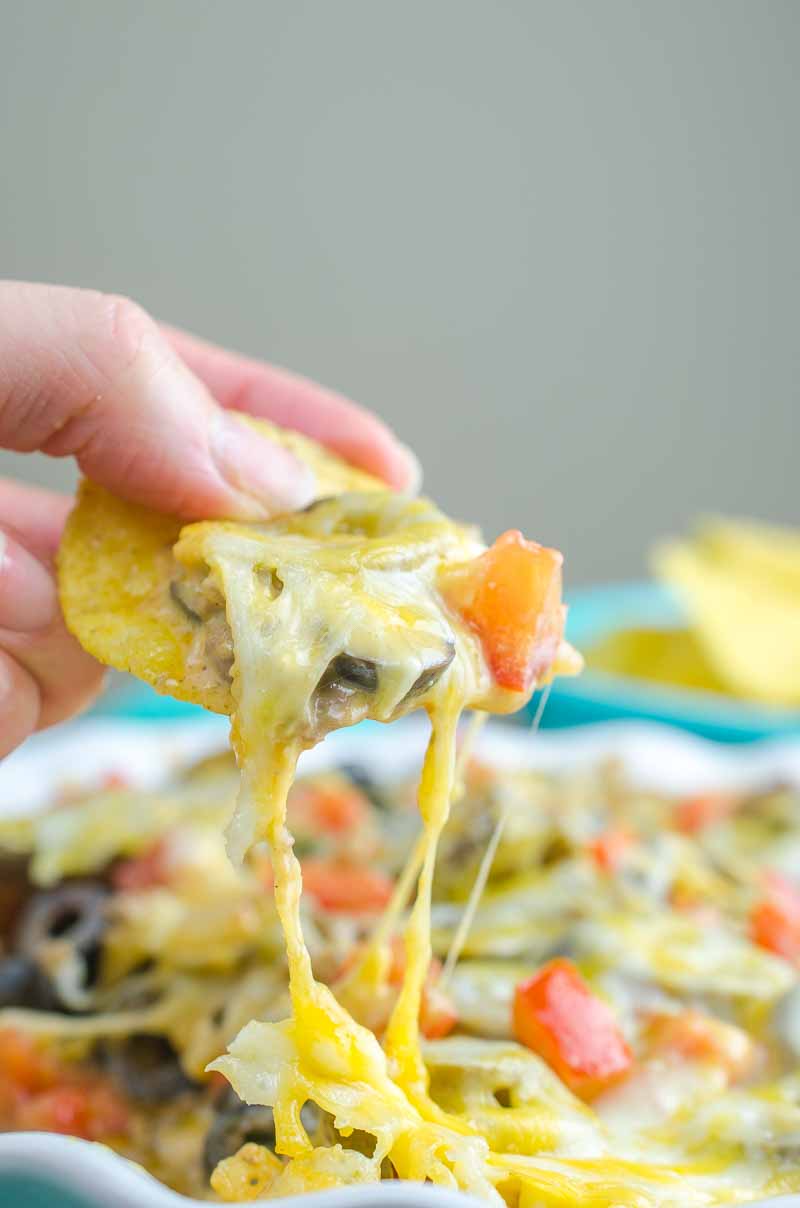 To get even more deliciousness, you could also top Hot Nacho Dip with sour cream and guacamole. Because guacamole.
Looking for more game day snacks? Here are some of my must haves:
Can't get enough dips? Check out these!
Recipe originally published Nov 5, 2009 and updated July 2020 with new notes and nutrition facts.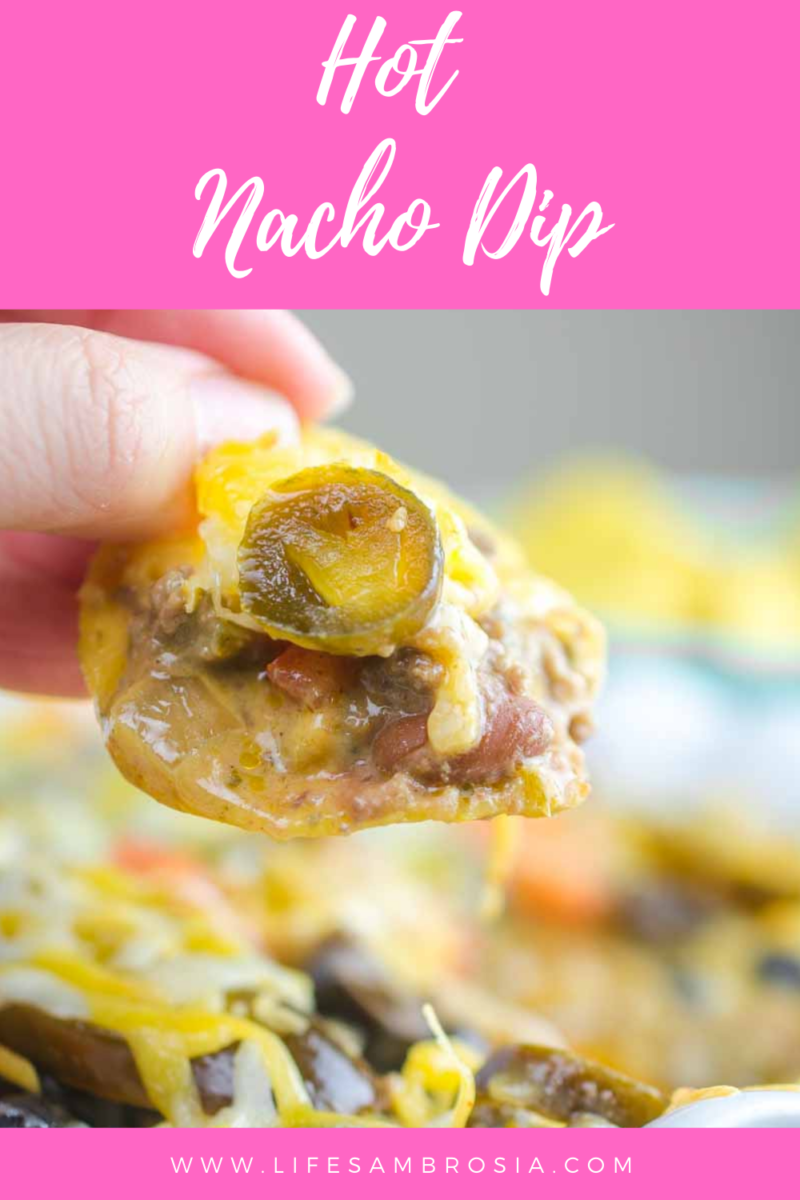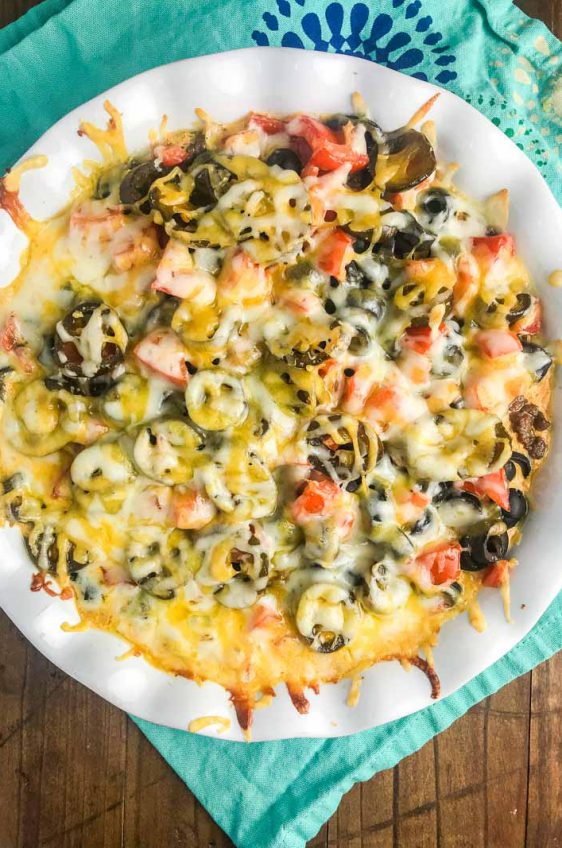 Hot Nacho Dip
Ditch traditional nachos and make this Hot Nacho Dip. Layers of refried beans, queso dip, seasoned beef, tomatoes, olives, jalapeños and two kinds of cheese
Ingredients:
1/2

teaspoon

ground cumin

1/2

teaspoon

garlic powder

1/2

teaspoon

chili powder

1

teaspoon

kosher salt

1/2

pound

ground beef

1/2

medium onion

diced

1

15 ounce can spicy refried beans

1

cup

salsa con queso

2

roma tomatoes

seeded and diced

1

2.5 ounce can sliced black olives

1/2

cup

pickled sliced jalapenos

1/2

cup

shredded cheddar cheese

1/2

cup

shredded jack cheese
Preheat oven to 350 degrees.

Combine cumin, garlic powder, chili powder and kosher salt in a small bowl. Set aside.

Heat a frying pan over medium-high heat. Add ground beef and seasoning mixture. Cook until beef is browned. Transfer to a colander placed over a bowl to strain the grease. Set aside.

In the same pan that you cooked the beef in, add the diced onion. Cook 2-3 minutes or until softened. Return beef to pan. Toss to combine. Remove from heat.

Spread refried beans in the bottom of an 8" x 8" glass baking dish. Spread salsa con queso over the refried beans. Spoon meat mixture over the top, spread evenly. Place in oven and bake for 10 minutes.

Remove from oven and layer with olives, tomatoes, jalapenos, cheddar and jack cheese. Return to oven and bake for 10 more minutes or until cheese is melted and the edges are bubbly.

Remove from oven allow to cool for a several minutes. Serve.
Nutrition facts for estimation purposes only.
Calories:
263
kcal
Carbohydrates:
22.7
g
Protein:
18.8
g
Fat:
11
g
Saturated Fat:
4.8
g
Cholesterol:
50
mg
Sodium:
1349
mg
Fiber:
5.8
g
Sugar:
2.2
g
Keywords:
7 layer dip, appetizer, beef, Dip, Food, ground beef, jalapenos, man food, mexican, nacho cheese, nacho cheese dip, olives, Recipe, refried beans, salsa con queso, seven layer dip, superbowl superbowl snack, taco, tacoc meat, tomatoes, tortilla chips