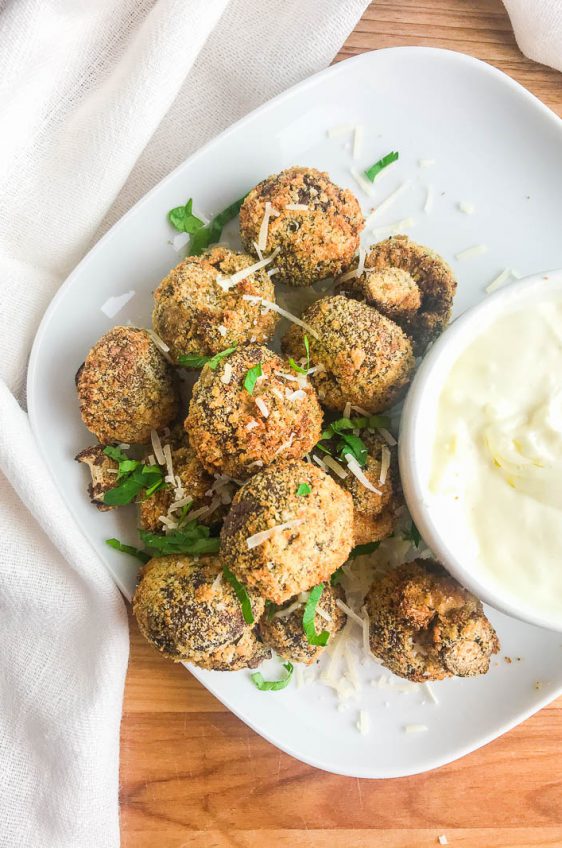 Air Fryer Mushrooms
Crispy breaded air fryer mushrooms are lighter than traditional fried mushrooms and ready in under 10 minutes! Easy, delicious and perfect for game day!
Have you jumped on the air fryer bandwagon yet? It took me a while but I finally got one and I am so happy I did. I am ready to turn everything I usually fry into a lightened up version.
So far, I have used it to make french fries, tater tots, crispy jalapeno bites and now these Crispy Breaded Mushrooms.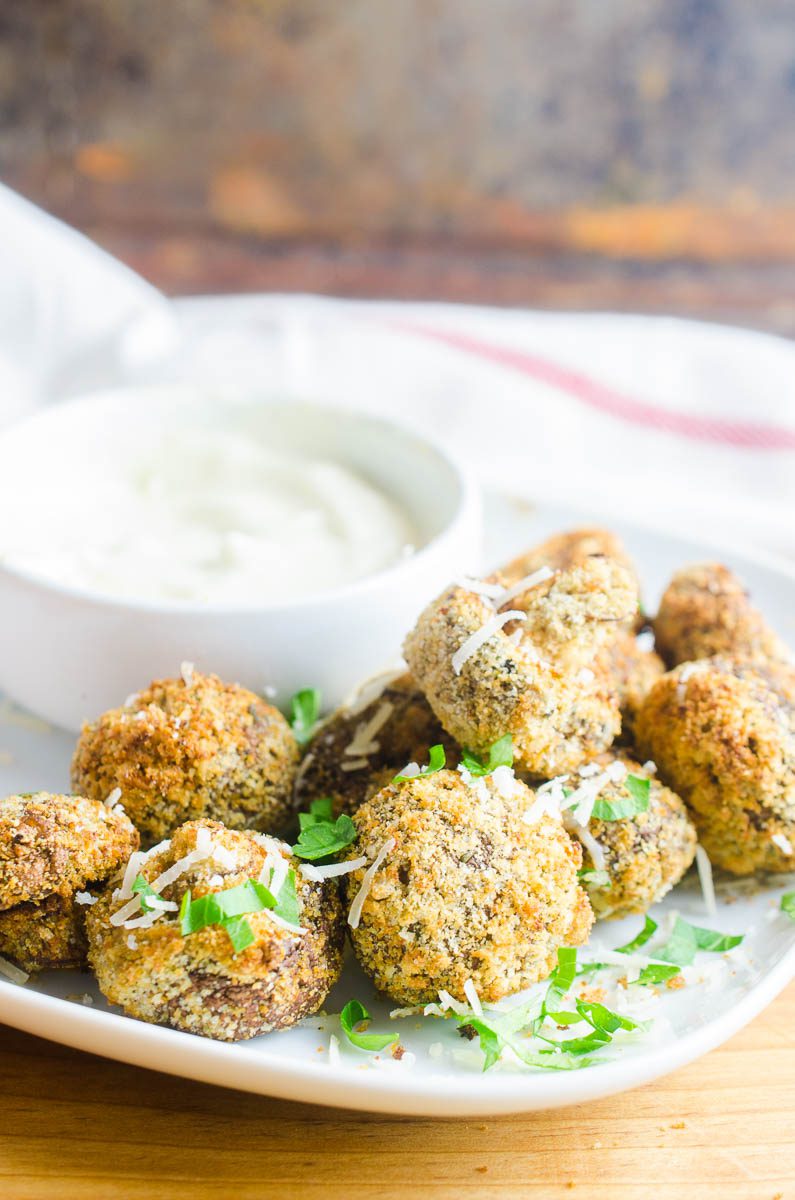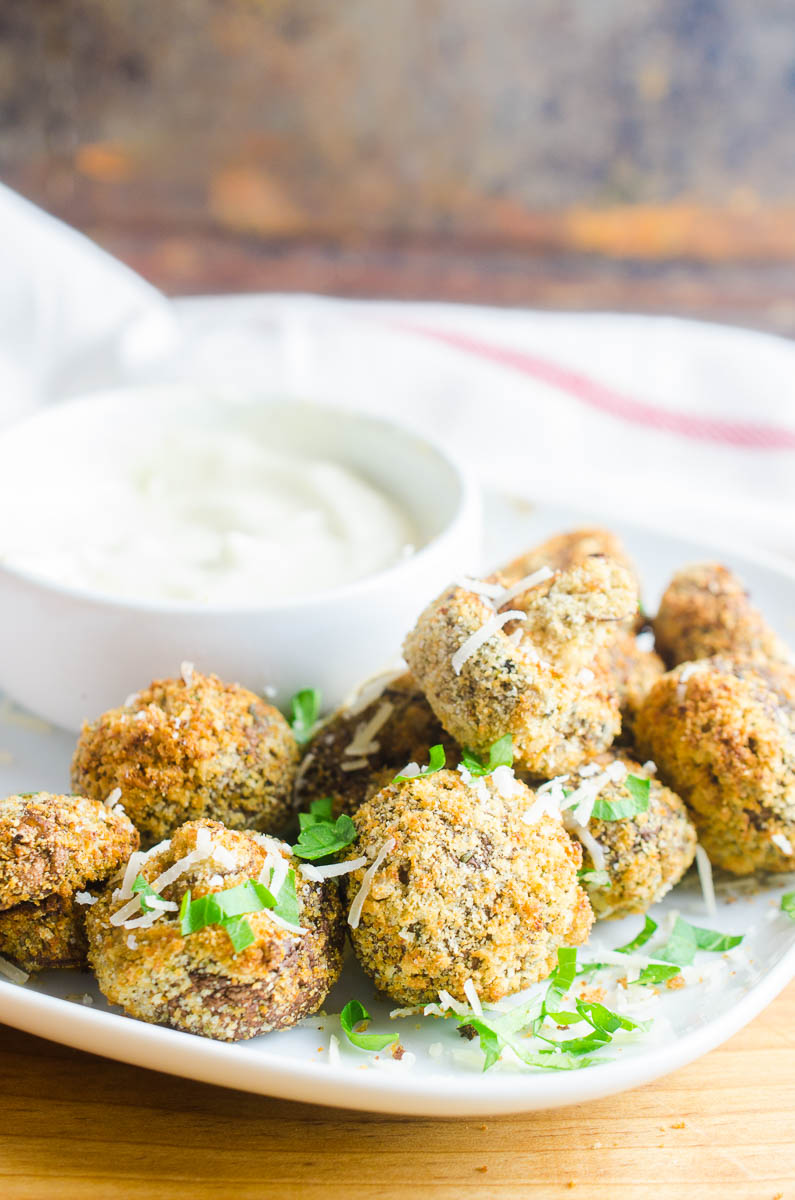 What is an air fryer and how does it work?
For those of you that don't know, an air fryer is a kitchen appliance that cooks food by circulating the hot air around the food. Basically like a convection oven.
You will need to use far less oil when you cook with an air fryer. When I made both french fries and these mushrooms, I only used 1 tablespoon of oil. I did this to ensure that they would get the brown crust I was looking for.
Using less oil means that there will be less fat content and calories than the deep fried versions of the same food.
But guess what, you will still enjoy the same crispiness!
DES' PRO TIP: When using an air fryer, shaking the basket is key. Simply remove the basking during the cooking process, shake the contents and return the basket back to the air fryer. The timer will resume each time.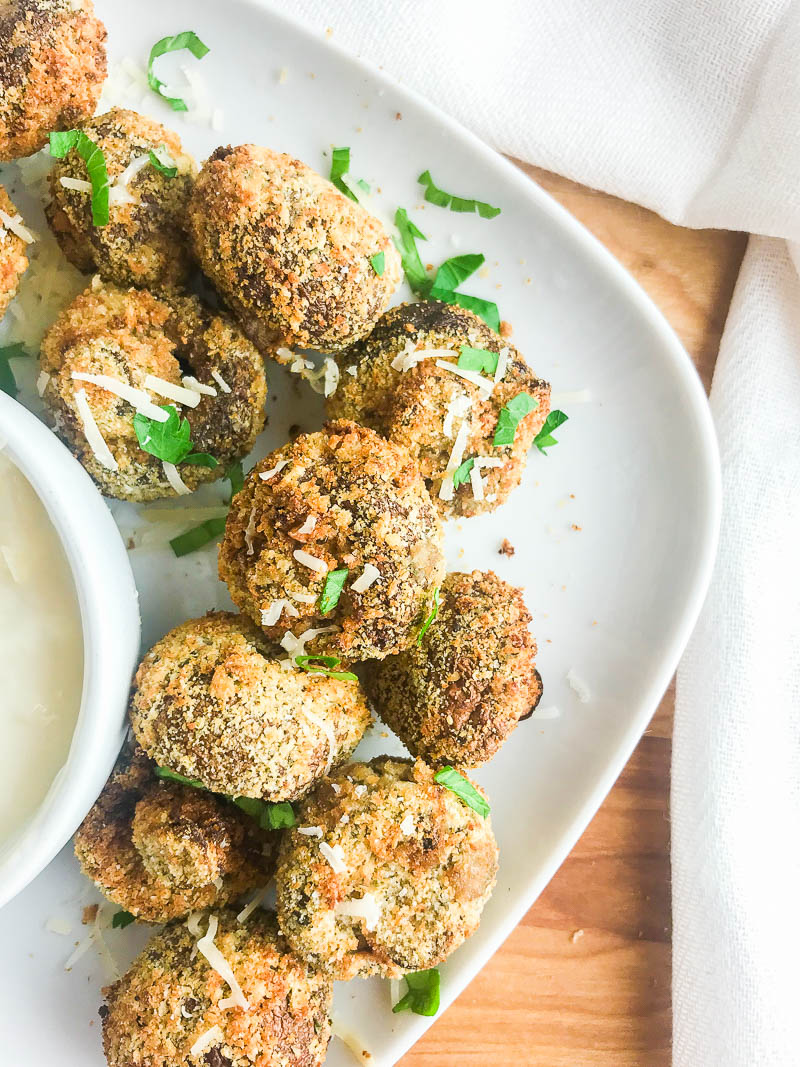 What ingredients do you need to make air fryer breaded mushrooms?
To make air fryer mushrooms, you will need oil, Italian seasoned bread crumbs, panko bread crumbs, egg, milk, granulated garlic, salt and of course, mushrooms.
I prefer to use crimini mushrooms in this recipe because I find they have a bit more flavor than white mushrooms. I also like to use mushrooms that are a little on the smaller side so they can be eaten in one or two bites.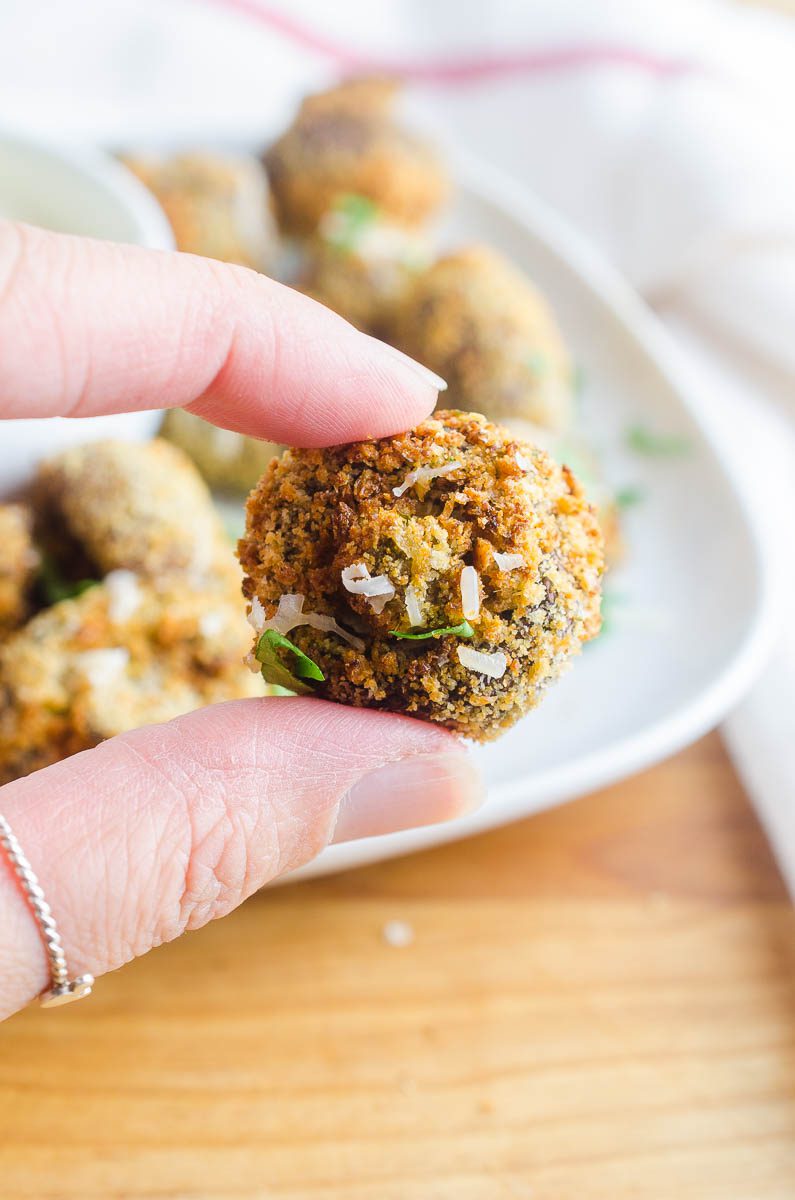 How do you clean mushrooms before cooking?
Use a damp paper towel to gently rub away any debris from the outside of the mushrooms. If you rinse them in water the mushrooms will actually absorb some of the water which can alter the taste.
How do you make air fryer mushrooms?
Like most of the fried foods I make, I find it works best to do an egg/milk wash followed by bread crumbs. You want to dip the mushrooms into the egg/milk wash before dipping them into the bread crumbs so that the bread crumbs have something to stick too.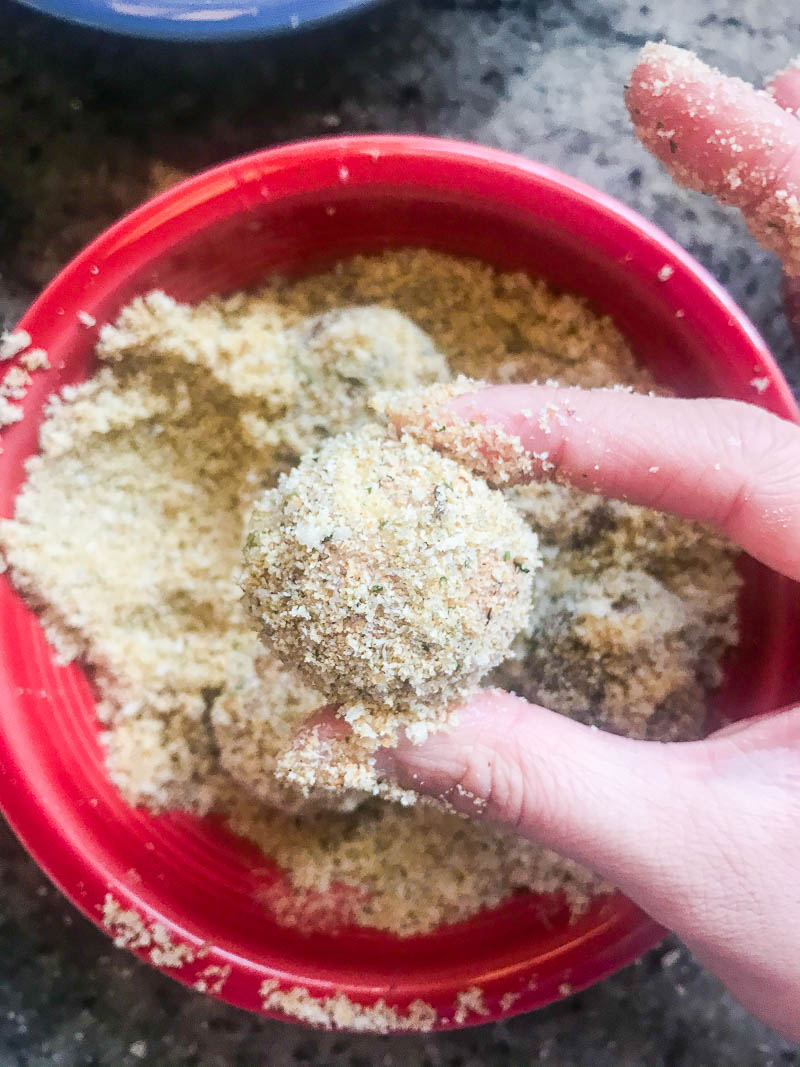 After they are breaded, preheat the air fryer to 390 degrees for 3 minutes. Then add the mushrooms to the basket and cook at 390 for 5 – 7 minutes. Be sure to shake the mushrooms every couple of minutes. The mushrooms are done when they are browned and have softened.
What is a good dip for fried mushrooms?
Like traditional fried mushrooms, I like to dip these in garlic aioli. They are also fabulous when dipped in horseradish sauce and even easy pizza sauce!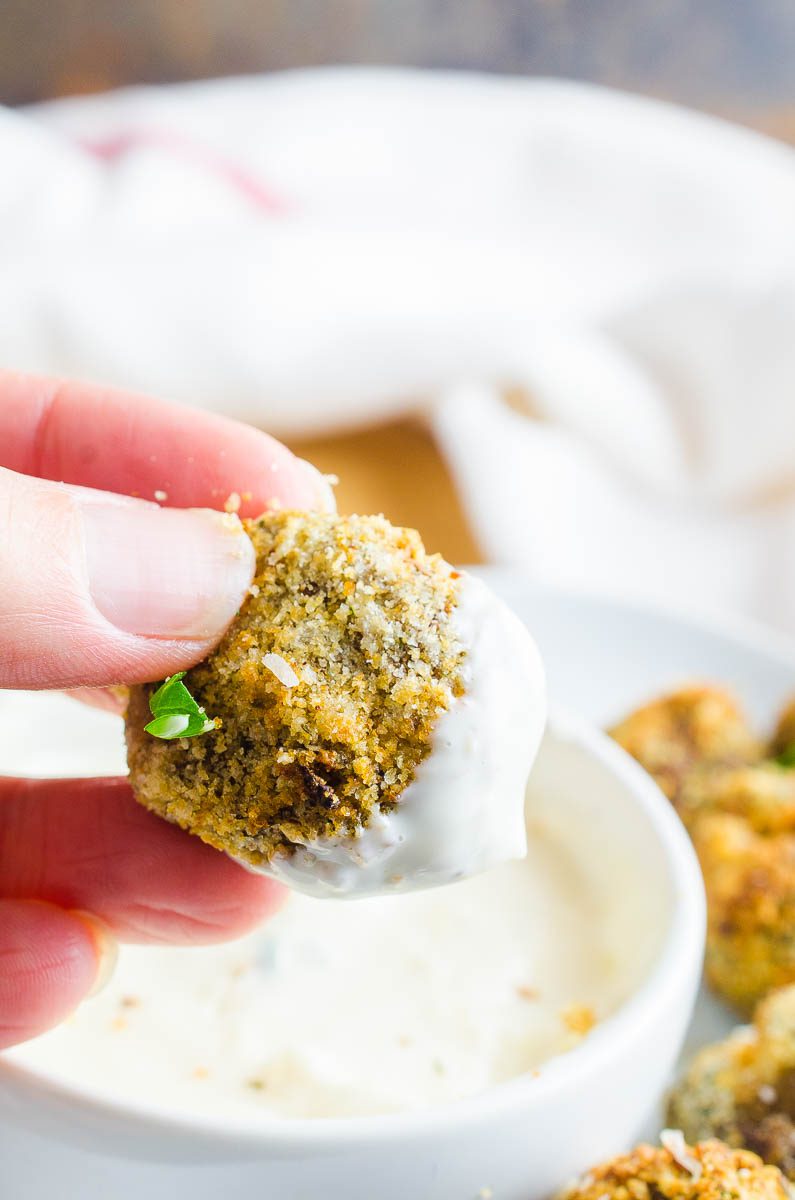 Looking for more game day appetizers and finger foods? Here are some of my favorites!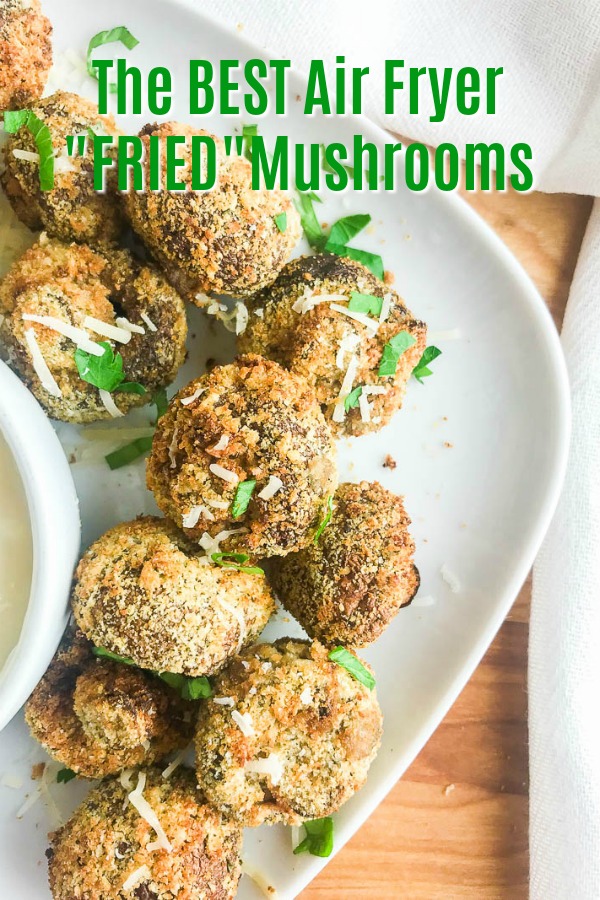 If you love mushrooms too, check out these recipes for mushroom lovers!
Air Fryer Mushrooms Recipe
Ingredients:
1 pound crimini mushrooms
1 egg
1/4 cup milk
1/2 cup Italian seasoned bread crumbs
1/2 cup panko bread crumbs
1 tablespoon oil
1 teaspoon granulated garlic
1/2 teaspoon salt
parmesan cheese, for garnish
parsley, for garnish
Instructions
1
Use a damp paper towel to dust off any debris from the mushrooms.

2
In a bowl, whisk together egg and milk.

3
In another bowl, combine Italian bread crumbs, panko bread crumbs, oil, granulated garlic and salt.

4
Dip a mushroom in egg/milk wash. Then dredge in bread crumb mixture. Repeat until all mushrooms are coated.

5
Preheat air fryer to 390 degrees for 3 minutes.

6
After the air fryer has preheated, place mushrooms in the air fryer and cook at 390 for 5 - 7 minutes or until mushrooms are browned and softened. Remove basket and shake every couple of minutes.

7
Sprinkle with parmesan and parsley. Serve hot.
Notes
Nutrition facts are for estimation purposes only.
Nutrition information
Calories: 123 , Total Fat: 2.4g , Saturated Fat: 0.7g , Cholesterol: 42mg , Sodium: 465mg , Carbohydrates: 18.4g , Fiber: 1.6g , Sugar: 4g , Protein: 7.1g