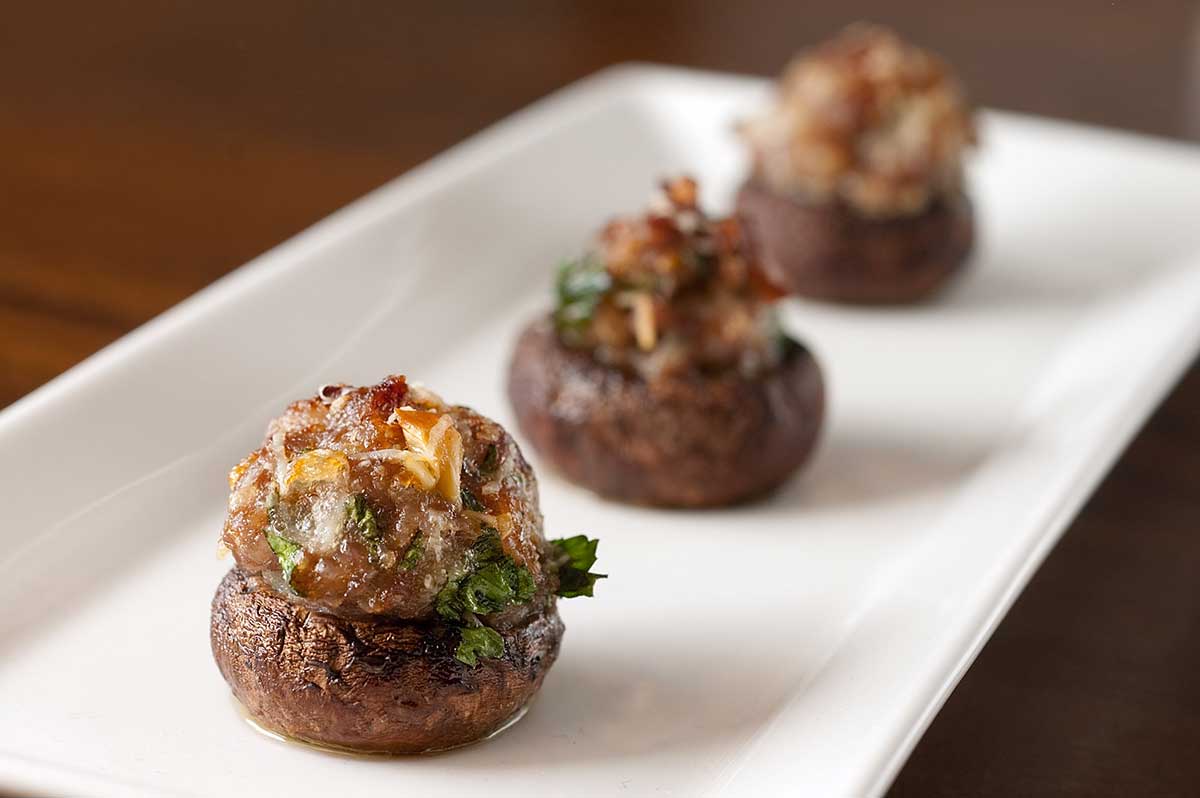 Sausage Stuffed Mushrooms
I haven't always loved stuffed mushrooms. Mostly because I haven't always loved mushrooms. But in recent years that dislike has turned to love. And along with loving the earthiness that is mushrooms comes loving the deliciousness that is stuffed mushrooms. Especially mushrooms that are stuffed with a savory mixture of Italian sausage, cheese, parsley and garlic and then baked until the cheese is golden and the mushrooms are tender.
Ryan and I decorated our Christmas tree last night. It was quite perfect. There was Christmas music playing. A fire roaring and lights twinkling. All of these are reasons that I love this time of year. But another reason that I love this time of year is for all the parties. Unlike most I am not looking forward to the spiked Egg Nog, although that is delicious. No, I'm looking forward to the appetizers that are bound to be at all the holiday parties. And if you are throwing one this year,  these sausage stuffed mushrooms are a must for your menu. Your guests will love you.
Speaking of parties. Anything fried is usually a hit as well. And what better way to fry it all then with a giant turkey fryer? I'm happy to announce that the randomly chosen winner of the Masterbuilt Indoor Turkey Fryer is:
Sausage Stuffed Mushrooms Recipe
Ingredients:
4 ounces ground Italian sausage
1/4 cup plus 2 tablespoons freshly shredded romano cheese
1/4 cup fresh chopped parsley
1 clove garlic, minced
10 - 12 crimini mushrooms, cleaned and stems removed
extra virgin olive oil
Instructions
1
Preheat oven to 350 degrees.

2
In a bowl combine Italian sausage, 1/4 cup of romano cheese, parsley, and garlic. Mix well.

3
Spoon a tablespoon or so of the mixture into each mushroom. Place mushrooms on a baking sheet. Drizzle lightly with olive oil. Cook for 15 - 20 minutes or until meat is cooked through.

4
Remove mushrooms from oven. Sprinkle with remaining cheese. Return to oven and turn on the broiler. Broil until the cheese is melted and slightly golden. About 1 minute. Serve hot.