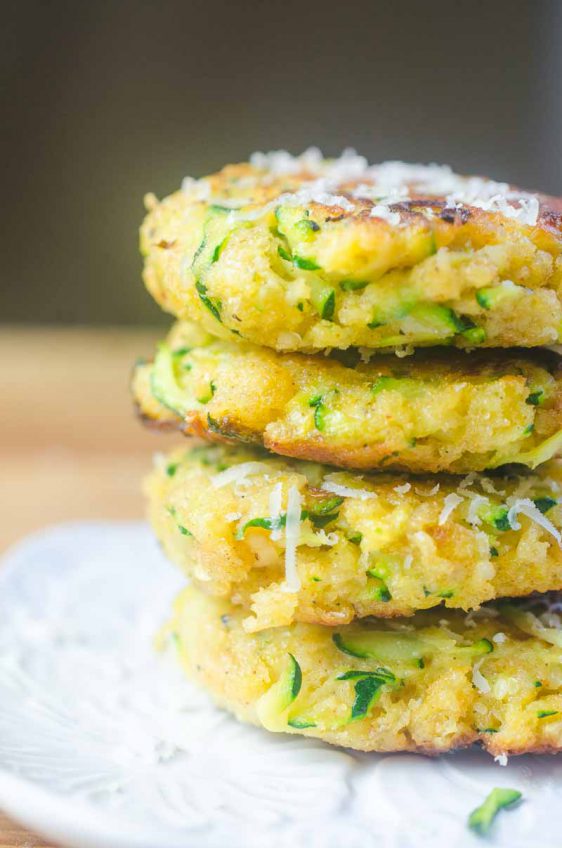 Zucchini Cakes
Zucchini cakes made with fresh zucchini, cheese, and spices blended together and fried until golden. A great way to use up that garden zucchini!
Now that summer is in full swing so, presumably, are summer gardens. And with summer gardens comes ALL THE ZUCCHINI.
I didn't get a chance to actually plant a garden this year but the time that I did plant zucchini, I ended up with so much zucchini that I had no idea what to do with it all.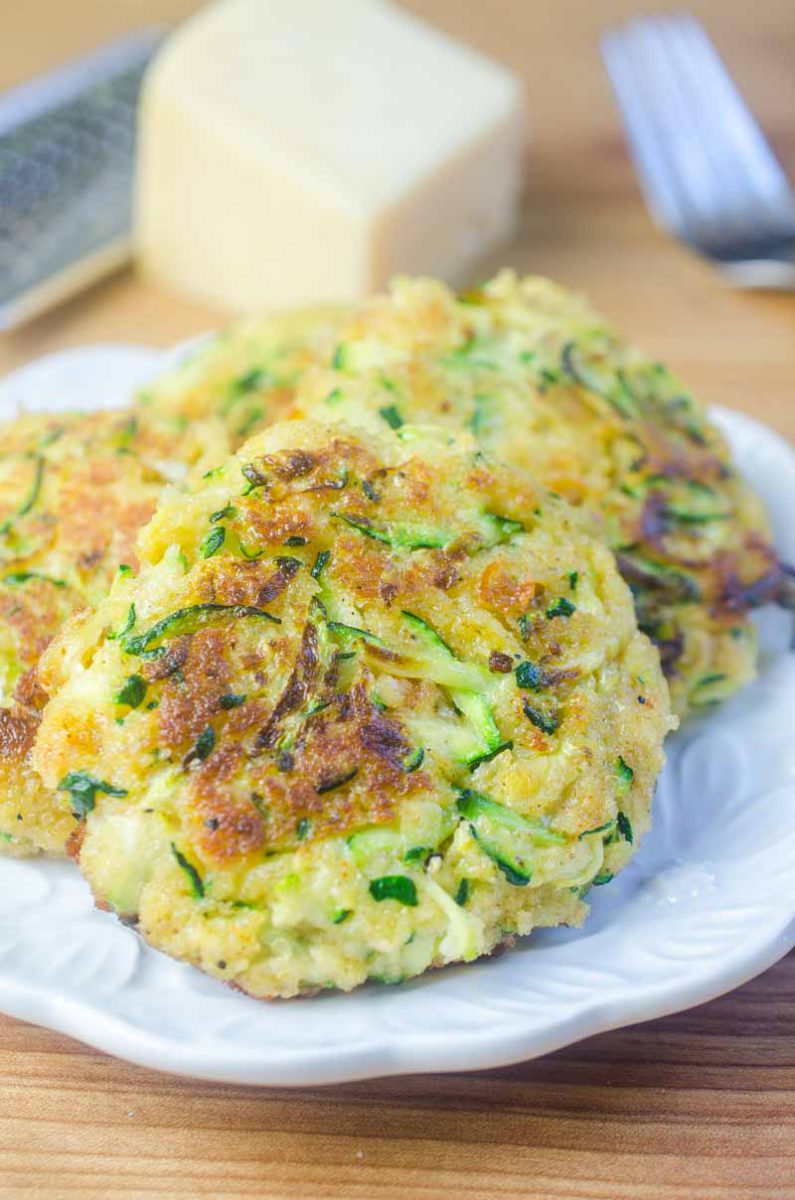 What to cook with zucchini?
There are so many different ways that you can use zucchini. You can add zucchini to pastas like I do in this Shrimp Linguine with Zucchini and Tomatoes. Of course there is always fried zucchini,  zucchini bread, grilled zucchini , and even zucchini soup.
Did you know that you can even cook the zucchini blossoms? Believe me, you haven't lived until you've tried Stuffed Fried Zucchini Blossoms.
Perhaps though, one of my favorite things to do with zucchini is to make zucchini cakes.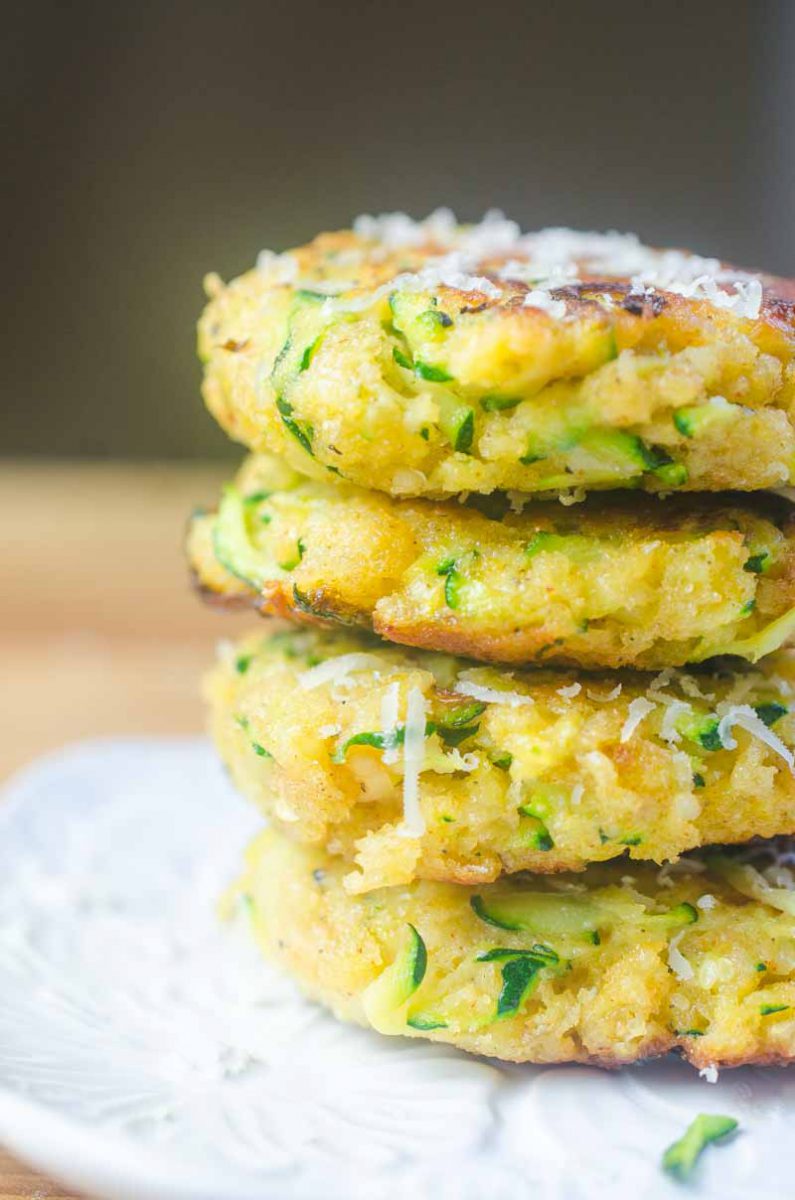 What are zucchini cakes?
Much to my kiddos chagrin, when I told them we were having zucchini cakes for dinner the other night, I didn't mean we were having actual cake for dinner. Sometimes called Zucchini Fritters, Zucchini cakes are a savory cake. Think crab cake but with zucchini instead.
These zucchini fritters are loaded with Parmesan, panko, paprika, garlic and a hint of ground nutmeg. The mixture is then pressed into patties and pan fried until they are golden brown.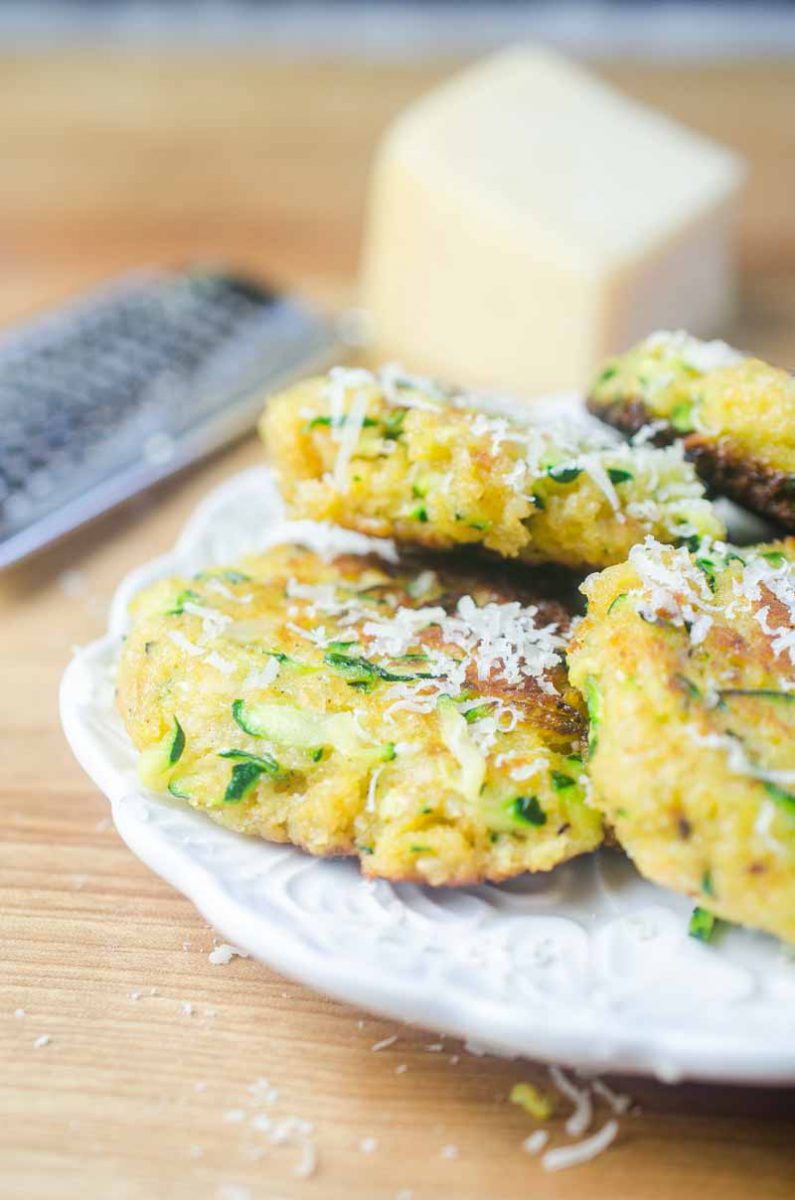 Tips for making zucchini fritters:
First, you will want to make sure that you drain all the excess water out of the shredded zucchini. To do this, simply squeeze the zucchini in paper towels to release the excess water.
Second, to make the patties stick together you will need something to bind them. For this recipe, I use egg.
You want to make sure that the patties stick together well before you put them in the pan to fry or they will fall apart during cooking.
Finally, these zucchini cakes are pan fried rather than deep fried. You want just enough oil to cover the bottom of the pan. I recommend using a high heat oil like avocado oil to cook them.
DES' TIP: If you don't have access to avocado oil, you could use another high heat oil like canola.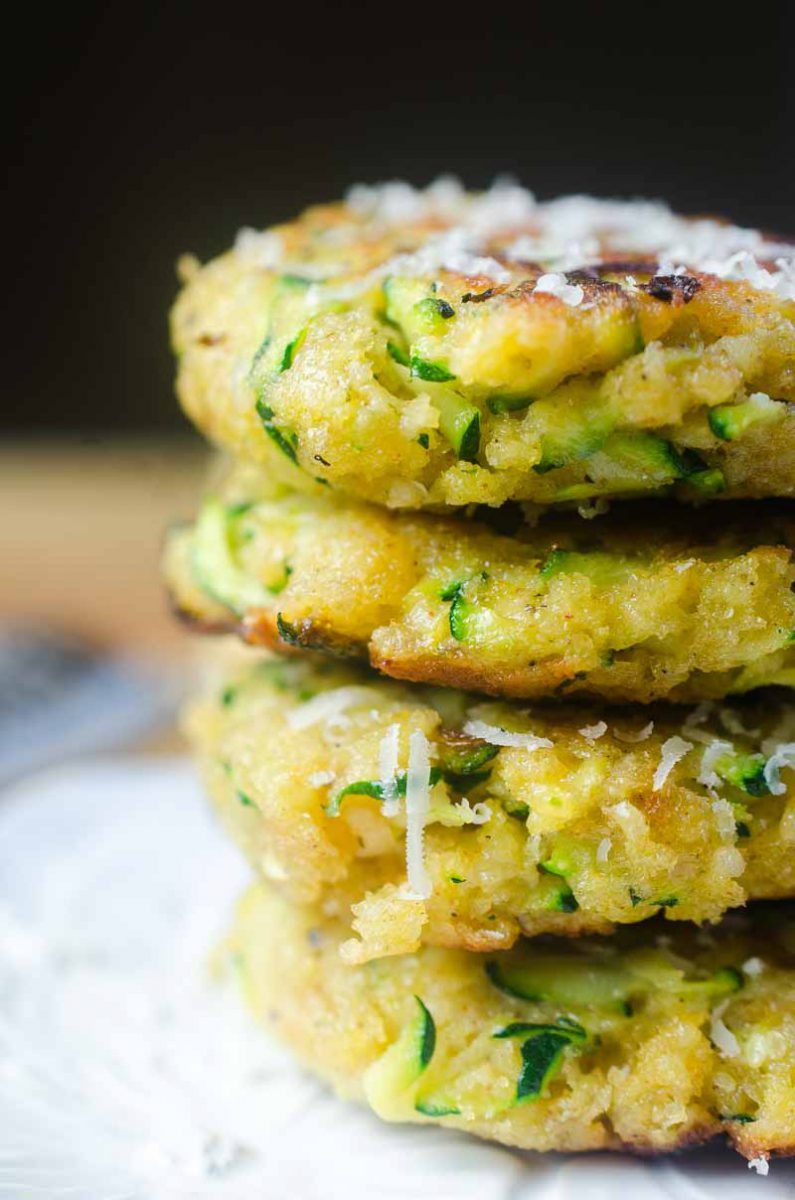 These zucchini cakes are easy to make. They are great as a side dish but are also pretty hearty on their own. And in the words of my 4 year old "SO TASTY!".
I'm pretty confident that this will be your new favorite way to use summer zucchini.
This post was originally written in 2009. Recipe and photos updated June 2020.
Looking for more vegetarian side dish recipes?  You've got to try these: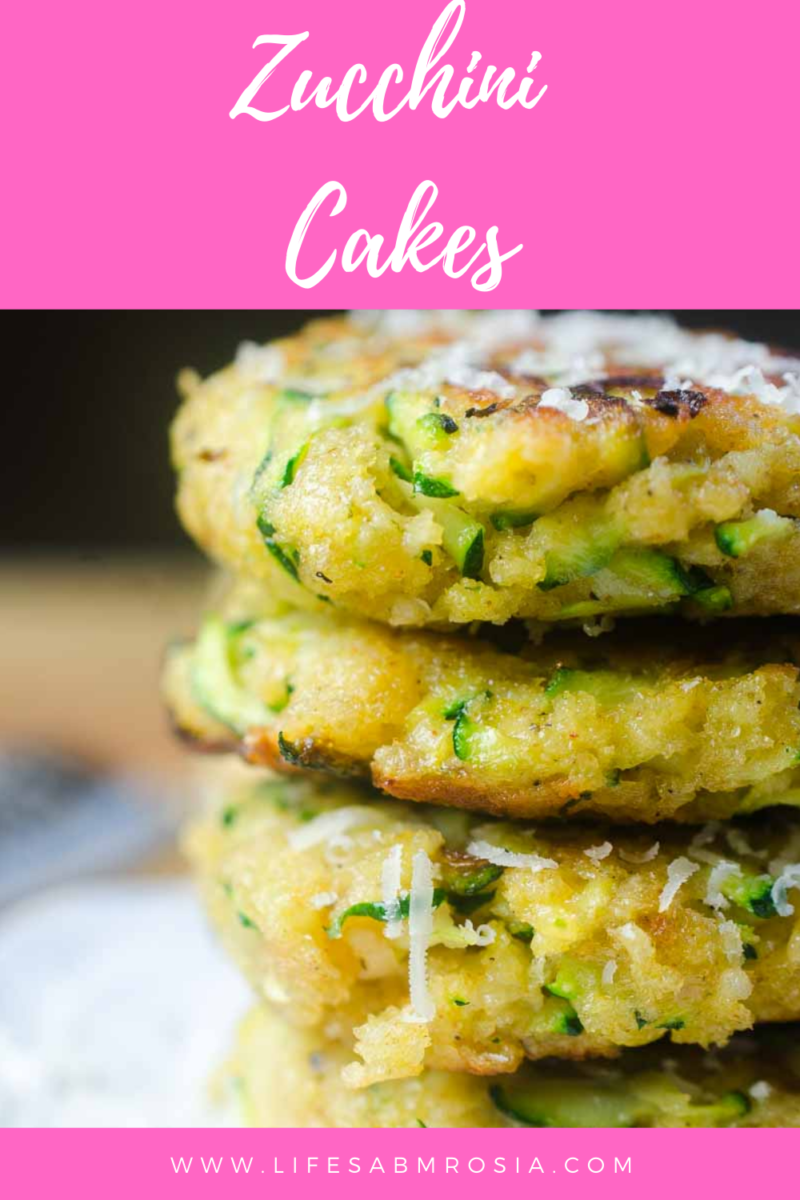 Zucchini Cakes Recipe
Ingredients:
2 cups grated zucchini, excess water removed
1/2 cup freshly grated Parmesan cheese
1 cup panko bread crumbs
sprinkle of ground nutmeg, about 1/8 teaspoon (Note: If you add too much it can quickly take over the taste, less is more)
1/4 teaspoon paprika
1 clove garlic, minced
2 eggs
1/2 teaspoon salt, plus more as desired
1/4 teaspoon pepper
3 tablespoons avocado or canola oil
Instructions
1
Combine all ingredients, except olive oil, in a bowl and mix thoroughly. Using a heaping tablespoon form the mixture into 8 patties.

2
Heat oil in a pan over medium heat. Once heated, add patties and cook until golden brown. About 3-4 minutes per side. Serve.
Notes
These are great when served with a dollop of ranch dressing. Enjoy!
Nutrition information
Amount per serving: 4 servings
Calories: 253 , Total Fat: 11.1g , Saturated Fat: 5.3g , Cholesterol: 102mg , Sodium: 785mg , Carbohydrates: 23.5g , Fiber: 2.4g , Sugar: 2.9g , Protein: 16.3g