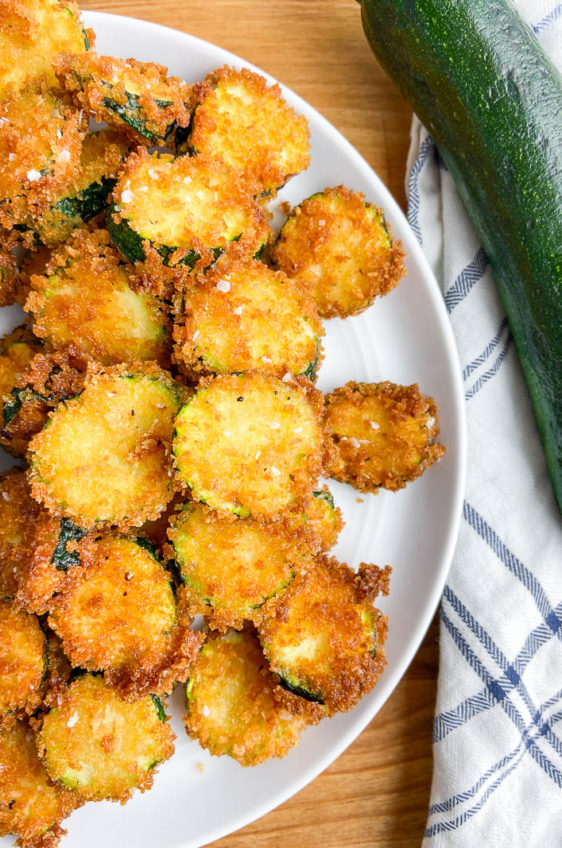 How to Make Fried Zucchini
Fried Zucchini is the perfect summer appetizer! Coated in panko and fried to perfection, it'll be your new favorite way to prepare this summer vegetable!
Fried Zucchini is a classic! It is on the appetizer menu on just about every restaurant I can think of. And I don't know about you, but it's one menu item I always have to order. The crispy outside and the tender squash inside is a combo that is hard to beat.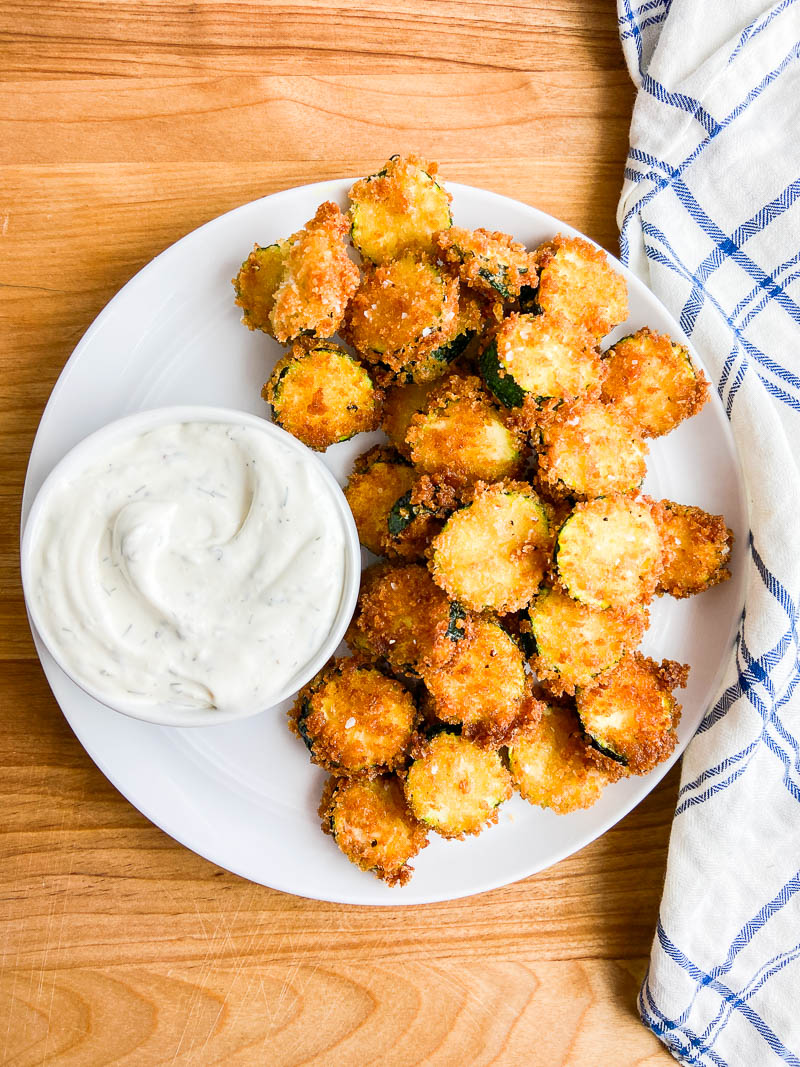 Whether you are looking to recreate your favorite restaurant appetizer or simply looking for a way to use up all of that summer zucchini from your garden, then this easy recipe is perfect for you. 
What you'll need: 
ZUCCHINI: Obviously. You can also use summer squash and there won't be much of a flavor or texture difference.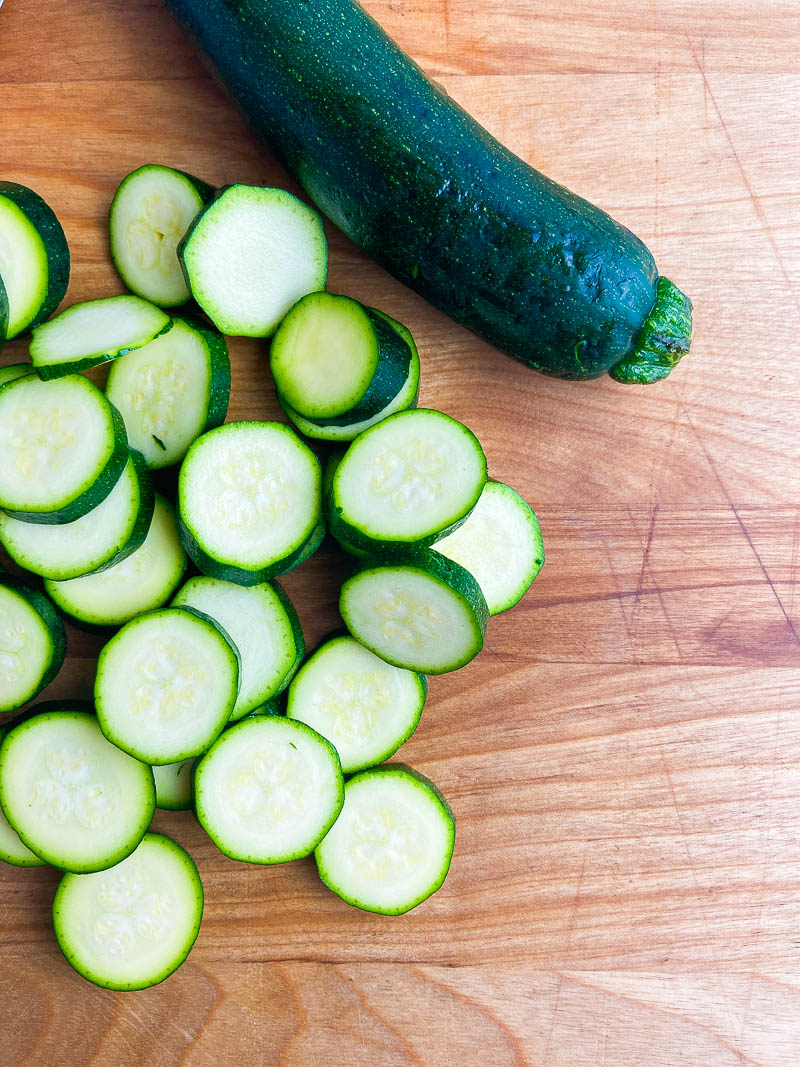 FLOUR: All purpose does the job here. You'll season it with salt, pepper and granulated garlic.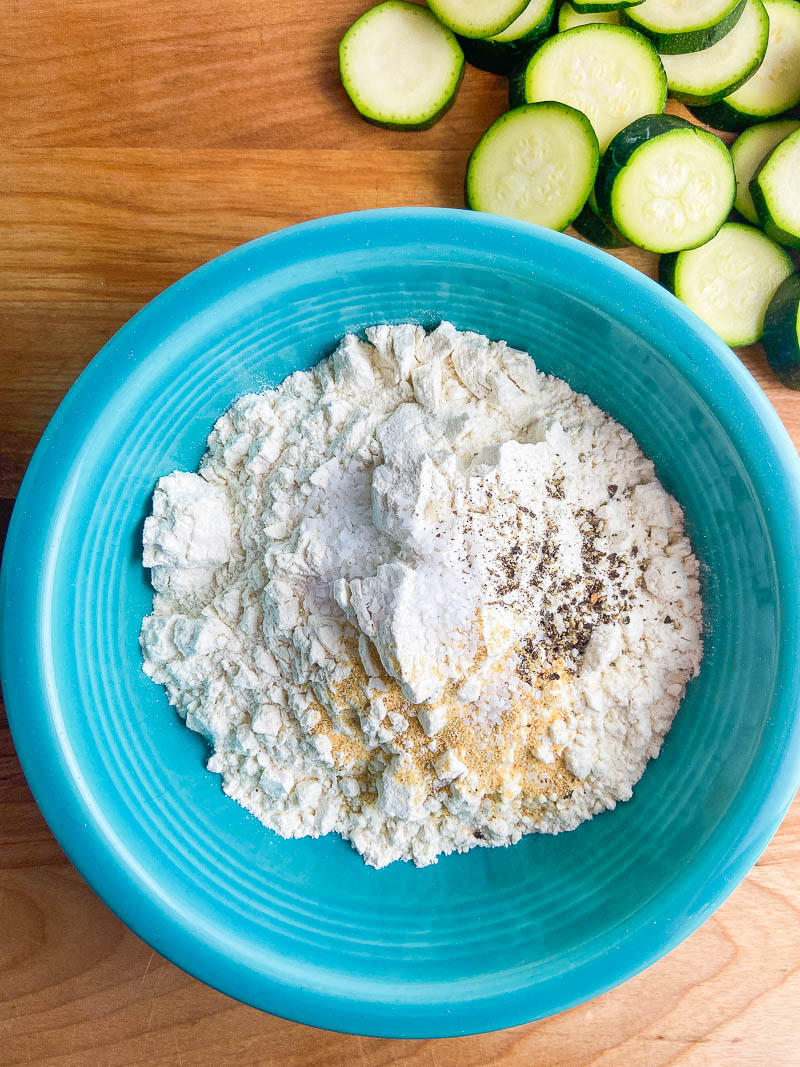 EGG/MILK: An egg milk wash is going to give the bread crumbs something to stick too.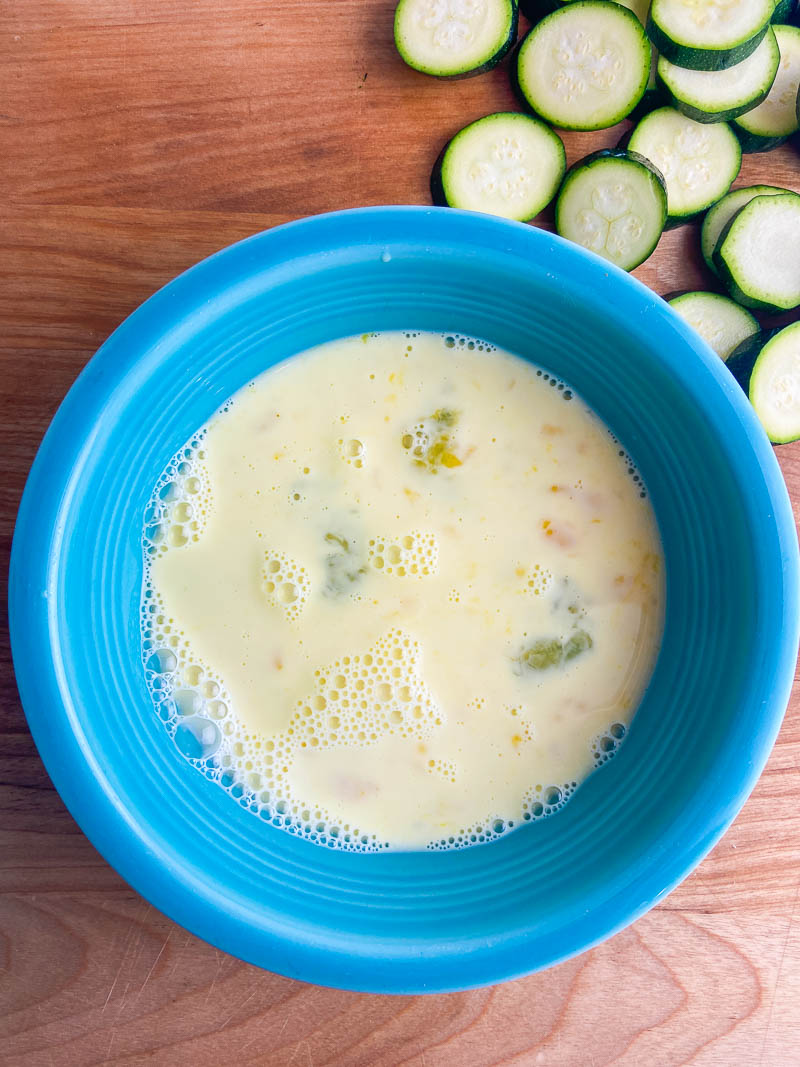 PANKO: This is what makes this fried zucchini recipe stand out from others. Instead of traditional plain bread crumbs, I like to use panko bread crumbs because they will give you a crunchier exterior and when we're making fried food, it's all about the crunch factor right?? You'll season these too with some salt, pepper and granulated garlic.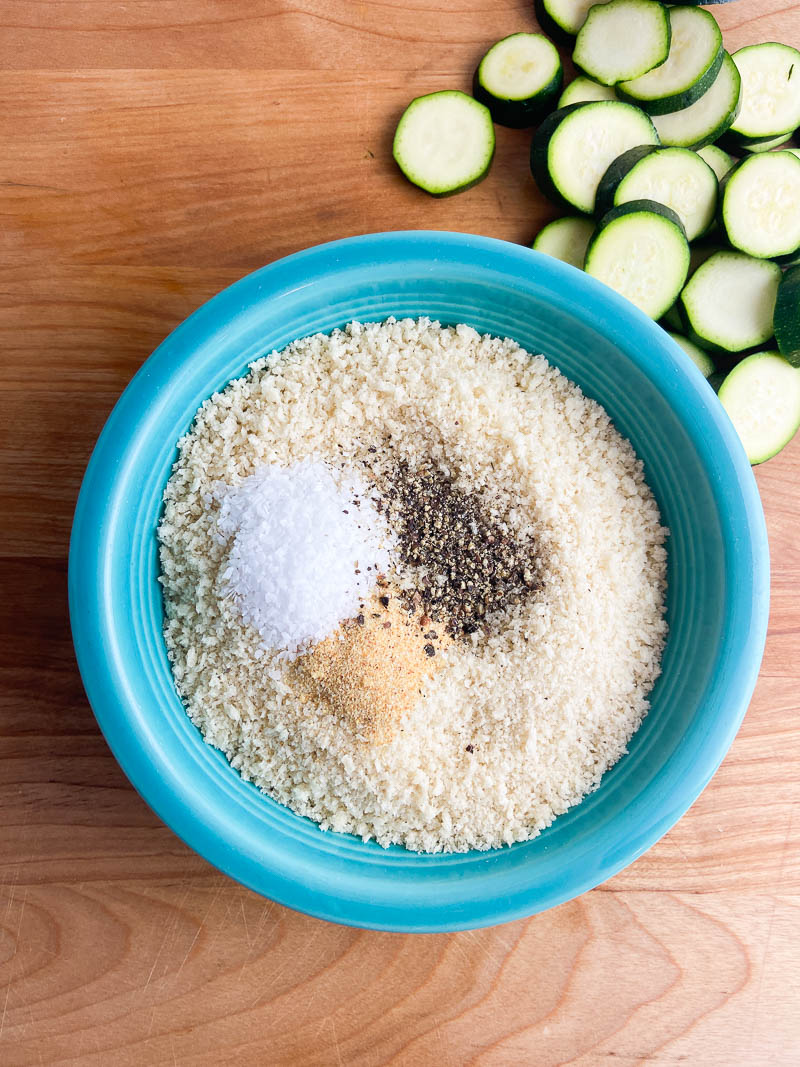 How to Make Fried Zucchini: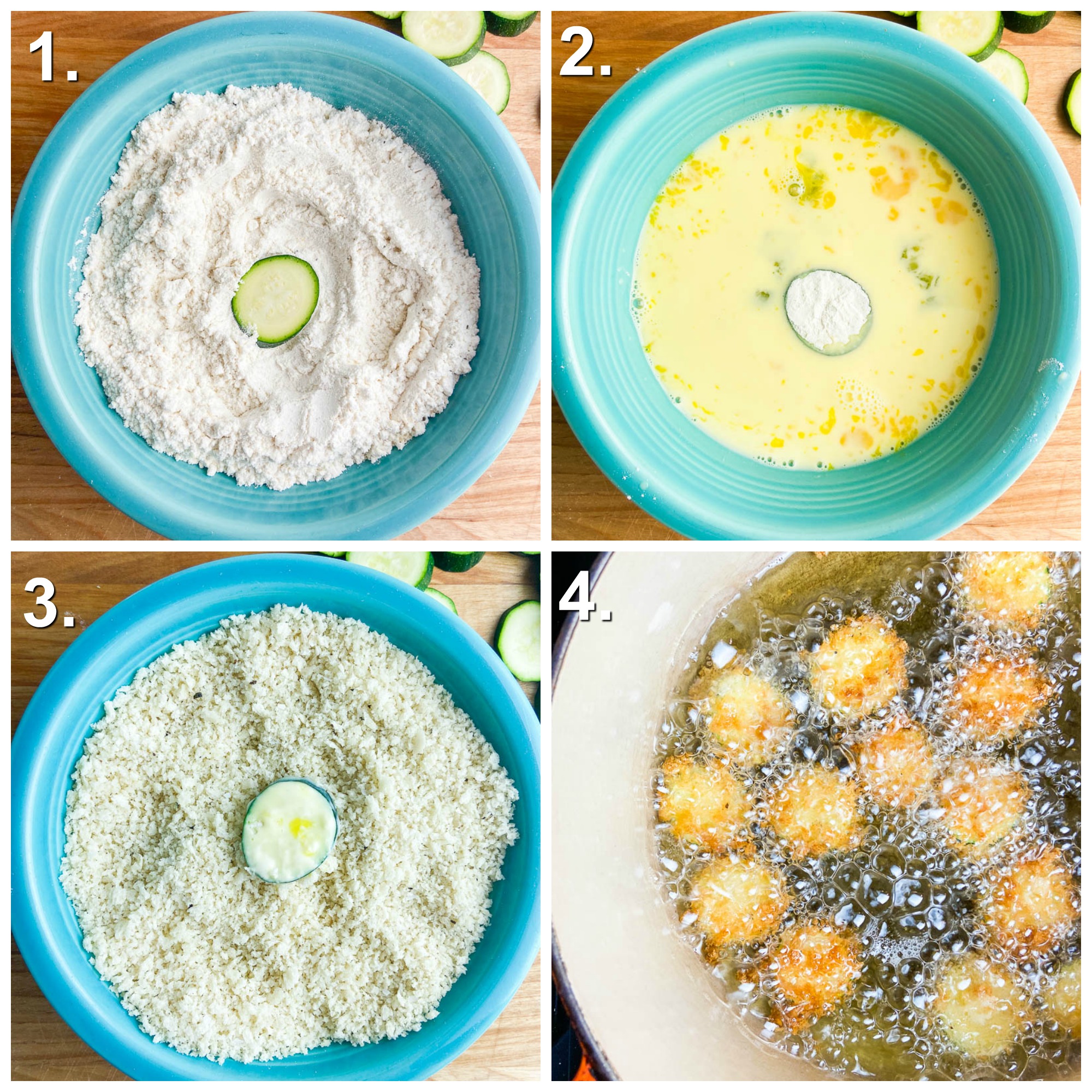 STEP 1: Cut zucchini into rounds. I prefer cutting the zucchini into rounds, instead of spears, because they cook faster thus are crispier. 
STEP 2: Set up an assembly line of flour, milk/egg wash and seasoned panko. 
STEP 3: Dredge the zucchini in the flour first. Next, dip in the egg and then into the bread crumbs to coat. 
STEP 4: Fry, in batches until golden brown and crispy. Use a slotted spoon to transfer to a wire rack over a baking sheet. Sprinkle with salt and serve. 
DES' TIPS: 
I know that frying can be kind of intimidating for people but it's actually not all that hard. I've perfected my technique over the years and here are a few tips that will help ensure perfectly fried food every time! Not just with this zucchini recipe but will just about any vegetable you can think of!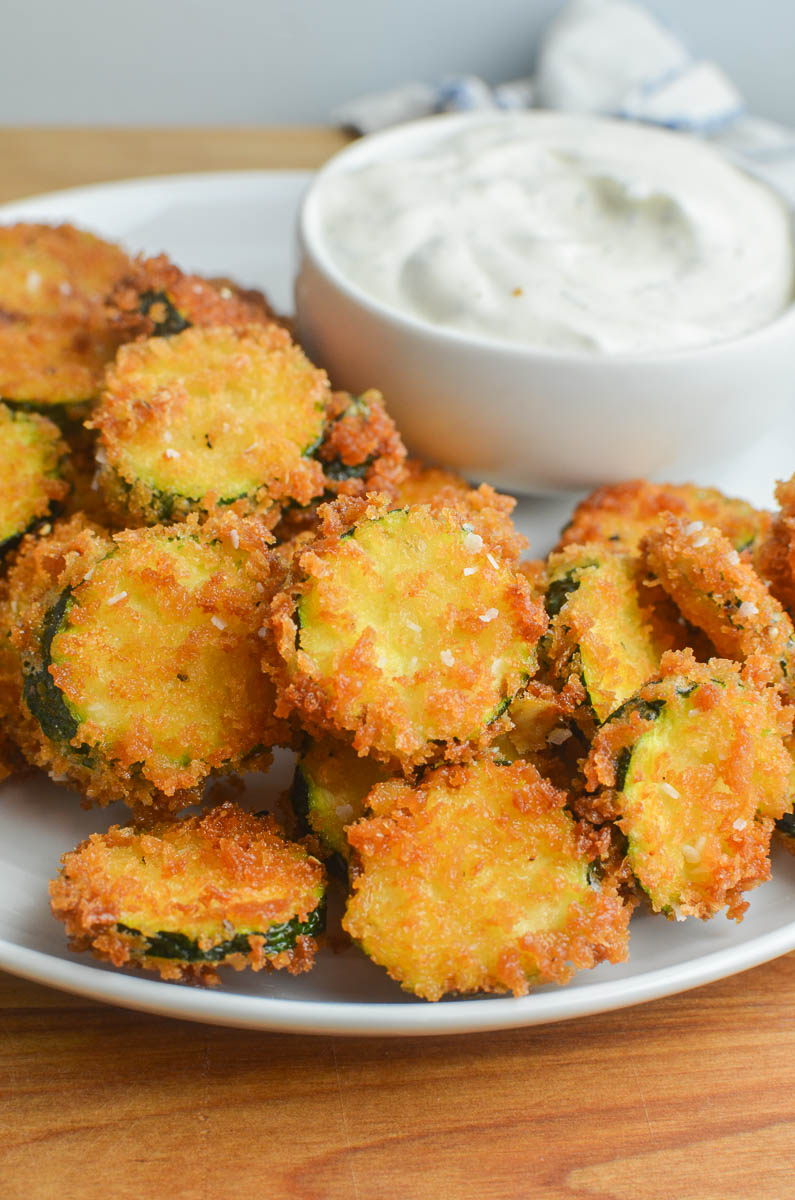 TIP 1: The assembly line is essential. The flour is first because it gives the egg/milk wash something to stick too. The egg/wash is second because it gives the panko something to stick too. 
TIP 2: Season both the flour AND the panko. This will help ensure a more flavorful bite because you're flavoring every step of the process.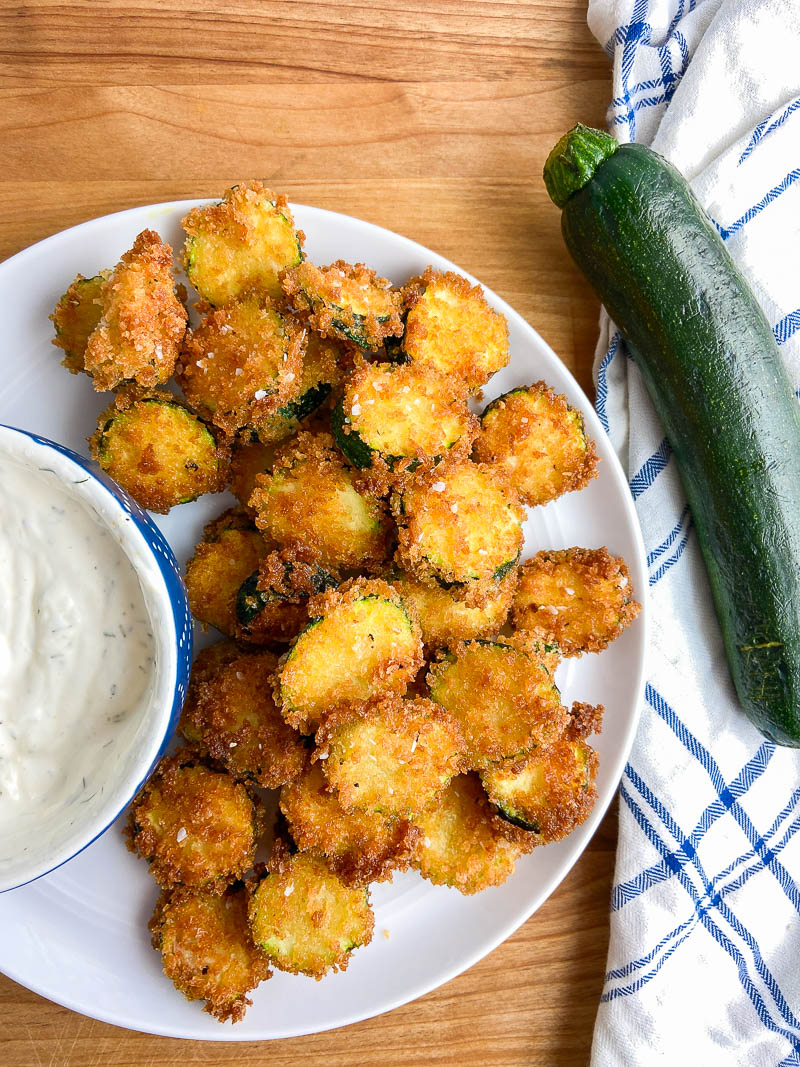 TIP 3: Fry in batches. When frying you want to make sure that you do not overcrowd the pan. The food needs space to fry properly, otherwise it will steam and not be as crispy. 
TIP 4: Ditch the paper-towel lined plate to drain your fried food on. Instead place a wire rack on top of a baking sheet. This helps air circulate around the food rather than having it sit in the grease it was just cooked it. Like frying in batches, this will help keep your food crispy.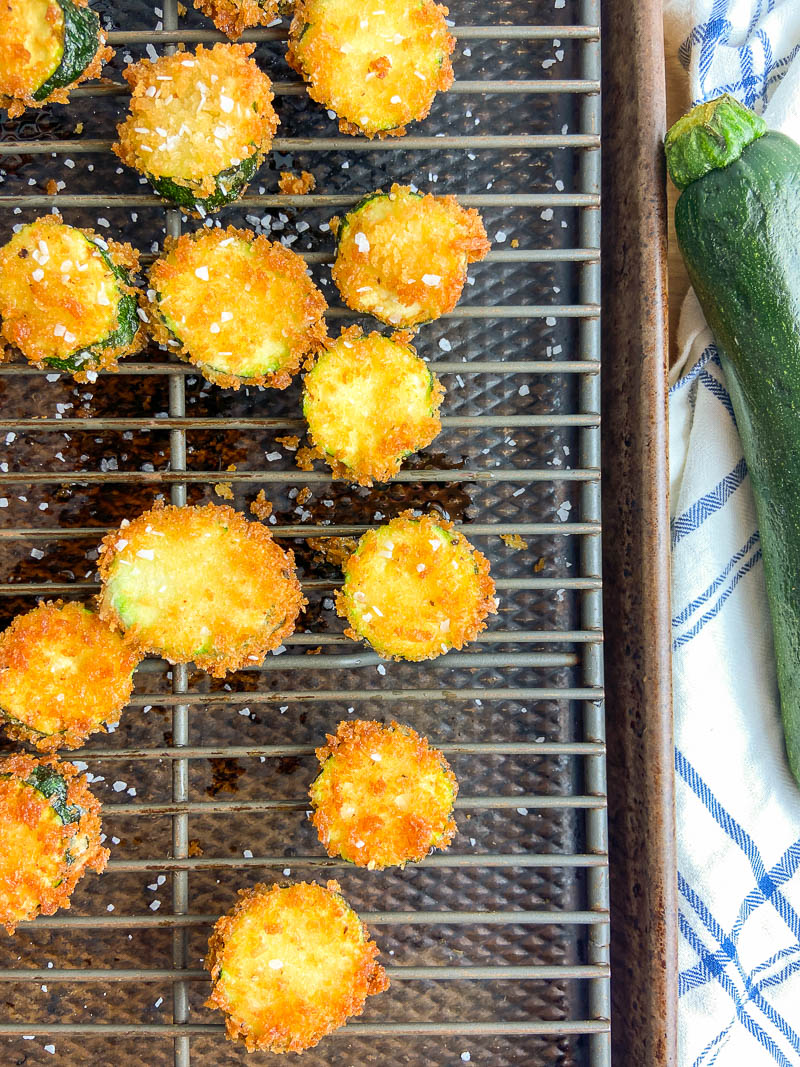 TIP 5: ALWAYS sprinkle fried food with salt as soon as you remove it from the fryer. It's another layer of flavor! 
TIP 6: These are FABULOUS dipped in Creamy Ranch Dip!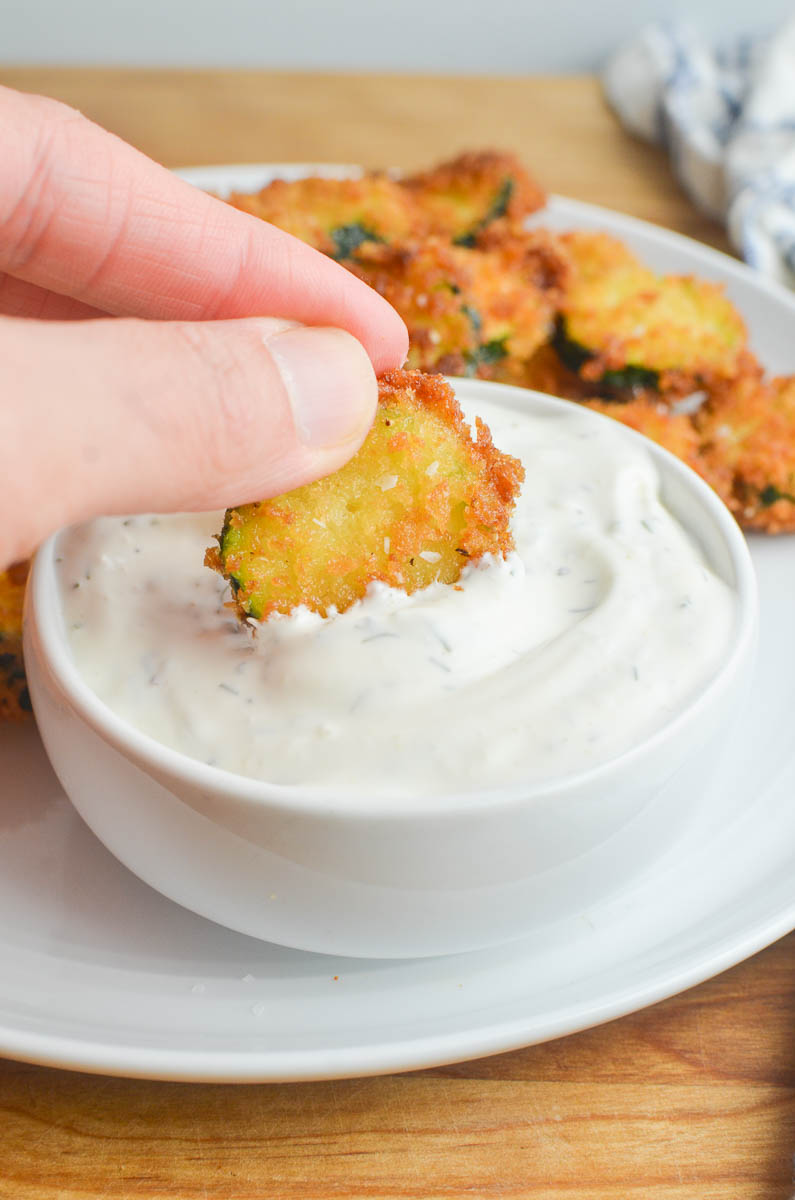 If you love this Fried Zucchini recipe, you're going to love these other easy fried appetizers: 
Deep Fried Ravioli from the Cookie Rookie
Looking for more ways to use up your garden zucchini?? I've got you covered there too! 
Shrimp Linguine with Tomatoes and Zucchini 
And did you know you can fry the flowers of the zucchini plant too?? YUP! These are my favorite Fried Zucchini Flowers 
Note: This recipe was originally posted in 2008. It was updated with new photos, tips and nutrition facts in 2020.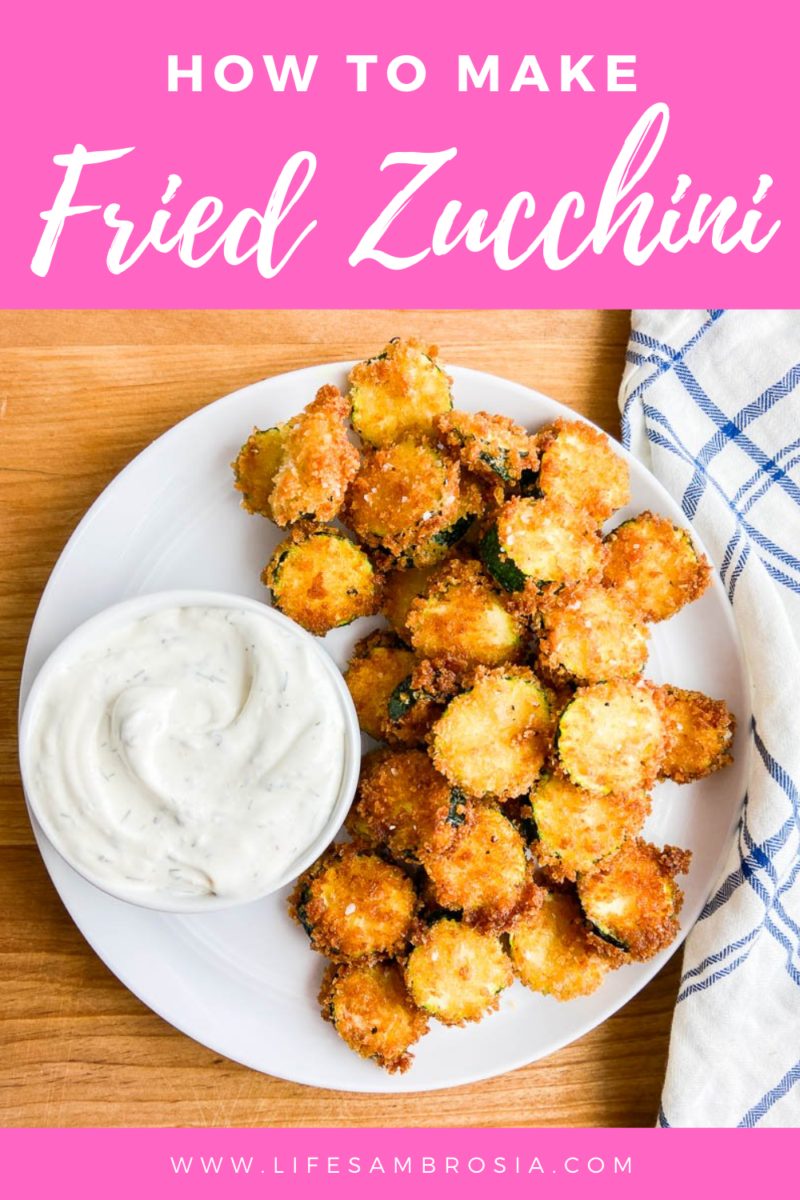 How to Make Fried Zucchini Recipe
Ingredients:
1 cup all purpose flour
2 eggs
1/4 cup milk
2 cups panko bread crumbs
1 teaspoon salt, divided
1 teaspoon pepper, divided
1 teaspoon granulated garlic (garlic powder works too!), divided
2 zucchini, sliced
1 cup canola oil for frying
Instructions
1
In a small bowl combine the flour, salt and pepper and 1/2 teaspoon granulated garlic.

2
In another bowl, beat the eggs and milk.

3
In a third bowl, combine the panko bread crumbs, salt and pepper and 1/2 teaspoon of granulated garlic.

4
Dredge the zucchini in the flour, be sure to shake any excess off. Next dip it in the egg/milk wash and then the panko bread crumbs.

5
Heat 1 inch of oil in a large heavy duty pan (I like to use my cast iron) Once the oil reaches 350 degrees, add the zucchini and fry until golden brown. About 3 minutes. Use a slotted spoon to remove from the oil and lightly salt. Transfer to a wire rack on top of a baking sheet while you fry the rest of the zucchini.

6
Serve hot with ranch dip.
Notes
Nutrition facts for estimation purposes only.
Nutrition information
Calories: 577 , Total Fat: 40.2g , Saturated Fat: 3.7g , Cholesterol: 55mg , Sodium: 684mg , Carbohydrates: 45mg , Fiber: 3g , Sugar: 4.1g , Protein: 10g