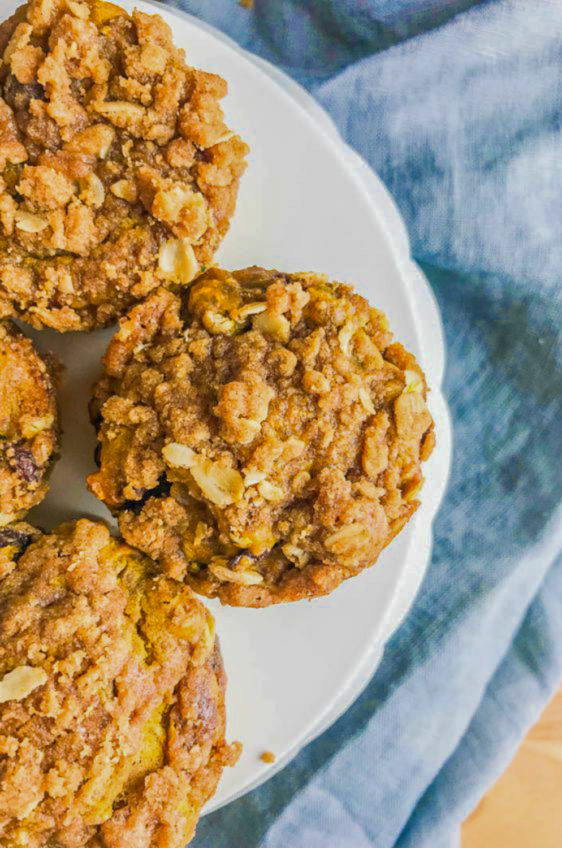 Pumpkin Zucchini Muffins
These Pumpkin Zucchini Muffins are the perfect combo of summer and fall. With a crumb topping and chocolate chips they are a great on the go breakfast! 
So I am one of those "Pumpkin Spice all the things" girls. And the minute that September rolls around, I am ready for all things pumpkin. Now, I do realize that not everyone is quite ready for that yet. So I thought I would combine the two and make these Pumpkin Zucchini Muffins.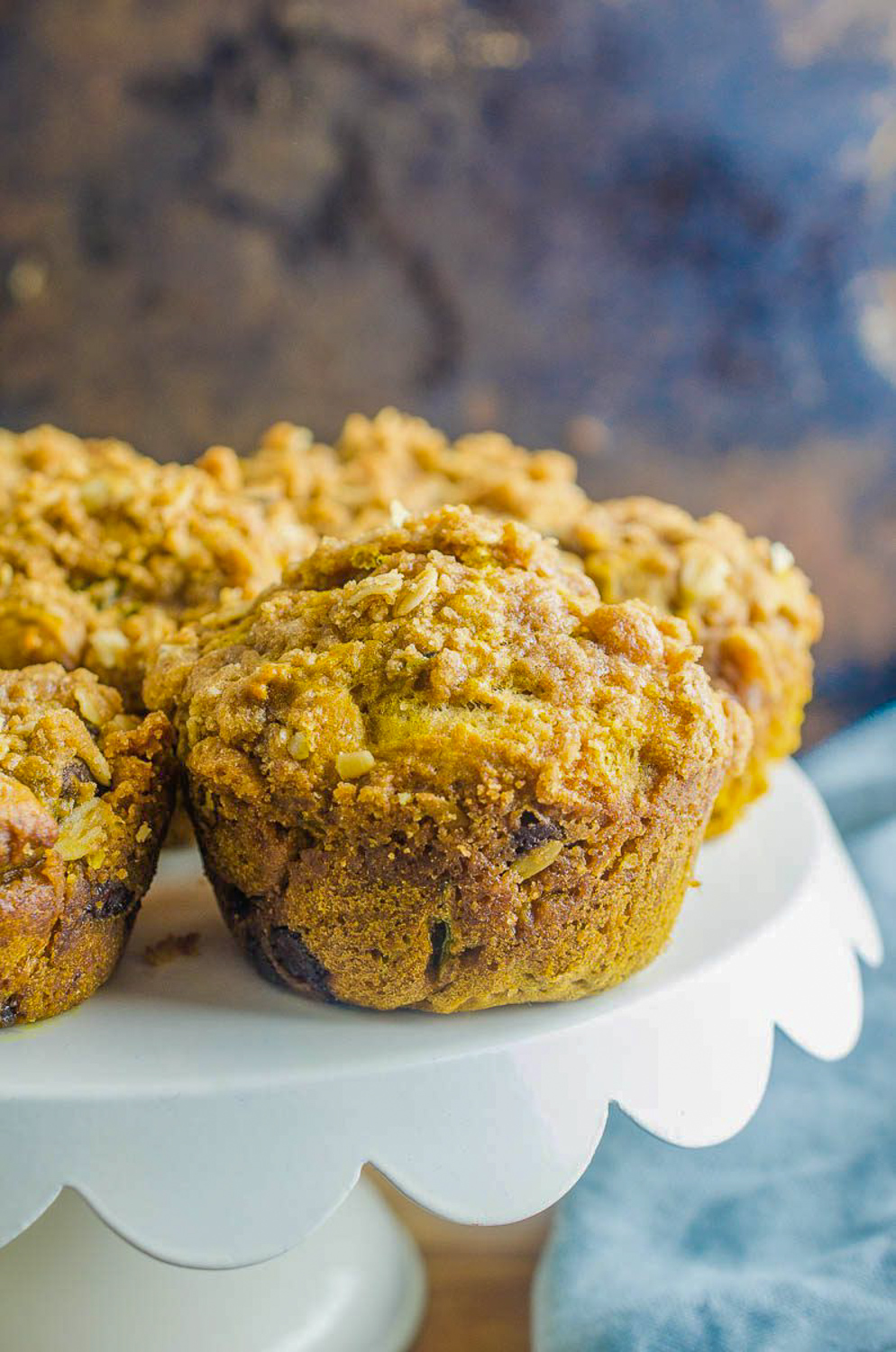 In the summer, I adore zucchini bread. If you happen to have some growing in your garden you know that you have more than enough to make bread at least a few dozen times.
In the fall, I adore pumpkin bread. It's pumpkiny and gingery and all kinds of goodness.
So I thought that to help us ease from summer to fall, I would combine the two to make a lovely "there are still two weeks of summer and my garden is full of zucchini but I must have all the pumpkin" treat.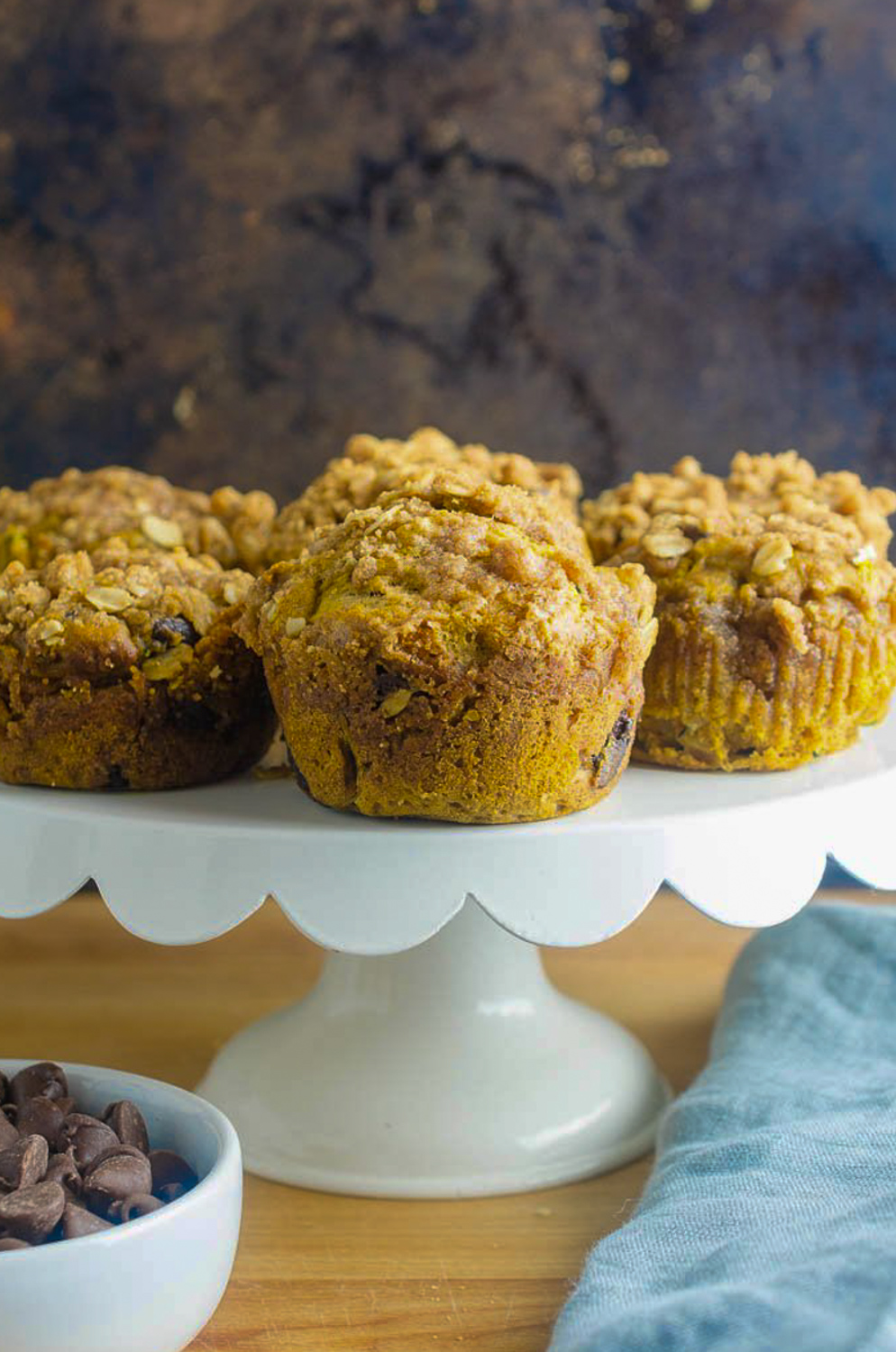 Tips for making the best Pumpkin Zucchini Muffins:
Be sure to use pumpkin puree NOT pumpkin pie mix.
Zucchini contain a lot of moisture so it's important to remove as much as you can before you bake the muffins, or your muffins will be too soggy. To do this, once you shred your zucchini make sure that you squeeze out any excess moisture with a paper towel.
Don't over mix the batter. This can make for tough muffins.
When I baked these I actually baked some with cupcake liners and some directly in the muffin tin. Personally, baking them directly in the muffin tin was what worked best for me. I found that they stuck to the liners and I tend to prefer the crisper edges that you get from baking them directly in the tin.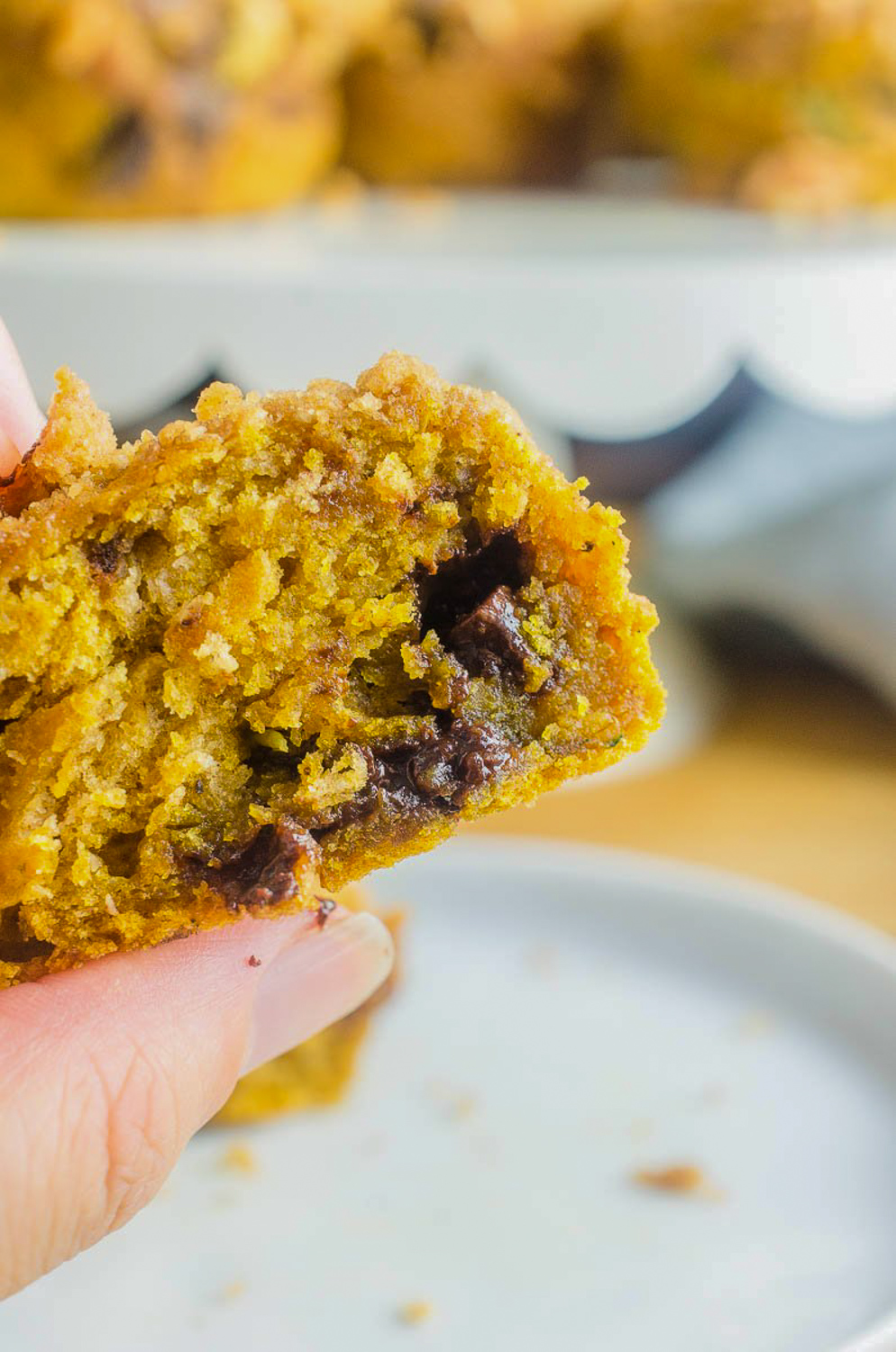 In addition to combining both summer and fall, these Pumpkin Zucchini Muffins are great because they are a great grab and go breakfast.
These zucchini muffins have been a big hit in our home. Ryan and I love the pumpkin part and how perfectly moist they are. The boys loves the chocolate chips.
And all of us adore the crumb topping.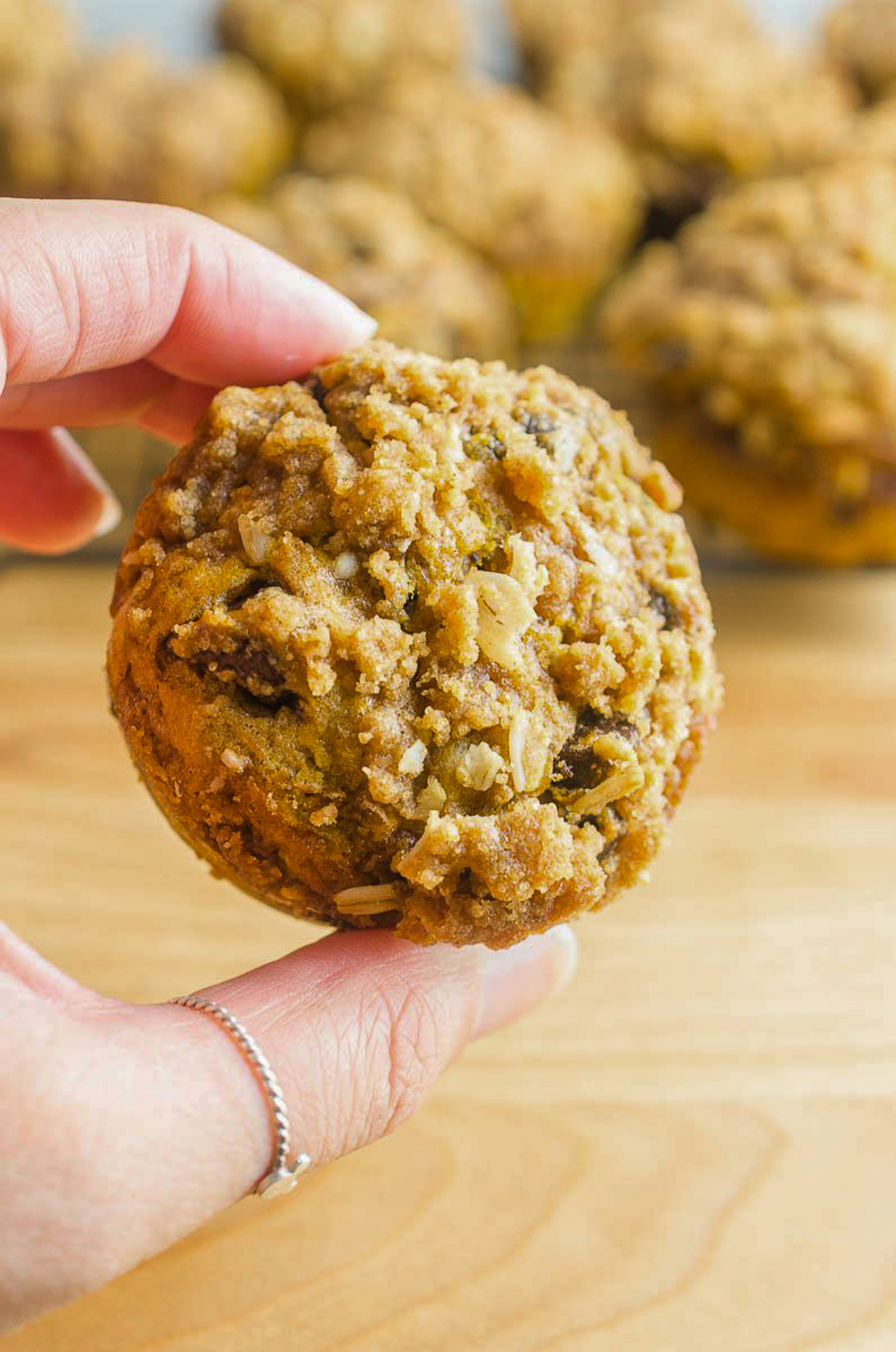 A little too much.
As in all four of us have been sneaking it. As in I'm lucky I got a picture of the muffins with the topping before it was all gone.
So basically, everything about these muffins is good and you should totally make them today. Okay? OK. :)
More grab and go breakfast recipes!
Ham and Swiss Breakfast Sliders
More Pumpkin Recipes:
Pumpkin Cake with Amaretto Frosting 
Pumpkin Gingersnap Icebox Cake 
Pumpkin French Toast Casserole
Note: This recipe was originally published in 2014. Updated with photos, tips and nutrition information in 2021.
Pumpkin Zucchini Muffins Recipe
Pumpkin Zucchini Muffin Ingredients:
1/4 cup butter, softened
1/3 cup granulated sugar
1/3 cup packed brown sugar
2 eggs
1 teaspoon vanilla extract
2 cups all purpose flour
1 teaspoon baking soda
1 teaspoon ground cinnamon
1/2 teaspoon nutmeg
1/2 teaspoon ground ginger
1/4 teaspoon cloves
1/4 teaspoon salt
1/4 cup whole milk
1 cup shredded zucchini, (squeeze in a paper towel to remove extra liquid)
1 1/2 cup pumpkin puree
1 cup semi-sweet chocolate chips
Crumb Topping Ingredients:
1/4 cup cold butter

1/2 cup packed brown sugar

1/4 cup plus 1 tablespoon all purpose flour

1/4 cup rolled oats

1 teaspoon ground cinnamon
Instructions
1
Preheat oven to 350 degrees. Lightly grease muffin tins with butter.

2
Make crumb topping by combining all of the ingredients together until crumbly.

3
In the bowl of stand mixer, beat together butter and sugar until light and fluffy. Beat in eggs one at a time. Beat in vanilla

4
Combine flour, baking soda, cinnamon, nutmeg, ginger, cloves and salt together in a bowl. Slowly beat into wet mixture. Beat in milk. Beat in zucchini and pumpkin. Fold in chocolate chips.

5
Fill the muffin tins 2/3 of the way full, about 1/4 cup of the batter. Generously sprinkle crumb top of each muffin. Bake in preheated oven for 20 minutes or until toothpick inserted comes out clean.

Notes
Make sure you use pumpkin puree not pumpkin pie mix.

Don't forget to squeeze the zucchini in a towel before using. It will help get out the extra moisture.

Nutrition facts for estimation purposes only.
Nutrition information
Amount per serving: 1 muffin
Calories: 242 , Total Fat: 8.8g , Saturated Fat: 5.5g , Cholesterol: 34mg , Sodium: 160mg , Carbohydrates: 37.5g , Fiber: 1.7g , Sugar: 21.5g , Protein: 3.8g