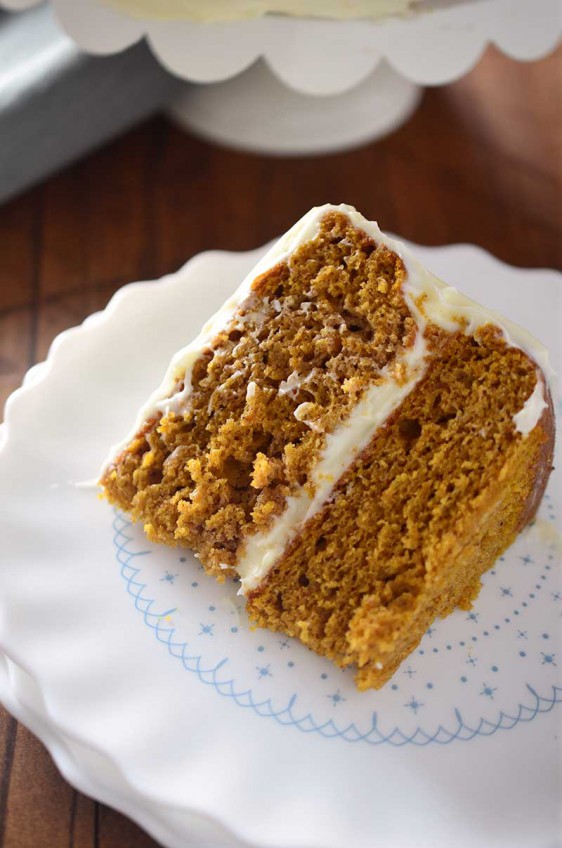 Pumpkin Cake with Amaretto Cream Cheese Frosting
Pumpkin Cake with Amaretto Cream Cheese Frosting is the perfect homemade cake recipe to celebrate the fall! 
UPDATE: Last week, when I posted my recipe for Amaretto Pumpkin Monkey Bread, I remembered the first time that I tried the pumpkin amaretto combo. It was the first time I made this Pumpkin Cake with Amaretto Cream Cheese Frosting.  Then I realized that the reason I made this pumpkin cake all those years ago was to celebrate the 1 year anniversary of my blog. AND THEN I realized that the EIGHTH anniversary for my blog was a couple of weeks ago, and I totally forgot!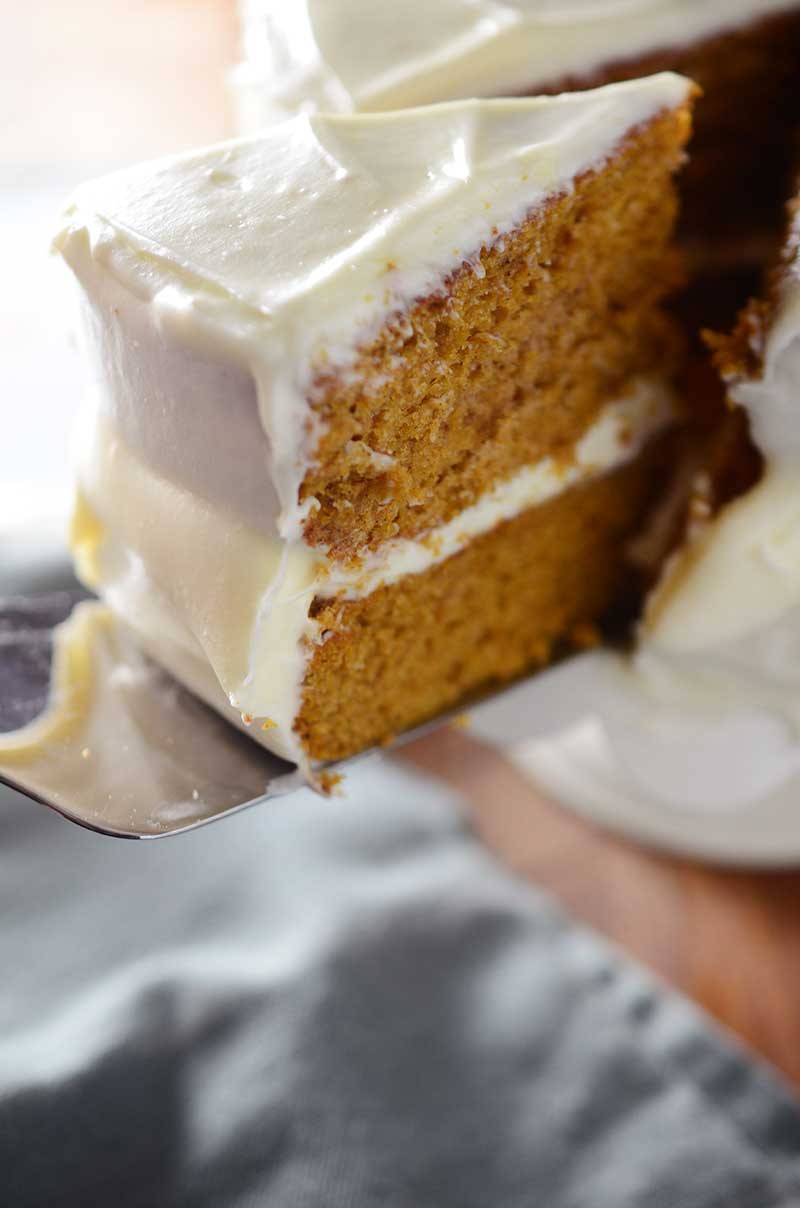 I figured, what a better time than now to go back and update this old post of mine with some new photos. I also decided to tweak the recipe just a bit, swapping out some of the granulated sugar with brown sugar. This gives the cake a richer flavor. And it totally works.
Plus, it gave me an excuse to make this delectable Pumpkin Cake with Amaretto Cream Cheese Frosting again.
Thank you for being here and following along! It's been a fun 8 years and I'm excited for more!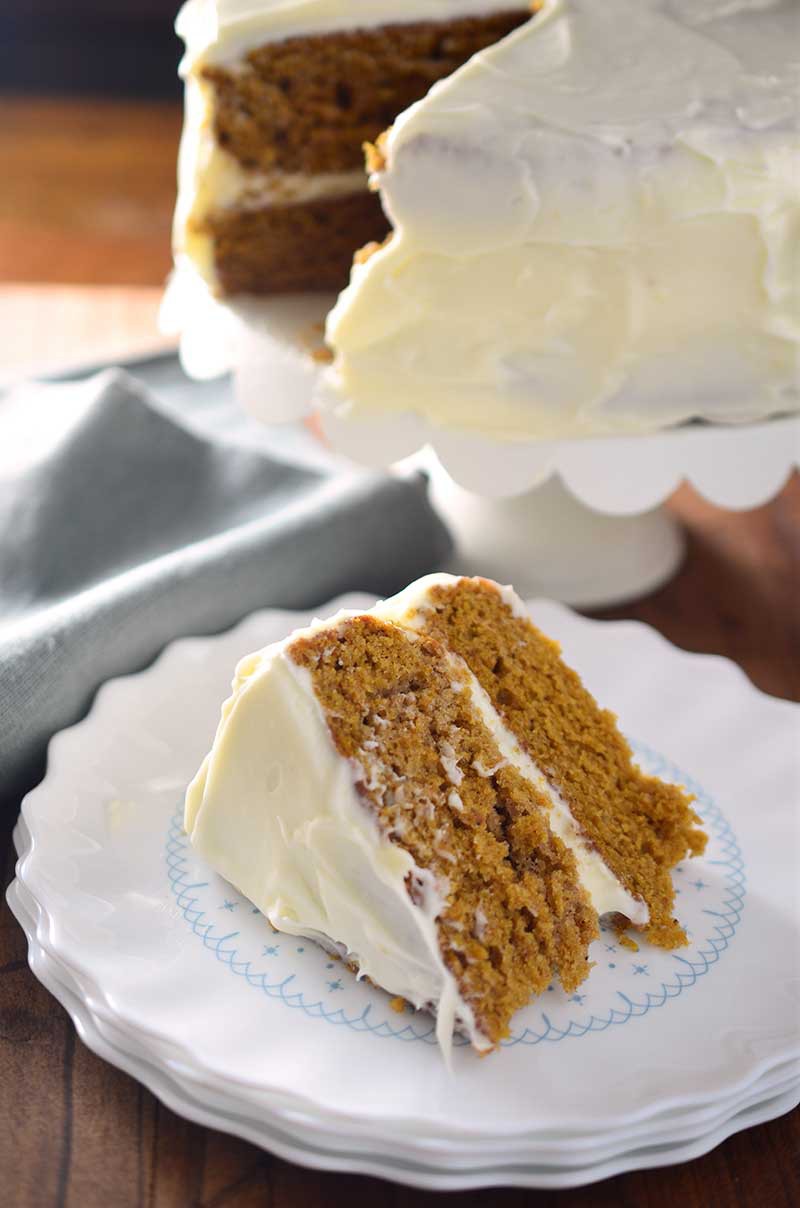 ORIGINAL POST: You may be wondering why this cake has a candle in it. While I will say hello to the latter half of my 20's on Friday, that is not the reason. This cake has a candle in it because exactly one year ago today I posted my very first post on Life's Ambrosia. I can't believe that it has already been a year. And I could not think of a better way to celebrate this occasion than with a super moist pumpkin cake with delectable Amaretto cream cheese frosting.
When this blog was started on October 7, 2008, it was a bit of a smorgasbord, if you will, of topics. And there were actually two writers. We had so many ideas in our heads of what we wanted to do. We wanted to write about food and travel. There was going to be a section about wine, our favorite books and daily quotes. Like I said, a smorgasbord.  About a month after starting the blog,  my friend decided that it wasn't the right fit for her. However, we had the domain name for at least a year. So, I figured what the heck, why not keep it going?
After a few weeks of rather sporadic posting, I finally got into a groove. The cooking, the writing, the picture taking, it all became a part of my (and Ryan's) everyday life. The smorgasbord of topics was whittled down and the blog became a lot more food focused. After a whole lot more cooking, one new camera, and a fresh new design, the blog evolved into what you see today.
Despite all of the cooking and writing that I do,  this blog would not be what it is today without the help of others. First of all, I want to say thank you to my dear husband Ryan. We make a great team. Without your awesome web design and photog skills as well as your willingness to try just about anything I cook, I would probably be spending a lot less time in the kitchen and a few more hours watching SVU reruns.
I want to say thank you to my family and friends, who have given me tons of inspiration, recipe ideas, tips and memories along the way. And I cannot forget you, my readers. I want to thank you for your wonderful comments and the heads up when you find typos.  Thank you for reading every day, for visiting me on Facebook and Instagram, and thank you for joining me on my journey as I explore my passion for food. It's only just getting started.
And now…Let's eat Pumpkin Cake with Amaretto Cream Cheese Frosting!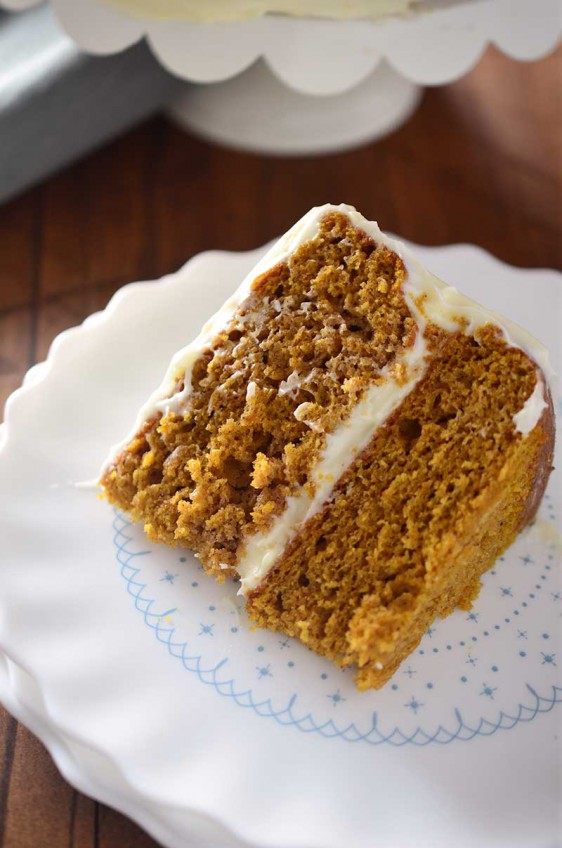 Pumpkin Cake with Amaretto Cream Cheese Frosting
This Pumpkin Cake with Amaretto Cream Cheese Frosting is the perfect homemade cake recipe for a fall celebration. This easy cake recipe is moist and rich!
Pumpkin Cake Ingredients:
2

cups

all purpose flour

1

teaspoon

baking soda

2

teaspoons

baking powder

1/4

teaspoon

salt

1

tablespoon

pumpkin pie spice

3

eggs

room temperature

1

cup

packed brown sugar

1/2

cups

granulated sugar

1/2

cup

vegetable oil

1

teaspoon

vanilla

1 1/2

cups

pureed pumpkin
Amaretto Cream Cheese Frosting Ingredients:
Preheat oven to 350 degrees. Grease and flour two 8-inch round cake pans. Set aside.

Sift together flour, baking soda, baking powder, salt and pumpkin pie spice.

In another bowl, whisk together eggs, sugar, vegetable oil and vanilla.

Slowly whisk flour mixture into egg mixture. Fold in pureed pumpkin.

Evenly divide cake mixture between the two prepared cake pans.

Bake for 25 - 35 minutes or until a toothpick inserted in the center comes out with a few crumbs on it.

Cool cakes in pans completely before transferring to a cake plate. About 1 hour.

While the cake is cooling make the frosting. Using a hand held mixer, cream together cream cheese and butter until smooth. Beat in Amaretto. Gradually beat in powdered sugar until frosting becomes thick and spreadable.

Once the cakes are cool, spread a layer of Amaretto cream cheese frosting on the top of one cake layer. Place the other cake layer on top. Use remaining frosting to frost the cake.
Keywords:
amaretto, autumn, cake, cakes, Cream Cheese, dessert, fall, pumpkin, pumpkin puree, sweet, treat