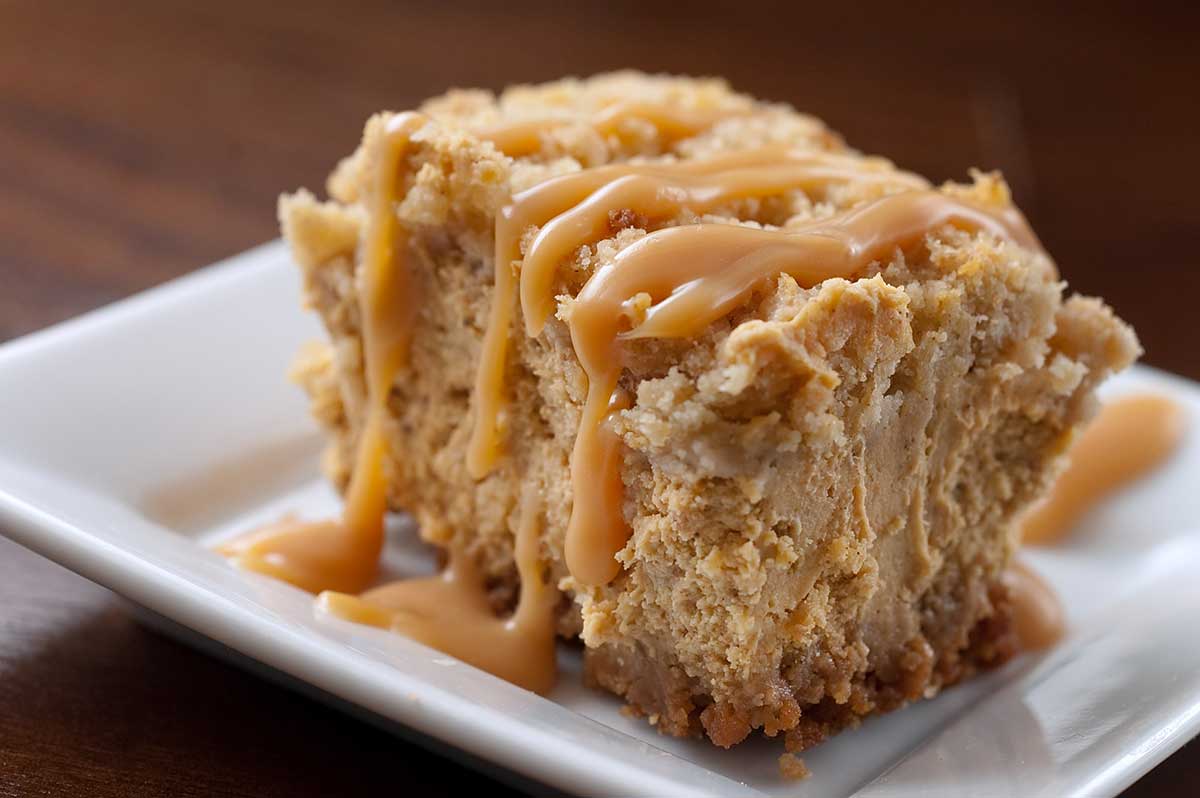 Pumpkin Cheesecake Bars
Last week on twitter I asked if there were any taste test volunteers for the cheesecake bars I was planning on making that afternoon. Surprisingly, or not, there were quite a few people interested. As much as I wanted to have everyone come over to a cheesecake party, it just wasn't possible. And until it's possible to pass food through the computer, I will have to do the next best thing and share the recipe with you on here. I hope you enjoy it. Ryan and I have, for the past couple of days.
I don't know if I would say that these can replace pumpkin pie on Thanksgiving for the simple fact that I adore pumpkin pie on Thanksgiving because it is the only time I get to enjoy it. This dessert however would be a good addition to your dessert table if you can't decide whether or not you want to make cheesecake or pumpkin pie. The ginger snap crust pairs perfectly with the spiced cheesecake filling. I opted to put a crumble topping just for kicks and it turned out pretty good. It's totally optional if you're not a fan. I suppose I can also say the caramel sauce is optional too but I mean really….who doesn't like caramel sauce?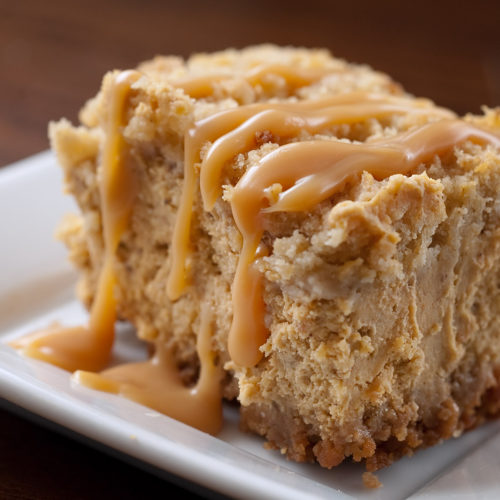 Pumpkin Cheesecake Bars
Pumpkin, cheesecake, gingersnaps, crumble topping & caramel sauce? Yes please.
Ingredients:
2

cups

crushed gingersnap crumbs

4

tablespoons

butter

melted

2

8oz packages of cream cheese, softened

1/3

cup

sugar

1/3

cup

sour cream

1

teaspoon

of vanilla

2

large eggs

1

cup

pumpkin puree

1

teaspoon

cinnamon

1/2

teaspoon

ground nutmeg

1/4

teaspoon

ground cloves

1/4

cup

brown sugar

1/2

cup

all purpose flour

1/4

cup

cold unsalted butter cut into pieces

caramel sauce
Preheat oven to 400 degrees.

Line a 8″x8″ glass pan with foil, be sure to cover the sides, you are going to use this to lift the cheesecake out of the pan.

Combine the melted butter and gingersnap crumbs and press into the bottom of the pan. Cook for 10 minutes. Remove and set aside.

In a bowl beat softened cream cheese until smooth. Beat in sugar, sour cream, vanilla, eggs, pumpkin, cinnamon, nutmeg and cloves. Beat until smooth and creamy. Note: if you end up with lumps you can transfer the mix to a food processor and pulse a couple of times until smooth.

Pour mixture onto gingersnap crust.

In another bowl combine flour and brown sugar. Using a pastry cutter cut cold butter into the mixture until crumbly.

Sprinkle mixture over the top of the cheesecake. Bake for 40 - 50 minutes or until the center is set. If a knife inserted comes out mostly clean you are good to go.

Allow to cool on a cooling rack for about 40 minutes. Cover and refrigerate until chilled through, about 2 hours.

Cut, drizzle with caramel sauce and serve.
Keywords:
Christmas, dessert, fall, Food, pumpkin cheesecake, Recipe, sweet, thanksgiving, treat