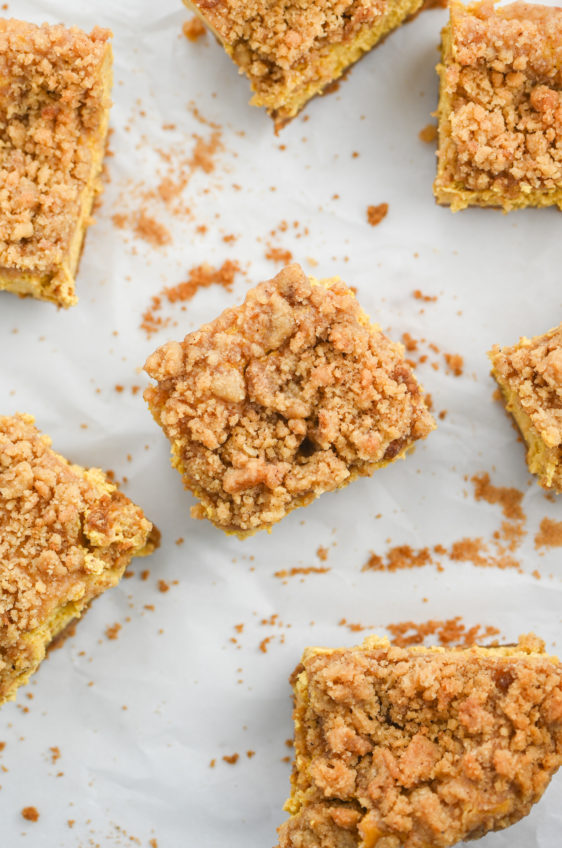 Pumpkin Cheesecake Bars
Decadent layers of gingersnaps, cheesecake, crumb topping and caramel drizzle, make this Pumpkin Cheesecake Bars Recipe the perfect fall dessert.
Have you ever found yourself trying to decide whether or not you want to make a pumpkin pie or a cheesecake? I admit it's not a common problem, but come the holidays it's a question I often have to ask myself. That is, until these Pumpkin Cheesecake Bars came into the picture. They are the best of both worlds. 
And they are divine.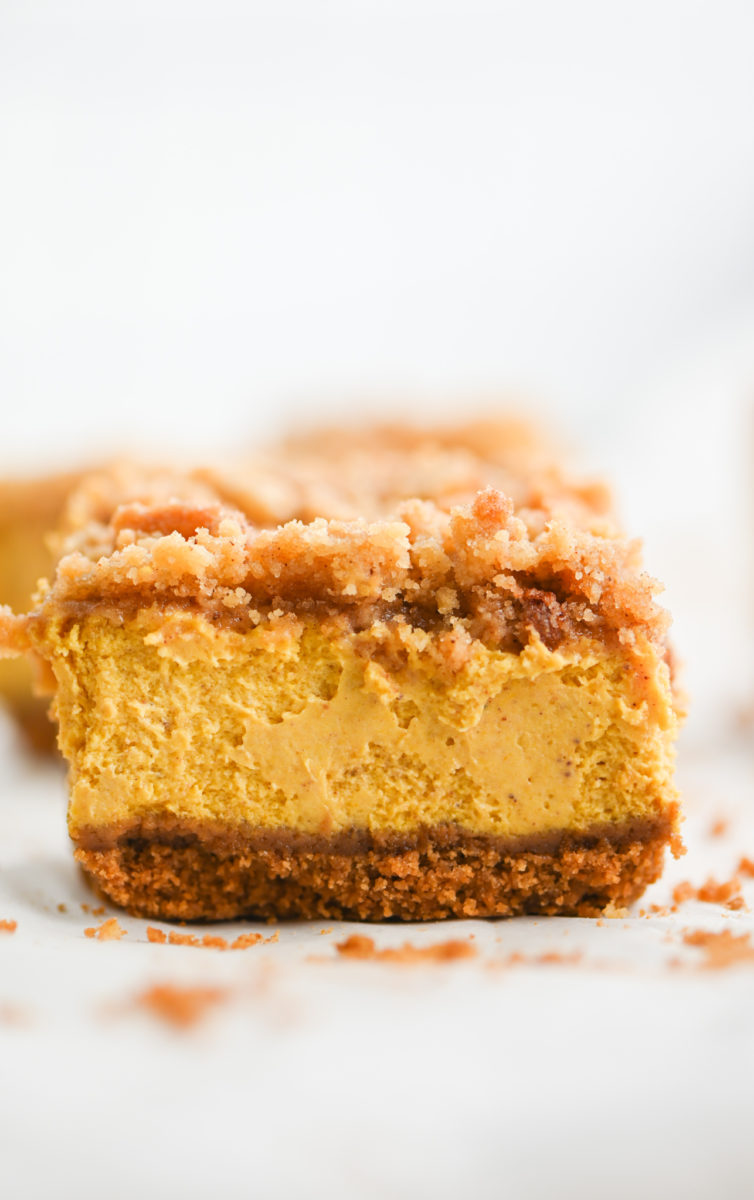 Let's talk about what you need to make them.
INGREDIENTS:
There are basically three different ingredient groups that you'll need for this recipe. You'll be making the crust, the cheesecake layer and the crumb topping. It might sound like a lot but it's pretty easy!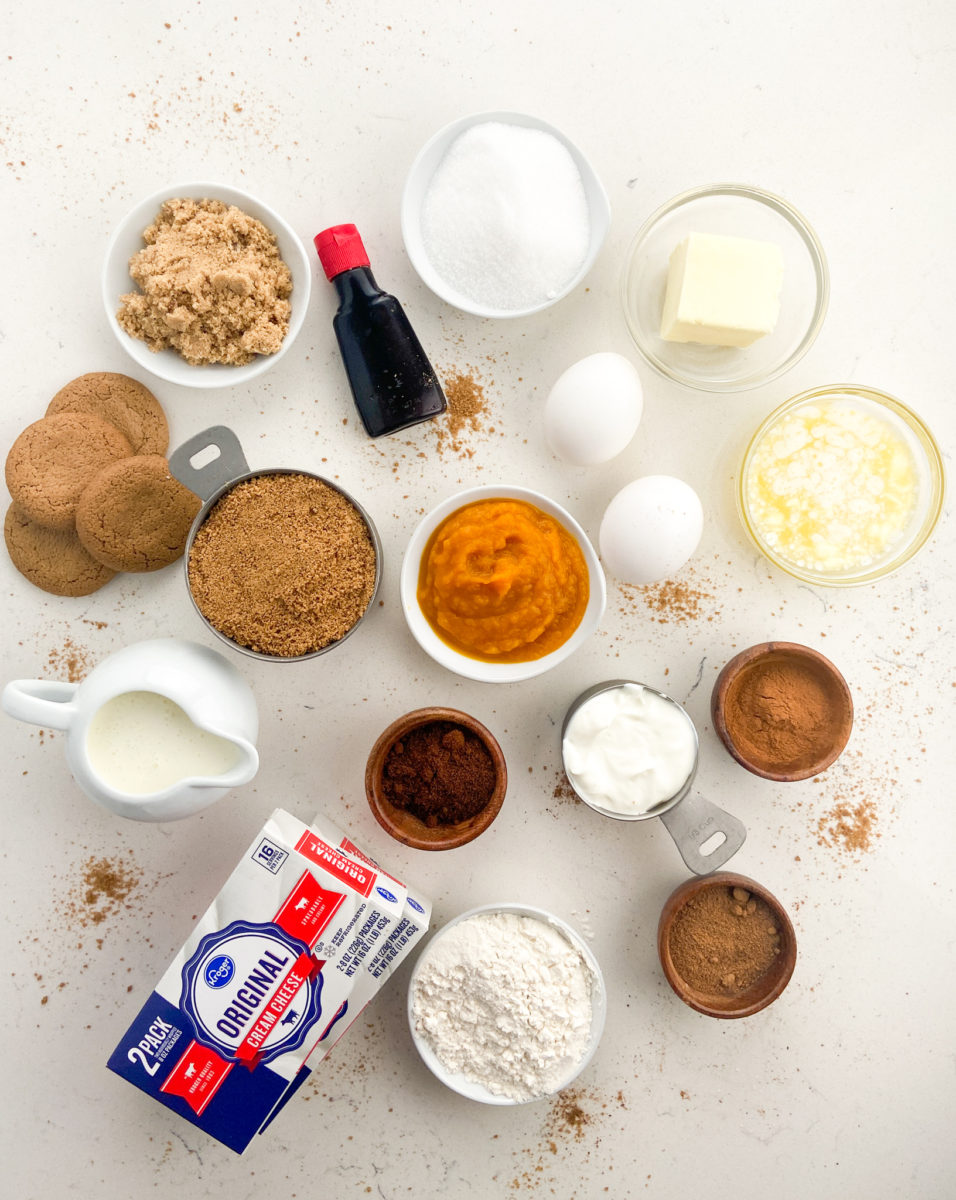 FOR THE CRUST:
GINGERSNAP COOKIES: I prefer to use gingersnap cookies for the crust because they offer that extra "fall spice" flavor that I'm looking for. If you can't find them, you can use graham cracker crumbs as well. Make sure that you pulse them really well in the food processor so that the crust holds together better.
BUTTER: Melted butter is what is going to help hold the crust together.
PUMPKIN CHEESECAKE LAYER:
CREAM CHEESE: Make sure that it is room temperature so that it will blend well.
SUGAR
HEAVY CREAM
SOUR CREAM: This lends more creaminess and a touch of acidity to cheesecake.
VANILLA
EGGS
PUMPKIN PUREE: Make sure that you use pumpkin puree, NOT pumpkin pie mix.
CINNAMON/NUTMEG/CLOVES: This combination of spices really gives you that spice flavor you think of when you think pumpkin desserts.
CRUMB TOPPING:
BROWN SUGAR: You can use dark or light, whichever you have on hand.
FLOUR: All purpose is great.
BUTTER: Use cold butter to help hold the crumb toppings together
STEP BY STEP PHOTOS AND INSTRUCTIONS: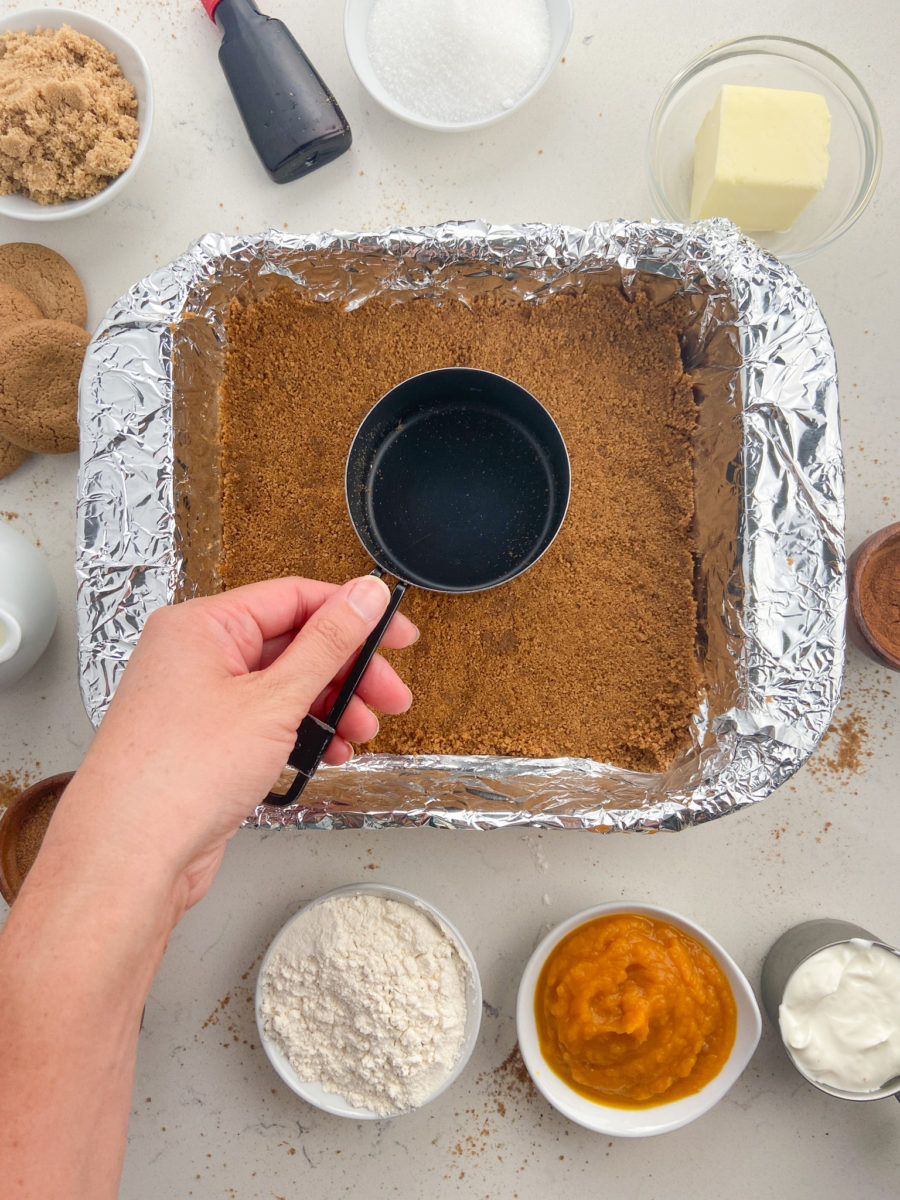 STEP #1: First make your crust by combining butter and cookie crumbs together. Then press into an 8×8 pan that is lined with aluminum foil and bake for 10 minutes. Then set aside.
STEP #2: Make your cheesecake layer. Using a hand mixer (or a stand mixer fitted with a paddle attachment) cream together cream cheese until it is smooth. Then add in sugar, sour cream, heavy cream, vanilla, eggs, pumpkin puree, cinnamon, nutmeg and cloves. Blend until smooth and no lumps are present.
STEP #3: Pour cheesecake onto crust and spread into an even layer.
STEP #4: Make the crumb topping with brown sugar, flour and cold butter. Sprinkle on top of the cheesecake layers and bake for 45 – 55 minutes. Cool 30 minutes on the counter and then at least 2 hours in the fridge before slicing.
STEP #5: Drizzle with caramel sauce and serve.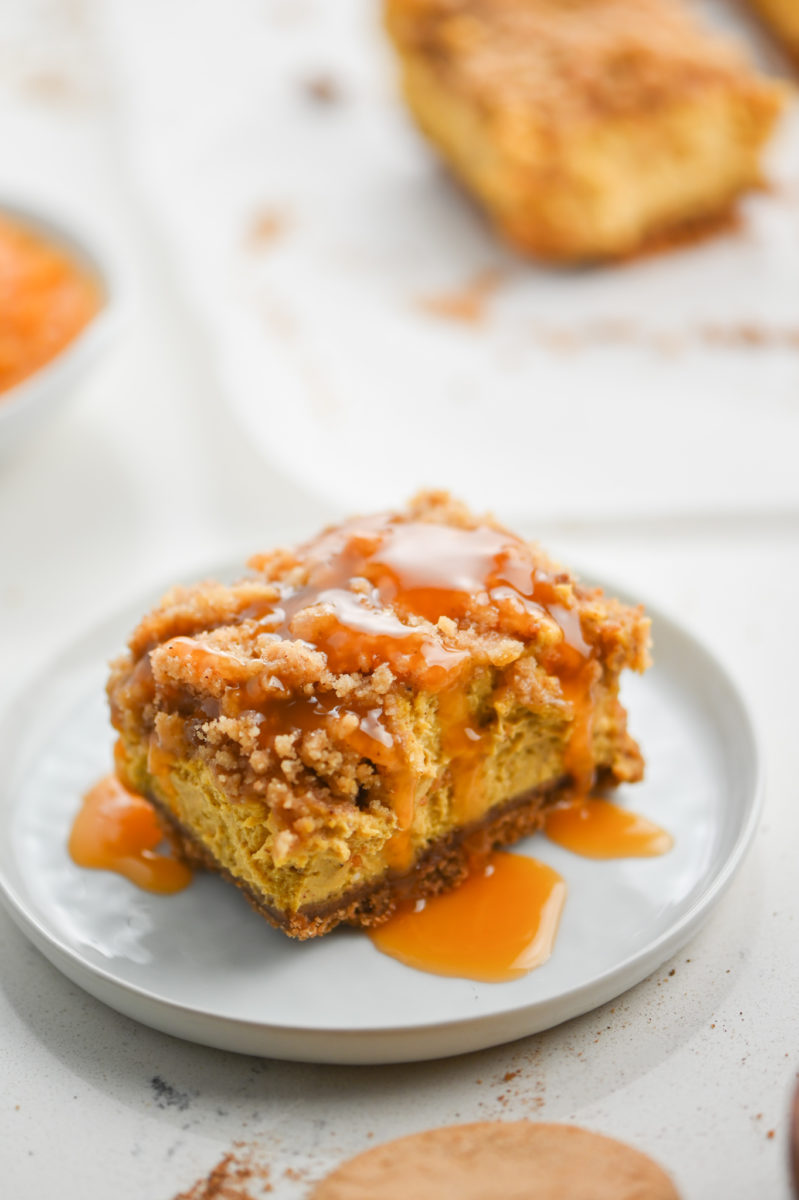 STORAGE AND LEFTOVERS:
Pumpkin cheesecake needs to be store in the refrigerator for 3 – 4 days. Store it covered or in an airtight container so that it doesn't absorb odors from the fridge.
RECIPE FAQ
Why is my cheesecake lumpy?
It is essential that the cream cheese and the eggs are room temperature. If they are cold, it will cause the cream cheese to solidify and create lumps in your cake.
How to fix a lumpy cheesecake?
You can pass the cheesecake filling through a sieve to get the lumps out. You can also put the mixture into a food processor and pulse a couple of times until the lumps are gone.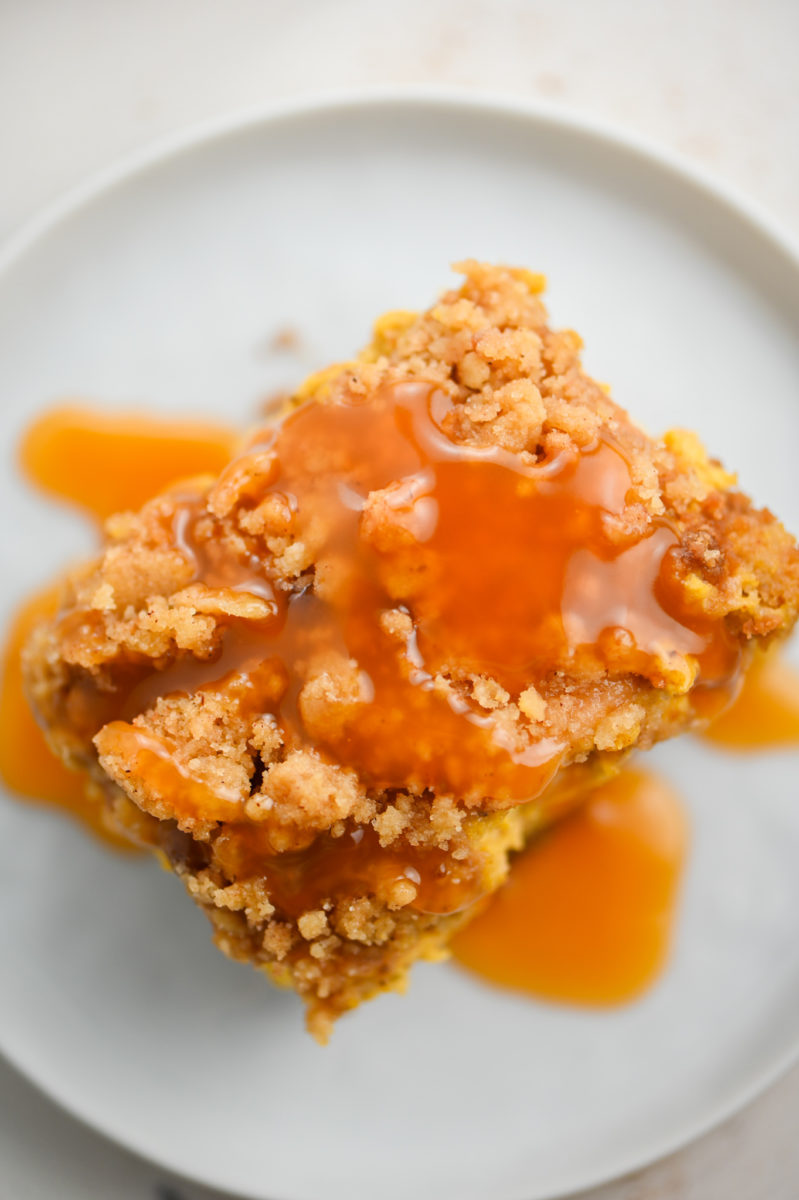 In the words of my kiddos "THESE TASTE LIKE OCTOBER!" And they aren't wrong! If you are looking for the absolute best dessert to make this fall, you have GOT to try this Pumpkin Cheesecake Bars Recipe.
Looking for more cheesecake dessert recipes? You've got to try these:
Eggnog Cheesecake Bars are a twist on this dessert and perfect for Christmas.
Caramel Apple Pie Cheesecake is another dessert mash up that you have got to try!
Cherry Cheesecake is one of my absolute favorite desserts of all time. It's a classic for a reason!
Cheesecake in dip form? Why not?! Try this Tiramisu Cheesecake Dip for the ultimate twist!
Note: This post was originally written in 2010. It was updated with new photos, a modified recipe and nutrition information in 2022.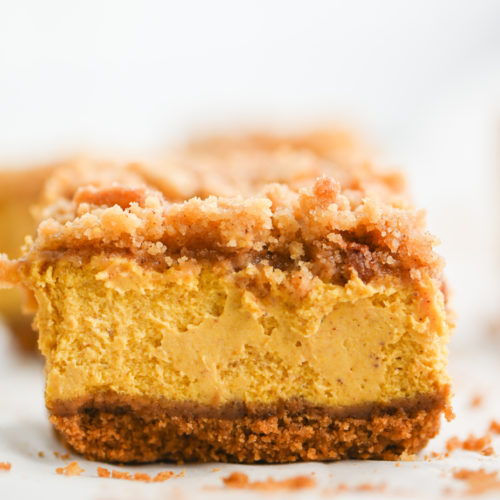 Pumpkin Cheesecake Bars
Pumpkin, cheesecake, gingersnaps, crumble topping & caramel sauce? Yes please.
Ingredients:
2

cups

crushed gingersnap crumbs

4

tablespoons

butter

melted

2

8oz packages of cream cheese, softened

1/3

cup

sugar

1/3

cup

sour cream

1/2

cup

heavy cream

1

teaspoon

of vanilla

2

large eggs

3/4

cup

pumpkin puree

1

teaspoon

cinnamon

1/2

teaspoon

ground nutmeg

1/4

teaspoon

ground cloves

1/4

cup

brown sugar

1/2

cup

all purpose flour

1/4

cup

cold unsalted butter cut into pieces

1/2

cup

caramel sauce
Preheat oven to 400 degrees.

Line a 8″x8″ glass pan with foil, be sure to cover the sides, you are going to use this to lift the cheesecake out of the pan.

Combine the melted butter and gingersnap crumbs and press into the bottom of the pan. Cook for 10 minutes. Remove and set aside. Reduce heat to 325 degrees.

In a bowl beat softened cream cheese until smooth. Beat in sugar, sour cream, heavy cream, vanilla, eggs, pumpkin, cinnamon, nutmeg and cloves. Beat until smooth and creamy.

Pour mixture onto gingersnap crust.

In another bowl combine flour and brown sugar. Using a pastry cutter cut cold butter into the mixture until crumbly.

Sprinkle mixture over the top of the cheesecake. Bake at 325 degrees F for 40 - 50 minutes or until the center is set. If a knife inserted comes out mostly clean you are good to go.

Allow to cool on a cooling rack for about 40 minutes. Cover and refrigerate until chilled through, about 2 hours.

Cut, drizzle with caramel sauce and serve.
If you end up with lumps in your cheesecake you can transfer the mix to a food processor and pulse a couple of times until smooth. You want it to be smooth because the lumps won't dissolve when you bake it. 
Nutrition information for estimation purposes only. 
Calories:
373
kcal
Carbohydrates:
34
g
Protein:
6
g
Fat:
24
g
Saturated Fat:
14
g
Polyunsaturated Fat:
1
g
Monounsaturated Fat:
7
g
Trans Fat:
1
g
Cholesterol:
91
mg
Sodium:
282
mg
Potassium:
202
mg
Fiber:
1
g
Sugar:
18
g
Vitamin A:
3243
IU
Vitamin C:
1
mg
Calcium:
87
mg
Iron:
2
mg
Keywords:
Christmas, dessert, fall, pumpkin, thanksgiving