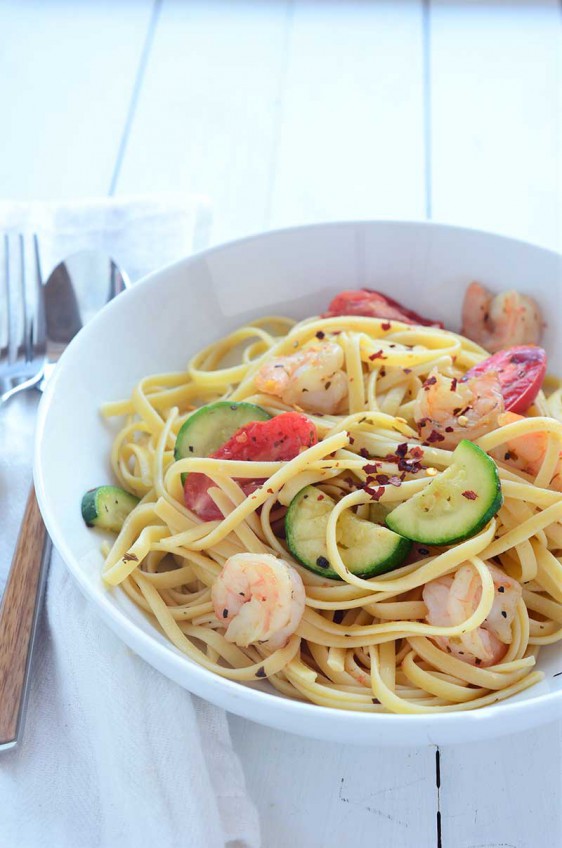 Shrimp Linguine with Zucchini and Tomatoes
Shrimp Linguine with Zucchini and Tomatoes is what I turn to when summer hits but I'm still craving pasta. This shrimp recipe is quick, easy and loaded with summer flavor. There is shrimp, red onion, tomatoes, zucchini, crushed red peppers and loads of garlic. I could eat this pasta every day, friends. Seriously.
The first time that I had shrimp linguine was when I was visiting my dad for a weekend. He had found this recipe on the back of a pasta box and we decided to make it together. It was so good, it quickly became a family favorite and he would make it often whe my sister and I would visit. That recipe that my dad made was delicious but it was simply for shrimp and linguine. Over the years, I have changed it and adapted it to suit my veggie loving needs.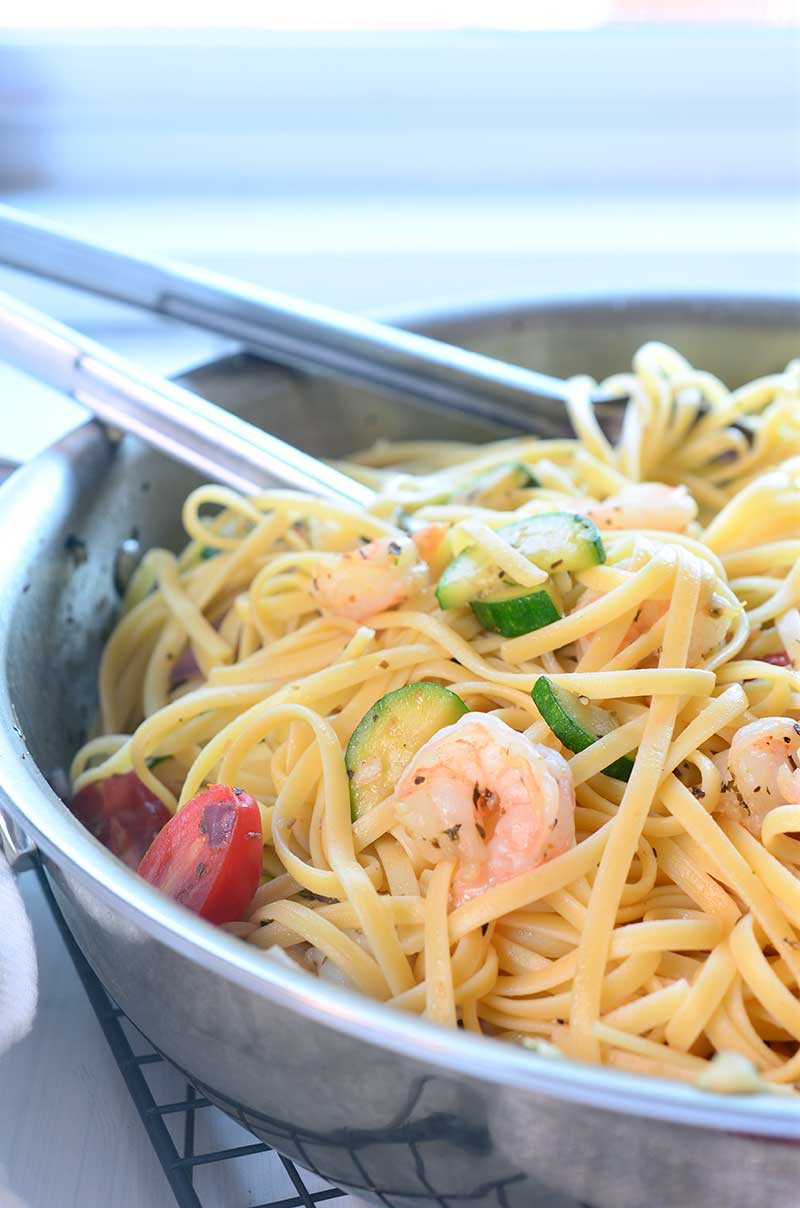 I have tried this shrimp linguine with many different veggies over the years, but the combo that I always come back to is zucchini and tomatoes. First of all, this time of year zucchini and tomatoes are in abundance in the garden. Second, I like using zucchini and tomatoes in this recipe because it keeps things light and fresh.
Over the years, one of the tricks that I have learned when making this shrimp linguine is to make sure that I add the tomatoes right at the very end.
If I add them in too early, they get soft, lose their shape and make more of a tomato sauce. When I add them at the end, they hold their shape but are still tender and juicy.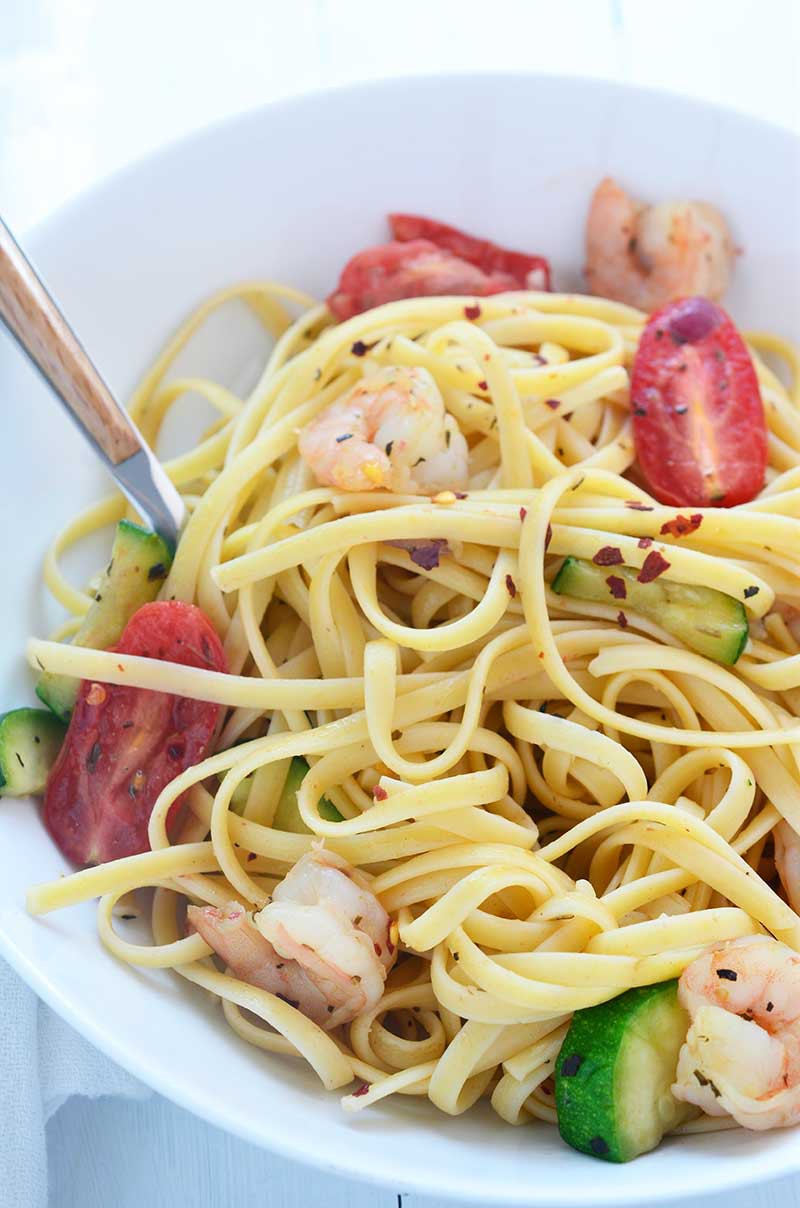 This Shrimp Linguine recipe really is one of my all time favorite dishes. Give it a try this summer, I'm sure you'll love it! Pair it up with a fresh garden salad and some garlic bread.
Note: This post was originally published in 2008. Updated in 2016.

Shrimp Linguine with Zucchini and Tomatoes Recipe
Ingredients:
1 lb 51-60 count prawns, peeled and deveined
5 cloves garlic, minced
1/4 teaspoon salt
1/8 teaspoon plus 1/2 teaspoon crushed red pepper
3 tablespoons of olive oil
2 zucchini, cut in half lengthwise and then sliced
15 cherry tomatoes, sliced in half
1/2 small red onion, diced
1 teaspoon oregano
1 teaspoon basil
1/2 teaspoon crushed red pepper (optional)
Kosher salt to taste
1 lb dried linguine
Kosher salt for pasta water
Freshly grated Parmesan cheese
Instructions
1
Combine the prawns with 1/2 of the minced garlic, 1/4 teaspoon salt, 1/8 teaspoon crushed red pepper and 1 tablespoon crushed red pepper. Cover and refrigerate for 30 minutes.

2
Start a pot of water and bring to boil. Once the water is boiling, liberally add salt and then the pasta. Cook for 5-7 minutes and rinse with cold water. The pasta will not be done, it will finish cooking with the vegetables and shrimp.

3
In a large skillet over medium heat, heat olive oil. Add oregano, basil, crushed red pepper (if using) and garlic. Cook just until fragrant, about 30 seconds.

4
Add zucchini and onions and cook for 3 minutes. Remove and set aside.

5
In the same pan, add the prawns and cook until they begin to turn pink.

6
Return the vegetables to the pan, add linguine and tomatoes. Stir to combine and let cook for 2 - 3 more minutes or until the tomatoes are warmed. Add salt as needed.

7
Top with freshly grated Parmesan cheese and serve.