Shrimp and Pork Wontons in Spicy Sauce
Few things can make my mouth water when looking at a restaurant menu like the words Shrimp and Pork Wontons in Spicy Sauce. The savory wontons in the delectable nutty, spicy sauce is one of my favorite things to order when we go to our favorite Asian restaurant. And now I can make them at home. Score!
With two kiddos we don't get out to eat as much as we used to. They are well behaved, well, most of the time. But if I am being completely honest, sometimes it's more exhausting to go out to eat than it is stay home and make dinner. In some cases, it's probably easier to make a 12 course meal. It's because of this, I find myself trying to recreate some of my favorite dishes at home. Dishes like these Shrimp and Pork Wontons in Spicy Sauce.
I first tried Shrimp and Pork Wontons in Spicy Sauce at Din Tai Fung here in Seattle. When we go there I always have to order the garlic fried green beans and Shrimp and Pork Wontons in Spicy Sauce. Problem is, the place is ALWAYS packed. And no reservations. So we're talking an hour and half wait on most days. This means that even if the kids were in good spirits when we got there, by the time we sat down and got any food they would be in a word: hangry.
Honestly, Ryan and I usually were too. I mean an hour and a half is a loooooooooonng time. Even for delectable wontons. But guess what? Now I don't have to do that anymore because now I can make them at home!
As good as the wontons are, the sauce is my favorite part. I could pretty much just eat it with a spoon. When it came to making these shrimp and pork wontons at home, the sauce was the hardest part. It took a few tries for me to get it just the way I wanted it.
The first time I made it I added way too much soy and used a regular rice vinegar.
The second time I made it I cut down the soy but still used rice vinegar. It was closer to what I wanted but still didn't have the right tang to it.
The third time I made it, I swapped out the rice vinegar for Chinese Black Vinegar and BAM. Hit the nail on the head. The sauce was that same spicy, nutty, tangy sauce I remembered.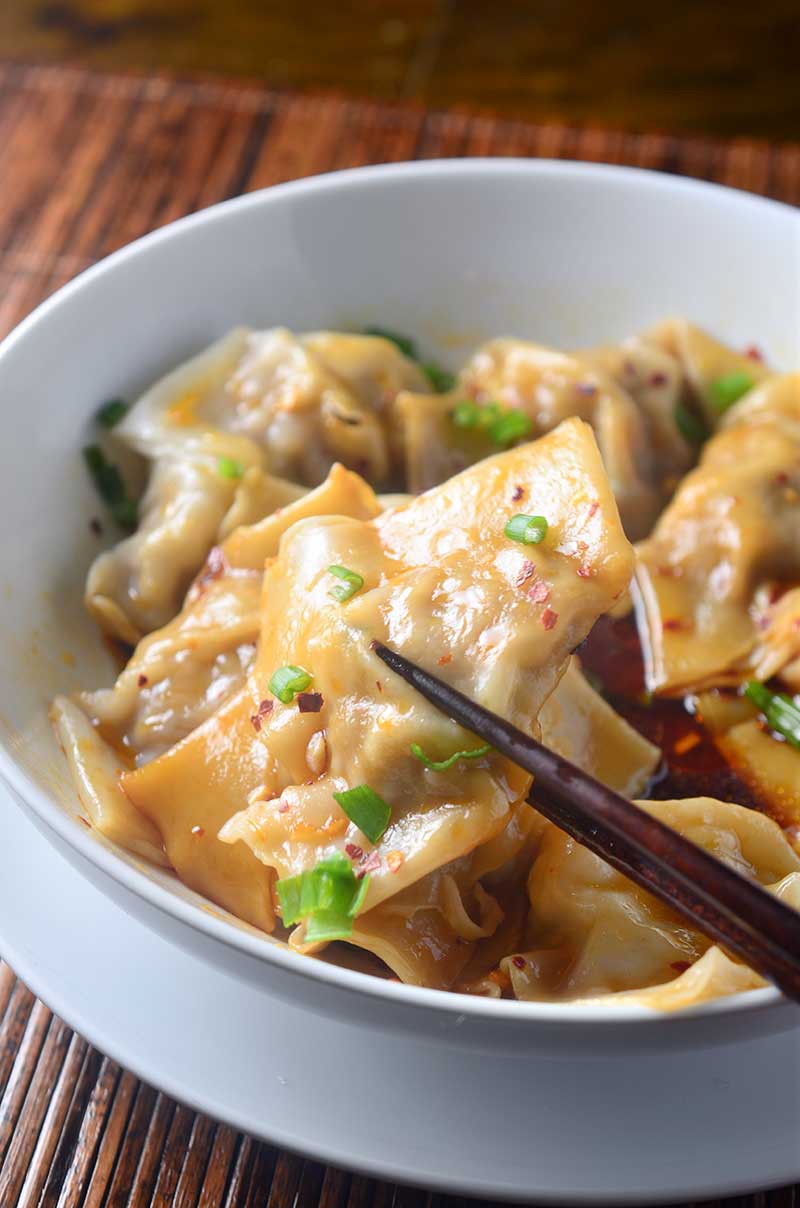 And the best part about being able to make these at home? I can make a double batch and freeze half. That way whenever I get the craving, all I have to do is whip up a batch of the sauce and I can have these on the table in no time!

Shrimp and Pork Wontons in Spicy Sauce Recipe
Shrimp and Pork Wonton Ingredients:
2 cloves garlic
1/4 pound shrimp, peeled and deveined
1/4 pound ground pork
2 teaspoons soy sauce
1 teaspoon sesame oil
1 teaspoon ground ginger
1/2 teaspoon salt
20 wonton wrappers
Spicy Sauce Ingredients:
1/4 cup soy sauce

2 tablespoons chili oil

1 tablespoon plus 1 teaspoon Chinese black vinegar

1 teaspoon sesame oil

1/2 teaspoon granulated sugar

1/4 teaspoon crushed red pepper

1 garlic clove, minced

1 green onion, diced
Instructions
1
Make the sauce first by whisking together all ingredients. Let sit at room temperature until ready to use.

2
To make the wontons combine garlic, shrimp, pork, soy sauce, sesame oil, ginger and salt in a food processor. Pulse until the shrimp and pork are minced fine and the mixture is mixed well.

3
To make a wonton, spoon a heaping teaspoon of the mixture into the center of the wonton wrapper. Dip a finger in water and run it along the outer edges of the wonton wrapper. Fold bottom corner of the wrapper over the filling and press all edges to close the wrapper, you'll have a triangle. With the top of the triangle facing away from you,fold up the left and right corners. Repeat with remaining ingredients until you have about 20 wontons.

4
Bring a large pot of water to boil. Add in wontons. Cook until the water starts to boil again. Add in a cup of cold water. Bring to a boil again and add one more cup of cold water. Once it starts boiling again, and the wontons are floating, they should be cooked through. Cut into one to test if unsure.

5
Use a slotted spoon to transfer the wontons to a large bowl. Pour the sauce over the top. Gently stir the wontons. Serve immediately.