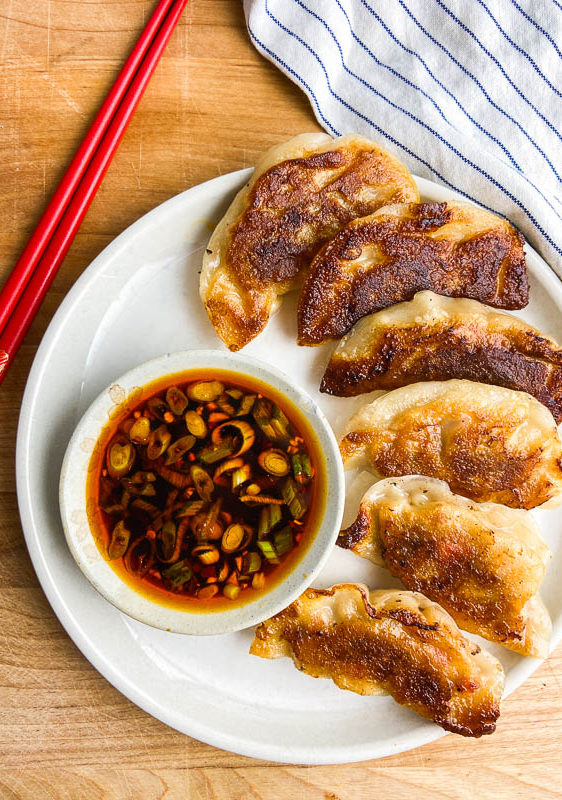 Pork Potstickers
These pork potstickers are stuffed with a savory pork and vegetable filling and steam-fried for a juicy potsticker with perfectly crisp bottom.
Once glance at an Asian menu and chances are you'll see some kind of dumpling on the appetizer menu. And I don't know about you but I cannot resist dumplings with a juicy filling and a perfectly crispy bottom.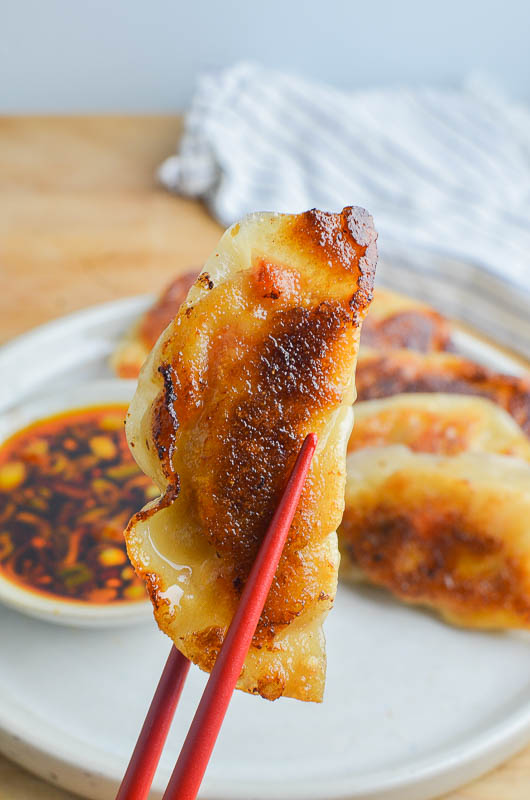 Enter these Pork Potstickers. They are loaded with ground pork, veggies and seasonings and then pan-fried until the bottoms are perfectly crisp.
In addition to teaching you the fry-steam-fry technique, in this post you'll also find info on how to freeze them so that you can have these scrumptious potstickers on hand anytime you get the craving!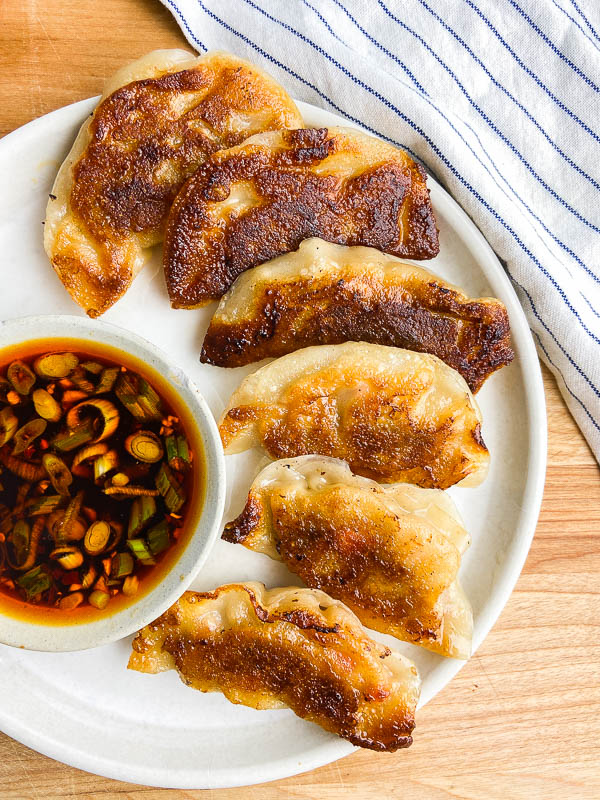 What is the difference between wontons, potstickers and gyoza.
This is a question that many people ask. And they aren't all that different. They are all a type of dumpling. Dumplings are usually made by wrapping a meat and/or vegetable filling in a dough wrapper. They are then either steamed, boiled, pan fried or fried.
Wontons: Often filled with savory fillings like cream cheese, veggies or meat. Wontons are usually boiled or deep fried.
Gyoza: Japanese version that are usually prepared much in the same way that potstickers are. They are often a little smaller than potstickers but still have the classic crispy bottom.
Potstickers: Like wontons and gyoza are filled with a filling and wrapped in dough. Then they are usually fried-steamed-fried. This gives you the crispy bottom with the steamed top that we are all used to when we think of potstickers.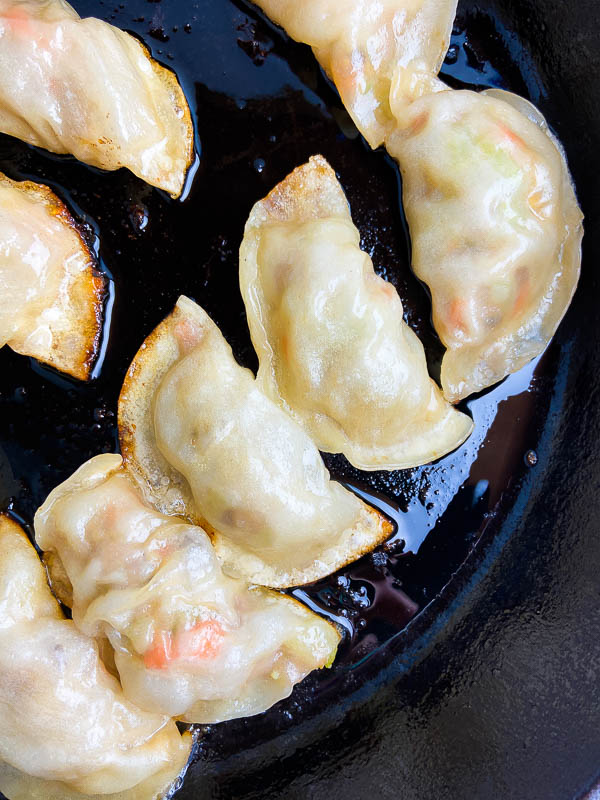 PORK POTSTICKERS INGREDIENTS:
Pork: Ground pork works best for this recipe. Make sure it's plain ground pork not any kind of seasoned sausage.
Carrots and Celery: Both of these ingredients add a nice crunch to the filling but make sure that you mince them. It'll be better for the texture.
Shiittake Mushrooms: These are a Japanese mushroom that have a smoky, earthy flavor that works great in these potstickers. If you can't find them you can substitute crimini mushrooms.
DES TIP: The stems of shiitake mushrooms are very tough and it is best to remove and discard them before cooking.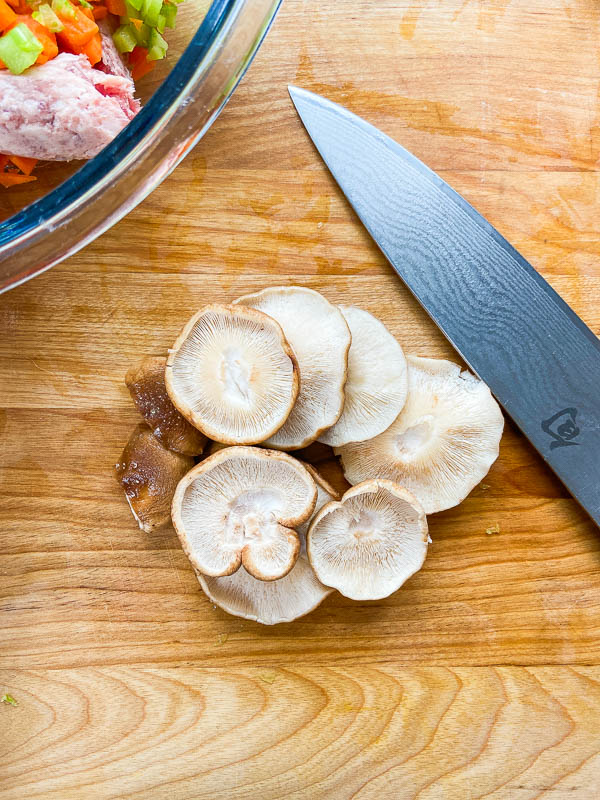 Wrappers: You will want to use round "gyoza" wrappers for this recipe. You should be able to find these in the refrigerated part of the produce section. Or they can be found frozen. If they are frozen make sure to thaw them before using.
That's it for the vegetables and meat but several seasonings also go into potstickers. Most of these ingredients can be found in a well stocked grocery store. I often find them in the "Asian" aisle.
Fish Sauce: A staple in Asian cooking, fish sauce adds a savory umami flavor to dishes.
Hot Chili Oil: An oil made with red chili peppers. It does add a bit of heat and can be left out if desired.
Sesame Oil: Adds a nuttiness to the dish.
Ground Ginger: I keep it on hand at all times but you can use fresh grated ginger for more of a gingery punch!
Soy Sauce: Adds saltiness
Teriyaki Sauce: Adds a sweet and salty flavor to the final dish.
Step by Step Photos and Instructions: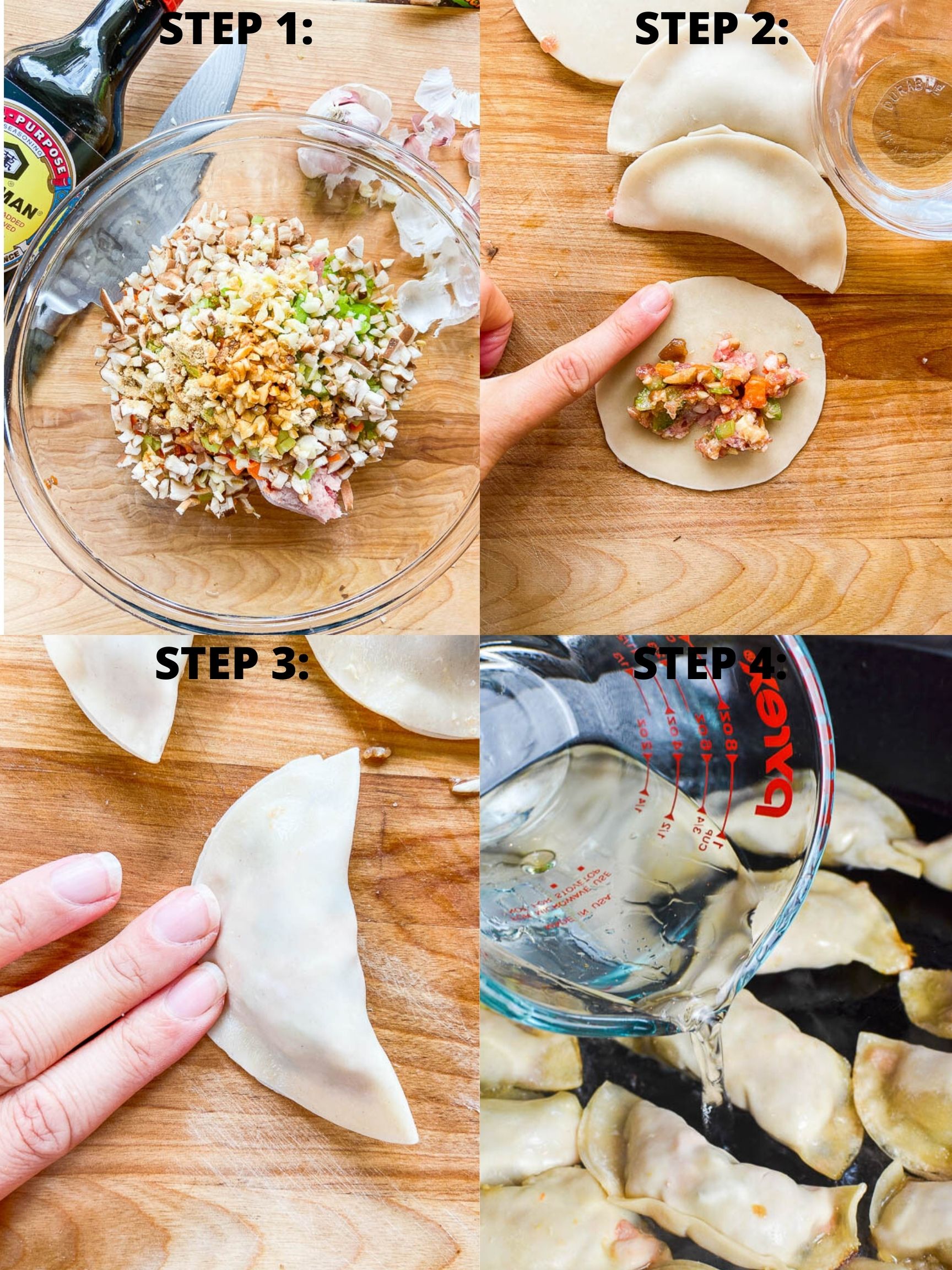 STEP #1: Use your hands to mix pork, veggies and seasonings together in a bowl until well combined. The filling should hold together.
STEP #2: Place a teaspoon of filling into the center of each wrapper. You don' want to over fill them or the wrappers will split when cooking.
STEP #3: Dip finger in water and run it along the side of the wrapper. Fold over and pinch closed.
STEP 4: Heat 2 tablespoons of oil in a skillet over medium heat. Add in potstickers in a single layer (be sure to space them out) and cook for 2 minutes or until the bottoms start to brown. Carefully pour in water and cover. Cook 5 – 7 minutes or until water is absorbed. Remove lid and cook another 1 – 2 minutes to crisp the bottom.
DES' TIP: Make sure to no overcrowd the pan. Giving the potstickers enough room is essential to a crispy bottom.
What do you dip potstickers in?
For these potstickers, I made the spicy chili oil from my shrimp and pork wontons in spicy sauce. You can also use ponzu sauce or even sweet Thai chili sauce.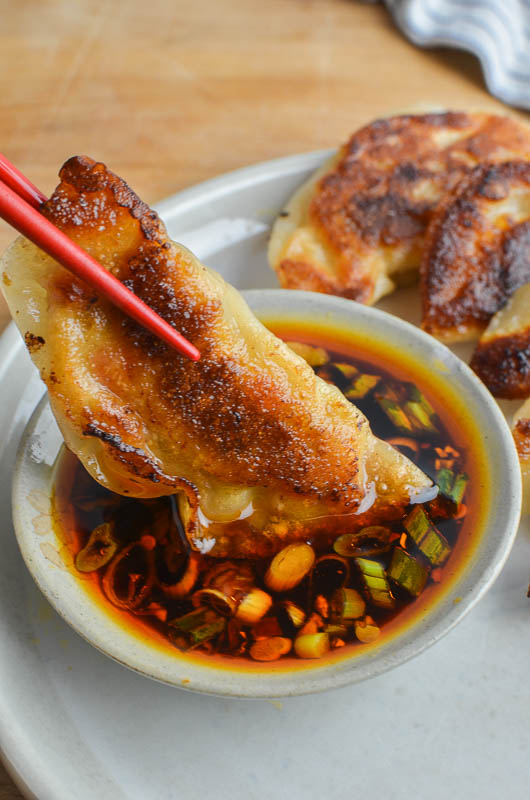 Tips for freezing pork pot stickers:
One of my favorite things about making potstickers is that they are so easy to freeze. You can make a big batch, freeze some and then cook them whenever you get the craving.
I do have a couple of tips to ensure success for making frozen potstickers:
Tip #1: Freeze any potstickers that you are not going to cook immediately. You'll want to place them in a single layer on a baking sheet and freeze them individually. This will help ensure that they don't stick together.
Tip #2: Thaw completely before cooking. I usually put them in the refrigerator for about 30 – 45 minutes to allow them to thaw a bit before cooking. If you don't thaw them first, you run the risk of the filling being cold when the outside is cooked.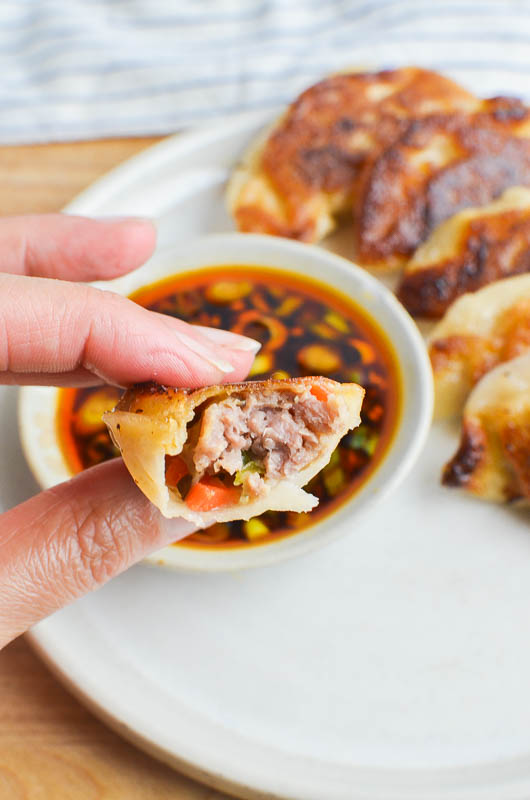 If you love these pork potstickers, you'll fall head over heels for these my favorite Asian Recipes:
Filipino Lumia with Lumpia Sauce
Note: This post was originally posted in 2009. It was updated with new tips on freezing, as well as step by step photos and nutrition facts in 2020.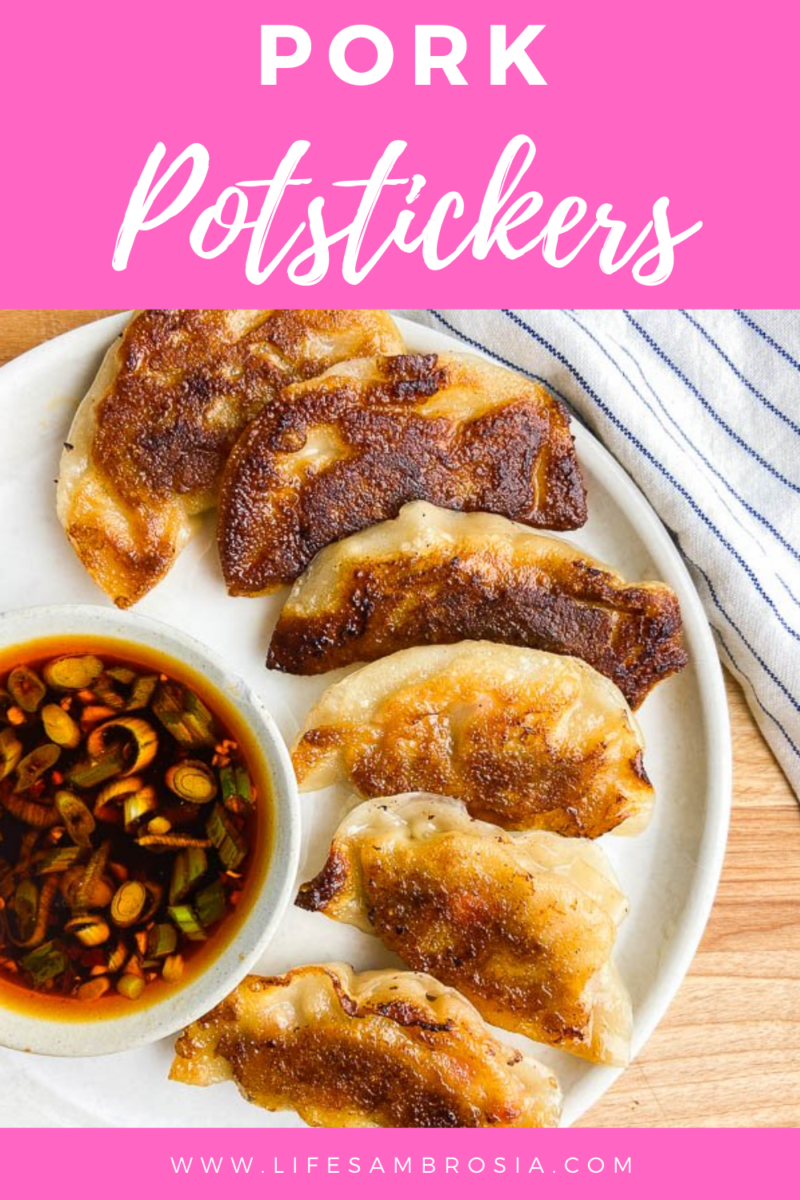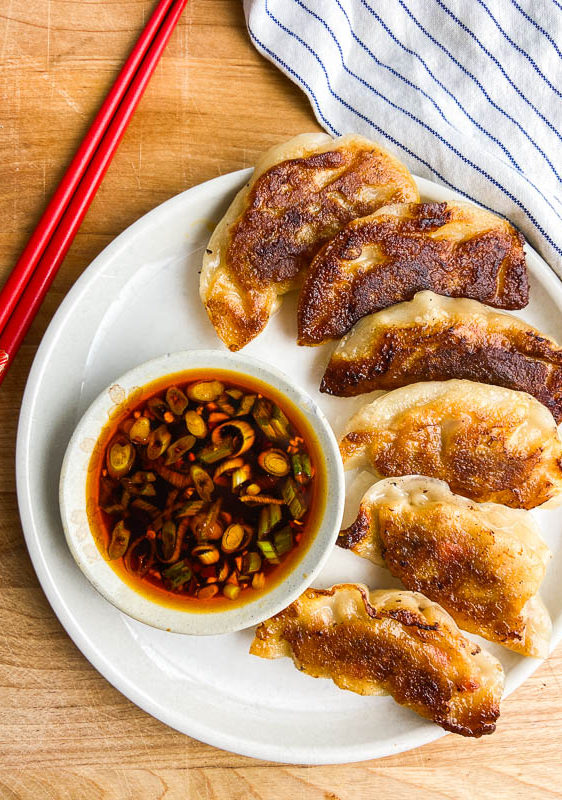 Pork Potstickers
These pork potstickers are stuffed with a savory pork and vegetable filling and steam-fried for a juicy potsticker with perfectly crisp bottom.
Ingredients:
1 1/4

pound

ground pork

1/2

cup

diced carrot

1

cup

chopped shiitake mushrooms

2

cloves

garlic

minced

1/2

cup

diced celery

1/2

teaspoon

fish sauce

1/2

teaspoon

hot oil

1/2

teaspoon

sesame oil

1

teaspoon

ground ginger

1

tablespoon

soy sauce

2

teaspoons

teriyaki

50

gyoza wrappers

wonton wrappers cut into circles

water to seal wrappers
In a bowl combine all ingredients, except wrappers and water, in a bowl. Mix well.

Place 1 tablespoon of mixture into a gyoza wrapper. Dip your finger in water and run along the outside edge of the wrapper. Fold wrapper over the mixture and pinch closed. Repeat with remaining filling and wrappers.

To freeze, place uncooked potstickers on a baking sheet in a single layer. Freeze until solid. Transfer to freezer bags.

To cook, heat a little oil in a skillet or wok over medium-high heat. Place pot stickers in the skillet and fry 2 minutes or until bottoms are golden brown. Pour in water, cover and cook 5-7 minutes or until water is absorbed.
Calories:
226
kcal
Carbohydrates:
38.5
g
Protein:
12.4
g
Fat:
1.9
g
Saturated Fat:
0.5
g
Cholesterol:
22
mg
Sodium:
456
mg
Fiber:
1.4
g
Sugar:
0.5
g
Keywords:
appetizer, asian, asian appetizers, asian snacks, Food, freezing, ground pork, pork, pot stickers, potstickers, Recipe, shiitake mushrooms, snack