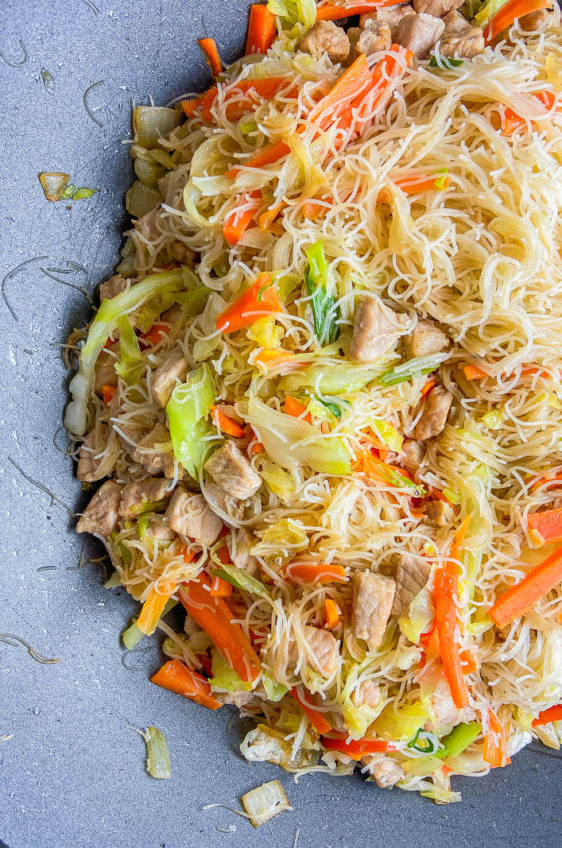 Filipino Pancit Recipe
Pancit is a classic Filipino Recipe. It's a quick and easy stir-fried rice noodle dish with a savory sauce, pork and vegetables.
Recently I have been thinking about family traditions and recipes always come to mind. For just about every Filipino family out there someone has a recipe for Pancit, a stir-fried noodle dish with meat and vegetables. Since Pancit literally means noodles there are many different versions of this dish out there and no two families make it the same. I knew my dad knew the recipe so I gave him a call.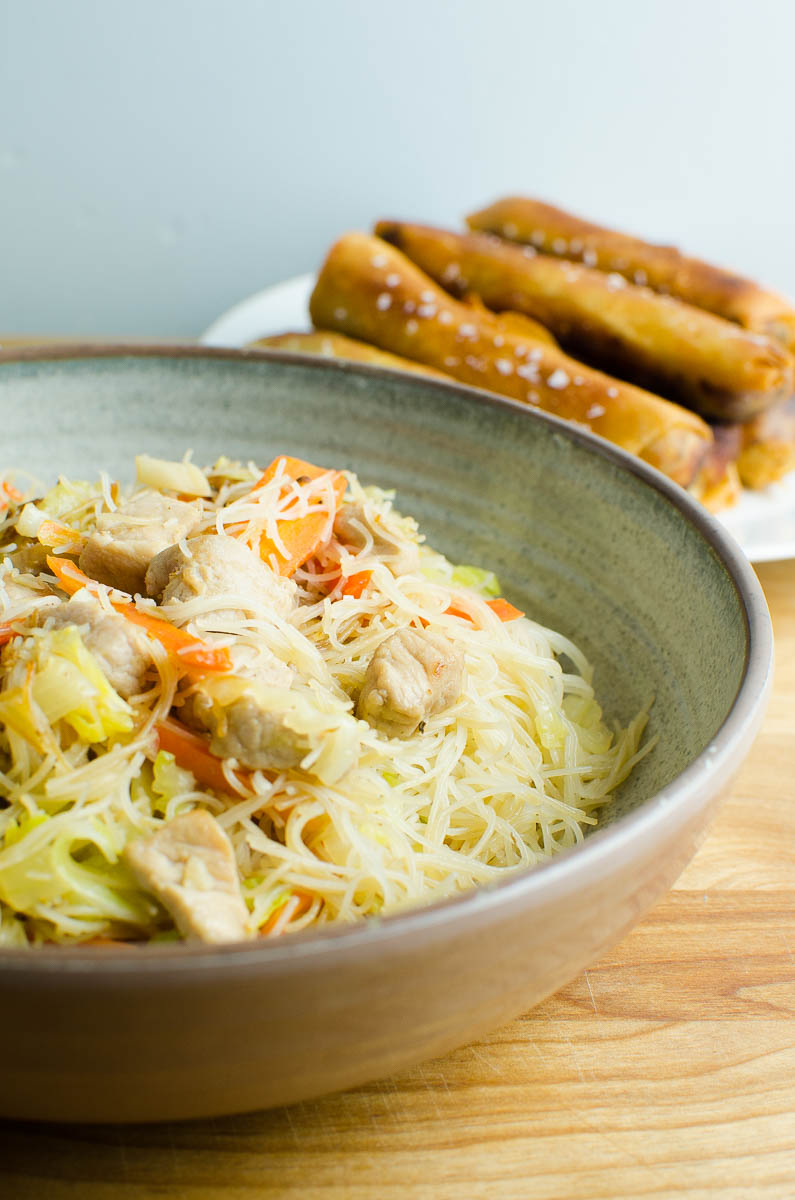 Like many family recipes, this wasn't written down, my dad just remembered that my grandma added a little of this and a little of that when she was making it. I jotted down the ingredients and instructions and set out to create it. The results were spot on and childhood memories flooded back. I love that about food.
What is Pancit?
In case you're wondering, pancit is a traditional filipino noodle dish. Much like a stir-fry it is made with noodles, vegetables and meat.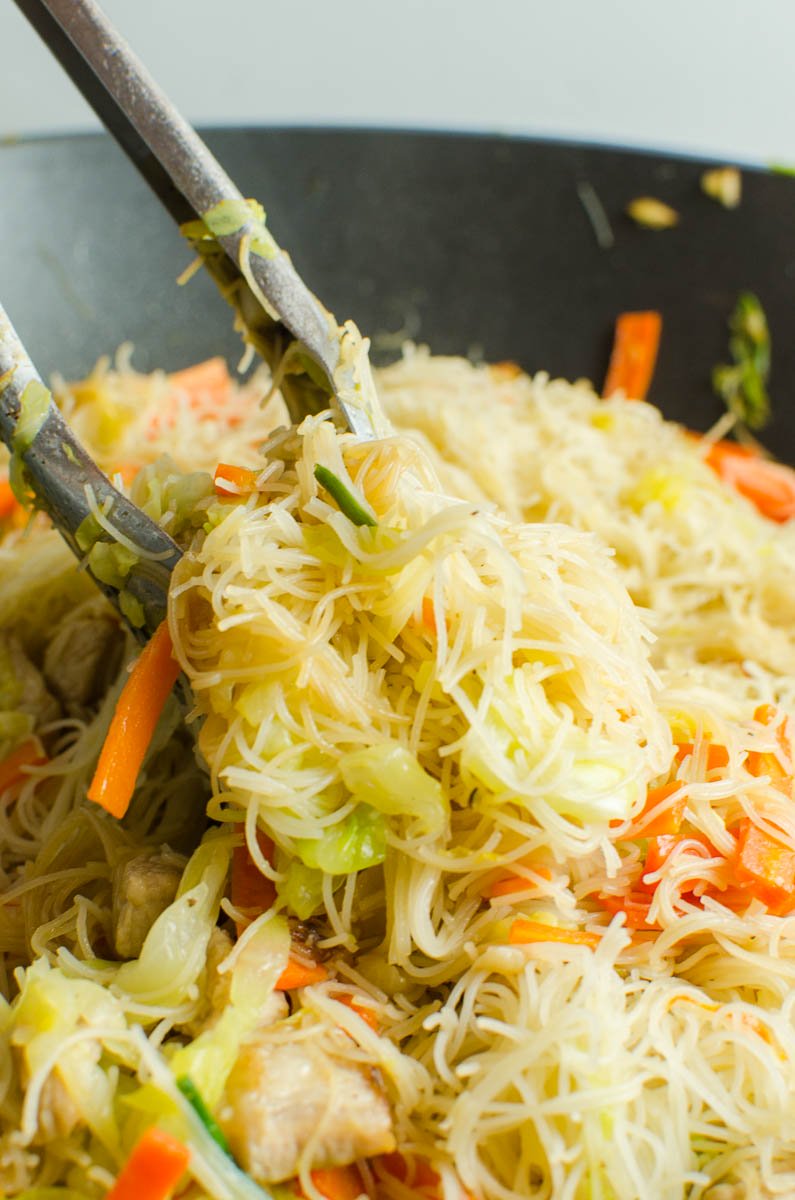 And much like other stir-fries, you could use just about any combo that you like:
VEGETABLES: Cabbage and carrots are common. As are onions, green beans, celery and snow peas.
MEAT: Chicken, beef or pork as well as shrimp are common.
NOODLES: Traditionally, pancit is made with vermeclli rice noodles. The great thing about most rice noodles is that they simply need to soak rather than boil so it saves some time! That being said, you could use udon noodles, chow mein or pancit canton noodles if you can find them.
DES' TIP: The key with any stir fry is to make sure that the vegetables are all cut uniformly so that they cook at similar times.
In this recipe, I use boneless pork chops, cabbage, carrots, yellow onion, green onion, and rice noodles.
How Do You Make Filipino Pancit?
STEP #1: Soak noodles according to package directions.
STEP #2: Cut pork and vegetables into similar sizes. Set aside.
STEP #3: Heat oil in a large skillet or wok over high heat. Add pork, onions, garlic and soy sauce. Cook just until the pork starts to brown.
STEP #4: Add in the vegetables. Pour in chicken broth, add noodles and cook until the liquid is absorbed.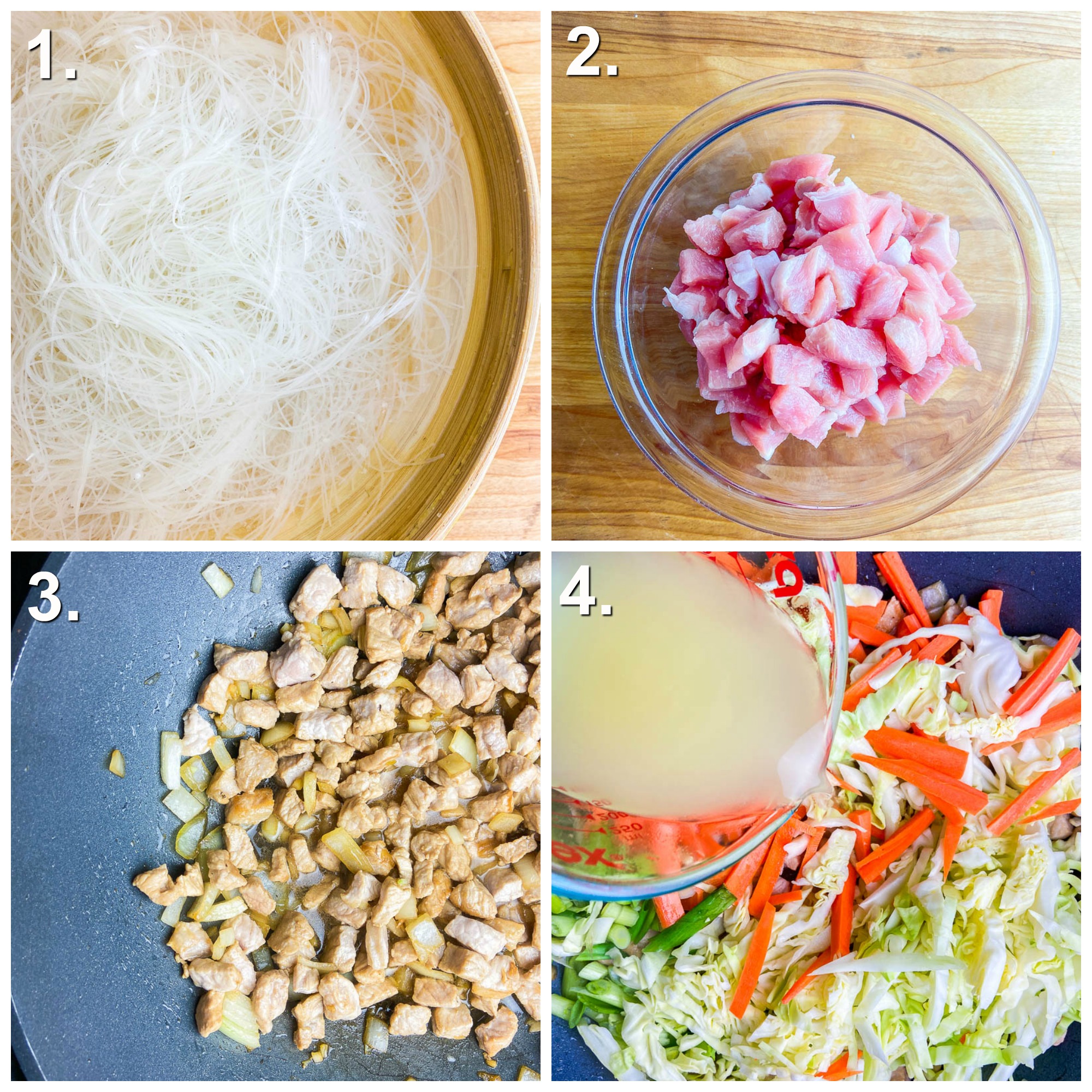 What do you serve with Pancit?
One thing I love about stir-fries is that you've got your veggies and meat all in one dish already. BUT if you are looking for something to serve along side try some sauteed broccoli and of course, Filipino lumpia.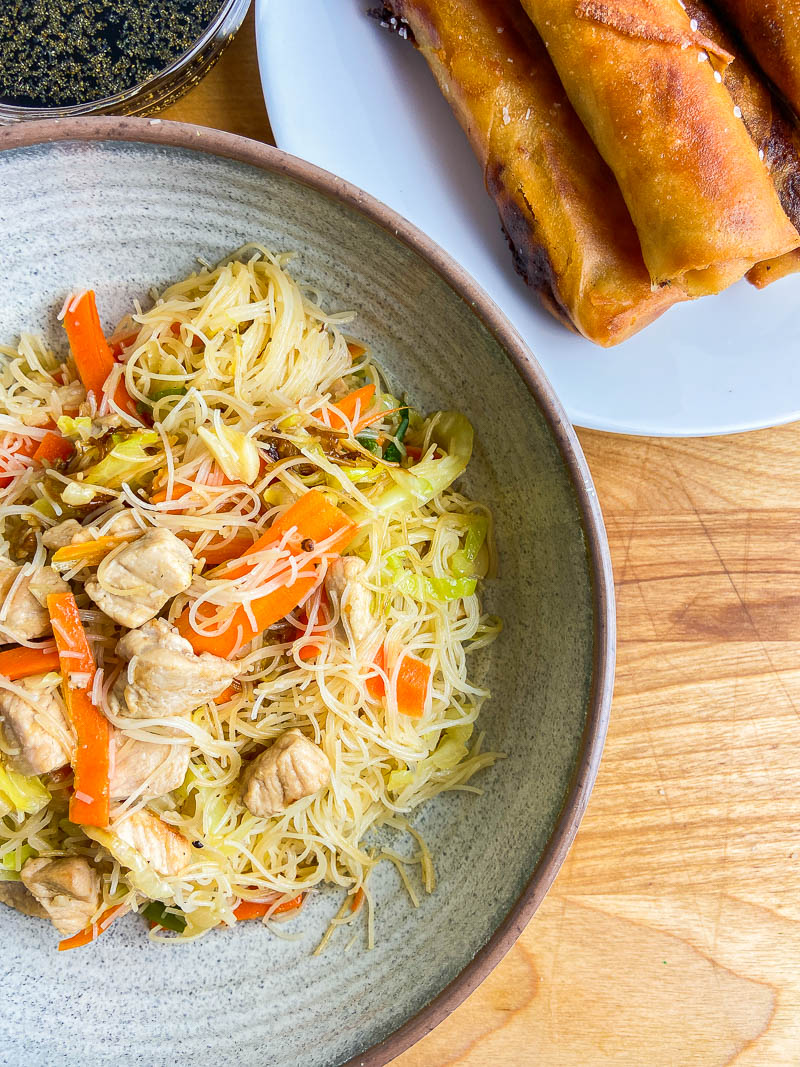 Looking for more Asian recipes? Try these!
Salt and Pepper Calamari Recipe
Note: this recipe was originally posted in 2009. The recipe, photos, tips and nutrition facts were updated in 2020.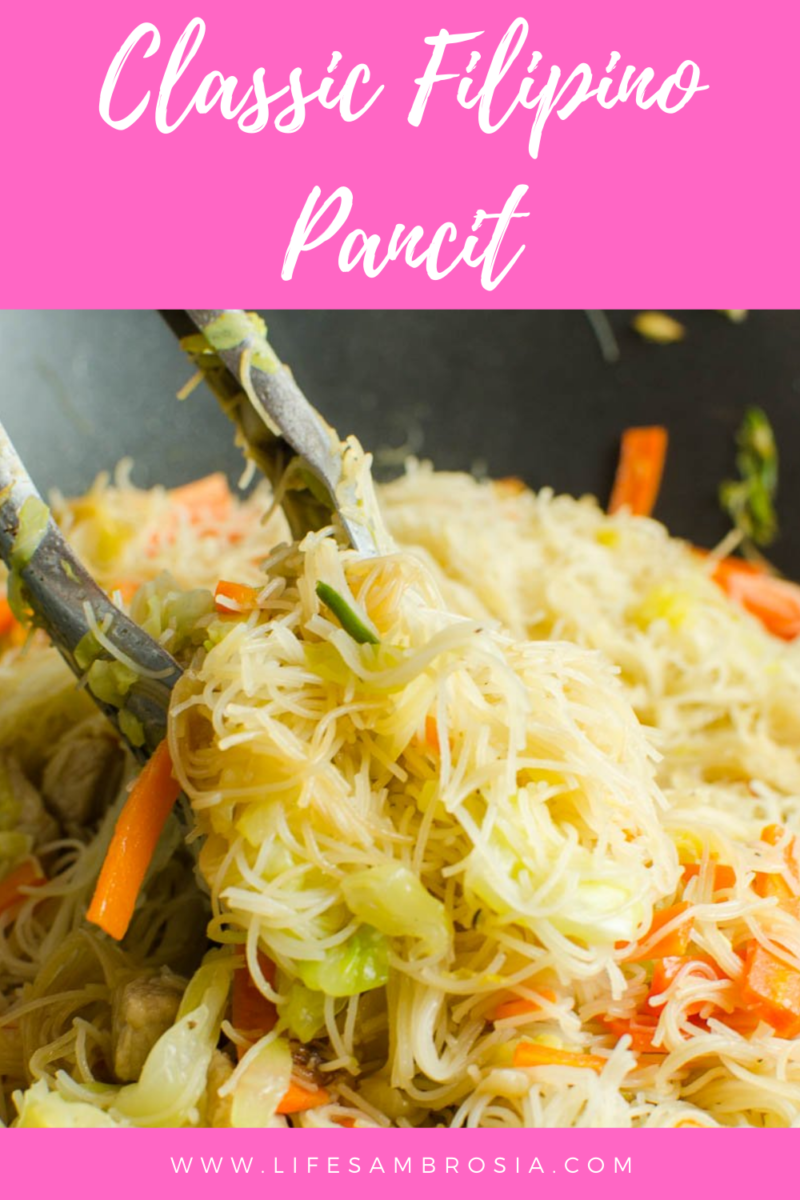 Filipino Pancit Recipe Recipe
Ingredients:
1 (8.8 ounce) package Thai Vermicelli rice noodles
2 tablespoons canola oil
1 pound pork chops (about 4 chops), sliced into bite size pieces
1 yellow onion, diced
6 cloves garlic, minced
2 tablespoons soy sauce
1 cup chicken stock
2 cups shredded cabbage
1/2 cup sliced carrots
3 diced green onions
kosher salt and cracked pepper to taste
Instructions
1
Soak noodles according to package directions.

2
Prep the pork and vegetables by cutting into uniform sizes.

3
Heat oil in a wok or large saute pan. Add pork, yellow onion, garlic and soy sauce. Cook 3-5 minutes or until pork is browned. Season to taste with salt and pepper.

4
Add chicken stock, cabbage, carrots and green onions. Cook 3-5 minutes or until vegetables have softened. Add noodles to pork and vegetable mixture. Toss to combine. Season to taste with salt and pepper. Serve.
Notes
Nutrition facts for estimation purposes only.
Nutrition information
Calories: 605 , Total Fat: 23.6g , Saturated Fat: 7.4g , Cholesterol: 65mg , Sodium: 494mg , Carbohydrates: 73.5g , Fiber: 4.4g , Sugar: 2.4g , Protein: 22.8g