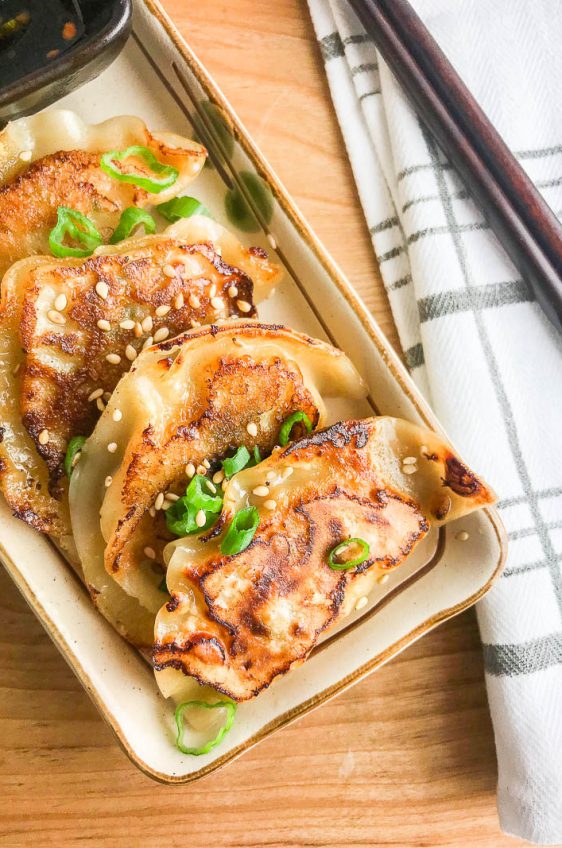 Spicy Sesame Chicken Potstickers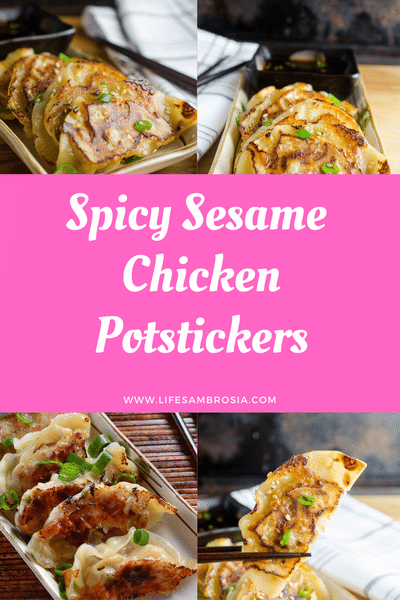 Chicken potstickers, whether they are pan fried potstickers or deep fried, are the most delicious Asian appetizer. Trust me, this simple chicken potstickers recipe will become your favorite!
I always have been, and probably always will be, a sucker for potstickers. The crispy golden fried bottoms. The tender flavorful filling. A platter of them just makes me so…so… happy.
And whenever I'm out at Asian restaurants, I noticed plate after plate of potstickers going out so I don't think I'm alone in this love affair.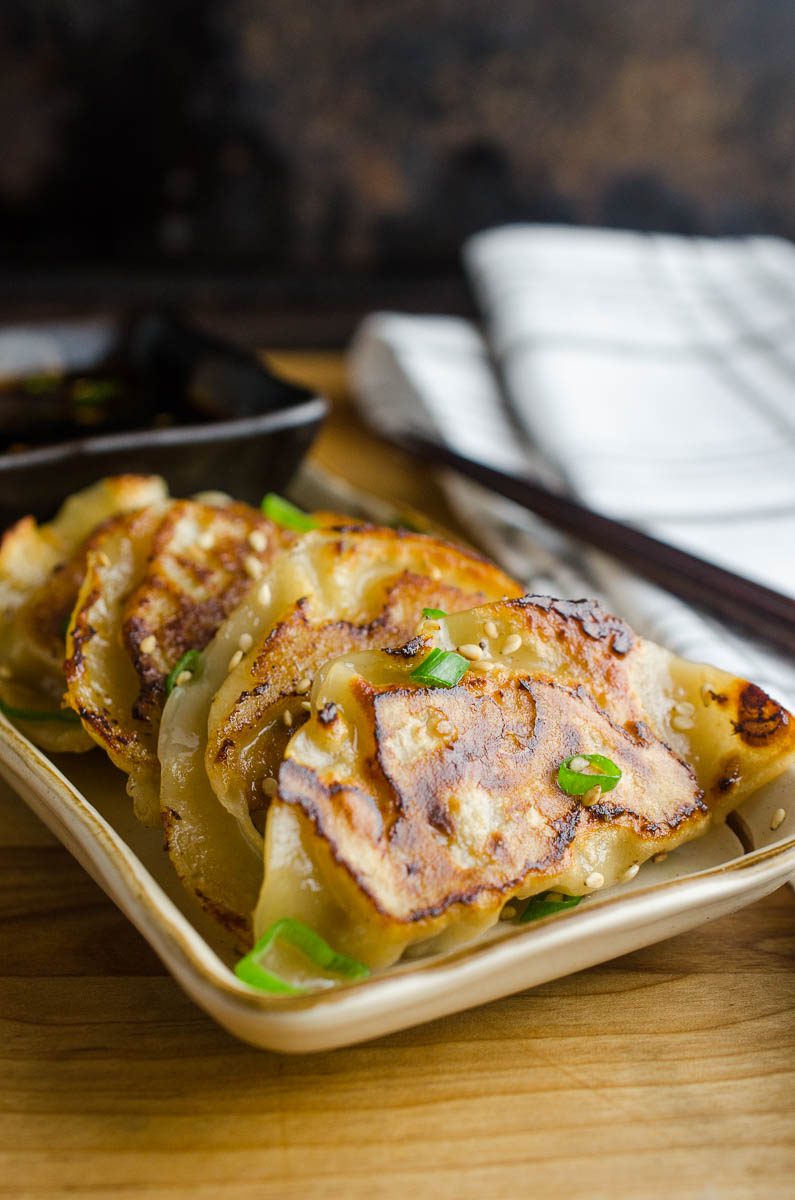 What is a potsticker?
Also known as dumplings, these bite-sized appetizers are made with round dough wrappers and stuffed with savory filling. They can be deep-fried, boiled and steamed. But the most popular is to steam-fry. The top parts are tender and the bottom has a perfect crunch. It's really the best way to eat them!
What is inside chicken potstickers?
Like any potstickers, the filling possibilities are endless. These particular potstickers are stuffed with tender ground chicken, spicy jalapeños, garlic and nutty sesame oil.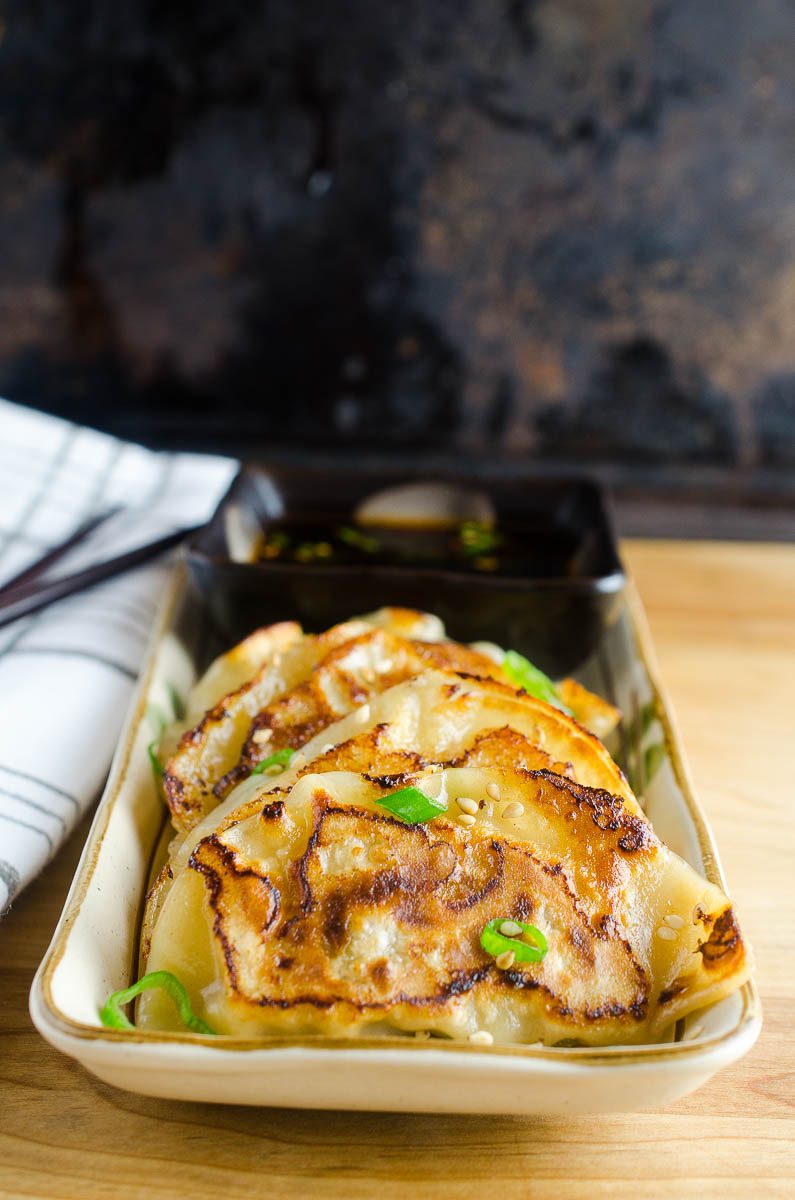 A few tips on potstickers:
TIP #1: The trick is to make sure that they aren't over stuffed. I usually use a heaping teaspoon of the filling. If you use much more than that, the wrappers break open.
TIP #2: Speaking of wrappers. You may be wondering what kind of wrappers to use. Potsticker wrappers are small round flat pieces of dough made of flour. We are fortunate enough to have amazing Asian markets, like Uwajimaya, here in Seattle so gyoza (or potsticker) wrappers are really easy to find. If you don't have an Asian market near you, I often find the wrappers in the produce section of my grocery store.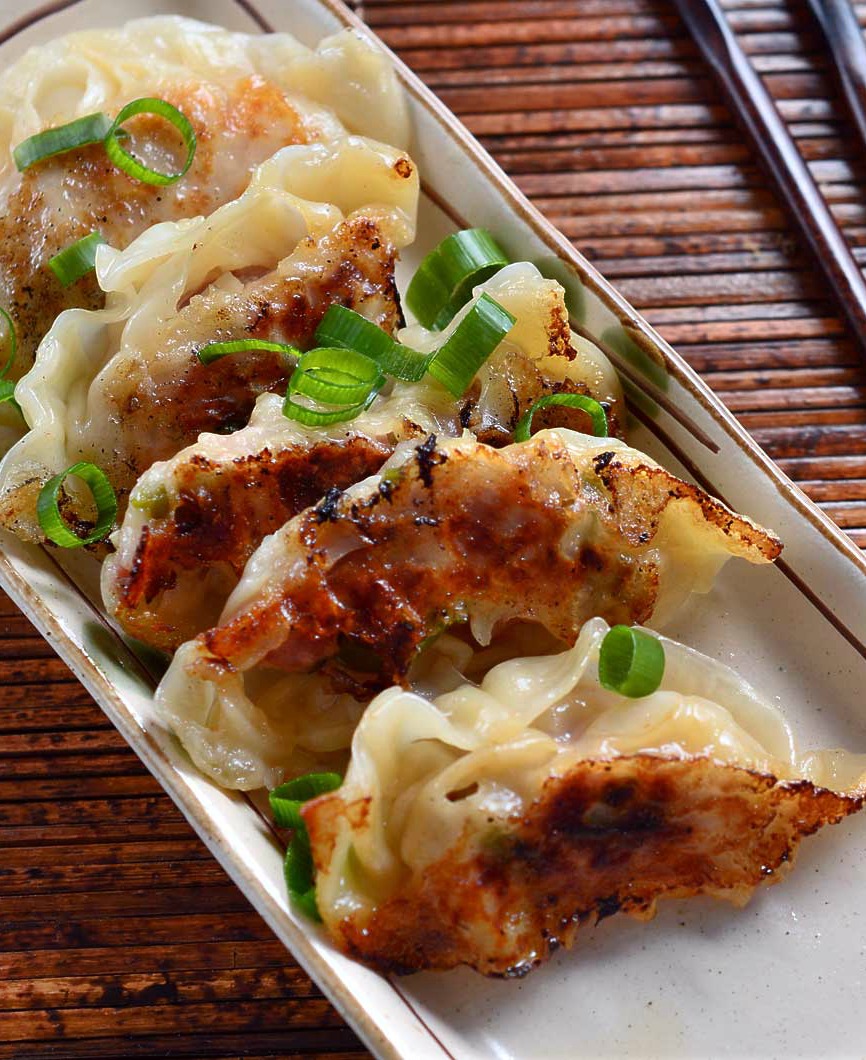 TIP #3: Don't worry about the fancy crimped edges that you see on the dumplings at restaurants. All you want to do is make sure that the potstickers are sealed. Simply folding the wrapper over the filling and pressing the edges to seal will work just fine.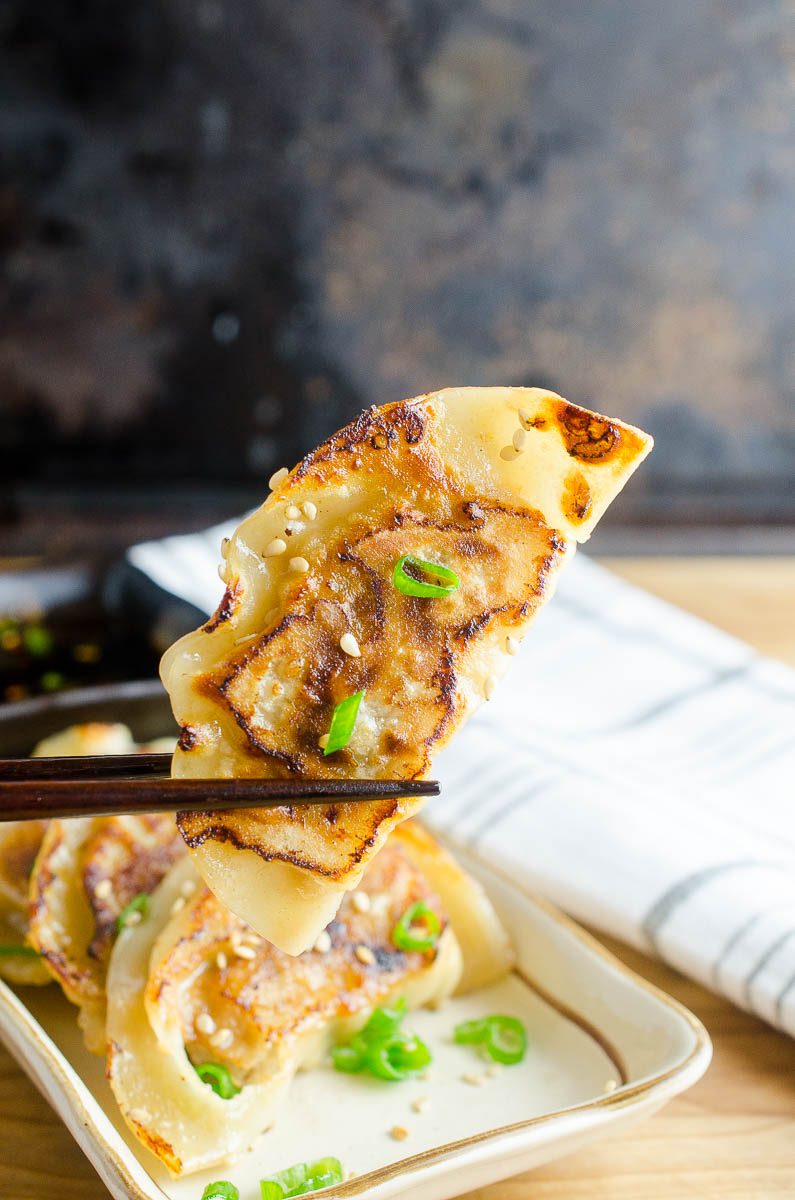 Can you freeze potstickers?
You betcha! Whenever I make egg rolls or potstickers, I always make sure that I make extra so that I can store some in the freezer for whenever I get the craving.
The best way to freeze pot stickers is to arrange them in a single layer on a parchment paper lined cookie sheet. Then put them in the freezer. This ensures that you freeze each potsticker individually and none get stuck together.
Once the potstickers are frozen, put them in a freezer bag and grab them as you want them. Just make sure that you thaw them in the fridge before cooking.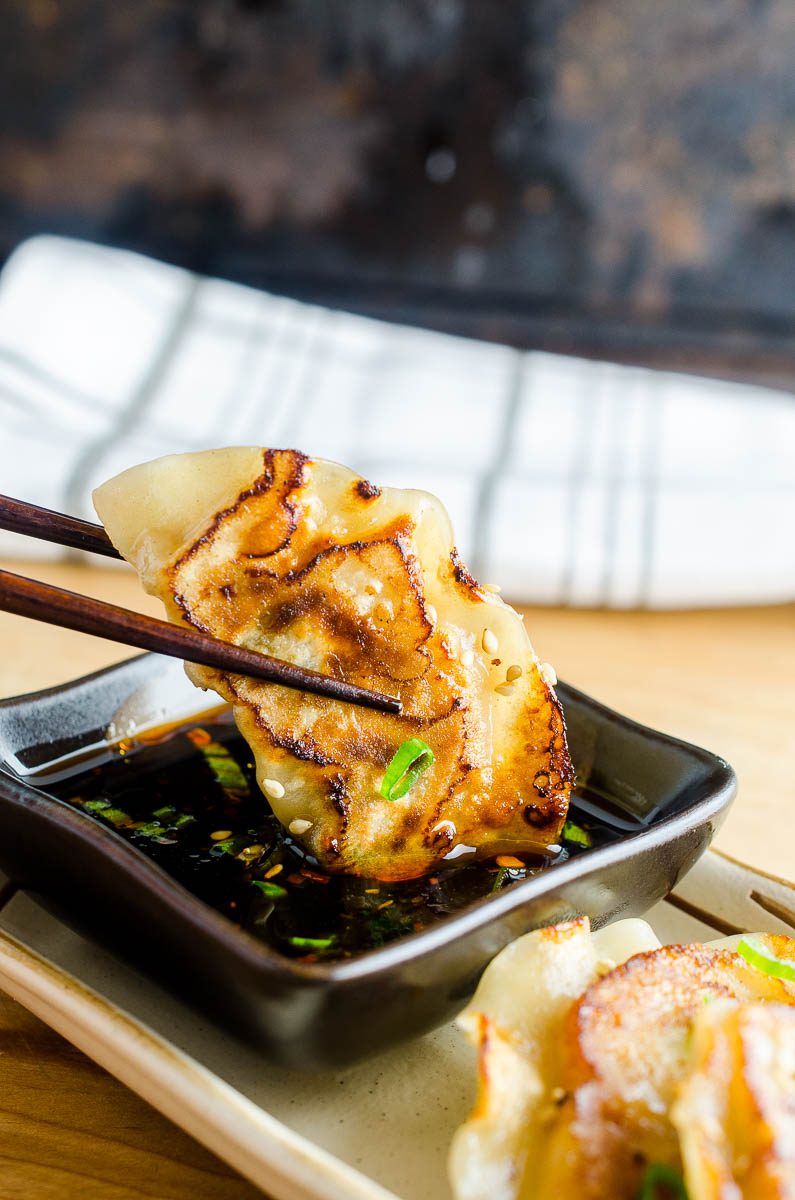 What is dumpling sauce made of?
When you're making dumplings, you cannot forget the sauce. Traditionally soy-vinegar sauce and it is a must have! Good thing it is crazy easy to make. All you need to do is whisk together soy sauce, black vinegar, garlic and green onion.
DES' TIP: Black vinegar is a dark Chinese vinegar made from fermented rice. It has a fruity taste and while most similar to balsamic, it's not as sweet. If you cannot find black vinegar, you can substitute rice vinegar in this recipe.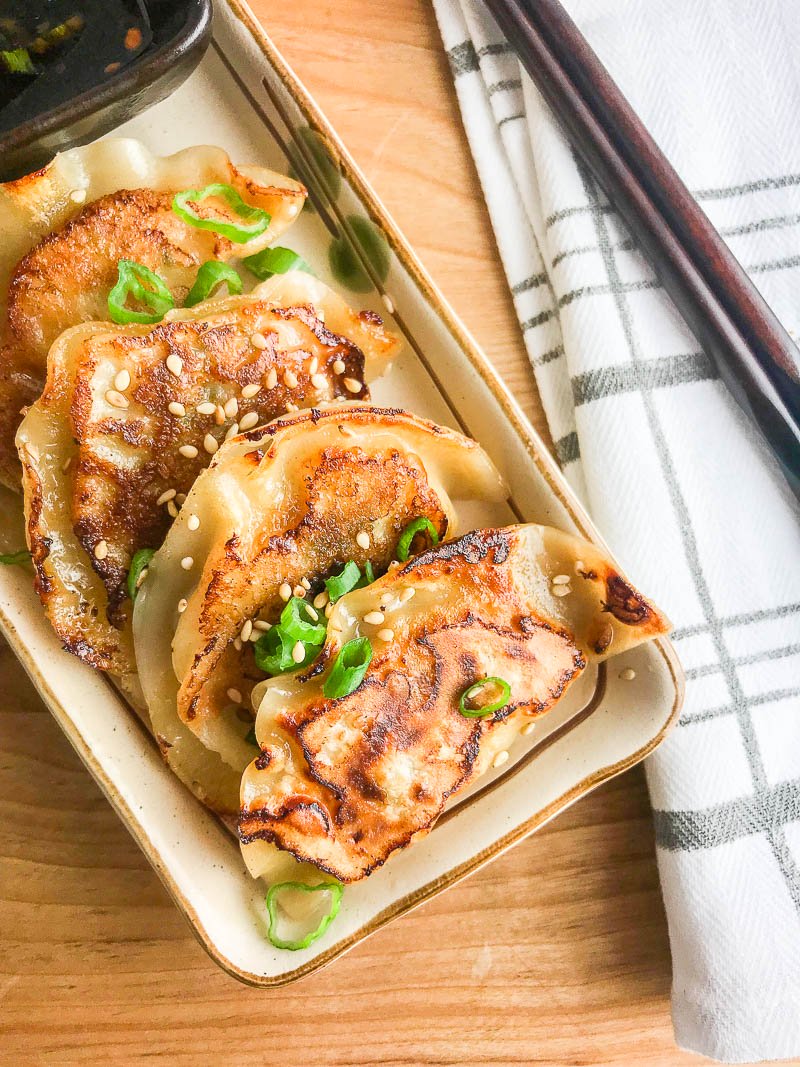 Looking for more Asian recipes? Here are some of my family's favorites!
Salt and Pepper Calamari Recipe
Note: Recipe updated with tips, photos, video and new dipping sauce recipe 2020.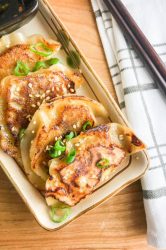 Spicy Sesame Chicken Potstickers
Get our easy recipe for chicken potstickers and make the best Asian appetizer you will ever taste! The recipe for spicy sesame chicken potstickers is here!
Potsticker Dipping Sauce
2

tablespoons

soy sauce

1

tablespoon

black vinegar

1

garlic clove

minced

1

tablespoon

diced green onion
Use your hands to combine first 8 ingredients together in a bowl. Mix well.

Place 1 teaspoon of mixture into a gyoza wrapper. Dip your finger in water and run along the outside edge of the wrapper. Fold wrapper over the mixture and pinch closed. Repeat with remaining filling and wrappers.

To cook, heat enough oil to lightly coat the bottom of a skillet over medium-high heat. Place pot stickers in the skillet and fry 2 minutes or until bottoms are golden brown. Pour in 1/2 cup water, cover and cook 5-7 minutes or until water has evaporated. Serve hot.

To freeze, place uncooked potstickers on a baking sheet in a single layer. Freeze until solid. Transfer to freezer bags. Thaw before cooking.

To make dipping sauce: whisk together all ingredients.
Nutrition facts not guaranteed.
Calories:
502
kcal
Carbohydrates:
63.3
g
Protein:
32.7
g
Fat:
11.8
g
Saturated Fat:
2.4
g
Cholesterol:
77
mg
Sodium:
777
mg
Fiber:
2.2
g
Sugar:
0.3
g
Keywords:
appetizer, chicken, dumpling, Food, gyoza, Jalapeno, potsticker, Recipe, snack, spicy