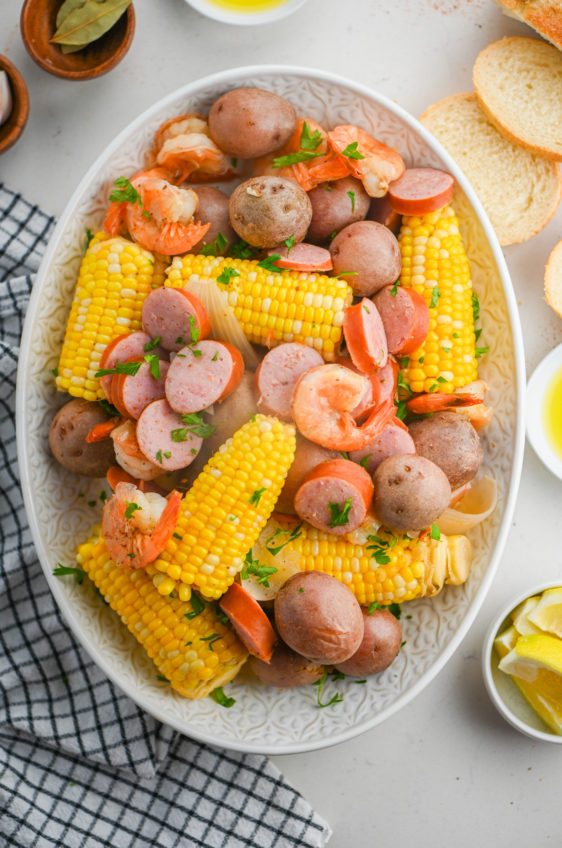 Shrimp Boil
An easy shrimp boil recipe with shrimp, sweet corn, spicy andouille, and red potatoes. It's great for a crowd!
Also known as a Low-Country Boil, this Shrimp Boil is one of our favorites! It comes together quickly, you can adjust it to add in anything that you like (and leave out what you don't) And, at least the shrimp and corn, you get to eat with your hands. Which means that it is a winner with the kiddos.

This is one of those dishes that my mama used to make when I was growing up and we always looked forward to it. It would be one of our "special event" meals. It's great for holidays too!
What ingredients do you need for a shrimp boil?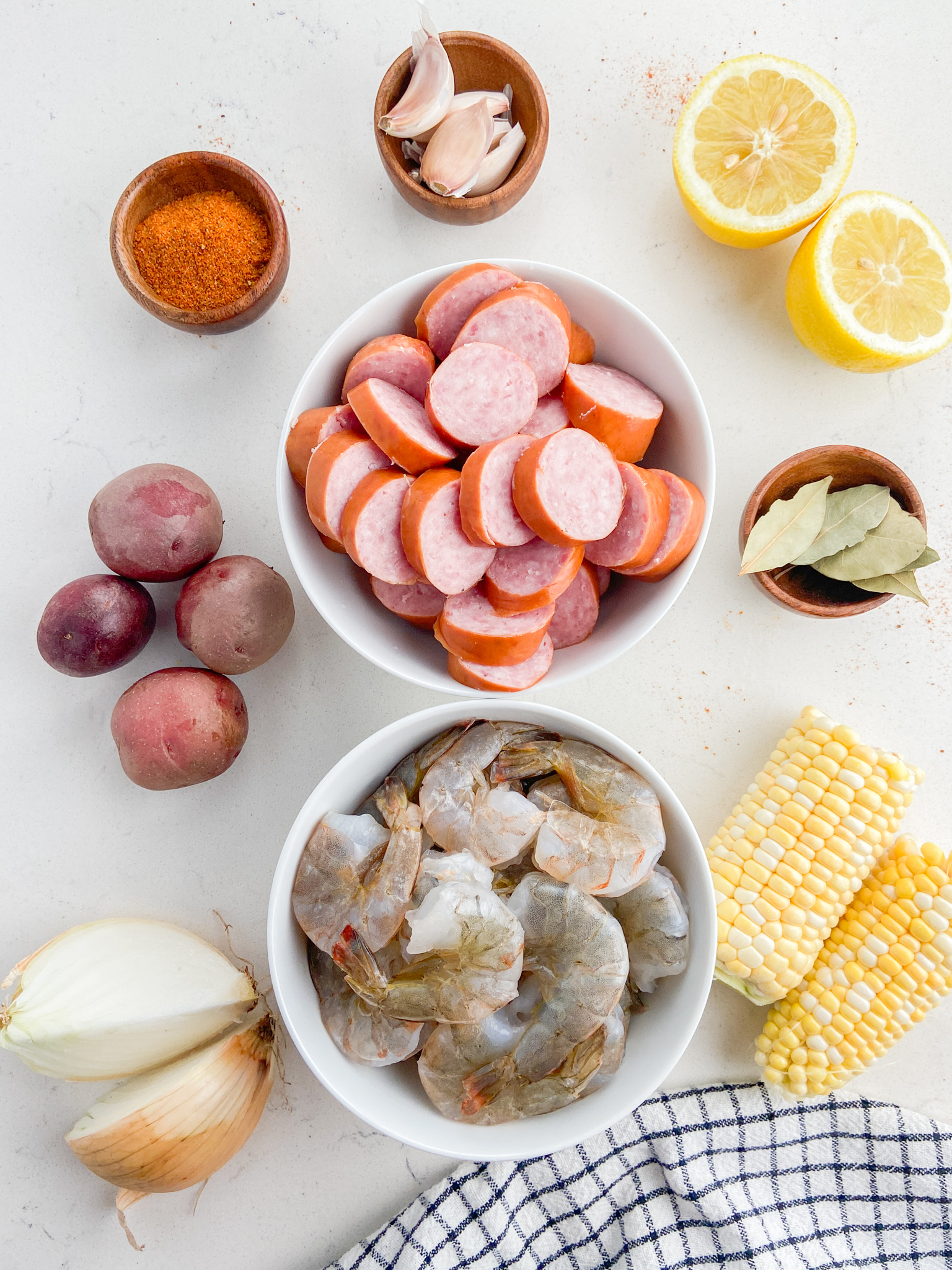 Shrimp: Obviously a big part of a shrimp boil is the shrimp. I like to use bigger shrimp. Medium to medium large size will do. I also prefer to leave the shrimp peel on since the shrimp are boiled. However, you'll still want to devein them. My favorite short cut is to have the fish monger at the grocery store do it for you, or simply buy the frozen EZ PEEL shrimp.
Sausage: For this recipe I use a spicy andouille sausage. It's a traditional cajun sausage that has a bit of a kick. You could also use kielbasa or another smoked sausage.
Corn: Corn on the cob is a MUST in any Low Country Boil. Use the fresh stuff though. Frozen isn't the best.
Potatoes: Traditionally red potatoes are used and I prefer them for this recipe. If you can find the marble sized potatoes use those, if not simply use regular red potatoes and cut them into halves or quarters.
Onion and Garlic: You don't have to use onion but I like the addition of the onion flavor so I use it in all of my shrimp boils. I also throw in some garlic, because garlic.
Seasoning: A crab boil or seafood seasoning like Old Bay is what I always use. If you want to make it a little spicier, a cajun seasoning blend would be great too. I also like to toss in a couple bay leaves.
Lemons: Pretty much any seafood benefits from lemon and a shrimp boil is no different. Throw some in the boil and leave some on the table so that people can add more if they like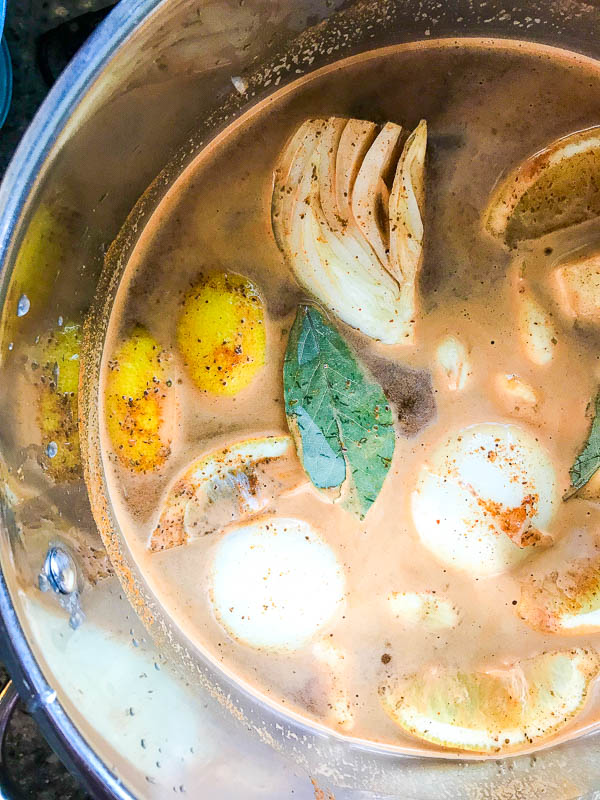 How do you make a Low Country Boil?
One of the great things about a low country boil is that it is all done in one large stock pot. The order that you cook the ingredients in is the trickiest part. You want to add the ingredients that take the longest to the boil first. The potatoes, onion and corn will take longer than the shrimp.
Shrimp only takes 2 – 3 minutes before it is cooked. If you go much over that then it will be tough and over done. The sausage is already cooked so I like to add it with the shrimp just so that it has a chance to warm up.
Once everything has cooked, use a slotted spoon to remove everything from the boil and transfer it to a platter.
I like to save some of the broth to dunk some bread in!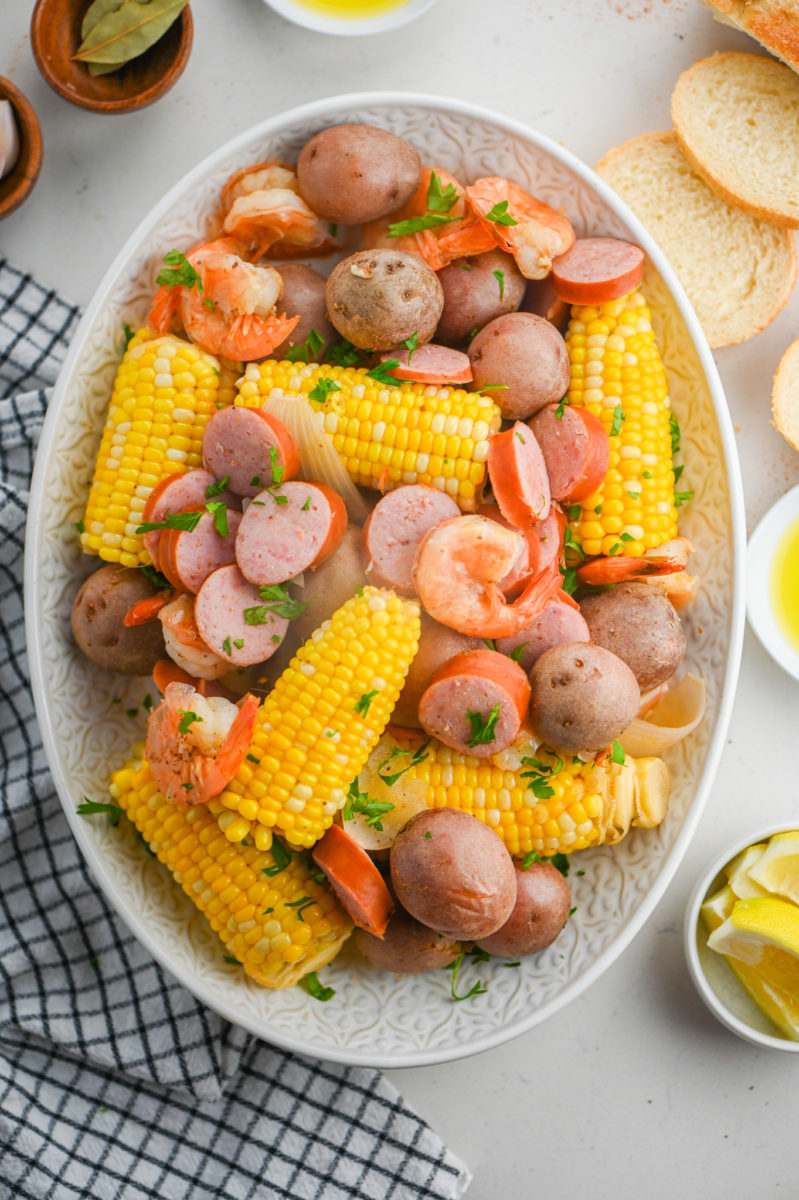 What do you serve with a Shrimp Boil?
That is the great thing about a shrimp boil, its all in the boil! The protein, the carbs, the veggies, it's all there! I do also like to serve a green salad on the side and some crusty french bread.
And don't forget the cocktail sauce and melted butter!
Some of my other favorite Shrimp Recipes:
Shrimp Tacos with Cilantro Lime Sour Cream
Looking for a salad to serve along side? Check out these Salad Recipes and Dressings:
Spinach Salad with Bacon Dressing
Note: This post was originally published in 2019. It was updated with new photos and step by step photos in 2022.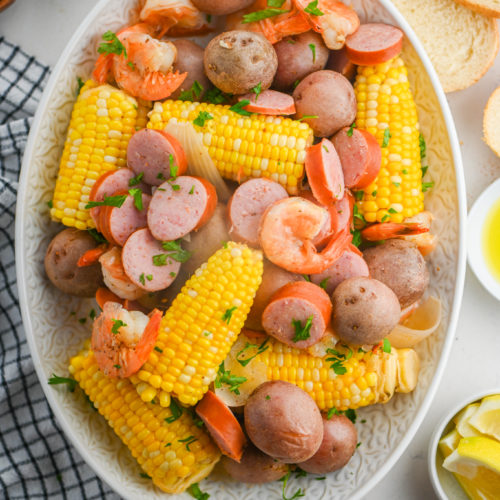 Shrimp Boil
An easy shrimp boil recipe with shrimp, sweet corn, spicy andouille, and red potatoes. It's great for a crowd and a classic for a reason!
Ingredients:
4

quarts

water

1/2

cup

Old Bay Seasoning

1

yellow onion

quartered

8

cloves

garlic

peeled

2

lemons

halved

2 – 3

bay leaves

6

medium red potatoes

quartered

3 – 4

ears of corn cut in half

1

pound

large shrimp

deveined

12

ounces

andouille sausage

sliced
Combine water, Old Bay Seasoning, onion, garlic, lemon and bay leaves together in a large stockpot. Bring to a boil, then reduce heat to a simmer. Simmer for 5 minutes.

Add in potatoes and cook for 8 – 10 minutes or until fork tender.

Add in corn, cook an additional 3 minutes.

Add in shrimp and sausage. Cook just until the shrimp is opaque and the sausage is warmed through, about 3 minutes.

Use a slotted spoon to transfer shrimp, sausage and veggies to a platter. Serve with butter and cocktail sauce for dipping.
You can also add crab legs or steamer clams to this! Add them about the same time that you add the shrimp. 
If you use the small baby red potatoes you could leave them whole or cut them in half. 
Nutrition information for estimation purposes only. 
Calories:
491
kcal
Carbohydrates:
57.2
g
Protein:
32.2
g
Fat:
16.8
g
Saturated Fat:
5.7
g
Cholesterol:
140
mg
Sodium:
3384
mg
Fiber:
6.9
g
Sugar:
6.4
g